"A pure CD machine". That's the headline grab Italian digital specialist Aqua Acoustic Quality uses for La Diva M2. The CD transport thoroughly expresses the company's digital engineering chops; it's a no-holds-barred disc spinner aimed at uncompromisingly extracting the best possible performance from the polycarbonate pits. It has also been made to couple to the company's acclaimed resistor ladder-based digital-to-analogue converters. The silver disc is at the cycling point of 'old-is-new-again'. Much like the gloriously sounding yet cumbersome reel-to-reel tape, and the nostalgic yet tragically flawed cassette (really?). Let's not even mention the ongoing and celebrated vinyl renaissance. CD's popular resuscitation? Yep, vibing that way. How timely then, that La Diva M2 CD Transport is here for a spin. It may be a convincing rejuvenation of the still excellent four-decade old laser reading technology.
Old is Gold?
Bright sky-blue eyeliner and thick, bushy moustaches are back. So are towering Afros and that distressing mullet. Just like in the world of the rag trade, or should I say #farshun industry, we in the world of audio are also phasing through a trendy, buzzy mode of recycling once popular past technologies. Of course, the king of audio comebacks is vinyl which, after a near extinction event lasting through the 1980s and 1990s, has reconquered a chunky slice of the music playback market. But just in the last few months, there's been quite a bit of love shown for the silver disc, at least from the audio enthusiast market and some retro hipster circles. To meet that demand uptick, a few well-established companies are launching CD players, many with digital inputs to act as capable DACs too. There's also a market influx of fine-tuned dedicated CD transports at various price points.
One of the manufacturers who is also dedicating resources to the disc spinning tech, is digital specialist Aqua Acoustic Quality. The company offers digital-to-analogue conversion choices in the highly acclaimed entry point La Voce S3, mid-level La Scala Mk.II and flagship Formula xHD components. They are accompanied by the LinQ Network Interface while rounding out the product portfolio is La Diva CD Transport which has relatively recently been updated to M2 status. That's what I'm tackling here for review.
La Diva M2 follows the design language common to all of Aqua's (for short) components and which distinguish them from any other manufacturer's. There's the signature curved-top fascia, the high quality old skool – and very cool – metal 'flick' switches, the conical rubberised feet, the solid-as build standard and that gorgeous anti-resonant grey Nextel finish I haven't seen in an audio component since… I don't know when. All of those make an Aqua component a discernible stylistic standout from black box ubiquity. Aqua also diverts from the herd by developing in-house proprietary technologies employed across its products. The DACs adopt what many audiophiles think is the superior R2R resistor ladder network digital conversion methodology which the company marries to proprietary FPGA and 'Optologic' technologies.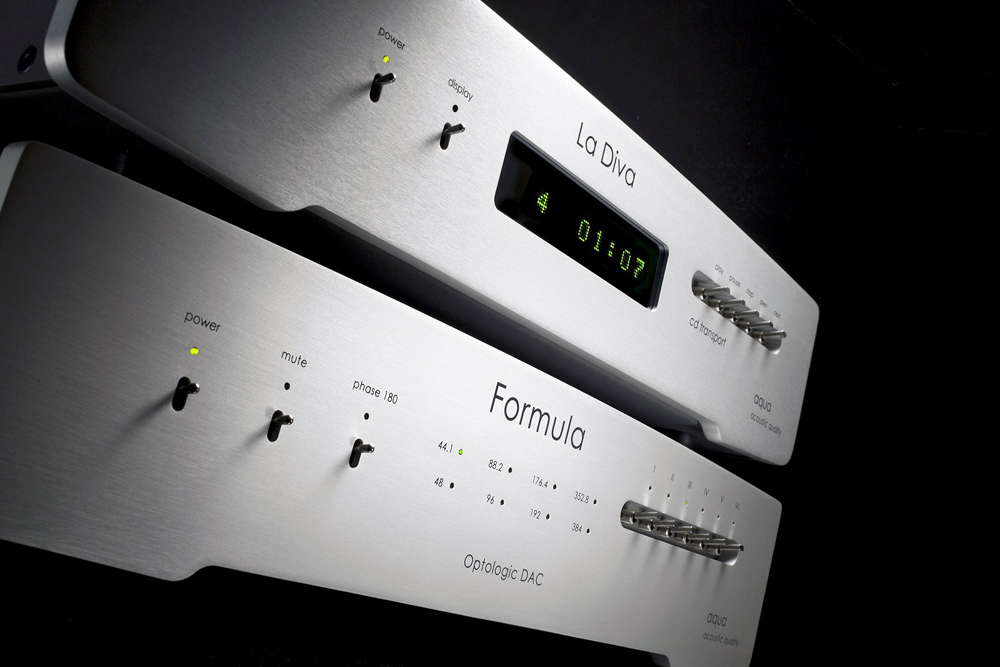 Despite sharing the previous model's name, La Diva M2 is said to be a totally new transport in terms of its circuitry, disc mechanism, power supply, FPGA decoding and much more. So yeah Aqua, agreed… it's a totally new device.
For starters, the new top-loading mech is a high quality customised CD-Pro8-S from Austrian specialist SUOS-HiFi, a company started by ex-Philips digital engineers. It's a superbly designed mechanism enveloped in thick steel and featuring a vibration-controlling carbon fibre top panel supporting the spindle motor.
Aqua's FPGA coding has been refined, especially in relation to the company's proprietary galvanically isolated AQlink I2S implementation while improvements were also focused around the various digital outputs. The unit's internal master clock is now superseded and is managed by the 'ISC' (Isolated Synchronous Circuit) FPGA scheme.
I asked Aqua Acoustic Quality's founder and product designer Cristian Anelli to provide further insights into his digital design ideas. I was curious as to the FPGA architecture's role…
The FPGA, the programmable logic, is the heart of the system. Therefore, it deals with the fundamental functions related to the clock system and the output signals generation for La Diva M2. The standard version of the used mechanism can provide an S/PDIF signal as output, using its own internal clock.
In our implementation, along with other modifications, the clock is instead generated externally, in the FPGA, and sent to the mechanism. The S/PDIF produced by the mechanism is not used: new S/PDIF, AES/EBU and AQlink signals are synthesized and sent to the output circuits. As required, the generated S/PDIF follows the consumer standard, while the AES/EBU the professional standard.
Naturally, I asked how those digital design aspects affect La Diva M2's sound performance in contrast to the original La Diva?
The old model was at the highest quality levels allowed by the components available at the time of its design. The new model benefits from new advanced devices (modern mechanism, a latest generation microcontroller, a special display) and also from digital technology at the signal reading and decoding level, for the laser pick-up. For example, the servo control of the pick-up is now digital and extremely precise. The benefits are the absence of reading errors, and this of course contributes to the perfect audio reproduction. All this is under the FPGA logic control.
I went on to ask about the modifications made to the already exceptional quality of the SUOS CD-Pro8-S CD mechanism.
Various improvements are first of all carried out at the mechanical level, especially in order to avoid harmful vibrations. The motors' drive control is optimised. The optical system is carefully calibrated, after evaluation of the laser diode current – this is fundamental for the performance of the system.
Furthermore, as mentioned above, there are important customisations regarding the clock and the generation of the output audio signals. Great attention was given to the power-supply; the mechanism has a dedicated power-supply, in order to isolate the noisy electric motors from the signal circuits.
For a component with a singular disc-spinning purpose, La Diva M2 is a powerhouse of connectivity options. The rear panel offers a stream of choices to interface with other brands' digital-to-analogue converters as well as Aqua's own highly acclaimed units. First, there's Aqua's own AQlink Pro "CMOS Level" I2S via RJ45 alongside a 75 ohms BNC connector for external Word Clock connection. A bank of outputs includes an ST/AT&T fibre socket and connections for S/PDIF via coaxial BNC and RCA, while the final output is an XLR AES/EBU. Being a pure CD-reading machine, La Diva M2's native resolution capabilities are strictly 16-bit/44.1 kHz.
Operationally, La Diva M2 is pure class. The metal cover slides open with skating smoothness and all the 'flick' switches are solid and reassuringly weighted. The diminutive puck attaches magnetically and closing the drawer promptly starts the TOC process in readiness for playback. The stylish green micro-LED display provides the required player status and can be defeated altogether, if so wished. Doing so did not reveal any notable sonic advantages (if any, they may have been super-subtle). The full function metal remote control is well-featured and is finished in Nextel to match La Diva's chassis. The thick, top-curved fascia can be ordered in beautiful natural aluminium or in 'Satin Black' finishes.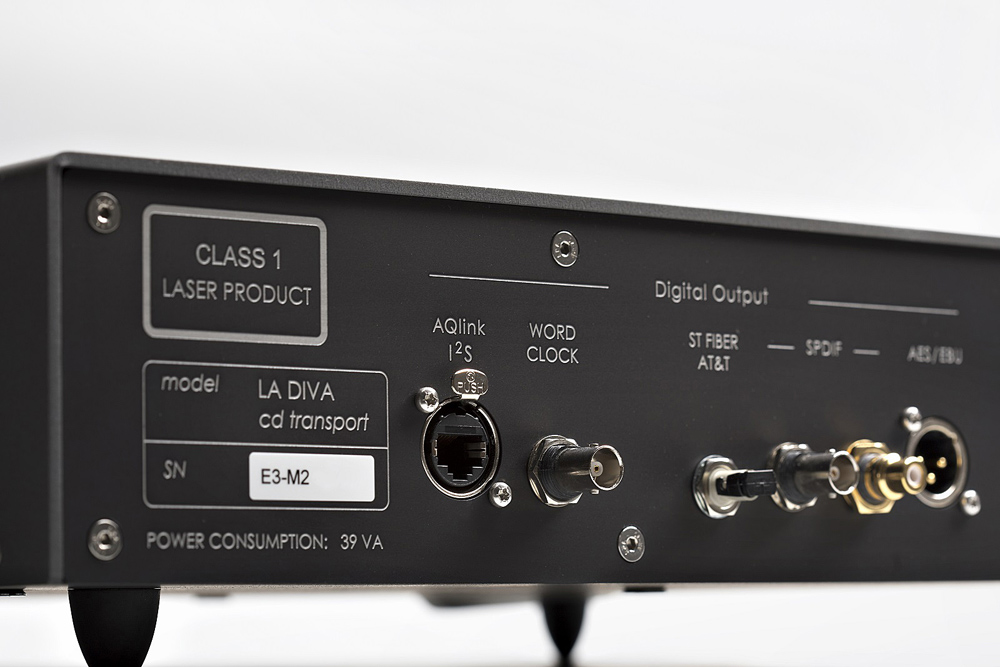 Assembly standards are first-rate and La Diva M2's weight is a solid 10kg (forgive me La Diva for the uncouth exposition of your hefty weight…). The aforementioned Nextel finish is not only visually attractive, but it's been employed for its dampening of vibrational distortions across the chassis' panels. The unit operated flawlessly throughout the several weeks it was in-situ and read every CD and CD-R I threw at it without drama. Operationally, most definitely not a Diva product.
Hey Two Oh!
Australia's Aqua distributor Audio Magic sent both La Diva M2 and, for the purpose of examining the synergies between them, also sent me the exceptional Formula xHD DAC reviewed by SoundStage! Australia Reviewer Peter Katsoolis here. Having said that, my first round was via La Diva M2 and my own reference DAC, the superb Totaldac d1-triunity DAC. Once I got a handle on La Diva M2, which was the intended component for this review, I swapped out d1-triunity for the Formula xHD.
Comparing my usual CD spinner's – the excellent Yamaha CD-S2100 used as a transport – S/PDIF output to La Diva M2's own, I heard differences that were subtle but important. La Diva M2 was a tad more fluid, with perhaps a very subtle improvement in rhythmic flow. It's surprising how good the Yammie is, but La Diva M2 is marginally more solid in terms of its midrange presence and resolution. La Diva M2's handling of complex music seemed a tad more dynamically expressive and more surgically incisive than the CD player, without disrupting the music's flow.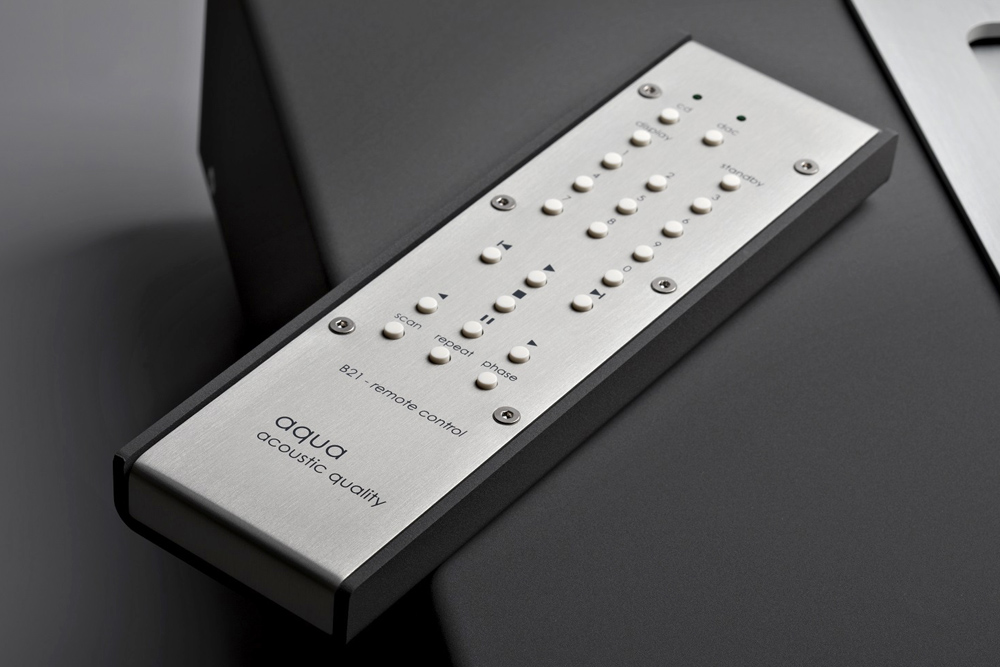 The much more affordable (AU$3499) Yammie is a CD spinner par excellence, but it's a multi-tasker which provides an analogue output stage, a high quality conversion system from ESS Technology and a USB architecture by Yamaha/Steinberg. So it also serves as a DAC. It's superbly built and features a bespoke disc mech. Such an extensive skills and design grouping has to obey the laws of manufacturing budget realities. In turn, La Diva M2's sole CD-spinning purpose is an all-out no compromise effort which is fully focused on one main task.
Playing the very well recorded "Fire in My Head" from Piers Faccini's Tearing Sky CD showed well controlled low-end (this album has plenty of welly throughout the bass region) and a superb rendering, up front and centre, of Faccini's understated vocals. There's a terrific immediacy to the sound of La Diva M2, it manages a portrayal of music which grabs the listener's attention. The low-level details of the various instruments painting the musical backgrounds on "Sons and Daughters" were superbly delivered by La Diva M2 – nothing escapes the sweet detail retrieval of this CD transport.
Gidon Kremer's violin on "Revirado" from Astor Piazzolla, El Tango CD had excellent tonal textures and precise separation between Kremer's instrument and the Assad brothers' guitars. The timbre of each of those simultaneously played instruments was not only individually evident but also seamlessly as part of the music's construct.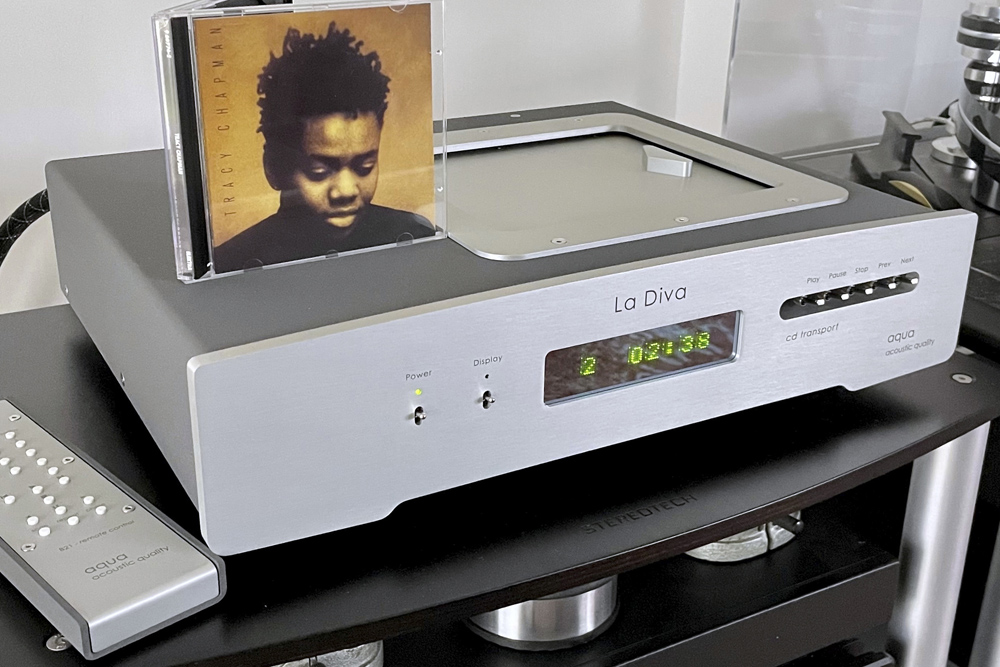 The above comments are mirrored across my reference Totaldac d1-triunity DAC and the Formula xHD. Both converters share the same ideology of ladder-based conversion, eschewing the much more economical methodology of employing Delta-Sigma DAC chips. Of course, a DAC's sound is more than just chips or resistors. The output stages, power supply architecture and overall circuit design play a super-important part in the component's ultimate sonic performance.
Hooking up the Formula xHD in place of my Totaldac d1-triunity to La Diva M2 showed a very similar sonic performance. In the context of my well-balanced system, I found it difficult to reliably tell what the differences were between these two exceptional DACs.
Performing the digital and interconnect cable shuffle, then going through the process of unmuting all the electronics and, finally, sitting back at the listening spot and then selecting the same track is, really, too long a time span for adequate A/B'ing products of this elevated standard. Both these DACs are at world-class level. If I could point at some differences, which I'd vaguely discerned, I'd single out the Formula xHD as having subtly deeper bass and marginally sweeter tonal qualities while the d1-triunity may have been a tad more dynamic through the mids and highs, in addition to maybe a slightly faster transient attack. I have to stress here – these were very small differences which I called after a switching process which was less than ideal. In other words, these two DACs are, sonically, state-of-the-art and both competently revealed La Diva M2's digital communication abilities.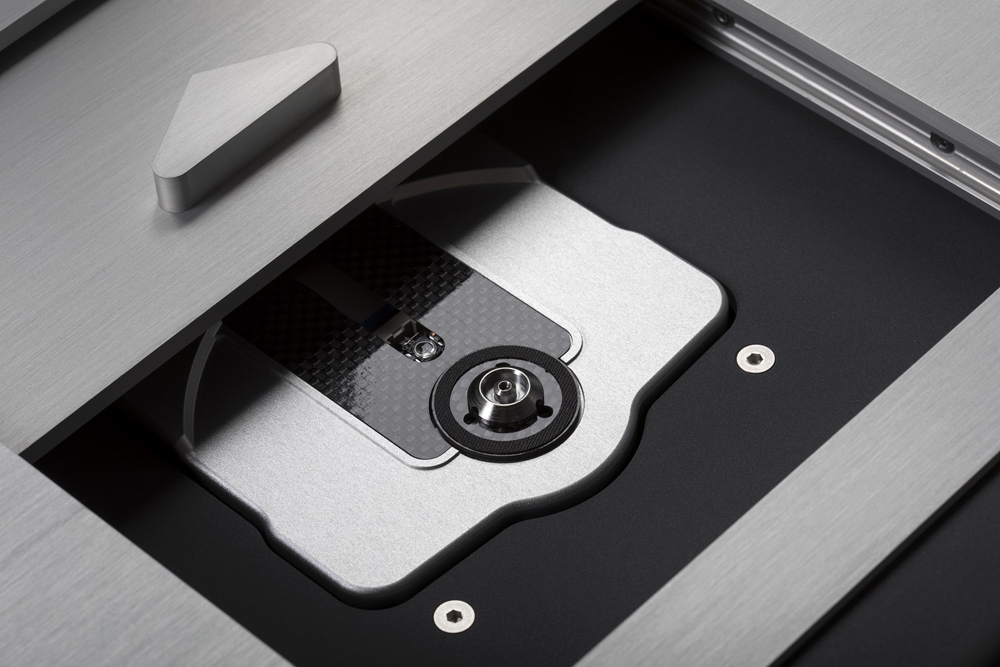 The remainder of my time with La Diva M2 was via its mating with Formula xHD. Spinning many, many of my favourite discs showed the synergistic relationship between made-for-each-other stablemates. From Susana Baca, Patty Larkin and on to Ani DiFranco and Ryan Adams, Bruce Cockburn and onto Fink and Calexico, and so much more, it all sounded synchronously (pun intended) and extraordinarily… musical. That musical integrity carried through to expansive orchestral works, intimate chamber music and cosy-venue live jazz.
Conclusion
There's no disputing the excellence of the CD format even in these days of high-resolution streaming which can stretch to multiples beyond the Redbook standard's humble 16-bit/44.1 kHz. In fact, a sizeable percentage of experienced audio enthusiasts still rate the CD as the sonically superior digital format.
The Aqua Acoustic Quality La Diva M2 is at the vanguard of the CD format's purest principles. It's a transport only, which allows mating to your DAC cocktail of choice with its own concoction of flavours. Its disc-spinning mechanism's excellent design will precisely read the pits and flawlessly dispatch an undistorted flow of data to its DAC destination.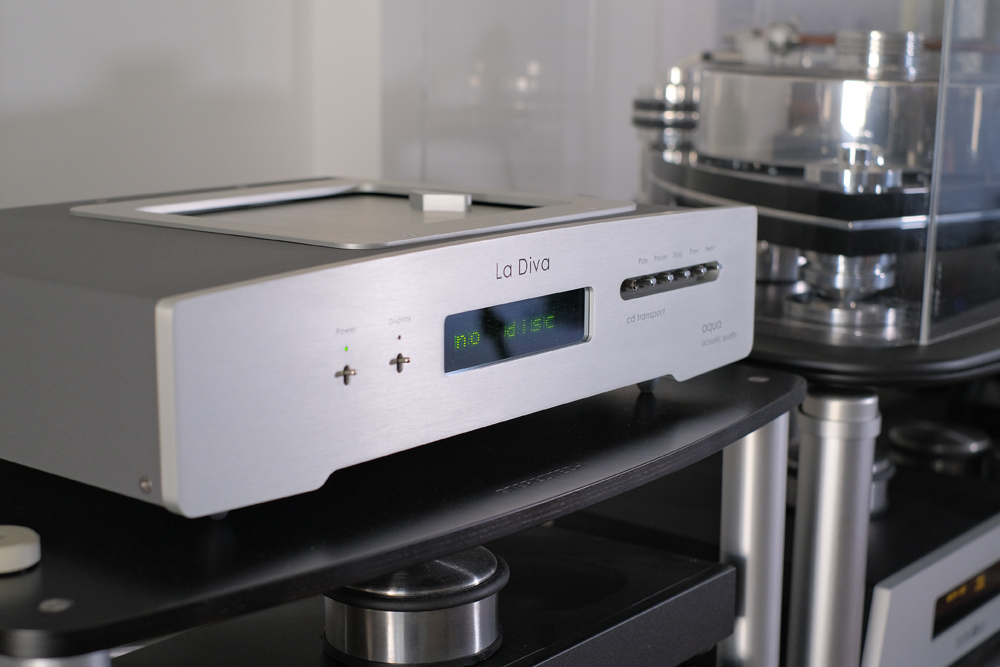 La Diva M2 is also beautifully styled and immaculately built while being part of a portfolio of products from a progressive brand offering state-of-the-art digital solutions. As stated above, it has a choice of no less than three DAC possibilities among its company brethren at varying cost brackets.
Yes, with La Diva M2 and Formula xHD, you'll hear fluid, full-bodied, solidly dynamic, cinemascope-dimensioned music, which is also rich in tonal textures. Simply, the combo is a must-audition if shopping in this combined price point. The cliché goes '... old is new again'. I say, clad in my cord flares and platform thongs, that La Diva M2 proves not-so-old is cool again.
… Edgar Kramer
This email address is being protected from spambots. You need JavaScript enabled to view it.
Associated Equipment
Speakers — Wilson Audio Alexia V, Axis Loudspeakers VoiceBox S (nearfield monitor), Vermouth Audio Little Luccas Mk.II, Atacama stands
Amplifier — Gryphon Audio Antileon EVO
Preamplifier — Supratek Cortese, Totaldac d1-triunity (direct to amplifier)
Sources — Digital:432 EVO Aeon Mk.3 Reference Music Server/Roon Core, Yamaha CD-S2100 transport, Totaldac d1-triunity DAC. Analogue: Transrotor Crescendo with Konstant Studio controller, Reed 1X Tonearm with upgraded internal wiring, Shelter Harmony cartridge, The Funk Firm Houdini cartridge decoupler, Supratek Cortese & REDGUM Audio RGPH2 phono stages
Processor — DEQX PreMate (part of arsenal/casual use)
Cables — VYDA Laboratories Orion Silver Reference HFC IC and speaker cables, PSC Audio custom design XLR, Vermouth Audio Reference loom,ZenSati Zorro, Tubulus Concentus USB
Audio Rack — SGR Audio Statement Model V, Aspire Audio Belgravia amplifier platform (customised for Gryphon Audio Antileon EVO), Stereotech Aluminar Dark 3-tier rack
Acoustic Treatment — Vicoustic Multifuser Wood, Wavewood Ultra, Cinema Round Premium and Super Bass Extreme
Miscellaneous — Silent Angel Bonn N8 Pro network switch, GigaWatt PF-1 EVO power strip, Les Davis Audio Viscoelastic CLD discs, VRC Vinyl Record Cleaning systemplus miscellaneous accessories
Aqua Acoustic Quality La Diva M2 CD Transport
Price: AU$14,000
Australian Warranty: Two Years
Australian Distributor: Audio Magic
+61 3 9489 5122
www.audiomagic.com.au
AQ Technologies S.r.l.
Via Luciano Manara, 17 - 20122 Milano
Italy
+39 338 230 0347
www.aquahifi.com