Epochs ago, at CES Las Vegas, I recall being Pied-Pipered to an exhibit which was bleeding seductive tunes through the Venetian's corridors. There, I discovered a system made up of top-notch electronics, ginormous speakers and bijou-like cables networked like giant intersecting webs. These cables were the latest products from new Danish company ZenSati which, at the time, hit the high-end market with all wheels screeching. Man, that system sounded super-hot. That's also where I met ZenSati's charismatic founder Mark Johansen. Since that time so long ago, the company has carved a deep fissure into the obesely-bulging cable space. As high-end-centric as ZenSati cables are – like the über sILENzIO and #X – the 'Zorro' cable loom under examination here is the entry-point. It's also its newest line and the most cost-effective since ZenSati's inception. On paper, these cables should provide a tasty portion of its more exotic siblings' performance. Let's test the theory with some hands-on and ears-up practice…
I See Red
On a frosty autumn morning, a box arrived via courier at SoundStage! Australia HQ. Inside, a full loom of ZenSati Zorro. A festival of nested crimson snakes. RCA unbalanced and XLR balanced interconnects, USB and DIN phono, loudspeaker and thick AC power cables. The lot.
While over the years I've employed a mix of cabling which, with some experimentation, has resulted in synergistic, high-performing combinations, the use of a full loom from the one company has always proven to work, sonically, just about from switch-on. As you'd expect given the common materials and consistent design aspects of the cable from the AC socket to the loudspeaker binding posts.
Once everything was fully Zorro'ed, I went about running the system on background-level duties 24/7 for a number of days. In between the running-in process I sneaked two or three cheeky sessions at proper volume levels. Admittedly, the Zorro loom took quite a while to start performing really well – at the outset it all sounded a little… thin. However, even through those early sessions, I heard a great sense of midrange neutrality and a 'fast'-transient sound. More on that anon.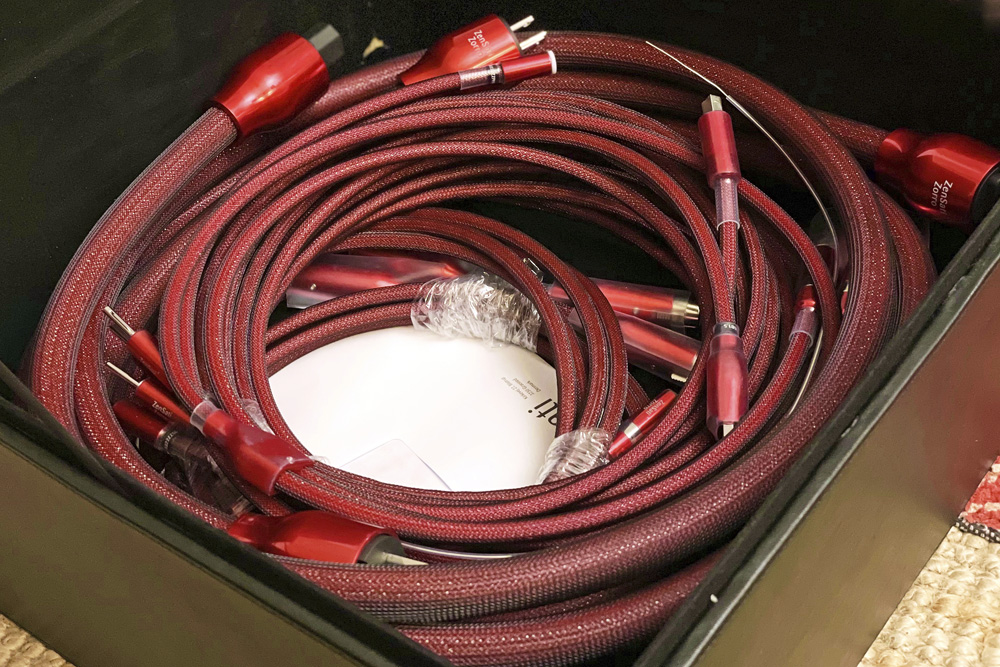 Zorro cables are crafted from flat twisted copper conductors with a "solid layer" of pure silver plating, with the entire bundle construction being insulated via bespoke copper shielding. The speaker cables adopt a doubled topology. The AC power cable is a different concoction featuring a litz arrangement via large copper conductors. ZenSati considers the insulation and the distance between it and the conductors to be of high importance as is the air space within the cable (a variation of this is applied across all the company's cable lines). Zorro cables eschew Teflon for sonic quality reasons. All the various connectors are silver-plated and externally finished in the signature red Zorro colour. The quality outer jacket is also a deep red colour and is dressed with a thin black mesh.
Mark Johansen expanded on this a little:
'Zorro' refers to the Spanish fighter for freedom. He was always winning his battles. The red colour in ZenSati Zorro symbolises the blood from his fights and the black flex cover symbolize his black dress. The very hard strategy with ZenSati Zorro is to offer the absolute best audio cable line for the money on the global market. A cable which can beat all brands in a battle of quality, time alignment, tonal balance, speed, neutrality, musicality, price/performance, best investment and good looking design. On top of that, it's a cable line with no nonsense aspects, easy to sell for distributors and dealers and relatively easy to produce for us.
I asked Johansen how long the development period for a cable line like Zorro would take and how much fine-tuning of the cable topology goes on in terms of the target performance.
For the new line of ZenSati Zorro, it took over 12 months of development to get to the point where I wanted Zorro to be. Many hundreds of hours of testing, making changes and personal listening as well as with other engineers and audiophiles in my network. After extended listening, we discovered that the sound of Teflon was a little thin so we did not apply that on Zorro. Given all of this, it's a costly exercise to produce a cable like Zorro using all those skills and resources, especially with this design and for that money.
As is common across the entire ZenSati product line-up, the build quality is first-rate. Ditto for the custom connectors which, especially in the case of the RCAs, fit superbly upon any socket. I find RCAs, which are not constructed to a universal standard, are often either too grippy or somewhat loosy goosy, where the ZenSati connectors are just… right. Some of the cables are a little stiff (but still fairly compliant to a little cable routing), especially the AC power and speaker cables, while the remainder of the loom is rather flexible.
True Colours
The first thing I heard from these cables is their neutrality – an ability to transmit the signal in a totally uncoloured way. That in itself is a prized feature at any price. What this particular quality also allows is an excellent level of clarity and transparency-to-the-source which came across no matter the music genre I played.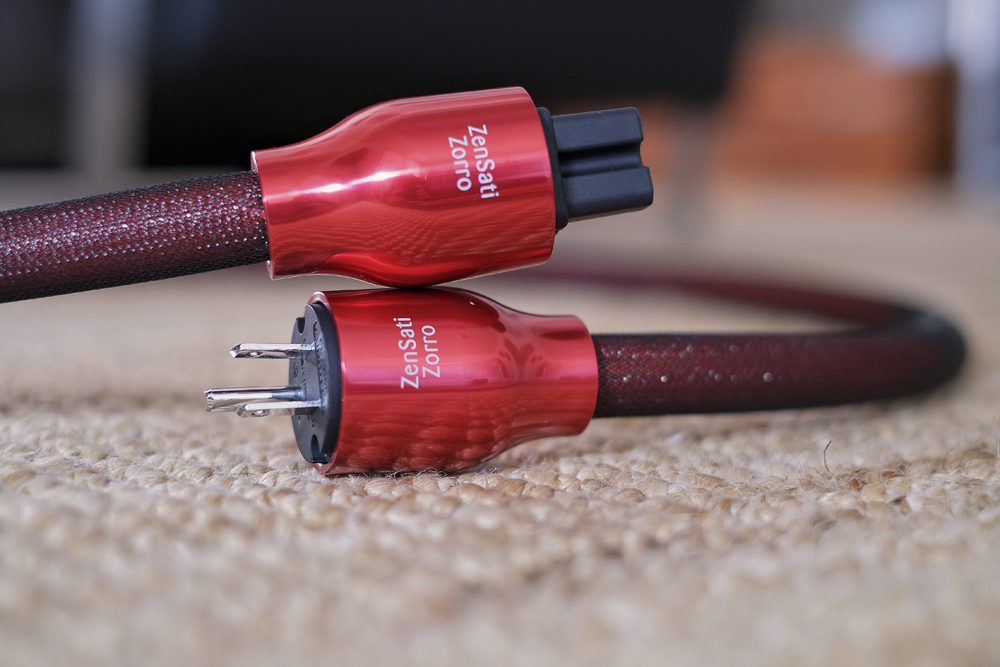 That clarity and unwavering faithfulness to the signal showed beautifully on "Wagon Wheel" from Dan Patlansky's Wooden Thoughts album on Qobuz. There was a very satisfying level of detail to Patlansky's guitar with great separation between it and his vocals. The steel strings on Patlansky's guitar take on that trademark metallic ring-scrape which very truthfully reflects the combination of the instrument, its strings of course, the musician's strumming and picking techniques and, when played near the soundhole, the reinforcement of the box cavity's hollow.
The neutrality of the Zorro cables made for an excellent vocal range reproduction albeit one lacking any false romanticism. If you like a lush, syrupy representation of voices, which at the end of the day is unnatural, then Zorro is not for you. If you value the correct rendering of both male and female voices in a way that represents the real thing (as closely as audio systems can muster) then you'll be in seventh Heaven with Zorro.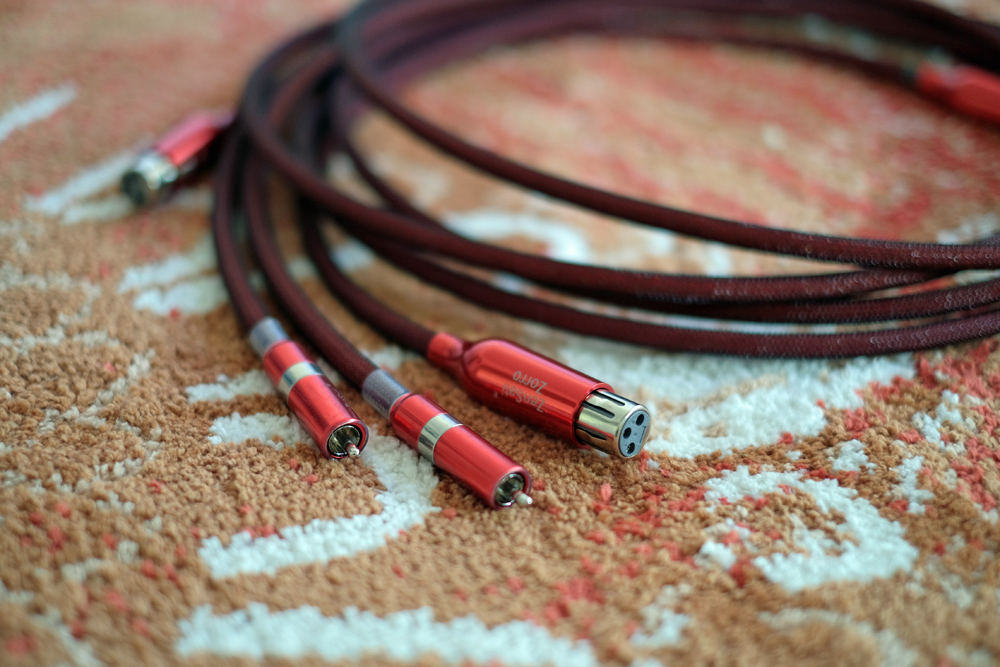 So to confirm the above, I spun all sorts of vocal fare within all genres. From the sensuous tones of Patricia Barber, through the rocker raspiness of Sasquatch's Keith Gibbs to the deep rumbles of Leonard Cohen and Katie Noonan's pure heaven-call, the Zorro cables showed the voiced interpretations in superbly delicate, faithful renditions.
Zorro's low-end reproduction was exceptionally tight, nuanced and rhythmic. While a little lighter than other cables in my stable, however it more precisely rendered the tonal textures of bass lines while also being capable of almost surgical accuracy in terms of separation. That descriptor was reinforced by the attacking energy associated with the leading edge of notes. Really exemplary transient response here. There was definitely a spring in the step of all music, especially in acoustic bass Jazz, Chamber cello and electric bass Rock.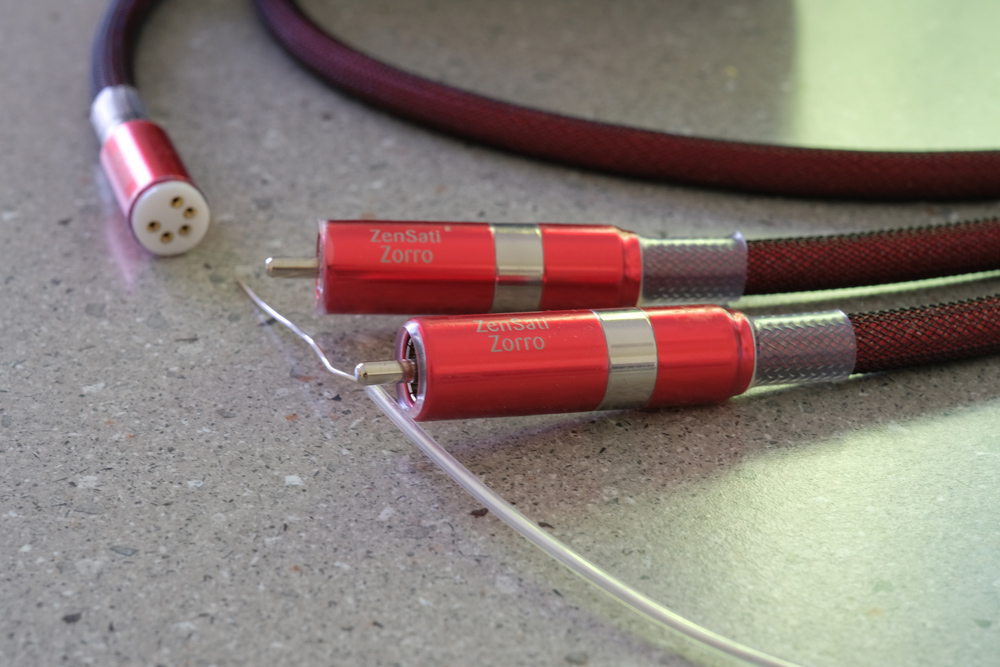 In fact, the cello performance on 2Cellos duo Luka Sulic's and Stjepan Hauser's cover of Michael Jackson's "Smooth Criminal" was exceedingly enjoyable in the way detail, rhythm, attack and overall dynamic expression were all reproduced. The duo can be quite aggressive in the way they handle the instrument and Zorro did not at all blunt the inherent aggression – that would have diminished the performance.
Big orchestral works showed the Zorro loom's expert handling of soundfield rendition. Orchestras were placed in large spaces when the recording allowed. Tympani showed good wallop and power while the string section played with excellent detail and satisfying dynamic swing. As always, Serebrier Conducts Serebrier with the London Philharmonic Orchestra playing the Maestro's "Funeral March (Poema Elegiaco)" communicated a scarily-powerful experience via a tremendously grandiose crescendo. Once again, Zorro did not curtail the authority and dominance of the music.
Conclusion
In terms of the cable space, Zorro is by no means an entry level product. They are however, the entry point for ZenSati, a company which has always focused on the upper echelons of cable manufacturing. In fact, being ZenSati's most cost-effective alternative kind of automatically places Zorro in the mid-level tier of cable pricing generally.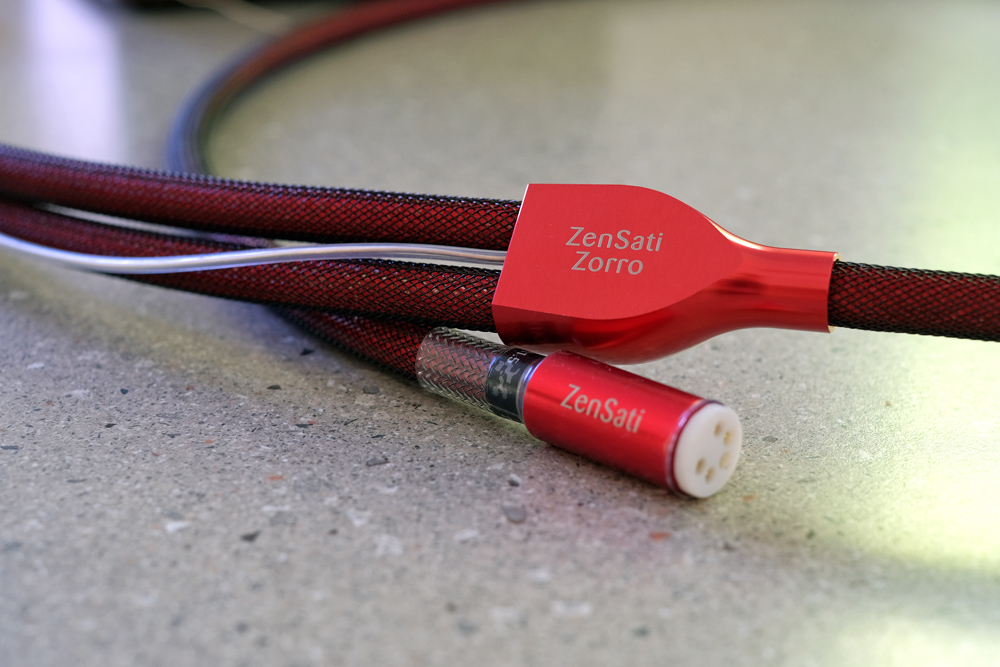 Zorro is a cable for enthusiasts and audiophiles who enjoy music in an uncoloured, unromanticised way. Zorro demands a well-balanced system, a discerning listener with the ability to enjoy recordings whether warts-and-all mediocre or the magnificently-captured bliss of genius studio and mastering engineers.
Yes, with Zorro, ZenSati has unmasked the finer minutiae at the heart of the music.
… Edgar Kramer
This email address is being protected from spambots. You need JavaScript enabled to view it.
Associated Equipment
Speakers — Wilson Audio Alexia V, Axis Loudspeakers VoiceBox S (nearfield monitor), Vermouth Audio Little Luccas Mk.II
Amplifier — Gryphon Audio Antileon EVO
Preamplifier — Supratek Cortese, Totaldac d1-direct
Sources — Digital: 432EVO High-End Music Server Roon Core, Yamaha CD-S2100 transport, Totaldac d1-direct Analogue: Transrotor Crescendo with Konstant Studio controller, Reed 1X Tonearm with upgraded internal wiring, Shelter Harmony cartridge, The Funk Firm Houdini cartridge decoupler, Supratek Cortese & REDGUM Audio RGPH2 phono stages
Processor — DEQX PreMate (part of arsenal/casual use)
Cables — VYDA Laboratories Orion Silver Reference HFC IC and speaker cables, PSC Audio custom design XLR, Vermouth Audio Reference loom, ZenSati Zorro loom, Cables for Music Songbird speaker cables
Audio Rack — SGR Audio Statement Model V
Acoustic Treatment — Vicoustic Multifuser Wood, Wavewood Ultra, Cinema Round Premium and Super Bass Extreme
Miscellaneous — Silent Angel Bonn N8 Pro network switch, GigaWatt PF-1 EVO power strip, Les Davis Audio Viscoelastic CLD discs, VRC Vinyl Record Cleaning system plus miscellaneous accessories
ZenSati Zorro Cable Loom
Price: IC RCA US$1540, USB US$1470, Phono DIN US$1960, Speaker US$1820, AC US$1750
Australian Warranty: Two Years
ZenSati products are not distributed in Australia at this time. Please contact ZenSati directly via the details below.
ZenSati ApS
Kirkevej 27, Blistrup
3230 Graested
Denmark
+45 2992 2979
www.zensati.com