A few years ago, after having a Totaldac digital-to-analogue converter in for review and being seduced by its sonic excellence, no doubt due for the most part to its proprietary discrete R2R ladder digital conversion technology, I enthusiastically added the review sample to my then reference system. That was Totaldac's d1-core and it's the company's entry point to this day. It was killer. Yes, killer. In defiance of its relatively modest price, its sound had an almost intangible magic and a certain… rightness. Even juxtaposed, at the time, with my own high-end CD player which employed multi-bit DA conversion (the legendary TDA1541 chip). Ever since, I've been using Totaldac's converters exclusively as the blood source of my reference system's central nervous system. Four years later, d1-core stepped aside for the purity and tonal precision of the d1-direct. Now, the Totaldac story progresses with a new, just announced chapter. The d1-triunity. Will the story of dominance lead to a new possession?
Triangle of Joy
Living with the d1-direct for a few years had shown me with extreme clarity, literally, what can be achieved in terms of digital audio playback. At its level of tonal accuracy and profound transparency, it would satisfy the most demanding music lover and audiophile (confoundingly, there's often a disconnect between these two). In my opinion, even the most avid analogue enthusiast would be in irrational denial to refute this level of transmission as anything other than approaching… music.
If a nit was to be picked, it would be the d1-direct's low output which was steered directly from each channel's resistor bank (a cunning design feat). While obviously an extremely pure methodology for extracting the digital stream and passing it onto the analogue outputs, its eschewing of buffers and other output stage componentry offered a mere 1.6V at the RCAs (or XLRs). This could present some incompatibilities with low gain electronics and moderately efficient speaker systems. In the context of my own setup, this was not an issue. However, in his constant and ongoing research, Totaldac's founder and Chief Engineer Vincent Brient strove to design a new DAC architecture which would either match or improve on the d1-direct's unrivalled transparency and tonal precision while also providing universal compatibility. In other words, a standard gain structure.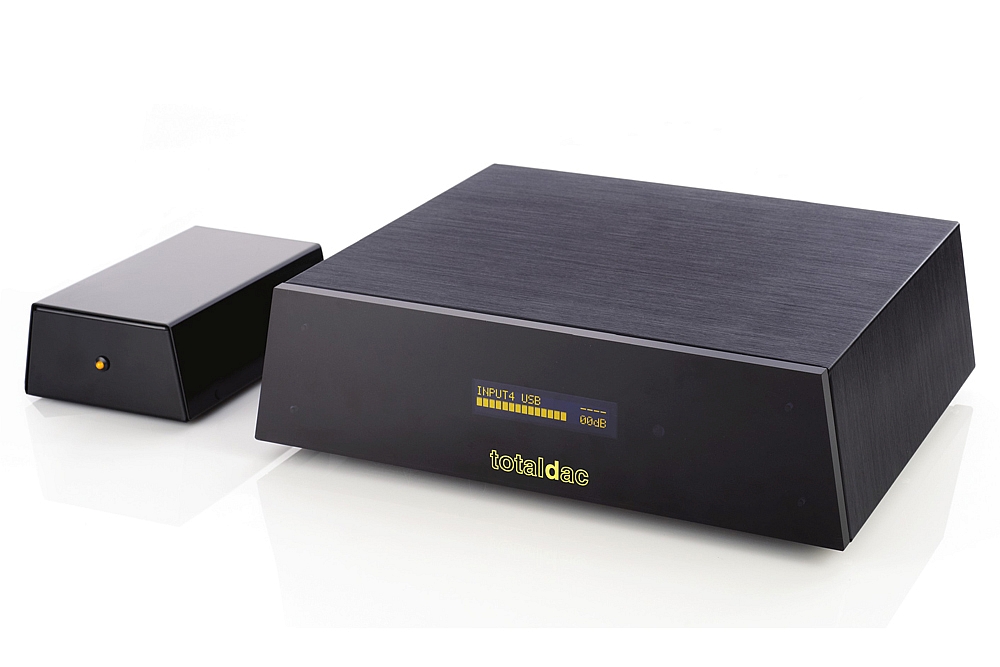 The R&D led to the development of a number of modifications and overall improvements. Brient's preferred ladder topology also saw a renewed configuration for each channel's resistor bank. His research developed into a new digital architecture which brought the kinds of performance upgrades even Brient was surprised with. Enter the new 'unity' topology.
The 'unity' architecture eventually resulted in a trio of new DACs. The entry point is the EU12,500 d1-unity and the EU50,000 flagship d1-sublime (older d1 units are upgradeable to 'unity' level). The subject of this review is the mid-point d1-triunity which lists for EU20,500. The review sample was supplied with Totaldac's 'live power' power supply upgrade (EU1200), an enhancement over the standard unit which Brient highly recommends as a worthwhile improvement, and a silver solid aluminium faceplate (EU420) which replaces the standard smoked acrylic fascia. Said front panel is the home for a centrally-placed OLED display with a company logo below it. That's it. The on/off switch is in the rear of the separate power supply chassis. You can send d1-triunity into standby mode via the remote control.
While on the subject of build quality, the faceplate's finish and gauge is of a high standard, as are all the rear panel's connectors. The chassis is constructed from folded steel and the rear panel is of a thin-ish gauge, however, the component is well assembled and weighty – considering there's no internal power supply – no doubt due to the use of a "massive pure copper antivibration plate" on the bottom panel. Like many hot-rodded products, the bill of parts is focused on performance related goodies on the inside. Ergo the d1-triunity's external construction ends up being somewhat less substantial than many of its rivals' milled-from-solid or massive-plated chassis constructions.
The unity architecture is said to have had over 290 changes and component upgrades across its circuitry. No mere Mk2 revision here, but a substantial overall re-engineering achievement. As Brient puts it, "The 'unity' architecture allows a better clock distribution, a lower jitter, a lower R2R power supply rail impedance and a lower noise in the digital section." Of note, Brient uses a mixture of analogue master tapes and his own high fidelity recordings to assist in reaching his sonic performance targets.
So, while the entry point d1-unity features a single ladder network per channel, the d1-triunity as the name implies incorporates three ladder networks per channel. Said networks are high precision matched 0.01% VAR Bulk Metal Foil and Vishay resistors. All 300 hundred of them. Fifty per network. Resistor city.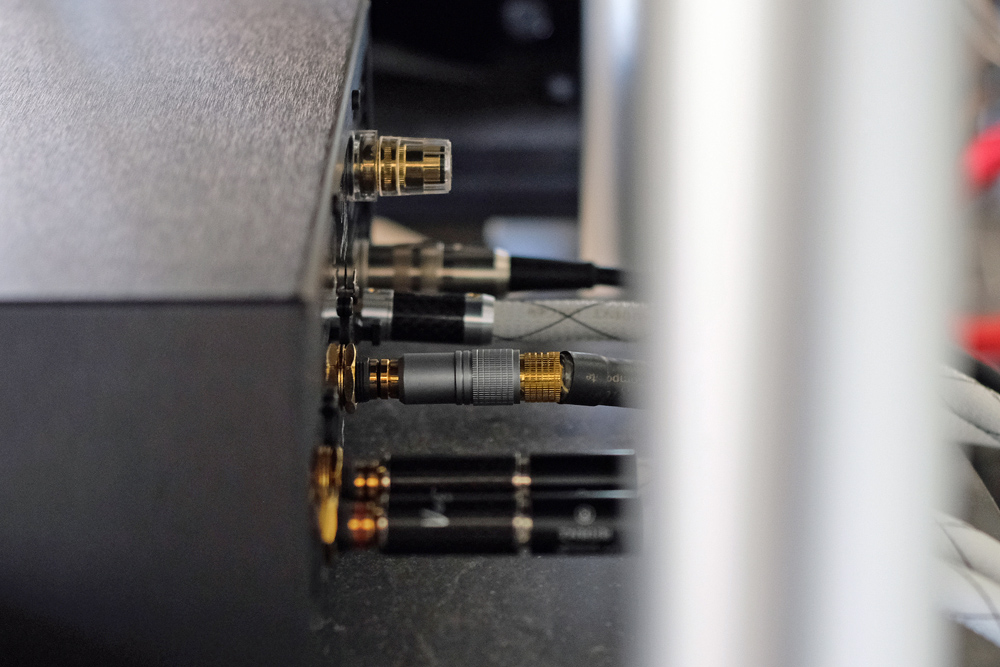 The output stage is a new design employing discrete transistor circuitry arranged in Class-A operation. This has led to the output voltage going from the d1-direct's meagre 1.6V to a standard, low impedance 3.5V via the d1-triunity's RCAs and a balanced 7V output via its XLRs. In a further upgrade, Totaldac has embedded a high quality, extremely precise custom clock with "anti-jitter" FIFO memory.
The d1-triunity's conversion caters for 24-bit/192 kHz resolutions via its asynchronous Xmos USB-B input while the unit also offers an S/PDIF coaxial RCA and AES/EBU XLR with the same 24-bit/192 kHz compatibility. The Toslink optical socket can handle resolutions up to 96 kHz. DSD via DoP can be optioned in (additional EU350) and is available via the USB, S/PDIF and AES/EBU inputs. Analogue outputs are offered with RCA and XLR options. In terms of optional features, Totaldac also offers a streamer board for EU1350 while there are other options available (see the company website).
The included plastic remote control is ergonomic and features wide control abilities. Importantly, the output level adjustment allows having my Supratek preamplifier's own volume fixed at around 11 o'clock and setting listening volume from d1-triunity. That's my modus operandi while being mindful to set the d1-triunity's setting well above the -25 reading (mostly I hover around -6) in order to avoid bit-stripping.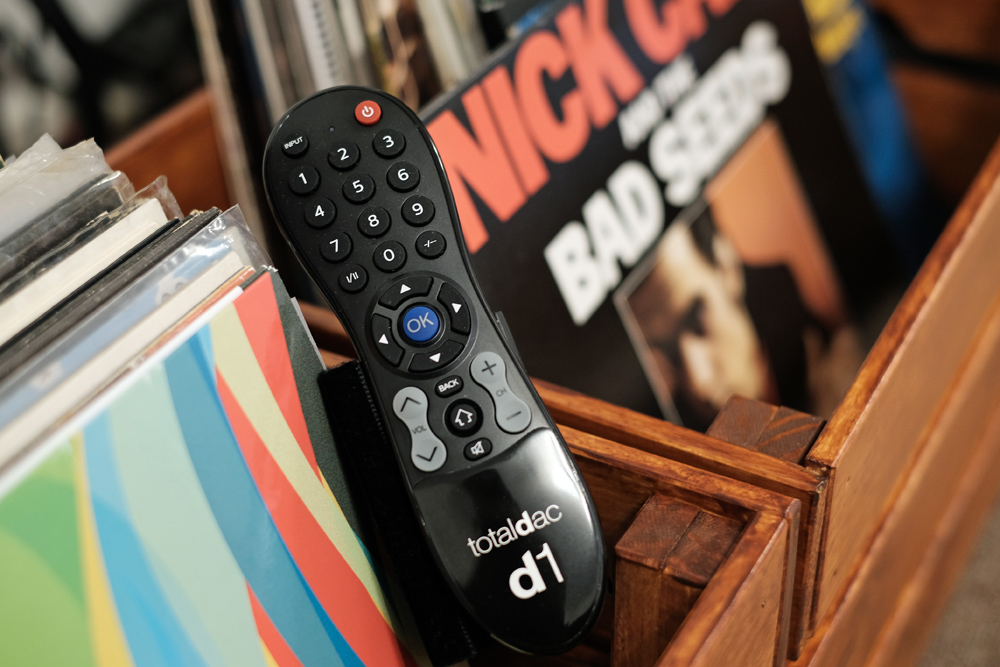 Due to having to use the XLR outputs (my Gryphon Audio Antileon EVO amplifier only accepts a balanced input and is about 6m away from the preamp) I'm unable to plug d1-triunity directly to the power amplifier – there's just too much gain. Doing so would mean having to operate it well into bit-stripping territory. The remote also operates input selection, display on/off, phase polarity, earth connect/disconnect and a very useful 'Treble FIR' on/off which compensates for the non-oversampling high frequency reduction (turning it OFF operates in pure NOS mode with a slight treble roll-off).
d1-transluscent
Let's go to the obvious elephant in the room. Having a skilfully engineered Class-A output stage providing double the voltage of my beloved d1-direct brought about a noticeable uptick in terms of dynamic power along with a tad more low-frequency depth and punch. The d1-direct's intimate head-on connectivity to its analogue outputs provided an immediate, super transparent presentation. Remarkably, none of that is lost with the d1-triunity.
Let's move on from where that elephant left-off. This baby can scale and attack. The track "Above" from Blue Man Group's The Complex album will slam you back into your listening chair. The low-end is super tight and deep while the drums (or whatever wacky thing these guys are playing) really hit with incredible leading edge attack. When the song takes off, it's all a powerhouse of complexity and d1-triunity just cruises along, easily separating all the sounds and strands, with everything scaling the walls of dynamism scarily realistically. The drums on "Persona" really, really drive the track. Yet the vocal is never swamped, with the lyrics being easily traceable in clear intelligibility.
A go-to CD or stream (actually, preferably CD for this one) to test absolute power and depth in percussion instruments is Yim Hok-Man's "Poem of Chinese Drum" from the Master of Chinese Percussion album. It's not music you can sit down and listen to all the way through, the monotony will conquer you a couple of tracks in. However, as a test disc, it's a must-have. On that track, the Wilson Audio Alexia V and Gryphon Audio Antileon EVO pairing (not to discount the Supratek Cortese preamplifier in all this) when fed via d1-triunity had my rather solidly built room vibrating. Wow! The different drum sizes and percussive strike variations went from subtle to explosive. And when the biggest drum comes in halfway through the track, man you best be on an empty stomach… Incredible sound wave force, d1-triunity.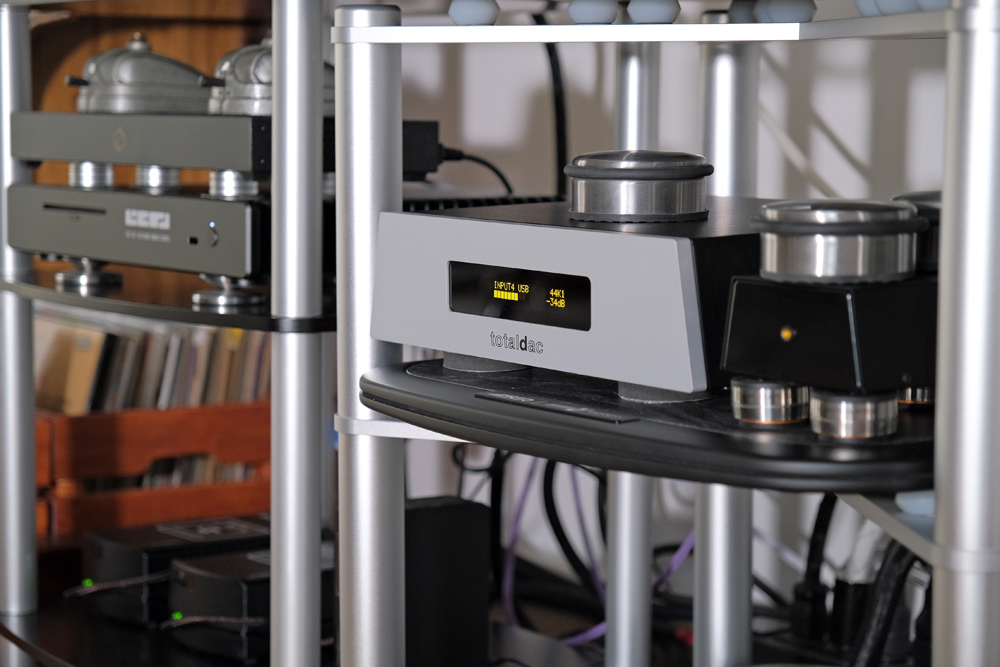 How the d1-triunity manages to transmit so much detail and nuance without ever, ever sounding etched or bright is a true master stroke by Brient. On the soundtrack from the superb Aussie film The Proposition, the title track's profound levels of information are extraordinary, especially on Warren Ellis' violin, its string and rosin vibration seemingly riding above the tension of the underlying keyboard drone and slow-pounding drum. Ditto for the brush strokes on the drums and the pulled violin strings on the next track "Road to Banyon" where all the nuances and low-level details are super-resolved.
I'm a sucker for great tonality. The more precise the tone, the more real it sounds, especially noticeable, of course, with acoustic instruments in live or well-produced recordings. In my reviews, I often quote the Nicolas Parent Trio's Tori album. It's beautiful music and an extraordinarily well-captured recording. Parent's guitar, along with Kentaro Suzuki on acoustic bass and Guillaume Arbonville on percussion sounded pure, immediate and to a level of tonal precision which is unprecedented in my experience with digital playback. There was gut and nail in the guitar and the stand-up bass while the hollow ringing and bouncing-ball tautness of the various percussion skins was amazingly real and… physical.
As much as the d1-triunity plays with subtlety, nuance and timbrel accuracy, it can also let fly when needed. I've already mentioned the Chinese drum album, but with more complex fare of similar dynamic prowess like "Ritual" from Schnittke's Faust Cantata, the sudden crescendo is hair-floppingly powerful, yet all the instrumentation is defined and clear while maintaining the piece's integrity.
When the choir comes in on track 4, it's an all-enveloping experience, with the soundstage spread wide, deep and tall, belying the room size. Recording permitting, images are always sharply focused and full-bodied, another of the d1-triunity's strengths.
Conclusion
Totaldac's preferred ladder-based digital conversion methodology has many devotees who align with its merits. That's both in terms of competing manufacturers, also embracing the technology, and a growing cohort of audio enthusiasts at large. The consensus seems to synchronise a view which ties-in a fluidity and an overall musical rightness which is, arguably, only matched by the very best Delta-Sigma D-to-A chip converters. There are no down sides here, aside from perhaps a constraint, in the case of d1-triunity, to a maximum of 24-bit/192 kHz resolution (in standard guise without the DSD module). Yet, in my view, that's hardly been a limitation performance wise.
With the 'unity' Vincent Brient has undoubtedly escalated the outstanding musicality, palpability and presence of the company's preceding offerings. What the d1-triunity does, in effect, is offer universal compatibility in terms of voltage output while, in tandem, advancing the sonic performance aspect.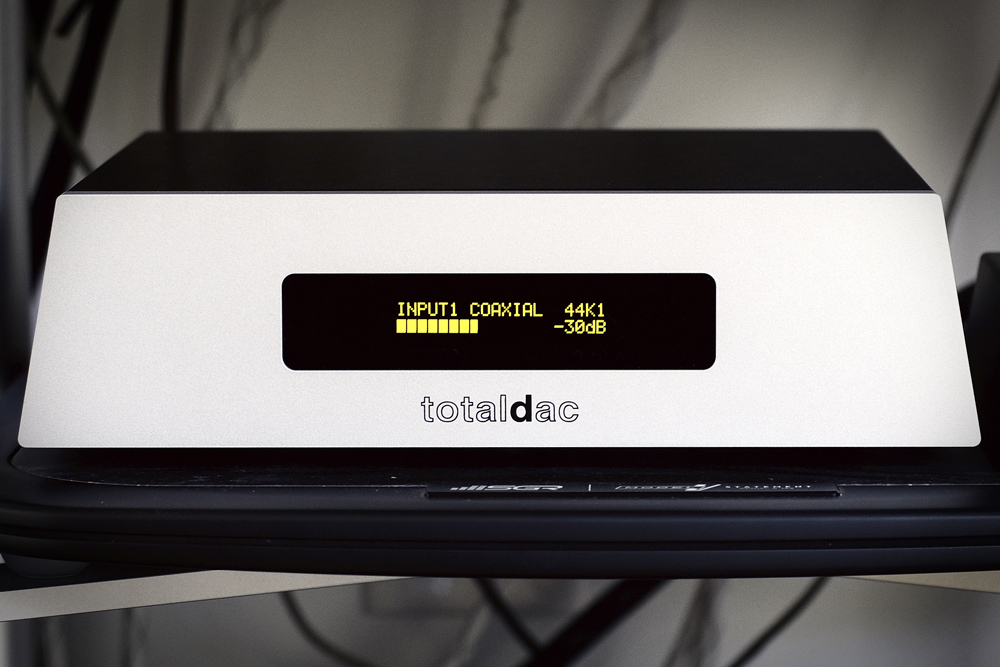 In the intro I asked whether a new possession was in the horizon. Well… it's now an event horizon. An inescapable digital-speed attraction. The Totaldac d1-triunity converter is the new DAC reference at SoundStage! Australia HQ. Within my realms of obtainability, it reigns supreme and, beyond that, it's in line with the very finest DACs I've reviewed. There were some doozies there too. I'll never forget the joys of the Berkeley Audio Design, Gryphon Audio and Ypsilon units to name three off the top of my head. The d1-triunity sits right there, with select peers, among the DAC reference products available today. Magnifique Monsieur Brient!
… Edgar Kramer
This email address is being protected from spambots. You need JavaScript enabled to view it.
Associated Equipment
Speakers — Wilson Audio Alexia V, Axis Loudspeakers VoiceBox S (nearfield monitor), Vermouth Audio Little Luccas Mk.II, Atacama stands
Amplifier — Gryphon Audio Antileon EVO
Preamplifier — Supratek Cortese, Totaldac d1-triunity (direct to amplifier)
Sources — Digital: 432 EVO Aeon Mk.3 Reference Music Server/Roon Core, Yamaha CD-S2100 transport, Totaldac d1-triunity DAC. Analogue: Transrotor Crescendo with Konstant Studio controller, Reed 1X Tonearm with upgraded internal wiring, Shelter Harmony cartridge, The Funk Firm Houdini cartridge decoupler, Supratek Cortese & REDGUM Audio RGPH2 phono stages
Processor — DEQX PreMate (part of arsenal/casual use)
Cables — VYDA Laboratories Orion Silver Reference HFC IC and speaker cables, PSC Audio custom design XLR, Vermouth Audio Reference loom,ZenSati Zorro, Tubulus Concentus USB
Audio Rack — SGR Audio Statement Model V, Aspire Audio Belgravia amplifier platform (customised for Gryphon Audio Antileon EVO), Stereotech Aluminar Dark 3-tier rack
Acoustic Treatment — Vicoustic Multifuser Wood, Wavewood Ultra, Cinema Round Premium and Super Bass Extreme
Miscellaneous — Silent Angel Bonn N8 Pro network switch, GigaWatt PF-1 EVO power strip, Les Davis Audio Viscoelastic CLD discs, VRC Vinyl Record Cleaning systemplus miscellaneous accessories
Totaldac d1-triunity Digital to Analogue Converter
Price: EU22,000 ex VAT, EU23,520 ex VAT as tested
Warranty: Two Years
Manufacturer Direct to Australia: Totaldac
Lieu Dit La Saigeais
35140, Saint Ouen Des Alleux
Bretagne, France
+33 6 18 03 14 08
www.totaldac.com