As audio enthusiasts we take for granted the audio powerhouses from the United States, Europe, Japan and even Australia. Indeed, we expect these countries to produce quality products whether they outsource elements of production, as is the case nowadays in order to save costs, or whether they are wholly manufactured at the country of origin. As may not be commonly known to the wider audio community, Indonesia has a vibrant audio manufacturing base and enthusiast community – it is after all a country with a massive population – and one of the shining examples of that country's audio marques is Vermouth Audio who offers a large range of cables and an expanding line of quality speakers. Here we look at the flagship standmount in the attractively-styled Little Luccas Mk.II Limited Edition.
Indeed, you could say Indonesia's crowning glory, as far as audio is concerned, is most convincingly demonstrated by the global force that is SB Acoustics, whose superb drivers are used by many high profile speaker manufacturers from around the world. In fact, Hendry Ramli, Vermouth Audio's founder, has designed his own proprietary mid-woofer driver for the Little Luccas Mk.II Limited Edition (LLLE for short from now on) in collaboration with SB Acoustics' engineers. According to Ramli, "To achieve my target sound, the first thing to do was to develop my very own 5 inch mid-woofer that would perfectly suit my needs. A big diameter voice coil and powerful magnet system are the answers. For the tweeter, after trying several brands of drivers, my final choice was the RAAL 64-10 with some adjusted modification to suit my requirement."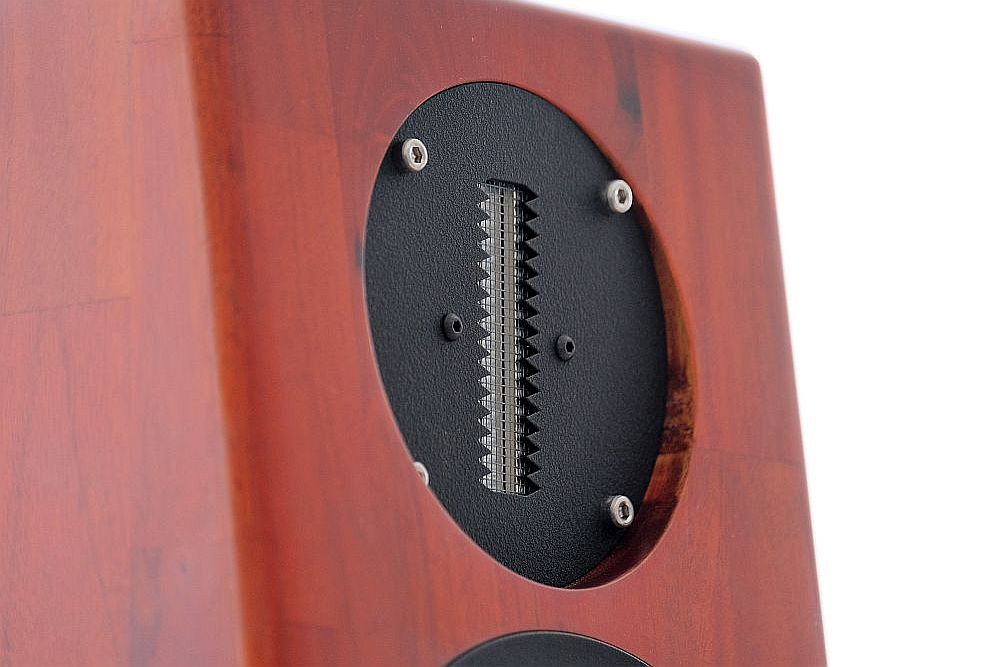 So as mentioned, the LLLE is a mid-sized standmount speaker of rather gorgeous design. The 'Face Grain Solid Teak' satin finished cabinet features a slanting front baffle and steeply declining angled top panel, designed thus in order for the non-paralleled walls to tackle standing waves within the enclosure. The 24mm 'finger joint' and well-braced solid teak wall panels are beautifully rounded (in aid of beauty and in order to also reduce baffle diffraction issues) on all corners and inherently stiff while also providing a "unique sonic signature".
Driver choices have been made wisely. The proprietary 5 inch mid-woofer is manufactured for Vermouth Audio by SB Acoustics who know a thing or two about quality driver design. It features a large magnet system, large voice coil and a Papyrus fibre diaphragm terminated by a rubber roll surround and it's stated as having a 4th order electrical and 4th order acoustic. The tweeter is the highly-acclaimed RAAL 64-10 true ribbon which has been modified to Vermouth Audio specifications and it has a 2nd order electrical, 4th order acoustic crossover type while crossing over at 3.6kHz. This is a reflex design which features a rear-facing port with deeply-chamfered edges which should translate to minimal chuffing noise.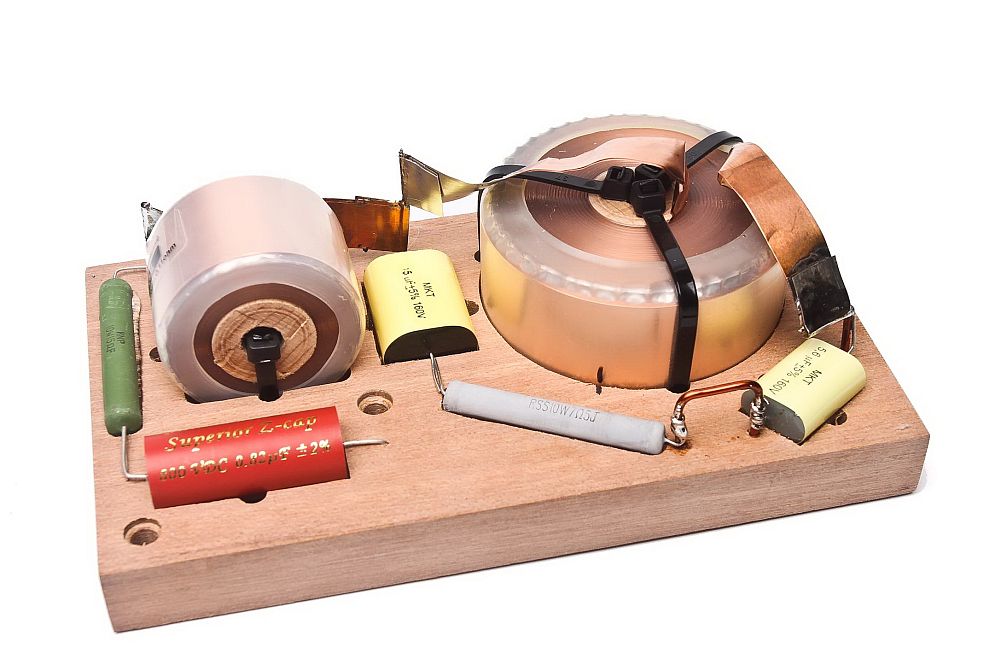 Vermouth Audio specifies the LLLE as having a frequency response spanning from 48Hz to 38kHz at +/-3dB while the bass is said to extend down to 42Hz at -6dB. Sensitivity is quoted as 86dB at 1 watt at 1m centred at 1kHz while the impedance is said to be 8 ohms nominally with a 6.2 ohms minimum at around 220Hz. This last, coupled with a not-too-insensitive 86dB efficiency, makes for a reasonably low-powered valve amplifier friendliness. The LLLE is said to be power rated for 20 watts at a minimum and 150 watts maximum. The speakers' dimensions are 340mm x 175mm x 320mm (HxWxD).
The enclosure's underside features a removable service panel which provides access to the interior of the cabinet allowing crossover upgrades. Our sample speakers were optioned with Level 2 of three available levels. The upgrade features larger Jantzen 14awg foil coil (from Jantzen 15awg wired coil), Jantzen Superior Z (from Jantzen Standard Z), Jantzen Superes Resistors (from Jantzen RSS), upgraded internal wiring to Vermouth Audio's Red Velvet and Hybrid OCC copper, point-to-point wiring and solid wood CNC-machined shelf mounting for vibrational isolation. This is a substantial upgrade for your money.
Aesthetically and in terms of build quality, the LLLE is world class and its beauty reminded me of fine-wood Italian speaker manufacturers the likes of Sonus faber and Chario.
Lastly, I asked Ramli what he looked for in terms of performance from a small standmount speaker. He said, "I'm looking for a small loudspeaker that can reproduce a big soundstage, is transparent, dynamic, and neutral and with clean and impressive low frequency extension. The loudspeaker has to be easily driven by most amplifiers and is easy to set up/placement."
Set-up & Listening
And picking up on Ramli's las sentence, the LLLEs were indeed easy to set up. Atop some solid Atacama sand-filled stands, and in a position arrived at after some experimentation, the speakers coupled to the room and were imaging very well. I found a toe-in where about half of the cabinet sides are visible from the listening position provided the best balance of wide and deep soundstage and precise imaging.
Visually speaking the aspect, or feature, that stands out is the RAAL tweeter. It's quite large for the size of the speaker but the rounded minimal inset into the baffle balances the look. And sonically speaking, the RAAL is a superb performer too. Vermouth Audio's engineers have balanced this tweeter to provide a sweet, yet extended and resolute sound with very good dynamics considering the overall size of the enclosure. There's extraordinary detail available here while the design maintains very good tonal accuracy – instruments sound like you know they should.
Take Luc Sylvain and Birelli Lagrène's "Stompin' at the Savoy" from their Duet CD. The LLLEs reproduced the metal string intricacies and nuances of both players' techniques remarkably. They both hit the strings quite vigorously while also producing hand-on-wood sounds using the guitars' bodies. The LLLEs tracked Sylvain's and Lagrène's skills across the entire spectrum from bottom string to top string and instrument frame. The tonal balance and detail retrieval the LLLEs are capable of reproducing is outstanding – these are refined transducers. Yet the aggressive playing was not stunted by these drivers – the sense of transient attack and power was provided in a most satisfying manner.
The custom mid-woofer driver's powerful magnet system and superb engineering were also evident when I spun the most remarkable bass track I've heard for quite some time (thank you Philip O'Hanlon for your superb Demo XIX disc). The track's appropriate name "Deep" from Marian Hill's Act One release showed the LLLEs quite surprising deep bass that was both felt and heard. I'd guess that the port is tuned fairly low because low note output on that track was quite spectacular for a speaker of the LLEs' stature.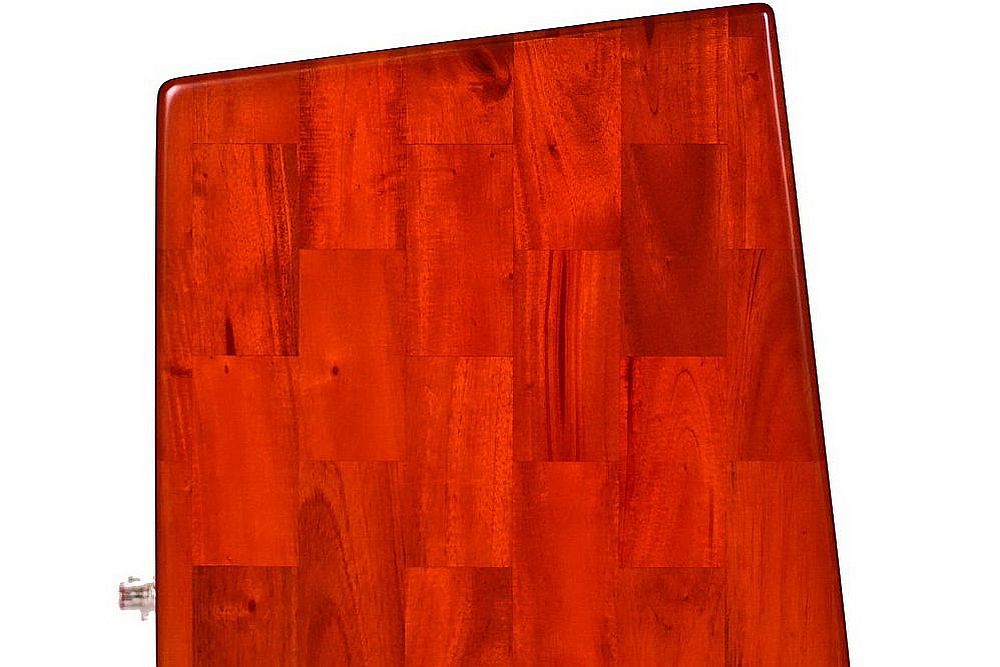 An octave or two up the frequency response, roughly where the kick drum exists, the LLLEs became more in line with expectation. "Casino Nation" from Jackson Browne's Naked Ride Home CD showed reasonable punch and tightness – with no shortage of textural content – but it's here that a floorstander will hit you in the gut and where the LLLEs provided a size-appropriately good, if not gobsmackingly visceral impression of the well-recorded kick drum on that track.
Another outstanding strength of the LLLEs' is their ability to soundstage. In particular the height of the stage with singers in appropriate stature perspectives within a wide and deep soundfield. Image focus is also very good with vocals and instruments never wandering from speaker to speaker (side to side) and, when recorded that way, always presented dead centre and in a realistic size – no eight foot heads and mouths here. This is quite a significant skillset considering that in addition to that, the soundstage width projects well beyond the speakers' outside lateral boundaries.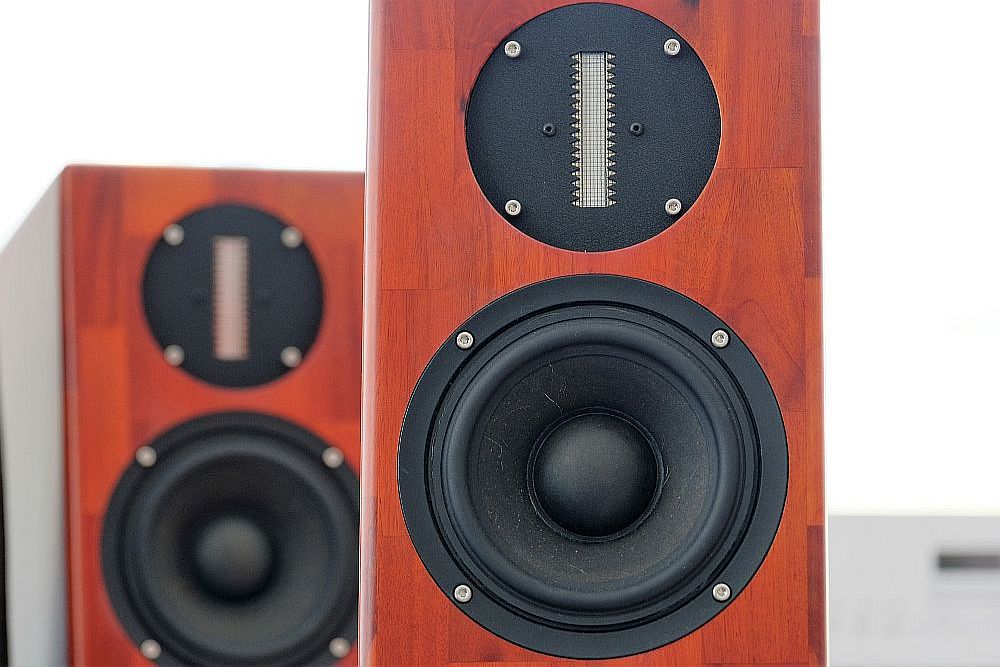 Male and female vocals are noteworthy strengths too. Yae's beautiful "Omosayo" from her Blue Line album had extraordinary expressiveness providing emotional involvement and engagement. The background bells and drums sounds seemingly way deep beyond the room's front wall. Ditto for Cash's rendition of Nick Cave's despairing and disturbing "Mercy Seat" where the singer's sentiment is also communicated by the singer's heart-wrenching outpouring and shocking last confession.
The close-miked but transparently-captured cello in Vincent Bélanger's Pure Cello CD was replayed with good sense of body and heft, accurate timbrel textures and superb detail from bow and string. When Bélanger lets fly with power and speed, the LLLEs keep up without a hesitation or stumble – it's both a nimble and musical speaker with very good dynamic expression.
Conclusion
The Little Luccas Mk.II Limited Edition speakers are beautifully built and finished, are attractively styled and feature clever engineering both in terms of the upgradeable crossovers – and its easily accessible bottom plate – and the superb custom driver quality as provided by compatriots SB Acoustics.
There's no doubt that as far as the wide world's perception of quality speakers Indonesia has a very small part within the sea of large American and European manufacturers. Be that as it may, good ears are good ears everywhere and competent design and engineering is not the exclusive domain of big Western producers. In the case of Vermouth Audio speakers we have a south-east Asian newcomer who can compete with the big guns. The Little Luccas Mk.II Limited Edition speakers are deserving of the worldwide success enjoyed by entities considerably larger than Vermouth Audio.
…Edgar Kramer
This email address is being protected from spambots. You need JavaScript enabled to view it.
Associated Equipment
Speakers — Wilson Audio Alexia
Amplifier — Gryphon Audio Antileon EVO
Preamplifier — Supratek DHT Reference, Lightspeed Attenuator LDR passive
Sources — Yamaha CD-S2100 transport, Totaldac d1-core DAC, MacBook with BitPerfect software, AIFF files
Processor — DEQX PreMate
Cables – Vermouth Audio Black Pearl loom (in for review)
Prices: US$1910 in basic form (AUD conversion for RRP at time of purchase)
US$2447 with Level 2 upgrade (AUD conversion for RRP at time of purchase)
Waranty: Three Years conditional
Australian Distributor: Redefy Audio
+61 405 837 332
www.redefyaudio.com
Vermouth Audio
Jalan Saridana VIII No.3
Cargo Permai
Denpasar Utara
Bali – 80116, Indonesia
www.vermouthaudio.com