Among the very best audio systems I've heard, say in the top 5, was the reference setup in the sound studio at loudspeaker specialist Magico. Actually, the word "studio" may infer to a small, cosy space, where Magico's is a large, custom-built, single purpose acoustically treated environment. There, with MSB Technology, Pilium and Taiko electronics up the signal chain of the majestic M9 flagship, I heard both truly moving and thoroughly precise music. After collecting my jaw from around my feet, I scouted around the system, noticing elegant all-black python-esque cables stringing the entire system together. When Magico's CEO Alon Wolf, with some enthusiasm, told me he chose these over many others because of their overall excellence, my ears pricked-up like an Aussie Blue Heeler's. After all, he could have any cable he desires. These tethering wonders were VYDA Laboratories. I just had to hear more…
Heavy Metal
Back on Australian soil, I went on a snake hunt. I discovered VYDA Laboratories is a Rome-based Italian company run by Enrico Datti, who designs its products while contracting über turntable and loudspeaker manufacturer V.Y.G.E.R. for its metalwork expertise to produce some of the cables' steel-clad design aspects.
Further probing led to finding the company's representation in Australia by retailer and new distributor Hi End Audio. Based in Sydney and run by the amiable Rick Stepanov, the budding business – which retails high profile brands such as Magico, Vitus, Boulder and more – recently dived into distribution. VYDA Laboratories is Hi End Audio's very first portfolio product.
I spoke to Stepanov at length regarding the possibility of a review while also discussing the best alternative in terms of my system's profile. Based on his advice and my preference for musicality and incisive analysis, in terms of personal enjoyment for the former and as part of a revealing reviewing arsenal on the latter, it was decided I'd review Orion Silver Line HFC interconnecting (XLR and RCA) and loudspeaker cables.
Back to VYDA Laboratories. Founder Enrico Datti states in the company website that the cables are "… designed and tested using the most advanced measuring tools available and based on cutting edge engineering research." There are also statements pertaining to the refined assembly and termination techniques. What's more, VYDA Laboratories has developed a proprietary cryogenic treatment process which it applies to Orion cables. The process involves gradually cooling down the conductors from room temperature to -300 degrees Fahrenheit (liquid nitrogen temp). That stage is then followed by an "… exacting regulation process at temperatures over 100 degrees Fahrenheit." All this is done to manipulate the conductors' crystal structure and oxygen content.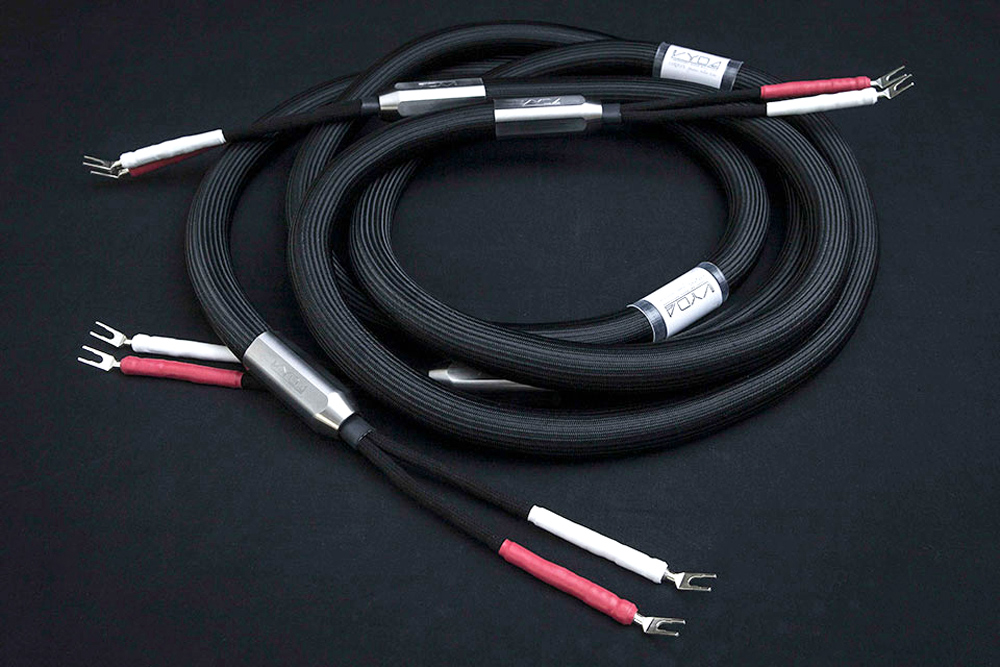 Further, the company asserts a high level of design care and a proprietary geometry aimed at eliminating electromagnetic interference (we take that to mean a specific conductor winding methodology and shielding) while also providing mechanical conductor insulation and support. Shielding is actually applied across the entire cable length. Cable geometry is said to be important in the Orion Line while Datti has targeted "optimal values" for Inductance, Capacitance and Resistance (LCR).
In the case of the Orion cable line in general, VYDA Laboratories employs 99.999% high purity silver while the HFC variant, here for review, adopts a "fusion alloy", a composite mix of silver and copper. The conductors are treated in order to reduce resistance while VYDA Laboratories make use of the abovementioned pure cotton and air "dielectric properties". The speaker cable features three layers of shielding, the cryogenic treatment described above and a quoted -80dB of interaction between poles.
Commendably, VYDA Laboratories quotes a sampling of important specifications, something which is strangely somewhat uncommon in the audio cable industry. The company states its Orion HFC speaker cable features very low capacitance, inductance and resistance (50 pF, 0.01 Mohm per metre). The dielectric insulation with pure cotton fibres is said to have a "low spurious capacitance index" of 1.2.
Aside from Nordost quoting "Velocity of Propagation", I personally haven't seen this next item before from other cable manufacturers and, here, VYDA Laboratories refers to what may be a similar specification as "propagation celerity at the refractometer" and which it quotes as being 85%. How important this specification is, in terms of audible results, would probably make for vibrant audio forum fodder. My mind is an open one…
As mentioned above, VYDA Laboratories contracts V.Y.G.E.R. to machine the high-grade 'AISI 303' stainless steel elements of the Orion Line. These include the proprietary RCA connector parts and the termination trim housing. On the loudspeaker cables, the metal sleeve is placed where the conductor ends split into positive and negative runs. For the RCA and XLR cables, the metal housing is placed about 170 mm from the connector.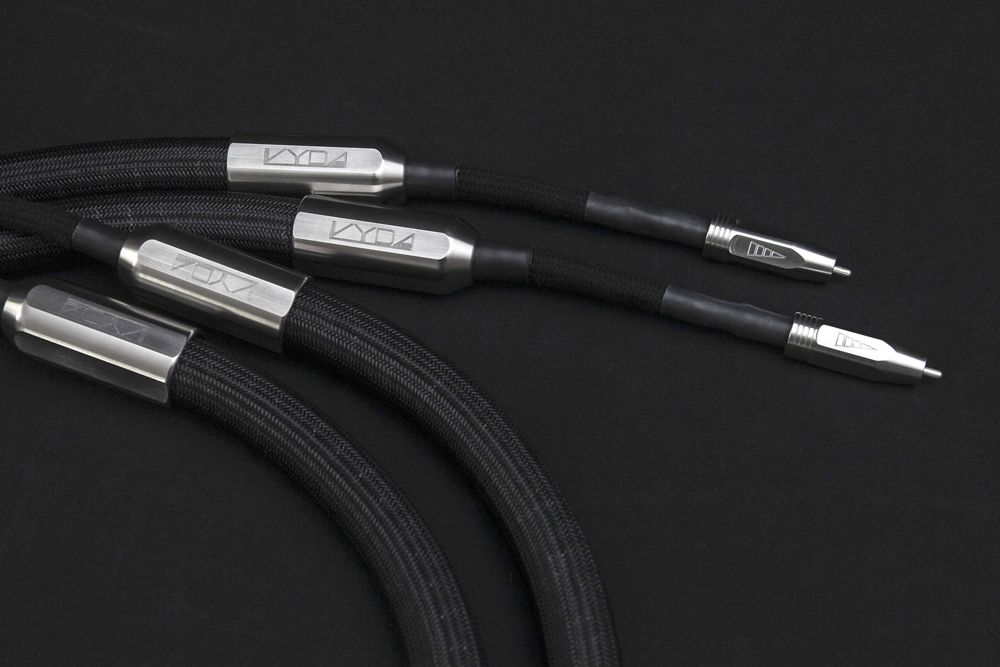 As superficial as it may sound, the VYDA Laboratories cables look a million bucks. They are immaculately assembled and feature pure black cotton dielectric conductor sleeves and high quality all-black external jackets for the cables' body. The stainless steel parts are nicely machined. The high quality bespoke super-solid connectors (whether XLR, RCA or the spade lugs) are impressive and said to feature 15 microns-thick silver plating. The cables certainly look the bucks.
VYDA Loca
The Orion cables are fairly flexible, however, they are quite thick. In the case of the interconnecting cables (both the RCA and XLR), guiding behind the components might require a tad more attention, rather than just hooking-up-and-letting-go. Once done, things will physically settle in over a few hours. While the speaker cable is boa-thick too, there's usually more available real estate around loudspeakers for hassle free cable routing.
I was super-pleased to hear much of the musicality and precision I heard at that unforgettable session in Magico's auditioning space. Within the context of my system, I heard excellent overall detail retrieval, especially around low-level microdynamic nuance across the bandwidth. So I'm talking deep insights into playing technique and incidental expressions of the relationship between music and musician.
While that standard of truthfulness provides invaluable appreciation of what's been listened to, it also offers a holistic picture of playback precision and overall musicality. In this case, and it's not always so, the two are inextricably interconnected (pun intended) and copacetic.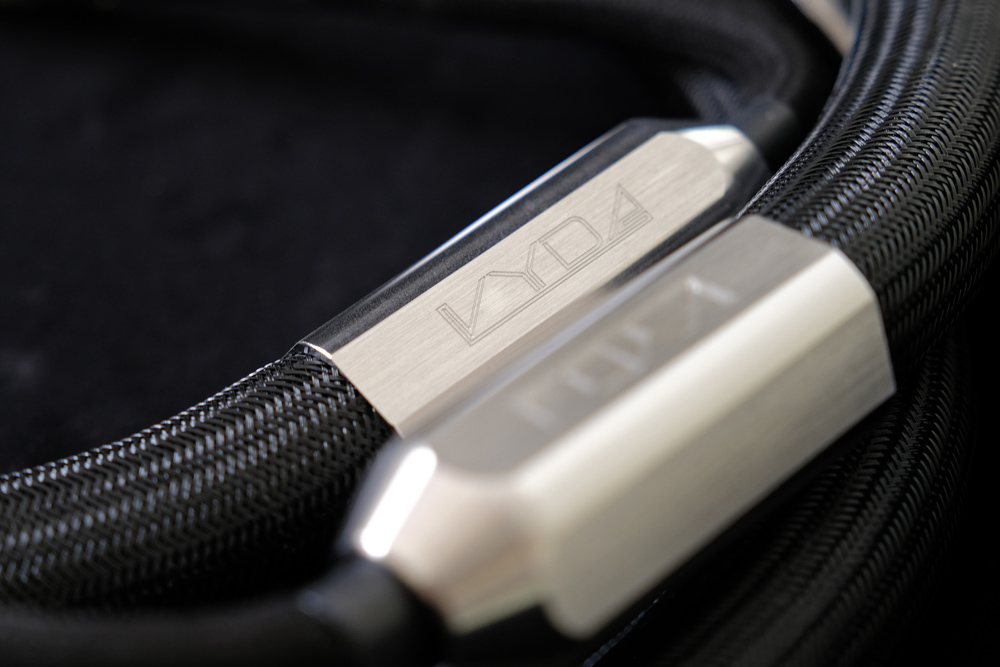 One of the takeaway tracks from that San Fran visit was Astoria's "Adiós Nonino" from the album of the same name based, of course, on Astor Piazzola compositions. This is a live recording of outstanding quality. The tonal accuracy, impact and low-note depth through the piano intro is quite remarkable. The VYDA Laboratories Orion cables slammed the intro hard while making the piano sound almost in the room. It's as if the overall system's transparency had stepped-up a level.
What that meant, of course, is that vocal presence, whether male of female was offered with an added sense of verisimilitude. Cassandra Wilson's "Strange Fruit" from her New Moon Daughter album had all the percussive and acoustic bass atmospherics, at the track's start, come through extremely well rendered and when Wilson's deep vocal enters, the track takes an even more profound meaning. The insights into her vocal technique and lyrics voicing enhance the emotive connection. It's a devastatingly sad, thematically disturbing track.
The same aura of reality, almost a sense of physical proximity to the artist, I sensed on "Little Amsterdam" from Tori Amos' Boys For Pele album. The song's lyrics were crystal clear and fully intelligible even when the track's complexity is augmented by the entrance of the full band post-intro. And when Amos pronounces the 't' at the end of the line "… it wasn't my bullet…" the sound is natural and pristinely delivered. I also enjoyed the snap and attack of the well-captured snare drum which, with the electric bass, drives the track onwards. And boy, was Amos' Bösendorfer seriously gorgeous and intensely deep…
"Snap and attack" as referred to above, are traits expertly offered by the Orion cables. Man, those drums and acoustic bass solos were hugely powerful on Tony Dagradi's "Limbo Jazz" from the album Live at the Columns. Johnny Vidacovich on drums and James Singleton on bass smash it. The skilful engineers did an amazing job of capturing the power to its fullest (it's a recording where compressors, etc. were shunned). My system, tied with Orion cables carry the jolting impact of this recording to the max – your electronics, and speakers in particular, better be up to the task. Equal dynamism was achieved with Dagradi's sax, which can sometimes sound a tad edgy, however, the mix of my electronics, the Wilson Alexia V's oh-so-sweet yet oh-so-incisive tweeter and the Orion cables provided the power, tone, detail and attack of the instrument without sharpness nor etch.
Yet another impressive trick up the VYDA Laboratories Orion cables was the transmission of signal which guides images well outside the speakers' lateral plane. The soundstage is immensely wide, deep and tall – and that happens with many cables in the context of my well-treated room. However, the images were somewhat slightly more… projected. Especially across the soundstage where I sometimes felt the room's boundaries almost disappeared (boy, I wish I had a little more room width…). While this was evident on many recordings regardless of genre, orchestral music rendered the effect more pronounced, more dimensionally extended.
On "Permission to Evaporate" from Aussie Joseph Lawadros' Live at the Sydney Opera House with the Sydney Symphony Orchestra and brother James Tawadros under the conductorship of Benjamin Northey, the sense of spacious ambience was superb. The various orchestra sections were spread far and wide while the Concert Hall's acoustic signature was easily discernible (I've been to that venue so many times…) while the tonality of Tawadros' oud played true-to-life. In other words, the tonal faithfulness of the recording confirms the Orion cables' overall balance. They are natural, true-to-the-signal interface conduits.
Conclusion
VYDA Laboratories have made quite the splash in a relatively short time. No doubt that has been edged forward by the uptake of the company's flagship products by one of America's premier high-end loudspeaker manufacturers. But this is no mere endorsement for the sake of mutual logistical or commercial advantages – these are true 'friends with benefits' in terms of complimentary sonic advantages. That of course, carries across to performance excellence on a wider scale – in fact, I'd say an almost universal degree. The Orion cables will perform extraordinarily well in just about any system context. As it resoundingly did in mine.
The VYDA Laboratories Orion Silver Line HFC cables are not cheap. Yet, they are not astronomically expensive either. There are far more costly offerings from many, many makers. Of course, the law of diminishing returns does kick-in early with cables. Having said that, the company has plans to expand its product portfolio with more affordable offerings bearing some design aspects derived from Orion.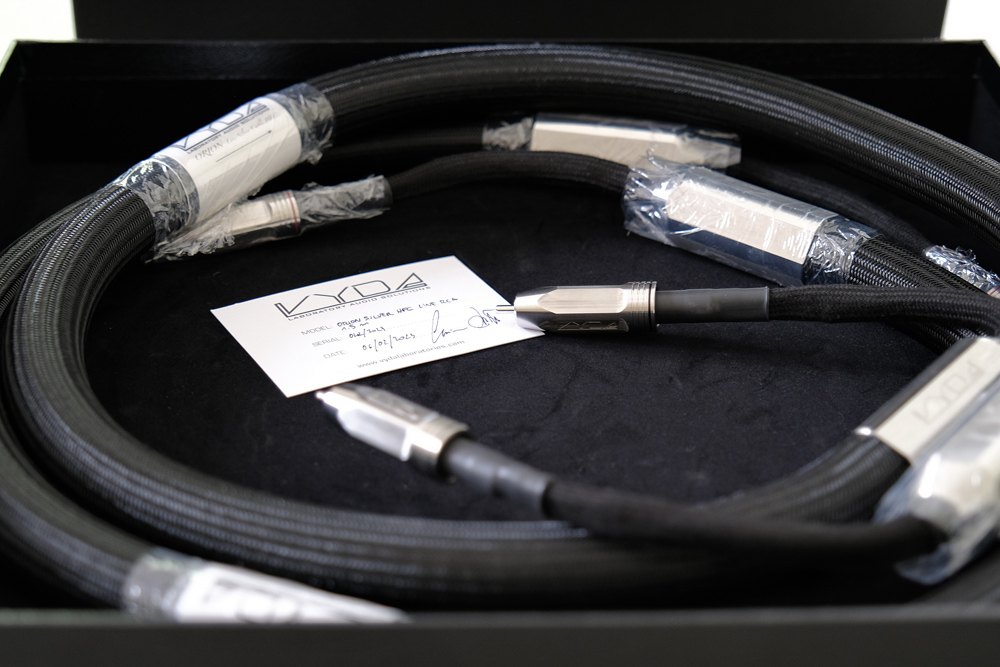 Once in a while I receive for review a product which synergises within my system in a way which meets my somewhat hard-to-please requirements. Said product must be musically and emotively provoking. It must be a trigger for enjoyment.
However, it must also be truthful enough, analytical enough (in a literal sense), to expose sonic variances in a wide mix of products. When that happens, if I can make the splash, I'll dive right in. And right now, I'm well below the surface with those thick, black signal guide lines. Hear them, and just as I did, I think you'll keep them…
… Edgar Kramer
This email address is being protected from spambots. You need JavaScript enabled to view it.
Associated Equipment
Speakers — Wilson Audio Alexia V, Axis Loudspeakers VoiceBox S (nearfield monitor), Vermouth Audio Little Luccas Mk.II, Atacama stands
Amplifier — Gryphon Audio Antileon EVO
Preamplifier — Supratek Cortese, Totaldac d1-triunity (direct to amplifier)
Sources — Digital: 432 EVO Aeon Mk.3 Reference Music Server/Roon Core, Yamaha CD-S2100 transport, Totaldac d1-triunity DAC. Analogue: Transrotor Crescendo with Konstant Studio controller, Reed 1X Tonearm with upgraded internal wiring, Shelter Harmony cartridge, The Funk Firm Houdini cartridge decoupler, Supratek Cortese & REDGUM Audio RGPH2 phono stages
Processor — DEQX PreMate (part of arsenal/casual use)
Cables — VYDA Laboratories Orion Silver Reference HFC IC and speaker cables, PSC Audio custom design XLR, Vermouth Audio Reference loom,ZenSati Zorro, Tubulus Concentus USB
Audio Rack — SGR Audio Statement Model V, Aspire Audio Belgravia amplifier platform (customised for Gryphon Audio Antileon EVO), Stereotech Aluminar Dark 3-tier rack
Acoustic Treatment — Vicoustic Multifuser Wood, Wavewood Ultra, Cinema Round Premium and Super Bass Extreme
Miscellaneous — Silent Angel Bonn N8 Pro network switch, GigaWatt PF-1 EVO power strip, Les Davis Audio Viscoelastic CLD discs, VRC Vinyl Record Cleaning systemplus miscellaneous accessories
VYDA Laboratories Orion Silver Line HFC Cables
Price: Orion Silver Line HFC RCA (1.2m) AU$9500, XLR AU$10,100, speaker (2.5m) AU$14,200
Australian Warranty: Two Years
Australian Distributor: Hi End Audio
+61 (0) 417 788 887
www.hiendaudio.com.au
VYDA Laboratories
Via Pian due Torri, 65 00146
Rome
Italy
+39 3333 169 075
www.vydalaboratories.com