Since its 'Big Bang' in the 1970s the vast universe of cable manufacturers has been in constant expansion. How does a nascent 'Alpha' star differentiate itself from the countless supernovas permeating the audiophile cable galaxies? Well, Vermouth Audio's budding brightness combines high materials quality, exemplary build, intelligent design and an ambition to create a neutral and simultaneously engaging sonic presentation.
OCD OCC
Back in December 2017 I was most impressed with Vermouth Audio's Black Pearl cables, at the time, the Indonesian company's top offerings (read review here). Not only was the entire Black Pearl loom impressively built, but it sounded neutral while providing detailed and dynamic music flow. And still today it represents superb value. Recently, Vermouth Audio expanded its stable with the flagship Reference line, an all-out effort to produce a top-shelf signal transducer which, despite obviously being at a price point over and above the Black Pearl, still maintains real-world-pricing.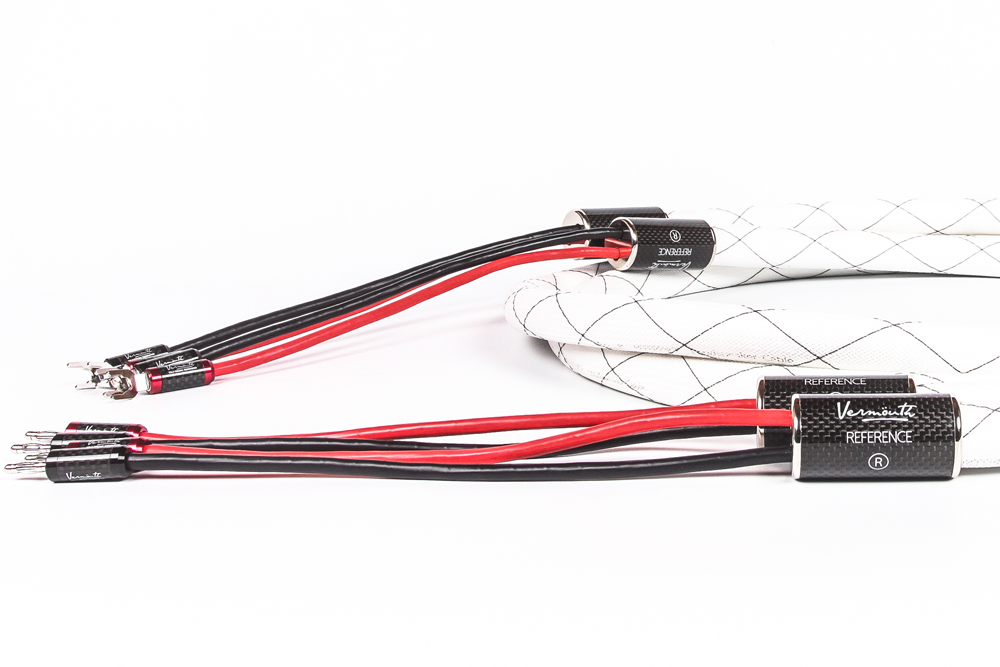 In terms of build quality alone, the Reference cables compete at a very high level. They are meticulously constructed to OCD levels. The custom-designed connectors are solid and provide tight adherence to all types of sockets. The carbon fibre-finished plug bodies/shells are beautifully machined while providing an element of luxury bling (in this case, added value in terms of material offering). The cables' external white jacket is also of very high quality and there's ample perceived conductor content judging from the heft and overall gauge (especially in the loudspeaker and AC power cables).
The Reference cables use OCC copper as the conductor material supported via braided OCC copper shields. In the case of the XLR there's a flat rectangular conductor in addition to the standard round ones and the connector is Teflon insulated. The XLR plug conductors are "Full Tellurium copper direct rhodium plated". The same material and insulation are used for the locking RCA connectors.
The AC power cable features 39 UP-OCC multi-size strand conductors grouped into two bundles plus a braided shield. The construction is spaced with air tubing and wrapped in a noise-rejecting Al-Mylar sheath. The massive plug is a Rhodium Furutech FI-28 with special carbon fibre shell body.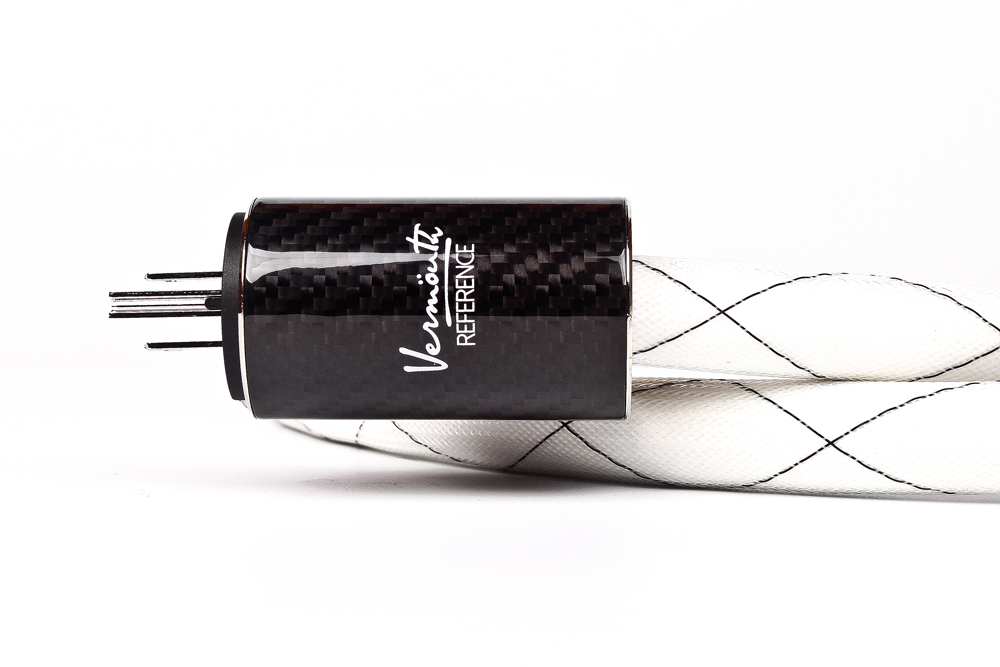 According to Vermouth Audio's proprietor Hendry Ramli, the main differences between the Black Pearl, the company's previous top cable, and the new Reference line are the following. In the case of the loudspeaker cables, the flagship features three conductor sub-groups (rather than two) adopting Teflon layers (rather than PE) separating conductors of six different gauges (as opposed to four gauges) making up a total of eight square mm (Black Pearl is 5 square mm).
As far as the interconnect cable, Ramli explains:
Reference uses three different sizes of conductor and one ribbon conductor protected by Teflon insulation and Cu Mylar foil between the shields. The Reference AC power cable uses two sub groups with PE insulation which separates three different sizes of conductors for a total of 5.5 square mm.
All the connectors are designed by Vermouth Audio and fabricated by a connector specialist manufacturer in Taiwan. They use great quality materials, finishing and exquisite workmanship. I design everything, except the power plug body which is from Furutech, so I make the carbon shell to make it look perfectly matched. The cost to produce our own design power plug is very high while the order quantity needs to be very big because of the specific moulding method to produce the main body.
In my opinion, to put it simply, the Reference cables offer more accuracy, complete and more natural sound; there's also a big improvement in staging and layering while control and linearity are also noticeably improved.
While Vermouth Audio's original core business was cables exclusively, the company has expanded its offerings to include OEM connectors and raw speaker drivers (the latter a seemingly copacetic relationship with fellow Indonesian SB Acoustics), a range of beautifully-designed and finished loudspeakers (read our review of the Little Luccas Mk.II Limited Edition standmount speakers here) and more recently a couple of coupling/decoupling footers and the new Rhapsody integrated amplifier. So, minus source, Vermouth Audio is capable of supplying a full system context with an exceptional quality over value ratio.
Flowing Fluid
In terms of comparative tests, I started off by swapping out my usual reference cables, the extraordinary sILENzIO, to another two sets of cables (for more qualified context), one at a similar price point to the Reference and the other Vermouth Audio's own Black Pearl. That way, I was comparing apples with apples with the first and, with the second, another great cable from the company's stable. That process took a few days of re-acclimatisation and recalibration. Then, the Reference cables were introduced. First point: despite the large gauges, the Reference cables are flexible, therefore easily routed around crowded behind-the-rack spaces. Subsequently, further contentment came via the performance on offer.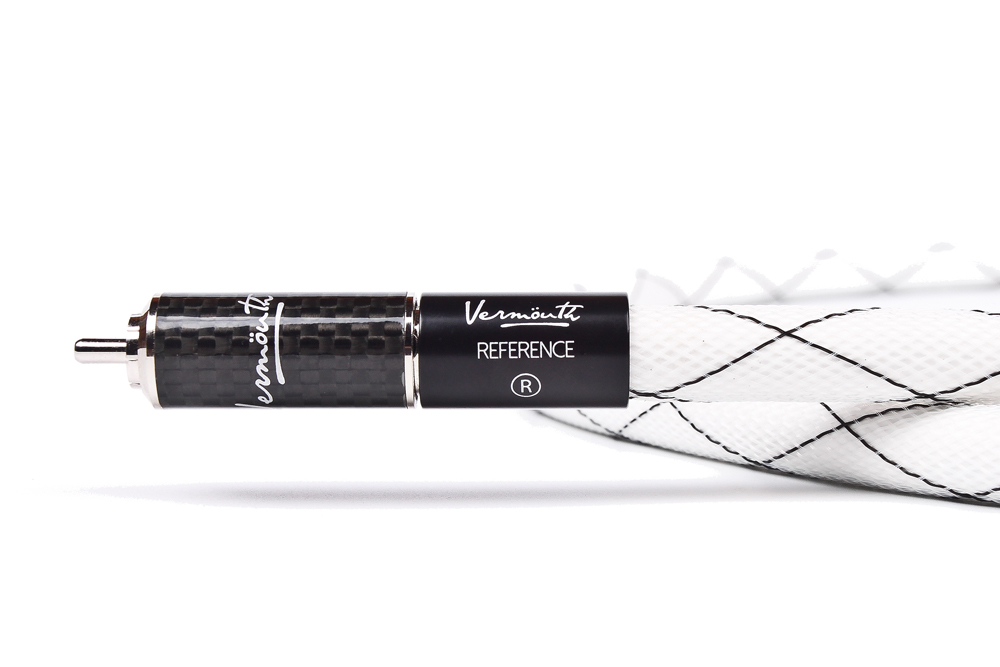 Mind you, assessing the Reference cables was not a super-easy task. They are extremely neutral and tend to allow the signal to flow without addition or commission. So then you have to learn what to listen out for purely via longer exposure times – read more listening. Then, you pick it… A more detailed presentation, a subtly more dynamic expressiveness, a larger soundfield. These cables fully extend the gamut of information confined within the music.
Take guitarist Tommy Emmanuel's wonderful live "Traditional" track from the STS Test Demo CD. Wow! Pure unadulterated nuance and low level detail without a trace of hardness was on offer via the Reference cables. Emmanuel's lightning-fast finger picks and string rubs were all crystal clear while the music remained undisturbed in terms of natural flow. The transients in this track are demanding and, if the electronics and speakers are up to it, the Reference cable will not inhibit the attack. And that applies across the bandwidth from top to bottom.
The metallic bell-like ring and decay of the various percussive instruments Joël Grare handles in his Paris, Istanbul, Shanghai release are beautifully rendered without loss of information and without stunting the trailing harmonics. Virtuoso Guo Gan's 'er hu' (two-string "Chinese Fiddle") on "Nihavent" can be a tad grating if your system exhibits any trace of brightness (this excellently detailed and dynamic recording can even exacerbate this) but with the Reference cables the full emotive glory of the instrument comes across with realistic bite without straying into hardness. That's a tough challenge mastered right there.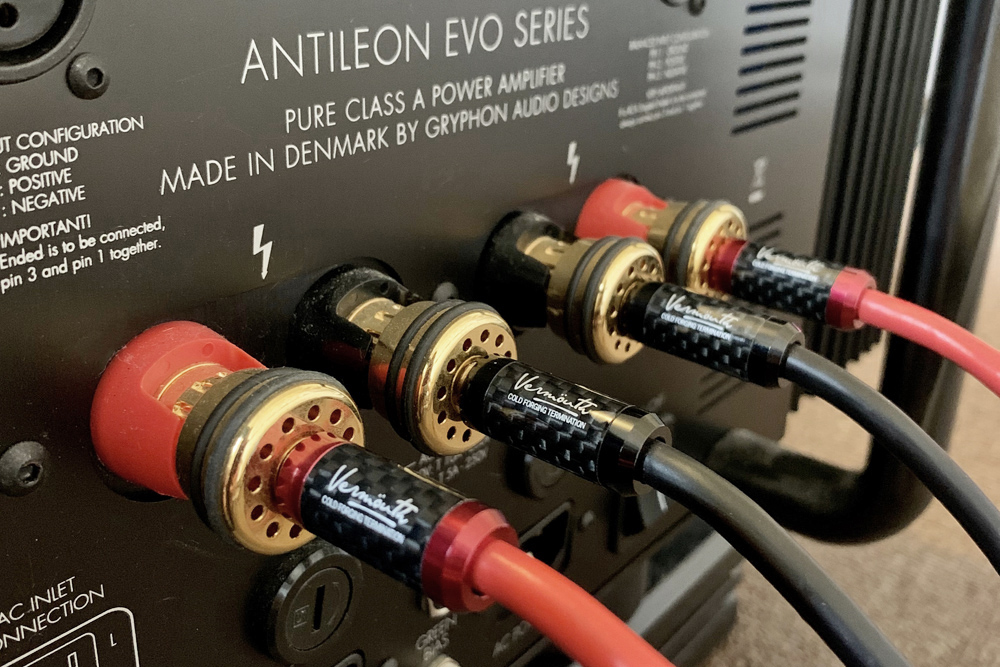 James Blood Ulmer's Live at the Bayerischer Hof superbly captures the energy and 'liveness' of Ulmer on stage. The track "Crying" undulates from bluesy drum and bass to Ulmer's frantic guitar solos (there are at least a couple on that one track) and his raspy mid-tone vocals. The Reference cables don't gloss over the aggression in Ulmer's guitar tonality but it cuts through the mix while maintaining the coherence and accessibility of the rest of the band. Ulmer's Gibson Byrdland guitar sounds true, cutting, edgy and dynamic – just as it should when a consummate Blues artist jams-it-up live.
Expansive soundstages teemed with accurately placed aural images are also on offer via the Reference cables. Big orchestral works demonstrate this in plainly-discerned evidence. On the Audio Physic 25 CD sampler, the excerpt from Mahler's 1st Symphony "Titan" (track 8), with the Netherlands Symphony Orchestra under Jan Willem de Vriend's baton, the soundfield was wide, deep and tall with the orchestra accurately sub-divided into its appropriate divisions. Towards the end of the track, a massive percussive crescendo builds and then explodes. The Reference cables shrugged shoulders, saying "Is that all you've got?" Jokes aside, the crescendo extends to its full dynamic potential with large back-of-the-stage depth, obviously carried through the simpatico electronics and loudspeakers.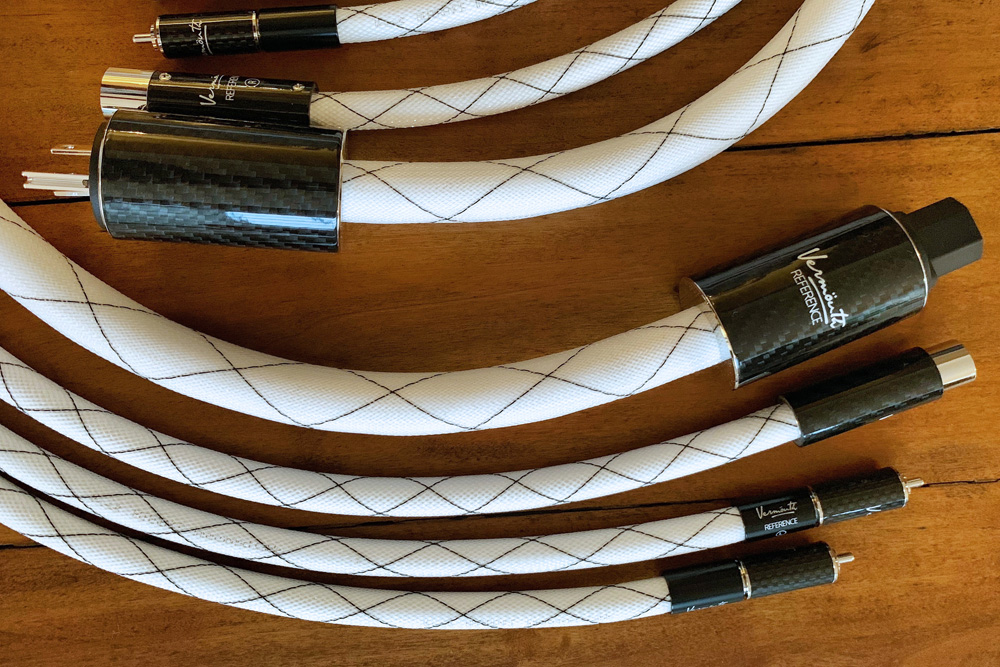 Ditto for other demanding material such as Yim Hok-Man's ridiculously extended and tonally precise Master of Chinese Percussion, where the Reference cables once again walloped with expressive dynamic contrasts and impressed with beautifully-rendered tonality. Drum skin, stick tip and mallet head are cleanly portrayed and easily discerned, such are the signal and tonal preservation powers of the Reference cables.
Conclusion
Unboxing the Vermouth Audio Reference cables was an eye opener in terms of the materials content on offer at the price point. The company calls the range 'Reference' for a reason. It has poured all its cable-making expertise in creating well-engineered products that offer substantial conductor material content within smart construction topologies. And the proprietary connectors inspire confidence in terms of reliability and longevity while also looking rather spiffy.
Performance-wise, the Reference cables are a neutral conduit. If it's in the music, and your electronics and loudspeakers are capable, you'll hear all there is to hear. That it presents that aspect in a way that is not deconstructive of the music is excellent in and of itself. Combine that with excellent dynamic expression and precise tonal qualities and, right there, are true high-end cable bargains.
Vermouth: Fortified and aromatised wine… the analogy just about says it all.
… Edgar Kramer
This email address is being protected from spambots. You need JavaScript enabled to view it.
Associated Equipment
Speakers — Wilson Audio Alexia Series 2, Axis Loudspeakers VoiceBox S(nearfield monitor), Vermouth Audio Little Luccas Mk.II
Amplifier — Gryphon Audio Antileon EVO
Preamplifier — Supratek Cortese, Lightspeed Attenuator LDR passive
Sources — Digital:Yamaha CD-S2100 transport, Chord Electronics Hugo M Scaler, Totaldac d1-core DAC, Asus PC as Roon Core. Analogue: Michell Engineering Orbe with Gert Pedersen Level 3 modifications and Origin Live Ultra upgraded motor, Trans-Fi Terminator air bearing linear-tracking arm, Shelter Harmony cartridge, Supratek Cortese & REDGUM Audio RGPH2 phono stages
Processor — DEQX PreMate
Cables — sILENzIO loom, Vermouth Audio Black Pearl Mk.II loom, Vermouth Audio Reference loom
Audio Rack — SGR Audio Statement Model V
Miscellaneous — Les Davis Audio Viscoelastic CLD discs, VRC Vinyl Record Cleaning system
Vermouth Audio Reference Cables
Price: Reference Loudspeaker AU$4350 (1.8m), Interconnect RCA AU$1480 (1m) and XLR AU$2500 (1m), AC Power AU$2280 (1.2m)
Warranty: Three Years from Shipping
Australian Distributor: Krispy Audio
+61 411 968 902
www.krispyaudio.com.au
Vermouth Audio
Jalan Saridana VIII No.3
Cargo Permai
Denpasar Utara
Bali – 80116, Indonesia
www.vermouthaudio.com