What was thought to be a dinosaur in-waiting, with extinction as intensely ominous as the outlandish rainbow-like shine from polycarbonate discs, has resulted in a mere lull followed by an explosive rebirth. Yes, seemingly retrograde – but far from it, really – the mechanical turntable and vinyl, its analogue expression, have survived onslaughts from many-a-digit-based technology. They have persevered with assertive triumph. Germany's longest-running analogue specialist Transrotor, like its industry brethren, has weathered the onslaught of digital music and continues to adhere to its no compromise principle of producing highly sophisticated turntables. Ditto for relative newcomer Reed, a tonearm specialist offering a variety of finely-engineered options. In this review, we examine in detail our in-situ pairing of Transrotor Crescendo Nero with the Reed 1X tonearm (recently subtly modified to 1H).
Chrome Cast
Founded by Jochen Räke, Transrotor has been handcrafting turntables since 1971. That's some life span. In the company's very early days Räke drew inspiration from, and I believe may have briefly collaborated with, UK's renowned analogue specialist Michell Engineering. Transrotor's wide turntable range is entirely produced in the company's factory HQ in Bergisch Gladbach (some parts are sourced from highly-skilled local suppliers), a picturesque small town near Cologne, Germany. The company adopts a variety of material technologies used for their harmonious combined acoustic properties. Transrotor aesthetic is recognised for design aspects which merge superbly-finished polished aluminium with acrylic and composite materials. You see a Transrotor and you immediately know – "This visual candy is a Transrotor."
Seeing this is the description portion of the review, it's best to get the most blatantly obvious out of the way first. The Crescendo is an arrestingly beautiful design built with the highest levels of attention. Fit and finish is exemplary. The massive platter, the constrained-layer-damped 'plinth' and the markedly hefty record weight are all superbly machined. Even the support system, a trio of substantial height adjustable coned feet with companion cone disc receptacles are executed with immaculate precision. The disc bases are accurately machined to snuggly house and couple to the very tip of the cones while isolation is enhanced via the discs' three low-profile medium-compliance gel feet.
The plinth, or chassis if you like, is a constrained-layer sandwich construction consisting of two 20mm mirror-like black acrylic three-sided curved panels sandwiching a further 5mm polished aluminium layer. The structure is super-solid, inert and built to eliminate vibrational distortions. An adjustable swing-out arm – also a black acrylic and aluminium sandwich, albeit a thinner one – can be set to provide the correct angling and distance for all tonearm lengths and types. Up to three arms can be catered to so with alternative cartridges in each (even a mono one), your sonic experimentation sky has no limits. Our recently-acquired Reed 1X was supplied with a bespoke high tolerance machined aluminium arm board adaptor which aligned to the Crescendo's mount with utter perfection – a hint to the equal precision excellence of the tonearm specialist company.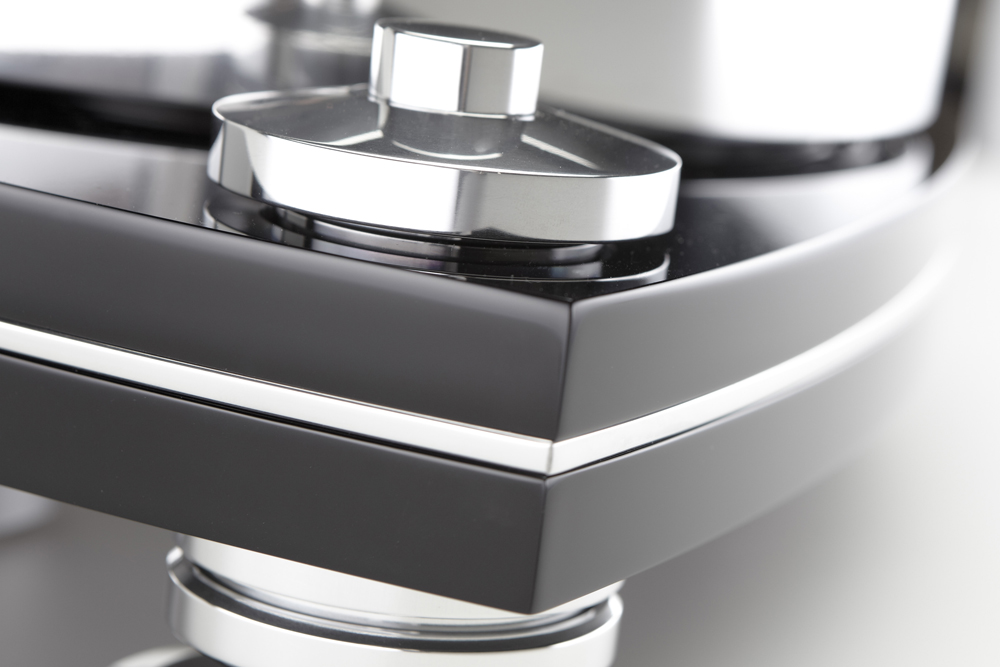 The massive 70mm platter weighs in at 10kg, is machined from solid aluminium and is polished to a mirror finish which is chrome-like in its sheen. Transrotor hollows out the platter's underside with a deep dugout with concentric ring cuts down the internal trough. A by-product of this machining-out of the platter's core in that pattern is a resultant damping of acoustic resonance and spurious inherent vibrational distortions. The hollow accommodates the two-part bearing/sub-platter system and the motor and belt pulley arrangement. This makes for a visually clean look as the Crescendo's body and platter conceal the drive mechanisms.
The main body of the chrome-plated tubular motor tower sits underneath the turntable and pokes through to the underside of the platter via a precise chassis cut-out. The belt pulley connects to the belt as it loops around a heavy machined aluminium bearing system. While the bottom section of the bearing structure is driven via the belt – which is pulley-connected to the motor, of course – the top part of the bearing/sub-platter is driven by its magnetic coupling to the lower section of the TMD (Transrotor Magnet Drive) system via embedded shielded neodymium magnets. This clever system allows near-zero vibrational distortions to transmit to the platter system while being super speed stable. Speed adjustment should not be needed for a long time, however, should it be necessary to do so, two small fine screw driver adjustment ports (33/45 rpm) are provided on the speed controller's fascia. Also on the controller's front plate is a largish knob with 'Off' and 33/45rpm motor activation positions (78rpm is available after sliding the belt onto an alternate shaft pulley). A blue power indicator LED is cunningly concealed within the first 'O' in the Transrotor print. Cute.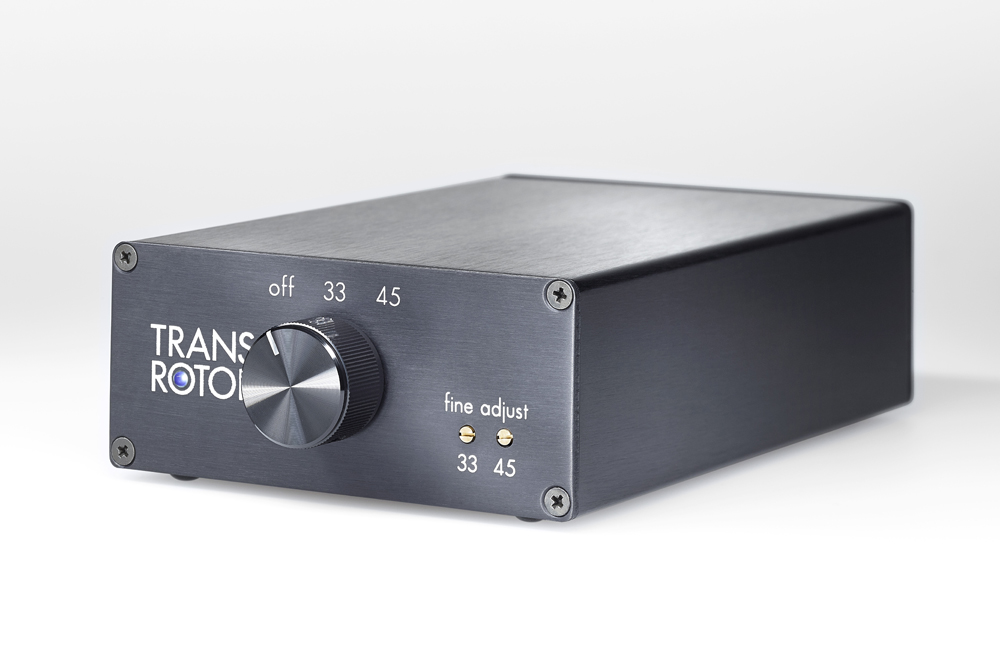 The motor connects to the Konstant Studio speed controller via a fairly long cable (captive at the motor end and DIN screw locking-cap style at the controller end) of seemingly good quality. It's a powerful synchronous motor fed by the Konstant controller power supply which is designed to provide a "clean" sine wave, minimum distortion and super-precise speed control.
In discussions with me, Jochen Räke's son and Transrotor CEO Dirk Räke gave his brief perspective on the ideas behind the Crescendo's motor:
There are two ways of designing a turntable: You can use a strong motor that controls the platter all the time, measure the speed and correct it on the fly. The other way is to use a relatively 'weaker' motor with a thin belt that keeps the platter spinning and then control the speed with a high platter mass. We use the second method because we think it produces a much calmer, 'darker' sound picture. The motors we use are synchronous motors which means that the speed of the motor is controlled by the net frequency. Our Konstant power supplies provide that frequency with a clean sine wave with minimum distortion. So the motor can run smoothly at a steady, precise speed.
What about the TMD system, I thought I would ask Räke…
With the TMD bearing we decouple the motor from the platter. The belt drives a sub-platter which is then connected to the main platter with three strong pairs of magnets [shown in red and green in the graphic below – Ed]. So if there is flutter from the motor, or the belt, it gets lost inside of that flexible magnetic coupling. Measurements have shown that the overall flutter values are cut in half by using the TMD system.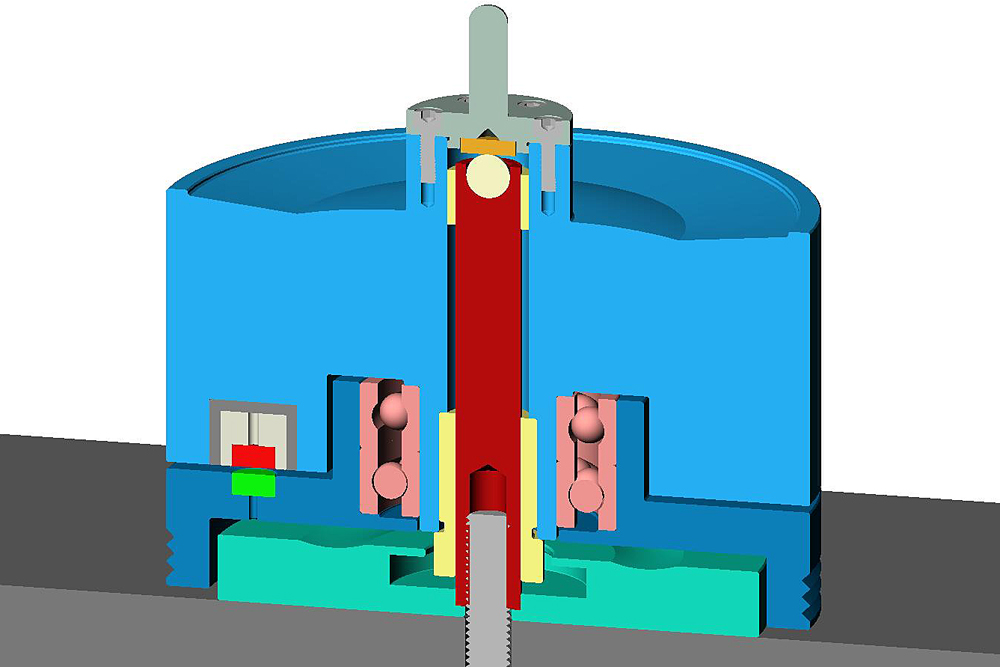 Basic graphic depicting the Transrotor Magnet Drive (TMD) system.
The Transrotor Crescendo is available in black or white acrylic as Crescendo Nero and Crescendo Bianco respectively. Aside from its turntables, bespoke motors and dedicated controller options, Transrotor offers a heavily customised and modified Jelco-based tonearm, with TS-350 resemblance, which can be made to mount onto any of the company's turntable creations. Also on offer is the Merlo cartridge, another OEM Transrotor heavily modifies.
Setup was easy, it was just a matter of slotting each component into its obvious place. Instructions are provided, however, only in German (was this a shipping error or is it the norm?). No English/multi-language manual to be found. Plus Transrotor's website is… rudimentary. And again, partly in German. Thank goodness the process is pretty much self-explanatory… except for one thing. The Crescendo ships with two largish plastic syringes near-full with machine oil.
Seeing the bearing system is somewhat unconventional I was in the dark as to where to insert the oil and how much of it. My previous turntable, the excellent and extensively modified Michell Engineering Orbe SE's instructions recommended just a few drops. These two large syringes pointed at a different approach. But how much? Eventually I found out via Australian distributor Absolute Hi End's most helpful Boris Granovsky that you're to inject the entire contents of one syringe – the second one is a spare for future use (Transrotor also provides a spare belt). The procedure sees you carefully applying the oil in delicate injecting spurts into the throat of the bearing's ball cap. Phew… Pfizer shot anyone?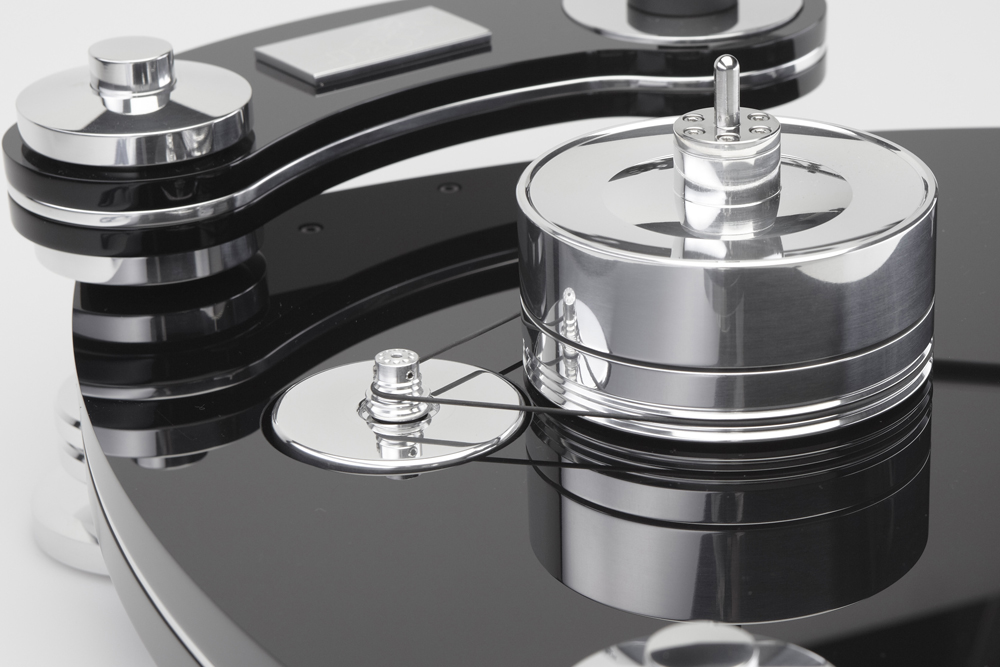 Conversely, for some reason, the Konstant Studio's manual is nicely set-out in English. However, the Konstant Studio's functions are minimal and basically straightforward. It was good to find in the manual that by positioning the belt onto the larger pulley and then switching to 45rpm, you're able to play 78rpm records. Cool if you own some. Oh, by the way, the Crescendo's speed out-of-the-box was dead-on.
Into The Woods
The same meticulous construction and engineering excellence can be said to be the main drivers for engineer Vidmantas Triukas, the designer of Lithuania's Reed tonearms. In our case, I received the 1X 10.5 inch tonearm a few weeks prior to the Crescendo. A couple of months after, Reed altered the design subtly and changed the nomenclature from 1X to 1H. The 1X and 1H have more in common than not – they share the same basic design and construction principles with the only difference being the use of a carbon fibre wood-damped wand in the 1H which Reed states approximates the acoustic resonance signature of the highly-tuned wood wands the company has become renowned for and still adopts in its pricier models. On its website, the company provides a pertinent set of graphs comparing the vibrational distortion differences between a pure carbon fibre wand and one as per the 1H with an internal wood dampener which lowers the resonant frequency way down to between 8Hz and 12Hz.
Reed's highly-engineered entry level tonearm is super-precise in terms of its assembly and overall execution. It looks, operates and is constructed like a flagship product. Period. All aluminium parts are immaculately machined and fit within each other's parameters of interaction with the highest tolerances. It's simply a pleasure to handle the 1X. Right here and now, I'd have to zealously voice the astonishing value this arm represents.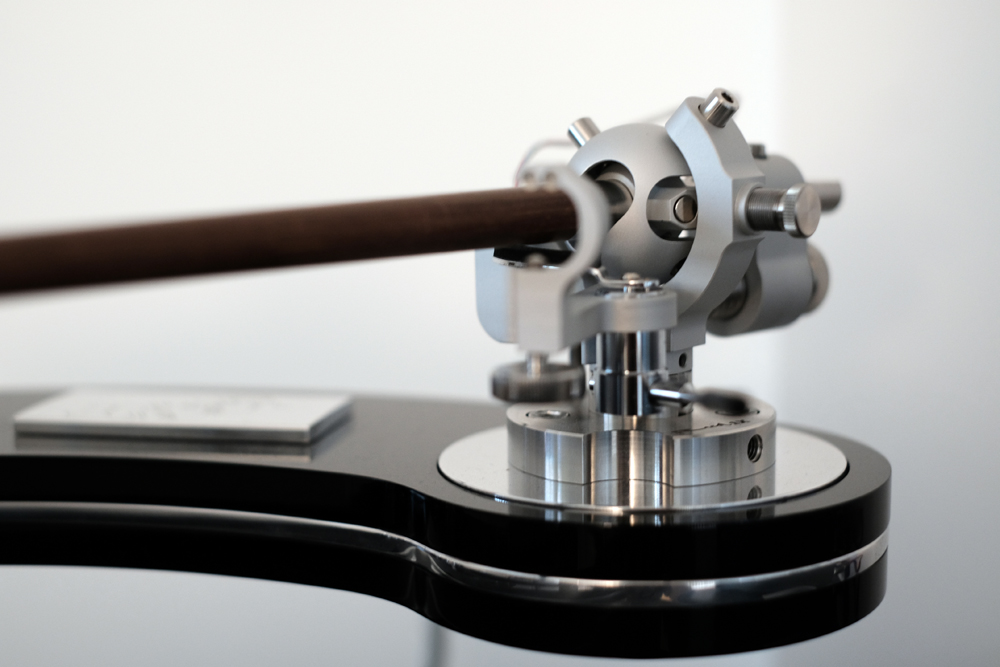 Reed's website description of the 1H (and therefore 1X too) states that the design is, "a cardanic bearing system: the vertical axis has thrust rotation bearings and horizontal axis is based on thrust pivot bearings." The design and construction is said to eliminate bearing 'wobble' and, indeed, simply using it confirms the steadiness yet smooth operation of the entire structure. The 1H/1X incorporates refined adjustability for all relevant tonearm parameters such as VTA, VTF, etc. Anti-skating setting can be done on-the-fly via a clever magnet system which subtly adjusts the distance, therefore force, upon the tonearm's skating travel potential. The tonearm features a removable headshell, high quality internal cabling and is terminated via a DIN socket so you'll need a commonly used 5-pin DIN to RCA cable. Reed also manufactures two highly-engineered turntables in the Muse 1C and Muse 3C.
In terms of properly calibrating the tonearm and the turntable to operate at optimum levels, I engaged turntable setup guru Mark Busby. I wrote a separate feature story on Busby's visit at SoundStage! Australia HQ for the calibration of Crescendo and Reed. Busby has invested in hardware and software tools, has developed thorough setup procedures to enable the pure art of tonearm, cartridge and turntable calibration. Yes, I call it calibration because what Busby does is far more comprehensive than a mere step-by-step setup. He tests every parameter and empirically verifies all specifications in order to draw the best possible performance. I can't recommend his services highly enough if you are after getting the most from your analogue rig investment. Simple.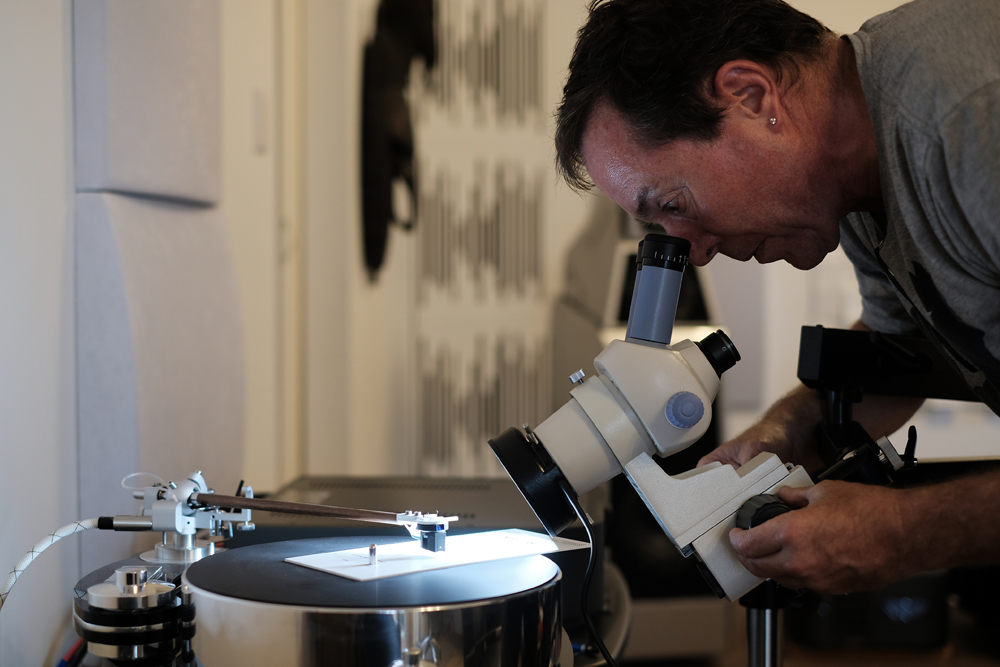 Mark Busby's new microscope rig allows super-precise cartridge alignment
It's About Teamwork
Once all setup and Busby-tuned, the Crescendo/Reed combo (including my reference Shelter Harmony cartridge) were all hooked-up via Vermouth Audio's superb Reference DIN phono cable. Phono stages were the highly-regarded Supratek Cortese, REDGUM Audio's RGPH2ENR Signature and a couple of excellent alternatives which were in for review.
Operating the Crescendo is just a matter of popping-on the vinyl, placing the heavy record puck atop, manually pushing along the heavy platter as a form of kick-start (it prevents belt-stretch) and flicking the desired speed on the Konstant Studio controller.
The nicely-weighted tonearm lift and damped rest allows for precise track cueing. Then, as you lower the lift, the 1X slowly and smoothly descends on the vinyl. Brace yourself. When the music starts you're in for some fun.
This combo has a ballsy, punchy presentation that propels with flowing rhythm. There's ample dynamic contrast, deep and nuanced bass and a thorough refinement in terms of texture and tone, detail and overall resolution.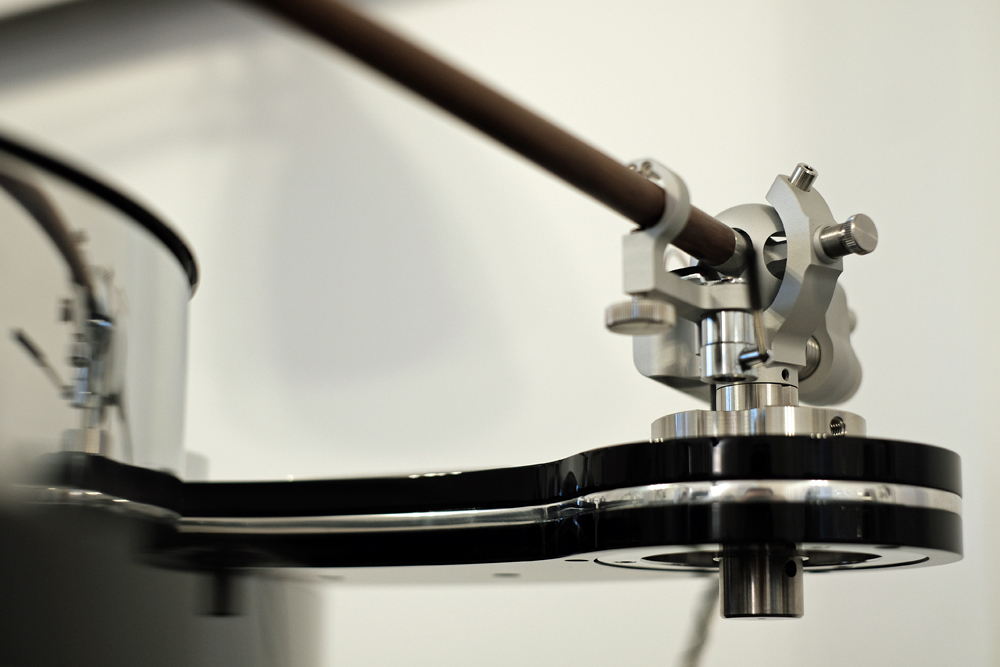 The Crescendo's speed stability and accuracy has no doubt a considerable influence on the fast transient attack on snare, plucked strings, steel guitar strings, etc. and, similarly, with the overall sonic presentation which is also endowed with tight overall control of the bass. "Ghosts" from Japan's Exorcising Ghosts exhibited clear and sharp keyboard accents through the "chorus" for want of a better word (you'll know what I mean if you're familiar with this track). The silent passages in-between are quiet, providing more prominent intonations. David Sylvian's vocals are clear and intelligible while his unique tone is reproduced as I'd known it for many years through many quality systems.
There's very good dynamic expression and powerful drum reproduction on Led Zeppelin's "When the Levee Breaks", the powerful intro kicking serious posterior while once the harmonica line is delivered, its tone is brilliant as it shimmers through the theme. There's clear reverberant air and good separation of Plant's vocals in relief of the busy instrumentation. No instrumental or vocal line is swamped by another – it's all delineated with superb clarity.
The title track of Grace Jones' Slave to the Rhythm on German 'Direct Metal Master' vinyl (thank you kindly fellow Aus SoundStager Barry Jones!) sees the complexities of, umm… the rhythm section being dissected with precision without affecting the track's dance-ability. The bass line is solid and bops along partly driven by the tight snap of the snare as the keyboards and "Keep it Up" vocals come and fade with echoing ambience.
The sheer beauty of Argerich's and Rostropovich's teaming on Schumann's Concerto for Piano and Orchestra in A minor op. 54 via the National Symphony Orchestra of Washington on Deutsche Gramophon spanned across a massive soundstage. Argerich's piano was pure tonal purity and her often subtle and always overwhelmingly emotive playing was communicated with rare simultaneous accuracy and engagement.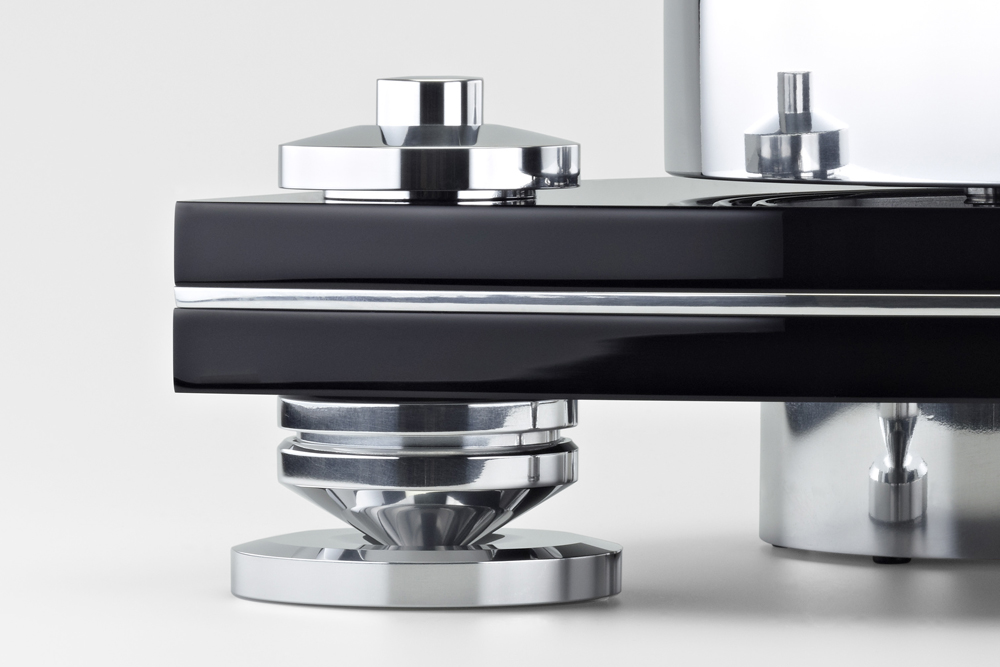 Whenever I play vinyl, I almost always play "Hey" from The Pixies' post-punk classic Doolittle. The entire album is well recorded and so fun. In parts it's a little bright but I especially enjoyed "Hey" for David Lovering's well-captured driving snare and punchy kick, Joey Santiago's and Black Francis' clear-as-a-bell guitars, Kim Deal's rounded bass and Francis' cutting and emotive vocals. The analogue combo of Crescendo and Reed punched the music in a rockin' way, which is the only way this music should play. Oh, and loud too. It's an exciting presentation, it involves you in the experience and it's all-inclusive. And it does this with immaculate tonality, excellent detail retrieval, a solid bass register and thrilling dynamics (listen to the intro drum on "Silver" and you'll cop a wallop).
Conclusion
In the early 2000s, after frustration resulting from the meagre music offerings then available on vinyl (particularly of post-punk, alternative music and Jazz Fusion, genres which I really enjoy) I bid a sentimental farewell to my then flagship Pro-Ject turntable, its associated rituals and, sadly, the sonic delights the format can offer. I fully embraced the CD – I had been running both formats concurrently – and have been growing the digital stash since. Still am, now being taken deeper into musical insights and navigating personal uncharted waters of discovery courtesy of the excellent Roon and Tidal via my reference 432 EVO High-End streamer.
Of course, for some years now, the black circle universe has been expanding to include vast catalogues of remasters, re-issues, new heavy pressings and a widening of music choice encompassing almost everything. Vinyl inclusiveness has led to my return to the analogue world. Above, you've read about the two culprits.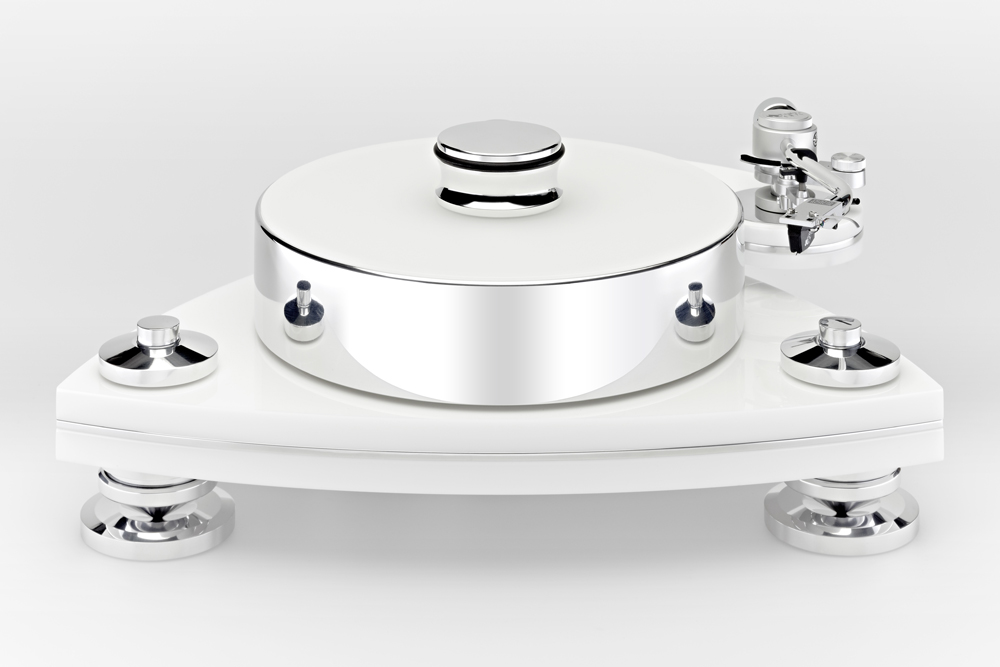 The Transrotor Crescendo with Konstant Studio power supply/controller is a magnificent example of mechanical and materials engineering. It's machined and constructed to the highest industry standards at what is a relatively moderate price point. It's been confirmed through measurement that the speed is super precise while the chassis and platter's non-resonant designs are conducive to strict signal integrity. The proprietary TMD technology makes it quiet, smooth and, again, continues the theme of resonance distortion control and system vibrational isolation.
As a partner in music, the Reed 1X (and its just-released 1H) bears the same excellence in terms of engineering and overall construction. The entire assembly is machined to perfection, with every element of the design fitting to very high tolerances while physically interacting with superb precision.
Yes, this combo is a keeper. Vinyl, I'm back baby!
… Edgar Kramer
This email address is being protected from spambots. You need JavaScript enabled to view it.
Associated Equipment
Speakers — Wilson Audio Alexia Series 2, Axis Loudspeakers VoiceBox S (nearfield monitor), Vermouth Audio Little Luccas Mk.II
Amplifier — Gryphon Audio Antileon EVO
Preamplifier — Supratek Cortese, Lightspeed Attenuator LDR passive
Sources — Digital:432EVO High-End Music Server Roon Core, Yamaha CD-S2100 transport, Totaldac d1-direct DAC. Analogue: Transrotor Crescendo with Konstant Studio controller, Reed 1X Tonearm with upgraded internal wiring, Shelter Harmony cartridge, Supratek Cortese & REDGUM Audio RGPH2 phono stages
Processor — DEQX PreMate
Audio Rack — SGR Audio Statement Model V
Acoustic Treatment — Vicoustic Multifuser Wood, Wavewood Ultra, Cinema Round Premium and Super Bass Extreme
Miscellaneous — GigaWatt PF-1 EVO, Les Davis Audio Viscoelastic CLD discs, VRC Vinyl Record Cleaning systemplus miscellaneous accessories
Transrotor Crescendo Turntable & Reed 1H/1X Tonearm
Price: Transrotor + Konstant Studio AU$12,950, Reed 1H AU$4500
Warranty: Transrotor & Reed, Two Years
Australian Distributor: Absolute Hi End
+61 488 777 999
www.absolutehiend.com
Transrotor
Irlenfelder Weg 43
D-51467 Bergisch Gladbach
Germany
+49 (0) 2202 31046
www.transrotor.de
Tonearms.lt – Reed
Naujuju Muniskiu km. Uzliedziu sen.
54317 Kauno raj.
Lithuania
+370 610 41639
www.reed.lt