On the surface, a cartridge would seem a simple enough device, whether it's designed based on a magnet system or, alternatively, one with a coil driven by a magnet system. Whatever path has been chosen by the designer, the delicate relationships between each of the cartridge's miniscule elements requires a balanced, precise and extremely mindful execution. Quality cartridge manufacturers stem from around the globe, with many respected makers originating from the USA, Germany and Switzerland. However, in terms of brands, Japan has the biggest concentration of producers, a literal 'who's who' of some of the world's most lustfully-desired and highly regarded cartridges. Shelter Audio's heritage and extensive product line firmly places it among some of the very best.
Take Shelter
Shelter Audio has been designing high-end cartridges since the 1980s when it launched its much-lauded and long-running 701E Moving Coil cartridge. Designer and company Founder Yasuo Ozawa is the man behind the Shelter cartridges who, as a young lad, had a keen interest in audio. His precocious intelligence and inquisitive mind led to his experimenting with and building valve amplification while at junior high school in Tokyo. Later, as he embarked in a career in the audio industry, he was employed by Fidelity Research where he befitted that company's cartridge design division. There, he was involved in the engineering of Fidelity Research's wide range of offerings, including the renowned MCX-3 and MCX-5 cartridges.
The Shelter Audio lines start with the affordable Moving Magnet (MM) 201 from the Legendary Line. The line-up then moves upwards to a wide range of Moving Coil (MC) stereo and mono cartridges in the 300, 500 and 900 series to the upmarket 5000, 7000 and, finally, the previous company flagship, the Model 9000. In addition, Shelter Audio manufactures bespoke headshells for its cartridges and a high quality MC step-up transformer. Moving to the Shelter Audio's top-shelf Ultimate Line sees the culmination of the company's expertise which has produced two extraordinary offerings in the Accord and the subject of this review at the very top of the tree, the aptly-named Harmony.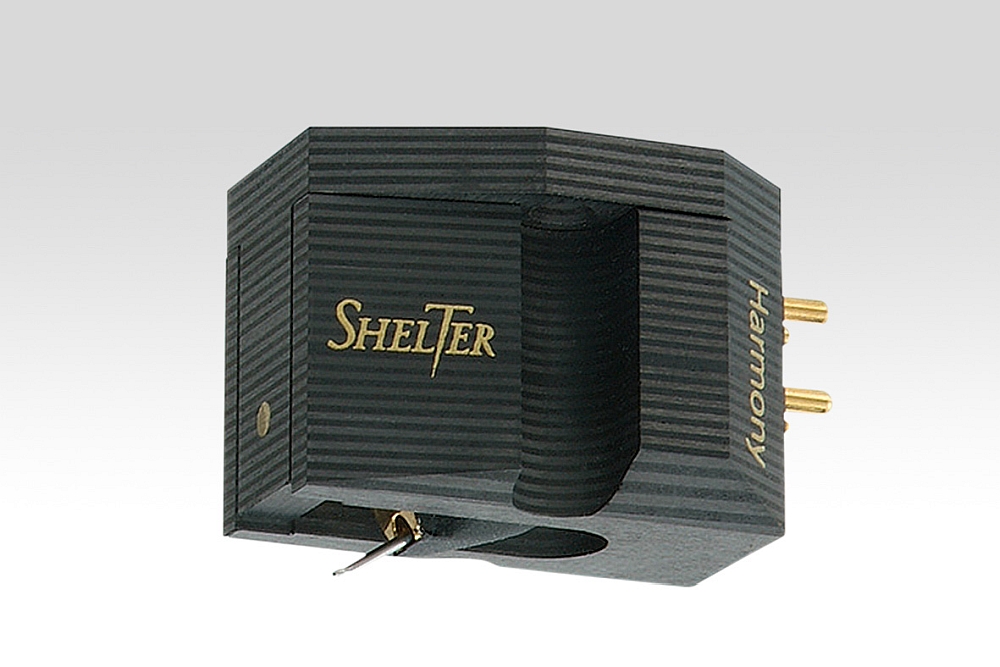 The Accord and Harmony cartridges adopt the company's 'Dry Carbon Fibre' technology which the company terms as 'CFRP'. Shelter states that the type of carbon fibre used in the Harmony cartridge is of an uncommon hardness and stiffness (a compression ratio of '60-tons' compared to the standard oft-used '24-tons') which makes for a superbly non-resonant, highly damped cartridge body aimed to control vibrational distortions. The acoustic properties of CFRP, with its resonant frequency well outside the audible range, are said to perfectly match Shelter's new motor system. In the titanium-bodied Accord cartridge, CFRP is used in strategic locations in order to provide the claimed benefits while on the flagship Harmony we see this excellent material being used to form the entire cartridge's body/housing.
Shelter Audio has designed a new motor assembly for the Harmony. It features a hard aluminium cantilever with an unusually-short length specifically designed for greater strength and is said to improve the cartridge's output voltage ratio. The overall rigidity of the cantilever and stylus assembly is claimed to provide superior bass output. OFC wiring is used within the Harmony.
Care has also gone into the design of the Harmony's stylus. The stylus tip has been shaped to make extremely accurate contact with the groove via its curvature radius, quoted as being '1.6 x 0.3mil' or 0.04 x 0.007mm, which is said to achieve the best sonic balance while improving overall tracking capability.
While there are some clever engineering aspects to the Harmony – and indeed, the entire Shelter Audio suite of cartridges – Ozawa-san's philosophy is one of simplicity, reliability and product longevity both in terms of durability at the user end and endurance as a company product. Shelter Audio cartridges have a long life and, in fact, Shelter Audio offers on-going upgrades for its oldest 701 product.
The Harmony cartridge features a quoted output voltage of 0.5 mV and an impedance of 15 ohms. Overall weight is 8.5 grams and the Harmony requires a tracking force of between 1.4 to 2.2 grams. The Harmony is provided with clear acrylic mounting screws said to be resonant-free – they also look cool. Overall, the Harmony's build quality is absolutely first rate.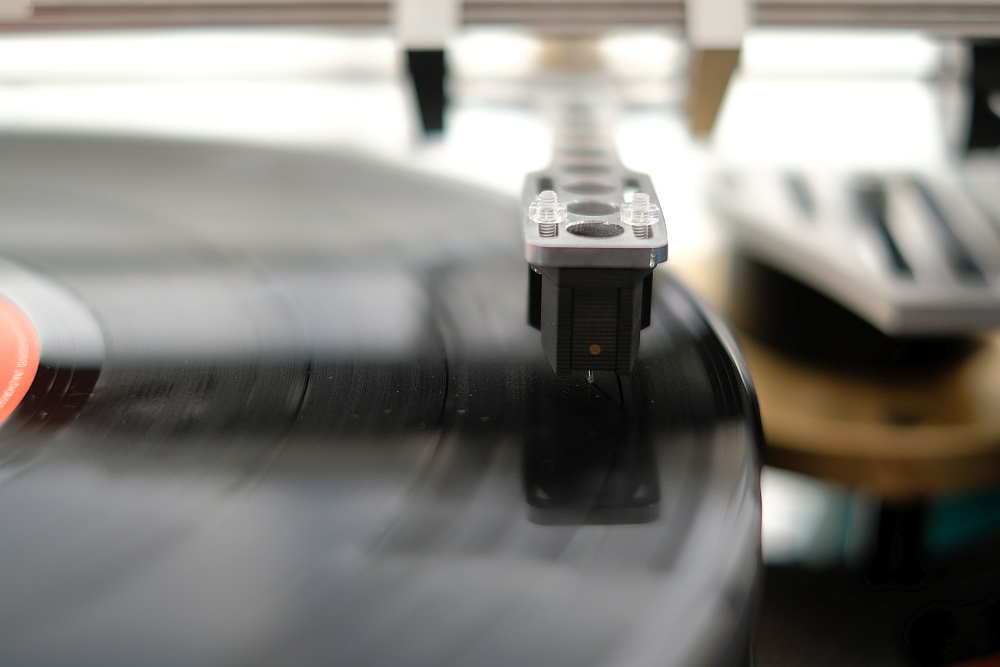 In addition to the engineering and design aspects, Ozawa-san personally supervises the manufacturing and assembly of Shelter Audio cartridges. I asked him what the aims were in the Harmony's design.
The resonant frequency of CFRP is outside of any audible frequency. Light mass that increases tracking capability. Harmony is very quiet and has superior signal to noise ratio. I want to get more disc information while increasing the tracking capability. Even though the information amount increased, it is not noisy and it is a calm sound.
In terms of "a calm sound" the company website also makes it clear that Shelter Audio places high importance on the qualities of smoothness, warmth and the subtleties of music. All very… harmonious, ahem. With this in mind, I was keen to get on to the reviewing and subjective part of this promising product.
Sheltering Place
Fitting the Harmony onto my turntable's Trans-Fi tonearm was easy enough. The arm's section that holds the cartridge can be conveniently demounted from the rest of the linear arm assembly making it convenient for this purpose. The arm also offers a wide range of mounting positions along its upper section which naturally allows for all cartridge dimensions. I had the Harmony solidly mounted and the arm reassembled within a hassle-free 15 minutes.
I'm told the Harmony requires up to 100 hours of running-in before its performance potential is fully reached. Having said that, the sound quality on offer was damn fine off-the-bat. Harmony is a dynamic, detailed yet fluid performer that will get the most from the grooves. Regardless, I ran the setup as frequently as possible over a period of a few weeks in order to clock-up in excess of 100 hours of run-time.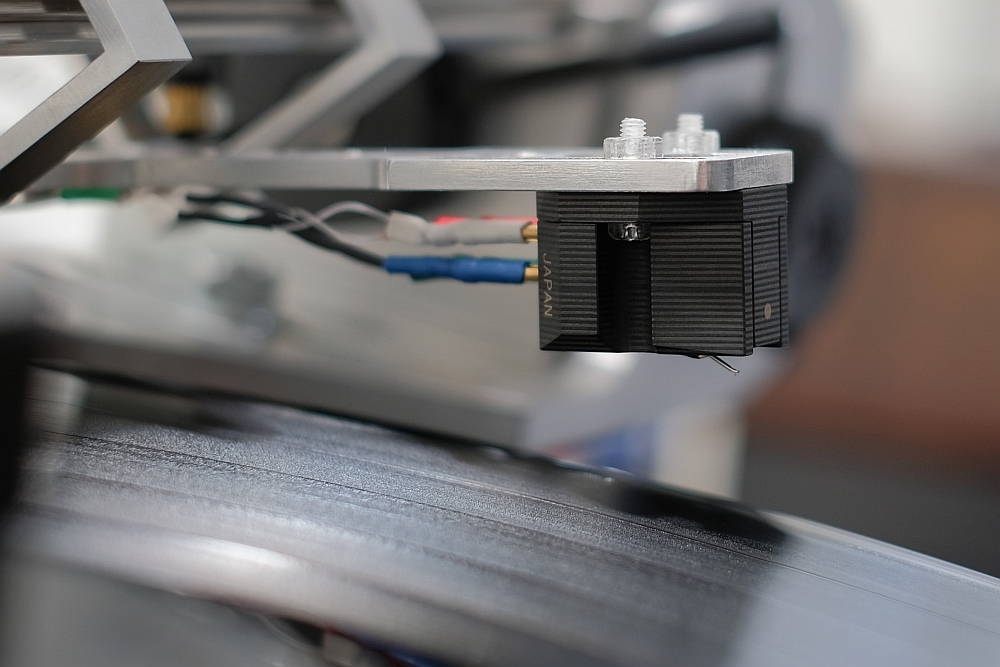 I have a reasonably-sized collection of vinyl, some of which I've owned for decades and some of which I have been steadily acquiring over the last few years despite not owning a turntable until relatively recently (see my short story on my acquisition here). As a side note to this review, my decades-old LPs have been given a new lease on life via the extraordinary VRC cleaning system which has turned the mould-filled-unplayable into the surprisingly-quiet and thoroughly-enjoyable (read my comment piece on VRC here).
Post the running-in period, the Harmony got into an even better stride in terms of music playing. Firstly, you'll notice the quietness of both the vinyl surface upon contact and the darkness of the background during quiet passages while groovin' the grooves. This last being reminiscent of good digital playback, albeit not to the same extent but along the lines of really, really good and quiet analogue setups I've auditioned in a variety of system contexts.
There are some further, and very clear, strengths to Harmony. I found a solidity and punch to bass frequencies that I'd swear challenged my very capable digital playback system. It was a definite spring to the step of electric bass, where the music just jumped along with 'rhythm and pace'. Vinyl detractors make big of criticising analogue rigs for their shortcomings in the bass regions and that may have some truth to it but only on paper. By this I mean that within the context of my analogue rig, the Harmony pulled some magic in the bass – of the explosive and deep kind (I have also heard superlative low-end reproduction through many-a-turntable setup). This was testament of both the Harmony's tracking ability and its competence through the bass regions. Even mediocre productions (but in my opinion great music) like The Cure's Standing on a Beach where tracks such as "Jumping Someone Else's Train" bounced along in a jolly, 'The Cure-like' way that encouraged getting up and dancing.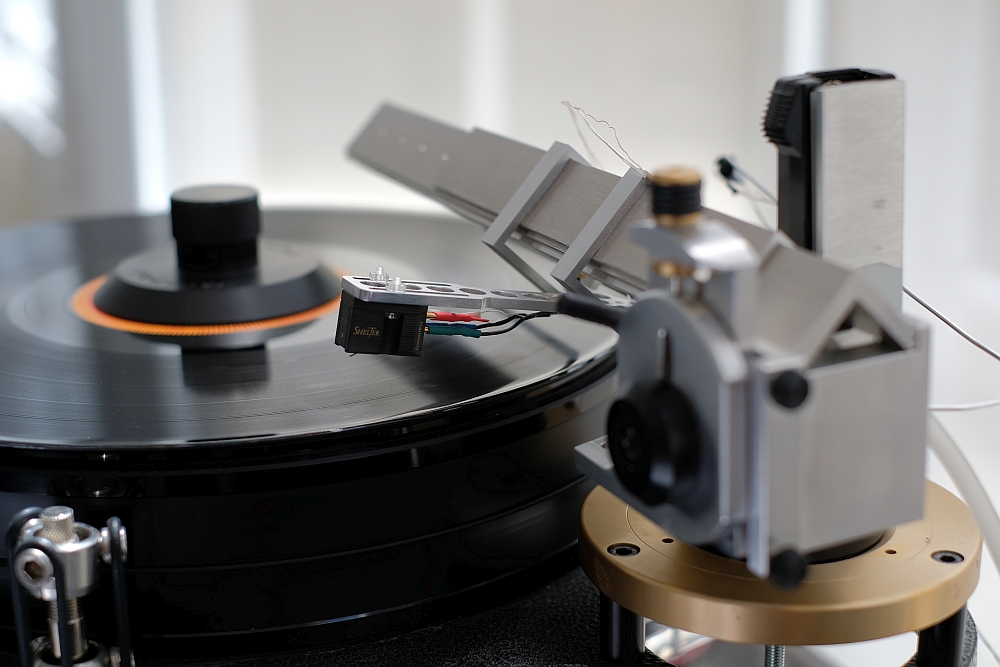 Detail, retrieval was superb via the Harmony. Gold Note's analogue master tape-edited pressing of Ensemble Operarmonica's Carillon on heavy vinyl presented an astounding clarity and resolution of the minutest details. This exceptional production sounded extremely beautiful with precise tonality and a superb clarity of timbre to the flute and accompanying organ. In the vocal tracks, soprano Veronica Senserini was locked-in centre stage, present, dynamic and lifelike. Of note, every acoustic instrument recording I played sounded stunningly realistic, tonality-wise, and was filled with subtleties and fine nuances in terms of tonal colours. Image density was stunningly real in this recording, making for superb layering within the soundstage.
The sheer 'oomph' of the low bass note – which is almost like a short-burst hum – that follows the solid kick drum in "Come Together" from The Beatles' Abbey Road 180g LP (you know the section of the track I mean, right) is pure indulgent pleasure. Harmony provides a stunning solidity and depth while also delineating and separating the track's different mix strands clearly and precisely but without ever losing the musical intent.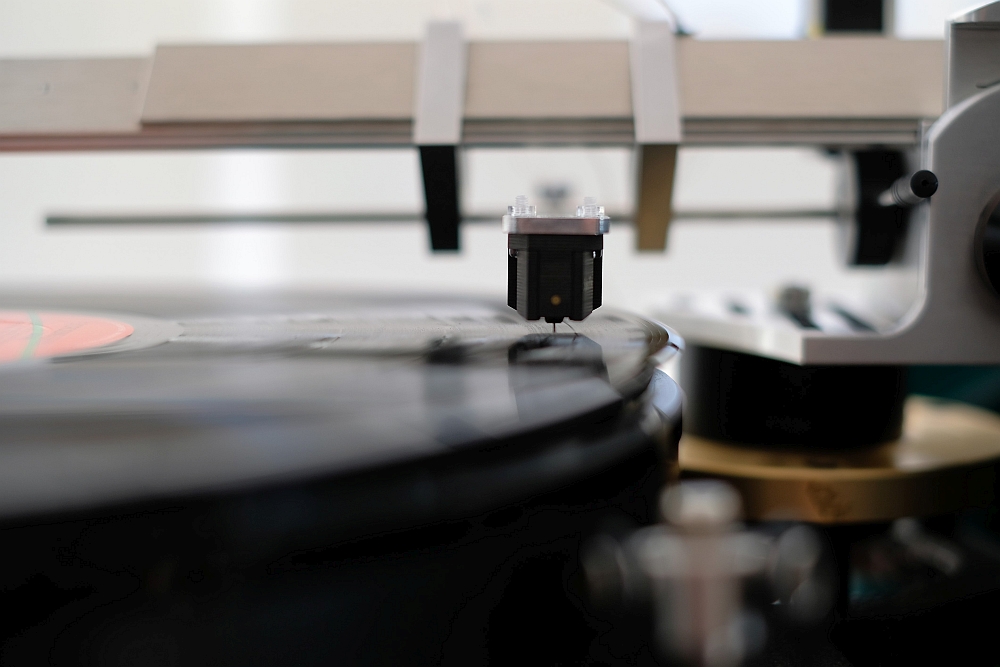 While the soundscape was, often, not as expansive in all the dimensions as my reference digital setup, the Harmony nevertheless still threw a very wide, deep and tall soundstage populated with well-placed images. I say "often" because the wide component variables of vinyl playback – the relationship between cartridge and arm, the tonearm's own sonic characteristics, the turntable's various design elements, etc., not to mention the vagaries of the software mastering, pressing and more – makes for a difficult comparison between the turntable and the relative simplicity of a transport and DAC. To be certain however, was the undeniable presence of the usual sense of the music's 'body', that analogue indefinable 'je ne sais quoi', that almost tactile quality of warmth, which I found was also a strong trademark of the Harmony. This was without a hint of syrup and with a very strong dynamic expression balanced with a generous dollop of overall detail retrieval.
Conclusion
The Shelter Audio Harmony MC is yet another item that, after spending a reasonable amount of time enjoying it, I'd find it difficult to part with. It's not a cheap cartridge by any means, however, it's also not stratospherically priced. In fact, I'd be mindfully doubtful whether far more expensive cartridges would actually offer a whole lot more… And that's not taking away from more upmarket competitors, of which many excellent examples I've heard at length within the context of familiar systems. Rather, it's a statement of Harmony's own over-achieving qualities.
In closing, the Harmony MC cartridge is extremely well-made, it's an attractively-shaped design – as far as cartridges go – and uses a high grade of carbon fibre in its construction, a not oft-seen material that has proven, in my tests and in conjunction with the overall design, to provide excellent sonic performance.
In my relatively new analogue playback system, the Shelter Audio Harmony MC cartridge most definitely stays as the last piece of the puzzle in what I'm sure will be a long, utterly rewarding and, umm… harmonious vinyl journey.
… Edgar Kramer
This email address is being protected from spambots. You need JavaScript enabled to view it.
Associated Equipment
Speakers — Wilson Audio Alexia Series 2, Axis Loudspeakers VoiceBox S (nearfield monitor), Vermouth Audio Little Luccas Mk.II
Amplifier — Gryphon Audio Antileon EVO
Preamplifier — Supratek Cortese, Lightspeed Attenuator LDR passive
Sources— Digital: Yamaha CD-S2100 transport, Totaldac d1-core DAC, MacBook with BitPerfect software, AIFF files. Analogue: Michell Engineering Orbe with Gert Pedersen Level 3 modifications and Origin Live Ultra upgraded motor, Trans-Fi Terminator air bearing linear-tracking arm, Shelter Harmony cartridge, Supratek Cortese & REDGUM Audio RGPH2 phono stages
Processor — DEQX PreMate
Cables — sILENzIO loom, Vermouth Audio Black Pearl Mk.II loom
Audio Rack — SGR Audio Statement Model V
Miscellaneous — Les Davis Audio Viscoelastic CLD discs
Shelter Audio Harmony Moving Coil Cartridge
Price: AU$5495
Warranty: 12 Months
Australian Distributor: Absolute Hi End
+61 488 777 999
www.absolutehiend.com
Shelter Inc.
6-28-6 Togashira, Toride-city
Ibaraki 302-0034, Japan
+81 297 78 2491
www.shelter-audio.co.jp