"The most important invention of the 20th century". That was said of the semiconductor after its introduction in 1947. The device then went on to ubiquitous application in transistor radios through the 1950s. Then, in the late 1960s, very early 1970s, the transistor saw increasing implementation in Hi-Fi. Valve audio amplifiers' decades-long reign was now being challenged. Soon after, the new technology became all-pervading, promising longevity, reliability, higher output power and improved sonic accuracy. Yeah, well… in early designs, that last one was mostly… so, so. It wasn't until well into the 1970s, that skilled engineers procured the transistor's potential for high-end audio. Those transformative events actually overshadowed the development of the Nuvistor tube in the late 1950s. The promising device came… and went. Forward to 1997 when British audio specialist Musical Fidelity unearthed the Nuvistor and harnessed that missed opportunity. The aim? To marry the best traits of both valve and solid state amplification. In the Nu-Vista PAS power amplifier, will the two worlds coalesce into a new powerhouse fusion?
Old is the New New
As per Musical Fidelity up-tier amplifiers of yore (currently, Musical Fidelity, alongside Pro-Ject, falls under the corporate umbrella of Austria's Audio Tuning Vertriebs GmbH), the Nu-Vista PAS is a two-box power amplifier which separates the power supply section from sensitive circuit stages. Of course, it employs the Nuvistor valves I've alluded to in the much-abridged intro, a device which is unique in terms of its implementation in a powerful amplification product from an audio electronics specialist.
The Nu-Vista PAS is an imposing beast. It's tremendously well built, luxuriously finished and has the proportions and bulk hinting at lots of power, even before firing it up. The two thick-panelled milled aluminium chassis are superbly assembled while the metalwork's finish quality is first rate and among the best I've seen.
Connectivity between the two chassis is via a provided cable loom of XLR and Neutrik speakOn style terminations. A 4-pin XLR cable mates the 'Control' section of the PAS power supply and the amplifier. A further two 5-pin XLR cables link the Nu-Vista 'PRE' section and the PAS power supply (these power the Nuvistor stages) while two speakOn cables handle the power amplifier stages. So, the included loom totals a quintet of link cables which must be connected prior to turn-on.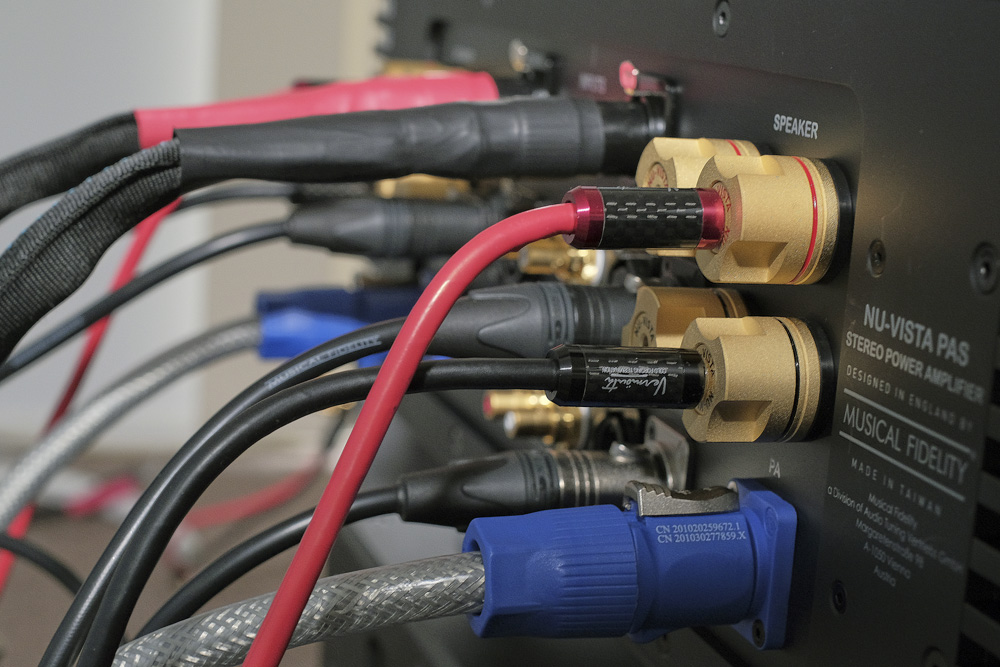 While on the connectivity options, I should mention the C19 16 amp IEC socket. Musical Fidelity provides a freebie cable to suit but if you're an AC cable experimenter, bear that in mind – your standard 10 amp cables will not be compatible (unless you have a 10A to 16A converter/adaptor). There's a mains on/off switch directly above the IEC socket.
The power amplifier section features two high quality unbalanced RCA and two balanced XLR inputs. Line outputs are also offered in RCA and XLR versions (for amplifier piggy backing). There are 12V mini-jack input/output sockets for auto turn-on of other compatible Musical Fidelity products.
Now to the speaker binding posts. There are two sets of them, catering to bi-wire connectivity. They are beautifully machined, super chunky and seem to be proprietary (I haven't seen their like before). However, through my experience with them, I discovered that they are somewhat flawed. The diameter of each speaker connector's central post is way too large – not the standard 8 mm. Even the wider end of the dual diameter spade connectors on my VYDA Labs Orion cables could not fit around the post. On the red terminal, you could insert a spade leg into the post's central hole, but you'd have the cable hanging from above awkwardly. Doing the same for the black terminal is impossible due to the proximity of the red terminal above and the PAS connecting cables below. I ended up having to grip about 2 or 3 mm of the spade legs and tightening the lug, like Hell, for fear of a slip while music's playing. Not an ideal scenario. So, banana plugs are really the only practical and safe way to go. Ergo, my change to the delightful Vermouth Reference cables which are, thankfully, banana terminated. Just something to bear in mind – try out the spacing on your speaker cables' spade legs for compatibility.
The amplifier chassis' fascia features a small standby button, an input switching button and one for navigating through the central window's display. The display can be cycled between a white and dark theme showing either just the chosen input or a set of very cool looking electronic, brightness-adjustable Left/Right power meters.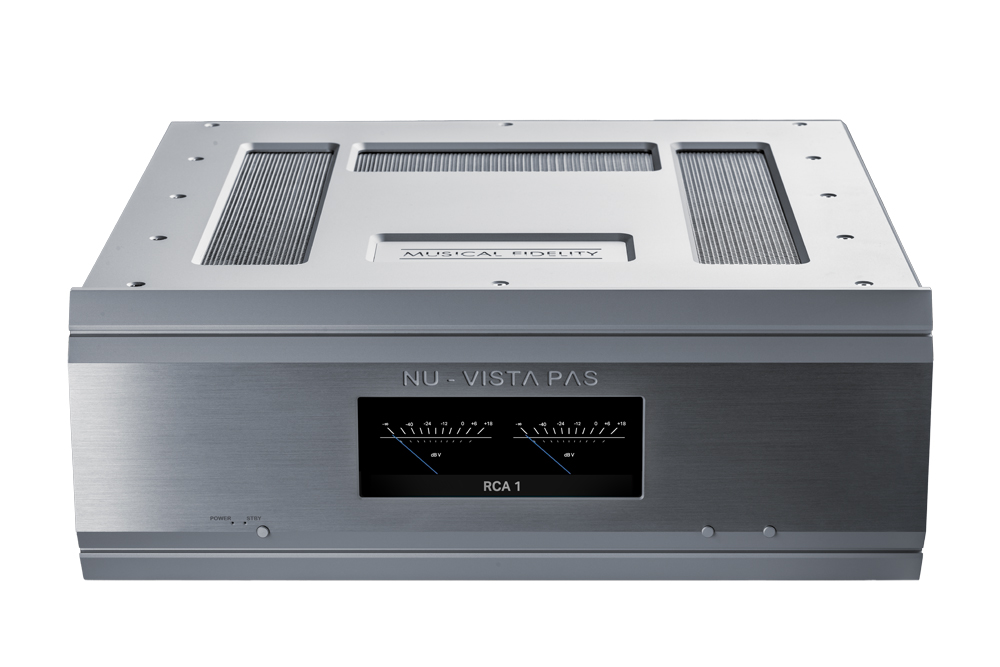 The amplification circuit is fully-balanced and employs five pairs of "thermally compensated" output transistors per channel and two large 1.25KVA toroidal transformers supported by a 30,000uF capacitor bank. A Musical Fidelity representative further explained, "There is a choke in the supply rails between the power supply and power amplifier PCBs which results in 26dB reduction in ripple and large current spikes." Going on to say, "This is arranged in PI configuration for best in-ripple noise and line self-regulation." The power supply circuit includes output and mains filtering, with the latter said to provide total isolation from AC distortions.
The Nu-Vista PAS power amplifier circuit is based around eight Nuvistor 6S51N valves in a discrete Class-A amplifier buffer. They are arranged in a grouping behind a window protected with a metal grille. It's a Class-A/B amplifier rated at 300 watts per channel into 8 ohms with a bias setting of 5 watts in Class-A (2 ohms capabilities are spec'ed at 1000 watts peak). It's a high-current design, with a quoted 130 amps peak-to-peak of available current. Frequency response spans from 5 Hz to 50 kHz (+0dB, -1dB). The damping factor is said to be 200 (no frequency parameters given) and the gain is a low-ish but sensible 23.5dB while input impedance is stated as a widely compatible 100 kohms. Signal-to-Noise Ratio (SNR) is 108dB A-weighted, Total Harmonic Distortion plus Noise (THD+N) is quoted at 0.003 % typical from 20 Hz to 20 kHz and Channel Separation is >96dB.
There are benefits to the two-chassis architecture. The large transformers can be a source of electromagnetic (EM) and vibrational distortions. In the Nu-Vista PAS, the chassis itself is said to provide the isolation qualities of a Faraday cage, which results in an excellent Signal-to-Noise Ratio specification.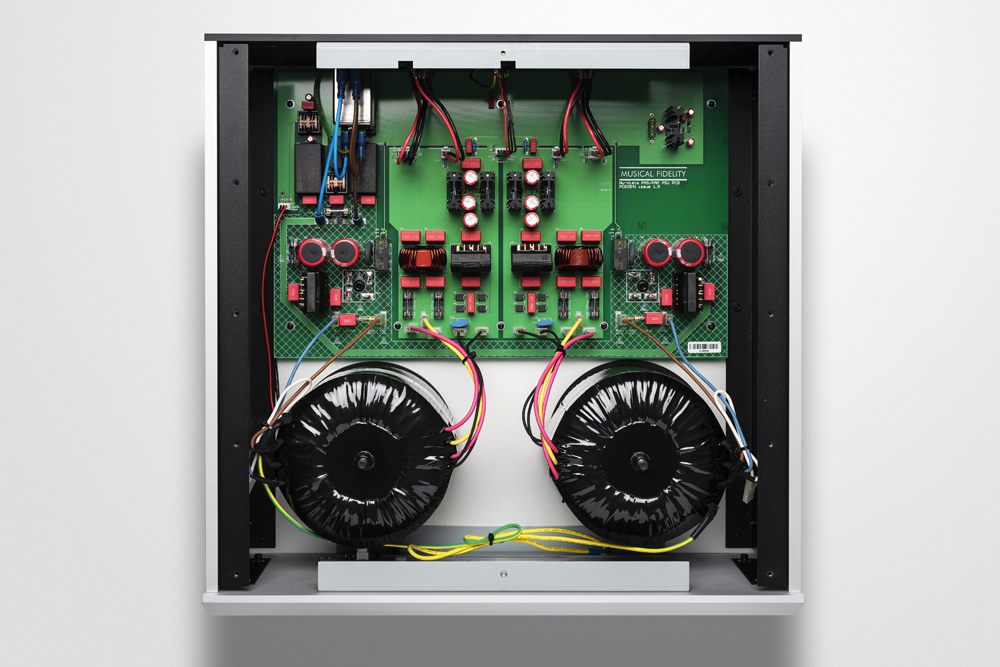 Once the cable loom is all hooked-up, flipping the rear mains switch and then pressing the front standby button commences a coloured light cycle which has become a visual aspect of Musical Fidelity Nu-Vista components for a number of generations. We've seen this colourful show in LED-lit feet, down firing colour washes, etc. In the Nu-Vista PAS, the show is more understated… quite elegant, actually. Each of the eight Nuvistor valves features an LED-lit surround which glows red on turn on, then orange upon commencement of the warm-up cycle and finally lights-up blue through operation once signal is fed. The light cycles can be defeated if required – a symbol in the display informs the LED status. The valves themselves don't glow, of course, they have a solid metal exterior.
Again, I'll mention the Nu-Vista PAS amplifier's chassis quality which is outstanding. The levels of structural solidity are evidenced by the combined two-chassis weight of 67kg. Musical Fidelity provides a set of four beautifully machined metal cones for each chassis which couple to matching metal receptacle discs. Felt pads are also included in order to protect the surface of your rack shelf or amplifier platform.
Two For One
There's sure something to the two-chassis arrangement in the context of PAS. The immediate thing you notice upon firing it up is the total quietness of the circuit. I ran the amplifier through a 24/7 low-to-mid-volume run-in period for a few days, seeing the review units were brand new.
Sonically, there's a satisfying dynamic overtness and excellent transparency to the signal the amplifier is being fed. This "overtness" I refer to is also evident in the Nu-Vista PAS's handling of the high frequencies. There's a marked difference between the superbly natural, if slightly laid-back, treble of my own Gryphon Audio Antileon EVO reference amplifier and the Musical Fidelity. The MF may not sound quite as fluid but it's a more direct presentation, a more present, explicit sonic signature which provides exceptional detail retrieval.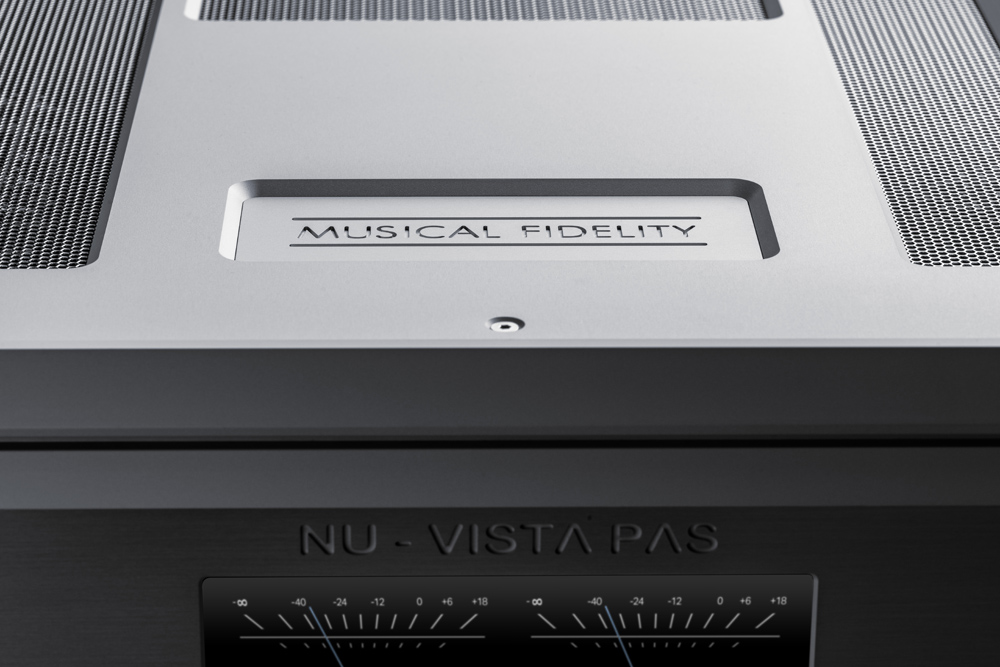 On the superb Ten Songs From Live at Carnegie Hall album, the track "New York, New York", Ryan Adams' vocals exhibit some sibilance in his 's' and 't' pronunciations, yet it was never a case of objectionable brightness. Rather, the high frequencies revealed amazing venue ambience and reverberance and astounding levels of detail to Adams' steel-stringed guitar while offering clear insights into his nuanced vocals (especially on the heartbreaking "Sylvia Plath"). Stay away from brash metal tweeters and bad recordings – Nu-Vista PAS will expose their failures, as a good communicator should… that's what an accurate amplifier does.
If you've read my reviews over the years, you'll know how highly I rate the album Living in Clip from Ani DiFranco. It's a not-so-super-refined recording but it captures the 'vibe' of the event and its setting. Plus, DiFranco is an accomplished song writer, a skilled vocalist and adroit guitarist. The venue's crowd noises, cheers, whistles, coughs, etc. are incredibly revealed via the PAS and, while that's not music, it serves to illustrate the remarkable micro-dynamic and detail retrieval capabilities of this amplifier. Of course, that does carry through to the music, where DiFranco's vocals are so present that you could almost jump on stage, thank her for the show, and then stage dive back onto the listening chair (don't do this at home…). The transient attack and punch on Andy Stochansky's drum play is phenomenal via Nu-Vista PAS, across the toms, kick and snare. "Willing to Fight" will amp-up your expectations of dynamism while the venue's ambient scale on "Amazing Grace" is as massively open as gliding into free outer space after breaking through the exosphere. Huge.
Yes, the Nu-Vista PAS is a dynamics champ and it applies across the board. Starting at the low-end, the amplifier offers a solidity and tight punch that is, in a word, phenomenal. Provided your speakers' low-frequencies capabilities are up to the task, you'll find zero artificial bloom, nor any smearing of bass notes, it just does bass extremely accurately, tone- and pitch-wise, and with supreme control. Mated to the exceptional low-end my reference Wilson Audio Alexia V is capable of makes for bass registers which are at the top end of reproduced audio.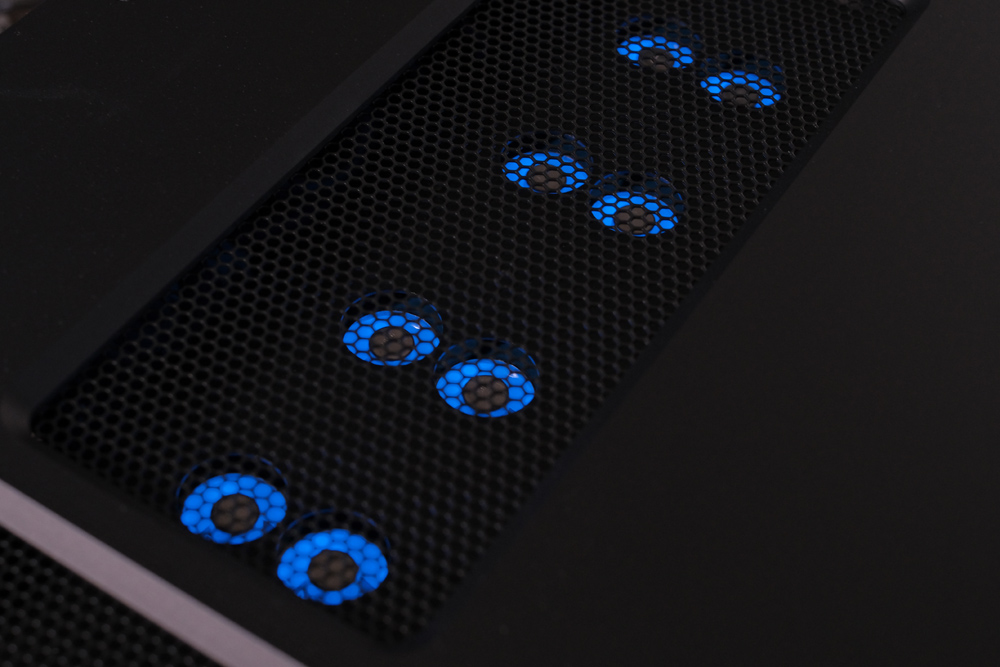 I wallowed in Marcus Miller's sheer virtuosity and the musicality across his many albums in my library (check-out Miller's classic Tales or his more recent Afrodeezia albums). The Maestro's dexterity, and his tight control over the many instruments he so thoroughly masters, was striking through the PAS. Yes, the PAS's handling of low-end attack, pace and dynamic expression is truly extraordinary. All those aspects were, of course, obvious on Victor Wooten's many recorded wonders, or Stanley Clarke's or Jaco Pastorius' or Charles Mingus – right there, you have some of my favourite jazz bass players (there are others, of course).
There was a spaciousness to Joseph Tawadros' Live at the Sydney Opera House album which presented a large soundfield with tremendous depth. While not the most audiophile-like recording, the track "Permission to Evaporate" sounds grand, open and resolute via the PAS amplifier's ability to separate dense musical complexities. There's no confusion, nothing congeals or compresses when handled by the Nu-Vista PAS. Plus, I've been to the Concert Hall at the iconic venue, both prior and post its massive acoustic refurbishment/remodelling, and I can easily juxtapose my memory of the venue with the ambient signature captured mid-hall in this ABC Classic recording.
If you like intimate jazz ensembles, you'll love the Nu-Vista PAS. It has a way of communicating the musicians' techniques and subtle improvs, while also showing thorough control of big double bass and drum solos, in particular. On Tony Dagradi's "Limbo Jazz" from Live at the Columns, the drum solo which follows the bass excerpt is so powerful that, played at a realistic level, it'll Trump-like flop a comb-over… or just mess with your entrails. The same goes for Dagradi's sax, which pops into the room with exceptional verisimilitude. Recorded with zero compression, it's scarily powerful and will test your speakers' capabilities. Be careful with the volume wick.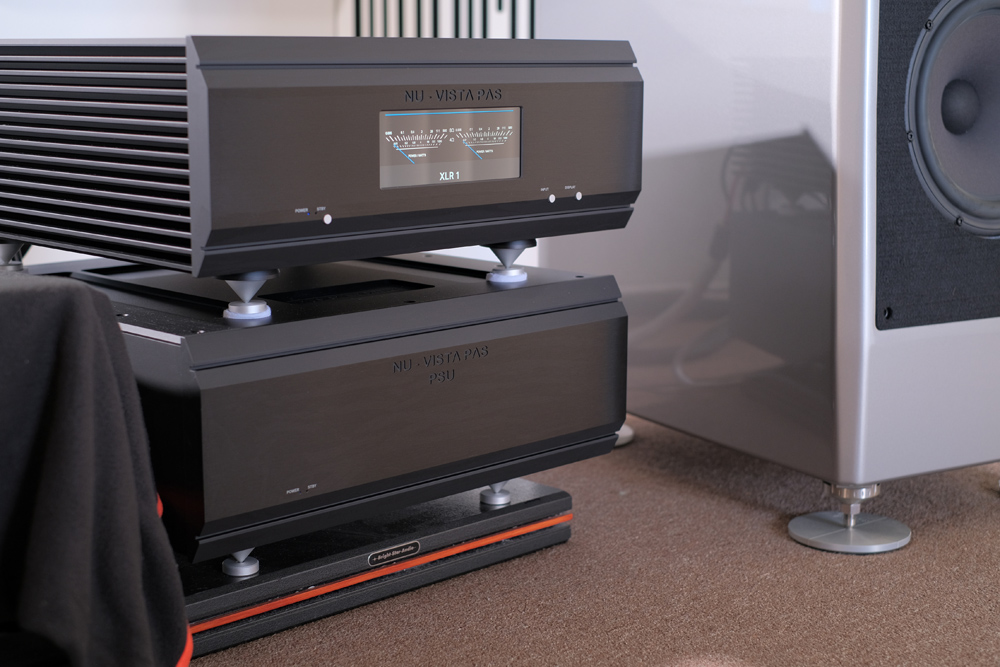 The Nu-Vista is also very capable with more subtle, gentler material. The beauty of the Nicolas Parent Trio's compositions and the guitar and percussion interplays come across with terrific detailing and excellent definition. The title track on the album Tori is involving and displays all the intricacies and peculiarities of Parent's technique with equal attention to Karsten Hochapfel's cello, Kentaro Suzuki's bass and Guillaume Arbonville's drums. What an ensemble of superb musicians.
Conclusion
There's no denying the potent statement Musical Fidelity is boldly expressing with the Nu-Vista PAS amplifier. Its tank-like build, its large two-box architecture, those stylish meters and the overall finish quality make for a standout presence in any listening environment. Plus, it will likely last a lifetime.
It's poised to impress. It so does, but not just in terms of its imposing physical stature. The Nu-Vista PAS amplifier is also a forthright musical delivery champ. It's direct, and ballsy and powerful. It's unflinching as a controller of any loudspeaker. It will provide all the nuance and detail that's in the music, no matter the format. Team it with a great preamplifier and a capable loudspeaker in the realms of appropriate price points, and you'll have an unfaltering governor of your much-loved music. With the Nu-Vista PAS, Musical Fidelity is expanding high-end audio's landscape with a panoramic new vista.
… Edgar Kramer
This email address is being protected from spambots. You need JavaScript enabled to view it.
Associated Equipment
Speakers — Wilson Audio Alexia V, Axis Loudspeakers VoiceBox S (nearfield monitor), Vermouth Audio Little Luccas Mk.II, Atacama stands
Amplifier — Gryphon Audio Antileon EVO
Preamplifier — Supratek Cortese, Totaldac d1-triunity (direct to amplifier)
Sources — Digital: 432 EVO Aeon Mk.3 Reference Music Server/Roon Core, Yamaha CD-S2100 transport, Totaldac d1-triunity DAC. Analogue: Transrotor Crescendo with Konstant Studio controller, Reed 1X Tonearm with upgraded internal wiring, Shelter Harmony cartridge, The Funk Firm Houdini cartridge decoupler, Supratek Cortese & REDGUM Audio RGPH2 phono stages
Processor — DEQX PreMate (part of arsenal/casual use)
Cables — VYDA Laboratories Orion Silver Reference HFC IC and speaker cables, PSC Audio custom design XLR, Vermouth Audio Reference loom,ZenSati Zorro, Tubulus Concentus USB
Audio Rack — SGR Audio Statement Model V, Aspire Audio Belgravia amplifier platform (customised for Gryphon Audio Antileon EVO), Stereotech Aluminar Dark 3-tier rack
Acoustic Treatment — Vicoustic Multifuser Wood, Wavewood Ultra, Cinema Round Premium and Super Bass Extreme
Miscellaneous — Silent Angel Bonn N8 Pro network switch, GigaWatt PF-1 EVO power strip, Les Davis Audio Viscoelastic CLD discs, VRC Vinyl Record Cleaning system, plus miscellaneous accessories
Musical Fidelity Nu-Vista PAS Power Amplifier
Price: AU$43,000
Warranty: Two Years
Australian Distributor: Audio Marketing
+61 2 9882 3877
www.audiomarketing.com.au
Musical Fidelity (Division of Audio Tuning Vertriebs GmbH)
Margaretenstrasse 98
A-1050 Wien
AUSTRIA
+43 50443
www.musicalfidelity.com