Switzerland's Weiss Engineering is renowned for its no compromise approach to gear for professional mastering studios around the world. For years Weiss has been at the forefront of digital engineering, and each generation of its products has raised the bar even further. The new HELIOS digital-to-analogue converter is the company's latest high-end Hi-Fi flagship product.
Purist Signal Path
Daniel Weiss joined the Studer Revox company in 1979, after graduating with a BSEE from the HTL Rapperswil University in Switzerland. At Studer, he worked on analog anti-aliasing filters, test signal generators, sample frequency converters and digital audio processing. Weiss left Studer and formed Weiss Engineering Ltd. in 1985 to concentrate on the design and manufacture of digital audio equipment for Mastering Studios. In 2000, Weiss Engineering entered the Hi-Fi market with consumer high-end products. Initially, Weiss had to do pretty much everything himself; hardware design, PCB layout, DSP software, host device software, manufacturing and testing. These days, he has lots of help. His son Joschka Weiss is a sound technician and the Golden Ears for algorithm design and testing and other aspects of research. Joschka Weiss, along with all the other employees, free up Daniel Weiss to concentrate on hardware design (analog and digital) and the marketing, PR, sales and admin.
This review is about the new flagship reference D/A converter from Weiss, the HELIOS. The name is in-keeping with Weiss' penchant for naming its products after Greek mythological gods. HELIOS was the god of the Sun in Greek mythology. He rode a golden chariot which took the Sun east-to-west across the skies each day and sailed around the northerly stream of Ocean each night in a huge cup. As you read on, I hope that you'll understand that this new godly D/A converter is very real with mythical performance. As Weiss says on its website, "With the HELIOS, you are hearing what the professionals are hearing."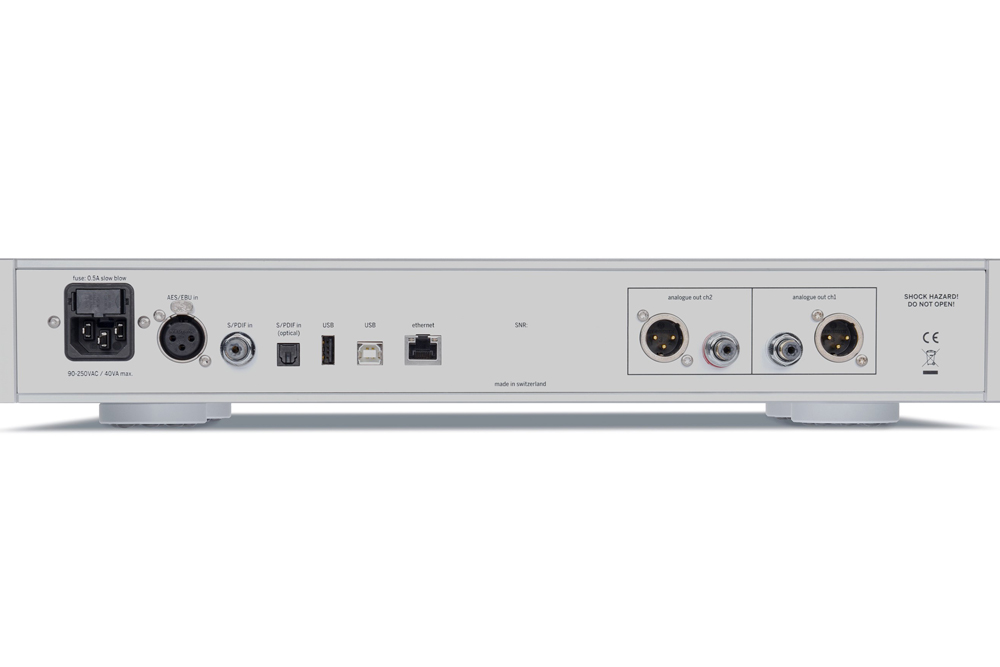 HELIOS uses an eight-channel 32-bit ESS Sabre ES9038PRO D/A converter with four paralleled conversion channels per audio channel. It uses an internal high-precision and low jitter clock generator for ultra-stable clocking of the D/A converter section. Analog processing is via Weiss' own OP2-BP discrete op-amps, four per channel.
The HELIOS comes standard with most digital inputs; AES-EBU (on XLR), S/PDIF (on RCA), S/PDIF (optical), USB and ethernet. It handles all sampling frequencies up to 384 kHz, as well as DSD 64 and 128. The unit can function as a preamp, a headphone amp and a streamer (UPnP/Roon), is Roon Ready, and integrates with JPLAY iOS app. For a UPnP input, an app running on a tablet can be used to control the transfer of data directly to the HELIOS – these files can come from a NAS drive or a streaming service (like Qobuz or Tidal). Its analog outputs include balanced (XLR) and unbalanced (RCA). The XLR and RCA analog outputs are designed to directly drive an amplifier, as well as headphones directly or via a headphone amplifier.
At first look, the case work and the back panel seem to closely resemble the DAC502. But the HELIOS chassis is considerably more substantial – it's a double chassis design with a stainless-steel frame inside the thick aluminium panelled outer chassis. It's very solid when you rap it with your knuckles, and also ensures that EMI and RFI intrusion is reduced. Inside, the HELIOS has a different D/A converter than the DAC502 and a much better analog output section. And as you likely know, the quality and integrity of the clocking and the analog output stage is perhaps as important to the sound quality as the actual D/A processing method itself.
HELIOS comes with an IR remote control which allows you to select input and output (speakers or headphones), volume, polarity, mute, the DSP presets and power on/off. You can also control the HELIOS via the touchscreen colour LCD display and the control knob on the front panel. It also has a nifty web interface which allows you to control all of the above aspects of HELIOS, plus channel balance, output gain level, settings of the various DSP features, and firmware upgrades. The DSP processing can be switched to speaker or headphone use as required. Each output can have their own sets of DSP settings.
The output gain level provides eight steps to cater to amplifier or headphone requirements. These steps start at 0dB, then in 4dB decrements to -28dB. The factory set it at -16dB. In my system, I found -16dB to be a bit too resolving, -20 dB provided the best level. The levels can be set independently for amplifier and headphone.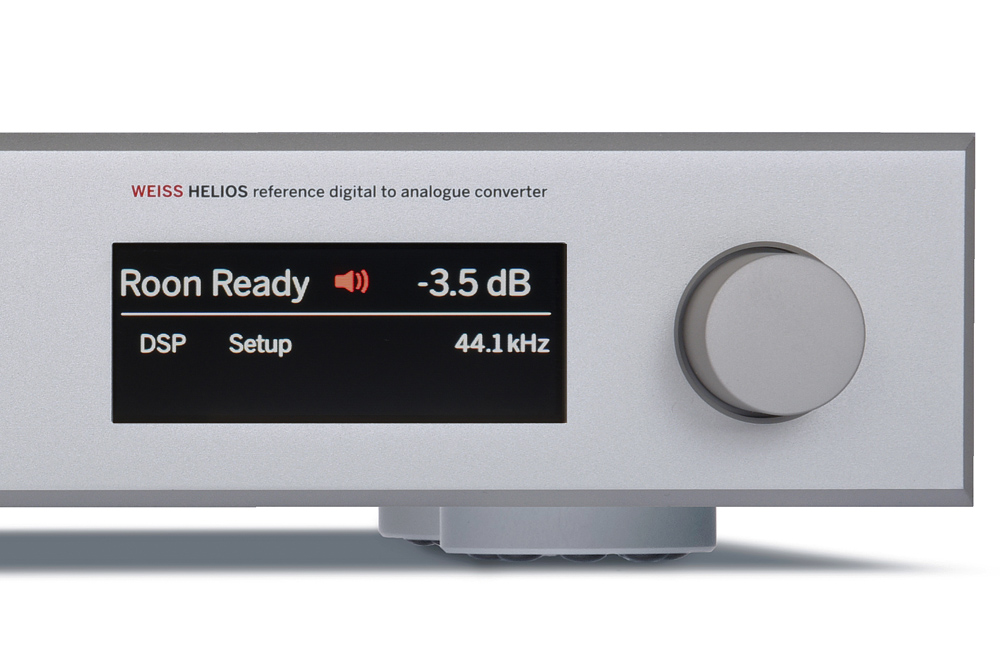 The HELIOS DAC has a depth of 30 cm, width of 45 cm, height of 6.6 cm, with feet the height is 7.4 cm. Its weight is approximately 9.4 kgs. It comes in either silver or black. My unit was in black and looked very spiffy.
Two mains toroidal transformers provide power – one for digital circuits, one for analog. Sensitive voltages have their own regulators for each channel. The result is an analog output free of digital noise and channel crosstalk. The mains voltage selection is done automatically by checking the mains voltage before power is supplied to the rest of the unit.
The built-in digital audio processing is based on the same algorithms used in Weiss' professional audio line to mix and master recordings. The HELIOS can store separate algorithm settings applicable to speaker mode and headphone mode. In speaker mode, these algorithms include: De-Essing, Room Equalizer, Multi-Band Parametric Equalizer, Constant Volume (aka Dynamic Adaption), Vinyl Emulation, Crosstalk Cancellation, and Loudness EQ. In headphone mode, these algorithms include: De-Essing, Headphone Equalizer, Multi-Band Parametric Equalizer, Constant Volume (aka Dynamic Adaption), Vinyl Emulation, Crossfeed, and Loudness EQ.
I checked with Daniel and he confirmed that these features, when set to 'bypass', have no impact on the sound quality. The Weiss website elaborates on each of these algorithms so I won't repeat them here.
Since I use a Trinnov Amethyst between my music server and the HELIOS, I have no need for features like the Room Equalizer. However, I will evaluate the effects of the Room Equalizer later on and compare it to my Trinnov.
Truly godly goodness...
Some audiophiles might be concerned that the studio heritage behind Weiss, and hence HELIOS by association, will render it to be too studio-like, perhaps too 'analytical'. I didn't find it to be that way. Of course, it isn't euphonic, it doesn't embellish the sound with artifice – bad recordings have nowhere to hide. I've included a diagram below which illustrates the sonic palette of the different Weiss D/A converters. As you can see, the HELIOS has pretty much an equal measure of cleanliness, vividness, warmth and analysis. How that translates into what I heard in my system is detailed further on.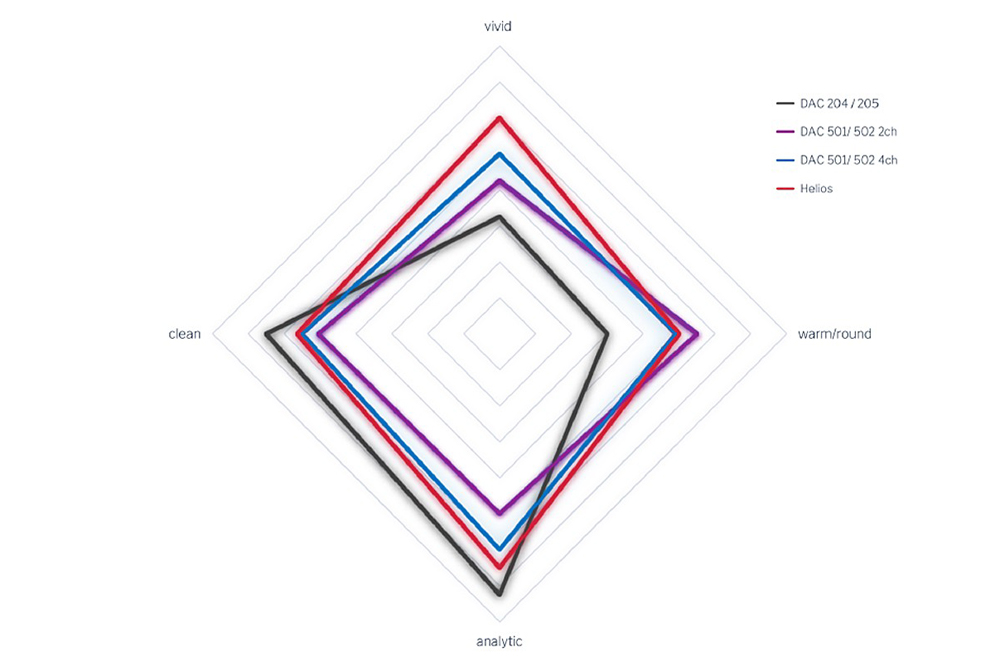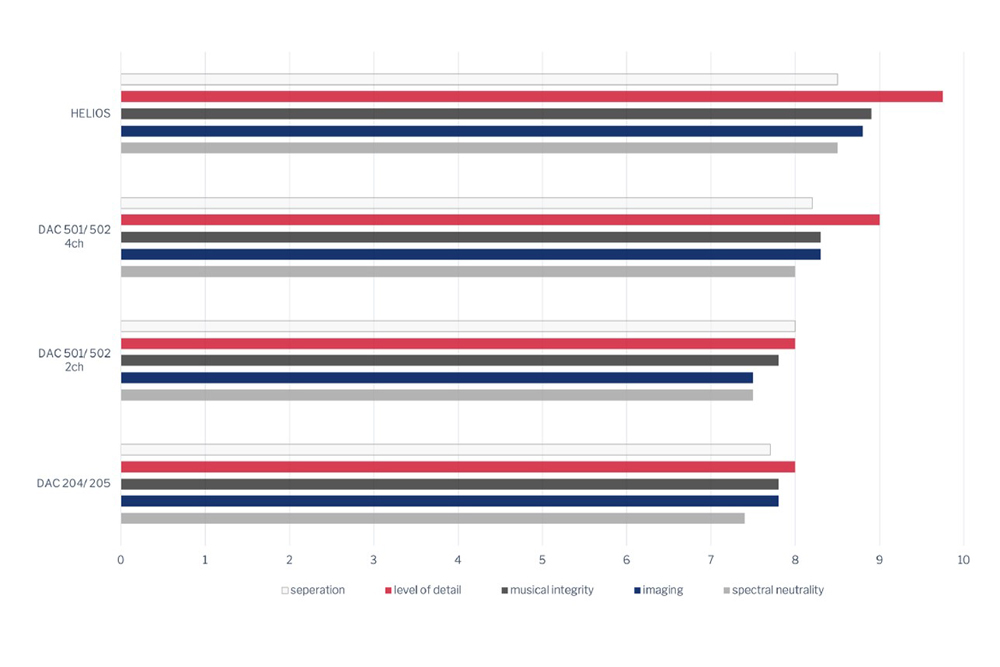 The HELIOS I received was brand new, so I let it run-in for a few days. I didn't do any critical listening for at least the first five to six days. Even when not run-in, I could hear it was different but also similar to my reference DAC (the Weiss MEDUS, which is replaced by HELIOS), but it wasn't until the eighth day or so before I fully realised just what those differences were. It has that distinctive Weiss Engineering sound – extreme clarity, vibrance, resolution and accurate tonality.
Before I started any comparison listening, I level matched the HELIOS to my reference DAC using pink noise and a SPL meter. I set the level on each DAC to compensate, then used only the volume on the music server which ensured a level playing field.
With a bit of testing, I determined that the HELIOS responded quite a bit to different power cables. I had initially put on the same power cord that I use on my reference DAC, thinking that AC cable would be the better one. But oddly enough, the sound was ever so slightly veiled and lacking slightly in dynamic contrasts. So, I put on a different power cord (a much less expensive one!) and HELIOS sprang to life. After experimenting further with other power cords, I returned to that less expensive cord – it just sounded best. As well, the HELIOS was placed on its own feet on a Symposium Svelte Plus shelf, itself floated on Symposium RollerBlocks. Time for some music.
Riding My Chariot
Given that there are so many DSP features in the HELIOS, I should open by saying that all the following sound critique was when all DSP functions were bypassed. I believe this is the most sensible starting point.
A great track to check ambiance, depth and acute low-level resolution is the title track from Liberty by Anette Askvik. When I initially started to listen more intently, I found it had amazing depth, clarity, minute detail, whisps of saxophone air, low-level patter on drums, Askvik's breath. I thought to myself, wow, and this is just CD! I'd never heard it better. That is, until I returned to that same track five or six days later… it was even more involving. I'd previously asked Daniel Weiss how many hours I should give the HELIOS to run-in and he said 100 hours should be enough. At that second listen, the HELIOS had about 100 hours on it. I'd made some listening notes prior to those 100 hours of run-in, but then returned to the same tracks afterwards, so all of my following comments apply to that timeframe. I suspect that the HELIOS might benefit from an even longer run-in.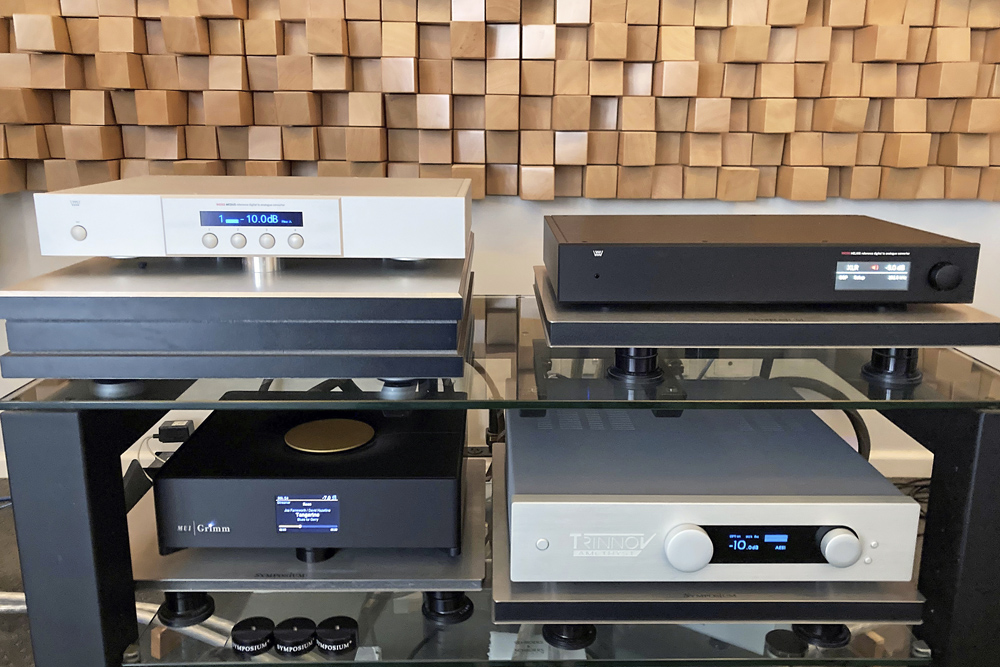 The album Street of Dreams (24-bit/96 kHz) by the Bill Charlap Trio is all standards done excellently in Charlap's usual staunch adherence to tradition. The bass was tight, piano crystalline clear with great left-hand substance, snare was fast and open. Overall, all tracks came through as free flowing and natural. The hi-hat on the title track was exceptionally clear, shimmering but not overly prominent. "Balanced" was a word I found a few times in my notes.
The track "Ballerina" on Tarantella (24-bit/88.2 kHz) by Lars Danielsson has delicate tapping and brushing of cymbals that come through beautifully – fast and clear. His bass is full and tonally right, there is great depth way back into the soundstage. I returned to this track through my reference DAC and could hear that depth, but it wasn't as prominent.
Chris Botti's first album First Wish was well received when it was released in 1995. Its great combination of easy jazz with a hint of rock ensured it appealed to many. And it sounded surprisingly good for a first album. "On The Night Ride" has very tight and articulate bass with nuances that come through clean and clear. "Fade to Day" has tuneful and deep bass with the snap of snare layered over top and the trumpet laid back in the mix. I'd never before heard the shaker in the background.
The track "Ombu" on Absinthe (24-bit/88.2 kHz) by Dominic Miller has great dynamics and punch. It sounded fast with clean tight controlled bass. You can follow all the many instruments regardless of intensity – there was no congestion at all. On his latest album, Vagabond (24-bit/88.2 kHz), the track "Cruel but Fair" was simply beautiful... melodic, nuanced, open and life-like with incredible natural tonality. And Manu Katche's drum and percussion work is amazing throughout the album. The HELIOS allows you to hear everything in an enchanting manner, rather than throwing it at your ears and saying "Ok, you sort it out!".
On Streams (24-bit/88.2 kHz) by Jakob Bro, Joey Baron comes through with brilliant, delicate beautiful cymbal work. His snare has detail that I never noticed before. All the little details come through even though the soundstage seems slightly laid back compared to my reference DAC.
The Abel Selaocoe album Where is Home (Hae Ke Kae) (24-bit/96 kHz) has wonderful African and Classical infused songs with voices, African drums and cello. Abel himself sings, scats and plays cello. There is fast and dynamic interplay of voices and drums on "Zawose", throat singing on "Qhawe", and even bigger dynamic contrasts on "Ka Bohaleng". The most beautiful song to me was the opener, "Ibuyile l'Africa" – the instrumentation took a back seat to the vocal work, at times acapella. I play this album at quite a high volume to get the impact. You can do this with the HELIOS because it's so clean, there's no distortion.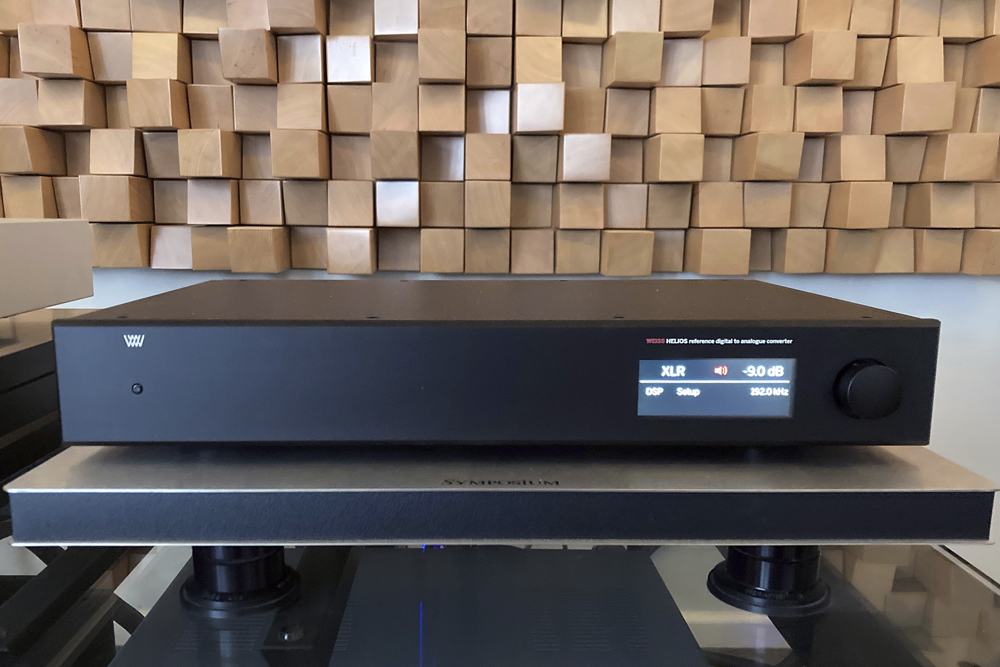 "Electrified II" on the Yello album Toy (24-bit/48 kHz) was almost like surround sound! You could almost feel the beat and air off the drums. The HELIOS is vibrant, but it's so clean and free of artifacts that you can listen at high volume without fear of damaging your ears or speakers.
I always checkout the title track on the Roger Waters album Amused to Death (24-bit/192 kHz). It should sound exceptionally transparent and resolving. The voice talking about Bill Hubbard should wrap around to well outside the speakers. The crash of the guitars and drums when the main part kicks in should startle you. The HELIOS portrayed the tender parts with great delicacy and great impact when the crescendo kicks in.
Yes… yet another mention of "Keith Don't Go" by Nils Lofgren on his album Acoustic Live. It's a great song played with great spirit, but I admit that I now play it only to hear how well the guitar is rendered. It's an exceptionally vivid guitar sound, but in the wrong setup it can sound too tinny, thin and lacking real dynamic impact. The HELIOS allowed it to sound satisfying full and impactful.
Room EQ
I suspect that the Room Equalizer will likely be the most used of the DSP functions. So rather than detail all the DSP functions, I'll talk about primarily this one. You get five bands to use – given you'll likely use these bands mostly for the bass frequencies, that should be adequate for most situations. In each you can indicate whether you want a peak or high shelf filter, whether it applies to the left or right channel (or both), the desired frequency, the Q (i.e., the "Quality" parameter, the bandwidth of the bell effect centred at that frequency), and of course, the gain. Weiss recommends you do not try to lift the nulls too much, because it can result in clipping. The feature should be used primarily to bring the peaks down.
I found this DSP feature to be very effective. It removed the more nasty and obvious room peak nodes (of which I have a few) and provided better clarity. Was the resulting sound quality as good as my Trinnov? In all honesty I'd have to say "no". But then, the Trinnov does more than just handle peaks and nulls, and it does cost quite a bit. If I didn't have prior experience with what the Trinnov can do, I'd be positively raving about this DSP feature in the HELIOS. It is that good. It will possibly be just what many people need to fix their speaker/room interaction issues.
Comparisons
My reference DAC is the Weiss MEDUS Reference DAC, of course now succeeded by the new Weiss HELIOS Reference DAC. It's likely the MEDUS would make anyone a very happy chappie, it's really that good. Frankly, the MEDUS makes me happy but… the HELIOS makes me happier. The HELIOS has superior detail retrieval and sense of depth, whereas the MEDUS is a bit more forgiving and a bit more generous in the bass.
Of course, one cannot overlook the myriad of digital inputs that come standard on the HELIOS, whereas the MEDUS is limited – you specify what you want/need and the MEDUS is built to spec. As well the HELIOS has excellent DSP features that are not available with the MEDUS. To boot, the HELIOS grabs lock from the input source faster and holds it more tenaciously than the MEDUS.
None of that is as important as how it sounds. The HELIOS is more linear across the frequencies, whereas the MEDUS is a wee bit bottom up in balance. I'd always thought that of the MEDUS, but it wasn't until I heard the more natural balance of the HELIOS that I fully realised it. Of course, it could be argued that the difference is just that the HELIOS is more vivid sounding than the MEDUS. And it is that.
Conclusion
I didn't think I was possibly in the market for a new DAC, until I heard the new HELIOS. Sure, I knew the HELIOS would likely be better than my reference MEDUS DAC, otherwise, Weiss wouldn't supersede it. Weiss Engineering doesn't have a track record of releasing a product upgrade every year just to keep in the news. Its products are always improving, of course, but they release a new product only when it's ready. I knew this, but nevertheless, before I received the HELIOS, I'd asked Daniel Weiss how it could possibly be better than the MEDUS. He answered in his typical diplomatic manner… that the MEDUS and HELIOS will appeal to different people in different systems. Having heard both, I do have to agree with him.
The HELIOS is beautifully balanced across all frequencies and with all genres of music. And it has the ability to bring out the tiniest micro detail imaginable – it has by far the best detail retrieval I have ever heard. Its retrieval of depth in recordings and its layering of the sound stage are also by far the best I have ever heard.
Weiss says the HELIOS brings you studio quality sound. Some audiophiles might infer from that that it's analytical sounding. Yes, it is analytical, but certainly not to the point of being clinical, hard sounding or intrusive into the music. It's just extremely clean, resolving, transparent and natural sounding. It allows the recording itself to provide resolution, depth, warmth, dynamics – the HELIOS simply becomes the conduit to allow that music to flow. It doesn't add its own signature. Just what you'd expect studio equipment to do.
It's said by some in forums that digital technology is improving almost day to day. I'm not sure I entirely agree with that. If it were true, you'd see the stalwart leading engineering companies like Weiss releasing products much more often. I'd rather see them stay the course and release when they have something substantial to introduce. Weiss Engineering's new HELIOS digital-to-analogue converter is certainly such a product.
And that's why it's now my reference Swiss Army knife solution digital-to-analogue converter. That is the best recommendation I can provide.
… Tom Waters
www.soundstageaustralia.com
Associated Equipment
Speakers — Bowers & Wilkins 801 D4
Amplifier — Gryphon Audio Designs Antileon EVO
Preamplifier — Trinnov Audio Amethyst
Sources — Grimm Audio MU1 Music Server, Weiss HELIOS Reference DAC
Processor — Trinnov Audio Amethyst
Cables — ZenSati #1 interconnects and #2 speaker cables, ANTICABLES Level 5 Signature jumper wires, LA Sound AES-EBU, Nordost Tyr 2 AES-EBU, AudioQuest Vodka Ethernet cables, Trinity (DE) power cords, Synergistic Research Hologram A and D power cords, LA Sound Titan power cord, ANTICABLES Level 3 Reference power cords (into and out of Nordost QX4 line purifier), Nordost Purple Flare (Figure 8) power cord (for router)
Audio Rack — Schroeders and Schroeders, Symposium Ultra custom-made amplifier stands
Miscellaneous — Nordost Quantum QX4 line purifier, Nordost Quantum QB8 power distribution, Nordost Quantum QV2 AC line harmonizers, Nordost Quantum QK1 AC Enhancer, three dedicated 20 amp power lines, Symposium Rollerblock Jr isolation footers, Symposium shelves, Viablue UFO XL Absorbers, Vicoustics Super Bass Extreme traps, Vicoustics Cinema Round diffusers, Vicoustics Multifuser DC3 diffusers, Vicoustics Multifuser Wood MK2 diffusers, RealTraps bass traps
Weiss Engineering HELIOS Digital-to-Analogue Converter
Price: AU$36,000
Australian Warranty: Two Years
Australian Distributor: Sound Gallery
+61 3 9578 8658
www.soundgallery.com.au
Weiss Engineering
Co. Daniel Weiss
Florastrasse 42
8610 Uster
Switzerland
+41 44 940 20 06
www.weiss.ch