Many of the technologies previously employed in Wilson Audio's flagship XVX and advanced Alexx V are now embodied in the new Alexia V within the company's highly successful mid-sized speaker space.
Having firstly lived with Alexia and then further enjoying the sonic delights of Alexia 2, SoundStage! Australia is profoundly familiar with the music-making powers of this intelligently-designed loudspeaker system. Each iteration has furthered the concept, with design improvements evidenced in performance boosts, especially in the areas of the lower frequencies, the overall coherence and the 'musicality' of the midrange.
Now, Alexia V exhibits a substantial re-working of almost all critical areas, once again showcasing the Wilson Audio engineering team's dedication to providing enhancements to an already highly-tuned architecture. And on paper the Alexia V's improvements far surpass the changes from series 1 to 2.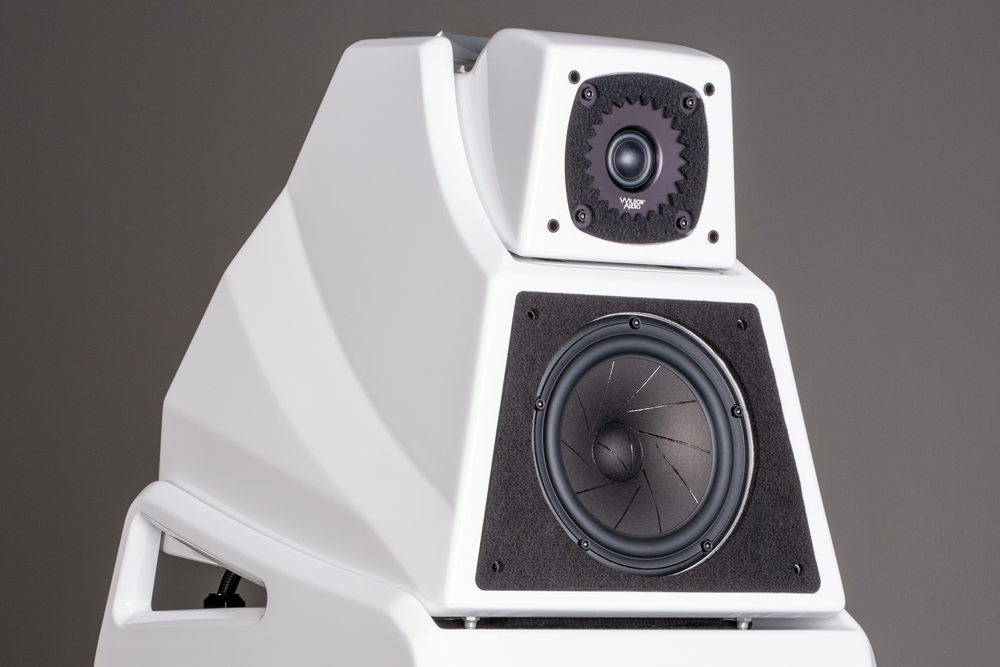 Starting with the Alexia V's drivers, we now see the new speaker adopting the same Convergent Synergy Carbon (CSC) tweeter as used in the Alexx V. The 25mm doped silk dome tweeter features an in-house 3D-printed carbon fibre rear chamber designed to eliminate and/or control waves emanating from the rear of the tweeter diaphragm. The module has been reshaped in a more 'aerodynamic' form in order to house the new tweeter. Further refinements are said to produce a high frequency transducer with exceptional levels of detail retrieval and tonal expression.
As excellent as the midrange driver in Alexia 2 was (as also used in David Wilson's magnum opus WAMM Master Chronosonic), the Alexia V sports the newer 180mm paper pulp composite transducer first introduced in the XVX. Motor system experimentation led Wilson Audio engineers to design a powerful Aluminium-Nickel-Cobalt (Alnico) magnet system referred to as QuadraMag (incorporating four independent Alnico magnets). The low-end is handled by a new pairing of 200mm (8 inch) and 250mm (10 inch) paper pulp woofers which are supported via a revised and improved reflex port scheme.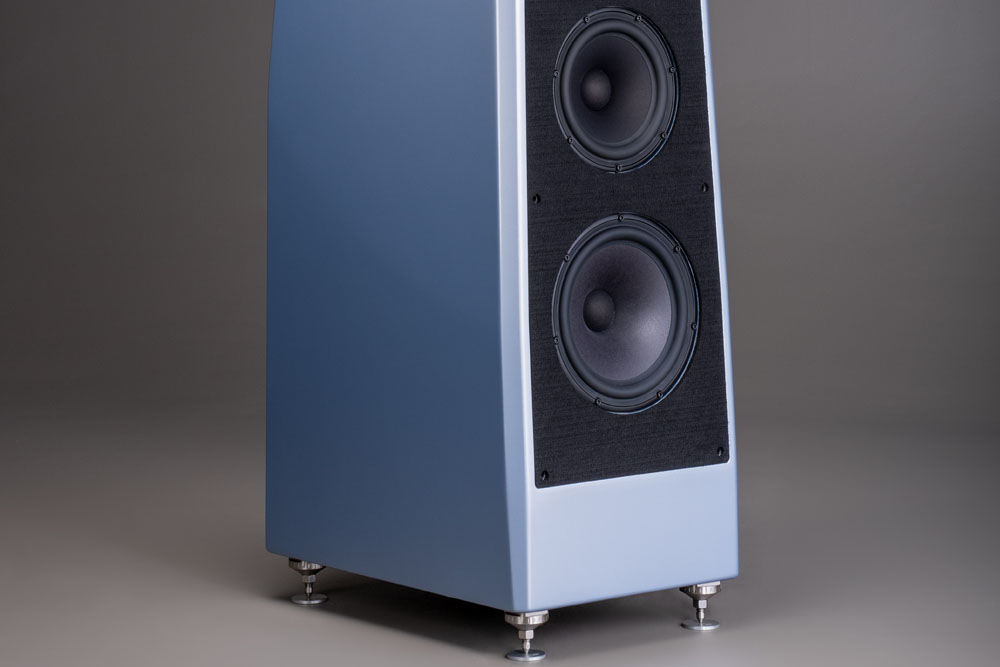 The superbly inert Alexia 2 enclosure is now improved with V-Material, Wilson Audio's newest composite formulation. The new material is used on the midrange and woofer enclosures' top panel in order to reduce vibrational distortions. Wilson Audio's hardest composite X-Material is employed across the other modules' panels requiring the stiffest construction while S-Material is considered the most appropriate solution for the midrange driver (supported by the top panel's V-Material). Extensive bracing coupled with variations in cabinet wall thickness provide added stiffness, controlled internal vibrations and optimised enclosure volume for the low frequencies.
The midrange driver's alignment system has been improved via the adoption of X-Material and aluminium in the 'Alignment Bridge' construction, increasing the midrange module's structural stiffness. As first seen on Sasha DAW, the 'wings' flanking the midrange module now feature cut-outs which provide both improved pressure coupling between midrange and woofer enclosures and a user-friendly viewing window into the new 'staircase' alignment block. Speaker levelling is made easier via a bubble level embedded alongside the midrange alignment hardware.
Overall, the Alexia V features a number of subtle aesthetic refinements including a new crossover access window on an angled rear panel section. The crossover resistors are now mounted on an attractive carbon fibre panel. Said crossover has been fine-tuned to cater to the new drivers while being populated with high quality components including, for the first time in the Alexia platform, Wilson Audio's in-house-produced AudioCapX-WA capacitors.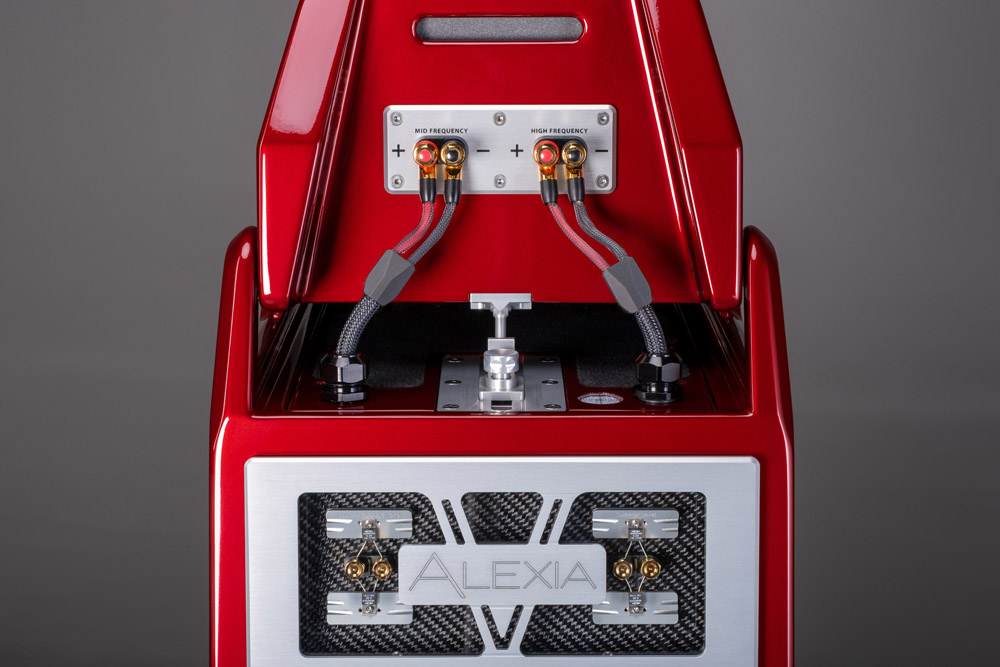 The crossovers' modifications have resulted in a marginally improved impedance minimum point of 2.59 ohms at 84 Hz compared to Alexia 2's 2.54 ohms at roughly the same frequency. Alexia V's sensitivity of 90dB is a 1dB improvement over its predecessor. Frequency response for Alexia V is stated as 19 Hz to 33 kHz at +/- 3dB. A new custom cabling system interfaces between the crossover and the drivers.
Wilson Audio continues to machine all its hardware from steel and aluminium (depending on a given role). The reflex port's profile has been refined to provide improved "laminar flow" and better support for the bass drivers. A further improvement to the low-end comes from the included Wilson Audio Acoustic Diode precision-machined coupling system which features stainless steel and strategically-employed V-Material. Designed by Wilson Audio's Special Applications Engineering, the new Acoustic Diode was first introduced in Alexx V. Alexia V sports Wilson Audio's bespoke binding posts which accept both banana plugs and spades.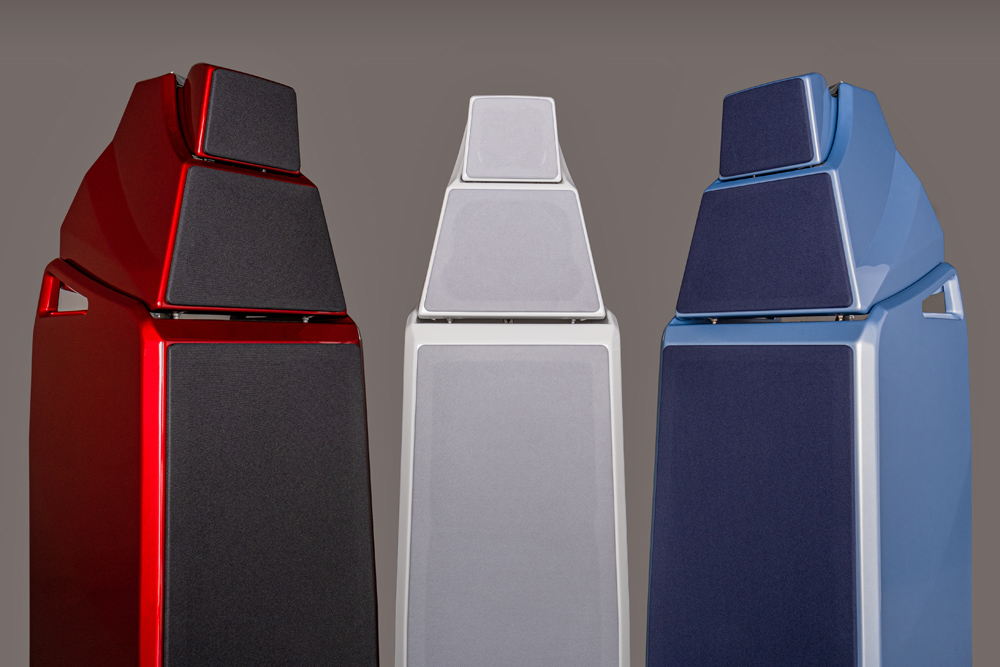 Overall the improvements between Alexia 2 and Alexia V are substantial and promise performance upgrades in conjunction with an improved aesthetic and higher levels of engineering and build quality.
The new Alexia V is available in Australia via importer Advance Audio Australia, with Wilson Audio products available for audition through a country-wide specialist dealer network.
Wilson Audio Alexia V Loudspeakers
Price: AU$114,995
Australian Distributor: Advance Audio Australia
+61 2 9561 0799
www.advanceaudio.com.au