Here's a not-so-fun fact: Manufacturing in Australia is super-expensive. In any industry. Aside from the obvious reasons, such as our high labour costs and parts freight to these shores (oh, the "tyranny of distance"), our R&D is meticulous and we mostly tend to have a very high level of craftsmanship – both are dollar multipliers. Time is money… But what if a new loudspeaker product, fully manufactured in Australia and using as many Aussie components as possible, was to launch presenting a high value, relatively low cost proposition? What if even its most expensive part, the cabinet, was precision CNC-machined in sunny "beautiful one day, perfect the next" Queensland? Those aspects and many more are the M.O. of the new FR6 from neonatal Dellichord Loudspeakers.
Racing Team
Dellichord Loudspeakers' FR6 is the company's latest 'Little Aussie Battler'. The company is the proud holder of an 'Australian Made' campaign licence, permitting prominent display of the coveted green and gold kangaroo triangular logo on its products. Dellichord Loudspeakers founder Andrew Hutchison has been around the audio industry for many decades, including as an importer of premium products while also heading Dellichord's sister company Stereotech, a concern which manufactures affordable audio racks, speaker stands and several room acoustics products. He's an electronics technician and, as far as manufacturing, he dabbled in motor car design, even building his own high performance 'Tri Pod 1' three-wheeler. Hutchison knows a thing or two about mechanical and materials interactions.
Aside from his love of high performance cars, Hutchison is also a music lover and audio enthusiast. Yet, when pondering upon his Dellichord Loudspeakers venture, he seriously considered whether the world would need another speaker brand. Especially in the super-over-crowded standmount space. So how to go about making his nascent company's speakers stand-out from the throngs?
Well, there are several aspects of the FR6 which set it in relief when juxtaposed to its competition. Firstly, aside from the drivers, just about every part of the FR6's construction is either locally sourced (even though it may originally have come from overseas) or entirely built in Australia. This, I'm glad to say is becoming somewhat of a resurging trend.
What's more, while superficially the FR6 looks like a run-of-the-mill, dime-a-dozen 6 inch 2-way, there are some hidden and not-so-hidden items which are points of difference. Let's start with the most obvious. Spin the rather classy cabinet around and you'll find a 'racetrack' (how appropriate in light of Hutchison's other non-audio love) passive radiator with rather large rubber surround. That last element promises excursion and enhanced low-end output even if the driver is a passive… passenger.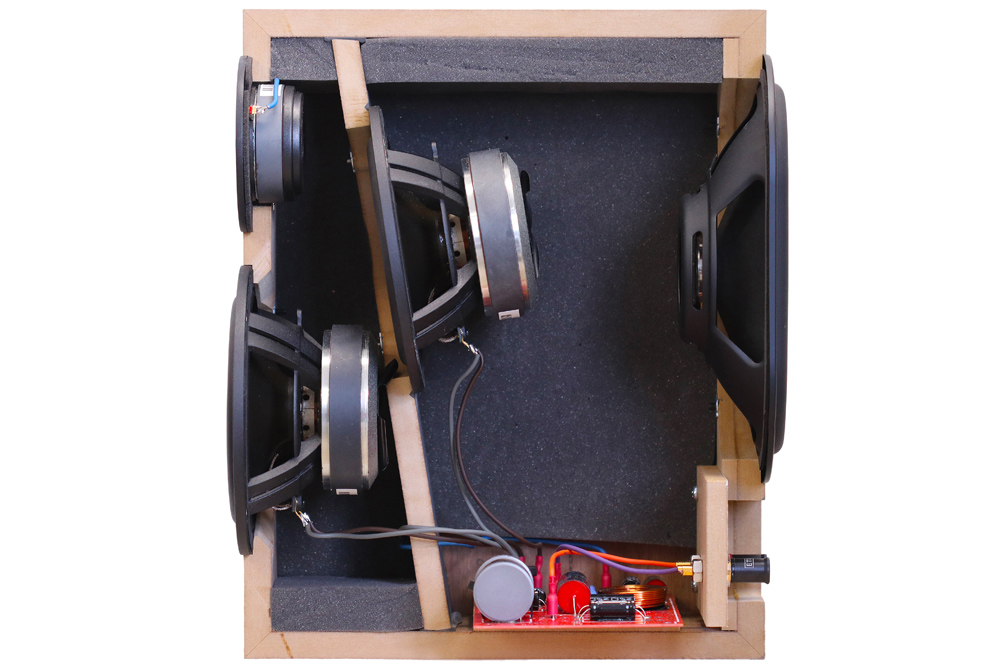 Were you to peep inside the FR6's enclosure (check the internal image within this review), you'd find another covert stowaway. Well, covert until you've fired up the speakers, then you'd hear its unmistakable and quite welcome contribution. Yes, this is an isobaric design – or "compound arrangement" as Dellichord refers to it – with the potential for a much larger sound than its modest stature would indicate.
Added ingredients, which would normally be associated with more pricey offerings, are the locally sourced high grade MR (Moisture Resistant) MDF cabinet construction and the large majority of the FR6's parts, the quality ETI Research binding posts (an Australian connector specialist of some renown) and, of course, the fact the cabinetry and the loudspeakers, as a whole, are manufactured in Australia. In fact, that last item on that list is most noteworthy – few speaker cabinets of this overall quality and at this product's price point are produced outside of the Far East.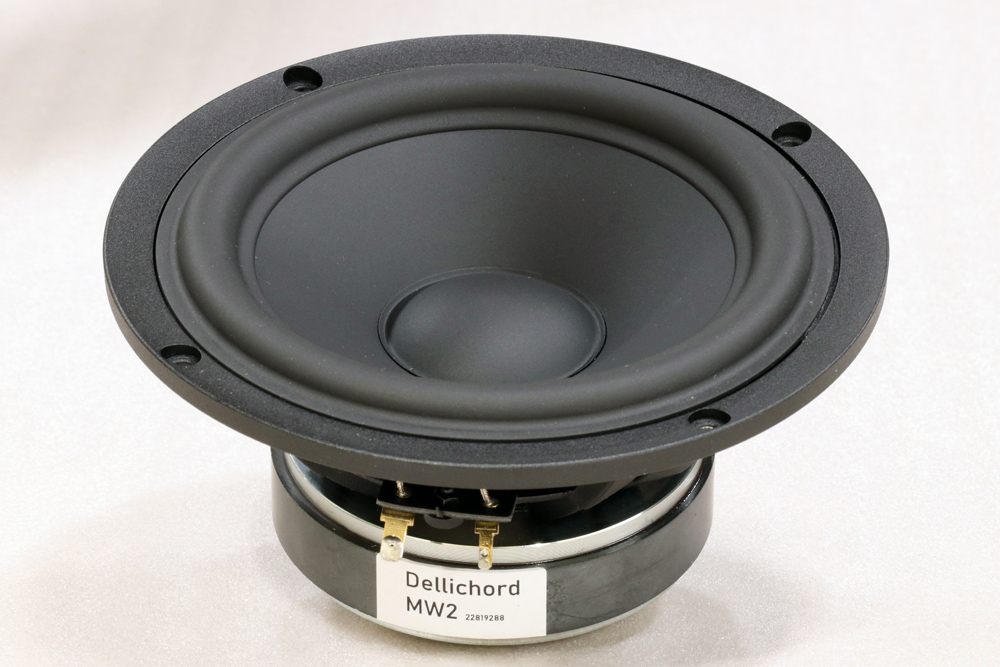 OK, let's talk about some of the nitty gritty features of FR6. The story begins with designer Hutchison seeking a natural sounding midrange which would provide realistic tonal qualities, especially when reproducing the human voice. To that end, he selected a paper pulp-based ("natural fibre") 165 mm driver from SB Acoustics to perform mid-bass duties. It features a large magnet system and rubber roll surround. The same driver is used internally in an isobaric configuration where it's mounted on an angled baffle. The internal baffle configuration performs double duties as an effective cabinet bracing scheme.
As mentioned above, low frequency reinforcement is provided by a passive 150 mm by 250 mm oval 'racetrack' driver mounted on the FR6's rear panel. This configuration was chosen for its potential to extend the speaker's low frequency reach and punch while avoiding the 'chuffing' air velocity distortion (as air enters and exits via the port) associated with many reflex-loaded designs. What's more, in order for a port to produce similar extension as a large-ish passive radiator without chuffing it must be of a larger diameter and/or extra-long, which may be prohibitive in terms of internal cabinet volume.
The FR6's tweeter is also from SB Acoustics and is a 29 mm soft textile dome with a wide surround, strong magnet system and dedicated rear chamber arrangement.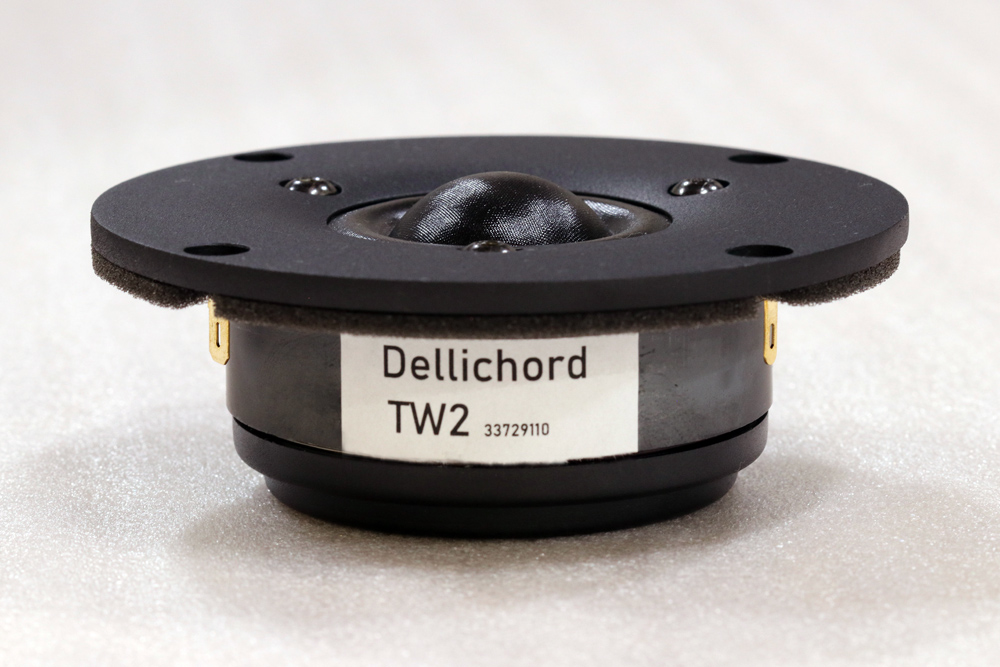 The in-house designed and assembled crossover features a third-order filter design sporting high quality components. Dellichord mounts metal film resistors, polypropylene capacitors and air core and P core inductors and other componentry in a custom fibreglass circuit board. The crossover point is set relatively low at 1.7 kHz.
The rear panel's gold plated, hardened copper binding posts are from ETI Research and of very good quality while also providing a solid grip on either bare wire, banana or spade connectors. My only comment here would be that the indented binding post panel may present some difficulty in fitting cables with a longer than standard, stiff end section termination.
The MR MDF mentioned above is employed across the cabinet architecture and internal baffle/brace scheme. While Dellichord employs Norwegian Birch ply on other lower rung models, Hutchison felt that the combination of MR MDF and the massive brace created via the isobaric driver's mounting baffle resulted in a very stiff and resonance-free enclosure.
The review sample's Queensland Walnut real wood veneer in natural satin is immaculately applied on all the FR6's panels (both the external and internal surfaces). The grilles are fitted via an embedded magnet system, making for a neat front baffle. Yes, the combined architecture and fit-and-finish of FR6 shows an impeccable overall build quality.
The FR6's frequency response is stated as spanning from 33 Hz to 20 kHz (in-room, no parameters given). Sensitivity is said to be 85dB at 1 watt/1m while the nominal impedance is quoted as 4 ohms.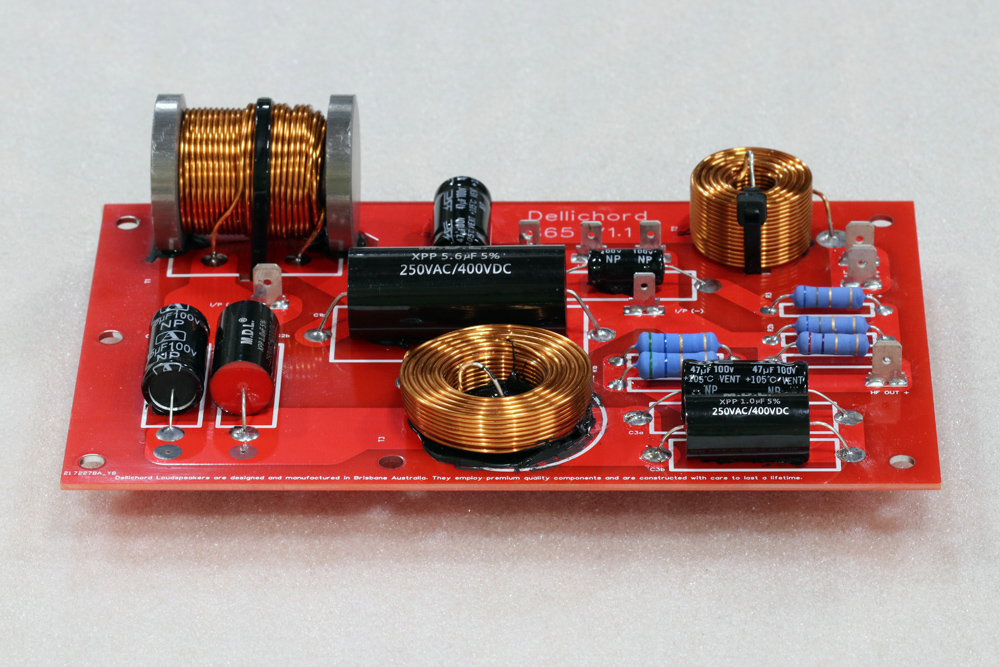 I reached out to Andrew Hutchison to get further insights into the FR6's design aspects and philosophies. I started off by asking whether the SB Acoustics drivers were standard models or manufactured to Dellichord specifications.
I have a few different areas of mild expertise but drive unit design is definitely not one of them. I take advantage of the many solutions tried and refined for superior performance by the experts. SB Acoustics in this case. I have also over the years used Vifa, peerless and Seas. SB Acoustics at the moment is not just the best value in raw drive unit manufacture, the quality and consistency is close to the best and of course they are more or less local, which I like. They make largely the same 6.5 inch mid bass with half a dozen different cone materials. They have sort of done the customisation some manufacturers allude to already. Just pick the material of your preference. A great company to deal with!
What is it that attracts you to soft-material driver cones and domes?
It's probably as simple as I don't much like the sound the others produce... The reality is that these newer, higher tech materials have some unfortunate characteristics, mostly out of their useful frequency range I admit, but difficult to render inaudible when using passive filters. In an active, DSP'ed all-in-one loudspeaker there is a much greater potential for 'tuning' out these disadvantages and making the most of the harder materials benefits. My interest lies firmly with passive crossovers and creating a loudspeaker that is a non-adjustable statement on how I think this particular loudspeaker should sound. The adjustability of an all singing active loudspeaker makes it an odd moving target for me. I like the idea of a fixed balance in a loudspeaker and then you can work with cables, stands, room acoustics and the front end to get it to perform at its best.
So back to the use of soft diaphragm materials... Polyprop, paper, various paper and plastic hybrids generally break up in a far more 'pleasant way' and, with the use of careful passive crossover design, make for a more natural sound. Perhaps not the last word in resolution but maybe containing more of the spirit of live music which (in its acoustic version at least) is always clean, musical and harmonically intact. To summarise I'm not particularly interested in 'Hi-Fi' getting in the way of the music. The latest tech is so often, but not always, about better Hi-Fi and not necessarily more music.
I wondered if the unusual design of FR6 taught Hutchison engineering lessons which could apply to future higher-level price point products?
It has Edgar. The design goal of this loudspeaker has led me to try a number of different solutions to issues that arose and lot was learned. The complete lack of port noise, the ease of tuning and the excellent access to the inside of the enclosure guarantees that passive radiators will remain on my radar. The benefits of a particularly low resonant frequency of a tweeter and the NRX cone material from SBA I have come to appreciate more. I think refining an idea over time and building in multiple benefits from a particular design element are lessons I learned as well. The angled iso baffle in the FR6 being a great example of this. Time… Time is very important. I spent much longer on finalising the FR6 design than budgeted on but the results are worth it. Any new design will be given more scope to mature than I intended with this one, perhaps a year is about right. Mind you some of the design aspects of the FR6 I have been experimenting with for 25 years on and off so I'm not sure how you really measure the time spent in any particular project.
I went on to ask about the difficulties in sticking to the mandate of sourcing as many components as possible from Australian suppliers while keeping product cost down?
Not easy in the slightest but perhaps not as hard as one might initially think. In regard to raw materials, it is sometimes surprising how many basic materials for manufacturing we do still make. Glue, paint, board, veneer, connection terminals, wire, foam, badges, and fabric, all sourced from local makers. Unfortunately, the very high tech and very specialised parts are the items we have to buy outside this country, mainly the drive units and the crossover components. With the SB Acoustics factory being closer to the Australian mainland than Cairns is to Brisbane I consider them a somewhat local manufacturer and we are lucky to have them so close. The smaller, less valuable parts we mostly buy in from Taiwan and Europe.
The reality is that making anything in Australia is simply more expensive. Not generally for the wrong reasons either. We offer excellent working conditions, superannuation, we dispose of waste properly or recycle it, we have very safe workplaces, etc. Unfortunately, this adds up on the cost side. Not just for our own operation but, in turn, most of our materials come from here and those manufacturers suffer these greater costs and have to pass them on. As someone who has lived long enough to witness the almost complete demise of Australian manufacturing, I do have perhaps a slight nostalgia for the days when you bought something and it was most likely made here. Generally, it was also of excellent quality. Boats, cars, TVs, lots of stereo gear, appliances, aircraft, furniture, clothing all made here only a couple of decades ago. Now we make almost no manufactured goods… I'm willing to make less profit and offer up a quality product that is made from superior materials and designed in a way that it will last a very long time.
Delish Sound
While I experimented with several positions within my listening room, I found the FR6 to be a reasonably easy loudspeaker to locate. The speakers ended-up about 1.2m in from the front wall, 900 mm from side walls and about 2.3m apart (tweeter to tweeter). I angled them in slightly in order to sharpen image specificity while maintaining the soundstage width. Good quality stands are a must, of course, and I used my trusty Atacama three-column sand filled units.
The presentation of the FR6 is one of musicality and almost… ease as opposed to incisive and over-detailed analysis. Given good quality electronics, the FR6 will please music lovers and will never be an offensively overt loudspeaker. This is not to say that you'll hear an over-syrupy, over-warm presentation. By no means. The FR6 is expertly balanced to provide a natural sound while insightfully presenting appropriate levels of detail.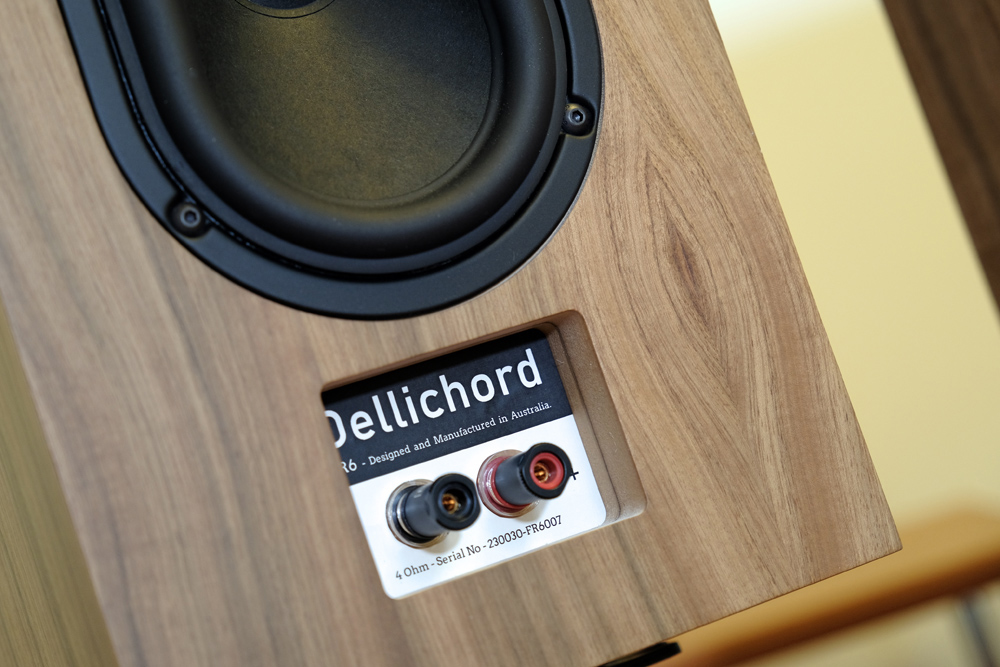 I'm so getting into Piers Faccini's Tearing Sky album lately. It's a superb recording with expertly-captured low frequencies of both drum and electric bass. On "Sharpening Bone" the intro's electric bass riff offers good weight and excellent levels of nuanced detail. Once the guitar and drums come in, the FR6 does not disappoint in terms of dynamic expression and resolution of multi-instrument complexity. While the recording itself never strays into etch or brightness whatsoever, the FR6s present it in all its naturalness and with very precise tonality through the track's drum-laden outro.
While on tonal qualities, this the FR6's way with timbral reproduction is quite superb for a speaker at this price point. The beauty of Joël Grare's Paris · Istanbul · Shanghai on the opener "Nihavent" across Grare's and his 'L'Ensemble Les Tambours de Lune' multi-instruments percussion, Guo Gan's er hu, Emek Evci's contrabass and Bruno Helstroffer's theorbo are very well reproduced. I've heard many of these instruments in live acoustic and non-amplified settings and the FR6 did an excellent timbral replication within the context of my system.
I got onto my gang of live recordings (you know the ones if you've read my reviews), of which there are too many to mention but, as a small sampling for you, included Ryan Adams' Ten Songs From Live at Carnegie Hall, Harry Belafonte Live at Carnegie Hall, Ani DiFranco's Live in Clip and many more. In these recordings, an aspect of the FR6 which I've found to be among the best I've heard from a standmount is the soundfield reproduction. Especially the soundstage depth. I'm talking sonic perspectives of cavernous depth rivalling some of the best speakers, full stop. That passive radiator perhaps… Soundstage width and height were also impressive showing good driver integration and a well thought-out crossover design.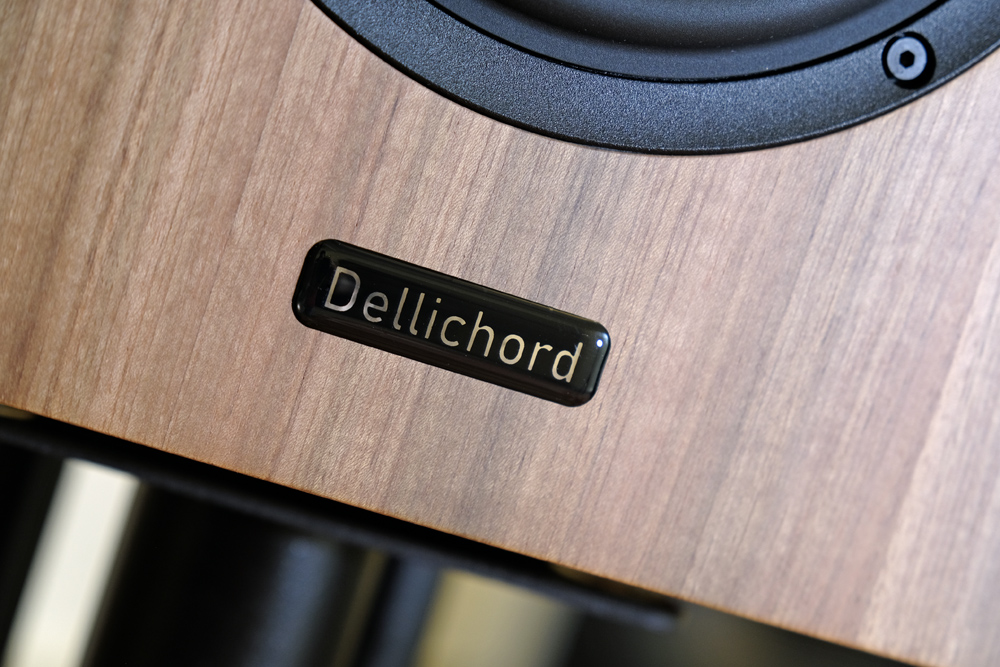 On the FR6's low frequency strength, I was quite taken aback by the relatively small design's bass depth and presence – that passive again. Puscifer's "Momma Said" from the V is for Vagina album (yeah, that's right), came through with superbly controlled and deceivingly deep bass which felt, yes felt, like a good small or even mid-sized floorstander. And this was not mid-bass-augmented sloppy fakery, this was a potent show of low-frequency strength with appropriate detail, transient attack and tonality.
For the total measure of its bass and dynamic capabilities – and for ultimate detail retrieval – to be fully demonstrated, the FR6s need a good whipping with some juice. Not outrageous power but a high current solid stater of about 80 watts and up or a good push-pull valve design will most certainly deliver the goods.
The FR6s can scale in commensurate levels to its prodigious bass (the two are tied together in addition to soundstaging, dynamics, etc.) providing deceiving optics in relation to the auditory input. In other words, small speaker, big sound.
The expansive soundscapes of Ariel Ramírez's Musica Temprana, Misa Criolla directed by Adrián Rodríguez Van der Spoel were presented in satisfying grandeur. The drums in "Kyrie" resonate with realistic harmonics while the choral voices are well resolved, in terms of realistic separation, and ring with excellent ambient decay. Similar qualities were displayed by the superbly recorded and mastered Grex Vocalis which compiles several choral works from Edvard Grieg, where the size of the soundstage, especially in that aforementioned depth perspective, was enormous.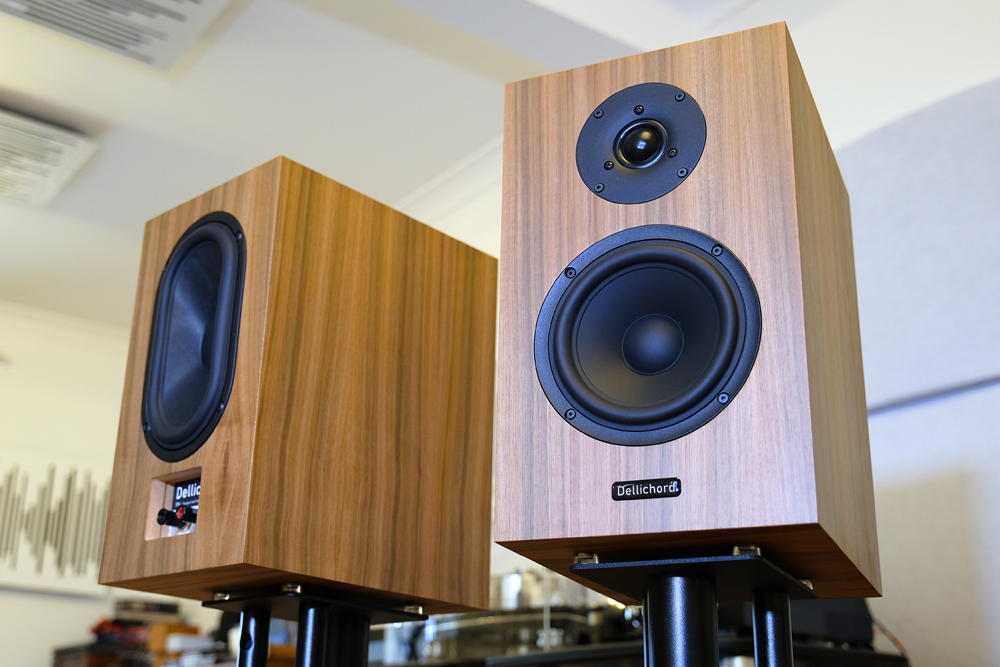 And can the FR6s rock? Heck yeah! Provided with an appropriate mix of watts and current, the speakers can head bang it with the best of them. The changing musical strands of Glasgow Coma Scale's "Orion" from their album Sirens were well resolved, maintaining the track's momentum and building its tension. On the blindingly-fast "Rational Woman" from Sasquatch's Maneuvers album and the super-steam-powered "Hullaballoo" from Cellar Darling's This is the Sound album, the FR6s kept pace without detracting from the tracks' thunderclap punch.
Conclusion
In my conversations with Andrew Hutchison we both asked ourselves, and each other, the same question: Does the world need another speaker manufacturer? In answering that contention, Hutchison pointed to his self-imposed directive to produce something which may look like a run-of-the-mill 2-way standmount while nevertheless hiding some points of difference. What's more, it was to be as Australian made and locally parts-sourced as possible. While this last point is not unique, certainly these days is somewhat atypical.
True to the cause, Hutchison's mandate was met. I'm indeed struggling to think of another standmount which is so superficially common-looking, yet with its guts hiding a high quality isobaric driver and its rear end flaunting an oval passive as key elements of its design architecture. Plus, for a first offering, my opinion is that the FR6 succeeds at presenting a refined, full-bodied and musical sound signature.
I guess what's left for me to do now is just yell Aussie, Aussie, Aussie, Oi, Oi, Oi!
… Edgar Kramer
This email address is being protected from spambots. You need JavaScript enabled to view it.
Associated Equipment
Speakers — Wilson Audio Alexia V, Axis Loudspeakers VoiceBox S (nearfield monitor), Vermouth Audio Little Luccas Mk.II, Atacama stands
Amplifier — Gryphon Audio Antileon EVO
Preamplifier — Supratek Cortese, Totaldac d1-triunity (direct to amplifier)
Sources — Digital: 432 EVO Aeon Reference Music Server/Roon Core, Yamaha CD-S2100 transport, Totaldac d1-triunity DAC. Analogue: Transrotor Crescendo with Konstant Studio controller, Reed 1X Tonearm with upgraded internal wiring, Shelter Harmony cartridge, The Funk Firm Houdini cartridge decoupler, Supratek Cortese & REDGUM Audio RGPH2 phono stages
Processor — DEQX PreMate (part of arsenal/casual use)
Cables — VYDA Laboratories Orion Silver Reference HFC IC and speaker cables, PSC Audio custom design XLR, Vermouth Audio Reference loom,ZenSati Zorro loom
Audio Rack — SGR Audio Statement Model V, Aspire Audio amplifier platform (customised for Gryphon Audio Antileon EVO), Stereotech Aluminar Dark 3-tier rack
Acoustic Treatment — Vicoustic Multifuser Wood, Wavewood Ultra, Cinema Round Premium and Super Bass Extreme
Miscellaneous — Silent Angel Bonn N8 Pro network switch, GigaWatt PF-1 EVO power strip, Les Davis Audio Viscoelastic CLD discs, VRC Vinyl Record Cleaning systemplus miscellaneous accessories
Dellichord FR6 Loudspeakers
Price: AU$4999
Australian Warranty: Five Years Manufacturer Warranty
Dellichord Loudspeakers Australia
7/20 Rivergate Place,
Murarrie QLD 4172
Australia
+61 (0) 418 772 434
www.dellichord.com.au