I opened the crisp white shipping carton of the new Audio Research I/50 integrated amplifier and did a double take. Staring back at me was a user manual bedecked in bold block primary colours in the manner of Piet Mondrian – and Shonen Knife. I have been fortunate to own a few ARC models in the past, not in the least an SP-10 preamplifier and the criminally underrated CD2/DAC3MkII digital combo. Each came with a plain wrapper manual that, like 1970's Letraset, would not have been out of place on founder William Z. Johnson's boffin bookshelf. Here from the get-go was a statement of clear intent on the part of the freshly independent Audio Research. Had it come wrapped in red towelling and tied with some cool plastic dice you might have thought the I/50 was shipping from fellow Minnesotans, the ultra-hip ZVEX guitar effects company. ARC is the granddaddy of American tube audio equipment. But the I/50 integrated ain't gonna be your granddaddy's tube amplifier.
"Journey": Design 1
It sure looks like the new thing. Audio Research is one of the originators of the "my love bigger than a Cadillac" school of American amplifier design. The svelte, super low profile of the I/50 is a straight-out culture shock. Taking its styling cues, when uncaged, from the open architecture of glow-worm tube renegades, the I/50 is, well, kinda small and takes up roughly the same physical real estate as a Brit integrated like an Audio Note OTO. And looks sharper. Fresh. No doubt, that's part of the plan. But just as "less is more" is now axiomatic in audiophile wisdom – and why an uncomplicated integrated design can have its advantages over more boxes – the physically small does not invariably mean sonically inferior. Lifestyle exigencies do not necessarily mean a product is "lifestyle" in the too compromised, thumb your nose at the once great name sense.
Unless, of course, you need to think big to compensate for other deficiencies in your life. In which case you probably wouldn't be reading this review in the first place. The I/50 weighs in at a not inconsiderable 18.1 kg showing that Audio Research are cutting no corners giving primacy to high quality, heavy-duty power transformers. Always one of the most crucial sonic ingredients of a non-OTL vacuum tube design.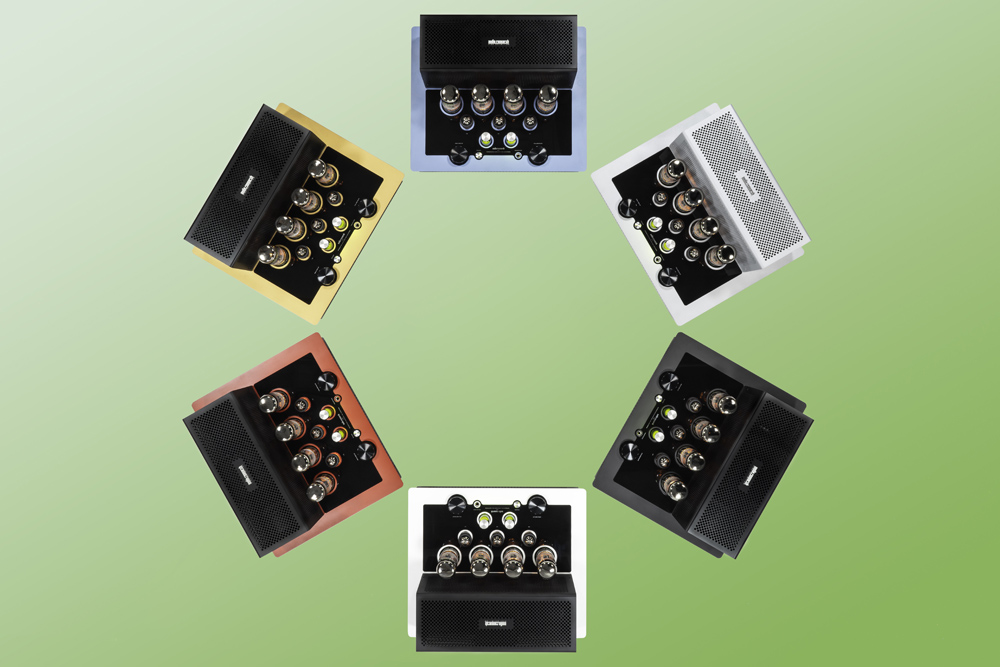 Little about the I/50 belies its "entry level" status in the Audio Research line-up. In many important ways it is its own thing: new, stand alone, independent. A well-conceived and executed recognition of post-COVID-19 crossroads and corrections. Free now of traditional audiophile constructs and constraints, Dave Gordon of ARC, a man who has literally devoted his life to the company, told the writer:
The I/50 is the first product in our new, less expensive 50-Series. We wanted to offer a different and fun aesthetic that would appeal to a wide audience, including younger listeners who were not familiar with our other components. The I/50 borrows parts and details from other ARC products including knobs, buttons, and the acrylic inlay, so there is still a visual tie-in.
It was also important that the I/50 offer truly high performance and sound like an Audio Research component, with the lifelike dynamics, soundstaging and resolution that we are known for. It also had to retain the ability to drive and sound its best with the finest speakers in a shop: it is shocking how good it sounds with Wilson, Sonus Faber, Magnepan, and other speakers. (Listen to an I/50 with the Wilson Alexx V or Chronosonic).
Classicist ARC gets hip at its ripe old age? Who'd have thought it?
The I/50 was originally conceived to celebrate ARC's 50th anniversary in 2020. But due to COVID-19, it became instead the first product to be released after ARC liberated itself from "bean-counter rule" under the McIntosh Group. The delay was fortuitous for both the innovative product and the company. Dave Gordon minced no words – and I respect his candour – when he stated:
We made the I/50 much better because of our independent ownership. The original circuit design, shown privately in Munich 2019, was done entirely out of house. Our former CEO (who is no longer with the group) pushed its creation. That product sounded quite poor, unlike any Audio Research component, and did not even measure well. It was meant to be a product that was assembled under roof, cheaply constructed, and priced lower so it could be sold in volume. We refused to endorse it and it was essentially shelved. Our engineers redesigned it on their own. After Trent [Suggs] purchased Audio Research, the redesign was finished, and we are very proud of the final product. I have one at home and love it.
We are designing and building new products in house, almost everything from the I/50 to the new metal remotes to the GhostMeter™. Our passion is stronger than ever, and we are getting better with age.
She comes in a choice of six colours, again a major first for ARC. Other than the trad house shadings of all silver and all black and/or both, it's a pity they stuck to Mondrian's primary colour palette of red, blue and yellow for the outer plinth. Olive drab would have been a way-cool option. The outer cladding is not your boring old powder coat finish either. It is extremely high-quality and rock-solid in a bare knuckle fist fight thereby avoiding the mechanical ringing so endemic in aluminium finishes used by the industry since time immemorial. Says Dave Gordon, the Cerakote ceramic finish used for the I/50 is…
… Found in the aerospace and automotive industries and we chose it for its beauty and durability. It is also scratch-resistant and has chemical resistance. We built a shop in-house so we can apply the colours as needed, rather than relying on an outside source, giving us the ability to provide the various colours immediately to quickly fulfill orders. We source the aluminium plinths and chassis locally, put them in an acid bath, then bead blast them and apply the Cerakote in our spray booth before they are moved to an oven to cure.
"Octagon": Design 2
The engineering-driven Audio Research has never had recourse to mythological Gods of Thunder when naming its products and the I/50 is taxonomic: a 50 watts per channel integrated amplifier based on a matched pair of 6550WE octal base output tubes run in push-pull configuration. In this respect, the I/50 is quintessential ARC in circuit schema and tube preference. Set-up is a doddle even for tube dodderers and the tube averse. The power tetrodes along with three 6922 twin triodes used for the preamplifier input and driver stages ship for your safety and theirs in a separate foam-lined inner box. Each valve is marked by a human hand to remove any guesswork as to its placement; and to underline the fact that each tube and amplifier have been thoroughly tested and listened to (including by chief designer Warren Gehl) prior to despatch from the factory.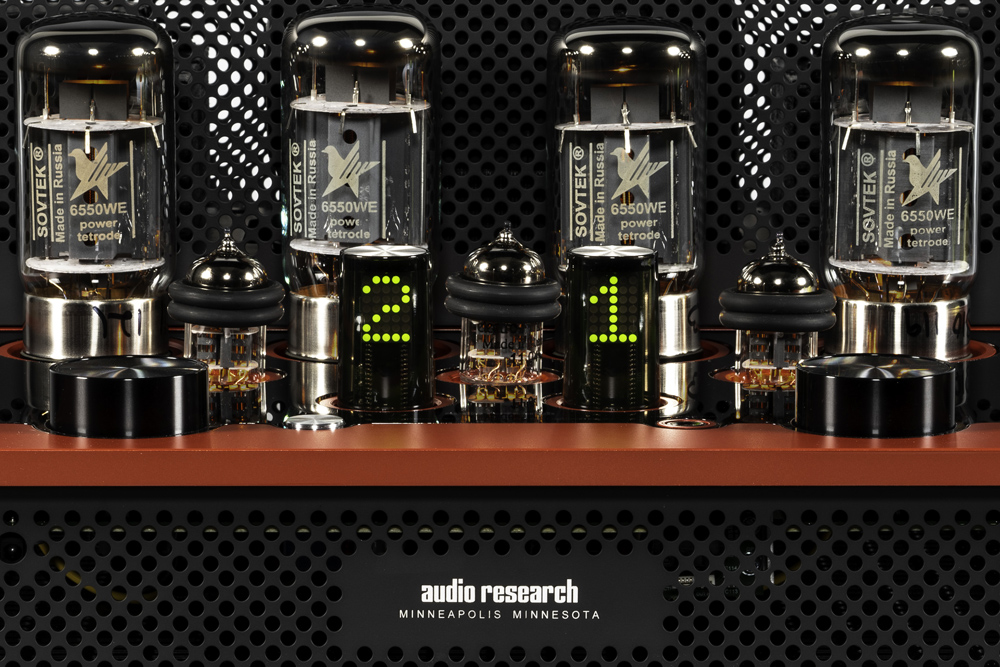 The amplifier comes with a dedicated screwdriver for affixing the protective tube cage (if ya must). Notably absent, however, is the venerable ARC plastic head screwdriver I covet – and keep losing – for biasing my tube amps. In the I/50, this procedure is intended for authorised techies only. Not a tube rollers dreamboat then. According to Gordon, "the only time it should be re-biased is when the power tubes are changed". These are rated to last approximately 2,000 hours while the 6922's have a life expectancy of some 4,000 hours. The provision of a damping ring for the central preamp tube is a deft touch born of ARC's 50-plus years of bottled experience. The amp itself is covered by a three-year limited warranty; and 90-days on the tubes.
Aside from its swanky new aesthetics, I'm told the circuit design was wizarded entirely in-house by the Audio Research engineering team: "The amplifier section is based on simplified circuits we have used in past amplifiers, while the active unity gain section, which contains the balanced-to-unbalanced converter and passive attenuator, is new from the ground up". Once again, there is little indication that the I/50 is a three dollar coin let-down under the covers. The printed circuit board is packed with a solid parts count including top-quality WIMA polypropylene and Electrocube foil capacitators. It uses a carefully-designed, non-regulated power supply with conservatively rated power trannies for the amplification output stage. As mentioned above, all transformers are custom-made and purpose-led for ARC. Gordon asserts:
We use what we feel is the best transformer according to the application. In the case of our amplifiers, we use E-Core transformers exclusively because - when properly designed - they provide better sound quality than their toroidal counterparts. The transformers in the I/50 are ours, they are not off the shelf designs. In our preamplifiers we use R-Core and toroidal transformers because they work and sound best in their given applications.
There is some solid state devilry at work here too, particularly an LM833 IC circuit in the head-amp section and the power supply for the preamp section and the headphone amp have regulated supplies.
"Laivuas 17" Design 3
The ship is steered on the artfully tidy and symmetrical top panel, from the outer reaches in, by a microprocessor-driven rotary control for input select/setup at stage right and a volume/mute control at stage left. Inside the bigger rotaries are a power on button and a ¼ inch headphone jack of a same diameter. (When 'phones are connected, the speaker outputs are muted although the amplifier section of the I/50 remains powered on). All functions are mirrored on a just-as-sleek metal remote. I've not had recourse to remote controls much in the past, but hey, I'm getting old too.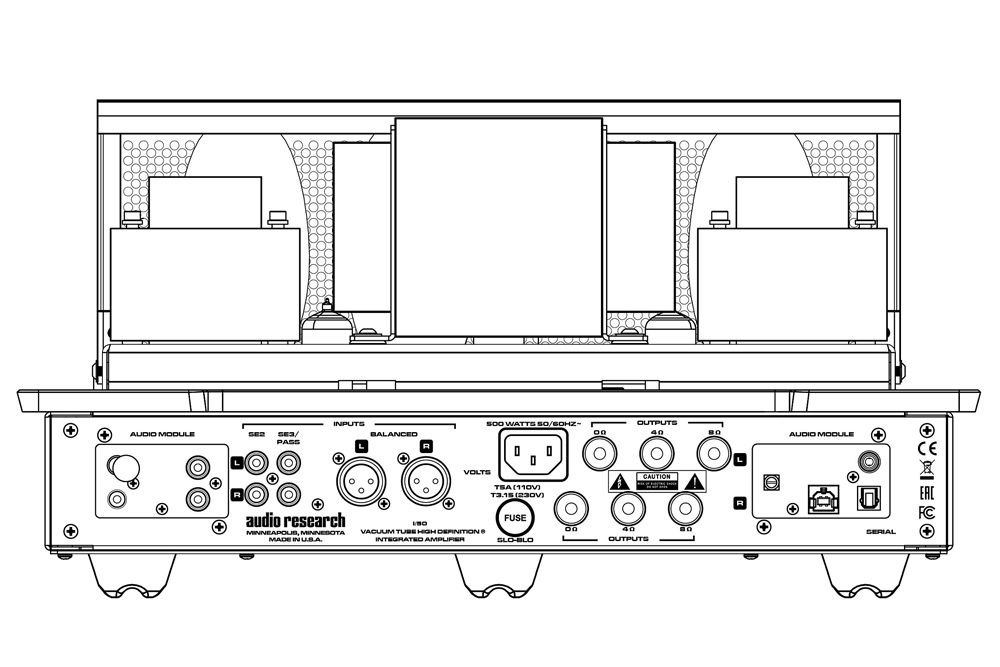 Around the back, the I/50 accepts four analogue inputs: three single-ended (RCA) line level sources and one pair of balanced (XLR). Practical and future-proof device that it is, the first SE input can be substituted with a phono module when/if installed. A DAC module is also due shortly from Audio Research and a dedicated port is provided for that as well. Dave Gordon advises that the incoming Phono card will…
… Provide 42dB of gain, so it is meant to work with most moving magnet, moving iron, and high output moving coil cartridges. It is easily installed in the field, only requiring a Philips screwdriver [whilst] the DAC card was designed for flexibility, with Bluetooth (antenna included), USB, TOSLINK, and RCA digital inputs. It will decode up to 384kHz and will do 1xDSD, 2xDSD, 1xDOP, and 2xDOP over USB.
The standard input impedance for the phono module is 47 kOhms. No software needs to be installed when adding either of these modules. Neat.
Output connectors are by way of heavy-duty multiway terminals. But are word of warning here: Fat-arsed spade lugs need not apply as it gets more dangerously overcrowded than a Calabasas freeway on the rear panel if they do. The speaker posts provide for 4 or 8 ohms impedance loads as appropriate and ARC claims that the I/50 outputs the same amount of power whether the 4 or 8 ohms taps are used.
Neatest of all (and arguably the most overt heralding of the new) is the use of two LexieTube LED dot-matrix display "tubes" to signal all operational states on the I/50. Volume levels range across both tubes from 1 to 45. Input sources are indexed according to how the unit is configured, for example, S1 (or PH when the phono input is installed) or BL (for the balanced input). The Lexies have four selectable levels of brightness but the display can never be turned all the way off. When the I/50 is left in standby the Lexies each show a lone beacon of light. Power on literally spooked the bejesus out of me and my very experienced audio adjutant, Brad Serhan. The Lexies paddle though a 50 second countdown. But (sensibly) we (eventually…) discovered finish up in Mute mode… Thanks I/50! Now I know that she cares about me and my precious tweeters: "I heard her call my name/And then my mind split open"!
"Blackout": Listening 1
After hearing nothing, and calling trusty retailer Mike Sturman to get the bloody thing operational, we heard…nothing. Lughole against efficient tweeter confirms the Audio Research I/50 in operation is one of the most silent tube-based products the writer has ever experienced. The I/50 is designed to make you wait at least three minutes after shut-down before you can switch it back on. Wisely, this is to allow the energy in the power supply to dissipate and to prevent tube arcing. Not that the listener is likely to do this too often. Well, maybe you might. The I/50 consistently rewarded with just-one-more extended, fatigue- and glare- free listening session like few other amplifiers at any price. It's a clear, open and exciting listen. It's hook, line and sinker engaging; consummately immersive. Other than my senior's moment at start-up, it performed without a glitch.
That manual was just too cool for skool! No matter what the programme, the I/50 offers a fast, unconstrained and dynamic sound making the most of the energetic drive characteristics of those 6550WE output tubes. It is extremely resolving and transparent to the source. Remarkably so. Differentiation between individual tracks, different recordings, and elucidation of correct phase on any track is absolutely first-rate. Supporting system components better be up-to-scratch. If the sound is coloured or boxy or hollow or peaky or shelved in, or shut-up Katsoolis, don't blame the I/50.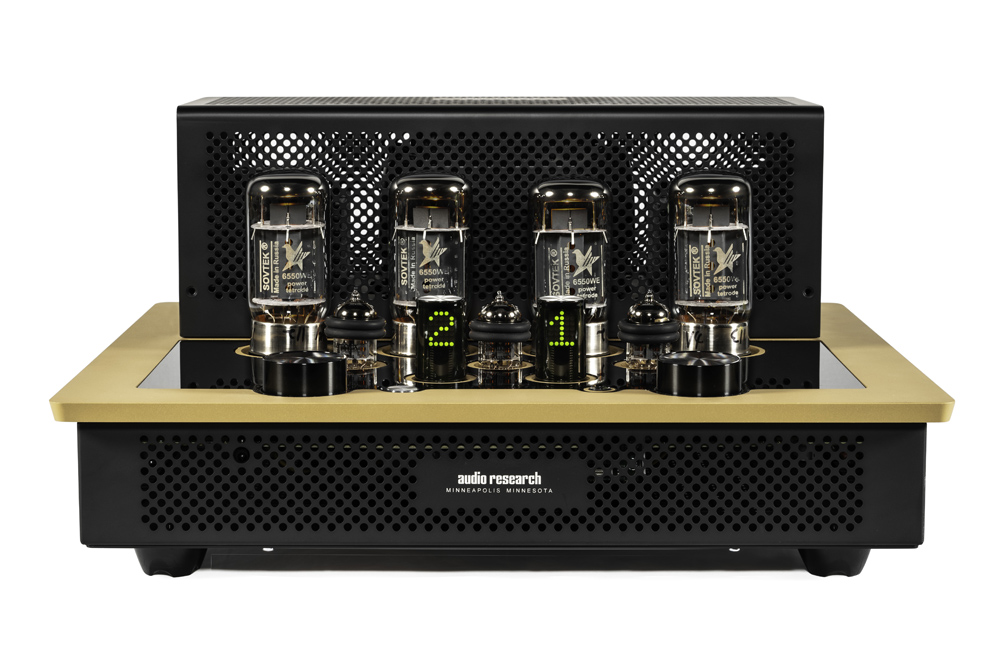 The "none-more-black" backgrounds and interstitial silences of the I/50 have revelatory musical significance leading not only to masterful resolution of detail but also to remarkable separation of instruments and instrumental lines. Cue up Flip Your Wig by Minneapolis legends Hüsker Dü. A landmark release for independent rock in the 1980s but a recording that I have always thought to be fatally compressed and murky. Through the ARC, it comes alive with breathtaking presence and vitality. The music opens up and breathes with magnetic levels of insight and unprecedented hyper-emotive dynamic force.
Orchestral scores such as on Curtis Mayfield's funk masterpiece Super Fly have panoramic sweep and free-flowing scale and drama. Despite a slight emphasis or forwardness in the upper-mids, imaging has that classic ARC recording-specific acoustic size, air and muscularity. Centre-fill and indeed lateral spread are rock-solid with pinpoint focus and precision. Significantly more so than the very expensive, state-of -the-art solid-state amplifier which immediately preceded it in my system, the I/50 opened up my speakers and simply disappeared. At its heart, the I/50 is a refreshingly honest device. Unprocessed and free of audiophile, put-through-a -strainer etch, the I/50 is a consistently righteous and liberating listening experience – at its price, it's a steal. All the while its presentation extends well beyond the confines of the loudspeaker, in my room at least, with agility, poise and grip.
"Test Flight": Listening 2
The lack of editorialising underscores the writer's impression that the I/50 is an incredibly full-range and linear-sounding device. Catapulting imperceptibly skywards, the highs were extremely extended but supremely finely-resolved; heavenly, never hard nor bright. Transient response likewise is superb. This has always been an ARC virtue but the I/50 deftly avoided the white-out, washed-out effect certain Audio Research products have been guilty of in the past. Decay structures too were fully intact. As a consequence, the I/50 produced absolutely the greatest depth perspectives I've yet encountered. In this respect, the I/50 is a rather surprising but total wipe-out all-comers achievement. Check out the acoustic space of Little Walter's blistering "Flying Saucer" from The Complete Chess Masters (1950-1967). He may not have been the first to ram a microphone up to his amped harmonica but he made it his own, as spat-out and visceral a horn as the most powerful and full-bodied Wayne Shorter sax solo. The lil' Audio Research brings it home superbly.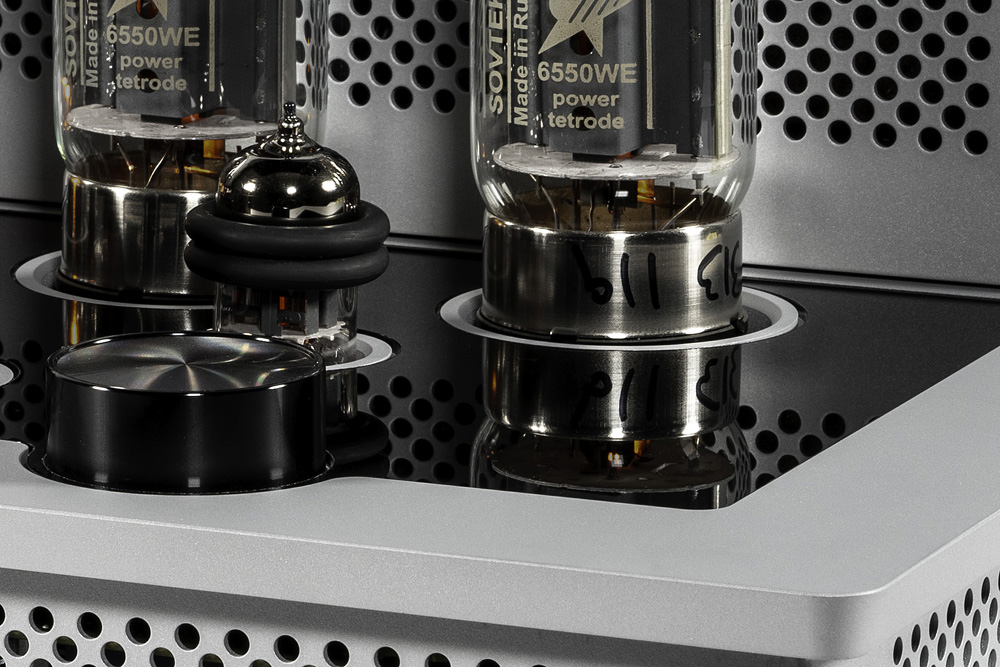 Bass response is lithe and tight but not as full or weighty as some. It did however benefit mightily by placing the amplifier on an original Mana Acoustics Reference Shelf. In so doing, the I/50 gained an appreciable lift in PRAT and bounce as well. It is not as tonally saturated as say my enduring 300B-based, all-silver Wavelength Napoleon monos. But that has never been the ARC way and the lively, snap, drive and directness of the I/50 is no less valid and convincing a take on musical realism. In a telling way, it also clips more gracefully when the wick is dialled. I came into this world a Coltrane-worshipping punk rocker but am fast leaving it a Coltrane-worshipping Deadhead.
Formerly, I thought that psychedelic rock, in particular, like the Finns, Pharoah Overlord, whose song titles on Pharoah Overlord 3 lent me this review's apposite subtitles, was best suited to amps with the swirling midrange colour and romance of the Napoleons or my Koda K-70's. At one tenth of the cost, the I/50 has proved me wrong. Quicksilver Messenger Service might have been name-dropped to give Television a hipper cache back in the 1970s but spend some time with the high definition honesty and transparency of the Audio Research I/50 and it is explicitly – and expressively – clear Tom Verlaine was channelling Garcia big-time. The I/50 is a mature work from one of audio's finest, no bullshit manufacturers and is no less an American Beauty.
"Autobahn": Conclusion
Is it appropriate to call an entry level product a technological tour-de-force? In the case of the Audio Research I/50 50-watt tube integrated amplifier, I think it is. Fully functional with optional MM and MC phono and DAC card add-ons as well as a highly competent headphone input that can drive most 'phones and one of audio's most experienced manufacturers is really motoring. It remains a head-to-tapping-toe purist design and in no way is ARC cashing in on its august name alone.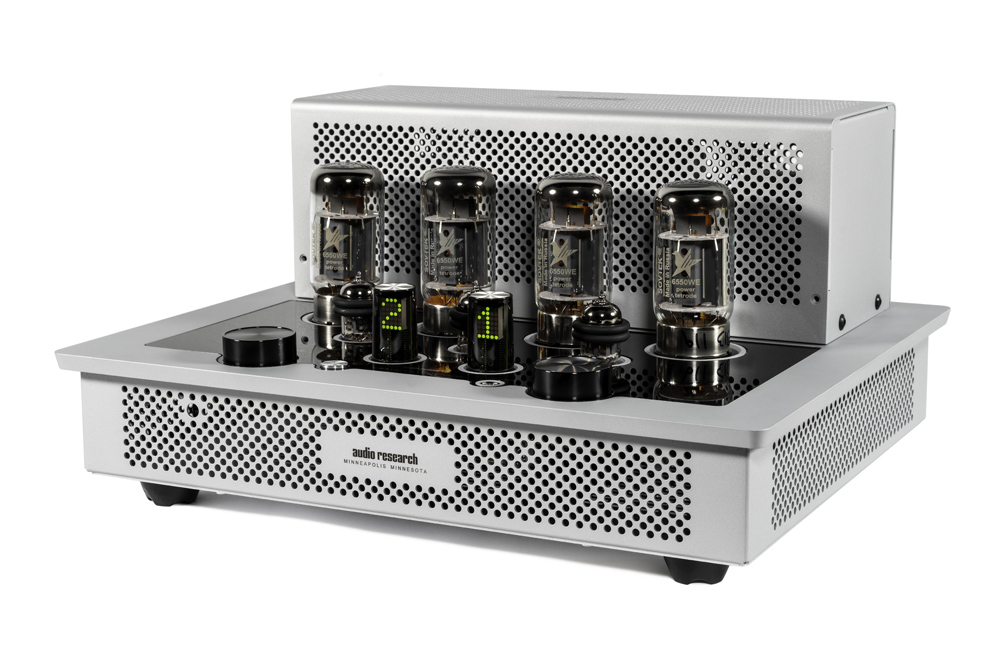 The I/50's crisp sound is a breath of fresh air; unconstrained and honest. It is open, expressive and supremely dynamic. Its powers of resolution and sonic discrimination are simply extraordinary, especially when you factor in the price for this no-compromise, superior quality, all-American made product. Conceived to attract a younger, broader demographic to the brand, I can see many older listeners who've come to the adult realisation that diminished fiscal responsibility for possibly illusory dim (-witted) returns is not necessarily the way of the future. It's fun, it's satisfying. I want one.
Sadly, however, you might want to get in real quick. I wanted to tell you that there were going to be new products coming in the 50-series in the form of even higher performance products in the second quarter of 2023, each featuring the same new way-cool aesthetic of the I/50. I wanted to tell you that ARC was planning to add another CD transport/DAC in the future. I wanted to tell you how in the snail-mail days I got handwritten letters from Bill Johnson personally and how that kind of direct, unmediated interaction with an independently-run company founder has been all but been lost in the modern age. But tragically it's just been announced that the Audio Research is going into a form of receivership. Recent media posts state that the company is continuing to trade, take orders and ship goods. We suspect there is some form of rescue package in the works. Here's hoping they pull through. In the immortal words of Robyn Hitchcock, the venerable Audio Research must always remain a "Sweet Ghost of Light".
…Peter Katsoolis
Associated Equipment
Loudspeakers – Shun Mook Audio Bella Voce; Koechel K-300 horns; Serhan Swift Mu2 Timber SE on Solidsteel SS-6 stands and prototype Mu3 floorstanders; Audeze LCD-1 Headphones
Amplifier – Robert Koda Takumi K-70; Wavelength Audio Napoleon 300B monoblocks; VTL MB-185 Signature Series III; First Watt SIT-3; 47 Laboratory 4706 Gaincard; ZVEX Effects Nano Head Tube Amplifier
Preamplifier – Robert Koda Takumi K-10; Shindo Laboratory Aurieges and Mr. T isolation transformer
Phono preamplifier – Boulder 508; CAT SL1 (phono stage only)
Sources – Aqua Acoustic Quality La Diva CD transport and Formula xHD DAC; Simon Yorke Designs S9 Record Player with Shun Mook Audio Reference 3 cartridge
Cables – Shun Mook Audio WE loom; Sablon Audio Ethernet and 75 ohm BNC; Luna Cables Orange AC and Skogrand Cables Wagner AC power cords
Equipment support – Silent Running Audio Scuttle Mk2; Shun Mook Audio platforms and other trippy shit; old skool Mana Acoustics
Accessories – A panoply of Shun Mook Audio; a constellation of Nordost QRT and Sort; celestial Les Davis Audio stuff; SPEC Corp. RSP-AZ1 Real Sound Processor; Arya Audio Labs RevOpod Dampers (for review)
Audio Research I/50 Integrated Amplifier
Price: AU$9995 (valve cage by special order AU$645), DAC Card AU$1995, Phono Card AU$1495
Australian Warranty: Three Years (90 days on valves)
Australian Distributor: Synergy Audio
+61 (0) 3 9459 7474
www.synergyaudio.com
Audio Research
3900 Annapolis Lane North
Plymouth, Minnesota USA 55447-5447
+1 763-577-9700
www.audioresearch.com