We know Van Diemen's Land as Tasmania. The Apple Isle. A millennia-old separation from the mainland which formed the small island state. It has its own… vibe. And the state capitol is Hobart, home to beautifully-restored heritage buildings along the harbour's shoreline. They're remnants from the colonisers and settlers, contrasting the multi-storey newness of Hobart's downtown. Barring many software and IT enterprises, Tasmania is not known for high tech manufacturing but is reputed for its cottage artisan industry. The isle will now also be known for a remarkable – and I would stretch it to unique – new loudspeaker company. Pitt & Giblin hit the high-end audio market offering a model duet harmoniously blending tradition with modernity. A reflection of Hobart itself. Here, we look at the mammoth Superwax loudspeaker system, Pitt & Giblin's flagship offering.
Bronzed Brute
Most audio enthusiasts would agree that Pitt & Giblin's Superwax speaker is… distinctive. Sure, at a somewhat of a stretch it could be compared to some vintage JBL designs (its little brother, the Superwax Mini, bears an obvious form resemblance to Klipsch's Heresy). However, whatever similarities you may spot are only on a superficial level. Dig deeper into the Superwax's design and it becomes plain that this is a unique speaker concept far removed from any inspirational association.
The company's history itself is interesting. Founded by Ross Giblin and Jack Pitt, childhood mates who forged a long-term partnership with a view to creating unique loudspeaker designs for the discerning music lover. They come from a professional audio and electroacoustic engineering background where each design partner's area of expertise is highly-tuned. Giblin creates the industrial design and is charged with the crafting of the enclosures which are hand-built entirely in Hobart, Tasmania – that in itself being a rare thing for a small manufacturer. Pitt tackles the acoustic and electronic engineering while together with Giblin, the team sound-tunes the designs to the current status.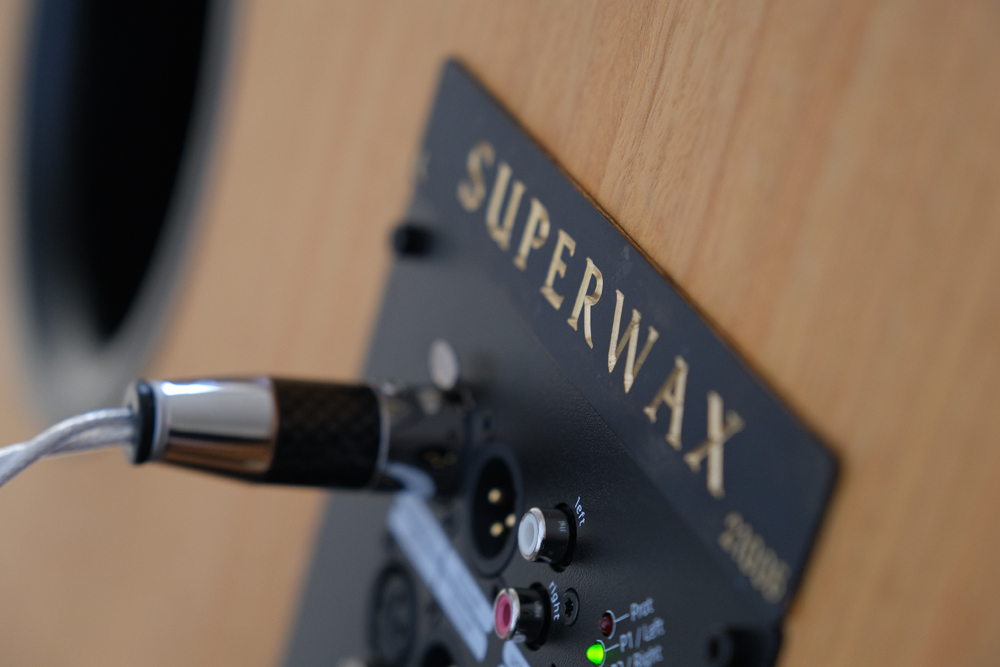 The Superwax speakers are fully active devices which also feature powerful DSP (more DSP-related developments by Pitt & Giblin are on the drawing board). The in-built amplification comprises of the highly-regarded and widely-adopted Hypex Class-D modules. The Superwax employs the powerful Ncore FA503 which provides a total of 950 watts, with 500 watts for the bass drivers, 350 watts for the midrange and 100 watts to the compression tweeter. Said drivers have been selected for their relative efficiency, high performance, high power handling and general robustness.
Starting at the unique high frequency arrangement, the 25mm polyamide compression tweeter featuring an 'Annular' (ring-shaped) phase plug. More specifically, the diaphragm material is polyketone which is a thermoplastic polymer. The tweeter is housed in a dedicated external wood-veneered open-backed cabinet. The driver propagates via a striking constant directivity waveguide with a 25mm CNC machined throat exit, its aperture being precisely engineered for consistent wavefront propagation.
The in-house developed 455mm (18 inch) elliptical pattern waveguide is painstakingly handcrafted and cast from solid bronze via a 'green sand' methodology. It has been optimised for consistent dispersion/directivity without a specified 'nominal' coverage pattern (usually stated in degrees). The waveguide's very specific elliptical pattern was arrived at after a long process of prototyping, extensive measurements and listening tests. Each flare is labour intensive to craft and is totally unique in terms of its textural patterns which are complex and imbued with natural shades – it is truly beautiful.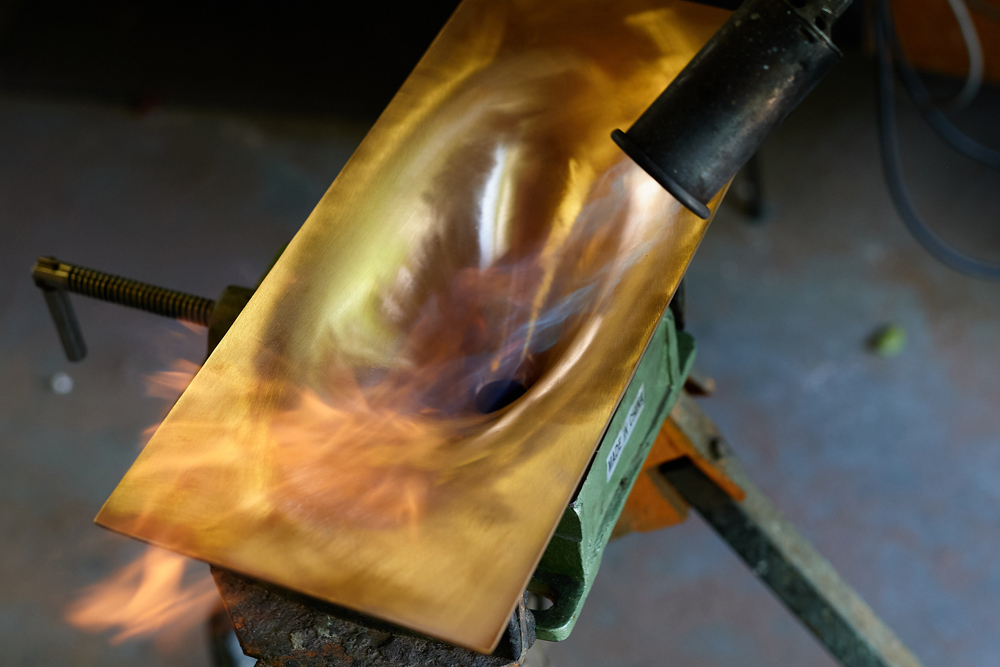 The massive lower cabinet is a sturdy, well-braced birch ply construction which can be optioned in a number of wood finishes and baffle paints colours. The review pair came in an immaculately applied Australian Blackbutt veneer which, despite what its name implies, is a light-coloured hardwood with excellent durability and scratch resistance. The review sample's baffle paint application was excellent. The Superwax speakers sit on a custom U-shaped plinth which raises them a few inches. Of note, the high quality binding posts connecting the lower cabinet to the tweeter enclosure are sourced from fellow Australian ETI Audio.
The lower cabinet's top-most central driver is a 250mm (10-inch) paper pulp transducer featuring a cast aluminium basket, powerful neodymium magnet motor and a folded cloth surround suspension. It's housed within its own dedicated sealed trapezoidal sub-enclosure which also forms part of the internal structure's bracing scheme.
The 357 litre enclosure houses the dual 380mm (15 inch) paper pulp bass drivers with 3 inch voice coils and neodymium motors and folded cloth surround suspension. The woofers are positioned horizontally side-by-side on the large baffle. Symmetrically placed on the back panel, one either side of the plate amplification, the twin large reflex ports feature curved exit edges in order to control air pressure/velocity noise (chuffing).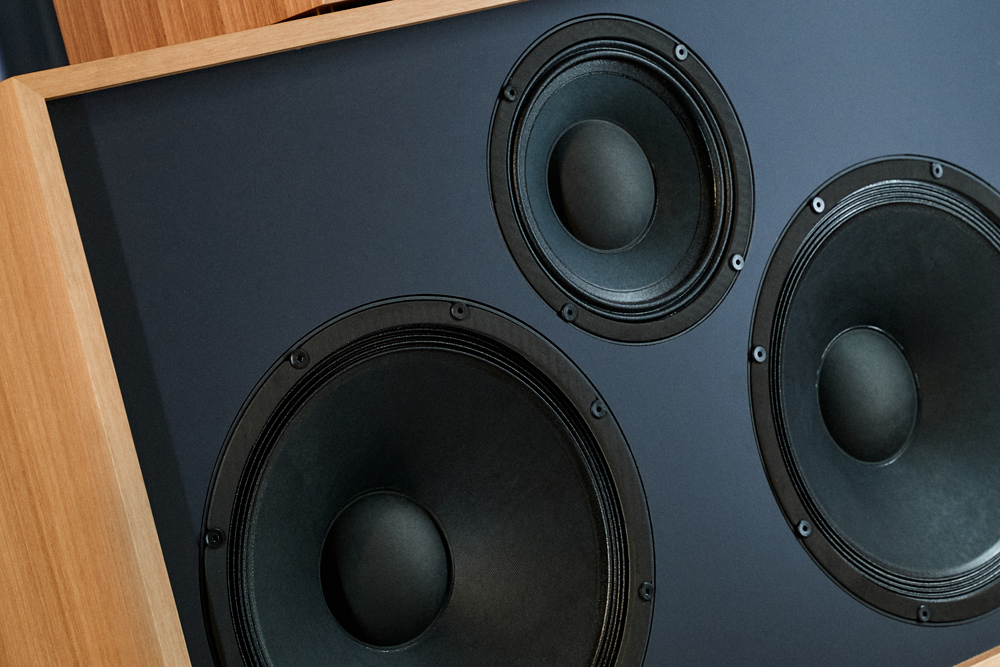 The Hypex Ncore amplification plate's connectivity options are plentiful and include analogue balanced XLR (in/out) and unbalanced RCA with input impedances of 44 kohms and 54 kohms respectively. The digital socketry includes AES/EBU via XLR (in/out), S/PDIF via coaxial RCA (in/out) both of which support resolutions up to 192 kHz while the Toslink optical input can support up to 96 kHz. There's no provision for DSD playback. The USB 2.0 port is for computer configuration not audio playback. The plate amplifier features a signal-sensing 'Automatic Selection' which does… just that, on a per input basis.
Pitt & Giblin provided me with an impressively flat frequency response graph (see below) with on-axis and various off-axis plots at up to 90 degrees. While the +/- 1dB point is around 30 Hz for the low-end (30 kHz for the top-end), the in-room response at a recent audio show was measured at a low 16 Hz. It would be reasonable to surmise that your average room would support 20 Hz at the very least (Ross Giblin has confirmed this).

The speakers are tethered via a provided S/PDIF cable, so the Master (Primary) speaker communicates to the Slave (Secondary) unit by a single interface wire via the in-built analogue-to-digital converter (ADC) if fed an analogue signal. The ADC in turn feeds signal to the in-built DSP engine which then passes it on to the amplification stage. The Hypex Ncore package provides an infrared remote control with a variety of functions such as volume, input selection, DSP preset switching and more.
The Superwax digital processor comes with a choice of three presets. Setting 1 is the default 'Natural' which provides a flat frequency response, an evenly smooth power response and a natural interaction between the bass drivers and the reflex ports. The second 'Live' preset provides a type of 'loudness' curve which marginally bumps up the lows and highs as you'd find in a live venue's amplified sound signature. This suits low level listening or situations where an augmented bass register is desired with the by-product being a slightly reduced power output. Finally, the 'Clean' preset, provides marginally reduced bass output in order to accommodate smaller rooms and/or near-field listening.
I liked Pitt & Giblin's message on its website's 'Orders' page which, in my opinion, is a launch pad for a more personalised connection with a potential customer:
Thanks for your interest in Pitt & Giblin! Please let us know a little bit about yourself, and the space you listen to music? It's important for us to get a feel for each and every one of our clients so we can make something special for you. Do you have a preference for finish and colour options? And are there any technical details you'd like to find out a little more about? Let us know!
Waxing Lyrical
The Superwax arrived via a large truck with a rear platform lifter and, thankfully, the burly driver came fully prepared with a pallet trolley. The wooden crates are massive and, of course, freakin' heavy. They were wheeled into my garage where they remained for a few days in order to allow time for Ross Giblin to sort out the logistics of sourcing a reasonably-local abled-body helper. Ron Polglaze from nearby Audio Visual company blazon.au came to the rescue with his Ratchet Tie skills (who knows how those things work…) which he rigged to easily ratchet-slide the speakers out of the crates.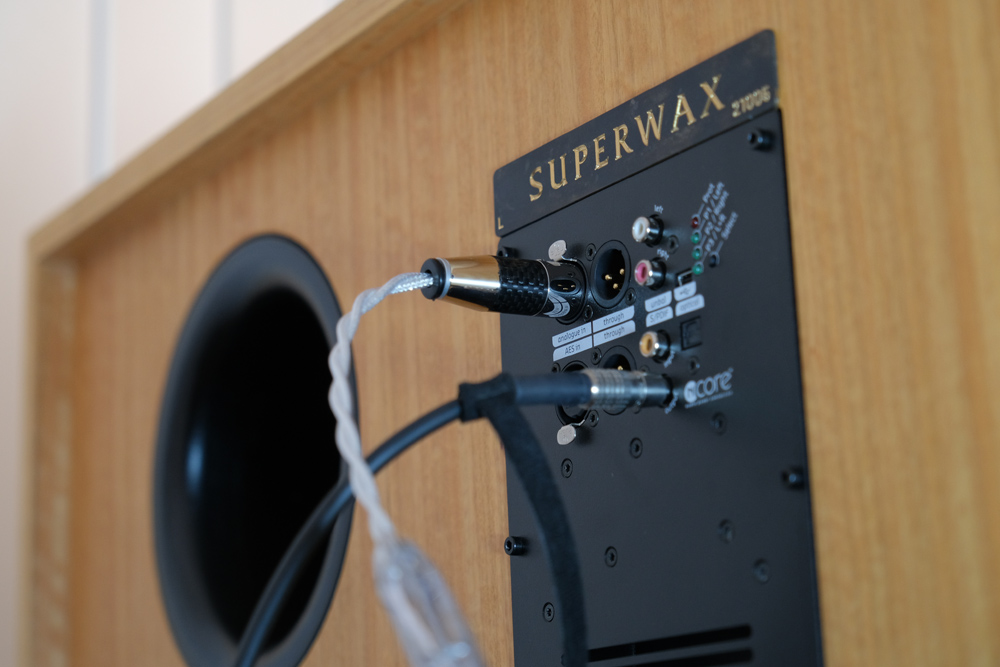 I fed signal to the Superwax both through my Supratek Cortese preamplifier via balanced XLR and alternatively directly from my Totaldac d1-direct's AES/EBU output into the matching Superwax input. Once you fire-up the system (meaning both speakers) the Ncore module senses the active input and switches to it automatically. There's no other setup procedure other than to experiment with the two DSP presets, which you can do to your heart's content. I did so for a very short time, choosing the default 'Natural' setting in the context of my room. Speakers were positioned about 2.5m tweeter-to-tweeter and 3m to listening position with a small degree of toe-in which provided a good balance of soundstage size and image focus.
The most striking sonic characteristic I picked-up from the starting line was the Superwax's tremendous low-end power. It's to be expected given the size of the cabinet and the twin dedicated 15 inchers, yet, experiencing it with tracks like "Tranceportation" from Sonar's Tranceportation Vol.2 album or "Come Together" from Brian Bromberg's Wood or the super-deep rumble of "Mojo" from Peeping Tom's self-titled album, or even (dare I say it…) "Moma Sed" from Puscifer's V is for Vagina may be an exercise in testing your listening room's structural integrity. So it's a very dynamic, deep and full low-end with gratifying slam and, while it could be a little more transient-sharp, it's detailed enough to provide good tonal qualities as a by-product.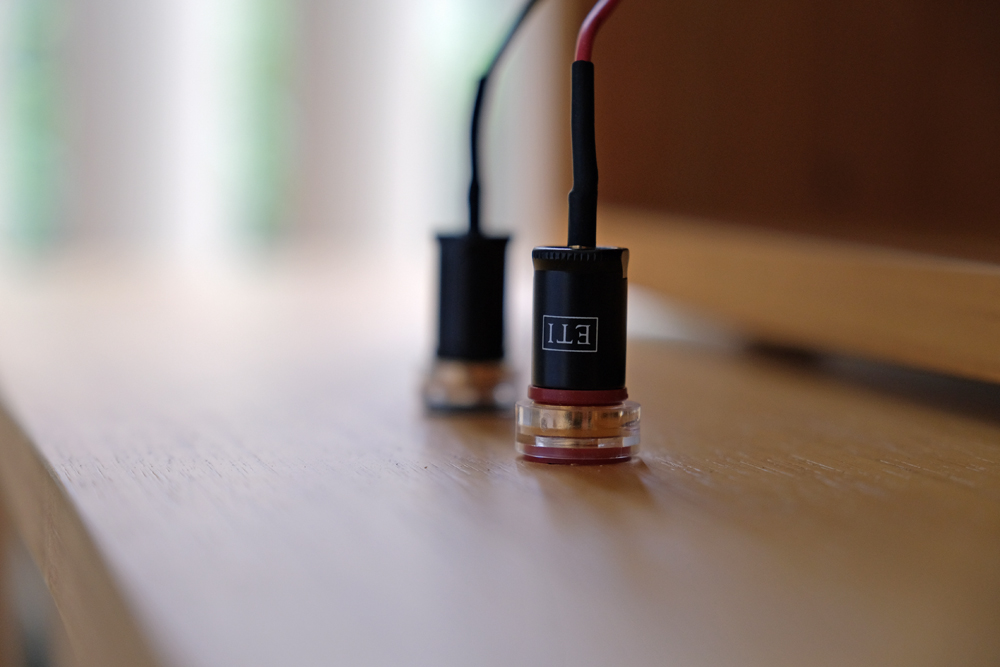 Given the bass frequencies' excellent extension and fullness, I was pleased to find the midrange and top-end were clear and present – in other words, they weren't at all encroached upon by the powerful bass register. Some horn-loaded compression tweeters can exhibit a modicum of aggression, a slight forwardness and hardness which can be hard to tame and blend with the rest of the bandwidth. Pitt & Giblin's engineering team has done a great job in balancing the driver and the waveguide's influence in a way that eliminates etch without compromising on the detail, transient attack or dynamic expression. In fact, the coherence between tweeter and midrange was well sorted providing realistic vocals on a plane just in line with the speakers. I played numerous vocal tracks and even choral music – the choir and percussion's impact on "Kyrie" from Ramirez: Misa Criolla on Cobra Records was exceptional.
The other benefit of controlling the high frequency driver in such an adept way is that the Superwax is able to provide good stage depth. Harry Belafonte's renowned stage wanderings in his classic Live at Carnegie Hall double album sees the icon moving about in the depth dimension (and side by side too) within a large soundfield. His backing band is well-focused via realistically-sized images spreading across a wide soundstage. Stage height was somewhat defined to just above the height of the tweeter.
Agnes Obel's "Familiar" from her album Citizen of Glass showed the big Superwax can also handle delicacy and nuance. Obel's pitch shifting is reproduced clearly while the speakers handled the venue ambience through the male choir section with excellent detail and presence. Separation between the singular female vocal and the grouped male choir was expertly differentiated, again, without loss of the recording venue's acoustic characteristic. The same applied to the tracks' piano which also displayed good tonal precision.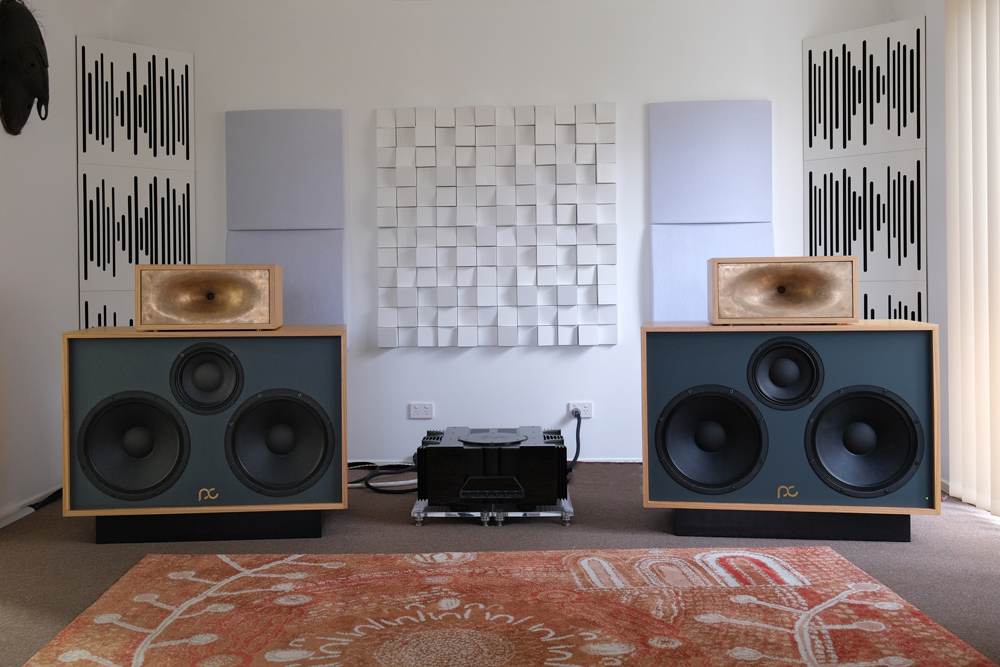 Dynamic expression was very good, again, especially through the bass registers. Copland's "Fanfare for the Common Man" with Eiji Oue conducting the Minnesota Orchestra on Reference Recordings' Copland 100 gave me a staggering wallop – man, that percussion is well-recorded… The sense of scale here was massive. Of equal power, but differently, "Whipping Boy" on Ben Harper's "Welcome to the Cruel World" had a tight and sharp snap on the well-captured snare while the kick felt solid. Harper's vocals were locked front-and-centre without obstruction from the powerful guitars and drums around it.
Conclusion
There's no doubting the considerable abilities of Pitt & Giblin's massive Superwax speakers. They do dynamics and low-end power to levels which would fill the largest of domestic rooms. By the same token, the control provided by the in-built amplification and the on-board DSP functionality allow Superwax to also conform to smaller listening environments. Of course, those with even more moderately-sized rooms, and wanting a similarly powerful sonic presentation on a smaller scale, have the option of Pitt & Giblin's Superwax Mini which possesses many of its bigger sibling's qualities and an almost identical features set.
So the Superwax speakers are engineered, designed and manufactured in Australia's Apple Isle by local craftsmen. They provide a full system solution barring source. They are constructed to last architecturally, acoustically and electronically. Given all the ingredients, you could say the asking price places the Superwax speakers firmly in the high-end's high value space.
Yes, Tasmania now is the home of an advanced industry actor, albeit a cottage artisan one. The Pitt & Giblin mateship hits the market. And as we say on these shores… she's apples!
Edgar Kramer
This email address is being protected from spambots. You need JavaScript enabled to view it.
Associated Equipment
Speakers — Wilson Audio Alexia V, Axis Loudspeakers VoiceBox S (nearfield monitor), Vermouth Audio Little Luccas Mk.II
Amplifier — Gryphon Audio Antileon EVO
Preamplifier — Supratek Cortese, Totaldac d1-direct DAC
Sources — Digital:432EVO High-End Music Server Roon Core, Yamaha CD-S2100 transport, Totaldac d1-direct DAC. Analogue: Transrotor Crescendo with Konstant Studio controller, Reed 1X Tonearm with upgraded internal wiring, Shelter Harmony cartridge, The Funk Firm Houdini cartridge decoupler, Supratek Cortese & REDGUM Audio RGPH2 phono stages
Processor — DEQX PreMate (part of arsenal/casual use)
Cables — PSC Audio custom design XLR, Vermouth Audio Reference loom, ZenSati Zorro loom, Cables for Music Songbird speaker cables
Audio Rack — SGR Audio Statement Model V
Acoustic Treatment — Vicoustic Multifuser Wood, Wavewood Ultra, Cinema Round Premium and Super Bass Extreme
Miscellaneous — Silent Angel Bonn N8 Pro network switch, GigaWatt PF-1 EVO power strip, Les Davis Audio Viscoelastic CLD discs, VRC Vinyl Record Cleaning system plus miscellaneous accessories
Pitt & Giblin Superwax Loudspeakers
Price: AU$25,000 (overseas orders AU$22,730) + Delivery
Australian Warranty: 24 Months on Components & Materials
Manufacturer Direct: Pitt & Giblin
Hobart, Tasmania
Australia
www.pittandgiblin.com.au