At the time when Sonnet, as it's more commonly referred to, hit the market with its top-end Morpheus digital-to-analogue converter, the company launched what was to become its reputation snow-ball. Its powerful inertia was built around that DAC's and its stablemates' highly refined engineering and excellent sonic performance. The momentum now ramps up to an avalanche with the new Pasithea DAC, the usurper to the throne of Sonnet's top offering.
No Rest for Creatives
Dutch company Sonnet Digital Audio BV was started by Lion Kwaaijtaal and Cees Ruijtenberg subsequent to the sale of Metrum Acoustics. As a bit of simplified background, following the sale, Ruijtenberg agreed to stay on as a consultant in order to continue product management and customer support. However, turmoil ensued after Ruijtenberg became dissatisfied with Metrum Acoustics' handling of customer support among other things. After some legal commotion, Ruijtenberg took back control of Metrum Acoustics and, as far as we can tell, now runs it in parallel with Sonnet. Incidentally, the duo of Ruijtenberg and Kwaaijtaal also runs Acelec, a company which produces high quality loudspeakers for both the domestic and professional spaces.
The two partners' aim with Sonnet is to offer sophisticated and well-engineered products offering high value and elevated performance and, indeed, that's what encapsulates the Morpheus DAC which has been extremely well received. Its success provided Sonnet and its founders with the confidence and resources to launch an even more ambitious digital-to-analogue converter. Thus was born the flagship Pasithea.
Continuing on from Sonnet's ideology of employing the R2R 'ladder' multi-bit non-oversampling digital-to-analogue conversion methodology, the Pasithea implements no less than eight of the company's new proprietary high voltage SDA-3 modules. The SDA-3 modules were developed specifically for the Pasithea and are configured four per channel in a differential mode arrangement. Each SDA-3 incorporates four R2R ladder networks, the overall R2R ladder networks therefore totalling 32.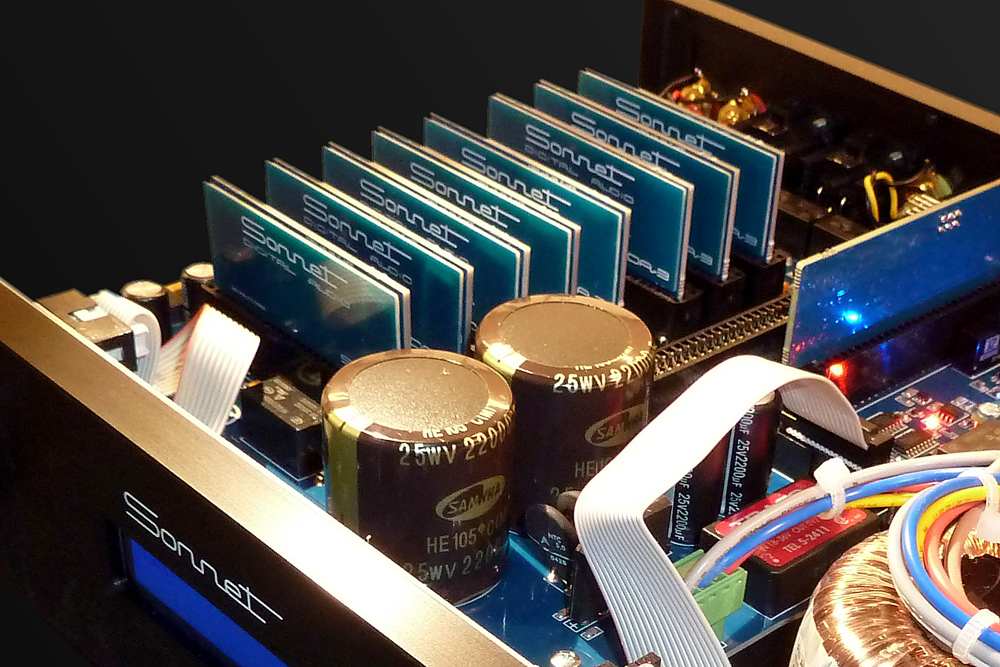 One of the improvements in the new SDA-3s is the combined grouping's resultant very low output impedance of 16 ohms (100 ohms via RCA), which allows wide compatibility with the input impedance characteristics of power amplification. This allows comprehensive compatibility while allowing system simplification by direct DAC-to-amp hook-up and the consequential sonic benefits potential. Even wider compatibility is provided by the 10dB gain reduction provided by the internal dip-switch "jumpers" scheme which will allow hook-up to high-gain amplification. Further, the SDA-3s provide a much improved signal-to-noise ratio.
Sonnet has gone to some lengths to maintain rigorous linearity in data transfer accuracy transference from the digital to analogue domain, with equal strictness in terms of reducing both digital and electronic circuit noise. The company claims these and other background measures allow true 24-bit resolution. Below is a linearity graph showing the Pasithea's low noise levels set at -160dB (4V RMS), with the company further stating, "If the DAC module is capable as a result of its low noise and high linearity, then the first bits should show up as stair steps. The more bits involved the smaller the steps become until they are no longer visible and the plot changes to a straight line." Indeed, that's self-evident when you look at the graph.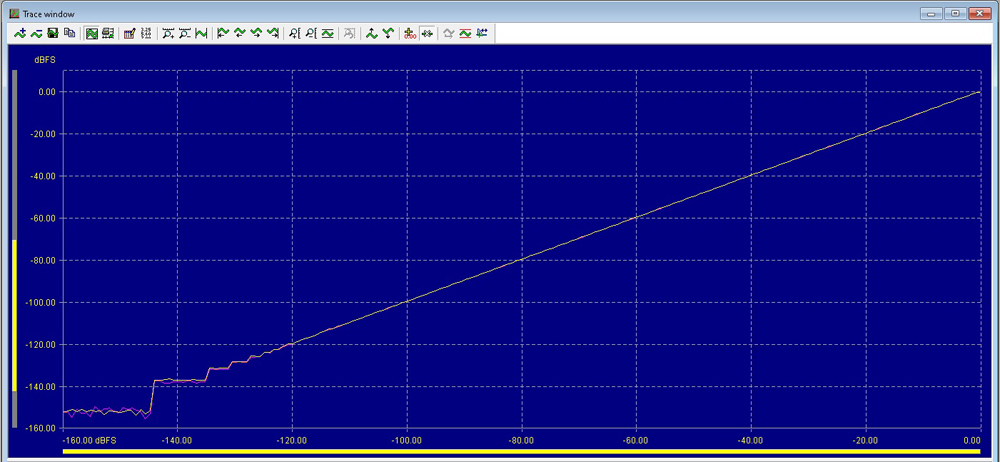 The Pasithea offers a generous band of socketry. Digital connectivity includes an S/PDIF coaxial, an AES/EBU via XLR, a Toslink optical, an I2S via RJ45 and an audio-based USB-A. Supported resolutions are 384 kHz via the USB port and 192 kHz through the S/PDIF and AES/EBU while the Toslink optical is 96 kHz capable. The Pasithea does not support DSD. Analogue outputs are available via both balanced XLR (4V RMS and 1.33V RMS in -10dB mode) and unbalanced RCA (2V RMS or 0.66V RMS in -10dB mode).
The specifications for frequency response have been quoted as 1 Hz to 20 kHz -1dB at 44.1 kHz sampling while the 192 kHz and 384 kHz (USB input) takes it to 1Hz to 65 kHz -3dB. Total Harmonic Distortion (THD) is a low 0.001% while channel separation is quoted as 125dB.
The Pasithea DAC can be operated in 'Variable' or 'Fixed' modes, with the former allowing direct connectivity to a power amplifier. Looking much like a traditional preamplifier, the volume is controlled by a large rotary knob on the unit's left hand side. When connected directly to a power amplifier, Sonnet recommends the volume be set to no lower than -22dB, being a digital volume control, presumably to avoid the onset of bit-stripping. As mentioned above, the provision of a -10dB attenuation setting allows wider compatibility, (accessed internally via a set of jumpers).
A central front panel LCD display provides system status, relevant data and menu navigation function. An MQA module can be optioned at the time of purchase or as a plug-in afterwards. Additionally, the Pasithea provides an 'expansion slot' for a DSP module. The on-board power supply looks solid too, featuring a stout toroidal transformer and a large capacitor bank, all signs of thorough engineering.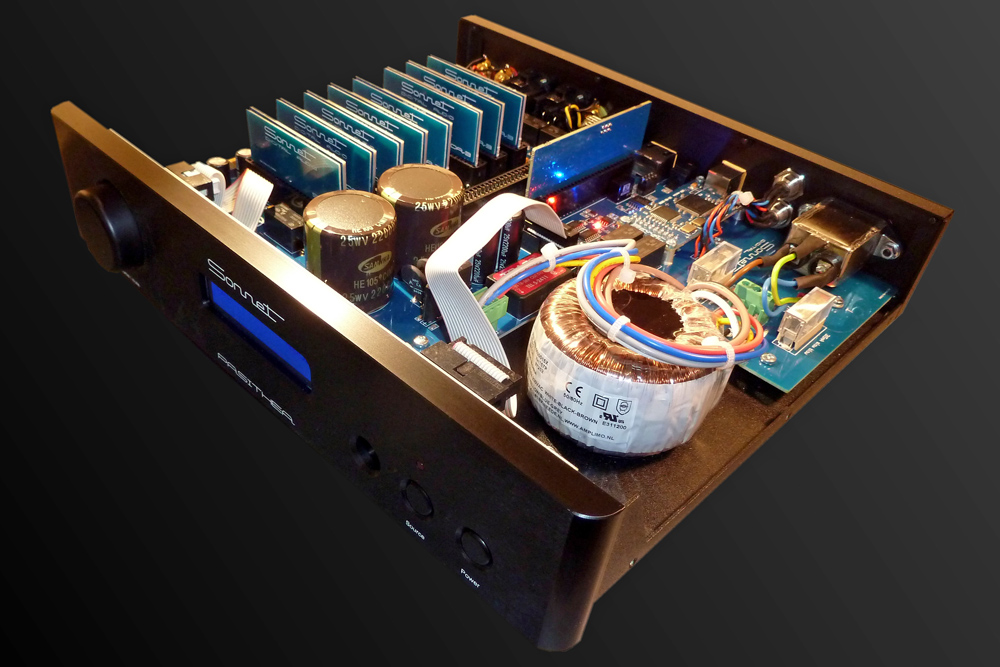 The Pasithea DAC is available in either black anodised or silver finish and is provided with a neat, and rather solid, matching aluminium remote control. In a feature I haven't come across before, the remote control can be totally disabled via a menu option in case of its unlikely interference with other IR devices. Good thinkin'.
Accurate = Musical
If I had to summarise the Pasithea's sonic performance in the most succinct way, I would describe it as providing a direct link to the precision and clarity found in the recording studio while adding a healthy, and much treasured, dollop of R2R magic. And that is generally classified as musical fluidity, textural richness and full-bodied dynamics.
Like any well-engineered product from an experienced design team, the Pasithea is a refined DAC both in terms of its functionality and sonic qualities. It worked flawlessly as a DAC plugged into my Supratek preamplifier and also directly feeding the Antileon EVO power amplifier. I found the high frequencies sweet yet detailed and devoid of any brightness or brashness.
The delicately-recorded bells and triangles on Youn Sun Nah's "My Favourite Things" from her Same Girl album sounded extended with natural decay while displaying accurate tonality. When Youn Sun Nah's vocals came in, she was realistically portrayed with an sharply-focused image and a convincing presence. In addition, the tightly-locked image was placed within a large soundfield with excellent width, height and depth.
Going back to harmonic decay, the softly-hit cymbal – a 'bell strike' I believe it's called – on Doug McLeod's "My Black Pony" from the album Whose Truth, Whose Lies? had a superb sense of sharpness to the note's edge on the strike, leading to a natural decay with excellent harmonic content. The track's acoustic bass sounded full and tight while the well-miked kick drum punched powerfully.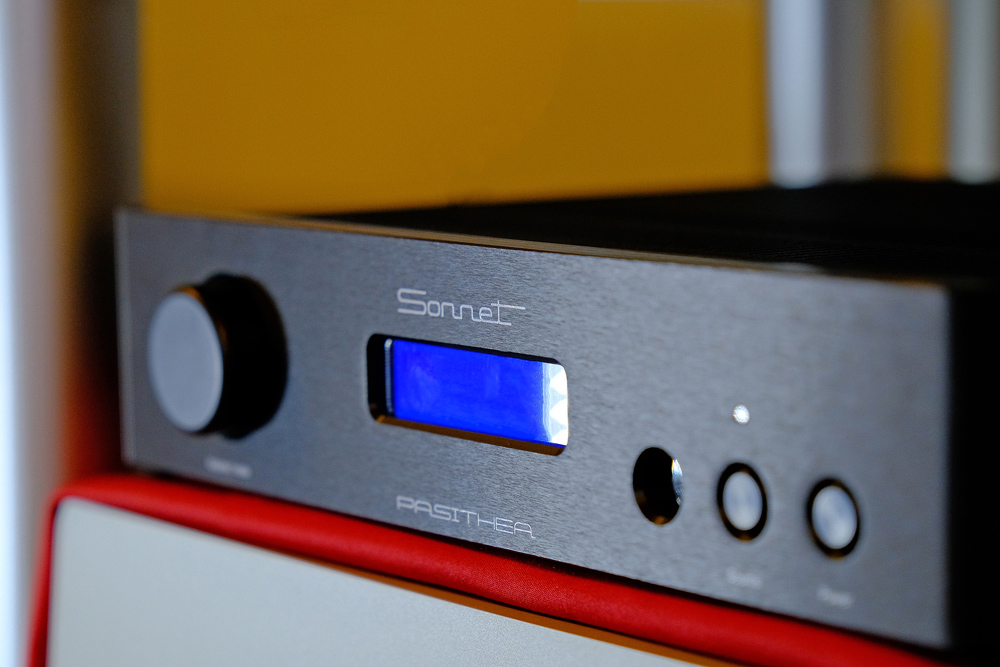 Ambience retrieval was up there with the best I've experienced. The massive acoustic space where Ani DiFranco performs "Amazing Grace" in her Living in Clip album is… well, massive. Given high-performing supporting electronics, cabling and loudspeakers, you're given access to a stadium-sized space where the reverb cues create a mirage of immense proportions. Whistles, claps, coughs and the like all seem to emanate from the distance… way beyond the walled confines of the listening space. DiFranco's more vigorous tracks, where she hammers the guitar and the drums explode with power, were given satisfying impact and appropriate aggression. That applied to all heavier rock material I auditioned with, such as Sasquatch, Colour Haze, Tool and more.
I enjoyed the large scale of orchestral works from a number of composers through works interpreted by a variety of conductors and orchestras. Of course, the 'live' recordings, or the ones captured in the largest of studios, were best for conveying scale. The Pasithea's overall precision did not reduce nor hinder the expanse of environmental space. What's more, complex passages were skilfully separated while maintaining musical flow.
The simultaneous presentation of both listening ease and musical insightfulness provided great pleasure when listening to small ensembles too, whether chamber classical or intimate jazz. There was excellent tonal correctness, meticulous instrument separation and a faithful exactness to the integrity of the music.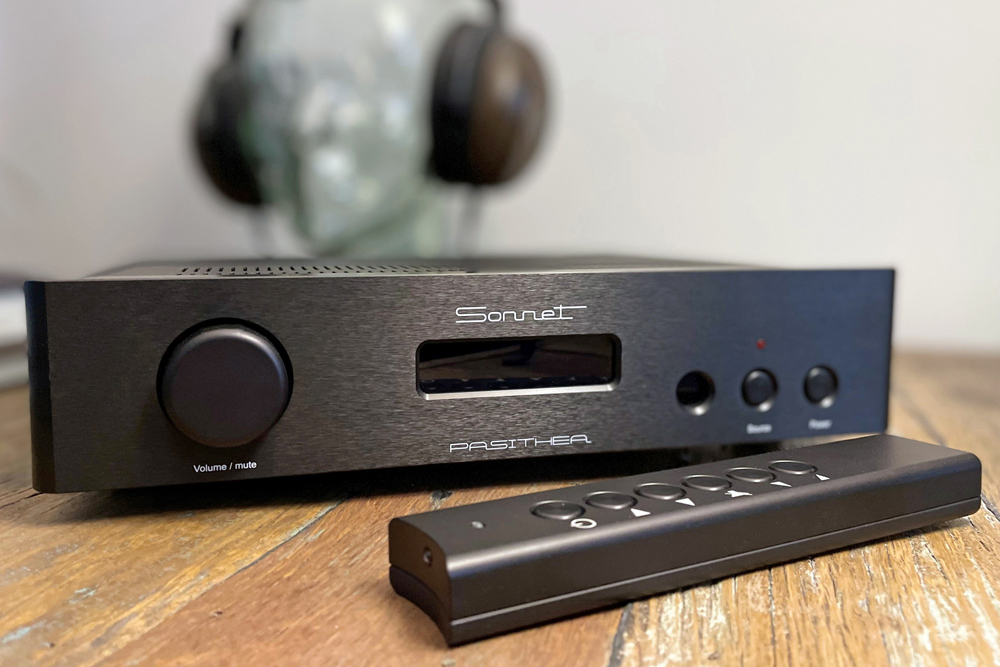 Conclusion
There is a literal tsunami of digital-to-analogue converters on the market, many from the Far East, at super-affordable prices. However, they're a lottery, a gamble, in terms of reliability, longevity and sonic performance. You pay peanuts…
Given the state of music delivery, its ongoing development and endless abundance, the DAC and streamer partnership's prevalence has risen to be ubiquitous. Sonnet's Pasithea is by no means a me-too DAC, yet it must navigate a sea of choice noise. However, it rises above the hubbub by way of its pedigree, cultivated and conceived by a talented design team. It eschews the near-universal adoption of Delta-Sigma chips, which are so economical to implement, and adopts what many enthusiasts consider the superior R2R ladder DAC technology by way of proprietary modules. It's a more costly methodology yet this flagship DAC remains relatively affordable.
Sonnet's Pasithea echoes its moniker. It's a faithful conduit to the artists' intent while, at the same time, it presents the artistry in an easy and rather seductive fashion. Yes, the Goddess Pasithea lives in this DAC…
… Edgar Kramer
This email address is being protected from spambots. You need JavaScript enabled to view it.
Associated Equipment
Speakers — Wilson Audio Alexia V, Axis Loudspeakers VoiceBox S (nearfield monitor), Vermouth Audio Little Luccas Mk.II
Amplifier — Gryphon Audio Antileon EVO
Preamplifier — Supratek Cortese, Totaldac d1-direct DAC
Sources — Digital: 432EVO High-End Music Server Roon Core, Yamaha CD-S2100 transport, Totaldac d1-direct DAC. Analogue: Transrotor Crescendo with Konstant Studio controller, Reed 1X Tonearm with upgraded internal wiring, Shelter Harmony cartridge, The Funk Firm Houdini cartridge decoupler, Supratek Cortese & REDGUM Audio RGPH2 phono stages
Processor — DEQX PreMate (part of arsenal/casual use)
Cables — VYDA Laboratories Orion Silver Reference HFC IC and speaker cables (not used for this review), PSC Audio custom design XLR, Vermouth Audio Reference loom, ZenSati Zorro loom, Cables for Music Songbird speaker cables
Audio Rack — SGR Audio Statement Model V
Acoustic Treatment — Vicoustic Multifuser Wood, Wavewood Ultra, Cinema Round Premium and Super Bass Extreme
Miscellaneous — Silent Angel Bonn N8 Pro network switch, GigaWatt PF-1 EVO power strip, Les Davis Audio Viscoelastic CLD discs, VRC Vinyl Record Cleaning system plus miscellaneous accessories
Sonnet Digital Audio Pasithea Digital-to-Analogue Converter
Price: AU$8800
Australian Warranty: Two Years
Australian Distributor: Pure Music Group
+61 409 504 805
www.puremusicgroup.com
Sonnet Digital Audio BV
Daviottenweg 9-11,
5222 BH 's-Hertogenbosch
The Netherlands
+31 (0) 36 785 6259
www.sonnet-audio.com