To an audiophile, the name Bowers & Wilkins is as ubiquitous as Stradivarius, Steinway and Elvis Presley. For many, it represents the pinnacle, the ultimate audio product they wish to someday own. In other words, Bowers & Wilkins creates benchmarks against which other brands struggle to compete on a quality, ingenuity and cost basis. Given only audiophiles will likely be reading this, I probably don't need to say that Bowers & Wilkins, AKA B&W, is a speaker, headphone and lifestyle product designer and manufacturer par excellence. It probably annually spends more dollars on R&D than the GDP of many small countries. And its manufacturing ability and quality is incredible – when you compare the company's products to other high-end audio manufacturers you have to marvel at how it can keep its prices so reasonable. Economies of scale – Bowers & Wilkins manufactures a lot of products.
Bowers & Wilkins began as a radio and electronics sales and service shop in Worthing, England. It was founded by John Bowers and Roy Wilkins who had met while serving in the Royal Corps of Signals during World War II. John Bowers became increasingly interested in the design and building of loudspeakers which led him to create a new company, B&W Loudspeakers Ltd. in 1966. His goal was to build speakers that would allow him "to see classical music live in his own home". Since his passing in 1987, company ownership has changed a couple of times, but B&W's focus and dedication has never wavered. It is now in the expert hands of Sound United which also owns many other high-end audio companies.
This review will cover the new 803 D4 speaker. The 803 D4 shares a very similar design and build to the other new D4 models in the 800 series, in particular its larger brethren the 802 D4 and the top model, the 801 D4.
What's in the Box
Rather than exhaustively outline all the technical detail of the 803 D4 speakers (this has been covered many times over since the line's release including on SoundStage! Australia Editor-in-Chief Edgar Kramer's review of the 801 D4 here), I've chosen to give just a high-level overview. I'll then detail some of the many differences from the preceding D3 version – I think that'll be more meaningful and relevant to more people.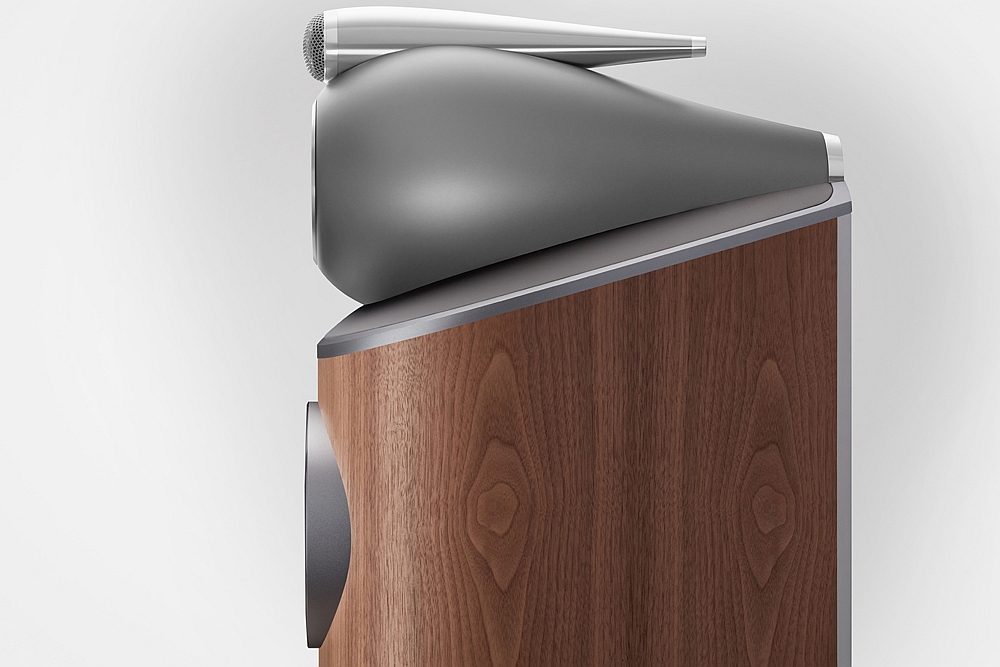 The new 803 D4 speaker is comprised of essentially three main components in a three-way vented-box system. Starting at the top, it has a 25mm (1 inch) diamond dome tweeter housed in an elaborate slender and long tapered aluminium tube. This tweeter-on-top idea and design originated years ago and first appeared in the now famous Nautilus, the Laurence Dickie "sea-shell" styled masterpiece that officially launched in 1993. (The Nautilus is still available today!)
Below the tweeter is the aluminium turbine head housing the 130mm (5 inch) Continuum cone FST midrange. The Continuum cone first originated in the D3 model of the 800 series, and was quite an improvement over the yellow/golden Kevlar driver it replaced. Its material composition is proprietary so I don't know much about it to pass on.
Below the midrange turbine head is the bass cabinet with twin 180mm (7 inch) Aerofoil cone bass drivers. The Aerofoil cones are mounted on aluminium bass pods to ensure clean and accurate bass. The bass cabinet is heavily braced internally with the B&W 'Matrix' system. The large 'Flowport' (or bass vent) points downwards at the very bottom of the bass cabinet. Its bottom position and air-flow dimples (like a golf ball) ensures the speaker won't exhibit any chuffing noises.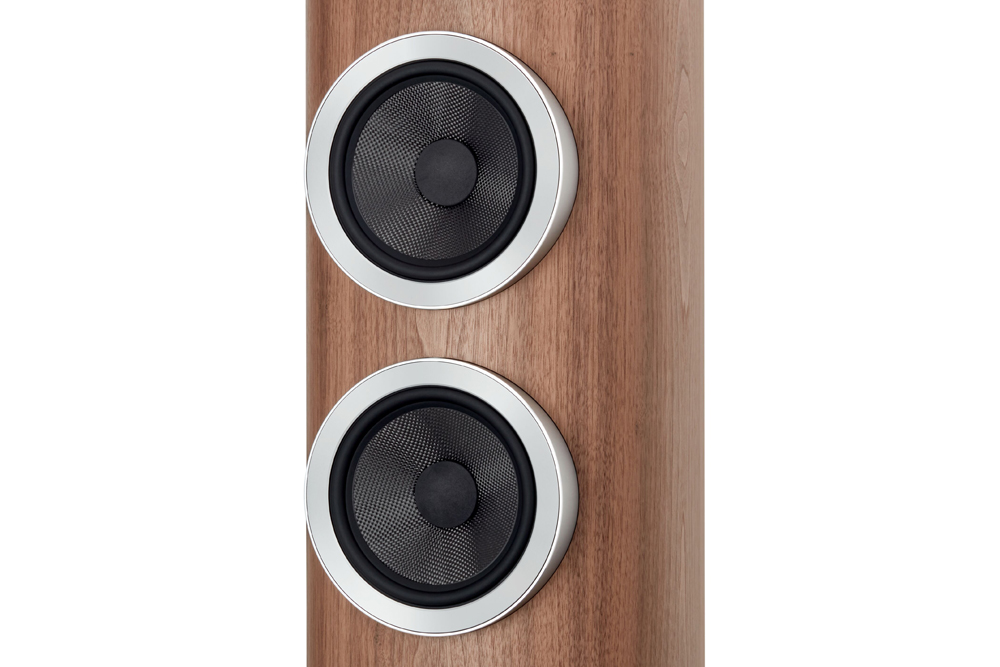 Frequency range is given as 19 Hz to 28 kHz +/- 3 dB on reference axis, but of course what you'll actually hear is very much dependent on your room and speaker placement. Sensitivity is quoted as 90 dB with a minimum impedance of 3.0 ohms – it appears to be a relatively easy amplifier load but all speakers respond better with amplifiers that have a stiff power supply (note that B&W speakers have typically appreciated a high power, high current amplifier). Speaker height is 1165mm, width is 357mm and depth is 511mm. Weight is a tad over 62 kg.
Finishes include gloss black, gloss white, 'Satin Rosenut' and 'Satin Walnut'. The Rosenut and Walnut are veneered as matched pairs. All finishes come with aesthetically matched coloured grills.
Each speaker has rollers on the bottom to assist with easy room placement. Once the best position is found, you can 'spike' the speaker (without moving it) by lowering the in-built spiking system.
Technical Differences from D3
There are some visual differences between the D3 and the D4 – but at a casual glance you might not differentiate one from the other. Under the skin, it's a whole new beast and an impressive one at that.
High Frequency
The tweeter tube is longer which reduces the driver's resonance frequency in free air and reduces the THD lower in frequency, so it plays more cleanly lower down. The result is a more believable continuity with the midrange as well as much less distortion in the top-end of the midrange.
The tweeter tube now has two rather than one contact point with the midrange turbine head and uses a new silicone (Shore 20) de-coupling method.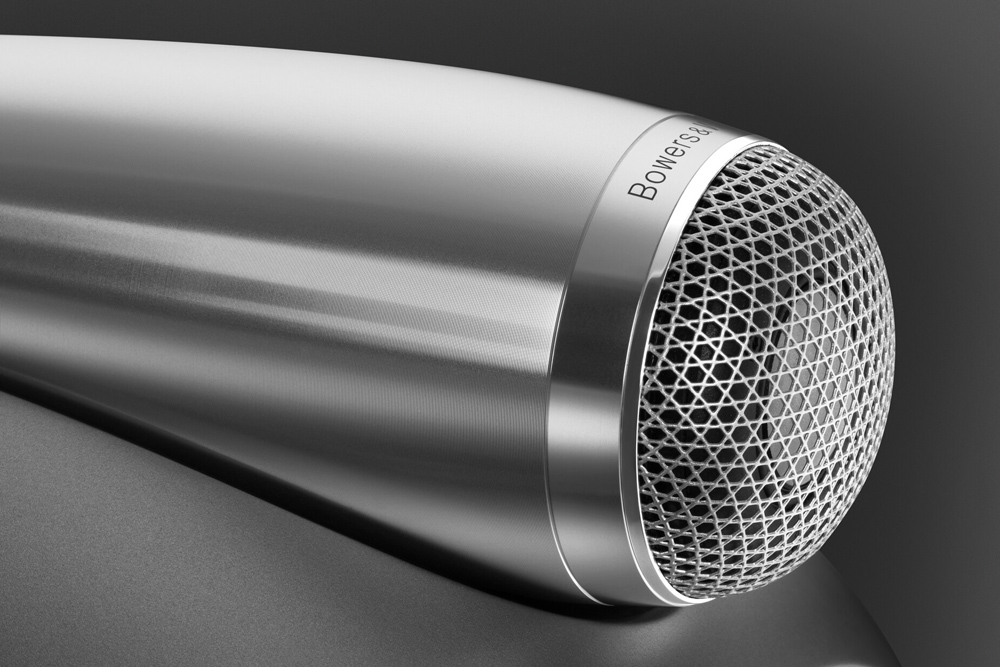 It now uses two N52 neodymium magnets (not three-magnets as in the D3) in the motor, but the dome can breathe easier because of the longer tube and there is less compression behind the dome due to the reduced magnet volume.
The voice coil is improved with doubled-up vent holes in the former, which makes it lighter and allows better cooling. There are also more vent holes behind the winding in the former, which reduces the amount of aluminium in the gap, which in turn reduces the unwanted electrical damping in the gap and makes lower-frequencies cleaner.
Midrange
New decoupling – new silicone (Shore A 30) four-point decoupling for the drive unit in the Turbine Head. The decoupling assembly mechanism itself is also improved.
Re-optimised tuned mass dampers (TMD) for the midrange chassis. New 5 inch double-copper motor system (copper on the top-plate and the pole). As well, the motor system is re-optimised around that, reducing electrical distortion and hence lowering THD.
Now uses a new 'Biomimetic' suspension system which replaces the fabric spider. This reduces back pressure and hence colorations. This improvement delivers an 80dB reduction in noise at 1 kHz (!).
The new turbine head has two TMDs (Tuned Mass Dampers) and benefits from superior decoupling because it now enjoys a superior fit to the top of the cabinet. This improved fit is largely due to the new aluminium top-plate on the cabinet (a metal-to-metal fit is more repeatable and secure than metal-to-wood as previously used).
The turbine head has foam wedges at the back of the housing, plus 'Techsound' damping on the surface of the fins.
Low Frequency
The Aerofoil cone now has a foam Anti-Resonance Plug (not used previously).
Improvements to the three steel parts in the system – mid-plate, top-plate and pole are a very specific type of steel with very low electrical conductivity and lower inductance in the motor system, which gives lower current distortion and lower THD.
Revised single spider, rather than double spider as previously used.
Cabinet
The B&W 'Matrix' system has horizontal aluminium bracing sections, which are now screwed and glued into place – previously they were pressure-fit.
The cabinet has an all-new aluminium top-plate which is structural not just aesthetic. It provides useful stiffening to the top of the cabinet and also provides a more repeatable decoupling location for the Midrange Turbine Head (as mentioned above).
Aluminium plinth with steel constrained layer damping (as per old 800 D3) – plus 360-degree rotating wheels for two of the four wheels which allow easier moving. The new plinth form also includes an optional outrigger for added stability (no acoustic relevance, purely a safety/stability concern).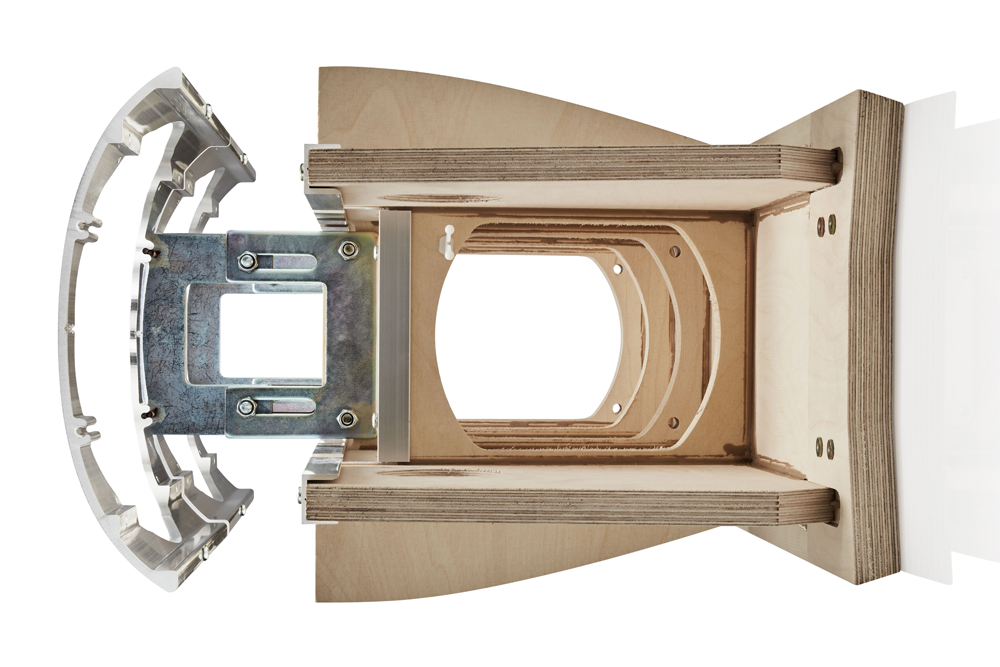 Bigger copper terminals with more positive contact, better layout and spade-to-spade on jumper bars which also improves the contact.
The top of the bass cabinet is now covered in Connelly leather like the 802 D4 and 801 D4.
Crossover Improvements
Low Frequency crossover: New hand-picked non-polarised wire-wound resistors, double 'Callisto' TDK bypass capacitors.
HF/MF Frequency crossover: Mundorf MCap 47, 'Angelique' lead-out silver-gold-oil Mundorf MCap Supreme, 'Angelique' lead-out 10 microfarad MCap Evo Silver Gold Oil, Powertron resistor, double Callisto-treated bypass capacitors.
Juggling the Beasts
Due to the weight of the speakers, I made sure that I had adequate help on hand for unpacking and shifting each speaker into an initial listening position (thanks guys!). The packaging is built with layers around each speaker – to unpack you basically just disassemble the layers to expose the speaker. Once done, it rolls off and onto the floor. Clever people.
Each speaker can be bi-wired. I use a single run of high-quality speaker cables and then good quality jumper wires. I discovered that B&W have a particular method to connect when single wiring – your B&W dealer will be happy to do this for you so I won't elaborate here.
We listened briefly but realised that perhaps the supplied B&W jumper wires were not quite what my system needed. Although they are undoubtedly good, I found that my own jumper wires suited the system better. All the listening thereafter was conducted with my own jumper wires.
Colour Me Impressed
I didn't have the pleasure of reviewing the 803 D3 version, that honour went to our Soundstage! Australia Editor-In-Chief, Edgar Kramer back in 2018 (review here). He very much enjoyed his time with them and concluded that the 803 D3 definitely belonged in the 800 series. He even went so far as to suggest that the 803 D3 likely had the equal of "…soundstage, image focus, tonal colours, sheer in-the-room presence and fine micro-detail..." compared to the D3 generations of the 801 and 802. Obviously, the smaller cabinets and drivers in the 803 would not permit it to have quite the same power, gravitas and bass weight as its larger brethren. Before the opportunity to hear the 803 D4, I'd never before heard any generation 800 series speaker in my system. But I dare say that I have to give a thumbs-up to Edgar's assessment – I can't imagine the 802 D4 or 801 D4 having better imaging and resolution than the 803 D4!
The 803 D4 is a real detail champ – tremendous resolution without glare or harshness. For example, I'd never before noticed the tambourine being softly tapped in the background of "Ain't No Sunshine" on the Melody Gardot album My One and Only Thrill (16/44.1). Or the soft drum patter in "Stopover at Djibouti" on The Astounding Eyes of Rita (24/44.1) by Anouar Brahem. Or the soft drum strokes in the left channel of "Watch What Happens" by Joe Pass on his album Intercontinental (24/88.2). Some people don't care if they hear such things, but I do. By not having to analyse and fill-in-the-gaps, I can more easily connect with the music.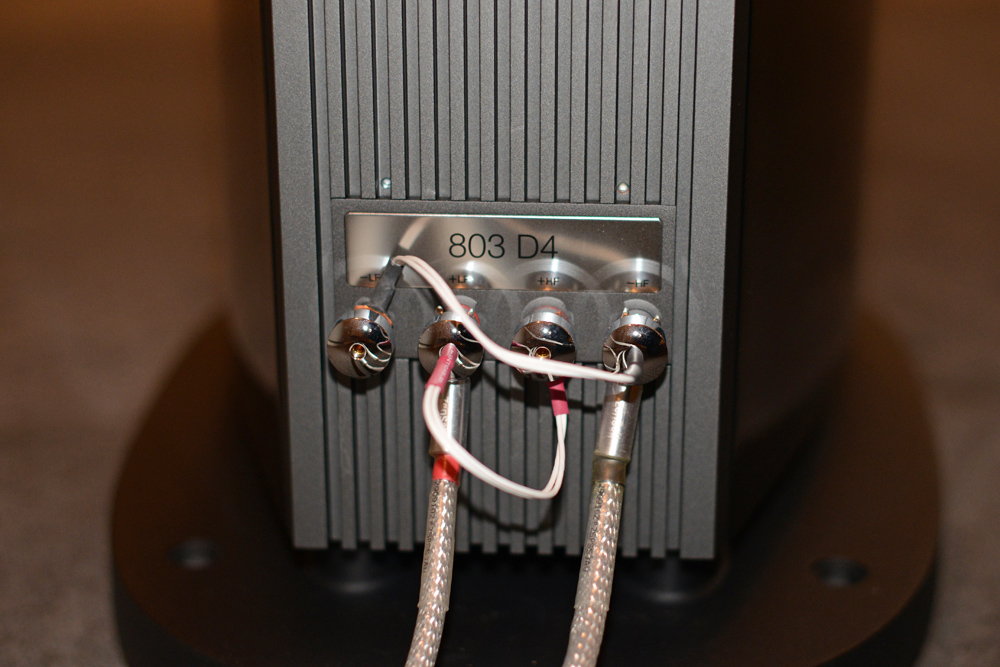 Historically, loudspeakers have exhibited a lot of distortion, years ago it was not unusual for "good" speakers to have distortion of up to 10%. In recent years this has greatly improved due to better measuring techniques, materials and manufacturing. The 803 D4 must have extremely low distortion, amazingly low for a loudspeaker. I haven't seen measurements to back up that belief – it's just that it sounds so distortion-free yet so impactful. The D4 delivers dynamics that are excellent – it gets you closer to a live sound than many competitors I've heard. At high volumes there are no unnatural sounds. And at low volumes, the sound is still natural, detailed and full bodied, unlike some speakers that don't come alive until you really turn up the wick.
The album When Light Returns (24/96) by Martin Tingvall is neo-classical solo piano music. The piano is astoundingly fast, transparent, natural and pure sounding. And the high notes have incredible sparkle, air and brilliance with no suggestion of breaking up into unnatural harsh noise. At high or low volumes, the rendering of his piano on this album is most impressive and satisfying.
Bass impact is excellent for a moderately-sized floor standing speaker. Of course, no one has yet figured out how to truly cheat physics… larger speakers will inevitably have deeper and more solid bass. That said, the 803 D4 has surprisingly solid bass and can convincingly render the lower notes of a double-bass in a jazz combo (and it doesn't shy away from techno music either.) An oft played track to judge bass depth and texture is "Draw Your Swords" by Angus and Julia Stone on their album Down the Way (16/44.1). The bass is powerful and clear, more articulate than my bigger reference speakers but with slightly less gravitas. The sound stage is huge, beautifully filled, Angus's voice is centre stage and amazingly clear. Julia's background vocals give the track an ethereal dreamy quality not unlike the Twin Peaks theme. That superior bass articulation and clarity is also quite noticeable in the track "Galileo Mon Amour" on the mentioned Anouar Brahem album.
The 803 D4 tonality across all frequencies is exemplary. It always sounds natural and easy-going. By saying easy-going I don't mean laid-back. It is not laid-back at all, but then it isn't forward sounding either. That may sound contradictory, but when you hear it, you'll know what I mean – it's just perfectly balanced. That issue with the older D3 where the highs and midrange didn't always gel properly has been truly conquered – the 803 D4 sings with one unified voice. And it will accurately tell you the sound quality of the recording, good or bad. As well as being superbly resolving, they are also superbly precise. The timbrel differences of violins and violas, and trumpets and flugelhorns are apparent. Another oft played track to hear tonality and precision is "Hva skal hende na?" on the album Quiet Winter Night (24/88.2) by the Hoff Ensemble. Tonal colour of all instruments is convincing, natural and pure regardless of their placement in the sound stage.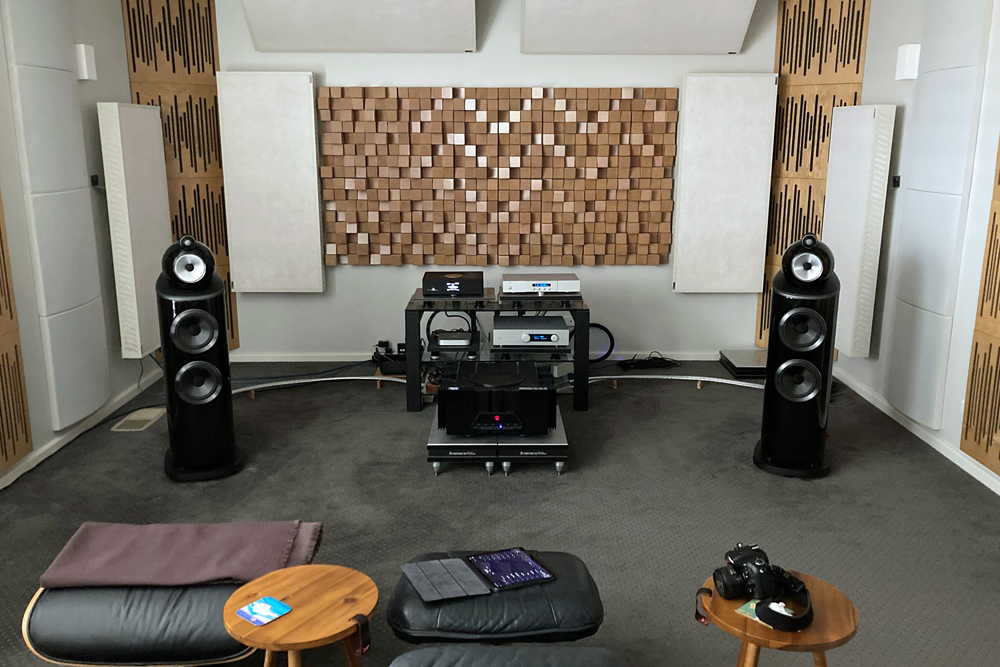 The 803 D4 layering of instruments and voices in the sound stage is also excellent. Depending on the recording, sounds will appear from the front of the speaker plane to well back behind the speakers. Placement left-right is excellent, and the sense of depth back into the sound stage allows back stage sounds and reverb trails to be easily heard. The sense of height is excellent, likely assisted by the tweeter height relative to the ear level. Again, the album Quiet Winter Night by the Hoff Ensemble provides excellent layering of voices and instruments within the sound stage. Pick any track, close your eyes and you can visualise everything in what seems like credible and logical placement – depth and clarity is very natural and real.
Kind of Blue (24/192) by Miles Davis (who else?) has great depth and reverb back into the sound stage. And on "So What" cymbals seem lighter, more airy, faster but with the proper body. The saxophone on "Freddy Freeloader" sounds very fast, clean and pure. "Pure", "natural", "resolving" are words I found quite a few times in my listening notes.
Conclusion
Over its many years, Bowers & Wilkins has become a much loved, trusted and respected brand. It has always delivered products that appeal to its customers. It has always differentiated itself from the competition through technology such as its tweeter-on-top tube, midrange turbine head, diamond dome, Continuum cone, biomimetic suspension and matrix construction – all distinctly and unquestionably B&W. It has kept pace with technological changes – the "always on" world of modern society is reflected in products like the company's integrated solutions for connected homes. But through the years, Bowers & Wilkins' main-stay has been speakers, speakers that are so good that many studios around the world traditionally use B&W.
The company's passion for building the best products is very evident in the 800 speaker series. The build quality is extremely good, easily the equal of, or better than, other high-end brands. "Good enough" is simply not in the company ethos. My review pair (in gloss black) were truly superb. And without fail, every visitor thought they looked and sounded beautiful.
Admittedly, I did consider buying a pair. But I didn't mostly because I've bought so much other Hi-Fi equipment lately. As much as I love the sound of my reference speakers, they were out-classed by the 803 D4 when it came to micro-resolution, imaging and sound stage layering. The 803 D4 portrays all genres of music with accuracy, purity, beautiful timbre and emotion. [Subsequently, the 800 series' seductive powers saw Tom stretching his wallet by purchasing the 801 D4 loudspeakers -- Editor].
Equally important – as well as being master engineers and builders – Bowers & Wilkins is run by music lovers. To quote them… "We never forget what we are doing this for. We want everyone to hear music the way we hear music – as the artist intended". Yes, the spirit of John Bowers lives on.
… Tom Waters
www.soundstageaustralia.com
Associated Equipment
Speakers — PMC MB2 SE speakers with ANTICABLES Level 5 Signature jumper wires
Amplifier — Gryphon Audio Designs Antileon EVO
Preamplifier — Trinnov Audio Amethyst
Sources — Grimm Audio MU1 Music Server, Gryphon Mikado Signature CD Player, Weiss Medus Reference DAC
Processor — Trinnov Audio Amethyst
Cables — ZenSati #1 and #2 interconnects and speaker cables, Nordost Tyr 2 AES-EBU, Jorma Design AES-EBU, AudioQuest Vodka Ethernet cables, sILENzIO S/PDIF, Trinity power cords, Synergistic Research Hologram A and D power cords, ANTICABLES Level 3 Reference power cords (in/out of Nordost QX4 line purifier), Nordost Purple Flare (Figure 8) power cord (router)
Audio Rack — Schroeders and Schroeders, Symposium Ultra custom-made amplifier stands
Miscellaneous — Nordost Quantum QX4 line purifier, Nordost Quantum QV2 AC line harmonizers, Nordost Quantum QK1 AC Enhancer, Nordost Quantum QB8 power distribution, Townshend Seismic Podiums, dedicated 20 amp power lines, Symposium Rollerblock Jr isolation footers, Symposium shelves, Viablue UFO XL Absorbers, Vicoustics bass traps and diffusers, RealTraps bass traps
Bowers & Wilkins 803 D4 Loudspeakers
Price: AU$32,500
Australian Warranty: Five Years
Australian Distributor: Sound United
+61 2 9196 8990
www.bowerswilkins.com/en-au
Bowers & Wilkins
Dale Road
Worthing BN11 2BH
United Kingdom
+44 (0) 1903 221500
www.bowers-wilkins.net