Wait, what? There's a new Bowers & Wilkins 800 series launching? That was the goss vibing around audio journos' periphery for a couple of months prior to the official announcement. Then, a communiqué direct from the company: Tune-in to a global online press-only event. A date. A link. A whole lotta questions… and soon, a whole lotta answers. A road paved with anticipation and cobbled with excitement eventually leading to this 801 D4 review.
The launch of a new and revised flagship 800 line from Bowers & Wilkins is always an event and, in many ways, is of importance to the industry at large. Without exception, the 800 line is exemplary in execution and, indisputably, represents a motivating challenge for players across the gamut of small cottage makers to competing large global corporations. The net gain goes to consumers who ultimately benefit from a buoyant industry with abundant product choice and design excellence.
Big Small Steps
Traditionally, a Bowers & Wilkins 800 line announcement is accentuated with technical improvements, usually individually calibrated to fit models across the range. Barring qualifying subjective sensitivities or alternate brand loyalties, the 800 series' technical refinements lead to performance upgrades, of varying degrees, over the preceding generation. The new 800 D4 series, now crowned by the 801 D4 range-topper (with a nomenclature harking back to the original 801), continues the tradition. Potentially, as I have not had the pleasure of auditioning them, so does the entire 800 line-up.
Discussions regarding the logistics of an 801 D4 for review upon its Australian arrival began several weeks prior. I met with the Australian Sales & Marketing team of John Martin and Gabriela Zveibil at Sound United (Bowers & Wilkins' global parent company) in anticipation of the launch. Of course, we agreed on the range-topping 801 D4 while being conscious of the logistics of delivery to the Blue Mountains through Sydney's strict lockdown period. Couriers were to deliver via pan lift truck. Fine. But then, I was faced with the heavy lifting… literally. The super-heavy speaker boxes (near-120 kg each) needed lifting off the shipping pallet, then careful unboxing and, finally, shifting the unboxed speakers from the garage to SoundStage! Australia's listening room at the other end of the house.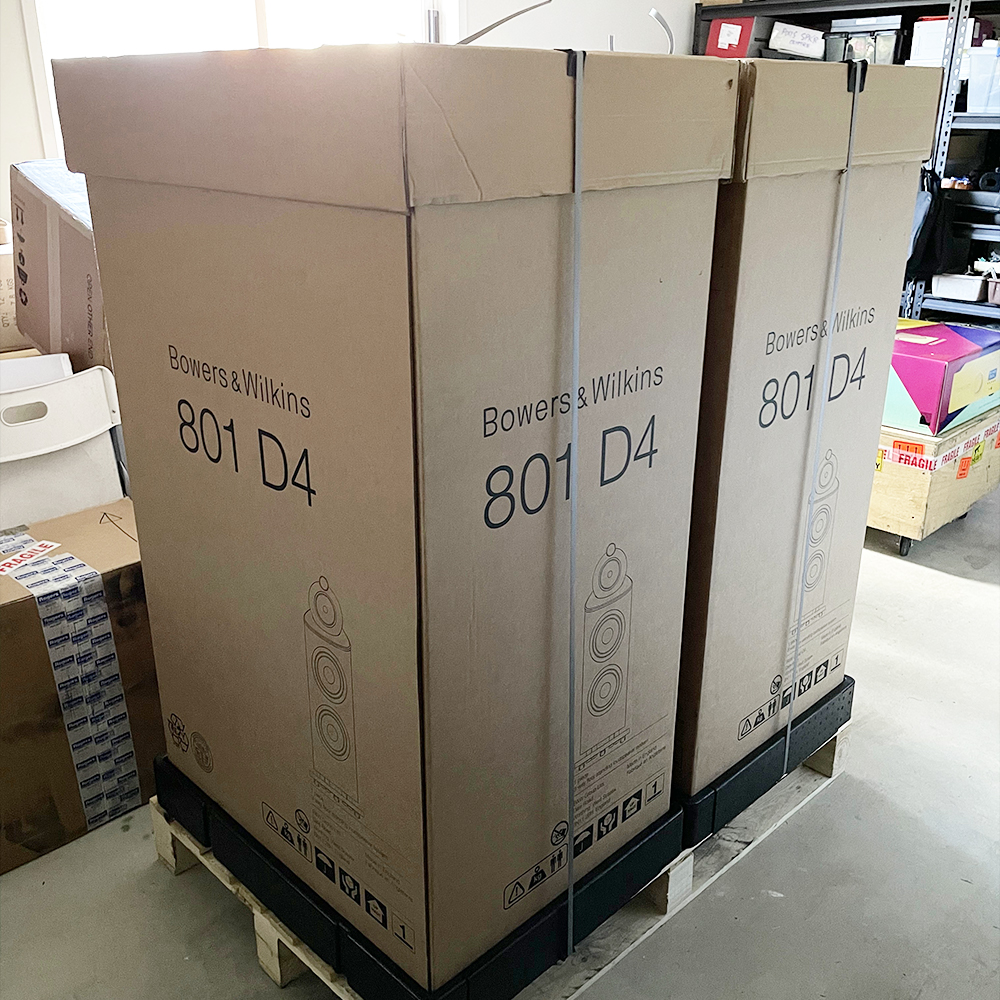 The Greater Sydney lockdown of course meant Sound United personnel were, by law, not able to make the trip to aid in the rectus abdominis-working pleasures of this exercise. Fortunately, an audio enthusiast friend in my local council area – and coincidentally, a B&W 800 D2 owner – with the appropriate biceps and six-pack abs was kind enough to help with the process. While I was able to dismount and unbox the 801 D4s myself (I'm no slouch at this muscleman stuff), his help in lifting over some steps and wheeling them into the listening studio was much appreciated.
Without going on too much about this process, I have to say the 801 D4s' packaging is of clever design and does make things a tad easier (I've had the same positive experience reviewing previous 800 series speakers in the past). For starters, the boxes simply dismantle around each speaker allowing reusability, of course. While stiff foam protectors on the top and bottom of the speakers guard against damage, the lower foam insert conceals a further cunning purpose. It features a detachable foam wedge 'ramp' which allows the speakers to simply roll-off their packaging (a stiffer ramp and box bottom would prevent the rollers from just digging-in, making this even easier, B&W). The rollers under the bottom plinth (two of which rotate fully) are hard plastic so be wary of bumpy trajectories. Having said that, wheeling them around was, of course, easy enough but my audio buddy was helpful in lifting the big boys up the three small steps spaced between the garage and the audio room. Once in, experimenting with positioning is a piece of cake as you can wheel them around to your heart's content. Once the best location is locked-in a clever M12 spiking system can be engaged without even moving or having to tip the speakers. Supplied are a set of stabilisers which provide further coupling and safety-balancing. Simply clever.
Arachnophobia
So, there's actually quite a lot to cover in terms of the technologies Bowers & Wilkins' engineers gifted the 801 D4s. Superficially, the casual observer would notice very little change in terms of outward appearance when comparing 801 D4 to the previous range-topping 800 D3. Sure, there are some aesthetic/cosmetic changes (the leather lining returns via Leather by Connolly plus there's an all-new finish option, more on that anon) but overall there are far more similarities than differences. Internally, this is most resoundingly the converse. (We produced a brief video preview featuring alternate descriptions which can be viewed here).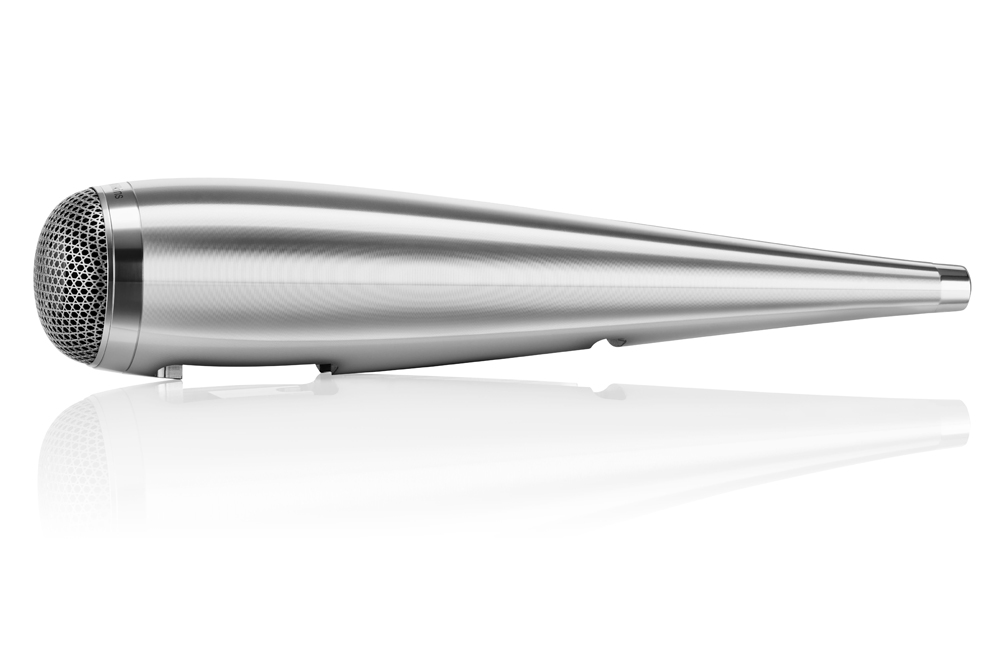 For starters, the 801 D4's 25mm diamond 'Tweeter-on-Top' now features a revised neodymium magnet system and a lighter (therefore more efficient) voice coil assembly. The reworked tweeter is housed in a longer bullet-shaped enclosure machined from solid aluminium and finished to a higher standard. The longer tubing allows more effective elimination of transducer back waves, resulting in improved linearity and potentially cleaner tweeter output. The tweeter enclosure itself is decoupled from the midrange 'Turbine Head' below it with an improved methodology, further assisting the elimination of vibrational distortions, now across a wider bandwidth.
The Continuum FST 150mm midrange driver has received the widest engineering changes. The most significant is based around the suspension system where Bowers & Wilkins engineers have re-designed the entire spider component itself. No longer using the ubiquitous yellow ridged fabric design, the Continuum driver now employs an exclusive 'Biomimetic' spider. It's effectively a simple skeletal design constructed from a composite material. The open architecture significantly reduces air pressure in front and behind the spider system resulting in freer, more efficient excursion characteristics and a nulling of potential zephyr-type distortions around the voice coil and the back of the diaphragm. As an illustration, wave a stiff-ish cardboard sheet in front of your face and feel the air drag and the resulting turbulence. The Biomimetic spider is a simple, yet elegant solution. Similar designs were devised in the stamped Bakelite spiders of yore, the Project Ryu spider and even in the very earliest of spider systems implemented in seminal transducer designs. For some reason, the idea went by the wayside, giving way to the traditional solid fabric spider system (which saw a minor variation in perforated spiders). Hello Biomimetic.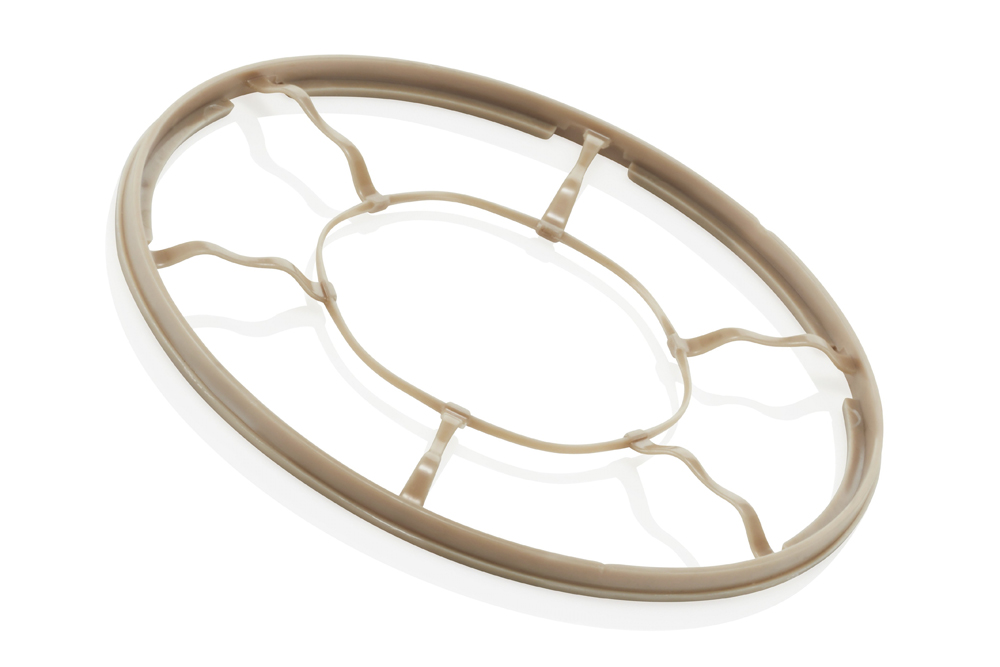 The Continuum driver maintains the D3 version's FST surround-less arrangement in tandem with the super-lightweight silver woven diaphragm material. The Continuum driver also features an improved basket and refined motor magnet system. It's now housed in a redesigned aluminium 'Turbine Head', or elongated pod, which enjoys a superior decoupling and tuned-mass damping arrangement. The Turbine Head also sees a number of internal improvements such as added resonance damping in strategic locations including the head's rear ribbed panel. In addition, a new massive solid aluminium top plate replaces the D3's wooden panel. The top plate is now trimmed in fine Leather by Connolly in two colours to match the speakers' finishes (our all-gloss-black review samples' trim was an elegant dark grey tone to match the gun metal aluminium elements).
To the bass drivers. The twin 250mm bass drivers adopt Bowers & Wilkins' Aerofoil diaphragm material which is now coupled to a new damped foam dust cap ('Anti-Resonance Plug' in B&W-speak). Damping improvements have been applied to the drivers' massive cast baskets while magnet system tweaks have lowered electrical conductivity, inductance and THD (Total Harmonic Distortion). The drivers sit in dedicated aluminium housings and are reflex-loaded via a bottom-exiting 'Flowport'.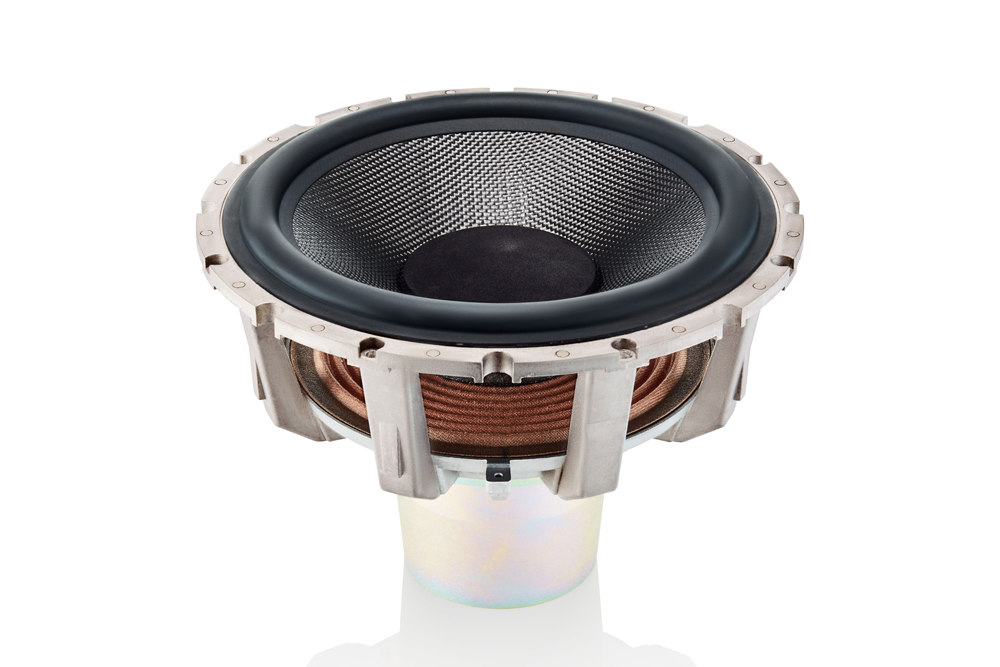 With the improvements to the drivers comes a refined crossover design. The third-order crossover features high quality components including MCap Supreme and MCap Evo silver/gold/oil capacitors from Mundorf. The crossover is tied to the drivers via a high quality internal wiring loom while the excellent proprietary binding posts are now larger full copper versions. There's provision for bi-wiring/bi-amping and Bowers & Wilkins provides spade-terminated cable jumpers for single-wire use (a superior methodology to the commonly-used cheap brass bridging plates).
The lower bass enclosure has received important structural improvements. It is super-stiff to the knock test. Ouch-to-your-knuckles. Of course, the 801 D4 receives the long-standing Bowers & Wilkins 'Matrix' treatment but it's now taken to even loftier heroic levels. The 'Reverse Wrap' enclosure (now carried through the entire 800 series) is the result of extensive Finite Element Analysis (FEA) which showed an immensely stiffer and less resonant cabinet.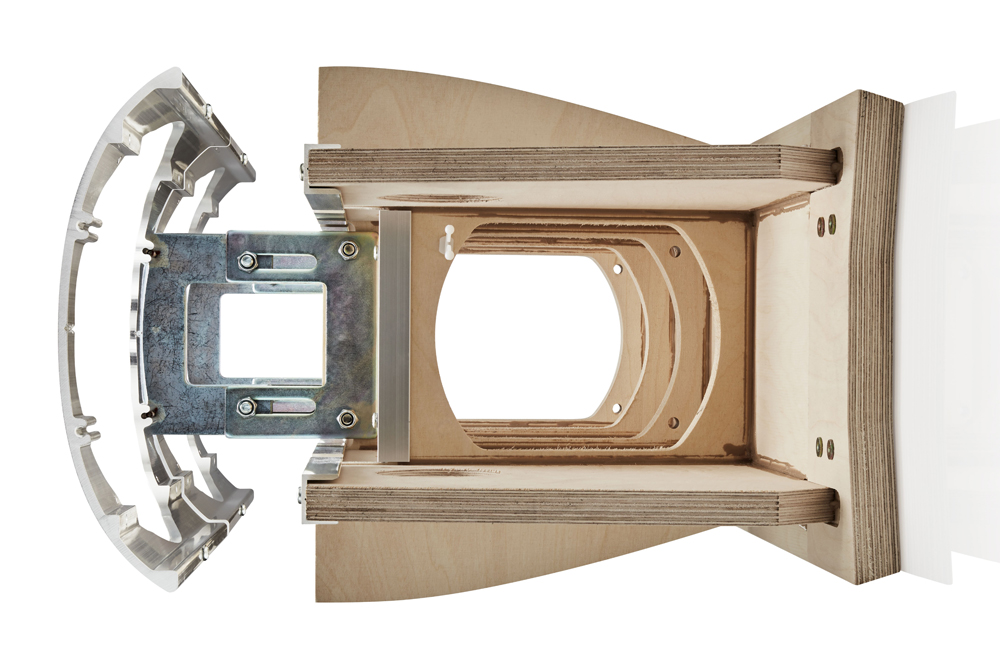 New to the 801 D4, and incorporated to the Matrix system, is an extensive bracing scheme employing vertical and horizontal aluminium U-shaped bars which are glued and bolted to additional timber bracing. A massive aluminium plate is bolted to the curved front panelling while another aluminium plate serves to reinforce the bottom panel. The D3's aluminium ribbing on the rear is again employed offering additional structural integrity. Overall, the 801 D4s' lower cabinet structure is an extraordinarily stiff and appropriate platform for the high excursion/high internal pressure bass drivers. Oh, and one last upgrade. The bottom plinth is now a heavy constrained layer-damped aluminium/steel sandwich construction.
As mechanically and acoustically sound as the 801 D4s' three enclosures are, they are also aesthetically beautiful and superbly finished. On the review units, which were supplied in black gloss, the overall paint finish is flawless, especially so on the Tweeter-on-Top and Turbine Head pods where the aluminium construction allows an even deeper mirror-like sheen. Assembly and panel fit is up with the very best in the industry and there's no denying the luxury of the chosen materials – such as the lavish Leather by Connolly top panel lining – and their symbiotic aesthetic is stunning. That, for the most part, those luxuries are in service of functional and performance targets is all the more impressive (and likely also gratifying to the talented B&W engineers).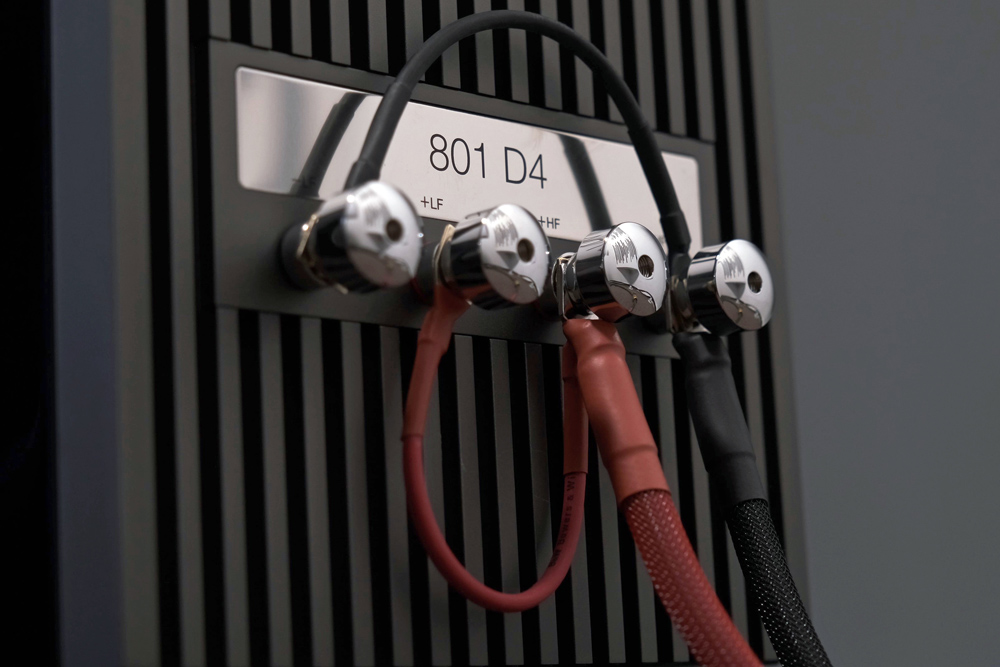 Bowers & Wilkins' specifications show a wide frequency response from 15 Hz to 28 kHz (+/-3dB from reference axis), a span which promises terrific low-end depth, of course. I've rarely seen a speaker of the 801 D4's dimensions quoted to such a low -3dB point of 15 Hz. This shows a reflex port system exhibiting a slow roll-off – in addition to rather competent engineering. Impedance is quoted as 8 ohms nominally with a minimum point of 3 ohms. Coupled to a 90dB sensitivity (on axis at 2.83Vrms at 1m), the 801 D4 would seem like a reasonably easy load for many valve amplifiers although it's been my experience that 800 series speakers sound at their best with high-current high-power solid state designs. Having said that, had I a valve amplifier at hand for the purpose of testing this theory, the new design may indeed have proven my preconception wrong.
The 801 D4 is now offered in three established finishes and an all-new one. There's the all-through black gloss, matte white with gloss white Turbine Head and silver Tweeter-on-Top, Rosewood with black gloss TH and ToT plus the new, and rather gorgeous, Walnut with matte silver TH and silver ToT.
Magic Bullet
For a number of reasons, I was not able to review the much-admired 800 D3 in the context of my own listening space. I was, however, highly impressed with the 803 D3 which I reviewed back in December 2018 (review here). Of course, I've heard the 800 D3 countless times at shows and dealer demo rooms around the world with varying degrees of success. But even in unfavourable show conditions, and while some aspects of performance may not have reached full potential due to circumstances, the 800 D3 always spoke with a language which is immediately and consistently 800-series-recognisable. It's a voice with expressive clarity, thorough detail and resolution, powerful bass and impressive dynamic contrasts.
Based on those many, many encounters, I can say the 801 D4 is a clear and irrefutable enhancement of many of those signature qualities. What you're immediately struck with at first listen is a powerful and deep bass register which 'jumps' with fast transient attack. Faster and tighter than 800 D3. It's also a super-nuanced low-end with richer tonal shades. But the biggest difference, in my opinion, is the way the tweeter behaves, likely as a result of its motor refinements, the elongated bullet enclosure and its decoupling system. It's a sweeter-sounding driver now which integrates more fluidly with the midrange driver without sacrificing overall detail.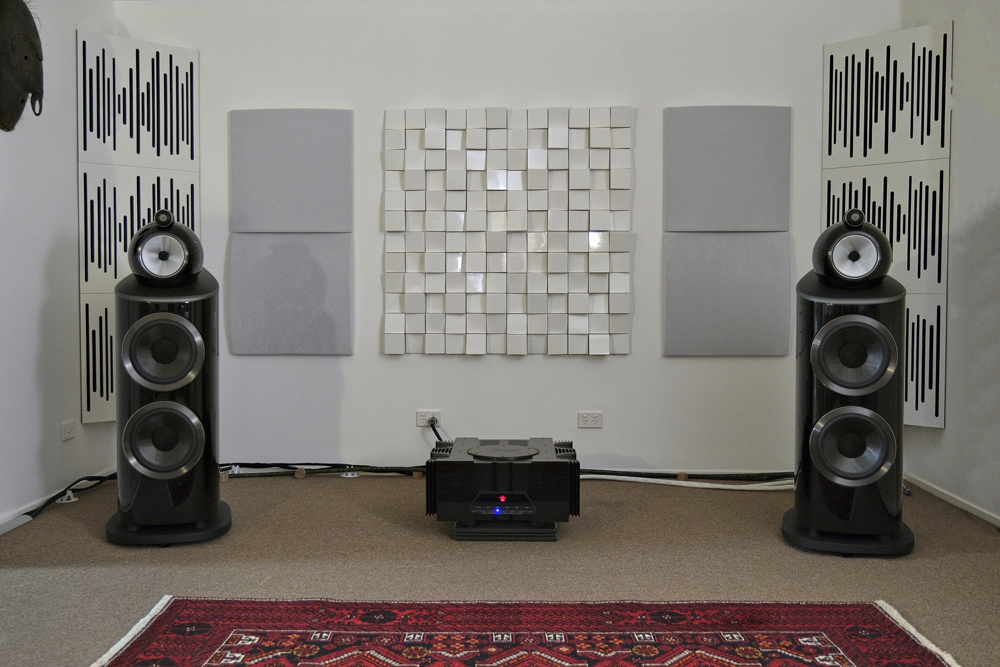 The 800 D3 could often become a tad etched across the upper mids and into the highs when playing lesser quality productions and/or with upfront-sounding electronics. No more. The 801 D4s' highs are agile, tonally correct, balanced and well-integrated but yet, they're no shrinking violets. If, for example, exaggerated highs or excessive compression are there in the recording, 801 D4 will serve that without prejudice. So it's totally evident – and understandable – why a renowned studio like Abbey Road would use these super-revealing speakers as a key part of its main monitoring system (I'm told it has recently received an 801 D4 shipment). These are revealing, tell-it-like-it-is speakers.
The bells, metallic props and percussive instruments on the intro and mid-section of "Nihavent" on Jöel Grare's Paris, Istanbul, Shangai CD sounded so pure and authentic that it was almost in-room (I did try to avoid that cliché but alas). Guo Gan's Chinese violin plucks and strokes sounded dynamic, with the proper attack and with a generous offering of bow and string detail.
Patricia Barber's "Shall We Dance" from her latest Clique! album on Tidal has a nimble bass line which propels the soft easy-Jazz track along. You'll want to finger-click à la Sinatra while you listen to this track via the 801 D4s. Ditto for the album starter "This Town" where both the acoustic bass and short drum solo punch hard with rhythmic excellence. Barber's vocals are clear and beautifully-placed centre stage and slightly forward of the speaker plane. In fact, the 801 D4 addresses an opinion by many that the 800 D3 midrange was a tad dimensionally laid back when compared with the highs and lows. So now with the 801 D4 there's an enhanced sense of overall coherence, a presentation which is noticeably more balanced and even-handed.
I loved the dynamic power across the entire bandwidth of these wonderful transducers. I found myself being constantly surprised (sometimes even jolted, actually) by bursts of snare whacks and tom poundings… the sort of stuff that is pure pleasure with rock, blues and jazz. I was startled a couple of times through the masterpiece that is The Doors' "The End" (from the LP The Doors – The 50th Anniversary Deluxe Edition) where sporadic tom-tom hits towards the end of the track (as Jim Morrison's alter-ego visits his family to commit dastardly deeds) jump forward with stunning force. It is literal dynamic evidence of the 801 D4s' drivers having near-zero limitations other than those imposed by the mechanics of driver architecture (and the abilities of the driving amplification). Mind you, said architecture is at the cutting edge of driver design.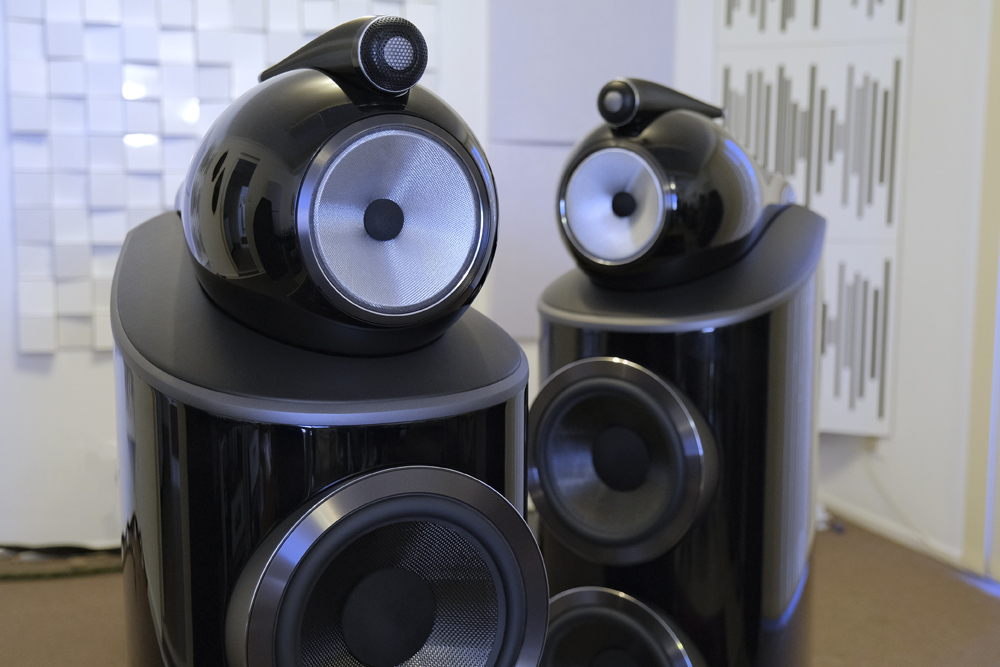 Iggy Pop's collaboration with keyboard king Dr Lonnie Smith on Breathe's last track "Sunshine Superman" was an example of how high-level dynamics' interaction with delicacy should interplay. The drums and bass in this album are superbly recorded. The drum accents, again, totally jump while the underpinning bass notes drone and purr. Smith's keyboard rides above the melodies with immaculate accuracy. Iggy's almost-spoken deep vocals – maybe even getting lower through his advanced age – do not show unwanted chestiness or smearing overhang, just precise tonality, expressiveness and intelligibility. Excellent!
The wide oscillations and detail-grit of Steve Shearer's harmonica on "I Don't Get It" from The Cowboy Junkies' The Trinity Sessions were captivating. Margot Timmins' distinctive voice danced around the pounding bass pulse which punched through with clarity, depth and body. When Shearer's instrument kicks-in again, 801 D4s reveal the player's breath with excellent levels of nuance of as it pushes through the harmonica's reed and comb. This is superb detail retrieval.
Soundfields were enormous across all dimensions and at their most evident via large orchestral works. One of my staple spins is the stunningly powerful Reference Recordings' Serebrier Conducts Serebrier where the ominous "Funeral March" builds to a violent crescendo of horns and drums (the anger of grief). The venue's ambience fills the room as the orchestra is spread, seemingly, beyond the boundaries of the listening room and with each instrument section in clearly demarcated spaces.
Well-produced live music via my preferred list of massively-recorded sound spaces in albums by Harry Belafonte, Ryan Adams (both at the iconic Carnegie Hall), Ani DiFranco, Jackson Browne and others, lived-up to my expectations of wide, tall and deep soundstages and expansive venue cues. The breadth of scale never sacrificed imaging accuracy, which was always sharply-focused and realistically-sized.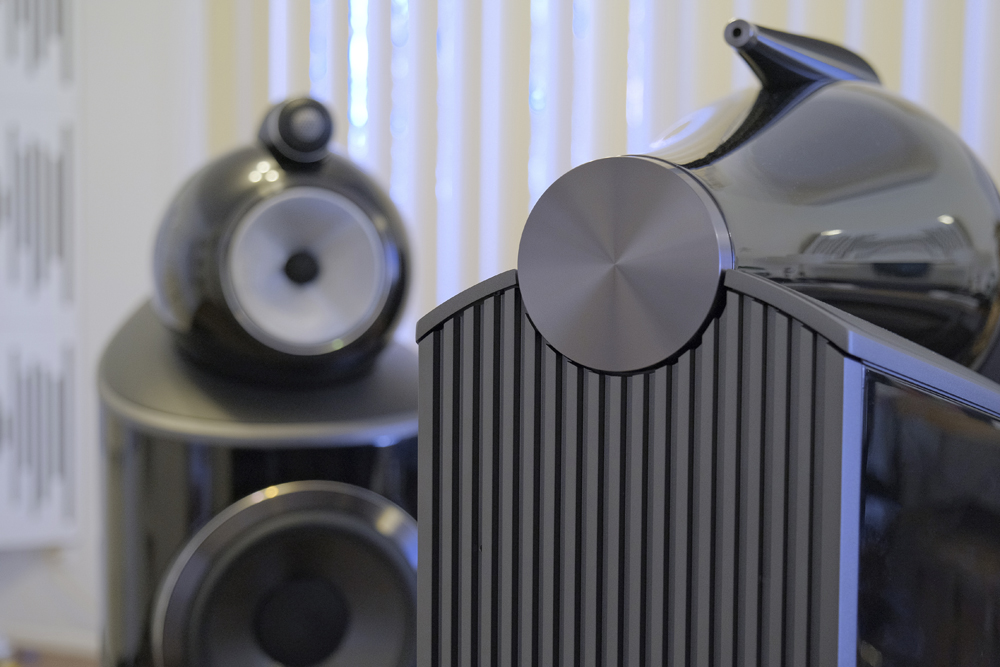 On "Birds" from Dominique Fils-Aimé's Nameless album, I was surprised at how well the speakers projected Fils-Aimé's and her back-up singers' vocals to the sides of the listening position in a way that was reminiscent of Q-Sound (in this case, a clever manipulation of phase as opposed to multi-sourced summed mono signals). This party trick is not always performed to the accurate levels of my own reference Wilson Audio Alexia Series 2 and other top-tier speakers I've reviewed – the 801 D4 confidently joins that elite group.
Conclusion
Bowers & Wilkins has, once again, launched an extraordinary new 800 series. Several years have passed in between the release of the 800 D3 models and the just-announced next-gen 800 D4 line. However, the company's engineering team, led by Ian Hobbs, was not gap-break-idle. They obviously went about assessing each component of the last generation and, in most cases, either refined and/or re-imagined them. The Biomimetic spider system and the substantial enclosure re-design are the most obvious but, as evidenced through this review, by no means the only examples.
The sum of each individual re-evaluation and modification, plus the overall R & D investment has paid dividends. The technical improvements have brought about solid performance upgrades. The 801 D4 is more cohesive from driver-to-driver, the revised tweeter is sweeter and cleaner-sounding, the midrange more present and less… hi-fi, more flesh and bone. And those bass drivers; well, wow is appropriate in terms of their bass control, power and dynamic expression.
As technically improved as the 801 D4 is as far as its driver technology, the platform by which the transducers operate is an abject lesson in enclosure structural integrity, construction craftsmanship and cabinet fit-and-finish. The 801 D4 is pure luxurious beauty; built like a Rolls or Bentley with McLaren performance. Clichéd car analogy? Yes but, like a clever cliché, it's an entirely appropriate truism.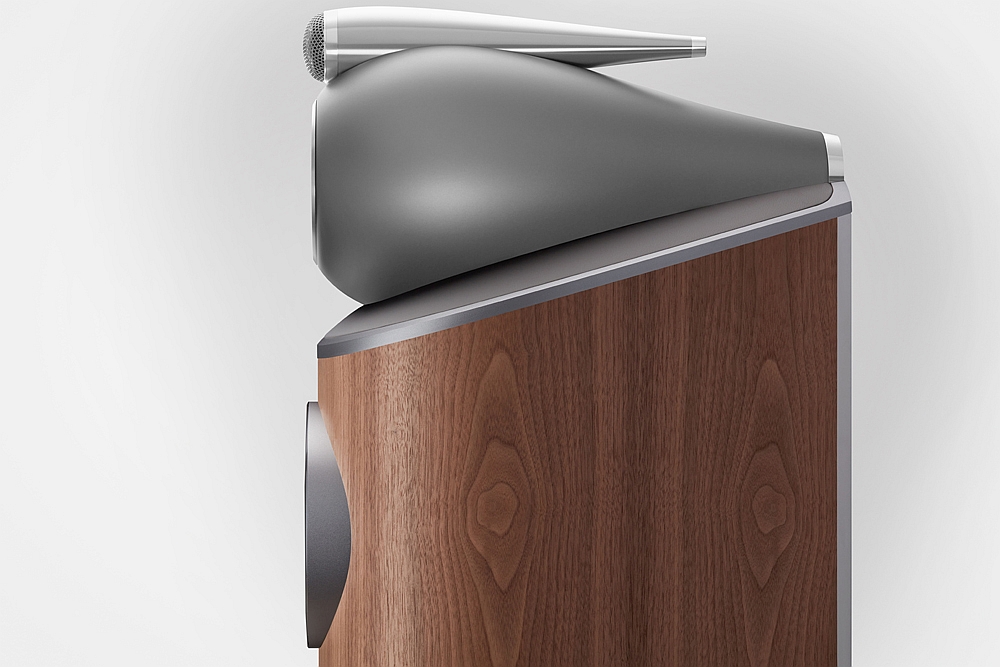 But what of more costly loudspeakers? What could they offer over-and-above the substantial qualities of 801 D4? Frankly, not huge amounts more. Sure, bigger speakers with larger bass drivers may scale bigger, dip lower… provide more headroom. Or they may be voiced differently, offering an alternate flavour. Then, throwing my own spanner in the works, could not the 800 model moniker lead to an open door? Is there now an opportunity for a Bowers & Wilkins all-out assault on the über high-end?
Given what's on the plate, the 801 D4 offers a banquet of tech riches which in its size and price range (and even above it) is a challenge to contest. Yes, there are many, many loudspeakers at the 801 D4's investment level. Only a handful of top echelon products, however, offer as much in terms of Research and Development and engineering, all coupled to Bowers & Wilkins' long company history enriched by its archive of iconic designs.
It's my opinion that this D4 series-topper is an exemplar in the 800 series canon. Yes, the 801 D4 is, so far, the very best flagship Bowers & Wilkins has created.
… Edgar Kramer
This email address is being protected from spambots. You need JavaScript enabled to view it.
Associated Equipment
Speakers — Wilson Audio Alexia Series 2, Axis Loudspeakers VoiceBox S (nearfield monitor), Vermouth Audio Little Luccas Mk.II
Amplifier — Gryphon Audio Antileon EVO
Preamplifier — Supratek Cortese, Lightspeed Attenuator LDR passive, Totaldac d1-direct
Sources — Digital: 432EVO High-End Music Server Roon Core, Yamaha CD-S2100 transport, Totaldac d1-direct DAC. Analogue: Transrotor Crescendo with Konstant Studio controller, Reed 1X Tonearm with upgraded internal wiring, Shelter Harmony cartridge, The Funk Firm Houdini cartridge decoupler, Supratek Cortese & REDGUM Audio RGPH2 phono stages
Processor — DEQX PreMate
Cables — PSC Audio custom design XLR, Vermouth Audio Reference loom,Vermouth Audio Black Pearl Mk.II loom
Audio Rack — SGR Audio Statement Model V
Acoustic Treatment — Vicoustic Multifuser Wood, Wavewood Ultra, Cinema Round Premium and Super Bass Extreme
Miscellaneous — GigaWatt PF-1 EVO, Les Davis Audio Viscoelastic CLD discs, VRC Vinyl Record Cleaning systemplus miscellaneous accessories
Bowers & Wilkins 801 D4 Loudspeakers
Price: AU$52,900
Warranty: Five Years
Australian Distributor: Sound United
+61 2 9196 8990
www.bowerswilkins.com/en-au
Bowers & Wilkins
Dale Road
Worthing BN11 2BH
United Kingdom
+44 (0) 1903 221500
www.bowers-wilkins.net