M2Tech is an Italian audio business based in the ancient city of Pisa and founded by Marco Manuta and his wife Nadia, both electrical engineers by trade and with a passion for music. During my research, I discovered their philosophy which articulated perfectly something I have long known – "that the quality of the sound is fundamental to fully appreciate music". M2 Tech believes that "the perception of the musical nuances in a musical performance, as well as the correct delivery of all the environmental sonic information that make the signature of the venue in which music is played and recorded, contribute to the emotional side of music listening".
Rockin'
The aim, from the outset, was to offer a range of upgradeable and affordable products providing great sound quality. Among the key design criteria were for unobtrusive, minimalist designs that would appeal and offer the contemporary features that music lovers might possibly want.
Both Marco and Nadia like to keep abreast of new technology. Wherever they believe improvements can be made they implement or design their own. This began with their very first product (the thumb-sized hiFace, a very low jitter 24/192 asynchronous USB S/PDIF converter), which pioneered high resolution PC audio playback for M2Tech, and continues today with their USB/RJ45 I2S/Remote app implementations as well as OEM components which they modify to suit. Currently, M2Tech is working on its own streamer/streaming platform which will add to its 'Rockstars' product line to complete the range of main system components. With a Crosby (power amplifier), Young (preamplifier) and Nash (phono stage) already in the range, I'm guessing the streamer might be a 'Stills'?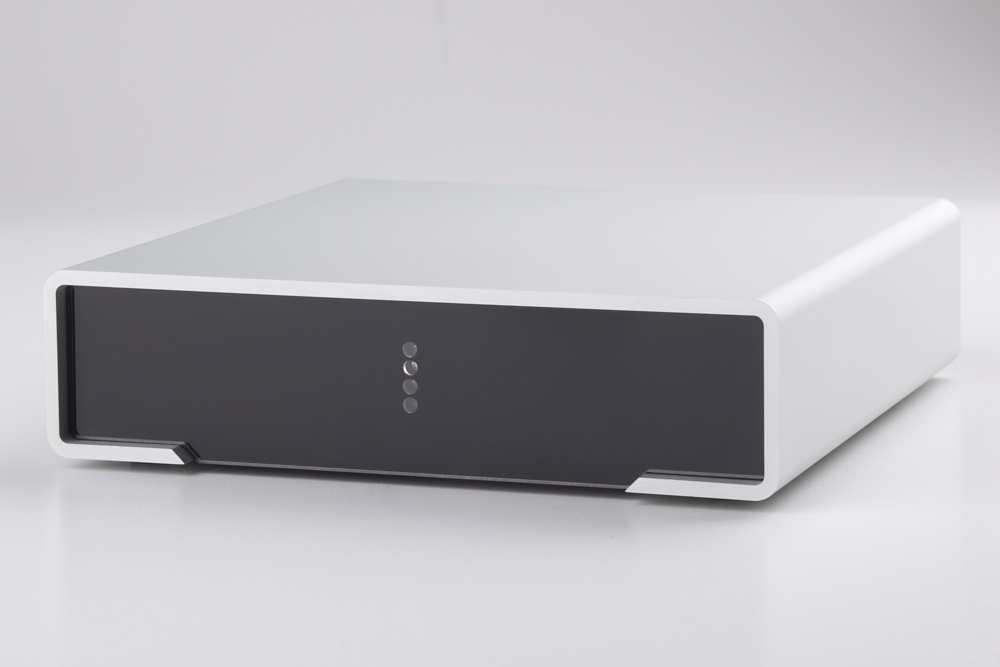 The Rockstars components' form and finish are simple and stylish but far from extravagant. The display on the Young shows the volume, the input and sample rate and this can be dimmed as required. Each component measures 200mm (W) by 200mm (D) by 50mm (H) and weighs between 2kg to 3kg and all are universal voltage capable 100-240V.
Crosby
Crosby is a compact, versatile Class-D stereo power amplifier. It delivers 60 watts per channel into 8 ohms, 180 watts in bridged mono operation into 8 ohms and a very impressive 540 watts (bridged mode) into 2 ohms! Crosby is based on the well-known ICEpower 125ASX modules. The 125ASX was chosen, after comparisons with the similar Hypex modules, due to its current delivery. M2Tech says that certain interface needs were addressed in order to obtain the best performance. First, its input impedance is strongly capacitive; it is 270 kohms at 50 Hz and it dramatically drops to 7 kohms at 20 kHz. This means that preamplifiers with high output impedance and/or long high-capacity cable runs may have a system effect in terms of the frequency response. In order to avoid this, M2Tech has added an input buffer with audio-grade op-amps with high current delivery. This way, the preamp sees a high impedance (47 kohms) over the entire frequency range. In addition, a balanced line receiver circuit has been added, giving the Crosby both balanced and single-ended inputs (the ICEpower board only has unbalanced inputs).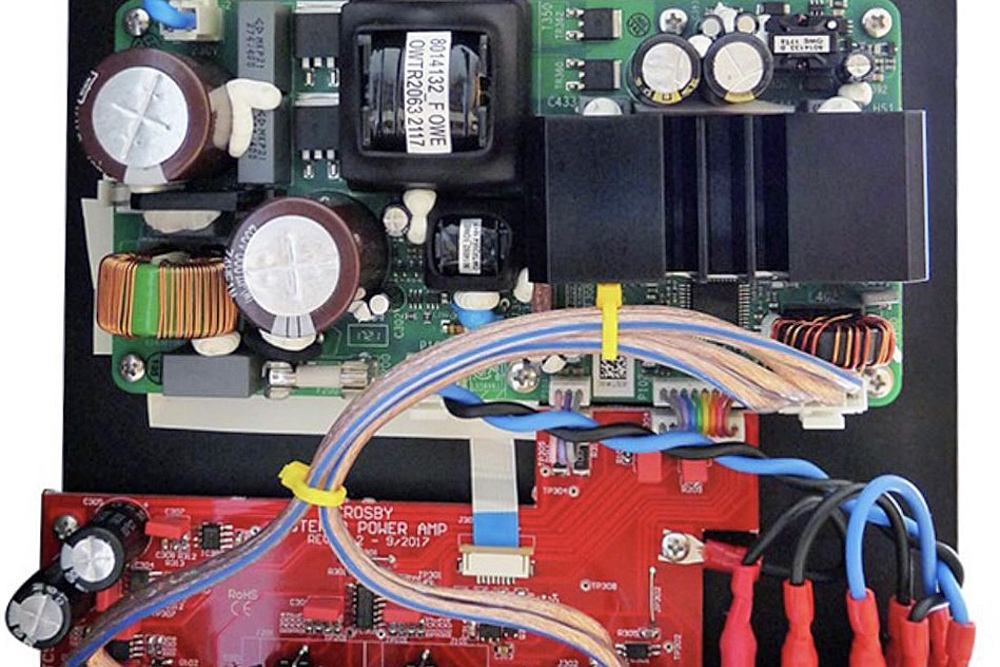 Additionally, M2Tech replaced the standard DC-decoupling capacitors with two Wima metallised polyester capacitors to provide a high current buffer which is said to improve sound quality.
Crosby is furnished with a black Plexiglas front panel featuring four LEDs which indicate (from top to bottom) an overcurrent load (red), power-on (white), standby (blue), and red at the bottom, which lights up when excessive temperatures are reached.
Young MkIV
The Young preamplifier comes as standard with a wall-wart PSU, however for optimum performance, and as supplied, it can be partnered with the matching Van der Graaf PSU (which can power up to four M2Tech components).
Young MkIV encompasses a number of improvements over the previous designs, most notably the Asahi-Kasei AK4497 conversion chip. This allows for 768 kHz PCM and DSD512 resolutions. An I2S input (PS Audio format) is now available to interface with streamers and other digital sources with I2S output. The rear panel has a full range of other connections – USB-B port, optical, S/PDIF coaxial digital and AES/EBU (MQA can now be decoded on all inputs). Analog inputs are RCA for use as a pure preamplifier to drive a power amplifier or powered speakers. Output voltages double, allowing the Young MkIV to deliver up to 10Vrms (true balanced design) and 5Vrms (single-ended).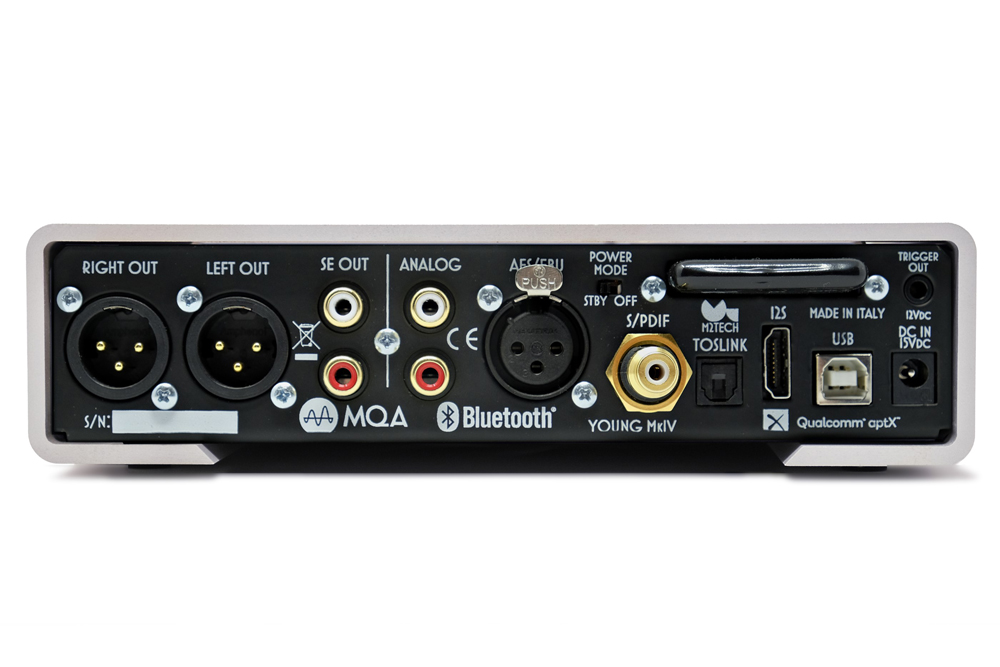 Adding versatility, a high-quality headphone output is included, driven by a Class-A/B linear amplifier, via 6.35mm headphone jack on the front panel. Also on-board is a low-energy interface Bluetooth module allowing smartphone users to take advantage of aptX-quality audio. The volume control can be individually tailored for each input allowing consistency across sources.
Van Der Graaf MkII
Van Der Graaf MkII is based on a high-quality, medical-grade AC/DC converter which is able to deliver hum-free 24 Volt bulk voltages. M2Tech chose to use this input stage instead of the usual transformer because it felt that good AC/DC delivers virtually no 50Hz or 100Hz hum, which can be a difficult anomaly to eliminate. VDG uses a number of switching regulators to provide the required voltages for other M2Tech products which are fed from discrete components to obtain these voltages.
Set Up
Being a modular system and having such a small unobtrusive footprint, the M2Tech gear may just offer the ultimate in flexibility. The Rockstars components were equally at home in my study as they were in the lounge room, proving that they'll fit anywhere and that great sound doesn't have to occupy great space.
Connectivity-wise the Young MkIV pre-amp and Crosby power amps come equipped for both balanced and single-ended use. I tried both balanced connections with my Kimber Cable Timbre XLR interconnects and single ended via Van den Hul D300 RCA interconnects. With components so easily manoeuvrable plugging in and unplugging was easy-as.
Controlling the system is achieved using the supplied multi-device remote control which can control any component in the Rockstars series. M2Tech also provides a smartphone app (iOS and Android) for the Young MkIV which I duly installed on my iPhone 11 and I was up and running in no time. The app interface is pretty slick, it allows full control of every aspect of the system as well as a link to the owners-manual which is very detailed.
Getting going with Bluetooth was also super-easy. I switched the input to BT and in the Bluetooth settings on my iPhone the Young MkIV appeared. I entered 0000 as the PIN and presto! I was listening to the Chick Corea Acoustic Band via my Qobuz app.
The Listening
If you've never laid eyes on the Rockstars gear, you'd almost certainly think it's far bigger than what it is. In fact, my regular Saturday afternoon drinkies peeps were gob-smacked when they realised the afternoon's 'Ku de Ta' style tunes were being dished out by the diminutive quartet of Crosbys, Young and Van der Graaf.
Beyond the initial impressiveness, more critical listening reveals the true character of the equipment. The modified ICE Class-D amplifier sounded lively and definitely on the warmer end of the spectrum. Dynamics were seemingly free from any obvious compression across a range of different musical genres and there was power-a-plenty.
Aaron Neville's "Everybody Plays the Fool" may have lacked the ultimate weight in the bottom end that I'm used to but the image presented was spacious and airy. The percussion and cymbals close to pristine.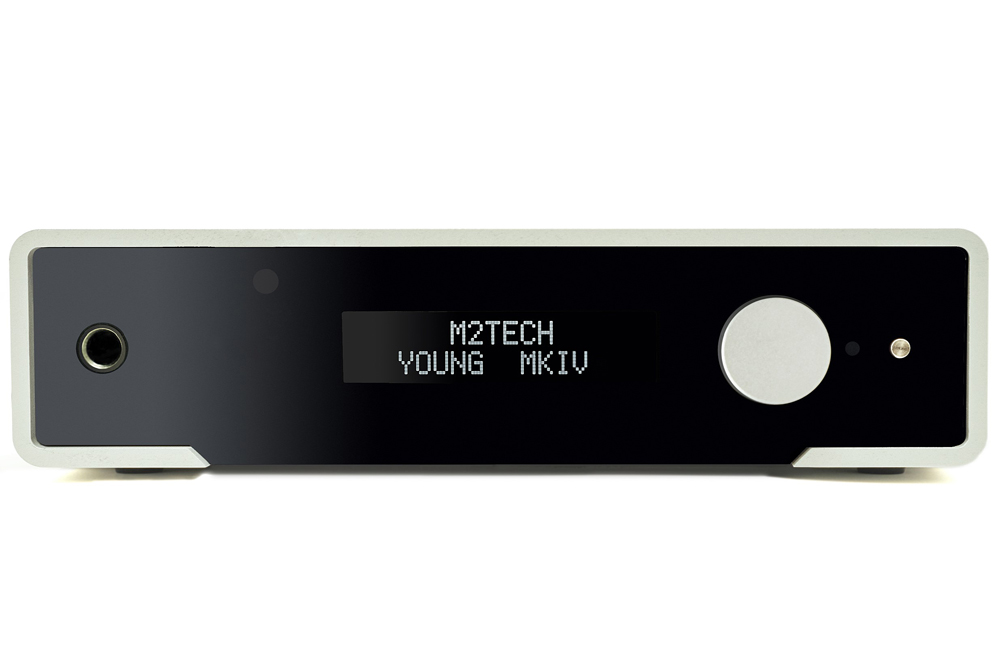 Feeling confident with the M2Tech's capabilities I wanted to try something with some speed and attack. I settled on Michael Hedges, a long-time favourite of mine. Hedges, with his unique style which he refers to as "violent acoustic", was classically trained, deeply innovative and a true master of his craft. I listened to several tracks including "Ignition" from his Oracle album, the title track and "Rickover's Dream" from his Aerial Boundaries album. The close-miked picking was simultaneously dynamic and atmospheric and begs to be played at a realistic level. The M2Tech delivered a solid and satisfying rendition with Hedges' dexterity and precision almost startling in places. The fiercely-struck chords having weight and power. Awesome stuff.
After Hedges, Aussie guitarist Tash Sultana's second album Terra Firma was up and wow! Not only is this musically a super-cool album flavoured with R&B, jazz and a splash of Hip-Hop, but sonically the M2Tech really seemed to gel with it. The M2Tech stack was able to tease out the details. As with Hedges, the guitar was precise and sweet, the keyboards leaning toward ethereal and the bass was phat – creating an altogether lush groove.
I stumbled across Roisin Murphy's Crooked Machines album late one evening courtesy of Roon radio and was quickly seduced by the badass basslines that comprised much of the eventual 95dB level which was raised in my listening lounge (I'm pretty sure the neighbours never heard a thing). Hardly audiophile material I admit, but still an aural treat after a hard day in the office and reminiscent of a lazy afternoon unwinding at an Abu Dhabi beach club, and testament to the ability of the M2Tech stack to operate unfettered when the mood calls for loud deep and steady.
If you've been searching for a great recording of piano, try Jon Batiste's album Hollywood Africans (streamed at 24/96). The piano was full-bodied, resonant at the lower octaves and dynamic! In places you could feel the hammers striking the strings. Jon's Vocals were full-bodied and warm. Through the M2Tech stack, the soundstage was clean and uncluttered if not quite as airy and unrestrained as I've heard. Nonetheless highly enjoyable.
Simone Kopmajer's "How Deep is Your Love" from her album Nothing's Gonna Change was delightful. Vocals were full and intimate with almost tube-like warmth. Not what I expected at all through a Class-D amp.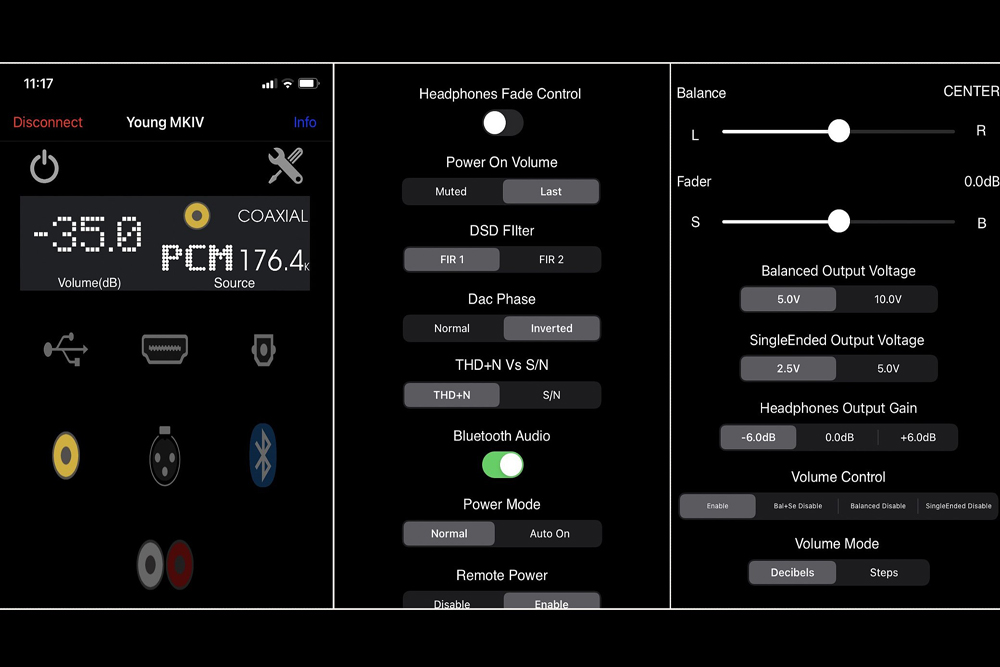 A collage of sample set-up screens on the M2Tech app
Time for some Lorde from her new album Solar Power. Here, the title track was warm and inviting – almost drawing you into the mix. This is definitely not a cold or dark sounding digital amp. It has a life of its own. A few years ago, it was rumoured that Bruno Putzey's latest Hypex amp had set the benchmark for digital amplifiers, however, the recent M2Tech implementation could challenge that. In places the mix was almost enveloping, complete with width and height and with enough power to be at ease with whatever volume level I employed.
Speaking of volume and music that begs for it… AC/DC was super enjoyable. The smooth-sounding stack really working nicely without compromising the raw vocal energy. I suspect part of the strength lies in the system synergy the DAC in the Young very much complimenting the smooth sounding Crosby amplifiers.
I always like to include a little of the classical genre, since it's one that I particularly enjoy live and provides a solid benchmark for audio assessment. The 18-minute allegro in Concerto for Piano, Violin, Violoncello and Orchestra in C major ("Triple Concerto") Op. 56. (Performed on October 2019 Berlin Philharmonic) with Anne-Sophie Mutter, Yo-Yo Ma, Daniel Barenboim, West-Eastern, was captivating. Again, I was caught by surprise; I didn't expect the M2Tech stack to offer up a such an enthralling performance. The strings didn't quite have the attack or harmonic precision (as I've heard on my system at its best) but you could be made to believe they were real and in front of you, the spatial placement and the sizing of the instruments within the soundstage was impressive. The piano had a life-like 3-dimensional body and powerful resonance particularly on the lower notes, slightly softer than I've heard before, but this is not necessarily a bad thing. I found that made for a very relaxed and unassuming rather than analytical performance. It's definitely a level of performance you can enjoy.
The choir was fabulous, individual voices and the spaces between singers could be clearly discerned despite sounding well behind the orchestra, The M2Tech provided a decent amount of depth to the soundstage and also impressive was the system's ability to keep pace with rolling strikes on the tympani affording healthy definition and minimising any blending of the individual strikes.
Shifting gears, I decided to amp things up a bit with a few tracks from the Black Keys' latest album Delta Kream. The opening track "Crawling Kingsnake" (a John Lee Hooker and Big Joe WiIliams' classic) begins with a hearty thump from Patrick Carney's kick drum after which a laid back, somewhat seedy rhythm follows which is progressively laced with some fabulous laid-back blues licks from front man Dan Auerbach. After enjoying this and the follow up track "Louise" I had to back-up and listen again this time with my audiophile ears engaged (sometimes you just get caught up in the enjoyment of the music). The M2Tech has a surprisingly hefty bottom end. As with the classical works the M2Tech signature seems to be a relatively smooth one. It's a somewhat laid back sort of sound. Any aggression is that of the musicians not the gear itself (a trait which I like).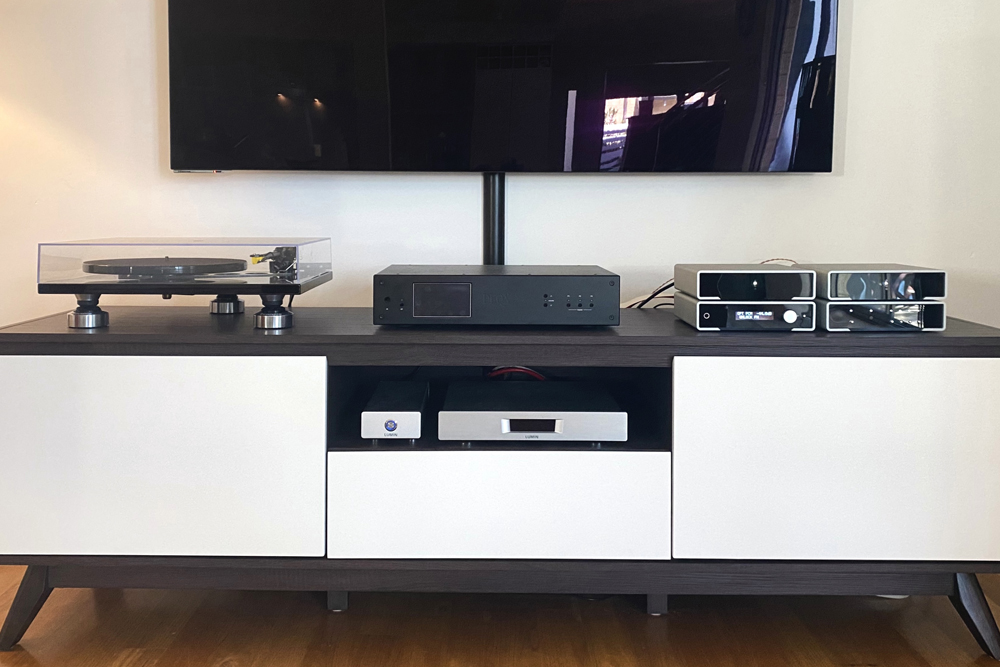 While lamenting the loss of one of rock's great drummers earlier this month I decided to search for a couple of tunes that exemplify Charlie Watts' skills and artistry. On the album Goats Head Soup (2020 Deluxe) I found a live version of "Street Fighting Man" from the 'Stones concert in the Forest Arena, Brussels. The M2Tech gear conjured the energy of the performance and of the crowd. There's a lot going on in this piece, despite the clash of guitars and bass and the increasing tempo toward the end of the track Watts' precision and timing really was astonishing and quite easy to follow proving that the M2Tech combo can hold things together when things get a little gnarly.
Conclusion
Day to day living with the M2Tech was pretty darn easy. The sound is well balanced and 'correct', there was no discernible voicing to compensate for any miss-steps. Background noise was very well controlled. There was no discernible intrusion, leaving the dynamics intact. Overall, it's a very smooth sounding and quite a revealing system.
The guys from M2Tech's Australia and New Zealand distributor Critical Sound Information were more than generous, allowing me to have the gear for an extended period of time which helped me become familiar with the petite quartet and what it had to offer. Over that time, the components brought a sense of respect and dependability. While the gear was in-situ, I never really felt myself longing for more but rather was regularly surprised by what it could deliver. And I've been lucky enough to have some pretty decent gear join my system in the last couple of years so the benchmark has been set quite high!
Design-wise M2Tech uses a time-honoured approach in terms of component selection, synergy and use of dedicated power supplies to reduce the noise floor. It's an approach that works. It's the sort of gear that you only realise what you're may be missing when you compare it to something far more expensive.
If you're beginning the audiophile journey or pressed for space or budget, I can heartily recommend this little 4-pack stack… It won't disappoint!
… Barry Jones
Associated Equipment:
Speakers — Sonus faber Amati Homage
Amplifier — Perreaux e250i 40th Anniversary Edition integrated amplifier
Sources — Digital: Lumin T1, Oppo BDP-105D Analogue: Rega RP6 turntable, Rega Exact-2 cartridge, Rega Aria phono stage & Rega Couple interconnects
Processor — DEQX HDP-5
DAC/Headphone Amplifier — Chord Mojo DAC
Headphones — AudioQuest Nighthawk
Cables — Nordost White Lightning, Kimber Cable Timbre balanced and Van den Hul D-300III unbalanced interconnects, Atlas Compass Digital Coaxial Audio Cable, QED Performance Graphite USB
Miscellaneous — Isotek Sirius Power Conditioner, 8 x Auralex SA8600 bass traps in front wall corners, 12 x Sound Acoustics MP700-40 ceiling acoustic panels
M2Tech Rockstars Series System
Price: Young MkIV AU$4595, Crosby AU$2450, Van Der Graaf AU$1695
Warranty: Two Years
Australian Distributor: Critical Sound Information
+64 6 873 3350
www.criticalsound.co.nz
M2Tech Srl
Via Emilia, 323/C
56121 Pisa (PI)
Italy
+39 050 098 4056
www.m2tech.biz