Across its entire product spectrum, Chord Electronics offers distinctively-styled components endowed with intelligent engineering solutions. For the embodiment of creative industrial design, check out the distinctive heavy metal Sci-Fi aesthetic of the company's most ambitious 'Ultima' line. Right down to the entry-point portable audio players, like the super-successful and overachieving Mojo, the ideology carries through to beautifully made devices which are unmistakably… Chord. However, the daring 'hey you, look at me!' styling and colour-bubble functionality is always simpatico with innovative, inspired proprietary engineering. Now, Chord's continuum expands with a product duo which is, literally, hand-in-hand '2go' about bringing digital tunes '2yu'.
Cute Couple
The 2go and 2yu are diminutive components which link to each other via a dual connector system. Paired, they form a seamless 'single' component about the size of Chord's own Hugo M Scaler (indeed, the 2yu portion of the combo can operate in conjunction with the M Scaler prior to connection to your DAC).
Let's follow the signal path and start with the 2go, a diminutive server/streamer with in-device storage capabilities via twin microSD slots, each with a capacity of up to 2TB (SDXC type). Be prepared, microSD cards of 512GB and upwards start getting quite expensive. However, you could have a set of much more affordable, say, 128GB cards and split them into music genres, etc. Or just go all-out… you only live once.
Web access is provided via both Wi-Fi and plug 'n play gigabit Ethernet (RJ45). In addition, 2go can act as its own network via the Wi-Fi Hotspot feature which also allows browser-based device setup. Alongside the Ethernet socket there's a small button with a tiny associated multi-coloured LED (LED's colour will provide status information) which can be used to configure the device. Once hooked-up to your network, the 2go can be setup with Chord's bespoke, and aptly-named, GoFigure app (iOS and Android) which offers a number of setup options and worked perfectly aside from being a tad slow to re-boot after being inactive for some time. Via GoFigure, the 2go seamlessly configured itself to my network (on the second attempt), it swiftly found my Roon Core and was, umm… good to go.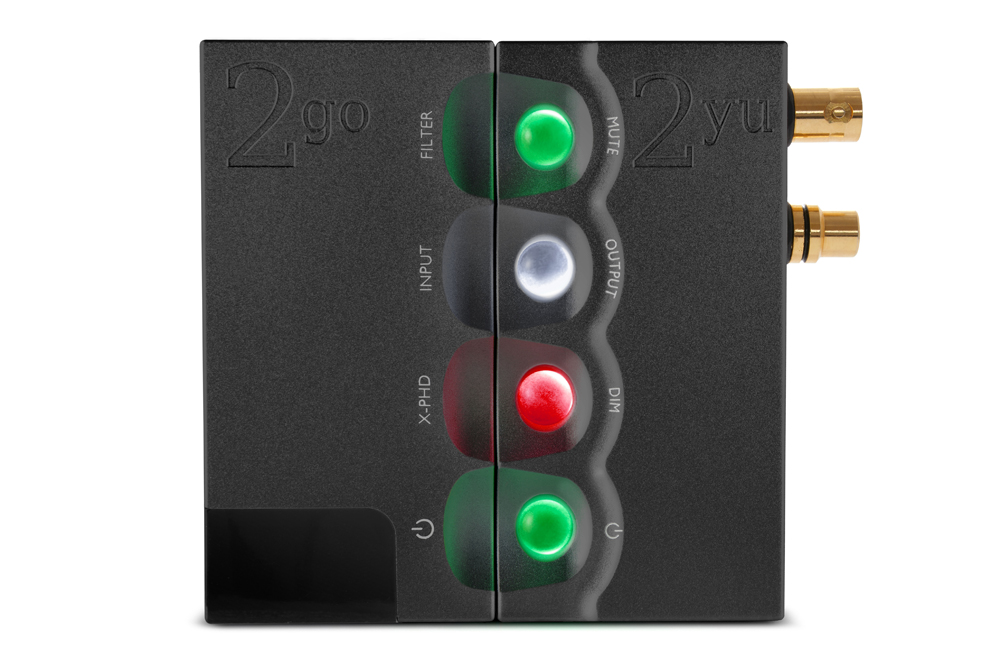 On the side which features the microSD slots you'll find a micro USB port for the provided wall wart power supply. The 2go also houses a built-in battery (with status LED) for AC-free operation. As far as coupling the two components, two micro USB-style male plugs couple the 2go to the corresponding female sockets on the 2yu. Locking connector 'pins' secure the components to each other. Most of one side of the unit is covered in a semi-transparent black plastic window which hides the Wi-Fi and Bluetooth antennae. The 2go also supports Airplay for iOS devices. Bluetooth is available for wireless streaming (v4.1 A2DP, no aptX). The 2go is Roon Ready and will allow you to stream Tidal, Qobuz, Spotify and the wide, wide world of internet radio.
A cool design touch was the row of semi-spherical detents on the 2go's upper side where it couples to 2yu. The detents are machined to match with their corresponding Chord-trademark 'polychromatic' spheres which are programmed to provide functional information. For both the 2go and 2yu, Chord provides all the necessary accessories including worldwide AC adaptors, USB and Ethernet cables and more.
While 2go provides the data, whether streaming or as a server, its mate the 2yu interfaces with your digital-to-analogue converter (or Chord's Hugo M Scaler prior to the DAC), the combo acting as a network bridge. To that end, the 2yu features USB Type-A and Toslink optical outputs and S/PDIF coaxial connectivity via RCA and BNC.
Of course, Chord has an enviable level of expertise in digital engineering via the dynamic duo of Founder and Chief Designer John Franks and digital guru/consultant Rob Watts. As a result, the 2yu features a low jitter digital circuit, a high power processor capable of 2000 MIPS (million instructions per second) while also integrating a sample rate converter. On that last conversion feature, the 2yu is compatible with resolutions spanning from 44.1 kHz to 768 kHz PCM and DSD256 for its USB output while the coaxial BNC and RCA S/PDIF options offer 44.1 kHz to 384 kHz PCM and DSD64. As far as audiophiles, the less-used Toslink optical handles 44.1 kHz to 192 kHz and DSD64. 'Bit Perfect' playback can also be selected via 2go/GoFigure.
Universally when it comes to Chord's products, build quality is excellent and both 2go and 2yu are machined from a solid piece of aircraft-grade aluminium which is then finished to high standards of surface smoothness (and both are available in silver or black). Considering they are small components, both 2go and 2yu have a real solid feel.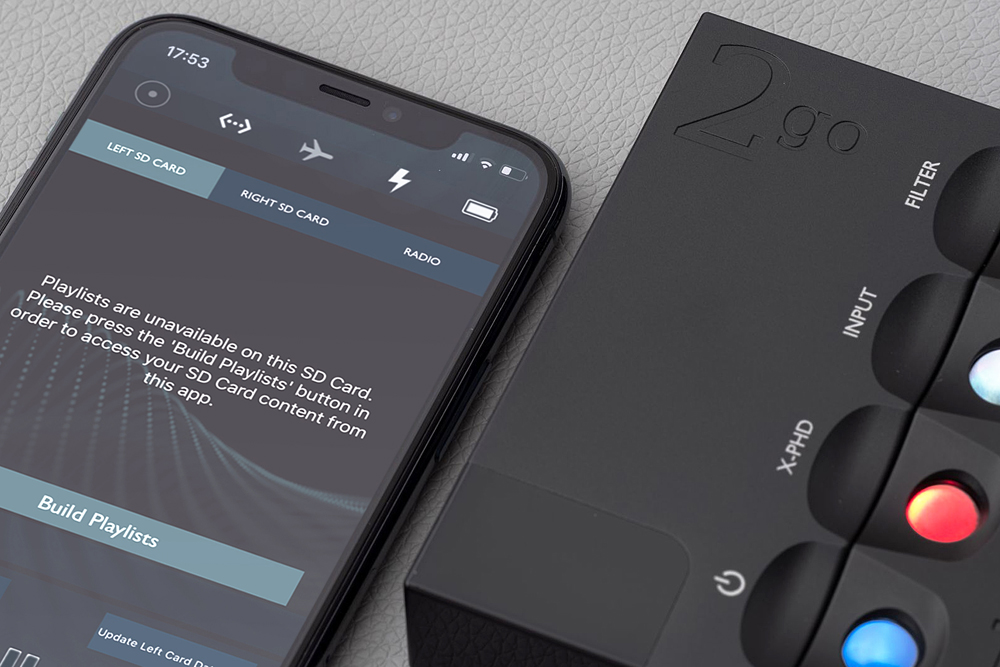 Worth mentioning that after a short glitch with the GoFigure app and its communication with 2go/2yu within the context of my system, the pair worked perfectly going forward. Useful is the voice-assisted set-up wizard which, delightfully, works via your system's loudspeakers. My Roon core was found immediately and I was playing tunes within a few minutes. The output 'sphere' toggles between the various connectivity modes and lights-up whitish for USB and yellow for all other output options (all outputs work simultaneously). Further spheres/buttons provide signal 'Mute', an LED dimming function and power on/off.
Major Chords
I fed the 2yu into my reference Totaldac d1-direct's inputs, trying at different times both the USB and S/PDIF options. Playing a few initial tracks revealed a 'house sound' I typically associate with Chord electronics. That is, there's always a clarity, detail, resolution and neutrality signature which suits revealing accompanying electronics and loudspeakers. It's also a big sound and, if you were to conceal the diminutive components out of plain sight, any listener would associate the sound quality with a big, heavy, multiple-power-supplied, full-sized streamer/server.
Firstly, I spun tunes via Roon. I enjoyed the way the 'two twos' presented detail and separation in chamber music and Jazz ensembles. The WAV 24-bit/96kHz file of Fiona Hawkins' beautifully produced and mastered Heavenly Voices sounded spacious and tonally correct while showcasing tremendous detail across the piano's entire keyboard. Also impressive was the transient speed of the higher piano notes and their associated decay.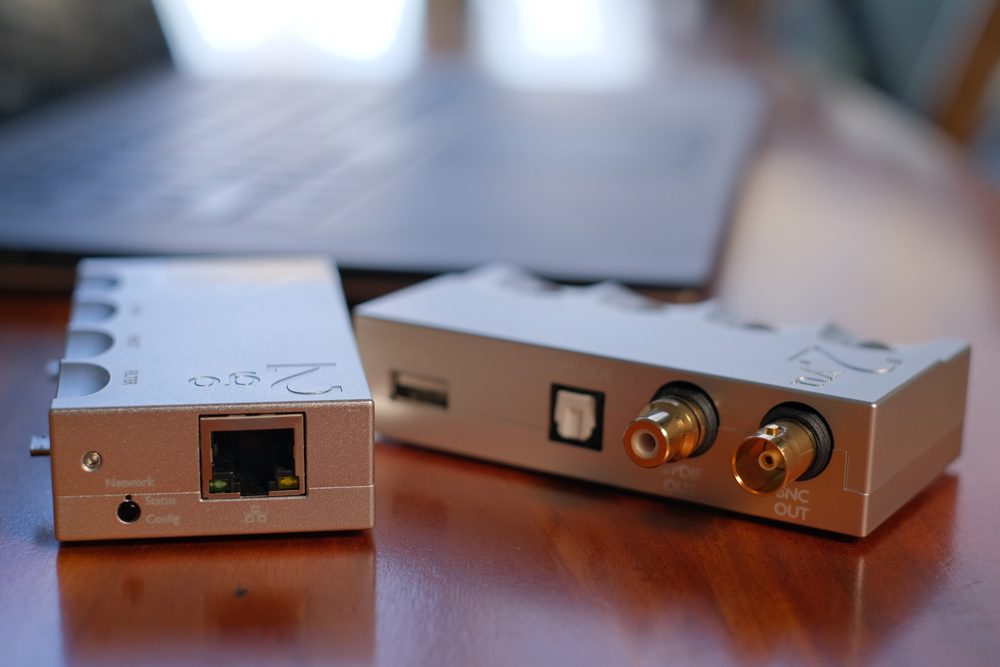 There was a good sense of space and venue ambience on the absolutely stunningly-captured Choral Music, a grouping of Edvard Grieg's vocal compositions by the Norwegian Grex Vocalis ensemble, which sounded big, wide and super-atmospheric. The ensemble's grouped voices had individual separation but not to the point of dissecting the music into a dilution of lifeless analysis.
With less subtle material, the entrancing fuzzed guitar wanderings of My Sleeping Karma's "ahimsa" from the band's Hinduism-influenced album Satya sounded true. The 2go/2yu team lives-up to the Sanskrit meaning of the track by not harming or affecting negatively the flow, rhythm and haunting emotiveness. There's sharp attack to snares and toms while the almost hypnotising guitar riff flows and undulates like a relentless tide.
Marian Hill's Sway featured all the bass depth you will ever need – or want. The aptly-titled track "Deep" was a pyrotechnic display of massive low-frequency pulses and an almost-surround-sound spectacle. All these immense amounts of complex musical data played with clarity and without confusing nor overpowering Hill's delicate vocals. There's a section in the track where the music almost stops and Hill's vocals wash over the listening position spreading above and across. The track's enjoyable artifact is commonly recreated by all great gear and the 2go/2yu played this as good as any. While I've experienced larger dynamic swings across the low-end from my own more expensive server/streamer, the 2go/2yu was close, maybe 90 percent of the way. Importantly, the power contrasts through the all-important midrange had both products on par, a great testament to the 2go/2yu at its price point.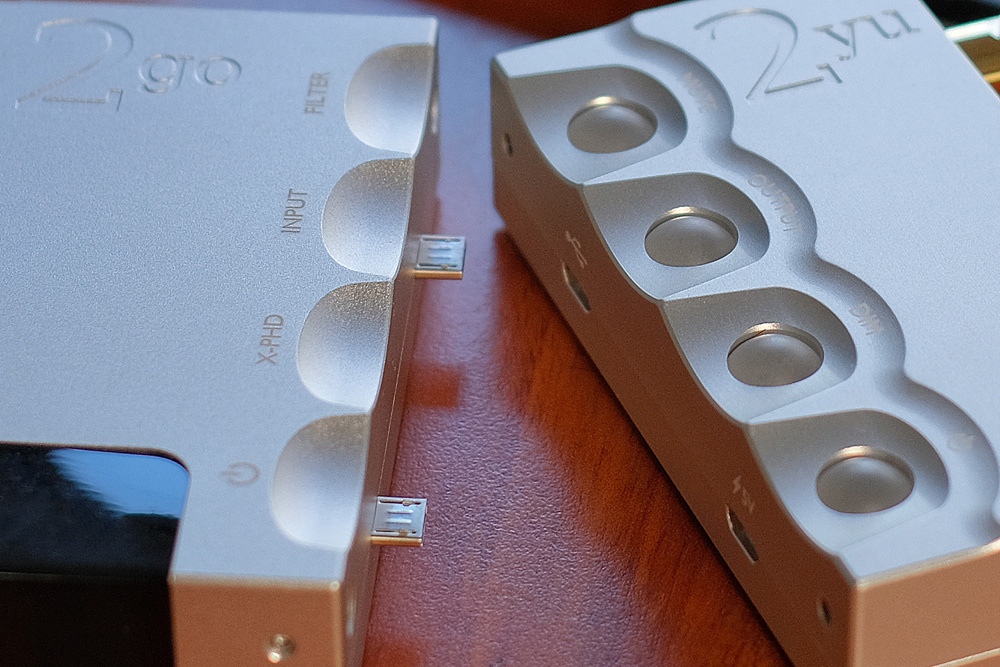 Other qualities I got to appreciate while 2go and 2yu were in-situ were the units' handling and elimination of sibilance and 'etch' and their way with overall openness. It's a smooth-sounding combo which manages to tame any brightness in recordings (the rest of the system permitting) while maintaining superb levels of detail.
I whacked just a few tracks onto a low-capacity microSD card, just enough to get a handle on this alternative playback method. Not that long ago, several digital specialist companies claimed music file playback via a solid-state 'flash memory' card solution presented true performance advantages. Sure enough, I found the sound via the microSD slots to have a very appealing purity, however, this playback option has a much lower gain/output signal. My Totaldac d1-direct DAC is a half-gain device (it outputs signal directly from the ladder network at 1.6 Vrms), so I had to run my system at full levels in order to get appropriate evaluative volume. In 95% of systems, with double the output voltage, this will not be an issue. Just a heads-up.
Ani DiFranco's Living in Clip is a collection of tracks showcasing some of the artist's best song writing. It's also a very immediate recording, if not audiophile level. Having said that, via the microSD card, the recording's directness was maintained and DiFranco's centre-stage presence was locked-in with a vivid and realistically-sized image. Equally, the large soundstage this recording can produce was not diminished nor its images confused or unfocused. There was great punch and tightness to the drumming, both in terms of the higher range across the snare and the lower frequencies through the toms and kick drums, while DiFranco's often aggressively-strummed guitar played with snappy attack.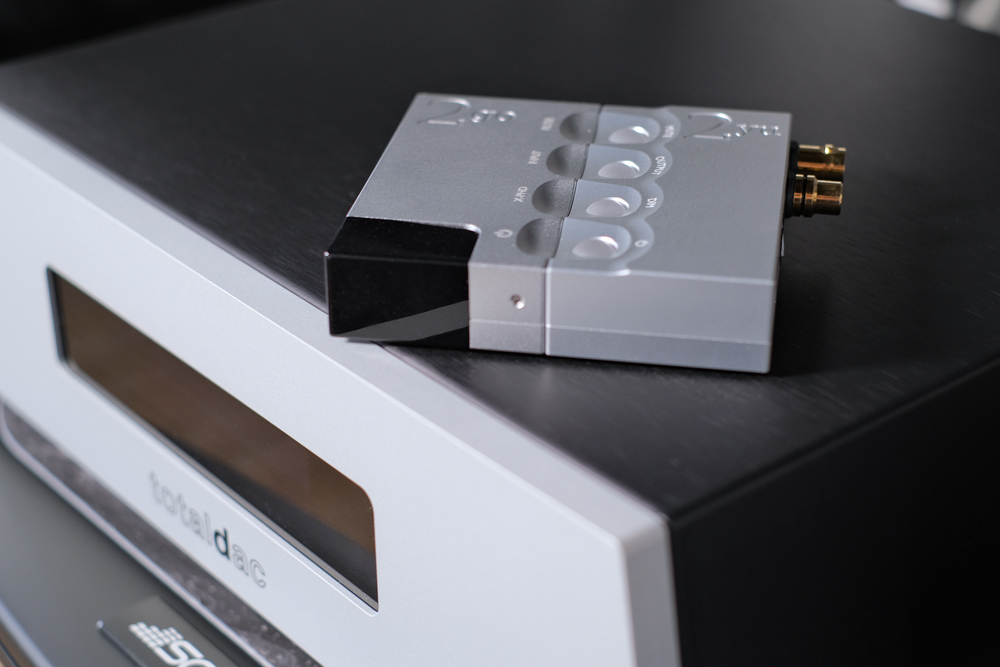 That rhythmic quality via the microSD card showed "Take Five" from Dave Brubeck's classic Time Out to project good tightness to Joe Morello's drum solo across the snare, toms and kick drums. Brubeck's piano's timbre, decay and resonance were well rendered, with the same qualities maintained across Paul Desmond's alto saxophone which never sounded aggressive… it was just fluid.
Conclusion
As the availability of high-resolution music increases – as is the uptake of streaming services – products which serve and stream files/content and provide the interface data to the downstream DAC are become increasingly important and prevalent. In fact, the DAC is becoming a digital hub for streaming hardware, CD transports and even digital radio. And in a holistic context, devices like the 2go and 2yu can even be enjoyed alongside their analogue nemesis in the turntable. Reel-to-reel anyone? Those are the real powers of a modern, evolved audio system.
Coupled as a seamless single unit, the 2go and 2yu form a beautifully-built component which will open the door to streaming an endless universe of music. The duo also offers convenience features, wireless playback options, multi-format and high-resolution capabilities and more. That it handles the digital stream so competently while potentially sounding as good as top-notch server/streamers, is no surprise given its pedigree. Digital innovation and technology… yes, Chord knows a thing or two about those things. Highly recommended.
… Edgar Kramer
This email address is being protected from spambots. You need JavaScript enabled to view it.
Associated Equipment
Speakers — Wilson Audio Alexia Series 2, Axis Loudspeakers VoiceBox S (nearfield monitor), Vermouth Audio Little Luccas Mk.II
Amplifier — Gryphon Audio Antileon EVO
Preamplifier — Supratek Cortese, Lightspeed Attenuator LDR passive
Sources — Digital:432EVO High-End Music Server Roon Core, Yamaha CD-S2100 transport, Totaldac d1-direct DAC. Analogue: Transrotor Crescendo with Konstant Studio controller, Reed 1X Tonearm with upgraded internal wiring, Shelter Harmony cartridge, The Funk Firm Houdini cartridge decoupler, Supratek Cortese & REDGUM Audio RGPH2 phono stages
Processor — DEQX PreMate
Audio Rack — SGR Audio Statement Model V
Acoustic Treatment — Vicoustic Multifuser Wood, Wavewood Ultra, Cinema Round Premium and Super Bass Extreme
Miscellaneous — GigaWatt PF-1 EVO, Les Davis Audio Viscoelastic CLD discs, VRC Vinyl Record Cleaning systemplus miscellaneous accessories
Chord Electronics 2go Streamer/Server & 2yu DAC Interface
Price: 2go AU$2000, 2yu AU$1000
Warranty: Three Years
Australian Distributor: Radiance Audio Visual
+61 (0) 2 9659 1117
www.radianceav.com.au
Chord Electronics
The Pumphouse
Riverside Park, East Farleigh
Maidstone ME16 9NB
United Kingdom
+44 1622 721444
www.chordelectronics.co.uk