By way of an intro, do I need to say more other than to state this? JBL. Three letters that are synonymous with music playback since mid-last century (1946 to be exact). Both at consumer and Pro audio levels in the studio and the performance venue. While the company offers highly regarded entry-level loudspeakers, it's the high-end 'K' and 'Studio Monitor' models which feature dollops of the real-good-stuff. Like JBL's colossal development budgets. Like the exceptional transducer technologies created at Harman International's advanced Northridge, California R&D facility. Yes, those resources are the envy of the industry. In the 4349 Studio Monitor, JBL yet again shows off its engineering chops with the latest horn-loaded compression tweeter and 300mm bass driver in a classic 2-way design with enormous promise. And lots to live up to. Let's bring it into our very own auditioning studio…
Like a Pro
Despite not having reviewed a JBL speaker before, I'm intimately familiar with the classic 2-way configuration of the 4349 Studio Monitor. A long, long time ago in a universe since expanded by almost infinite stars, I ran a Pro audio company. Reviewing the 4349 seems like… a time loop. Back then at the Pro audio business I held in stock dozens of clone 4349s. From both JBL and almost identical me too brands. Yes, many examples of horn-loaded compression driver tweeters and paper-based 12- and 15-inchers made their way through my business' inventory. Attack of the Clones. Some very good, some… not so much. The very best only approached the performance, the sheer driver quality, reliability and indestructibility of JBLs.
In addition, I vividly recall music get-togethers at a friend's where I thoroughly enjoyed his, at the time, collectables system crowned by the truly majestic JBL 4350. Man, those fridge-on-its-side speakers could scale and kick. Again, a blue-baffled larger scale Studio Monitor predecessor to the 4349 employing dual 15-inch bass drivers, a 12-inch midrange and a compression slot tweeter. It was a glorious ensemble teaming the 4350s with the highly-coveted Marantz MA-24 Class-A monoblocks and, alternatively, with the almost rare as hen's teeth Harman Kardon Citation X1 preamp/power amplifier combo. Dayum…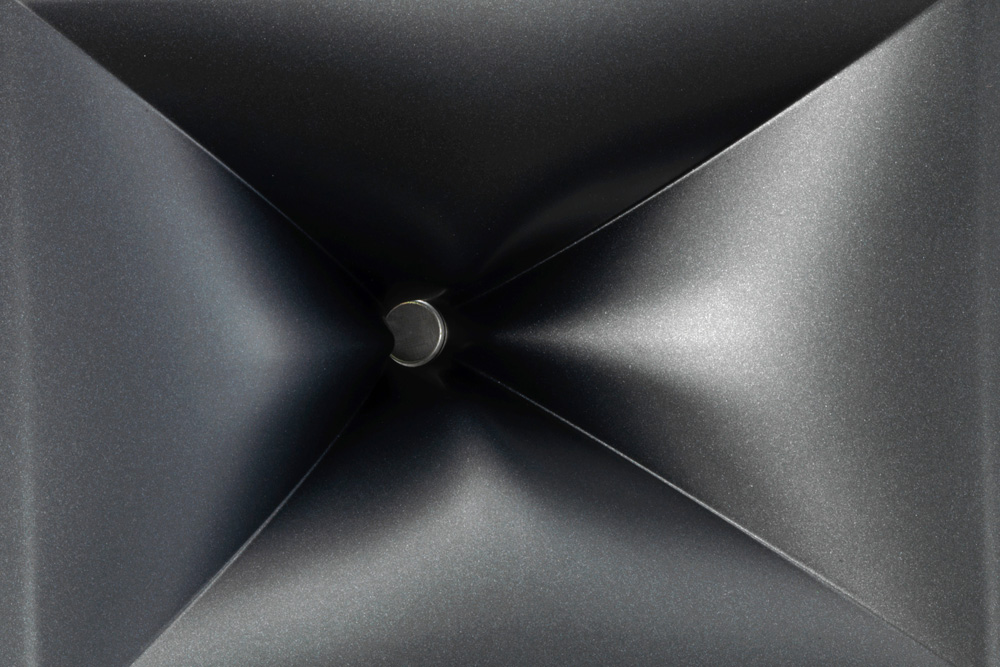 As far as horn-loaded compression tweeter configurations go, some enthusiasts still hold on to stereotypical generalisations. I say generalisations because it's more of a collective impression which has become, fairly or unfairly, a prevalent edict in some circles. Simplistically summarising the concept: some audiophiles believe these types of horn-loaded designs suffer from a cupped-hand colouration, a somewhat forward and etched high frequency delivery and a lack of coherence in terms of blending with the bass driver. These are, of course, critical aspects of accurate music reproduction and I'm in agreeance, to a certain extent, in that when it comes to lesser, more primitive designs those shortcomings may indeed exist.
The other side of the coin is more revealing of actuality in an intelligently-engineered product. For starters, the cupped-hand colouration is very dependent on the radiation pattern and overall design profile of the horn flare or waveguide. JBL is the most experienced company in the world when it comes to this particular aspect of design (Klipsch could be said to have similar expertise here but it's a full decade younger and has been far less prolific).
Secondly, the etched, bright sound criticism. This is dependent on the flare profile once again but, in addition, the engineering behind the compression driver and the crossover design play a major role here. Even the acoustic relationships between tweeter and cone driver, if not corrected in the crossover, can introduce some brightness. Or, due to horn-loaded compression drivers' inherently revealing nature and excellent detail retrieval, examine the upstream electronics' contribution. It's worth mentioning here that the inherent efficiency of horn-loaded drivers reduces their distortion (all things being equal) therefore potentially actually reducing harshness/brightness.
Lastly, coherence is said to suffer at the hands of these types of transducer adaptations. This aspect is very dependent on the blending of the crossover design and, on a more practical level as far as the end user is concerned, on listener distance from the loudspeaker plane. Sit too close and yes, the soundfield may sound disjointed exhibited by a predominant high frequency imbalance. But a horn-loaded driver projects sound somewhat more virulently and with potentially more controlled directivity than a dome tweeter, for example, therefore necessitating a good distance between transducer and listener position before a truly coherent soundfield can develop. Try it, you'll see… or rather, hear.
Conversely, horn-loaded designs excel in critically important aspects of sound reproduction. Dynamic contrast can be more realistically presented due, as stated above, to compression drivers featuring higher efficiency both inherently and via the horn flare's influence. Ditto for enhanced clarity of low level nuance, sharper unhindered transient attack and superb detail presentation.
So, you see, like all loudspeaker designs, achieving accurate and satisfying overall performance presents designers with a whole set of parameters and priorities which need extensive individual analysis. Engineers must weigh-up the inevitable compromises and make intelligent design judgements. These boxes would seem to have been ticked in the 4349's design mandate.
Voice on the Screen
You may have seen a short intro video on YouTube I posted a few weeks ago. If so, you now have a basic overview of the 4349 and a brief first-hand experience outline as a teaser to this full review.
However, let's cover the 4349's basic design highlights a little more in-depth. For starters, we have the aforementioned compression driver. JBL has adopted its D2415K dual 38mm (1.5-inch) compression driver which the company has patented because of its unique inherent features. The driver consists of dual V-shaped annular 'Teonex' (polyethylene-naphthalate) polymer diaphragms, a thin high strength film resin said to be extremely lightweight allowing fast transient attack and extended high frequency coverage. The D2415K also features dual voice coils and dual motor systems.
JBL engineers have mated the compression driver to a High-Definition Imaging (HDI) 'Sonoglass' horn flare with a specific inner-curve profile aimed at optimising dispersion, projection and overall coherence. JBL quotes a horn flare coverage of 80 degrees horizontal and 70 degrees vertical within -6dB at 20kHz.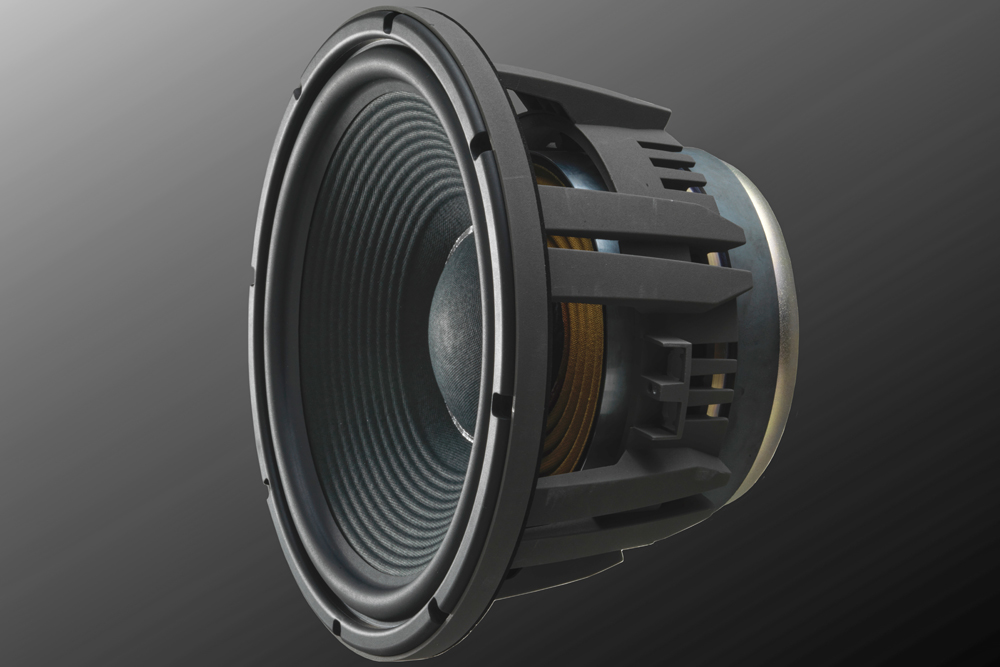 Low frequencies are handled by a new JBL 300mm (12-inch), cast-frame Pure-pulp cone woofer featuring a large 75mm (3-inch) voice coil in a long-throw configuration centred with dual "opposing spider dampers". The voice coil features CCAW (Copper-Clad Aluminium Wire) windings. Being paper-pulp, the cone is lightweight yet fairly stiff, allowing good bass output and reactive transient response. The 300mm bass driver sits on a wide baffle in JBL's classic blue, a theme carried across most of the company's high-end Studio Monitor series. Low frequency loading is provided via twin reflex ports located towards the bottom corners of the front baffle. The ports are flared to reduce turbulent 'chuffing'.
A narrow control panel positioned on the baffle between the woofer and the horn flare offers two trim pots allowing a modicum of high frequency tuning. These are High-Frequency and Ultra-High-Frequency "tonal adjusters", as JBL calls them, with detents in 0.5dB increments up to +/-1dB for each control. Frequency bands are from 1.5kHz to 6kHz for the High-Frequency trim and from "5kHz on up" for the Ultra-High-Frequency trim pot. The crossover point between drivers is stated as 1.5kHz so the trims work exactly from that point upwards to encompass the entire high frequency band. Said crossover employs multiple smaller capacitors in parallel in lieu of fewer larger ones in order to reduce distortion and ESR (Electro-Static Resistance).
The 4349 Studio Monitor's cabinet form is along the line of classic designs, meaning it presents a wide front face and a shorter stance with a shallower perspective when compared to contemporary designs. The well-braced cabinet is solid-to-the-knock and is available in Walnut or Black Walnut furniture-grade satin wood veneers. The enclosure's moderate height demands a degree of augmentation for which JBL offers the JS-120 stand as an added option. Alternatively, JBL's Australian distributor Convoy International offers a locally-made cost-effective version which raises the speakers while angling them so that the tweeter is aimed at an average listening height.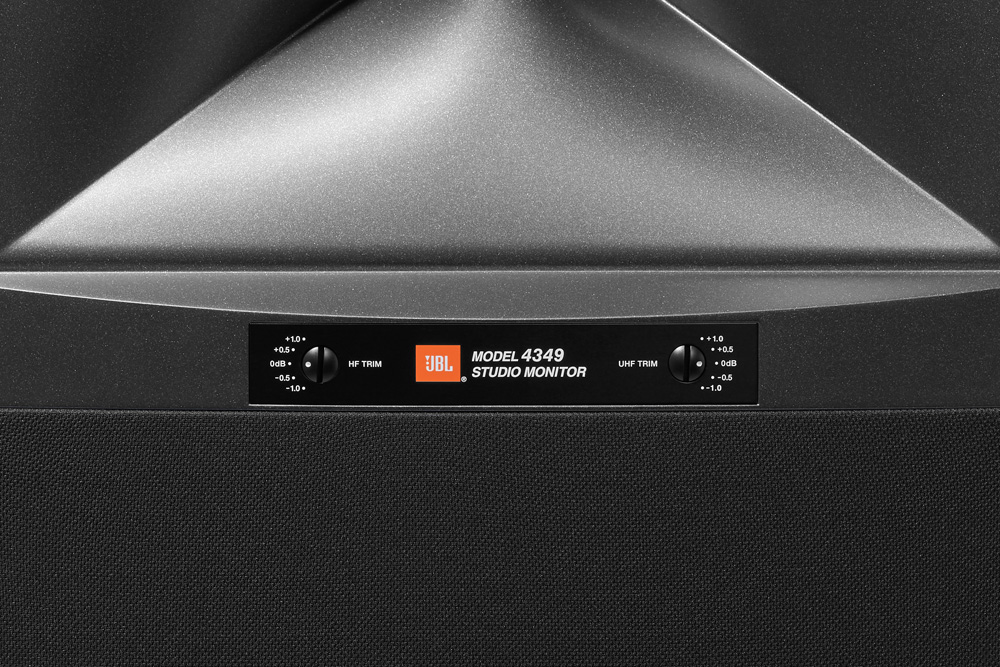 It's worth mentioning the 4349 Studio Monitor's quality of assembly and overall finish. The horn flare is superbly finished and subtly sculpted for optimum acoustic impedance. The flare profile features the appropriate surface curvature to render the tweeter's optimum dispersion/directivity, and projection characteristics.
Know Your Boundaries
Placing the 4349 Studio Monitor loudspeakers in positions where I've had success with other designs provided a good enough performance. However, I was confident the envelope of talents at hand could – and should – be far larger. While most aspects of performance were very good, there was a distinct congestion and lack of fullness across a narrow band through the upper bass and lower midrange. The 4349 just lacked openness through this portion of the frequency response. Time to experiment with positioning. No signs of worry yet…
Shifting the speakers' locations between three and five inches at a time – back to front and side to side – improved things a little but not to the degree I was hoping for. Was this what these speakers were capable of? Was I experiencing the 4349s inherent sonic signature? Or perhaps my years of familiarity with 2-way horn-loaded Pro speakers was somehow clouding impartial examination.
Recalling a conversation with Convoy International's Marketing Manager Martin Ireland at the time of delivery motivated further investigation. Ireland mentioned a situation at a dealer where initial impressions of the 4349 were somewhat lukewarm. Position fine-tuning brought forth sound that profoundly contrasted first impressions. So for me, it's back to the speaker shuffle dance and to try something a bit more radical.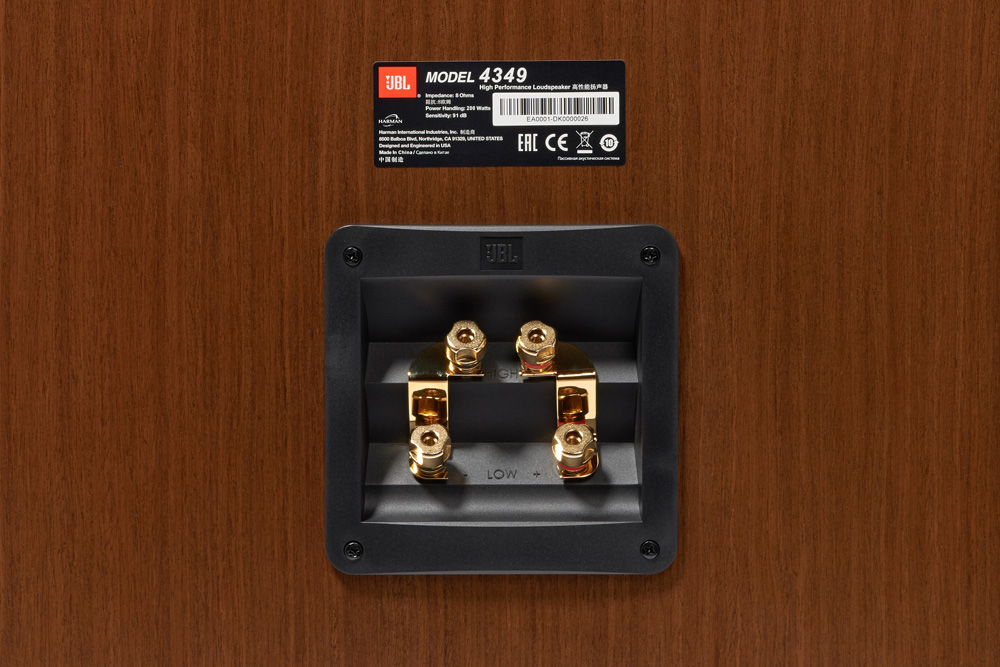 So, the 4349's design actually provides the clues I should have cotton on to earlier. Here we have a loudspeaker which, it can be said, converges the quality mandate of the studio and the audiophile. But the clue there is "the studio". In that context, JBL and other large format speakers are usually either flush-mounted or wall-bracketed in close proximity to the studio's boundaries. Ergo the front porting on many of these types of designs. Yet another clue. The result would be a filling-out of the upper bass and lower midrange portion of the response while, perhaps, also offering further augmentation to the lower bass registers.
I started out with a drastic change to my original positioning. I pushed the speakers to within eight or nine inches from the wall behind them. Listening impressions then evidenced some improvement in terms of my concerns mentioned above but with a small level of commission in other areas. Further experimentation resulted in an appropriate balance of all aspects of reproduction when the rear panel of the speakers were about 20 inches from the wall and the speakers were widely separated.
You know what? I've got one word. Transformation. Mic drop.
This fine-tuning of these speakers' position altered their performance dramatically. I've shuffled speakers around to last most people a lifetime, yet I've never experienced such a drastic change in reproduction quality. Believe.
OK, first the things that improved irrefutably. That hollowness through the lower mids totally filled out in a way that also enhanced the frequencies just above and below that critical band. Where Miguel Espinoza's guitar sounded thin it now sounded full-bodied and rich in resonance. The hollow of the guitar's cavity felt authentic. Ditto for Espinoza's partner-in-music in Curandero, where Ty Burhoe's various percussive instruments, as used throughout the superb Aras album, rang with solidity and true tonal qualities.
The rhythmic intensity of Nik Bärtsch's "Modul 51" from the album Llyrìa had me revelling in the punch and flow of this non-pretentious avant-garde jazz. This is piano- and drums-led music but with an undertow of solid bass which, as an ensemble, will have you wriggling in your listening seat. The 4349s can create a believable soundfield which spreads very wide, taller than the stout form would imply and considerably deep bearing in mind the front wall proximity. Imaging was precise and well fleshed-out in terms of density and size. In the new position, the balance between the compression driver and paper cone results in very good tonal rendering of the Bärtsch ensemble's individual instruments.
Big orchestral works, such as Reference Recordings' masterfully-produced Serebrier Conducts Serebrier were scaled to realistic levels. On "Funeral March (Poema Elegiaco)" the crescendo's percussion is an attack on your senses which the 4349s delivered without hesitation. It's a moving piece and its undulations between the super delicate portions and the massive onslaughts (there are more than one) are almost scary. With the right amplification and appropriate speakers such as these, the track can be quite the experience of refined beauty and delicacy leading to brutal tension and violence.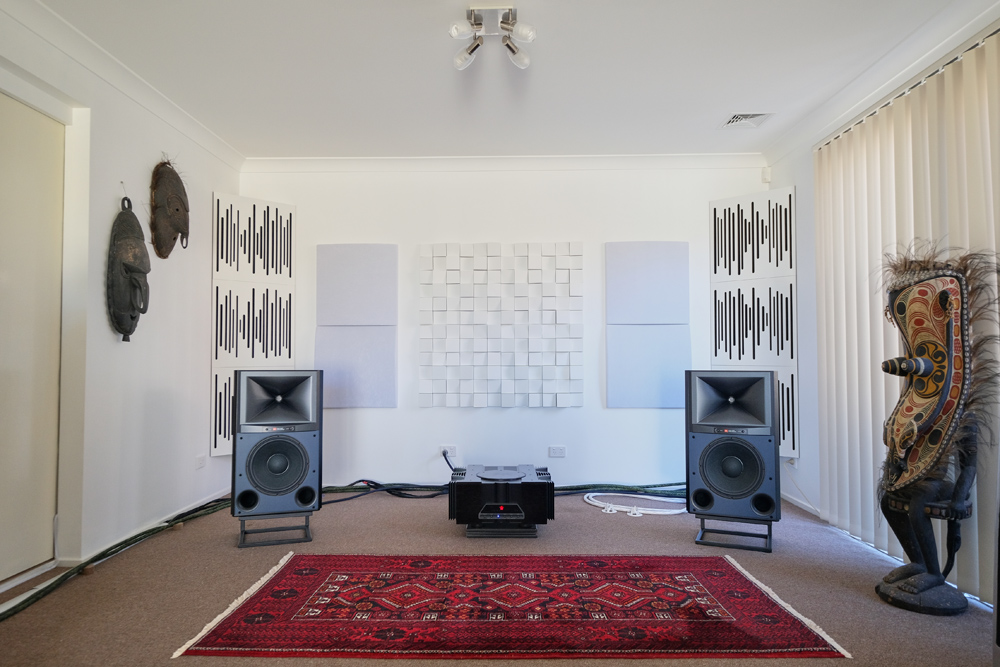 I reeled with Shelby Lynne's clear, seductive vocals on the bluesy "The Equation" from her Shelby Lynne album. Those horn colouration stereotypes I referred to above were imperceptible via the 4349s. Lynne's front-and-centre image projected just in front of the speakers' plane while the separation from the instruments was exceptional. In fact, I found this precise separation of complex music to be a consistent quality across my entire time with the 4349s, no matter the genre or intricacies of the content.
There was a highly satisfying transient attack and sense of rhythmic flow to horns and drums on Jeff Goldblum and the Mildred Snitzer Orchestra's live-in-concert The Capitol Studio Sessions. The crowd noises, Goldblum's vocals and the full swingin' big band sounded… well, big and live. You'd be surprised how that very basic quality, given the live recording, is often lacking. Some speakers homogenise the presentation into what sounds like a sonic signature somewhere in between the studio and the live venue. Not here. The 4349s played it as live as if you were at the venue enjoying it via, apropos, a JBL high quality concert array system. There's an ease of dynamic contrasts between the vocals, the piano and the blistering horn section where the 4349s can swing powerfully without harshness or congestion. Yes, the D2415K compression tweeter is capable of astonishing detail and resolution without calling attention to itself.
Back to dynamics and detail where the instrumental accents throughout Rhiannon Giddens' "Waterboy" from her album Tomorrow is My Turn slam fiercely. Yet, there are beautiful subtleties in Giddens' expressive vocals as it leads the clearly-separated backing vocalists. The underlying brushed drums and Giddens' voice aren't overwhelmed by the largesse of the percussion hits and the over-riding horns.
Conclusion
While both the introduction of advanced materials – as employed in transducer and enclosure engineering – and computer-aided/software design technology may have provided improved tools to the modern speaker designer, there's a school of thought which believes these relatively recent innovations have not specifically translated to substantial sonic improvements. In other words, a great speaker from, say the 1970s, is comparable in terms of performance to one manufactured in 2021.
While that is, of course, bait for ardent debate, in the case of the 4349 there's no arguing that its form is… reminiscent. After all, its basic horn-loaded compression driver and large cone configuration in a traditionally-proportioned enclosure is evocative of JBL's early days. So there's an element of nostalgia attached to the 4349's old school yet elegant form. It's also instigated countless imitators. Irrefutably, JBL can boast of being a true industry pioneer. However, digging deeper rather than just superficially perusing the format, there are elements which place the 4349's design firmly in the 21st century.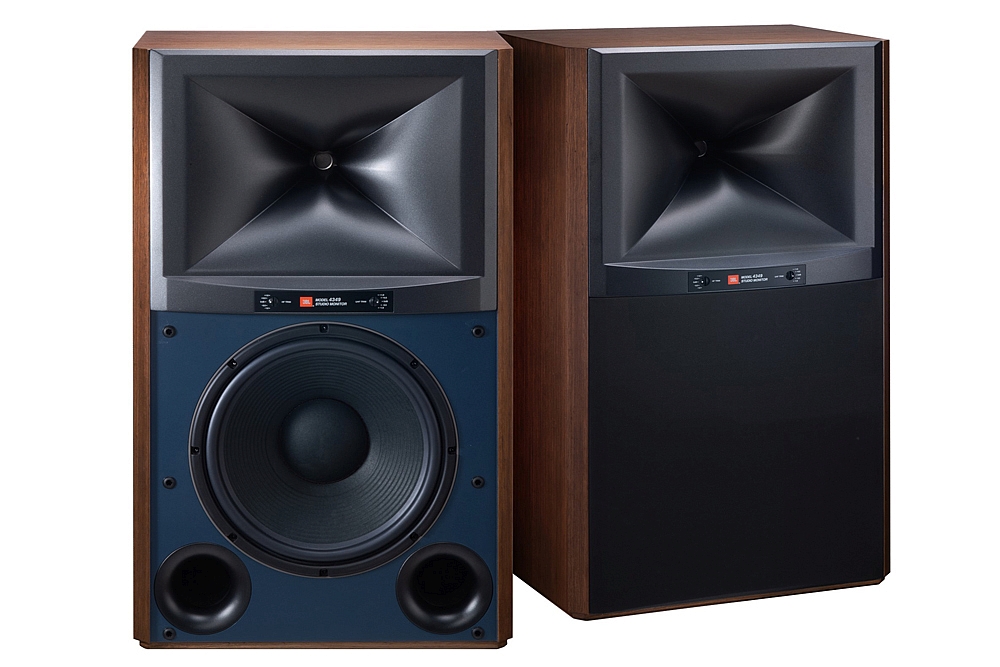 For starters, the compression driver's diaphragm employs Teonex, an advanced plastics/polyester polymer material adapted to a superbly engineered wide frequency transducer. Yes, the 300mm driver may appear conservatively conventional, however even here, the relatively new design sees JBL employing computer-optimised architecture and over-engineered elements to wring maximum performance. So, under what some may consider its plain-Jane skin, the 4349 Studio Monitor is actually rather sophisticated.
So, in conjunction with a well-executed crossover allowing a degree of room adaptability and its solid and discreetly retro-attractive enclosure, the JBL 4349 Studio Monitor presents quite the convincing argument. What's more, the extensive research into electroacoustics, among other disciplines, taking place at Northridge California's advanced facility further enhances the rich narrative.
After a little shuffling around, the 4349 delivered on the promise. Traditionalists will love the classic form and archetypal 2-way configuration while modernists will delight in the performance at hand.
JBL's 4349 Studio Monitor is a timeless high achiever embellished by modern technologies. In a few years' time, I'd wager this classically-styled loudspeaker will be prized as a worthy entry into JBL's long list of iconic designs.
… Edgar Kramer
This email address is being protected from spambots. You need JavaScript enabled to view it.
Associated Equipment
Speakers — Wilson Audio Alexia Series 2, Axis Loudspeakers VoiceBox S (nearfield monitor), Vermouth Audio Little Luccas Mk.II
Amplifier — Gryphon Audio Antileon EVO
Preamplifier — Supratek Cortese, Lightspeed Attenuator LDR passive
Sources — Digital: 432EVO High-End Music Server Roon Core, Yamaha CD-S2100 transport, Totaldac d1-direct DAC. Analogue: Transrotor Crescendo with Konstant Studio controller, Reed 1X Tonearm with upgraded internal wiring, Shelter Harmony cartridge, The Funk Firm Houdini cartridge decoupler, Supratek Cortese & REDGUM Audio RGPH2 phono stages
Processor — DEQX PreMate
Cables — PSC Audio custom design XLR, Vermouth Audio Reference loom,Vermouth Audio Black Pearl Mk.II loom
Audio Rack — SGR Audio Statement Model V
Acoustic Treatment — Vicoustic Multifuser Wood, Wavewood Ultra, Cinema Round Premium and Super Bass Extreme
Miscellaneous — GigaWatt PF-1 EVO, Les Davis Audio Viscoelastic CLD discs, VRC Vinyl Record Cleaning system plus miscellaneous accessories
JBL 4349 Studio Monitor Loudspeakers
Price: AU$14,999
Warranty: Five Years
Australian Distributor: Convoy International
+61 2 9774 9900
www.convoy.com.au
Harman International Industries
JBL Synthesis
400 Atlantic Street
Stamford, CT 06901
United States of America
+ 1 888 691 4171
www.jblsynthesis.com