It's a funny ol' thing, this hobby of ours. We embark on our journey with an idea; an idea self-propelled with enthusiasm in the hope it will maintain some kind of currency. Enough to endure hiccups and hurdles and reward us with long-term listening enjoyment and subsequently, for many of us, that 'pride of ownership'. It can be a rose-tinted viewpoint, and perhaps somewhat indulgent, but we've all had select components that, while they may not be physically with us now, remain as an intrinsic artefact and memory in our audio psyche or spirit. These cherished components are a beloved right-of-passage or an exercise in maturing. This reviewer is no exception to this natural law of audiophilia. Their memories are as vivid now as the moment of their first audition. Here, where more memories may be created for cherishing, I'm graced with the presence of Audio Research's newest offering, the delectable Reference 80S power amplifier.
Old is New Again
These 'hallelujah' moments I refer to – almost a thing of religious experience – have certainly been expressed along the journey by yours truly. Whether by a product that outperformed the expectations of a respective price-point promise, a product that lived up to the lofty proclamations of lore or something that simply resonated with you so intimately that it seemed an extension of your very person or being. While the memories are long-lasting, the list of gear that partnered them is relatively short, and so it should be!
From the mystifying ESL57 electrostatic speakers designed by Quad's Peter Walker to Sugano-san's wood-bodied Moving Coil Koetsu cartridges of Japan legend. Or my own personal 'Holy Grail' the MB-3045 valve monoblock amplifiers curated c.1975 by then Luxman employee Tim de Paravicini (of Esoteric Audio Research 'EAR' fame). And then lastly (but far from leastly), the tonally rich masterpiece, and a thing belonging to that realm of rarefied air, William Z. Johnson's (founder-owner and designer) two box affair, the Audio Research SP-10 Preamplifier.
Reminiscent now is the object of this review, the Reference 80S Power Amplifier and Audio Research's newest offering. With its presence, two things have become immediately apparent.
One, the sombre (but very appreciative) acknowledgement that all of the revered industry icons mentioned above have departed this physical world of ours and incontrovertibly qualify for the status of 'audio legend'.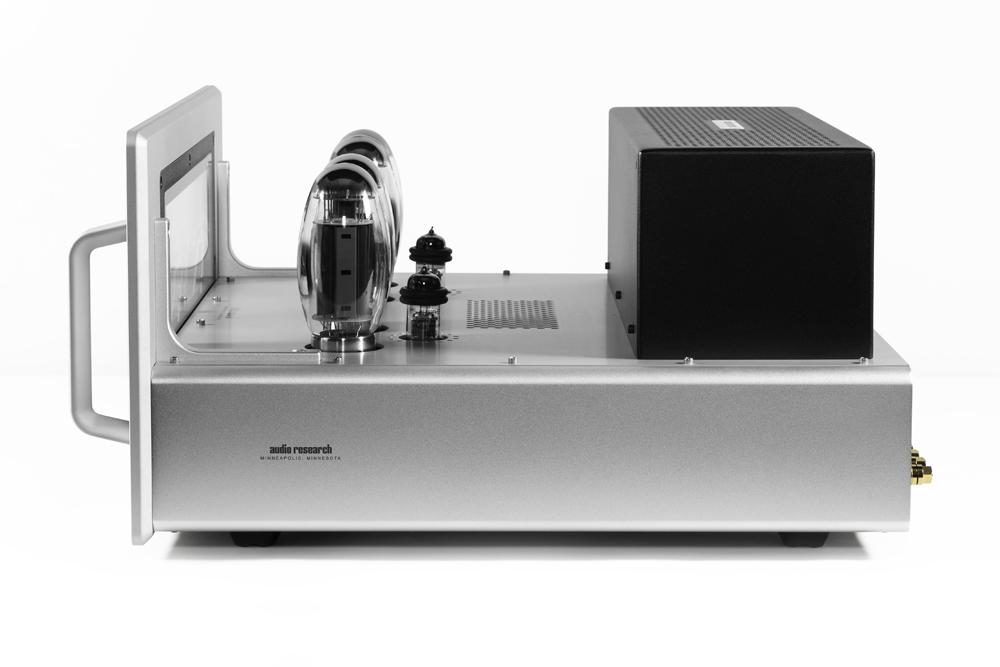 And two, just how nice it would be to have the SP-10 preamplifier back in my possession for the purposes of this review. The reuniting of an enduring Audio Research classic 'returning home' to mate with a younger sibling would seem as something that Bill Johnson would pull a cheeky grin over!
To quickly cover some obligatory historical background, it is important to note that in 2020, a year that Audio Research celebrated the company's 50th anniversary, a few loyal past and present employees helped to procure Audio Research ownership from McIntosh Group, Inc. (formerly Fine Sounds Group).
The procurement of AR by TWS Enterprises was spearheaded with the vision of a return to grass roots. The commitment of the stakeholders is to strive to build upon the brand's already industry-enviable reputation, culture and innovation. Citing small company values and the continuance to build some of the most sought-after electronics available as the virtues to satisfy the discerning audiophile marketplace.
In this time we have seen the product introduction of the Reference 160M (Monoblock Power Amplifiers), the Reference 160S (Stereo Power Amplifier) as reviewed previously by our very own editor, Edgar Kramer (link is here).
Down to Business
Unboxing the Reference 80S was as simple a task as you could ask for! You are firstly greeted by four KT150 output tubes alongside the Audio Research staple of two 6H30 double-triodes as phase-splitters/drivers. Installation of the tube compliment was completely stress-free thanks to the very first auto-bias regime utilised inside an AR amplifier.
The features found at the rear of the Reference 80S affords the user the flexibility of 16, 8 and 4 ohms operation. Balanced (XLR) and single-ended (RCA) inputs are mated to an input impedance of 75 kohms for single-ended and 300 ohms for the balanced option. The Reference 80S features a quiet variable speed cooling fan, auto shut off and defeat and, as we come to expect from Audio Research, a meter/counter for hours of operation.
After set-up was complete and all necessary equipment was affixed, it was time to power up! With the amplifiers output muted for what seemed to be two to three minutes as the power supply and all four KT150 tubes stabilised both temperature and biasing, the amplifier showed its first signs of life.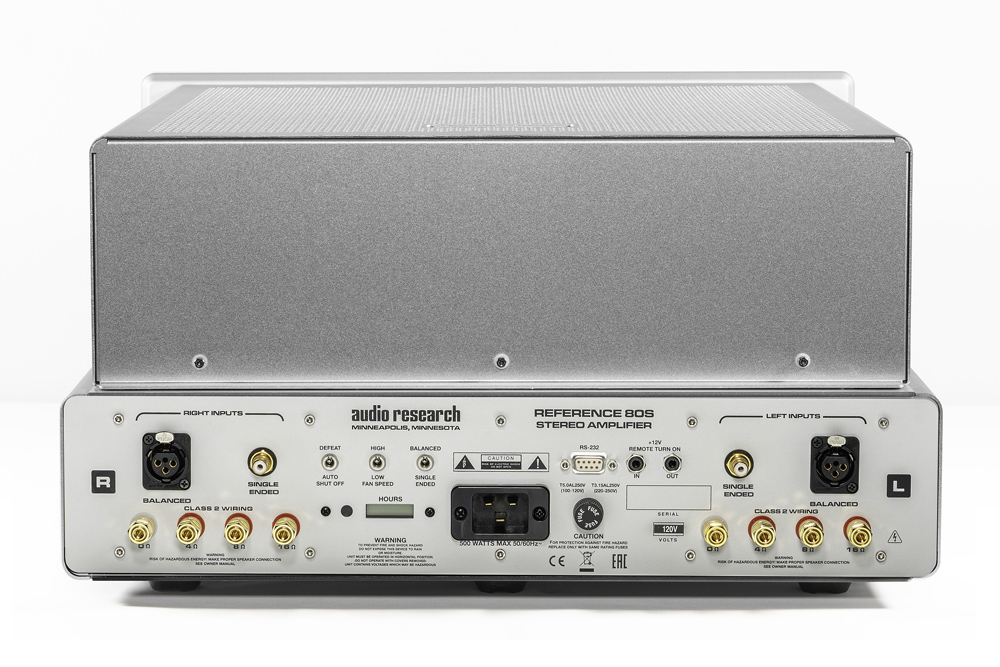 The Reference 80S, while having a comparatively lower output (70w/channel), shares the same inherent cosmetic design as its more powerful siblings. This feature being the radical front fascia featuring the unique 'GhostMeters' from in-house designer Livio Cucuzza. A stunning departure from the norm, showcasing a luminous, almost ethereal-like appearance to an otherwise common functional element. The Reference 80S also offers the hand-me-down and popular tube function of the Reference 160M/160S, switchable triode and ultra-linear configurations. Nice!
Further, to Audio Research's commitment to quality, everything here is hand-wired, hand-soldered and hand-assembled. The transformers continue to be produced by a North American, third-party supplier. All aspects of the current iteration to the company strives to keep all processes as in-house, or as local, as possible. That's something rather endearing when you consider the realities of the current landscape of the audio manufacturing industry.
Sonically Speaking
After allowing ample to time for warm-up (some two to three hours) it was time to put the amplifier through its paces.
In order to satisfy my current insatiable appetite for 1950s hard-bop jazz, the Kuzma found the album Miles by The New Miles Davis Quintet spinning on its 12kg platter. From the opening moments it was clear that the Reference 80S, while in ultra-linear mode, portrayed the insight and nimble nature to do this classic Prestige album true justice. Its soundstage settled in the kind of way that any serious listener would be hoping for, with the right amount of space and separation to define the quintet naturally, an organic sense of timing and having impressively airy detail.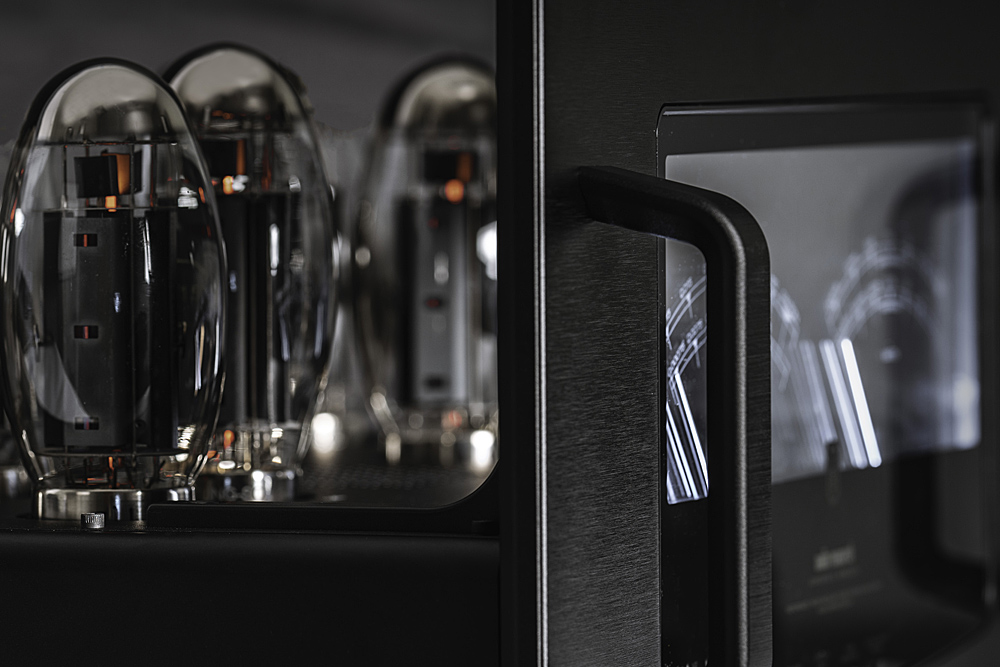 Wondering how this would then translate to a more modern but equally sophisticated recording, I then queued up Nils Frahm's masterstroke All Melody. The opening track "The Whole Universe Wants to be Touched" shared much of the same attributes as Miles' quintet did. The same engaging and naturally organic soundstage presentation. The Harbeth 40.2s, while performing handsomely, did lack a depth of lower register. Swapping out the 4 ohms taps for the 8 ohms taps (still in ultra-linear mode) remedied the lack of bass depth. Triode mode on the 4 ohms taps on the other hand displayed no such deficiency. It may have lacked the 'air' and 'depth' but triode mode conveyed a certain musicality that seemed to complement its substitutes.
Moving further away from pristine audiophile recordings to Gene Clark's largely unrecognised Electra epic No Other. This non-audiophile studio recording is infectiously engaging, raw and toe-tapping! The Reference 80S reproduces this album with a strong preservation of the performance's energetic, almost country-like rock personality. Clark's voice on "Strength of Strings" is vivid, real, and raw. Soundstaging and instrument placement are precise. The percussive elements of the track were vibrant, with great life and impact. While the bass drum is slightly less dynamic in triode mode, a certain effortless quality and musical ease envelopes the listener, proving to be equally as enjoyable!
Suzanne Vega's celebrated album Solitude Standing has long been a music lover and audiophile favourite. The title track, along with the tracks "Language" and "Wooden Horse" exemplify Vega's creative diversity and the album's subsequent popularity. The Reference 80S showed a great ability to render the subtlety of the percussive details, the depth and well-proportioned soundstage have an impressive sense of liveliness in ultra-linear mode, although it's comparatively somewhat forward and cool-sounding. A presentation of heightened realism can be found when utilising triode mode. A balance of treble, upper mids and weight in the lower registers culminates a greater sense of cohesion, rendering a sound that one might more associate with the sounds of Audio Research's yesteryear. A sound I'm sure will please the discerning audiophile and music lover who would unashamedly require that they 'have their cake and eat it too'.
Conclusion
If the Reference 80S has proved anything to this reviewer it is this: the future under the revamped Audio Research entity promises to be as safe and secure as ever before.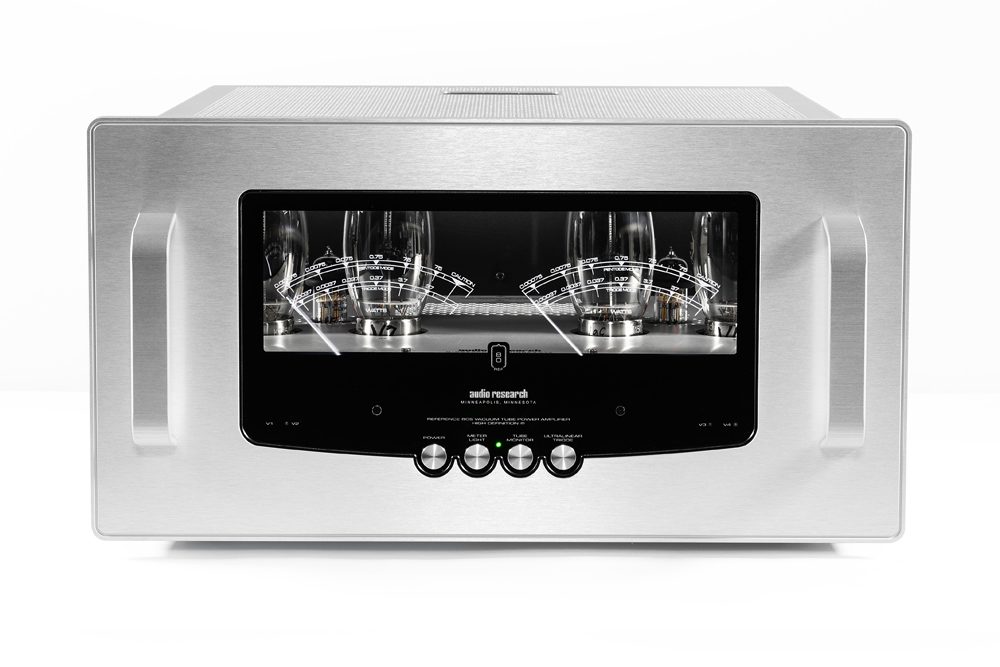 At the Reference 80S' recommended retail price it's anything but entry level, but it does help to provide insight into the company's higher-end 'Reference' offerings while going a long way in terms of whetting the appetite of those familiar with the company's 'VSi-series' introduction.
At a time when market demands are critical, the Reference 80S is an amplifier built for 'today'! And sonically speaking, it offers just enough of 'yesterday' to ensure that the grin on your face will last long after your first listen.
… Travis Kelly
Associated Equipment:
Speakers — Harbeth M40.2 Loudspeakers & Ton Trager Stands
Amplifier — EAR 509 Monoblocks , Luxman MB-3045 Monoblocks
Preamplifier — EAR 912, Luxman CL32
Sources — Digital: CEC TL0 CD Transport, Wadia WT3200 CD Transport, Marantz CD12 CD Transport, Marantz DA12 DAC, STAX DAC X1t Analogue: Kuzma Stabi M, Kuzma 4 Point 11, Koetsu Rosewood Signature, Thrax SUT, Cotter MK2 SUT, Klyne 7PX3.5B Phono Preamp
Cables — Sonic Art Reference Interconnects and Digital Cable
Audio Rack — Custom (hardwood)
Audio Research Reference 80S Power Amplifier
Price: AU$24,995
Warranty: Three Years
Australian Distributor: Synergy Audio
+61 3 9459 7474
www.synergyaudio.com
Audio Research
3900 Annapolis Lane North
Plymouth, Minnesota USA 55447-5447
+1 763-577-9700
www.audioresearch.com