As in any hobby, or an endeavour of any type, there's an inherent human propensity to form tribes. Those associations can offer a sense of community and a collective understanding of a shared journey with a common destination. I'm taking this explicatory trope to an extreme, I know, but when it comes to amplification, there are two main tribes: those who favour valves and those who prefer solid state amplification. But what about a design which, at least on paper, aims to stamp a firm foothold on both camps? The ModWright Instruments' latest integrated, the KWH 225i has the potential to satiate the warring impulses of the most ardent of tribal extremists.
Tricks in a Box
The last few years has seen the revival of the high-end integrated amplifier. The streamlining of the source to, often, a small streamer has led to a consolidation of multiple boxes and interconnecting cables to a super-well-designed integrated. Further amalgamation of componentry has come about by the incorporation of the digital-to-analogue converter and external phono stage – and even the streaming capability – within the architecture of the humble integrated amplifier. Well, actually… now not so humble integrated amplifier.
While ModWright Instruments – founded by techie extraordinaire Dan Wright – has been the purveyor of highly-tuned amplification components for many years, the company has only produced a relatively small number of integrated amplifiers. Now on a higher-level playing field, ModWright Instruments offers the KWH 225i big boy hybrid amplifier. Notably, the company started back in 2000 (with a non-formalised narrative for years before that) and was known for its affordable and superb upgrades to a select group of existing products by other manufacturers. It was Dan Wright's highly-sophisticated valve analogue stages which brought about significant improvements, elevating popular mid-priced products to high-end performance status. In fact, ModWright Instruments continues to offer modifications and also produces proprietary capacitors under the 'Truth' denomination for the DIY market.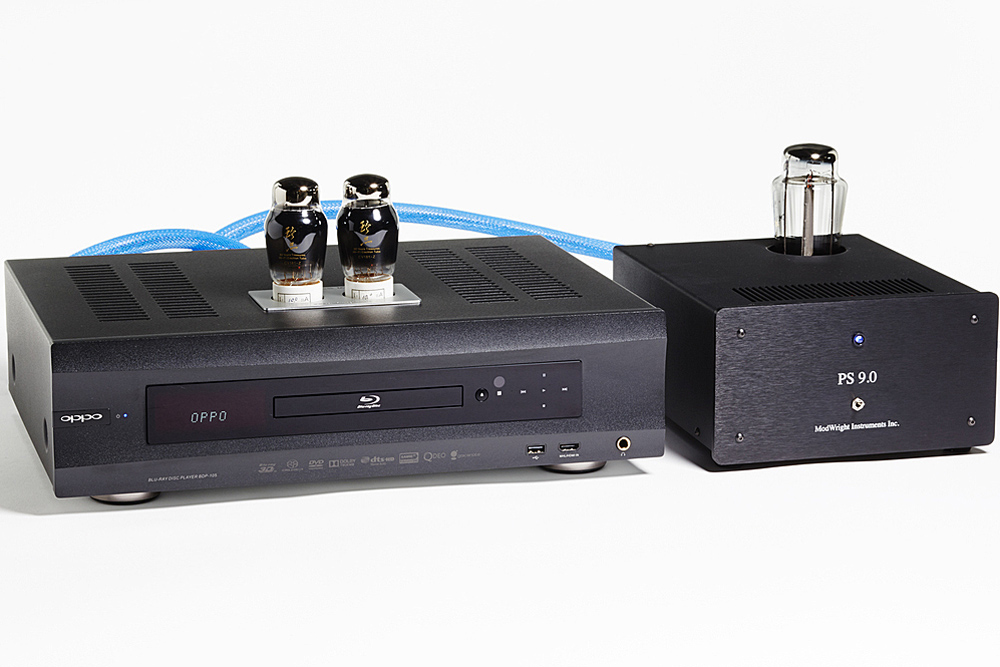 ModWright Instruments' highly acclaimed Oppo BDP-105 modification featuring bespoke power supply
While the KWH 225i eschews all the digital options – the company leaves the source choice to you – the unit is nevertheless well featured and can be optioned with a pop-in module featuring a high quality Moving Magnet (MM) and Moving Coil (MC) phono stage (50dB gain). While on connectivity, there are inputs for three unbalanced (RCA) and a single balanced (XLR). A Home Theatre pass-through (also operates as a preamp input) and a 'Pre-Out' option for connecting to a separate power amplifier round out the low signal connectivity choices. Good quality speaker binding posts are placed at the extreme left and right sides of the amplifier and there's a centrally-located IEC power socket.
The sparseness carries through to the fascia where a large blue-backlit ModWright Instruments logo is flanked by two display windows which are in-turn flanked by large circular knobs. The display window on the left shows the input selected while the one on the right displays a numerical volume level with the corresponding knobs used to control the relevant function. It's refreshing to not have to squint to read the settings – the display is large enough to easily discern from a few metres away. The readouts can be dimmed or turned off altogether. Two small indented buttons towards the fascia's lower portion serve as power on/off and for HT pass-through activation. Simple as.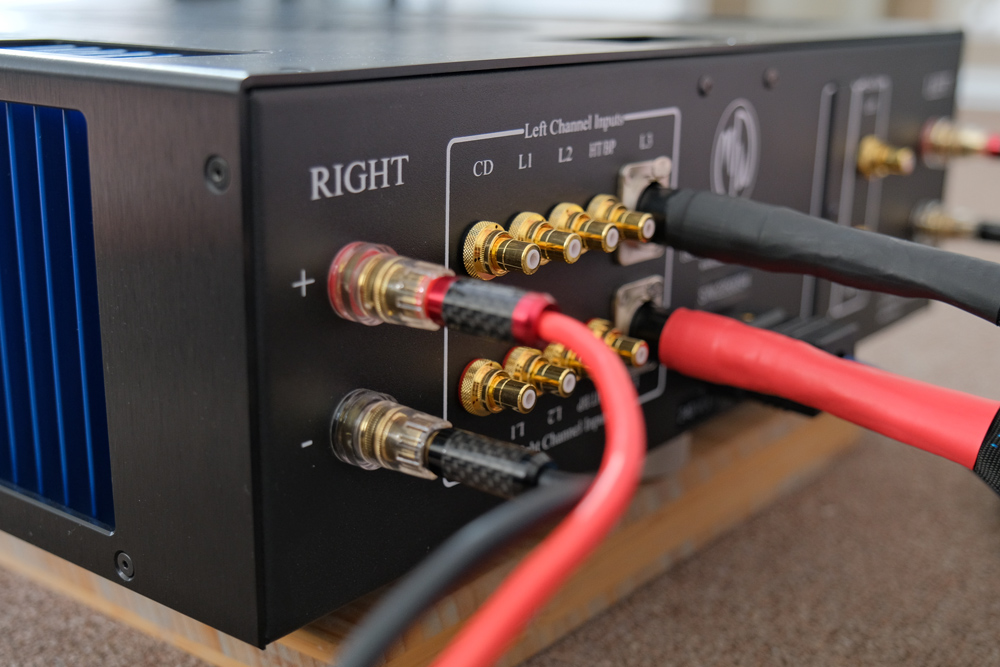 As the name suggests, ModWright Instruments rates the KWH 225i at 225 watts/channel into 8 ohms (0.04% Total Harmonic Distortion), with the amplifier being capable of outputting 400 watts/channel into 4 ohms (same distortion figure quoted). The frequency response specification is quoted as spanning from 20Hz to 100kHz (+/-0dB). It's a Class-A/B amplifier said to be a zero global negative feedback design. The first 25 watts are offered in pure Class-A. The driver valve compliment is simply a pair of 6922 (or 6dj8/7308/ECC88) which are accessible via a small cut-out well. In a nice aesthetic touch, the well's walls are spray painted in gloss blue, with the tone matching the colour of the LEDs and the heatsinks which run along the entire length of the amplifier's sides.
Build quality is very solid and the aesthetic is unostentatious. No bling here. The only nod to some form of adornment is the large company logo (backlit as mentioned above) and the blue highlights which have been a ModWright Instruments theme. Even the remote control is a simple rectangular block of solid aluminium with rounded buttons. Very matter-of-fact yet effective. The KWH 225i is available in high quality natural silver or black aluminium finishes.
Amp Done Wright
I may as well state the obvious from the get-go because it so encapsulates both the KWH 225i's inherent topology and the resulting sonic performance. Yes, as obvious as it is, the amplifier straddles the best of both the valve and solid state worlds. There, that's out of the way. Yet it so summarises what this amplifier does. And that is such a good thing.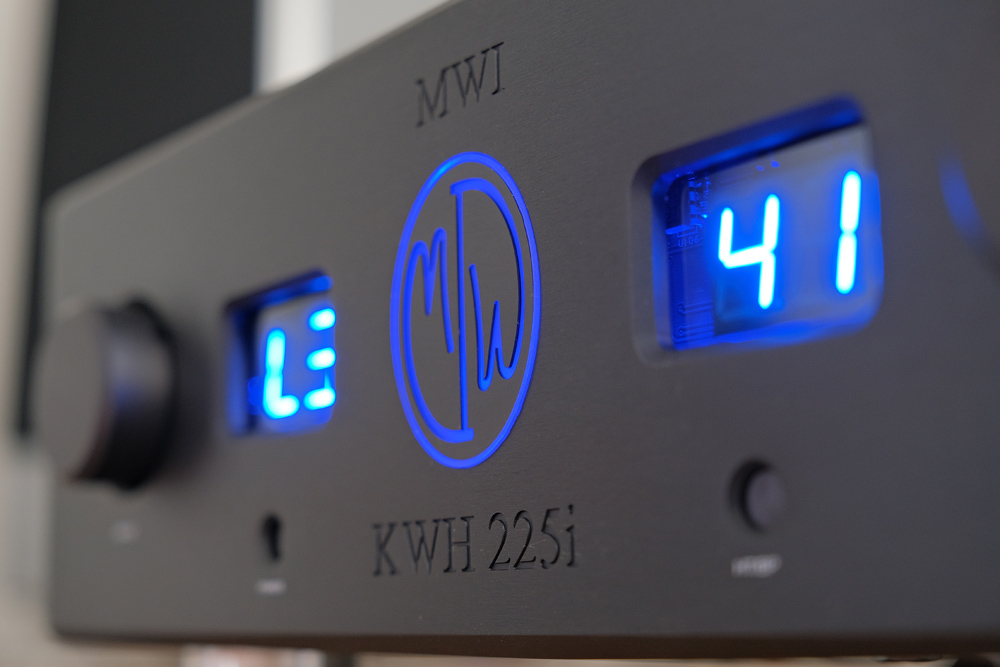 So as you fire it up and drop the needle, or press the play button, or choose your selection on the touchscreen, you'll hear a beautiful tone signature through the midrange which will remind you of some of the best valve-centric gear. Yet, there's also a solidity and depth to the low registers which only the most highly-engineered valve amplifiers with very high quality transformers can achieve. As clichéd as it sounds, this is a blatant case of the best of two worlds combined.
It's an open sound with an intrinsic sweetness which tames mediocre recordings. And it provides a sense of added weight to heavier music, be it orchestral or rock and metal. On the track "Nature of the Beast" from the excellent Ergo album from UK band The Animal State, the onslaught of guitars and drums was solidly presented with control and strong rhythmic qualities but never encroaching on the clarity of the vocals. The album's production is upfront and somewhat compressed, yet the KWH 225i was adept at taming that beast while presenting power and thrills.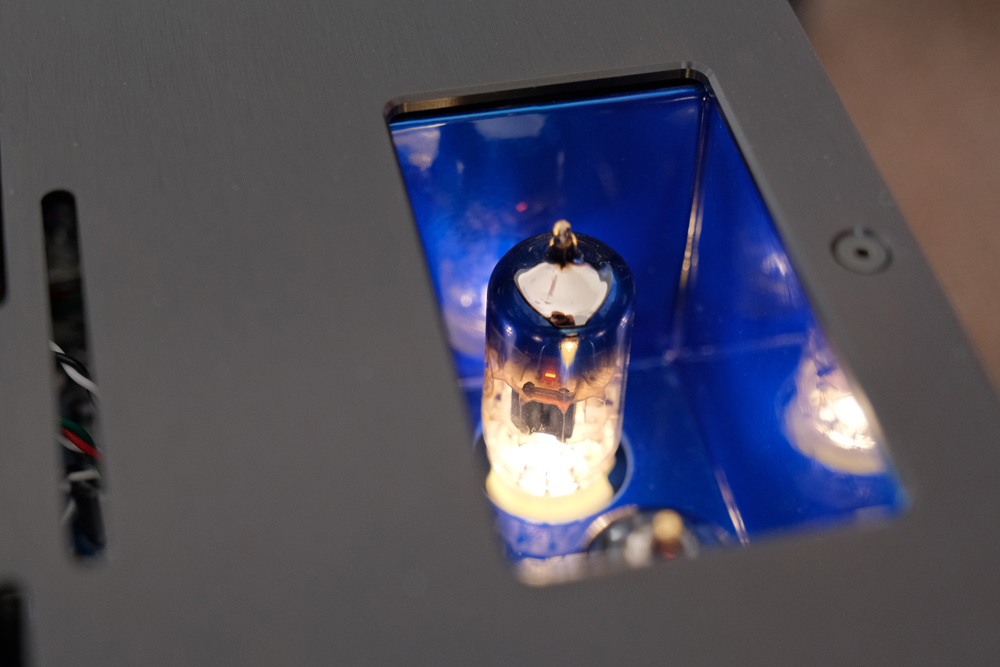 Like hinted at above, orchestral works – and I spun a wide variety from Mahler, Tchaikovsky, Beethoven and more – were rendered with wide dynamic expression. The orchestras were always placed in large soundfields which were rather enveloping. Easily discernible were the various sections of the orchestra with very good depth perception adding to the wide and tall soundstaging perspective. Again, there was solidity and gravitas to the KWH 225i's presentation.
In fact, as I went over my notes, I noticed that I underlined the word "tremendous" in relation to the KWH 225i's bass reproduction. As an illustration, the soundtrack for Blade Runner 2049 was scary in its devastating depth and power. Also plentiful in this superb production is the contrasts in dynamics and extremes between the opposing ends of the frequency response. Don't play this too loud. While most amplifier and speaker combos will play this comfortably at reasonable levels, the dynamics and highs-to-lows transitions are purely brutal. Be on standby at the volume control. The KWH 225i coped with the musical forcefulness without hinting at stress. There were satisfying dynamics, clarity throughout the frequency bandwidth and subterranean bass. This was an extremely confident performance envelope.
The 6922s purity of tone was yet another admirable quality here. I revelled in the textured and complex tonality of acoustic instruments. Nicolas Parent Trio's beautiful creations across the three albums I possess (the Tori album may be a highlight today but tomorrow it may be Mirage or Moments… they're all so good) were accurately rendered with excellent harmonic content on Parent's guitar while the accompanying percussion showed tightness, good transient attack and excellent tonal nuance.
I appreciated the KWH 225i's full-bodied qualities via vocals of any genre. Well recorded staples of the female light jazz audio show fare variety performed superbly here. If you need an affordable amp to wring the best from the likes of Patricia Barber, Norah Jones, Diana Krall then you're in for a special treat. Through the midrange, the KWH 225i can compete with some high-level players way beyond its price point. Ditto for other reference-level male vocals such as Chris Jones, etc. You know, the audiophiley-based stuff which can be referenced as a guide post. From there, you can expand out to discover more adventurous offerings of equal recording quality stature. The suggestion algorithms are your friends.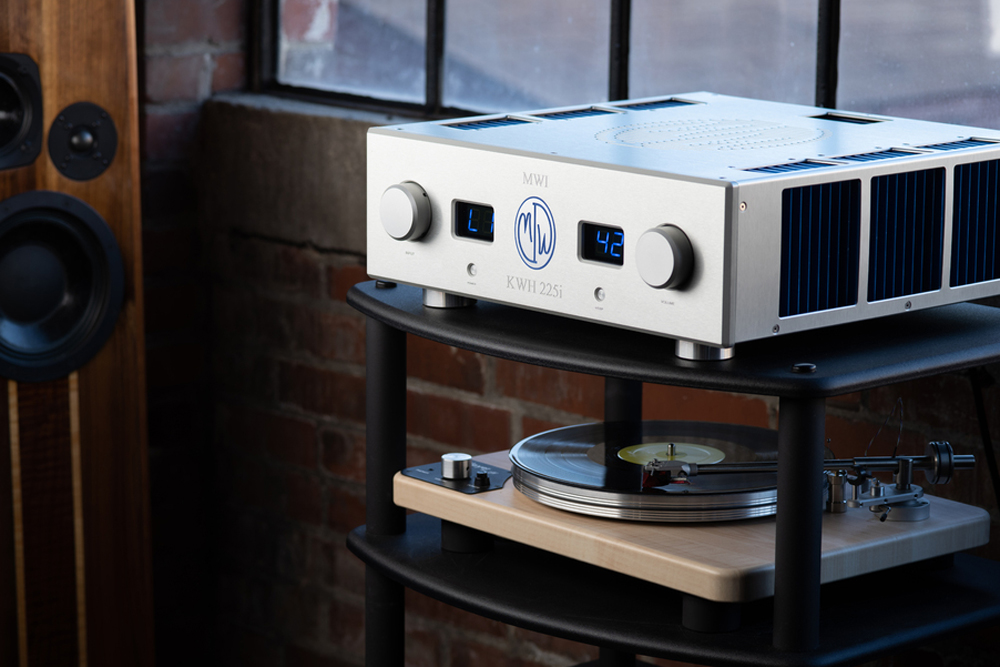 To be sure, and again to risk a term which raises a dog's forequarter Mohawk – piloerection, I believe it's called – the KWH 225i is a musical amplifier far from the cold sterility of some pure solid state designs. It manages to compile a set of abilities which brings a balanced, measured view of the world… one which motivates engagement. There may be more transparent devices out there – and quite possibly at a substantial dollar hike – but there are precious few which can deliver such an enthralling checklist of virtues.
Conclusion
Is the ModWright Instruments KWH 225i a be-all-and-end-all amplifier? That my dear reader is a call you'll have to make. It does features all you need in an amplifier whether you own a high quality DAC, streamer, turntable or all of the above. And there's an upgrade path available via its Pre-Out option too. What the KWH 225i is, in my opinion, is an all-rounder with a specific set of skills which caters to a wide range of music lovers and audio enthusiasts.
Those abilities are the innate capacity to combine the low-register clarity of highly-skilled solid state designs with the full-bodied midrange beauty characteristically associated with good valve designs. And it plays music. Take that check list into account and there's no room left for doubt – the ModWright Instruments KWH 225i is a resounding inter-tribal success.
… Edgar Kramer
This email address is being protected from spambots. You need JavaScript enabled to view it.
Associated Equipment
Speakers — Wilson Audio Alexia Series 2, Axis Loudspeakers VoiceBox S (nearfield monitor), Vermouth Audio Little Luccas Mk.II
Amplifier — Gryphon Audio Antileon EVO
Preamplifier — Supratek Cortese, Totaldac d1-direct DAC
Sources — Digital: 432EVO High-End Music Server Roon Core, Yamaha CD-S2100 transport, Totaldac d1-direct DAC. Analogue: Transrotor Crescendo with Konstant Studio controller, Reed 1X Tonearm with upgraded internal wiring, Shelter Harmony cartridge, The Funk Firm Houdini cartridge decoupler, Supratek Cortese & REDGUM Audio RGPH2 phono stages
Processor — DEQX PreMate (part of arsenal/casual use)
Cables — PSC Audio custom design XLR, Vermouth Audio Reference loom,ZenSati Zorro loom, Cables for Music Songbird speaker cables
Audio Rack — SGR Audio Statement Model V
Acoustic Treatment — Vicoustic Multifuser Wood, Wavewood Ultra, Cinema Round Premium and Super Bass Extreme
Miscellaneous — GigaWatt PF-1 EVO, Les Davis Audio Viscoelastic CLD discs, VRC Vinyl Record Cleaning systemplus miscellaneous accessories
ModWright Instruments KWH 225i Hybrid Integrated Amplifier
Price: AU$15,800 (user installable MM stage AU$600)
Warranty: 24 Months (30 days on tubes)
Australian Distributor: Absolute Hi End
+61 488 777 999
www.absolutehiend.com
ModWright Instruments, Inc.
21919 NE 399th Street
Amboy, WA 98601
+1 360 247 6688
www.modwright.com