Many high-end audio companies have flourished as a result of the unwavering vision of one passionate person. A single-minded entrepreneurial idealist developing product/s with a self-fulfilling desire to primarily express creativity or to manifest a subjectively superior conception. It may then also bring about an innovation or fill a niche perceived to be open, or all of those reasons and more. In the case of Peter Perreaux's ambitions in the mid-1970s, his development of seemingly unbreakable, high performing Hi-Fi and professional amplification products led to forming New Zealand's famous Perreaux Audio. It's the story of a 'Kiwi' audio company reaching unprecedented global success. Perreaux Audio's recent renaissance has seen the company offering a growing range of products of which the subject of this review, the comprehensively-featured 200iX integrated amplifier, is its newest star.
Perennial Perreaux
Indeed, Perreaux Audio has a distinctive history, highlights of which are showcased in an often tongue-in-cheek photo gallery on the company's website here: About | Perreaux . It's an illustrious diary chronicling Perreaux Audio's early days when the company was developing, in parallel, products for the domestic, professional studio and live/sound reinforcement spaces.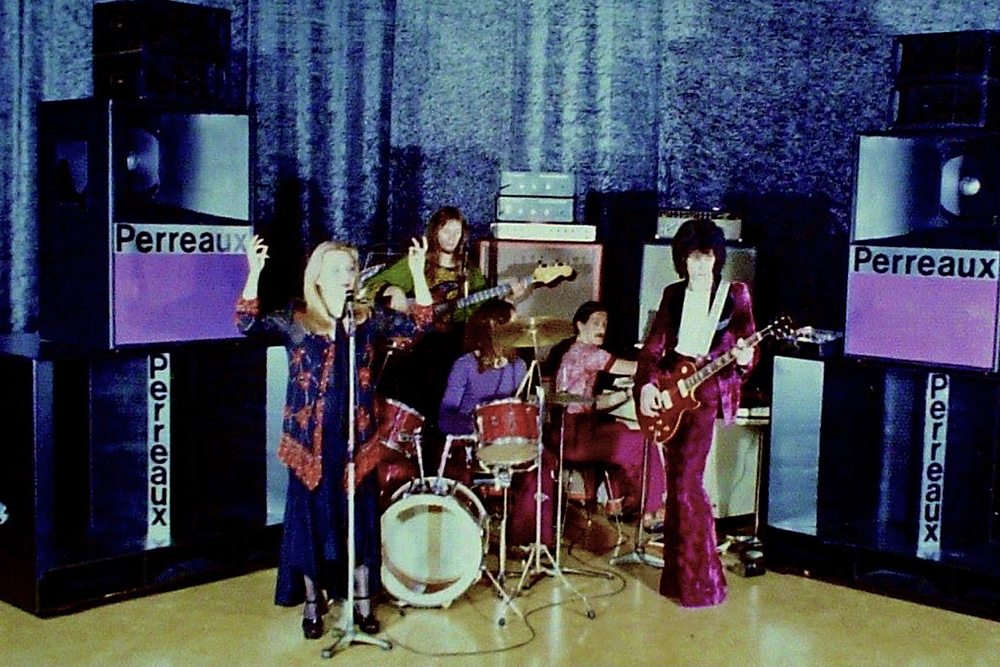 New Zealand band Ragnarock with Perreaux Audio P.A. System
Via Peter Perreaux's solid engineering chops, the company produced amplification which garnered acclaim around the world for its sonic prowess while developing a reputation for truly exceptional robustness and reliability. To illustrate the point in an over-the-top way, shenanigans showed amplifiers being run over by heavy vehicles, thrown out of the back of trucks and drop-tested from factory rooftops, with the suggestion of full operability post-antics. No doubt these physical excesses led to Perreaux Audio being commissioned to produce bespoke solutions for sound reinforcement and public address applications for live events around New Zealand and Australia.
Coincidentally, my brother-in-law Mick has owned the venerable Perreaux (as the company is most-often referred to) PMF-2150B high bias MOS-FET power amplifier since the late 1990s, having purchased it on the second-hand market from an owner who himself had it for a decade. The thing is a battleship. It powered the brutal load of his Thiel CS2.3 speakers at party after high SPL party, for hours-on-end while also being the daily conduit for tunes on a near-24/7 basis. Faultless operation without a bead of sweat on that amp's world-weary heatsinks through all those years.
Ditto for the reputation Perreaux Audio products earned in the professional audio space which I inhabited in a past life many, many years ago. Perreaux amplifiers mated well with pro speakers, which mostly employ hard metal compression drivers, making for a slightly sweeter listen, particularly in smaller venues where projection was less crucial.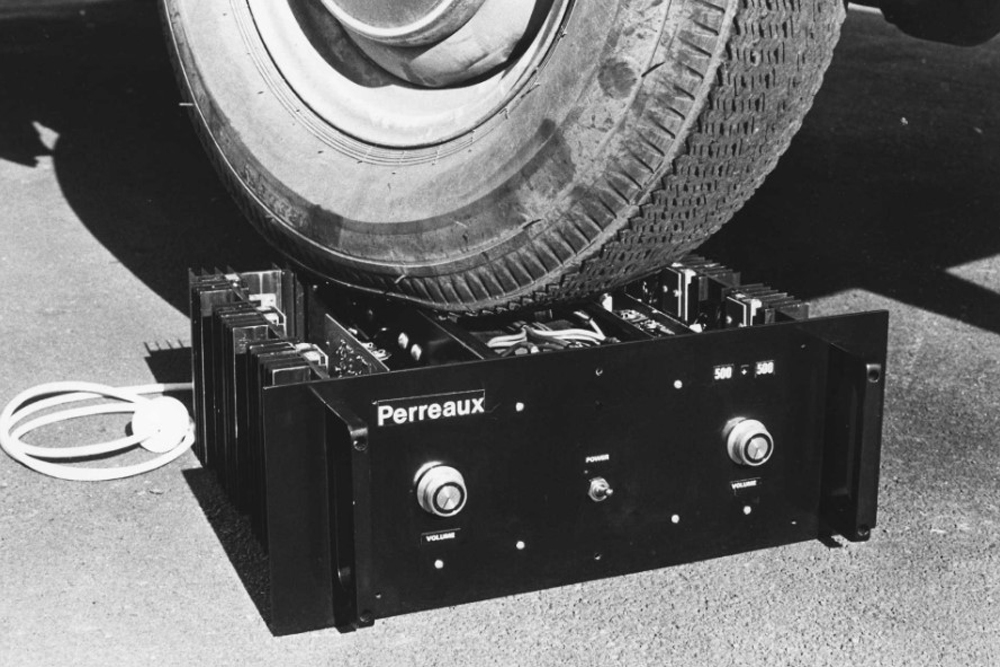 Truck tyre
As big an international a splash Perreaux made in its earlier days and in subsequent years, the company became somewhat less centre-stage in terms of global presence in the last few years. That's not to say it was dormant, or even passive. Product development continued, with the company producing power amplifiers, a USB digital-to-analogue converter, a phono stage, a loudspeaker line and audio signal cables.
The latest products are an integrated amplifier duo comprising the range-topping 300iX and, the subject of this review, the 200iX. In a revitalised incentive to bring levity, beauty and a point of difference, the new integrated amplifiers are available in an almost unlimited cornucopia of custom glossy or matt satin automotive colours. The in-house images show the review sample's glorious violet/light purple gloss paint finish which, I must say, is immaculately applied and pleasingly attractive. The company even shows a rainbow-themed prototype which was made to fulfil a request and now also serves as an example of the wonderful colour palette possibilities. What Perreaux is confidently suggesting is that there are coral-rich options on offer and you need not simply accept black and silver. Should you still wish for those common tones, your desires can be fulfilled (also in gloss or matt satin versions). Yes, Perreaux can accommodate the more… traditional palate.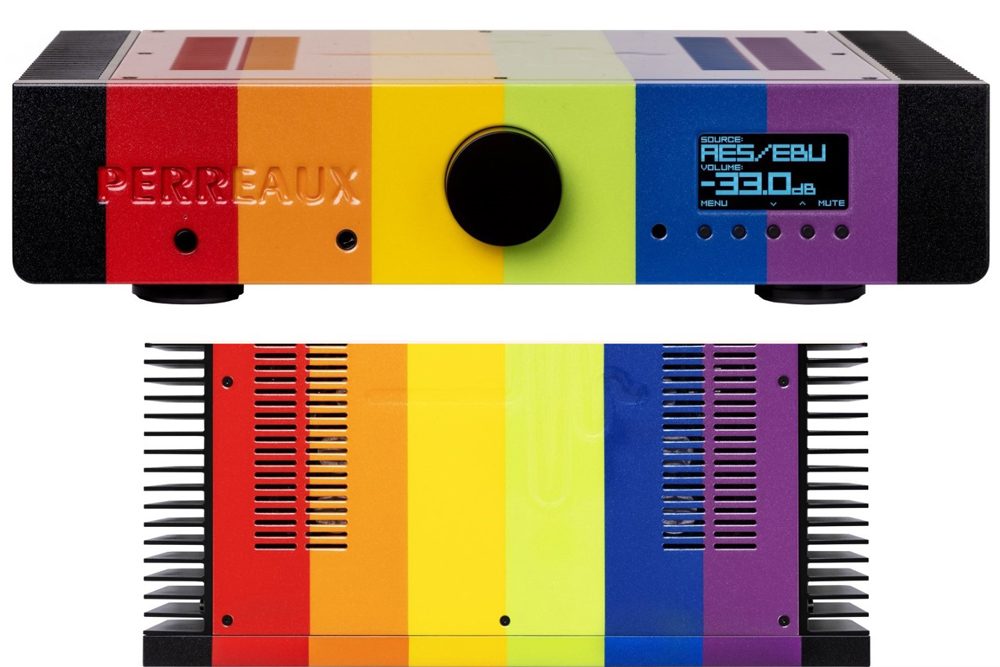 Rainbow colours
The other standout thing about 200iX is the more practical aspect regarding its comprehensive list of in-built features and functionality. Let's start at the front panel where a large central volume control and an OLED display screen are the most remarkable fascia elements. Below the display is a row of small buttons and a circular infrared receiver window. Said buttons correspond with functions on the display's bottom row allowing navigation and activation of a variety of settings. The settings menu is extensive and every parameter of the amplifier can be set from the fascia buttons, via an included infrared remote and lastly, with the free iOS and Android Perreaux App. The app's design reflects the company's partiality for diverse colour schemes while allowing comprehensive control over the unit.
On the left hand side of the front panel, below deeply-engraved 'Perreaux' lettering – an attractive feature in itself – there's a small power switch followed by a 6.5mm jack output for the built-in Class-A headphone amplifier. That's it.
As far as connectivity, it's the rear panel that houses all the fun bits. Man, this is one big connector fest. The top third of the rear panel houses the loudspeaker binding posts and the bank of digital input options. These include a small antenna for the Bluetooth streaming capability (more on that later), two RCA coaxial S/PDIF inputs, a USB input and two optical inputs. The AES/EBU option via XLR is placed as the first socket on the middle third section of connectivity.
That is followed by symmetrically-arranged balanced XLR, Pre-Out, Line Out and Amp-In RCA sockets, four line inputs (one is configurable for HT pass-through) and the input for the built-in MM and MC phono stage. While there's no dedicated subwoofer output, the line out or pre-out options provide a line level signal to powered subwoofers where you can fine-tune/integrate to your personal demands. A central IEC socket rounds out the middle third. Finally, the lower third section houses the 12V trigger, IR in/out, RJ45 Ethernet port and the phono stage's ground binding post. Phew!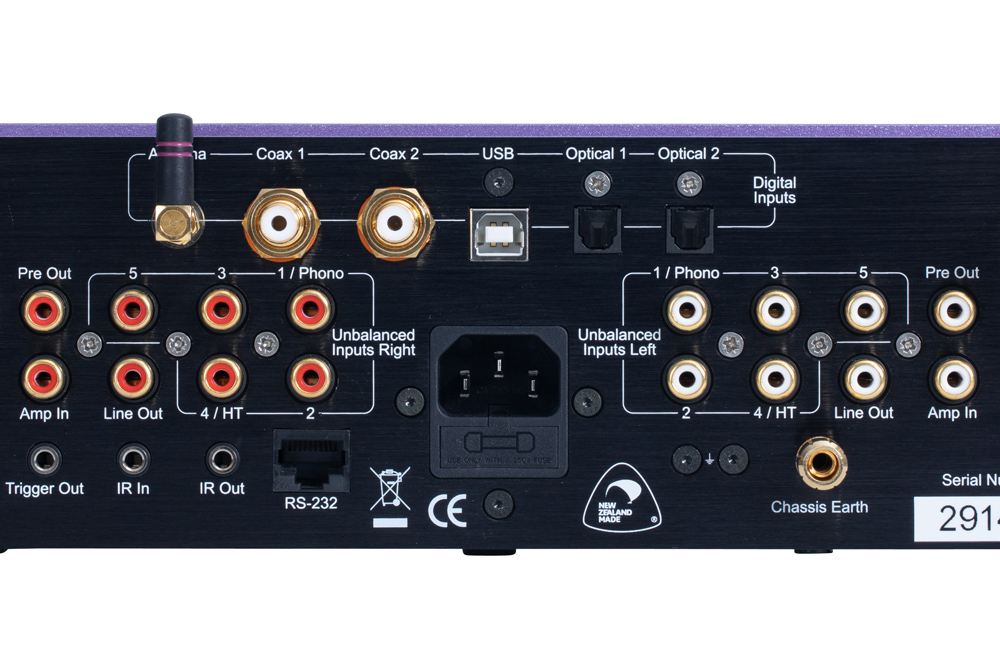 So the 200iX is a 200 watts per channel into 8 ohms (300 watts into 4 ohms) stereo integrated amplifier using MOS-FETs for its output devices. The power supply is highlighted by a quality 665VA toroidal transformer and 54,000 micro-farads offered by the eight-capacitor bank. The power supply seems solid enough to drive a variety of loudspeaker loads (ergo the low impedance option).
Perreaux Audio has not skimped on the digital-to-analogue conversion. The on-board DAC features the highly regarded Sabre ES9038PRO chip which is ESS Technology's flagship 8-channel device, here configured for 2-channel output of course. This is a 32-bit DAC chip, with the USB input offering resolutions of the full 32-bits with PCM up to 384 kHz and DSD256. The 200iX's S/PDIF and AES/EBU inputs support 24-bit word lengths and resolutions of up to 192 kHz.
The Bluetooth wireless streaming feature of the 200iX supports aptX, SBC, AAC and LDAC. I used the streaming feature via the Tidal app on my iPhone 12 Pro. It all worked flawlessly and the Bluetooth sound quality was more than acceptable when accounting for the convenience/performance factor even if it, most likely, will not serve as an audiophile's preferred modus operandi for critical listening. Aside from my evaluation on its functionality and performance, I used the feature mainly for casual or background listening while working. So, as far as streaming for critical listening, I used my exceptional 432 EVO server/streamer either via the Perreaux DAC or my own Totaldac d1-direct into one of the 200iX's line inputs.
The 200iX's in-built Class-A headphone amplifier is factory set with an attenuated/controlled output in order to cater to sensitive headphones of lower impedance values of between 8 and 250 ohms. Going through the amplifier's menus you'll find an impedance option/attenuation defeat mode allowing the use of less sensitive headphones of higher impedance designs between 250 and 600 ohms. In my conversations with Perreaux Audio's Global Sales & Marketing Manager Paul Sammes, he mentioned how the company is particularly proud of the headphone amplifier's performance capabilities.
Interestingly, the same impedance load options are available for the 200iX's loudspeaker outputs. I listened with both options and there was a subtle improvement in terms of bass control at the lower impedance setting (within the context of my system).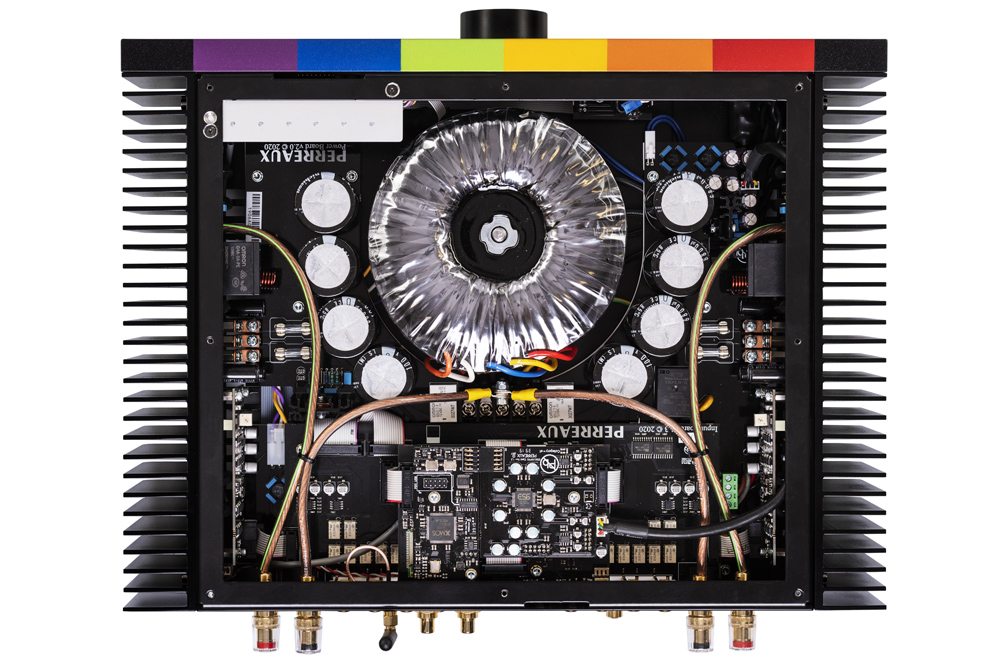 Due to my turntable's location in relation to the loudspeakers' room placement and the various interconnecting/speaker cable lengths, I was unable to test the 200iX's phono stage. As mentioned above, the phono stage caters to both Moving Magnet and Moving coil cartridges while offering standard 47 kohms (gain 40dB) for the former and 100 kohms (gain 60dB) for the latter with a RIAA accuracy of ±0.5dB from 20 Hz to 20 kHz.
Sammes offered this brief insight in a communication regarding the phono stage:
The 200iX's phono stage is a tried and true Perreaux design and has been well received. We've been using the design for the past 13 years or so, it first made its appearance on the then flagship 250i integrated. In my opinion it's fairly buttery sounding. Not too sweet or flavoured. Definitely a worthwhile inclusion rather than an afterthought phono which can often be the way with integrated amplifiers.
Overall, the 200iX's build quality is excellent, as is its features list. A minor note: At the time of my sample's arrival and for some time afterwards, the logic system for the volume control wasn't quite finalised. Neither did I have the production version of the remote control. However, I was provided with a temporary aftermarket remote control unit which was well-featured anyway.
Regarding the volume control logic, my unit's functionality would only recognise single presses for volume adjustment from the remote control which, at 0.5dB steps, can get rather tiresome if you need to scale up or down widely. I'm told this has been rectified in a recent processor update and subsequent production run. The Perreaux app made it slightly easier by allowing multiple presses in quick succession for quicker volume adjustments. Post-update, holding the volume buttons will escalate the control speed appropriately through multiple steps at a time. The volume level at start-up can be set manually to any desired point and the amp cycles through a level-setting procedure at turn-on.
What really knocks you out upon first unboxing the 200iX is the amplifier's superb paint finish. My sample shone with a deep gloss and not a hint of imperfection. The colour palette on offer is wide and caters to both the more conservative and adventurous palates. The custom options are, of course… ample.
Pure NZ Air
My first listening mode was straight forward in terms of emulating the signal flow of the reference configuration. So, my Totaldac d1-direct fed the 200iX's balanced line inputs with, of course, the amplifier powering the Wilson Alexia Series 2. I had a variety of speaker cabling, which all worked well, while the balanced feed is the usual seven meter PSC Audio custom-designed XLR.
The Perreaux amplifier is an immediate conduit to the speakers, presenting an accurate delivery of the superbly refined and pure signal the d1-direct DAC so effortlessly offers. It communicates with a neutral voice allowing signal transfer with clear highs, a present midrange and good bass control which is ever-so-marginally lean. I write that with a qualification because there's no lack of deep note reproduction, it's just that through the mid-bass, there's a subtle leanness which negates bass boom. Further, that sonic signature serves as a stepping stone away from any midrange obstruction, or muddying, the result providing very well-rendered vocals. I should point-out that my comments are coloured – with as much objective detachment as is possible – by my own Gryphon Audio Designs Antileon EVO Class-A monster which has just about the biggest and most grippiest bass around. Yes… I know, apples and oranges.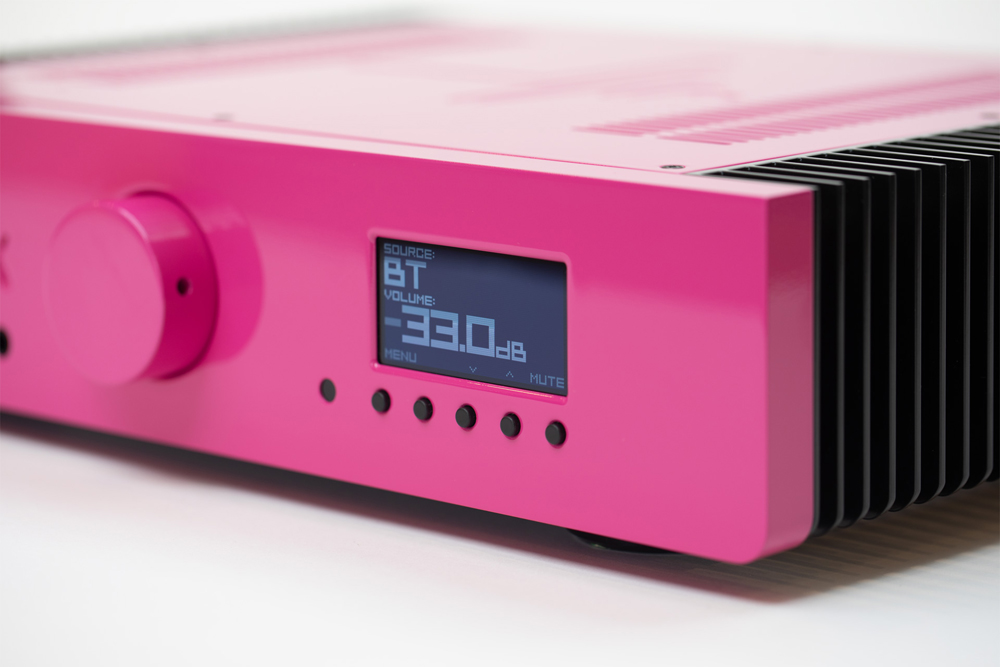 I enjoyed the clarity of Agnes Obel's understated voice and the depth of the male choral accompaniment on "Familiar" from the Citizen of Glass album. The natural decay and ambience of the recording venue (especially at the choral section when the line "And our love is a ghost that the others can't see" drops in) was very well presented while the accenting instrumentation had good tonal attributes with a very slight tipping towards the high frequencies, providing added detail.
Flea's bass on The Red Hot Chili Peppers' new Unlimited Love album through the track "Aquatic Mouth Dance" had excellent rhythmic bounce and high levels of detail. There was a sharpness to the leading edge of notes which demands foot-tapping involvement. Ditto for John Frusciante's attacking guitar solos throughout the album, where the sharp tone of his guitar amp strongly cuts through over-and-above the complexities of the drums and bass of the rhythm section.
The 200iX has a way with small ensemble classical and jazz. Felice Del Gaudio's Harmonia Mundi (Best of el.bass) album was a joy of fast, tight bass lines blending naturally with electric jazz guitar and subtle drum lines providing a sense of a 'live' event (neither Tidal nor Qobuz divulge the recording/production details). There are ample textural cues to Del Gaudio's instrument – a one-note bass signature this is certainly not. You can clearly distinguish between the various instruments selected by the maestro for a given track.
The grand atmospherics of Grex Vocalis' Edvard Grieg: Choral Music's "Ave Maris Stella, song for voice and piano, EG 150" – conducted by Carl Høgset and I hazard to guess recorded in the Oslo Cathedral – illustrated the scale of the venue's relative immensity which enveloped the listening room. The 200iX was also respectful to the massed voices, displaying purity and excellent resolution of the vocal strands, avoiding over-homogenisation.
The 200iX surfs on a carefully-balanced, sleek multi-fin board rather than a steady-comfy cruiser longboard. Less than perfect recordings with added heat in the highs can be impartially revealed for what they are. Mediocre productions can come across with a touch of sibilance in the 's' and 't' sounds. Conversely, recordings deserving of glory will be communicated with inherent qualities such as body, balance and naturalness, all intact. So, don't blame the messenger, as they say. The 200iX is just the 'Eats' driver a-knockin' – if the meal's not savoury, then point the finger at the kitchen door.
Conclusion
The Perreaux Audio 200iX provides just about all you'll need in an integrated amplifier. The on-board DAC is a quality unit featuring a top-level conversion chip as often found in mega-dollar standalone converters. The Bluetooth streaming function worked flawlessly, as did the app. Overall, the 200iX packs a solid connectivity punch.
It's also a nicely-made component in terms of its assembly and internal parts and general specifications. And I've got to stress: the review sample put me in a purple haze and had me at…hello. It's a striking paint finish… but not for the sake of being outrageous or flippant. Perreaux Audio has certainly honed-in on its desire to introduce a splash of vivid colour to the often sterile audio component aesthetic language but it's done with class.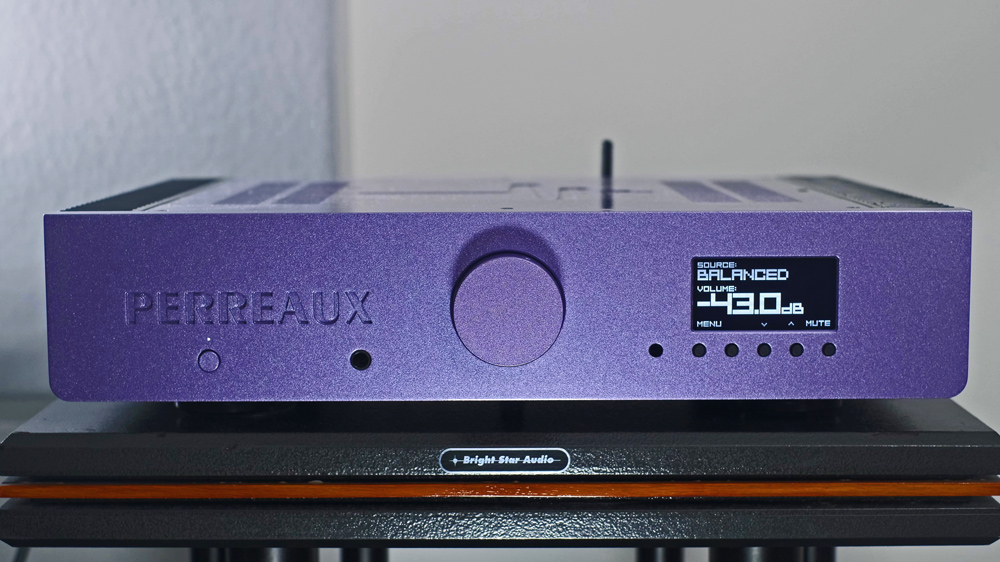 Whether the new 200iX can live up to that legendary 'Perreaux' indestructibility is a matter to be determined by the tyranny of time and the on-the-field trials of user handling and modus operandi. However, one thing is evident from the start. Sonically, the Perreaux Audio 200iX performs to a standard which places it as an equal among the best of its rivals, many of which may fall short on matching its features set.
Now, for the final step in my analysis. Let me see if I can haul this big boy to the roof of the listening room… I'm aiming for a drop test that'll make those Kiwis proud…
… Edgar Kramer
This email address is being protected from spambots. You need JavaScript enabled to view it.
Associated Equipment
Speakers — Wilson Audio Alexia Series 2, Axis Loudspeakers VoiceBox S (nearfield monitor), Vermouth Audio Little Luccas Mk.II
Amplifier — Gryphon Audio Antileon EVO
Preamplifier— Supratek Cortese, Totaldac d1-direct DAC
Sources — Digital: 432EVO High-End Music Server Roon Core, Yamaha CD-S2100 transport, Totaldac d1-direct DAC. Analogue: Transrotor Crescendo with Konstant Studio controller, Reed 1X Tonearm with upgraded internal wiring, Shelter Harmony cartridge, The Funk Firm Houdini cartridge decoupler, Supratek Cortese & REDGUM Audio RGPH2 phono stages
Processor — DEQX PreMate (part of arsenal/casual use)
Cables — PSC Audio custom design XLR, Vermouth Audio Reference loom,ZenSati Zorro loom, Cables for Music Songbird speaker cables
Audio Rack — SGR Audio Statement Model V
Acoustic Treatment — Vicoustic Multifuser Wood, Wavewood Ultra, Cinema Round Premium and Super Bass Extreme
Miscellaneous — GigaWatt PF-1 EVO, Les Davis Audio Viscoelastic CLD discs, VRC Vinyl Record Cleaning systemplus miscellaneous accessories
Perreaux Audio 200iX Integrated Amplifier
Price: AU$8995
Warranty: Three Years
Australian Distributor: Sound and Music
+61 3 9555 8081
www.sound-music.com
Perreaux Audio
PO Box 305, Mosgiel
Dunedin 9053
New Zealand
+64 3 489 2975
www.perreaux.com