How does a great brand, a veritable audiophilic powerhouse, return after a creative hiatus? How does it regain market recognition, recapture the imagination and re-stimulate the desirous impetus of audio enthusiasts who held it in such high regard? In the case of Canadian Classé Audio, now under the umbrella of powerhouse D & M Holdings, it starts by re-inventing the entity and forcefully re-launching onto the world's high-end audio stage. It then follows by introducing re-imagined products which, while preserving signature aesthetic motifs, improve on their predecessors with re-engineered and evolved design concepts. Incorporating these core philosophies, to a heightened status, are Classé Audio's new Delta PRE and MONO flagship components.
Class Wars
Through its immediately previous, some may say, tumultuous chapter Classé Audio saw the disbandment of its workforce and the closure of its Montreal office. Subsequent to the D & M Holdings acquisition (under Sound United, the parent brand for Denon, Marantz, HEOS, Definitive Technology, Polk and Boston Acoustics and, of course, Bowers & Wilkins), Classé Audio's Brand Director Dave Nauber, the sole staffer remaining through that pre-Sound United period of relative uncertainty, has brought the 'band' together again by re-employing key personnel and fast-forwarding newly-refined products which are the basis of this review.
It may have been at High End Munich 2017 (I'm pretty sure) when samples of what were then new Classé Audio components were shown. The elegant design language continued with the previous generations' curved fascia motif (when it ain't broke…) now sporting a darker gunmetal shade. We also see the introduction of eye-catching large backlit meters. At the time, the components' showing motivated a great deal of show banter and, I felt, a great deal of consumer excitement for the return of the great brand. But alas, things went somewhat… dormant.
Fast forward to 2020 and a freshly-raised industry profile. Now, we see a compliment of Delta series components with wide availability around the globe. The line includes the Delta PRE, an expansively-featured preamplifier and Delta STEREO and MONO power amplifiers. As mentioned above, this review tackles the PRE and MONOs.
Before getting into the functionality, features and connectivity of PRE and MONOs, I include here a mini-interview with Dave Nauber which provides comprehensive and informative insights regarding the Delta range and hints at the new company culture. I started off by asking him about the High End Munich 2017 encounter with Classé I described above and queried on whether the products I saw back then were preview prototypes and if the new products were revised/refined versions of those.
Yes, Munich 2017 was the first time you could have seen engineering prototypes. The concepts for them had been developed and engineering work was continuing with the assumption that we would probably have put them into production later that year. But as you know, the new owners of our parent company had other plans, which led to the acquisition of Classé by Sound United in January of 2018. What eventually came to market is based on those early prototypes but benefited from the extra time we had to continue refining them while production was being moved to Shirakawa, Japan.
What opportunities are presented by having Classé Audio products manufactured in Shirakawa and by being under the umbrella of Sound United?
Small high-end companies always struggle for resources and face challenges when it comes to turning design ideas into high quality, sellable products. In Shirakawa, we have access to world-class electronics manufacturing, allowing us to produce the finest quality components to ever wear the Classé badge. Shirakawa Audio Works gives us a range of testing and manufacturing capabilities that no independent high-end brand could afford. For other brands, seeking these qualities from a premium contract manufacturer comes at a price, both in hard costs and in the softer, more insidious ones associated with small production runs. Classé components are built with both quality and efficiency, which results in high value for our customers. Being surrounded by the other famous Sound United brands, including our newest stablemate Bowers & Wilkins, gives us access to industry knowledge and distribution options that yield further competitive advantages. Sound United is a great place for us to be.
Is there a cross-pollination/sharing of design ideas between the R&D and engineering teams in Canada and Japan?
On the design side, the Classé components have remained 100% Canadian but as we develop new models, especially the upcoming Delta ISP Immersive Sound Processor, the collaboration will be significant. Everything from DSP to HDMI will rely heavily on engineering in Japan to get the most from that model. It's a process and as everyone gets to know each other, I see cross-pollination in other areas becoming a happy consequence.
Are the current Delta range blank slate designs or progressions from the previous generation?
There are certain ideas you could see as derivative, like the preamp architecture being multi-functional, optimally supporting a diverse range of source components, and the ICTunnel active cooling of the amplifiers, which optimally controls temperature, improves reliability and offers installation flexibility. But once you get past the most basic of block diagrams, you see that these are completely new, ground-up designs. The circuit designs and parts are different and, for the amplifiers, so was the design goal.
How do these amplification products differ circuit- and design-wise from the previous generation?
The amplifiers were conceived when Classé was owned by Bowers & Wilkins, so naturally we were focused on making sure they would be the best amps for 800 series loudspeakers. If you look at the impedance curve for 800s and 802s you see that there is a significant part of the audio band where they dip below 4 ohms. We wanted to make sure the amplifiers could easily drive 3- and even 2-ohm loads so they would power the 800 series models effortlessly. It's also true that if you can easily drive these loads, you will effortlessly drive most every other speaker as well. So we focused on higher current at low impedance, trading off excess power at high impedance. The Delta MONO is 300W at 8 ohms and can deliver over 1,000W at 2 ohms continuously. The CA-M600 it replaced was 600W at 8 ohms but delivered under 200W at 2 ohms. They are both powerful amplifiers, but you tell me which one is more powerful. In the real world, the Delta MONO has more in reserve and it sounds it. The signal path is shortened and the output stage is highly biased, giving 35 watts of Class-A power from the Delta MONO and 12.5 watts/channel from the Delta STEREO. All this comes at a price, but we believe the extra cost is more than justified. Same with the preamp, which is functionally similar to a CP-800 but has completely different circuits and parts. There is a balanced MM/MC phono stage included, a completely new dual-differential DAC section with newly developed post DAC filters and a new high-resolution balanced analog volume control with 0.25 dB steps. Also, the preamp operates in Class-A. All three models use premium Rhodium-plated connectors from Furutech. There is a lot to cover when we talk about differences, but I'd call these the highlights.
Is Classé fully autonomous in terms of product direction, marketing, etc.?
The short answer is, when it comes to product development, yes. We are accountable to the larger organization, so just as if we were independent, we need to make good decisions about where to spend our development resources. The one place there is direction relates to how Classé and Marantz overlap. There is a single person (Joel Sietsema) who serves as president for the two brands and I report to him. Our mandate is to push what can be done in premium audio, not try to make Classé for the masses. As for all other functions, from sales and marketing to accounting and service, we benefit from the shared resources of the larger organization.
How far away is a Delta integrated amplifier and perhaps a source (streamer/CD player even)?
It's very hard to say. This generation of Delta series is "blank slate" all the way, so it takes time to conduct the research, do the engineering, complete certifications and testing, etc. We also have a five-channel amplifier called Delta CINEMA and an immersive sound processor called Delta ISP under development. All I can say for sure is we will not ship them before they are ready and they will be worth the wait.
Pillar to Post PRE
I'll jump straight into describing the PRE because, boy, there's a lot to talk about. This is one freakin' complete package – could Classé squeeze any more functionality in that gorgeous chassis? I bet there's hardly a field mouse's breath space in there.
Did I just write chassis? OK, over at least two generations now, Classé's top-shelf Delta components' aesthetic lexicon has illustrated an elegant form featuring a one piece thick-gauge natural silver fascia rounding-off at the ends and continuing along to form the component's sides (like a big U). That style is still employed on the new Delta series but is now even more precisely machined, finely matt-polished and immaculately anodised in a new gunmetal grey tone. A brushed top plate, solid rear panel and custom-designed feet add structural strength, vibration control support and weight – this is a 14kg preamplifier.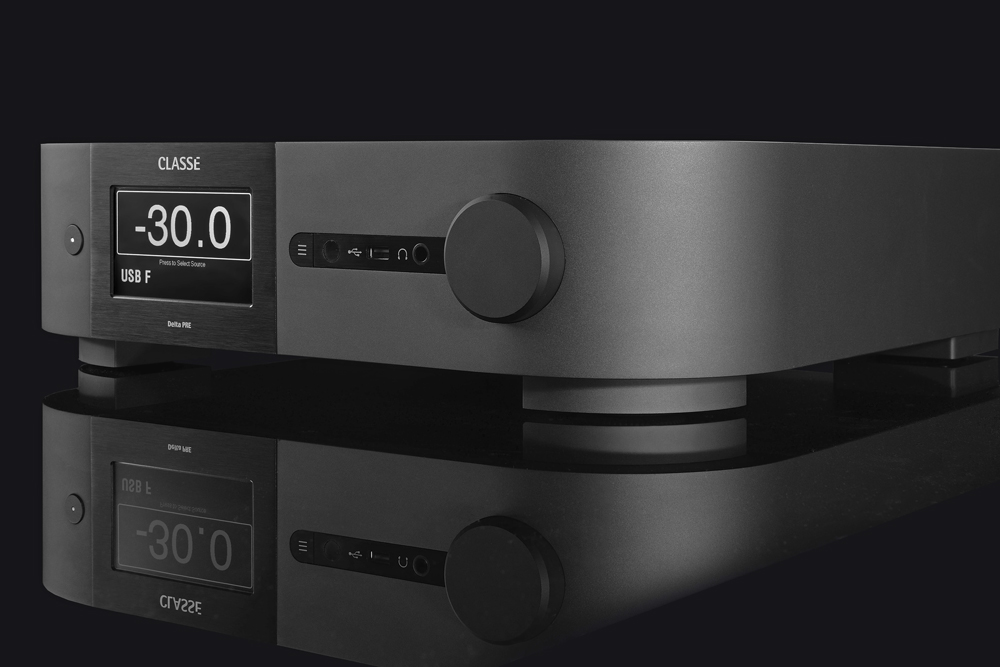 Keeping the PRE's lovely fascia clean while also providing a wealth of information and functionality was obviously Classé's aim. So, the microprocessor-controlled data hub is accessed via a resistive variable brightness touchscreen. Menus can also be navigated via the massively solid full-function, somewhat tightly directional, remote control (we loved its backlighting option). A wide range of menu options can be accessed in order to configure the preamplifier's myriad functions. The default 'Home' page provides current information such as volume level – adjusted in 0.25dB steps via a large multi-function rotary knob to the right of the display – active input, tone control selection, file format and resolution and more depending on the selected input.
Pressing the screen reveals the large menu selection which include Source Selection, System Setup, Configurations, Tone Control, Mono, Balance and Status. Each of these main menu options contains several sub-menus and multiple-level options. Sources/inputs can be configured for level, source naming, source input connector type, input off-set level (source sensitivity matching) and more. On a global basis, lowest and highest volume levels, as well as turn-on volume, can be set to avoid speaker-blowing disasters. Oh, and most of these features can be setup via a web interface or accessed via the remote control as mentioned above. So, you can now begin to understand the complexity and thorough comprehensiveness of the PRE.
The on-board digital-to-analogue converter is based around a quad of the highly-regarded Asahi Kasei Microdevices AKM 4497 32-bit DAC chips from the company's flagship 'Verita VELVET SOUND' family. Nauber explained, "Each leg of the balanced signal has its own stereo DAC, so there are eight channels of DAC running in dual differential mode."
The PRE has a fully-configurable phono stage which accepts both Moving Magnet (MM) and Moving Coil (MC) cartridges of low and high output design. A very wide variety of impedance loading options are available to cater to just about any cartridge extant. Also on-board, and with a 6.5mm jack output on the PRE's fascia, is a high quality headphone amplifier with X-Feed (Crossfeed), a feature which manipulates phase in order to create a more immersive, wider soundfield while ameliorating the 'in the back of the head' headphone phenomenon.
Further features are bass management control, high-pass filtering, 5-band digital parametric equalisation (a total of five filters can be setup for each channel), fully-customisable tone controls (in addition to parametric equalisation) with 'Tilt' feature, channel balance settings, network connectivity configuration and much more. Did I mention Airplay wireless playback compatibility? Another mark on the long tick box.
Let's go through the connections. Before we hit the rear panel, the fascia sports the abovementioned headphone jack output and a USB input for firmware updates and cabled Apple product connectivity. The latter function allows digital music playback (up to 96kHz) from iPhone, iPad, etc. (most file formats accepted) while also providing device charging. Conveniently, there's a hard button for menu access or you can access the same options via the touch display.
The rear panel is an impressive example of connectivity choices which will cater for the most complex of systems. Starting at the digital inputry, we have USB with support for PCM at up to 32-bit/384kHz, DoP (rates up 128) and DSD256. Ethernet RJ45 allows Airplay and DNLA/UPnP playback from networked devices (again, most file formats accepted) while also allowing control from the stable and well-designed Classé iOS and Android app and home automation systems. So the PRE is a renderer/streamer, in other words, for networked music playback. A 110 ohms XLR AES/EBU option provides 32-bit/192kHz resolution with the same frequency available via three S/PDIF coaxial inputs via RCA. Three further inputs are by way of Toslink optical sockets also with 32-bit/192kHz support (Classé recommends setting these inputs to 96kHz for optimum performance).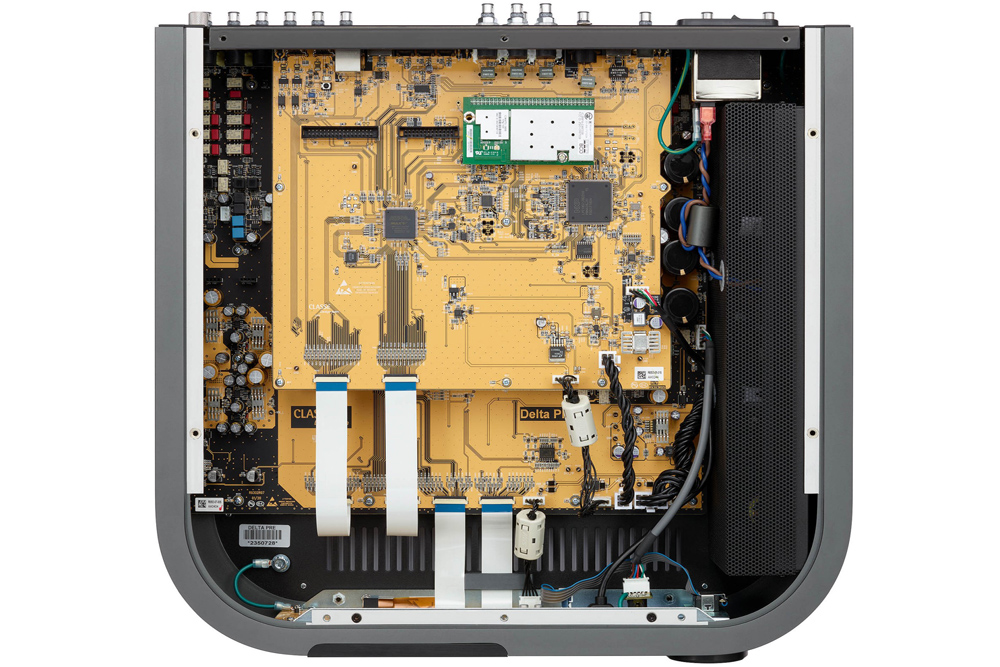 Control connections include an RJ45 RS232 automation control option (AMX, Crestron, Control4, Savant, etc.), twin RJ45 sockets for CAN-Bus in/out for multiple Classé component control via the CAN-Bus interface (Classé supplies termination plugs for the last daisy-chained component), 12V mini-jack triggers for turn on/off of linked components and finally mini-jack in/out for repeater IR control.
The bottom-most row of socketry, starting from the left-hand-side, provides the PRE's analogue outputs. Of most importance are the balanced XLR and unbalanced RCA outputs to hook up, in our case, to the MONO amplifiers. In addition, the PRE presents two Auxiliary outputs (each with XLR and RCA) which can be configured as additional main out for bi-amping purposes or as an additional subwoofer output to the adjacent main subwoofer output. Analogue inputs are provided via two balanced XLR and two unbalanced RCA options while a further unbalanced RCA is provided for the MM and MC phono stage. So, aside from the fused (with spare) IEC socket, that is all folks. Phew!
Specifications-wise we have a frequency response from 1Hz to 2MHz, an input impedance of 50kHz at 1kHz (XLR and RCA) and an output impedance of 200 ohms balanced and 50 ohms unbalanced. Intermodulation Distortion (IMD) is quoted as 0.001% while Harmonic Distortion (measurement bandwidth at 90kHz) is less than 0.0004% at 1kHz, 0.0005% at 10kHz and 0.0006% at 20kHz. A-weighted Signal-to-Noise Ratio (SNR) is 133dB.
So, I'll state right now that the Delta PRE is the most fully-featured, most intensely comprehensive preamplifier I've ever encountered. But as overwhelming as it may seem to tackle such a dazzling features set, in practice, the menu is very intuitive and its navigation so straightforward that it becomes an easy, stress-free operational task. You can dive into it as deeply as you choose or discover little morsels of functionality along your journey of ownership – just as I inadvertently did when I came across the Event Log feature which records and reports on a number of protection circuit and errors data (I just discovered it through the menus, both the PRE and MONOs worked faultlessly throughout their many weeks' stay). Handy diagnostic to have should there be a mishap. So trust me, the potential for discovery is enormous.
Classé Class-A
The fully balanced Delta MONO amplifiers are also feature-generous but I'll start here with a mention of the large power supply, with each mono featuring a 17kg custom 2.4KVA toroidal transformer painstakingly wound with, I'm told, about 540m of copper. The capacitor bank consists of no less than 22 four-pole Mundorf capacitors for a combined bulk storage capacity of 230,000μF per MONO. As a design difference to the previous generation, Classé has replaced the bipolar transistors with MOSFET output devices. The 6-layer circuit boards are hand-laid and optimised for very short signal paths. By the way, Classé offers the equally highly-engineered Delta STEREO amplifier with an almost identical features set.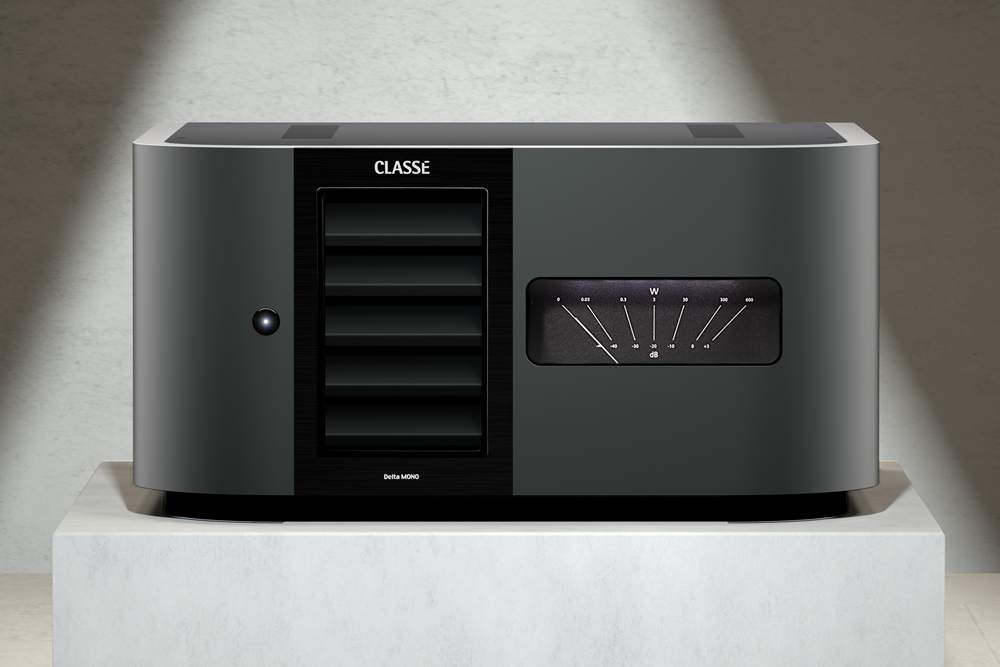 Classé rates the MONO amplifiers at 300 watts per channel continuous into 8 ohms, 600 watts at 4 ohms and 1000 watts at 2 ohms (stating here "with AC line held constant"). The MONO amplifiers are quoted to provide 35 watts of pure Class-A which means that, given average efficiency loudspeakers and even a reasonably large room, the amps will be running mostly in Class-A during normal use, then swinging into Class-A/B for large dynamic fluctuations. Yes, that's a good thing. Frequency Response is said to span between 1Hz and 650kHz (-3dB, 50 ohms source impedance), input impedance is 82 kohms both balanced and single-ended and voltage gain is 29dB. Signal-to-Noise Ratio (SNR) is 119.5dBA and the damping factor of 700 (1kHz, 8 ohms reference), in conjunction with the large power supply, promises good low-end control.
As far as most power amplifiers go, the Delta MONOs are feature-packed. Again the fascia is a clean and functional space with a single button/LED for power standby, the air vent intake panel for the internal ICTunnel heat management system (more on this below) and the gorgeous new Watts/dB VU metering system highlighted with subtle dimmable white backlighting. In common with the PRE, browser-based control is available for setup and amp naming (needed in a large multi-amp installation or you can just call them MONO-ME for the hell-of-it), there's the same Event Log reporting system and many other menu-based configuration features. Again, this is a comprehensive, advanced design.
Around the back you have balanced XLR and unbalanced Furutech RCA inputs and twin sets (for bi-wiring) of high quality Furutech five-way loudspeaker binding posts which are a delight to hand-tighten. They provide the adequate amount of torque on spade connectors without challenging your biceps. They're designed to prevent over-tightening on spaded while providing secure surface contact with banana plugs. I love, love these binding posts and have come across them in super-expensive designs beyond the MONOs. Kudos Classé. Custom 'Navcom' feet are employed in order to minimise potential vibrational distortions. The MONO amplifiers weigh-in at 43kg each.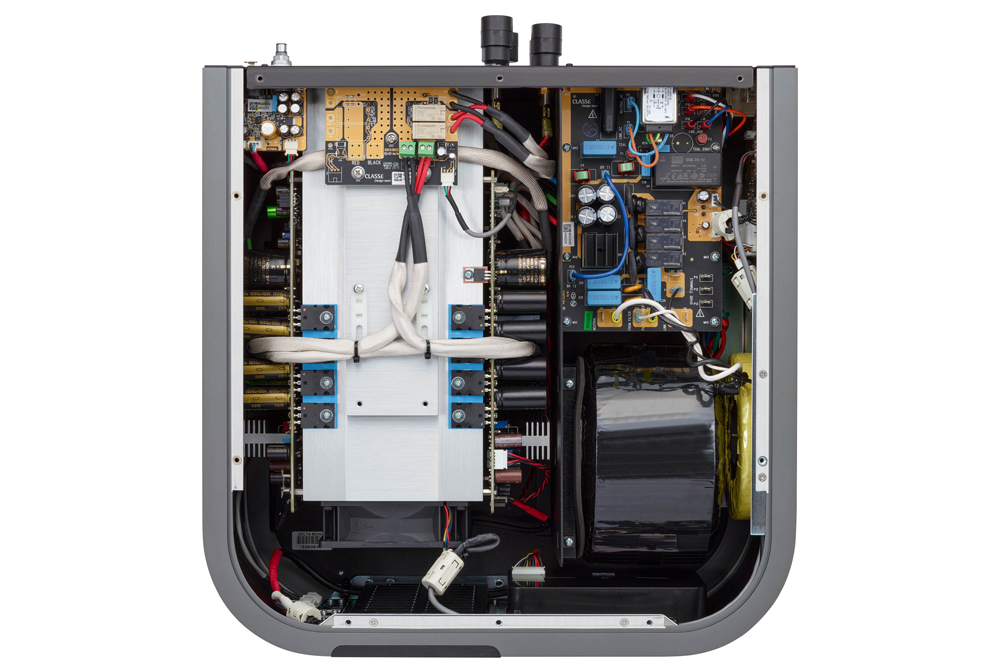 Digital trickery is provided via RJ45 Ethernet sockets for Classé's CAN-Bus system as briefly talked about above in the PRE description (again an RJ45 terminator for the final component in the chain is provided). The same RJ45-style connections are available for RS232 control when in an AMX, Crestron, Control4, etc. home automation universe. A firmware upgrade port is served by a USB-A socket. Further connectivity includes 12V mini-jack triggers, IR repeater input/output also via mini-jack and an IEC AC socket. A switch can be used to select Auto Standby which powers the amplifier down if no audio signal is received for 20 minutes. Oh, a large exhaust port with metal grille exits at the back. The ICTunnel system, which intakes cold air via the front panel, circulates it around the amplifier's circuitry and then expels it out the rear while monitoring and regulating operating temperature, is designed to keep all systems cool while being just about silent. I could hear the fans if I stood directly behind the MONO amps but there was silence once just over a metre away.
The MONOs feature comprehensive protection measures which directly report to the Event Log and these include DC detection, Over-Current limit, 'CBE' Common Board Error for internal component communication, Over Temperature monitoring and shutdown should a fan failure occur and the amplifier has exceeded safe operational parameters.
Delta Force
I replaced one item at a time in order to grasp individual performance in juxtaposition to my own reference system. I started with the MONOs via my own Supratek valve preamplifier, then introduced the Delta PRE hooking-up with my Totaldac DAC and then, in a final configuration, I employed the PRE's on-board DAC (both with my 432 EVO High-End streamer and the Yamaha CD-S2100 as transport). Worth mentioning is the PRE's DAC immediate recognition of the streamer via USB connectivity. No glitches, no hair-tearing compatibility issues, no time-consuming driver downloads, etc. It was literally, plug-and-play.
Before starting the sonic performance section of this already lengthy review, I should mention that both Delta PRE and MONOs are a pleasure to use. Everything works perfectly, the remote is super-functional even in the dark and all switching/mechanical non-menu functions – such as the physical volume control – are immaculately executed with sure-footedness and precision.
Well, the superbly-engineered power supply, with its massive transformer and capacitor bank, has paid-off with a terrific impression of bass power, control and dynamic expression. That's what first hits you – it's a solidity and confident delivery of whatever challenge you throw at these components. Let's start with my latest predilection – actually almost obsession – Stoner Rock (a more contemporary variation of the shoe-gazing genre). I've had on high rotation bands such as Sun Crow, All Them Witches, Psychlona, Lowrider, Colour Haze (oh-so-freaking-good but intentionally low-fi) and many others. These are, mostly, reasonably good modern rock recordings which highlight the dark rawness and low-key riffs which will challenge a system's separation, transient attack handling and raw power.
This was all a breeze for the Deltas. Superb handling of complexities was a major strength too and when drums and bass accentuate the fuzzed guitars, there's bite and body and power aplenty. The heavy, looming darkness of Sons of Otis's "The Other Side" from their remastered Songs for Worship through the Classé sounded ominous and dark, as it should, while projecting in relief to the fuzz, the accentuating drums – kick drum was delicious. This music is an acquired taste – one that I've just rediscovered – it can be somewhat droning and… samey but often there are moments of sheer brilliance and psychedelic creativity that the Delta components powerfully communicated.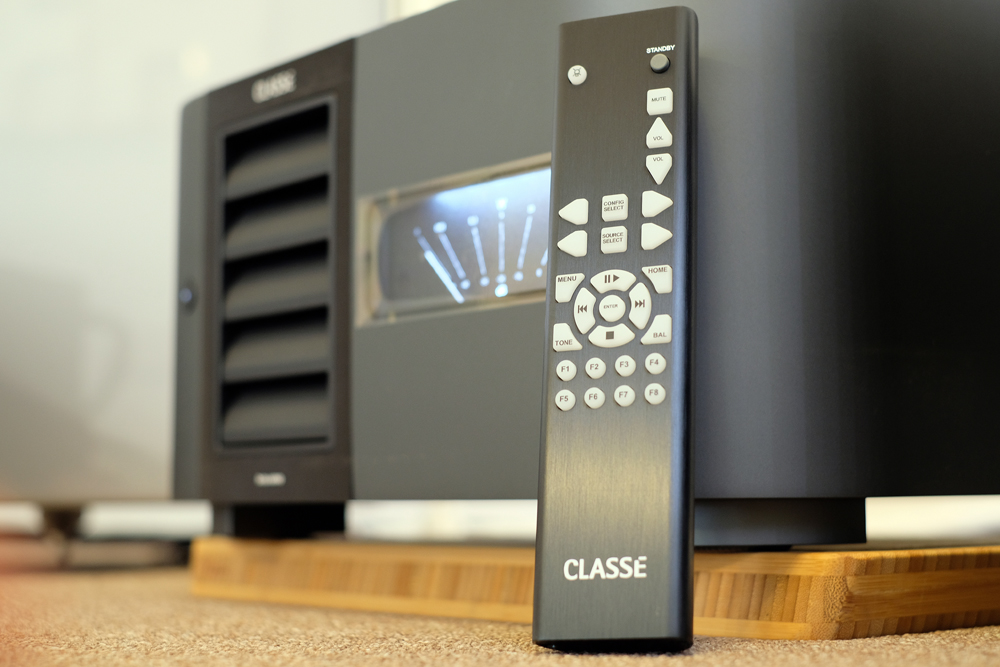 From one extreme to the other, I cycled through a variety of chamber music which the PRE and MONOs treated with kid-glove delicacy. These are nuanced components with a very refined, sophisticated sound. By that, I mean they are tonally beautiful and accurate while eschewing any form of false brilliance for the sake of projecting exaggerated detail or the illusion of enhanced resolution. The PRE and MONOs combo delivers as natural a presentation as I've heard from solid state amplification.
Ensemble Emigré's treatment of Robert Khan's Leaves from the Tree of Life was a captivating and emotionally wrenching experience. Delta PRE and MONOs communicated the piano with terrific resonance and transient detail from left-to-right, with the high keys extending faultlessly with harmonic decay and delicate tone. This was expertly communicated alongside the rosin-rich, resonant cello and violin tones. The venue's ambient information and acoustic signature were realistically rendered in a large soundfield, with excellent image positioning and focus.
In another chamber music example, the different space of Connecting Identities: Contemporary Lithuanian Landscapes by the Trio Agora was equally well offered. There was a stark contrast revealed in the atmosphere of this and the preceding recordings accented by the clarinet (in addition to piano and cello). This one is a livelier, more present piano recording, extremely convincing via the Deltas. The precision of the sharply-played piano on "Ei, Jauga Jauga: II. Motula Mano, Širdela" was scary, almost, while the vocal and the almost-below-the-surface cello built the track's atmospherics with stunning fidelity. On other tracks (especially the slow-burning "LADA") the cello is used as an accent– actually, almost as a weapon. It's aggressively struck as a form of emphasis, or even shock and through other passages it's barely audible, only to slowly ascend to striking heights. The Delta components tracked the attack and dynamics effortlessly without smearing the leading edges. The piano is used as an inflection through specific passages on many tracks, also to enhance, with its tonality being superbly precise.
The Delta components aren't soundfield-shy. They are always capable of recreating a fully-dimensional, spacious ambience. The "Kyrie" movement, from Musica Temprana' Misa Criolla, was testament to that by creating all the echo and reverberations on a large space. When the drum beat comes in, it seems to emanate way beyond the front wall with solidity and impact. The choral passages are expertly separated, sounding like a multitude of varied voices rather than a homogenised singularity.
Maestro jazz drummer Dennis Chambers' "We Don't You Know" from the funkied-jazz Groove and More album was a tight, rhythmic sensation via the Delta PRE and MONOs. Chambers has assembled a terrific group of musicians who have created a wonderful album. He shares the stage with the band but is always a driving force to the music even when jazz fusion guitarist Scott Henderson lets fly. Chambers' tight control of his instrument in conjunction with his very dynamic style, makes for exciting music and the Delta components deliver the drive, rhythm and power of his playing.
Conclusion
When I heard the great Classé Audio name was being revitalised – and somewhat simultaneously reinvented – I had an immediate reaction. This was a response going back to days, decades ago, when I lusted after the beautiful Classé Audio Six preamplifier and Ten power amplifiers. What beauties… The audio world has changed since those days, of course, and technology has moved on. But much is owed to those early products, when the high-end, as we now know it, was in its early days.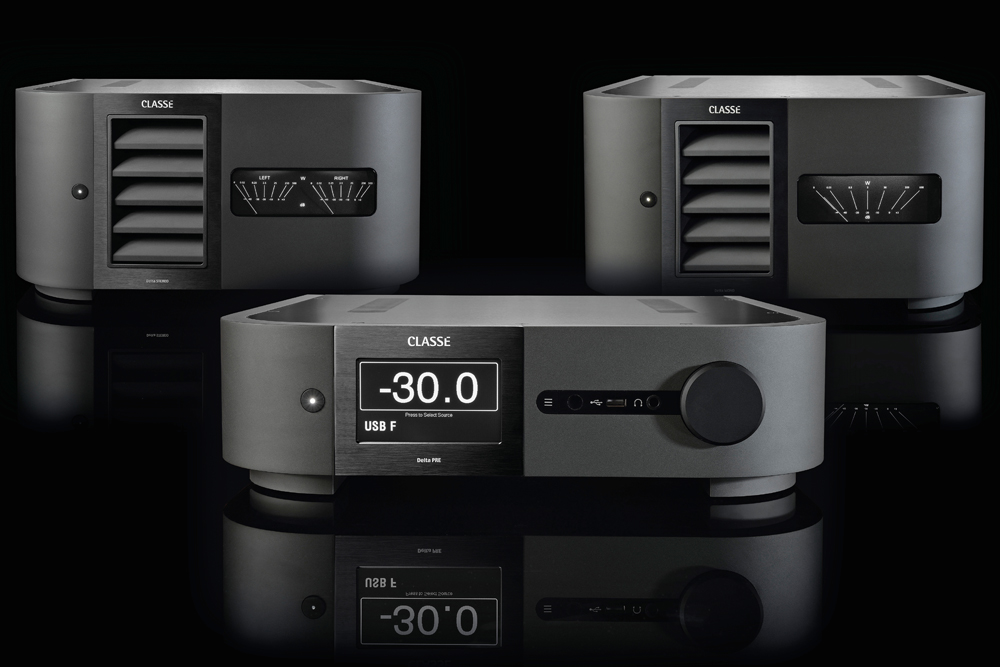 Yes, the Delta PRE and MONOs carry a heritage they respectfully build upon. Sure, the aesthetics have changed to a style culture more in common with the last few generations. Yet, one thing has remained a constant since the nascent days – that is the ethos of providing exceptional sonic performance via skilfully-designed products with, in the case of the current Delta components, the latest technologies.
So how do I summarise the music-making powers of the Delta PRE and MONO amplifiers? Can I start by asserting… musica fantastica? Just saying. Yes, the PRE and MONOs offer all the dynamics, resolution, spaciousness and tonality you'd expect from highly-engineered solid state components. They drove my Wilson Alexia 2s effortlessly, not a bead of sweat sprung. They're superbly built and they look stunning too… did I mention the MONO's white VU meter? Pure eye candy.
Yes, the PRE and MONO amplifiers will make their mark on the high-end audio landscape. It's been a long-germinating seed, now, blooming-to-flower. This is Classé Audio saying "We're back baby!"
… Edgar Kramer
This email address is being protected from spambots. You need JavaScript enabled to view it.
Associated Equipment
Speakers — Wilson Audio Alexia Series 2, Axis Loudspeakers VoiceBox S (nearfield monitor), Vermouth Audio Little Luccas Mk.II
Amplifier — Gryphon Audio Antileon EVO
Preamplifier — Supratek Cortese, Lightspeed Attenuator LDR passive
Sources — Digital: 432EVO High-End Music ServerRoon Core, Yamaha CD-S2100 transport, Totaldac d1-direct DAC. Analogue: Transrotor Crescendo with Konstant Studio controller, Reed 1X Tonearm with upgraded internal wiring, Shelter Harmony cartridge, Supratek Cortese & REDGUM Audio RGPH2 phono stages
Processor — DEQX PreMate
Audio Rack — SGR Audio Statement Model V
Acoustic Treatment — Vicoustic Multifuser Wood, Wavewood Ultra, Cinema Round Premium and Super Bass Extreme
Miscellaneous — GigaWatt PF-1 EVO, Les Davis Audio Viscoelastic CLD discs, VRC Vinyl Record Cleaning system plus miscellaneous accessories
Classé Audio Delta PRE Preamplifier and Delta MONO Power Amplifiers
Price: PRE AU$16,900, MONO AU$17,900 each (STEREO AU$19,900)
Warranty: Five Years
Australian Distributor: Bowers & Wilkins Australia
+61 2 9196 8990
www.bowers-wilkins.net
D & M Holdings
2-1 Nisshincho Kawasaki-ku
Kawasaki-shi, Kanagawa 2108569
Japan
+81 44 670 1111
www.dm-holdings.com
Sound United LLC
One Viper Way
Vista, CA 92081
United States of America
+1 760 536 5300
www.soundunited.com