It was with an open mind that I welcomed the invitation to review this particular component from Line Magnetic. My curiosity was piqued and came from a place of genuine interest in the LM-34IA integrated amplifier. An interest to see if indeed the rumours were true – that the Chinese manufacturers we've seen emerge into the vast landscape of the audio industry have left their mediocre beginnings behind and become capable of competitive, world class offerings. Even at this particular price point, one that you would regard as 'entry level' into the chasm that is tube gear.
First Impressions: Positive!
After some friendly conversation over the phone with the State agent for Line Magnetic Australia, the unit was dropped to over as factory-packaged. What came as an unexpected surprise was the attention to detail and sheer quality that the manufacturer conjured up here. The execution being noticeably better than some equipment that I have previously purchased, at a price point much, much higher. In fact, even better than that of my experiences with equipment coming from manufacturers who are considered to be (or irrefutably are) at the top of heap.
With the unit wrapped, the foam packed inside of the valve protective cage (to negate any possibility of valve movement arising during transit) along with the amplifier's own foam and impressively inert cardboard surrounding the unit, rest assured that if you were to decide to invest in a Line Magnetic LM-34IA (or very likely any Line Magnetic product) it will reach you without issue. A reassuring thing to factor in for any prospective buyer of electronic audio equipment, especially those wishing to dip their toes into the softly-glowing waters of valve amplification.
After peeling back the layers of this little oriental onion, you strike at the core an amplifier with an execution of build that would put to shame a great many of our hobbies' offerings. The LM-34IA's high gloss black chassis, visually dominating power and output transformers, black brushed aluminium faceplate (sporting machined aluminium switches and knobs) and the tube protective cage, all add up to give this entry level Line Magnetic unit not only a sense of aesthetic appeal, but also the impression that it may very well have the performance to match. Upon further inspection and set up, you come to discover some attractive and useful features of the LM-34IA.
There's an easy-to-operate and accurate bias control which, via the very convenient top-mounted ampere meter, provides accurate calibration of the native EL34s (four of them), as the name implies, while also giving further options for those who want to take advantage of rolling through the plethora of power tube options (these being 6CA7, 6L6, 6550, KT66, KT70, KT77, KT88, KT90, KT100).
The LM-34IA has a line-level preamp only with three RCA unbalanced inputs, likewise giving it the ability to be isolated and for the unit to operate as a power amp only. A nice little feature should you decide to experiment with different preamp options. Active, Passive, etc. There are quality 4-way speaker binding posts in order for this reviewer to hook-up cables to the in-house Harbeth M40.2 reference loudspeakers. There's an IEC socket allowing audio enthusiasts to experiment with aftermarket AC power cables.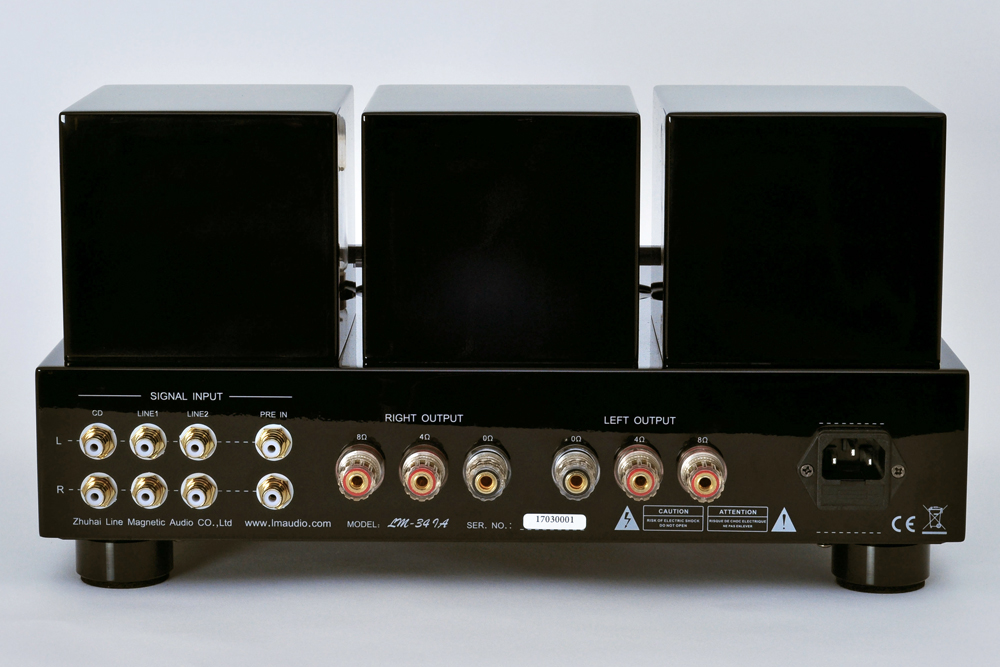 From a more mechanical perspective this little Push-Pull designed, Class-A/B amplifier delivers 40 watts per channel with the aid of handmade EI power and output transformers. It makes use of a 30 second SoftStart and time-delay circuit and the remote and manually controlled volume utilises a quality ALPS pot. Line Magnetic does provide a lovely little infrared remote. One must note that this is for volume only but a bonus nonetheless!
The input stage comprises of one 12AX7 and two 12AU7s. Line Magnetic state a frequency response for the LM-34IA between 10Hz to 50kHz at -1.5dB at a Total Harmonic Distortion (THD) of 1% at 1kHz. Input impedance is 100kHz, making the LM-34IA compatible with all source impedances.
Peeking underneath the covers I saw something unexpected. Something that undeniably indicates attention to detail – point-to-point wiring. That's right readers, this thing is entirely handmade! And yes, point-to-point wiring is something you unfortunately do not see all that much of these days in the audio industry, even in high-end valve amplification. While most companies have given in to the realities of manufacturing and labour costs opting for often mediocre quality printed circuit boards, here, you will find that Line Magnetic have not.
Point-to-point hand wiring is important for a number of reasons. There's very real potential for superior sound quality, a cost-saving ease of repair and, all things being equal, reliability with longevity. Couple this great detail to the high quality components found attached to them and you have an expertly executed unit. Impressive!
Listening on the Line
Upon finalisation of the set-up, my first listening session was had after an hour or so of warm up at a low volume level. Just enough to get things flowing. I must preface my listening impressions with an assertion, one that comes with experience derived from both ownership and listening to a vast array of tube components. This is a tube rollers amplifier.
Listening to some of my usual suspects, I quickly gained a sense that the unit, while having a sweet and melodic character, would more than likely benefit with the substitution of higher quality tubes than those of the original stock. With a matched quad of modern Gold Lion KT77's and as many 12AX7's variants as I have years under my belt, I ventured forth...
First cab off the rank, the Cowboy Junkie's sixth studio album Lay it Down has for some time been a late Friday night favourite. With the bands' infamous character lending itself so well to those lonely, quiet hours, it is then that you are truly able to hear their material as intended. The title track epitomises this, the LM-34IA with its stock tube compliment reproduced this track with a sweetness, while somewhat relaxed but wide open and luscious with some 'meat on the bones' for each instrument.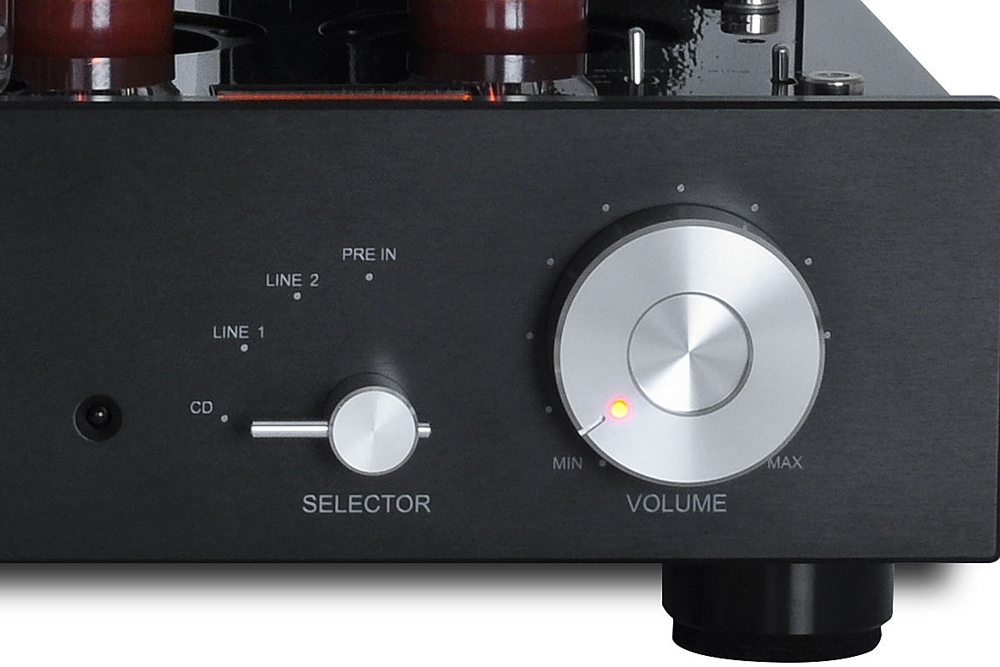 Substituting the stock EL34s for the Gold Lion KT77s saw greater separation of soundstage, with an improved level of transparency and realism. But the truth and accuracy of this recording was greatly enhanced with the use of a NOS Mullard long plate 'MC1' coded 12AX7. Margo Timmins' haunting vocals were oh-so-airy and natural, capturing a faithful sense of decay and extension.
While being swept away with the goodness of female vocal material, I reached out to grab another classic. Gillian Welch's album Time (The Revelator). Just moments into the first track "Revelator" the amplifier exuded an ever noticeable capacity to excel with recorded material of this nature. Gillian's vocals were strong, focused and relaxed. Her husband, Dave Rawlings' guitar work was engaging and true-of-tone. Interestingly, this material yielded different results with my experimentations with tube rolling. With the Gold Lion KT77s sounding somehow 'cooler', the NOS Mullard seemingly perfecting the way you should truly hear such a folk/country album. Her vocals presented with delicate nuance and guitar sitting forward and steely and in such a sublimely natural way.
Swapping things up a little to an 80s art-rock cult classic, David Sylvian's almost perfect album (to this reviewer anyway) Brilliant Trees, found its way into my Naim two-box player. While being a total departure in genre, this former Japan frontman's recording proves to be a great test for evaluating control, dynamics and spatial information.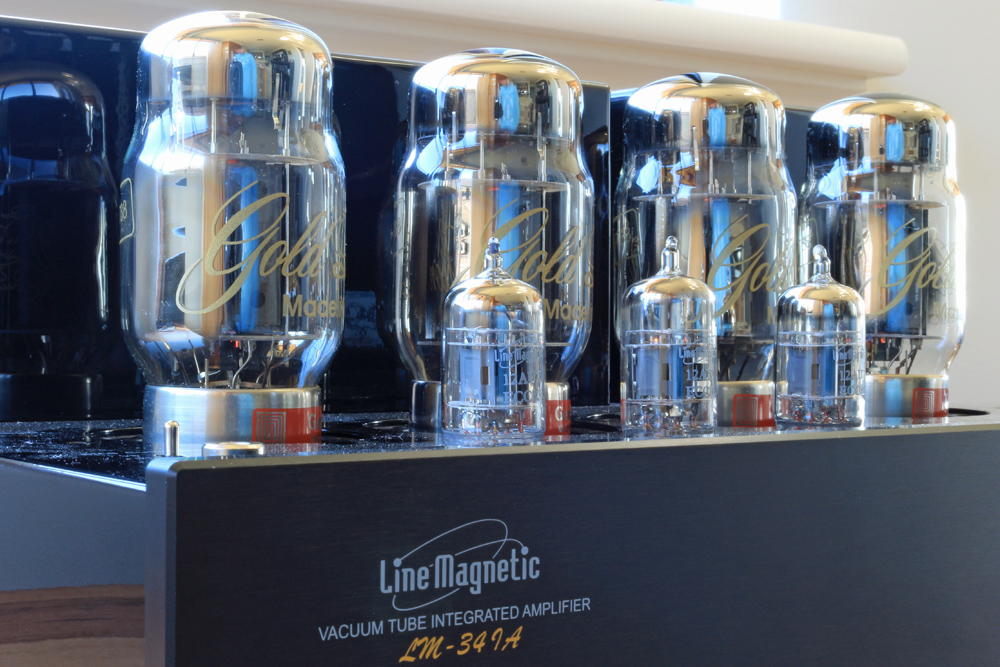 Using the track "Nostalgia" the LM-34IA demonstrated strong and clean vocals with great subtlety on the guitar. The percussive detail found at the introduction of the track was very nicely reproduced. Only bettered here with the use of the Gold Lion KT77s, fleshing out a more resolute (ghostly-like) rendition, great bass control and more percussive details. While the NOS Mullard portrayed the stereotypically expected results; warmth. Albeit at the expense of micro-details.
Upon reviewing my notes I discovered a theme evolving, a theme sprinkled with such superlatives as natural, engaging, warm and full. So I found it only natural then that I should delve into some classic jazz, some Rudy Van Gelder-recorded jazz, choosing the Ray Bryant Trio (Prestige 7038). The sounds rolling out of the Harbeth speakers were sweet and alluring, with sufficiently accurate details and spatial information. When playing the LM-34IA with the KT77s we again hear a somewhat 'cooler' presentation, but also a captivating sense of venue and space with the NOS 12AX7s.
Of note here is that, regardless the tubes used, it's evidenced that here is the performance of a truly pleasant, tonefully-true tube amplifier.
Conclusion
Although my time with the Line Magnetic LM-34IA was relatively brief, I was provided a very candid insight into the future of the audio industry and our hobby, a future that appears to look positively bright.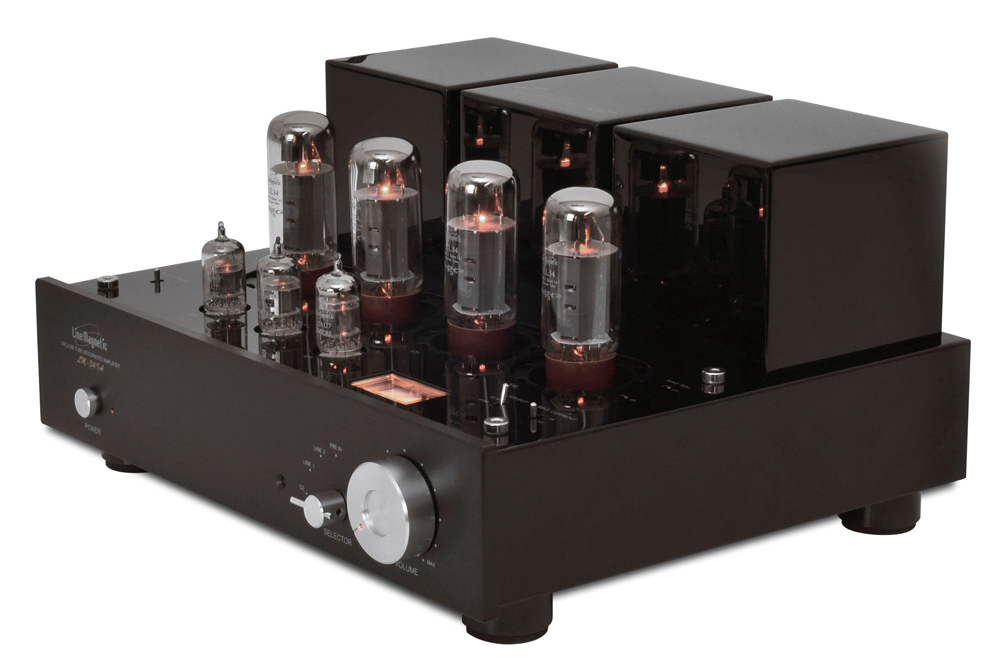 It is because of components like the LM-34IA, boasting attractive cosmetics, excellent sonic performance, solid construction and flexibility of features, that the budding audio enthusiast can confidently and soundly invest their "hard earned" while being safe in the knowledge they are in possession of a quality, well-built product. Further value for the investment can be had by way of notable sonic improvements gained by appropriate and clever tube substitution. This is a responsive, well-engineered integrated amplifier.
… Travis Kelly
Associated Equipment:
Speakers — Harbeth M40.2 Loudspeakers
Amplifier — EAR 509 Monoblocks & Luxman MB-3045 Monoblocks
Preamplifier — EAR 912 & Luxman CL32
Sources — Digital: Naim CDS & CDPS, CEC TL0 CD Transport, Wadia WT3200 CD Transport, Marantz CD12 CD Transport & Marantz DA12 DAC, STAX DAC X1t, VTL Reference DAC Analogue: Kuzma Stabi M, Kuzma 4 Point 11, Koetsu Rosewood Signature, Thrax Moving Coil Step-up Transformer
Cables — Sonic Art Interconnects and Digital Cable
Audio Rack — Custom (hardwood)
Line Magnetic LM-34IA Integrated Amplifier
Price: AU$2399 (includes shipping in Australia)
Warranty: 12 Months (6 Months on Tubes)
Australian Distributor: Line Magnetic Australia
+61 8 6371 5088
www.line-magnetic.com.au
Line Magnetic Audio Co. Ltd.
L4 Building No.2 Ping Xi Road
No.6 Nanping Industry Park
Zhuhai, Guangdong Province
China
+86 0756 391 1922
en.lm-audio.com/