Do we really need to talk about Linn? It is one of the most famous companies in high-end audio and, back in the 1970s, it was one of a small group of British companies that changed the way all of us thought about high fidelity sound reproduction. Its most famous product was – is, since a revised version is still in production – the Linn Sondek LP12 turntable. Next year ought to be a big one for Linn, since it will the 50th anniversary of its turntable. But since much of the world is digital now, Linn has long been involved in that part of audio as well. Which brings us to the Linn Majik DSM/4.
What is the Linn Majik DSM/4
The Linn Majik DSM/4 is a combined integrated amplifier, digital media player and HDMI video switcher. It's the fourth version of the Majik. This one was introduced in 2020. It's essentially a jack of all trades, although it leans more towards modern sources and network audio than to analogue.
Let's talk amps first. It has two Class-D amplifiers. They're rated at 50 watts output into 8 ohms, 100 watts into 4 ohms. The output terminals are smallish, but support spades, banana plugs and bare cable. The unit is compact: 350mm wide, 100mm tall and 350mm deep, and it weighs just over four kilograms.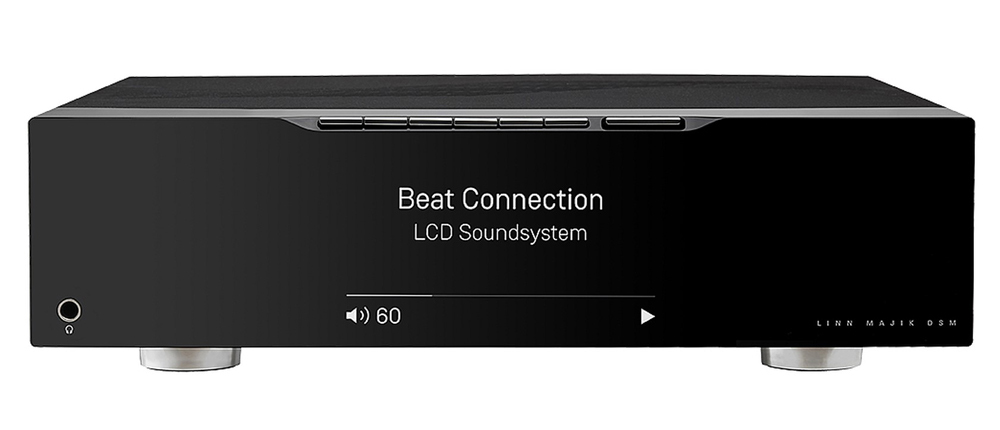 For inputs there are five HDMI connections, Ethernet, Wi-Fi, Toslink optical and S/PDIF coaxial digital audio, USB Type-B for connecting to a computer and one pair of RCA sockets for analogue audio. Four of the HDMI inputs are proper inputs and support UltraHD video, passing it through to a TV plugged into the fifth. That fifth HDMI socket supports the Audio Return Channel, so the TV can send its sound back to the Majik via that HDMI cable.
The analogue inputs can be configured for line level (that's the default) or Moving Magnet (MM) phono use. Linn says that the phono stage is "hybrid analog/digital", which suggests to me that the RIAA equalisation is done in the digital domain. Linn uses a 24-bit/192kHz analogue to digital converter on this input.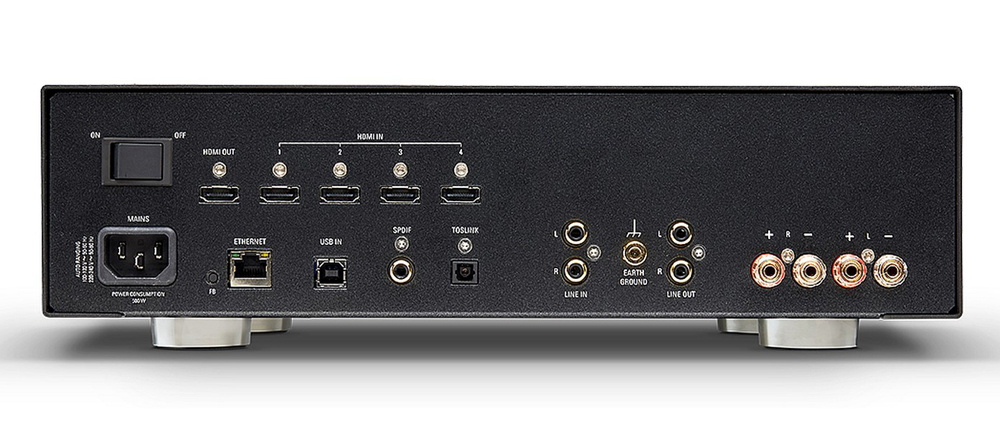 The coaxial digital input can be switched to operate as an output. Useful if you want to just use the unit as a front end for some other digital-capable audio system. Finally, there is a pair of RCA line level outputs which are under the control of the unit's volume setting. You can use these for an external amplifier or for a subwoofer. Around the front there's also a 6.35mm headphone output along with a display.
Setting up
Okay, let me get this out of the way. One way to have one's listening pleasure reduced is to make installation and setup a hassle. There are several ways to do this. A good start is to not include any useful documentation in the box. No manual, no setup guide. All there was in the box was just one of those booklets of "Safety Information" required to comply with various legal requirements. (I confirmed with the Australian distributor that there is no additional documentation that was missing from the review unit.)
Well, I'm not new at this so I just went on regardless. I plugged it in – speakers, UltraHD Blu-ray player, HDMI output to TV, turntable and network cable. Popped the batteries in the remote, flicked the big hard power switch at the back and the standby button on the remote, and the Linn logo artfully assembled itself on the unit's front panel display. Nice. Just to make sure everything was working properly, I fired up a uPnP music player and there was the Linn unit in its list of available devices. So I started playing some music. Then I flicked on the TV and chose the HDMI ARC input on the Majik, and the TVs sound came through the speakers. Again, nice.
Perhaps no manual is needed after all!
Next, Spotify. Yes, there was "LINN MAIN ROOM" in the list of playback devices in the Spotify app on my phone. Tidal? No, it wasn't there.
I need Tidal. Ah, so I guessed I should use a Linn app. I grabbed an iPad and went to the App Store, finding two Linn apps there: Kazoo and Linn. I used Kazoo back in 2015, the last time I checked out a Linn product. It was unclear which I should use, so I went with Kazoo. When I installed and fired it up on the iPad, it recommended I instead use the Linn app. Back to the App Store, I downloaded and installed that and started it up. It reported that it could find no Linn devices to control. I noticed that this app has a low rating in the App Store – 2.3 out of 5 – with one five-star review and two one-star reviews and nothing in between.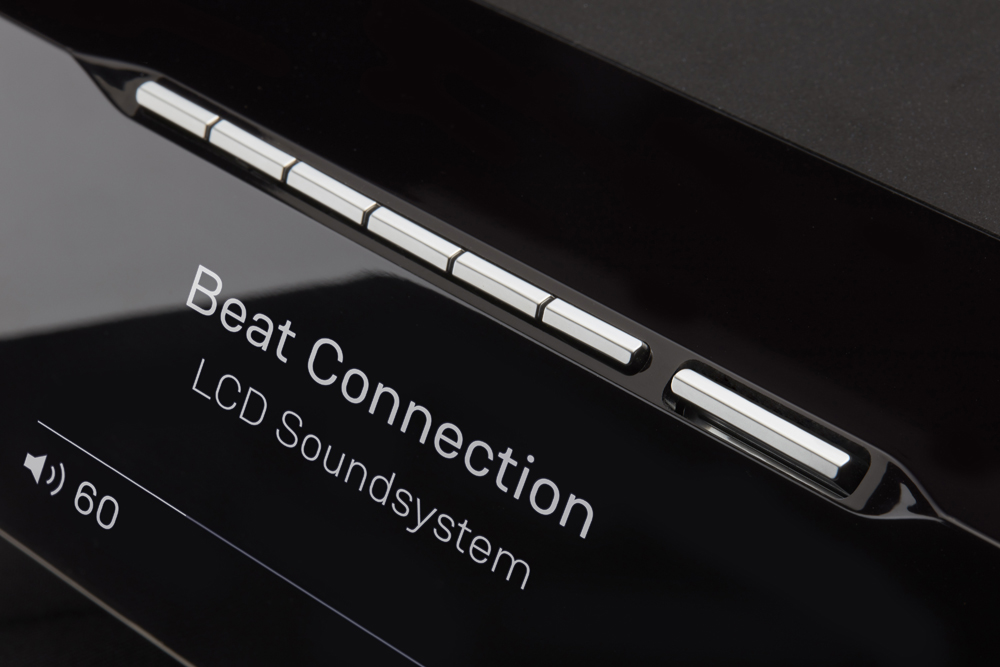 So I went searching for more information. On the Linn website I found its manuals section, which said that I could configure the unit using Konfig. I went back to the App Store to find Konfig. It wasn't there. Eventually I discovered that Konfig is an application available for Windows and Mac. So I installed it on my Windows computer.
Good news: Konfig immediately found the Linn Majik DSM. This software worked perfectly. First, I updated the Majik's firmware to the latest version – that only took five minutes – and then went into "Device" configuration and set the analogue input to Phono. You can further configure Phono by setting the maximum input level, which alters the system sensitivity, and also apply a volume offset so that it better matches other sources. In Konfig you can also set up Wi-Fi for the unit, so it no long requires an Ethernet connection. This went smoothly. Apparently you can also set up the unit via your Linn account.
I do recommend that you use Wi-Fi rather than an Ethernet connection where possible for your audio products. Wired network systems are very noisy and different products differ in their ability to isolate that noise from their analogue sections. I noticed no such problem with this unit, but why take the chance?
The Linn app on the iPad was initially still reporting that no device was found in one place, all the while happily streaming music to the unit. After I flicked over the unit's connection to Wi-Fi, the app settled down and recognised the unit.
There are a bunch of powerful capabilities in the Konfig app, not the least of which is room optimisation. This basically calculates a correction curve for speakers based on your room's dimensions and their position therein. Such is indeed mathematically possible, but it kind of ignores other reflective surfaces within your room, and doesn't do anything at all for non-rectangular rooms. The system includes data on a limited number of loudspeakers – definitely including Linn's own models – which can have their own frequency response idiosyncrasies also corrected. There are a great many loudspeaker models listed. Very few of them have the necessary data available. In those cases, you can enter your email address into a box so Linn can notify you when (if ever) that loudspeaker's data is added.
Usability
There are many things about the usability of the Linn Majik DSM that I love. You can queue up music from any of your available sources – Tidal, local servers or whatever – and the music plays in sequence with no discrimination according to source, and no delays as things switch to a different mode. In fact, everything to do with network or other playback was rock solid. Okay, sometimes Tidal waited a few seconds before it started, but that's on Tidal, not Linn.
But there are things that are more difficult. For example, there are precisely seven controls on the front panel of the Majik. The right-most one does a bunch of things. Push on its right side and you increase the volume, left to reduce. Press in the middle for play pause. Press up or down and other stuff happens. Sometimes I managed to get some kind of menu from which I could choose settings, other times I'd get a list of sources. The results were too unpredictable for me, so I retreated to the IR remote which gives you buttons assigned to specific tasks.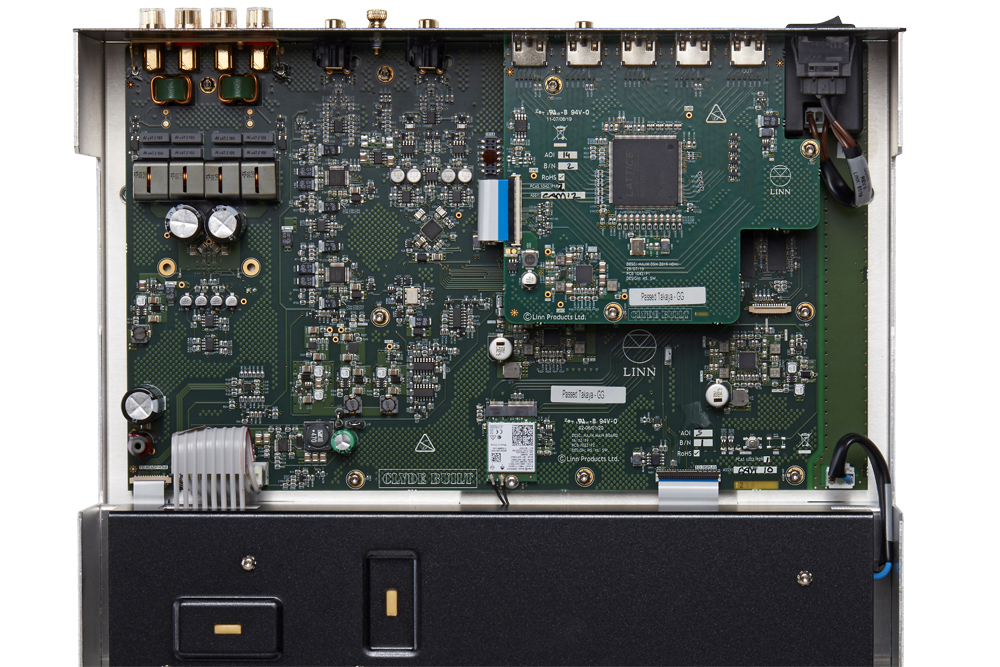 What about the other six buttons on the front panel? Well, each of those invokes a Pin. A what? Well, you know how you can pin things on a corkboard? Well, you can pin things you like to these half-dozen keys. It could be a track or a source… I think. After studying the online documentation for a while, I was about to give up on Pins entirely but then I stumbled across a Pin selection in the Linn app. I tapped it, and found that I could assign a track to a Pin. Which I did. Then I pressed the relevant button and this Tidal track started playing.
I did try the intuitive and widespread technique of holding down one of the Pin buttons to see if that would assign the Pin to the current item. No, it doesn't.
Since I then knew how to assign a Pin I went exploring. It didn't work for my NAS, which has its own menu structure. So you may find the Pin feature useful, or not. There are six buttons on the remote as well for directly selecting a Pin.
Headphones
I've been a little obsessed with headphones of late. After years of dissatisfaction with headphone listening I finally found the key to first-class headphone listening. That is: a low output impedance on the headphone amplifier. So I've taken to measuring this specification, since it is only sometimes mentioned for actual headphone amplifiers and almost never specified for multiple purpose devices such as the Linn Majik DSM.
The result? Somewhere between 57 and 58 ohms. That's significantly better – by which I mean to say, lower – than for many integrated devices. But still way too high for some headgear. I first did a brief bit of headphone listening with a pair of Sennheiser HD 560S headphones. They sounded very nice, with some impressively solid bass on the more-or-less random track I happened to be playing. But their nominal impedance of 120 ohms means that 57 ohms should have only a very subtle effect upon them. So I switched over to the Audiofly AF-180 MkII IEMs, with their nominal impedance of 16 ohms, and the results were very different. I switched them between listening to Nick Cave's Skeleton Tree from Tidal via the Linn Majik DSM, and from Tidal on a Mac via a DAC and the iFi ZEN CAN headphone amplifier. The ZEN has an output impedance of just about one hundredth of the Linn's: 0.55 ohms. Oh, what a marked difference. From the ZEN, the bass was full and extended and, well, ominous, as is appropriate on this appropriately dark album. From the Linn, it was relatively midrangy, constrained, hemmed-in and mid-fi.
This is not a problem with high impedance headphones. Indeed, performance is very strong with high impedance headphones, since it can deliver almost 50mW into 300 ohms loads. That ought to drive any such headphones to very high levels. And not a problem with headphones which have a smooth impedance curve. Unfortunately, that also is rarely published, so you probably won't know if that's the case for your headphones.
Loudspeakers
Enough of my little obsessions. What about using the Linn Majik DSM the way that it will be used 98% (my estimation) of the time? That is, with loudspeakers.
Ah, here things were simply superb. Really. I started off with my relatively inexpensive KEF R300 speakers. Easy to drive, surprisingly good sound and solid bass – they just sounded great. So after a couple of days I switched over to the VAF Research I93 monsters with their 3 ohms impedances and (allegedly) 500 watts of power handling.
(I didn't use my KEF LS50s. Fun fact: five years ago I reviewed a previous version of the Majik in combination with LS50s. But while I love my LS50s, I do prefer to use them with the bass handed off to a subwoofer. I didn't want this additional complication in this review.)
One of the things I love about the VAF Research speakers is their dynamism. With a decent amplifier they deliver the micro-silences that simply make music come alive. I believe weak speakers are slow, smearing detail. Despite presenting quite a difficult load, music did come alive. Beautifully, the cymbals through the opening section of "I Want You (She's So Heavy)" from the recently remastered Abbey Road, sang, sitting there behind the other instruments, floating and real.
Meanwhile, Sting's bass guitar in "Re-Humanise Yourself" on The Police's 2003 remastered Ghost in the Machine was controlled and strong. It bit and released precisely as required. Clearly the Majik had no problems managing these loudspeakers.
How about the analogue input? You can only have one and you have to choose between line level and phono (MM). I chose the latter and plugged the Rega turntable into it. Initially the level was very low, despite the Rega Exact cartridge tending to be a fairly high output unit. I used Konfig to set the volume offset for the phono input to +15dB, which brought it up nicely. Ernestine Anderson singing "Summertime" on the album Sunshine, was beautiful. Monty Alexander's piano might as well have been in the room with me.
Incidentally, this unit runs nicely cool. I know, this summer of 2020/2021 is ridiculously cool, but after running for quite a while with near-maximum gain into the VAF Research loudspeakers, the unit was still barely above ambient temperature.
Conclusion
I'm torn on the Linn Majik DSM. It does perform beautifully with loudspeakers and has a great deal of flexibility. But, really, the documentation is lacklustre. Even the online stuff has you jumping from link to link to try to work things out. I think that if I'd persisted over many more hours of trial and error and online documentation inspection I might have become more comfortable with the unit. In a $6K unit users would appreciate even just a quick start guide. Or a decent, linear, manual. And I'm coming from a place where I've set up and used, literally, hundreds of different network devices.
Nevertheless, Ernestine is still singing and, by golly, it's glorious.
… Stephen Dawson
Associated Equipment
Speakers — VAF Research Signature I93, VAF Research Signature I91, KEF LS50, KEF R300, Earthquake Sound MiniMe DSP P10 subwoofer, Paradigm Servo 15 subwoofer
Headphones — Focal Elear, Sennheiser HD 660S, Sennheiser HD 560S, Sennheiser HD 535, Oppo PM-3, Audiofly AF180 Mk 2 IEMs, Final Audio B3 IEMs, Sennheiser IE 300 IEMs
Amplifier — Schitt Audio Vidar, 2 x Marantz MA700 monoblocks
Preamplifier — Schitt Audio Saga S
Headphone amplifier — iFi ZEN CAN headphone amplifier
Digital Sources —Denon DNP-730AE network streamer, Pro-Ject Audio Pre Box S2 DAC/headphone amp, Microsoft Surface Pro 6, HP Elitebook 840 G3, several Oppo DVD, BD and UHD players with support for DVD Audio and SACD, Synology DS713+ NAS with expansion unit for four 3TB disks, 8TB total available
Analogue Sources — Rega Planar 3 turntable, Rega Exact MM cartridge, Rega Neo turntable PSU, Audio-Technica AT-LP120XBT-USB turntable (with four different stylus profiles), Simaudio Moon 110LKP V2 MM/MC phono pre-amp, Rega Fono Mini A2D MM phono preamp/ADC
Cables — Interconnects personally assembled with twin-core shielded microphone cable, terminated by Interdyn-branded screw-clamping gold-plated RCA plugs, Lenehan Audio pure copper ribbon speaker cables with gold-plated spade lugs.
Audio Rack — Personally made cabinets using 16mm MDF, screws and glue. Ugly as sin but very solid. B&W STAV24 S2 speaker stands, sand filled
Miscellaneous — Listening room 6.5 metres by 5.1 metres by 2.4 metres. Sound absorbent foam covering wall behind speakers. Uneven surfaces on side walls
Linn Majik DSM/4 Network Music System
Price: $5995
Warranty: Five years
Australian Distributor: Advance Audio Australia
+61 2 9561 0799
www.advanceaudio.com.au
Linn Products Limited
Glasgow Road, Waterfoot, Eaglesham
Glasgow G76 0EQ
Scotland
+44 141 307 7777
www.linn.co.uk