Recently, the arrivals of a Transrotor Crescendo turntable and Reed 1X tonearm had this writer performing analogue system assembly acrobatics with the meagre remnants of near-zero muscle memory. After some brow swiping, I had the assembly of the various arm and turntable components finally completed. Next task was to tackle the complexities and inter-relationships of proper tonearm, cartridge and turntable adjustment. However, the skills and tools to properly do that are beyond me, leading to investigations on an aptly experienced and suitably equipped turntable set-up guru.
Blinded me with Science
Research led to Mark Busby, who is building quite the rep among Sydney's vinyl lovers for his dexterous turntable set-up virtuosities – his experience in analogue spans decades. Based in an idyllic semi-rural location in the north-western outreaches of Sydney, Mark services New South Wales – he has wheels, will travel.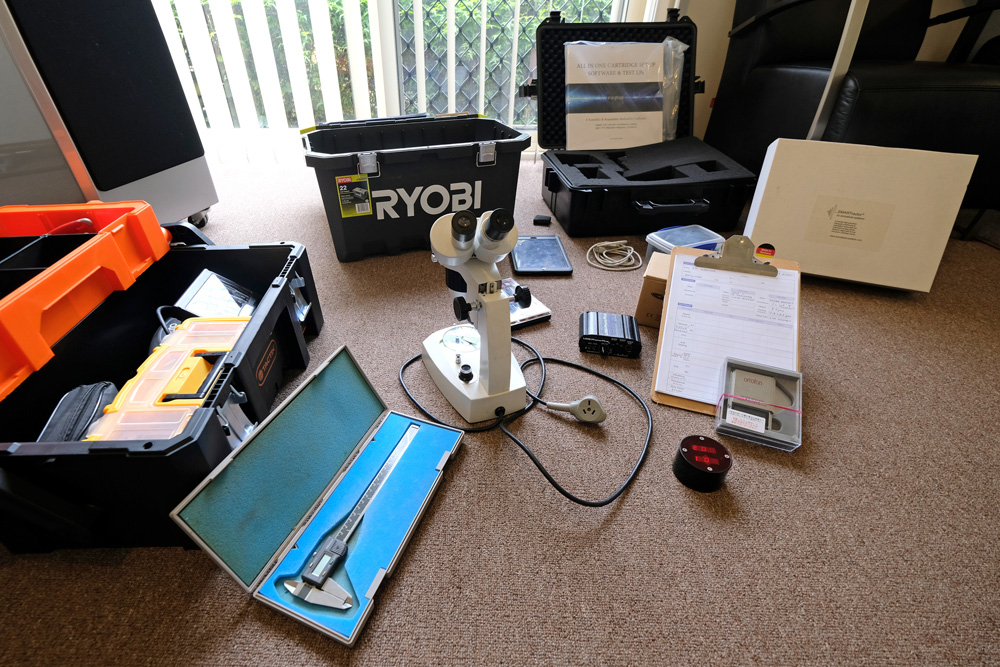 Tools of the Trade. AnalogMagik calibration software, Acoustical Systems' SMARTractor precision protractor, Eschenbach gemologist microscope and more
Mark's own audio system showcases an array of modified and precisely set-up turntables serving as cases-in-point of his ability to tackle a variety of tonearm and turntable designs and technologies. Mark has honed-in skills and has acquired quite the test gear cache. He's developed efficient exactness aimed at perfecting the various inter-related parameters in vinyl playback. Carefully optimising interactions between tonearm, cartridge and turntable will, of course, wring their maximum performance potential which is Mark's core aim.
So as suggested above, there's been a suitable investment in the analogue and digital measurement equipment that is required for accurate empirical testing of turntables, cartridges and tonearms. A proponent of AnalogMagik calibration and test software/hardware, Mark also uses a powerful Eschenbach gemologist microscope, a digital levelling system, a variety of tone generators, an ART USB Phono Plus analogue to digital converter interface, Acoustical Systems' SMARTractor precision protractor and more. Yes, full metal jacket.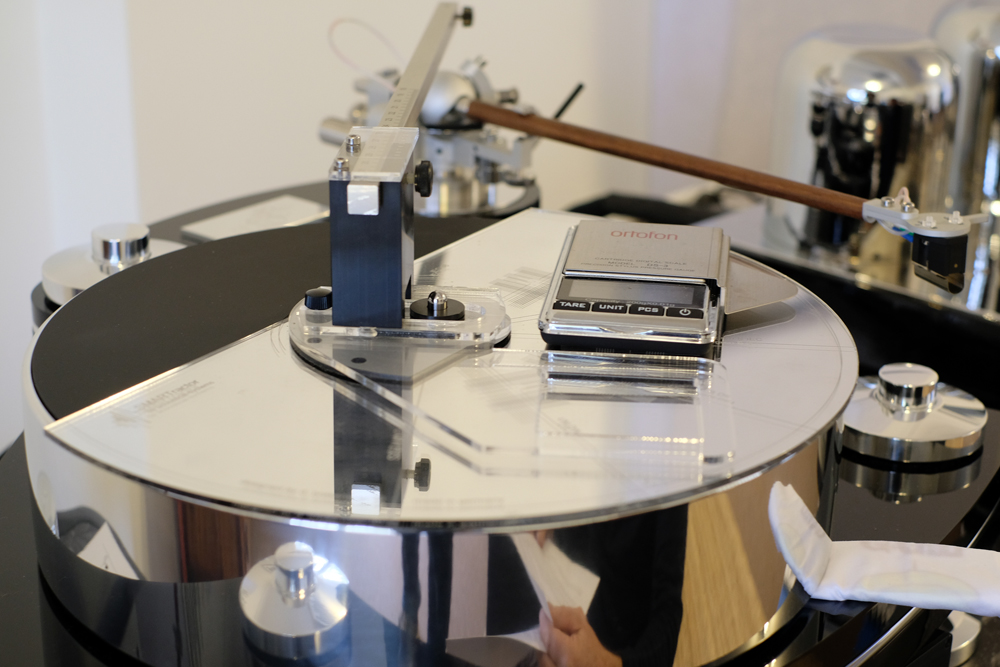 Mark is not only skilled at his job but he understands high-end audio and is an avid music lover. I asked Mark to fill me in on some background and history:
Aged seven, my grandparents gave me a large gramophone unit with valve radio and three-speed turntable. I played National Geographic Flexi discs on it as well as LPs no longer wanted. My Dad is a Classical music lover and he bought a fantastic B & O system which I thought looked a million dollars! Hooked from an early age…
Upon entering the workforce I bought a separates system and I have been upgrading ever since. I currently have three turntables set-up, to play mono, 78s, 45s and 33s.
With upgrading comes better and more expensive cartridges. Reading extensively through Hi-Fi magazines I realised that setting a cartridge using a paper protractor just wasn't going to do. I read about a turntable setup system called AnalogMagik. I was fortunate to buy the first copy that Goran Sasic, owner of Sydney Hi-Fi Castle Hill, brought in. I learnt to use it on my home system and carried on my training by setting up the many turntables at Sydney Hi-Fi Castle Hill. I have met and worked on several clients' turntables through Goran and his business, something for which I am very thankful for.
My passion has allowed me to start the turntable tuning business and it is a real pleasure getting people's vinyl to sound fantastic! The sound that can be realised off a slab of vinyl continues to amaze me. The increasing volume of vinyl sales shows I am not the only one who hears this.
Indeed in terms of its mainstream acceptance, vinyl playback goes back near 60 years (but much older as far as its invention), yet its superb sonic performance attracts many audio enthusiasts, with many believing its superiority over the latest high-resolution digital playback systems which are relatively riddled with instabilities and over-complications. Don't even start on digital's built-in redundancy and constant state of flux.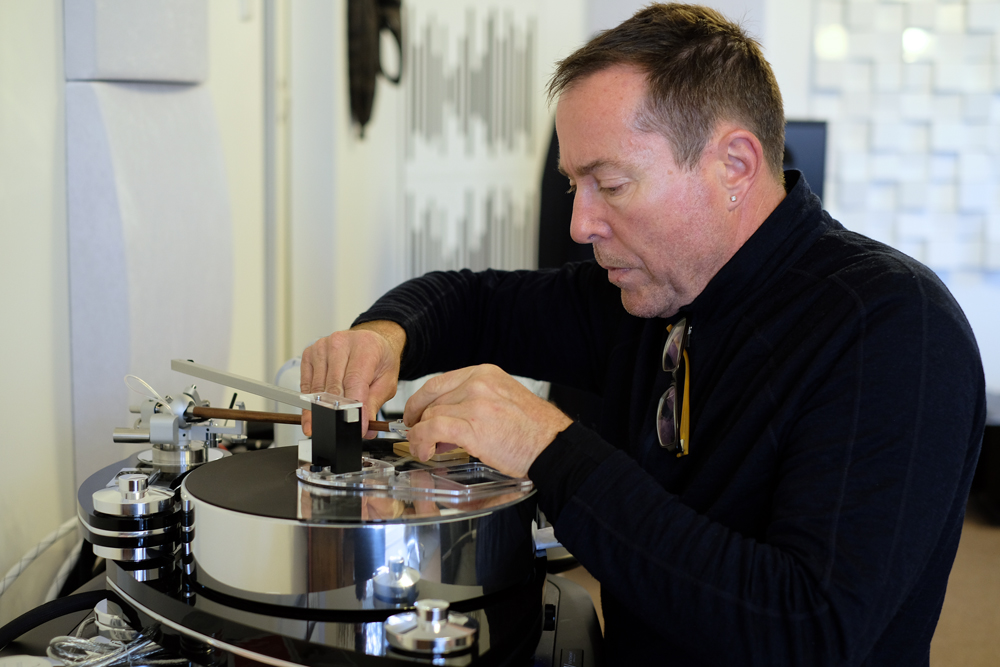 Numbers Game
Mark employs a strict set of procedures in order to set-up, measure and fine-tune analogue playback systems. The processes list is comprehensive:
Levelling via the super-precise The Cartridge Man digital level gauge.
Alignment of arm with spindle (pivot to spindle distance).
Cartridge examination to check three-axis stylus alignment and to check for stylus wear and tip condition via an Eschenbach gemologist microscope.
Fit and alignment of cartridge and tonearm using Acoustical Systems' SMARTractor precision protractor and USB microscope.
Setting Vertical Tracking Force (VTF).
AnalogMagik calibration software and test records are then employed to display on a laptop measurements for:
Measurements for wow & flutter.
Turntable speed and adjustment where necessary.
Tonearm resonance measurements (ideally between 8Hz and 12Hz as recommended by AnalogMagik and often further up in frequency as required).
External vibrations measurements (how good are the turntable's feet or suspension, audio rack efficacy, etc.).
A further 20+ checks for azimuth with AnalogMagik calibration software using Left/Right channel checks (clarity, separation, etc.), Vertical Tracking Angle (VTA) and tracking force for high and low frequencies to be as extended and even as possible.
Anti-skating set to the lowest equal distortion in both channels.
Play and listen for even bass with depth, proper imaging and centred vocals, etc.
Provision of a data sheet with the measurements, statistics and relevant information.
In Mark's opinion, as important as correct turntable and tonearm set-up are, the cartridge holds the most important key to how a vinyl system sounds. He clarifies:
All high-end cartridges are hand-assembled, a process that includes gluing the stylus to the cantilever. Unless you own a gemologist microscope, you won't know how accurately the stylus has been set into the cantilever, nor its relationship to the body of the cartridge. Experience has shown me that assuming this is perfect is a mistake!
Precision tuning of a turntable will lead to greater sound dynamics, a wider soundstage and enhanced clarity. A correctly-set stylus will reduce wear both on the records and the stylus itself.
Finally, listening to favourite and familiar records will further aid fine tuning using nature's own test equipment – our ears!
Mark conducted the full suite of measurements, tests, alignments and fine-tuning strategies on the Transrotor Crescendo turntable, Reed 1X tonearm and Shelter Harmony cartridge. The individual components and the turntable system as a whole were given clean bills of health. In addition, and to me not surprisingly, the SGR Audio Model V Statement rack (review here) was found to make a noteworthy contribution to the isolation and stability of the turntable.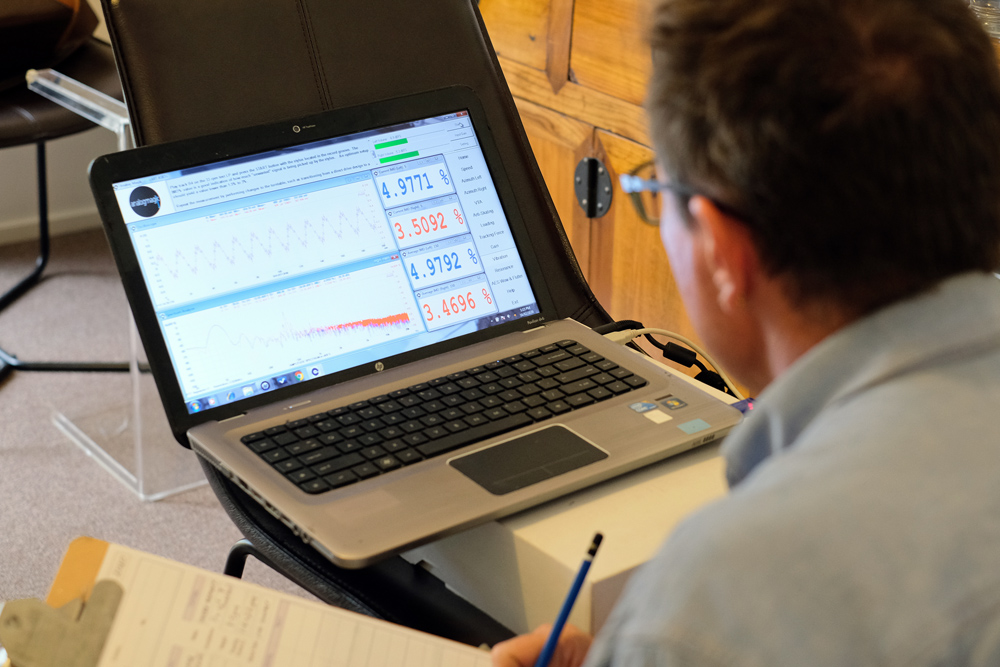 Busby navigates AnalogMagik's Windows-based calibration software
Post tune-up, it was time for some vinyl spinning. A stream of my recently-cleaned vinyl was used and it's pertinent to mention here the efficacy of the Vinyl Record Cleaning Easy Spread 'n Peel (VRC ESP for short) system which performs minor miracles in cleaning-to-brand-new, rejuvenating and subsequently maintaining LPs on an on-going basis (see write-ups here and here). My usual references were literally given the new lease on life and were sounding delish via the freshly-tuned analogue rig.
From The Beatles' "Come Together" to the Pixies' "Hey" to Grace Jones' "Slave to the Rhythm" and a number of classical, Jazz and Rock tracks, the entire selection now played with precision, fluidity and tonal accuracy while also slamming bass and dynamics. Imaging was tightly focused within a large soundstage with tremendous width, depth and height. It's an effortless sound from this tonearm, cartridge, turntable and phono stage system. It's a clean sound that travels on a parallel road to convergence with top-notch digital in terms of detail retrieval, bass extension and overall dynamic expression – inherent mechanics of stylus-on-groove aside. Wonderful stuff.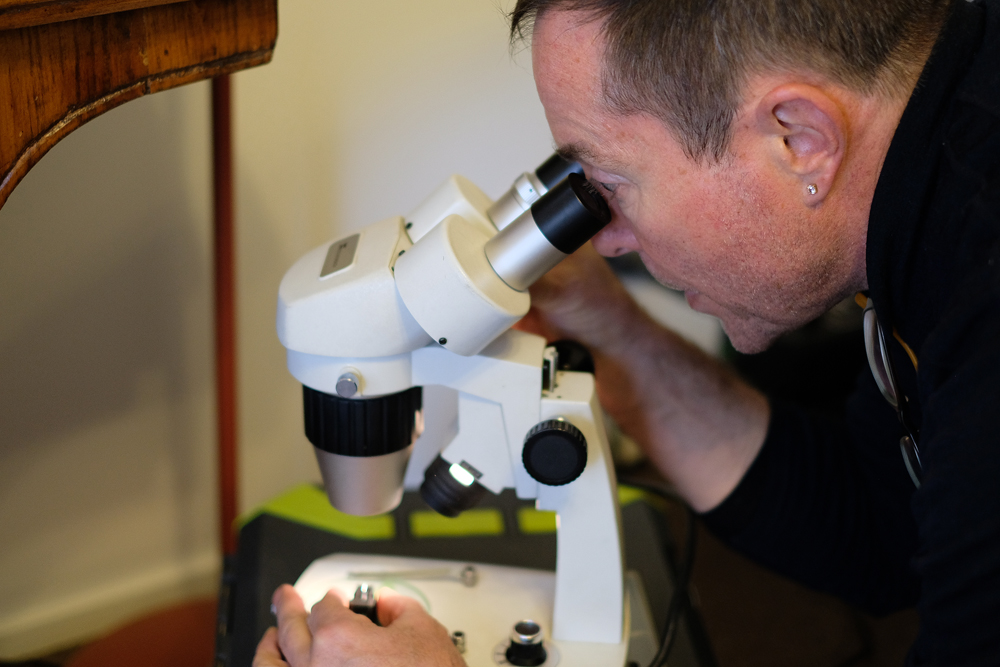 Checking cartridge integrity and stylus wear/condition
Conclusion
The importance of having your vinyl rig fine-tuned by a skilled professional like Mark Busby can't be stressed enough. You may choose to engage Mark's services for just a basic tonearm set-up, or cartridge alignment, or for the full suite of measurements and system checks. At the very least, you'll be safe in the knowledge that your various analogue components will be functioning at their optimum level and in a manner intended by their designers.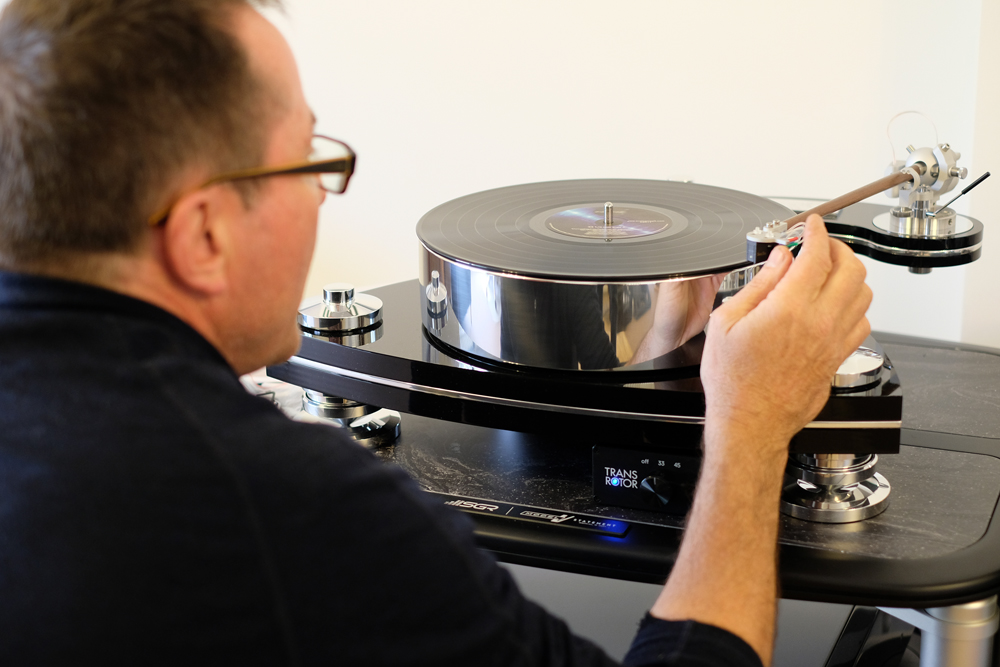 Proof is in the pudding. Cue the groove for music spinning
Either way, you are actively embarking on a vinyl improvement program with music-enhancing benefits. In the best case scenario, as I experienced in my own context, you'll enjoy a jump in sound quality commensurate with a wallet-emptying component upgrade. So I say, do it… just do it.
… Edgar Kramer
This email address is being protected from spambots. You need JavaScript enabled to view it.
Vinyl Rig as Measured, Tested and Busby-Tuned
Tonearm – Reed 1X 12-inch with upgraded internal wiring
Cartridge – Shelter Harmony MC
Turntable – Transrotor Crescendo with Konstant Studio controller
Phono Stages – Supratek Cortese, REDGUM Audio RGPH2
Mark Busby Analogue Service
Price: POA
Mark Busby
+61 418 401 856
https://markbusby.au