The mind's eye can be a deceptive little psycho-trickster. Rightly or wrongly, and often inaccurately, we often tend to call preconceptions, bestow attributes and make judgements as a result of interpretations based on optic data and casual analysis. It can be a deception. We're prone to misconstrue observations and often our emotions lead us into jumping to conclusions. It applies to everything. So, upon a casual visual inspection of Crystal Cable's svelte new Future Dream 22 cables, the trickster's crafty little voice may start its whispers… "These wiry little cables can't possibly be bass-full and dynamic…" Man, that conjurer can be so, so wrong.
Marriage of Equals
There's power in solid relationships. Closely related and among a relatively small number of true industry leaders, Crystal Cable and Siltech fall under the umbrella of The Netherlands' International Audio Holding. Further connecting associations are via the marriage of both talent and the relationship status of power-couple of Gabi Rynveld (Crystal Cable) and Edwin Rynveld (Siltech), founders of their respective companies.
The two companies' combined strengths come about as a result of expert engineering (Edwin Rynveld is an engineer and metallurgist) and a thorough understanding of music (Gabi Rynveld is a concert-level pianist). The corporate duo of Crystal Cable and Siltech is one of the few cable manufacturing entities which invest very substantial financial resources into manufacturing and Research and Development. Products are manufactured International Audio Holding's world-class European industrial facility enjoying the benefits of the latest design software, testing instrumentation and production machinery/hardware.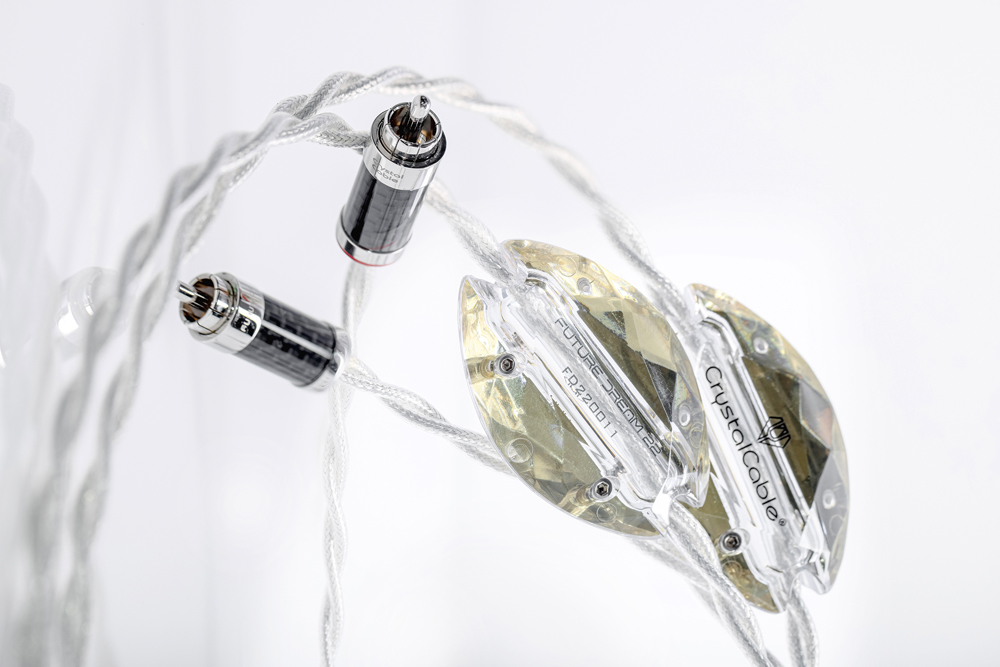 Back to the Crystal ball. The company's product line bears a consistent design language across all its offerings. It's a subtle aesthetic diverging from the oversized fireman's hose cables which, in some cases, have become audiophile trophy caricatures. Even sister company Siltech's extraordinary and distinctive cable designs, are somewhat less overtly… alpha masculine when compared to those OTT designs.
The Crsytal Cable Future Dream 22 is the latest iteration of the highly-acclaimed line. It celebrates 2022, the year which may have finally brought some form of quasi-normality after the virus-related mayhem the world has endured since early 2020. The original limited edition Future Dream celebrated the company's 15-year Anniversary back in 2019 and, as I mention in my review (link here), Crystal Cable donated part of the line's profits to Leerorkest (Learning Orchestra), a Dutch incentive providing underprivileged youth with free loan instruments in order to nurture young musical talent.

The new Future Dream 22 (FD22 for short) now sits at the mid-point of Crystal Cable's product offerings between the entry-point 'Diamond' series and the spare-no-expense flagship 'Art' series. FD22 features Crystal Cables' latest two-core concoction of monocrystal silver conductors with a proprietary dual-layer silver-gold alloy and "Infinite Silver" shielding. The dual-coaxial configuration is insulated with Kapton and Teflon. The configuration, materials and construction is consistent across the interconnecting, AC power and loudspeaker cables. My loom included balanced interconnects, silver spade-fitted loudspeaker cables and Australian plug AC power cords. Sweet.
In a unique value-add feature, Crystal Cable attaches a small NFC-enabled tag to all its FD22 cables which, in conjunction with the free Crystal Cable app allows product authentication and registration as well as providing feature information and details.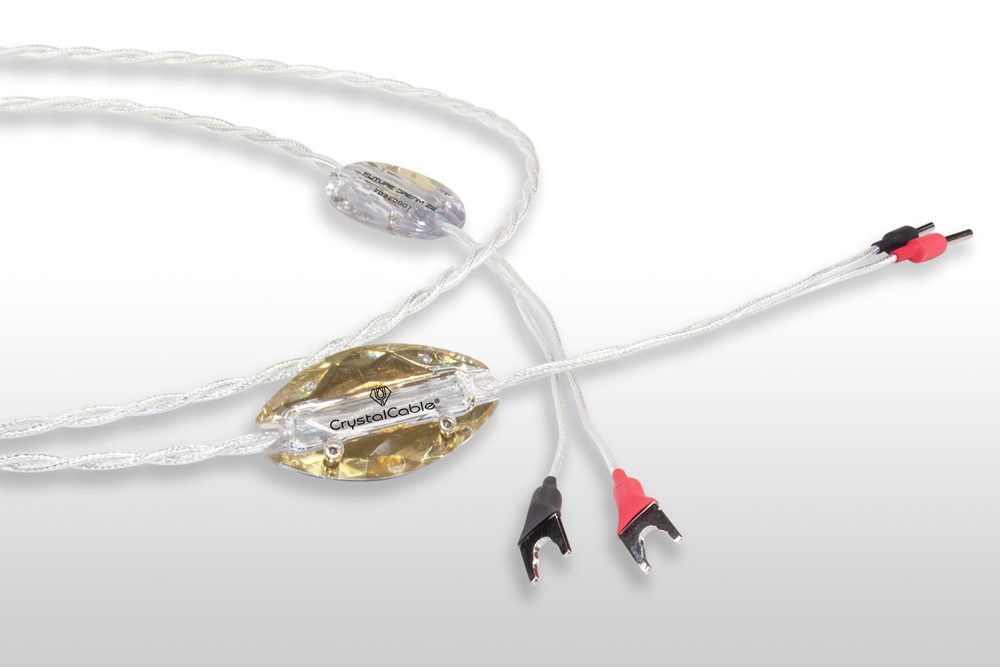 Shortly after returning from High-End Munich 2022, the Rynvelds travelled to Queensland, Australia for a milestone family celebration. Then on to the Australian launch of Future Dream 22 at Melbourne's Sound Gallery (see feature here). Gabi and Edwin took the opportunity to continue their journey and to visit SoundStage! Australia HQ here in the World Heritage Blue Mountains a short drive from Sydney. Unfortunately, at the time of their visit – after spending time in sunny, warm Queensland – the mid- to lower-mid coast of eastern Australia was experiencing a freak 'Low' front bringing with it the coldest, wettest and most wind-slammed weather of the year. That was compounded by a strange flu (not COVID) which hit Sydney rather hard at the time, with seemingly every second person suffering it. As did poor Edwin. Nevertheless, I sampled them a scratch-in-the-surface of the natural wonders of the area. That aside, the visit also served to further strengthen relationships/friendships and to expand on my understanding of the machinations at Crystal Cable and Siltech.
Going back to FD22, I asked Gabi for yet more information on the cable line's back story. I started-off by asking in light of the FD22's 2009 predecessor, what were the desired target improvements for the new Future Dream 22 and what technical refinements/changes had to be made in order to hit those targets?
The Crystal Cable Future Dream Limited Edition Anniversary Series was introduced in early 2019 to celebrate 15 years of Crystal Cable. That was the very first attempt to combine our proprietary conductor and insulation materials, which already had a proven record of super high quality sonic and mechanical properties. Combining the best available mono-crystal conductor material and or very special silver-gold alloy shielding made the special hybrid cable loom, called Future Dream, in the name the promise for more similar material mixes in the future.
In our company, research and development is continuously ongoing, with smaller and bigger steps at a time. In the three years after Future Dream Anniversary series, both the precious monocrystal silver conductor material and the then G7 silver-gold alloy improved significally. The new infinite crystal conductors material is already used in our Art Series cables, introduced in late 2020. In 2021 the G7 silver-gold alloy got into a next-level shape: G9 which proved its excellence in the success of Siltech's Classic Legend Series. With some changes in the mechanical construction and the insulation material mixes, we created a successor for the Limited Edition. Future Dream Anniversary Series – a new diameter two-wire design with double technology succeeded to double the performance despite of the flexible, tiny appearance.
Positioned perfectly between the long-existing, G7 silver-gold alloy Crystal Cable Dimond Series and the newly developed, successful infinite crystal monocrystal silver Art Series, the new Future Dream 22 Series is a true bridge between the two metallurgies, various constructions and different price points.
Given the svelte gauge of FD22 speaker cables, I was curious as to how were the current carrying capabilities handled in the design and conductor configuration?
The improved infinite crystal conductors have lower distortion and higher conductivity – this allowed smaller diameter core conductors. The twisted two-wire design makes the cables flexible and lightweight, easy to use and beautiful to see – important details to mention behind the biggest value: amazingly musical soundstage, excellent build quality and mechanical properties.
I followed-up by asking if there is a particular sonic strength or performance trait that is common to FD 22 and the flagship Art series cables…
At Crystal Cable, we are proud of the homogenic and always recognizable Crystal Cable sound, no matter the price point, material choice of construction features. All Crystal Cable products, from the Diamond Piccolo to the Art Series Da Vinci cables, have a characteristic sound presentation – which actually is most known as utmost musical, neutral, full of detail and surprisingly full-bodied. The new Future Dream 22 cables are true members of the Crystal Cable Family – using newly developed versions of both our metallurgies and constructions, fit perfectly between the two major Series, sonically and performance-wise as well.
What was top priority when creating FD 22?
To give our customers and music lover friends a successor for the Limited Edition Future Dream Anniversary Series. Following up with this new version of our first hybrid design products, at a friendlier price point, due to the achievements our engineers reaching every day, we are able to give Crystal Cable customers a unique cable series, consisting analog interconnects, phono cables, speaker and power cables as well as USB cables.
Beauty is a Beast
Running the FD22 cables across the system's various configurations and component arrangements was a snap. The flexibility and modest girth made FD22 a, umm… dream in terms of cable routing. I've reviewed and owned some monster fire hoses and cables with grotesquely massive custom connectors. Don't get me started on the travails when both are combined. Boy they can be a real PITA. Plus, in some configurations, they can be detrimental to long term component reliability given the strain they place on connector sockets (especially on the less substantial RCA types). Mejor no mucho macho.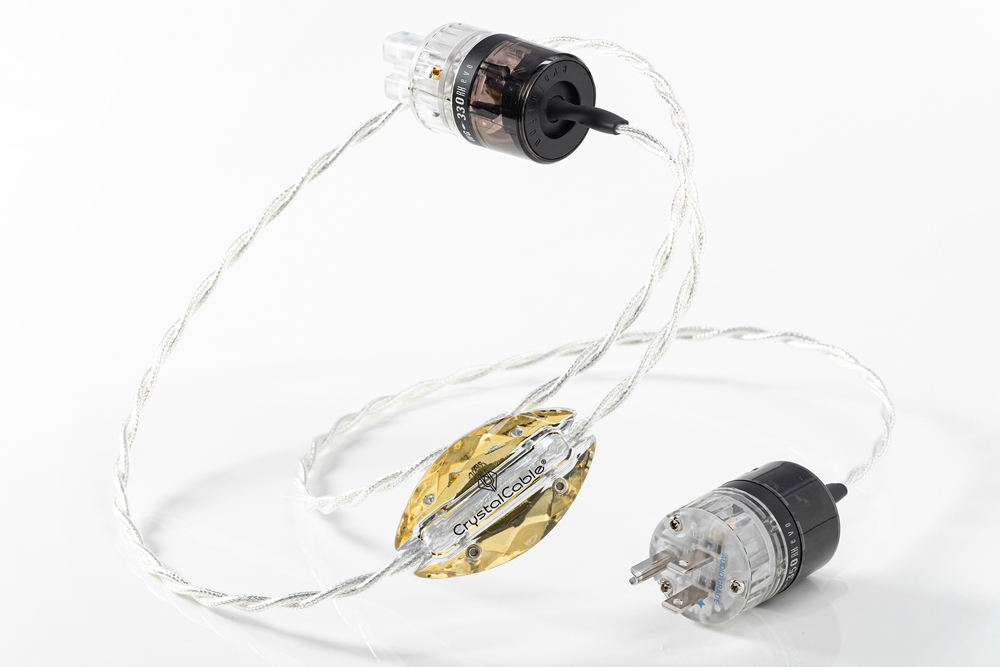 Practical things aside and onto examining sonic performance. Granted the wide-ranging skills set, what I enjoyed the most about the FD22 cables from the get-go was the superb clarity, unbridled dynamic impact and bass tautness. Visually delicate they may be, but sitting underneath FD22's slick and sparkling aesthetic is Lupa, the vigorous she-wolf, ready and waiting for a signal.
The FD22's fidelity to the signal's highest level of detail never strays into overt forwardness or, even worse, objectionable high frequency brightness. It's as if the noise floor has dropped to allow previously semi-veiled nuances to be given their rightful, very balanced, attention. What this does, of course, is that it advances the playback closer still to that slippery, transcendental illusion of real instruments.
The FD22's great balance across the bandwidth allowed the fullness of tonal textures and colours to be expressed by your electronics and loudspeakers – should they be of equal prowess in that very crucial aspect of reproduction.
I love the percussion instruments Jöel Grare uses in his superb Paris. Istanbul. Shanghai album. The opener "Nihavent" features a beautifully-captured metallic drum leading to Guo Gan's er hu which the FD22 renders with unscathed textural layers and bow-on-string nuance. The 'clang' and subsequent ringing of the drum seem to just linger in reverberation, then subsequently decaying and petering away into the track's superbly-recorded ambience.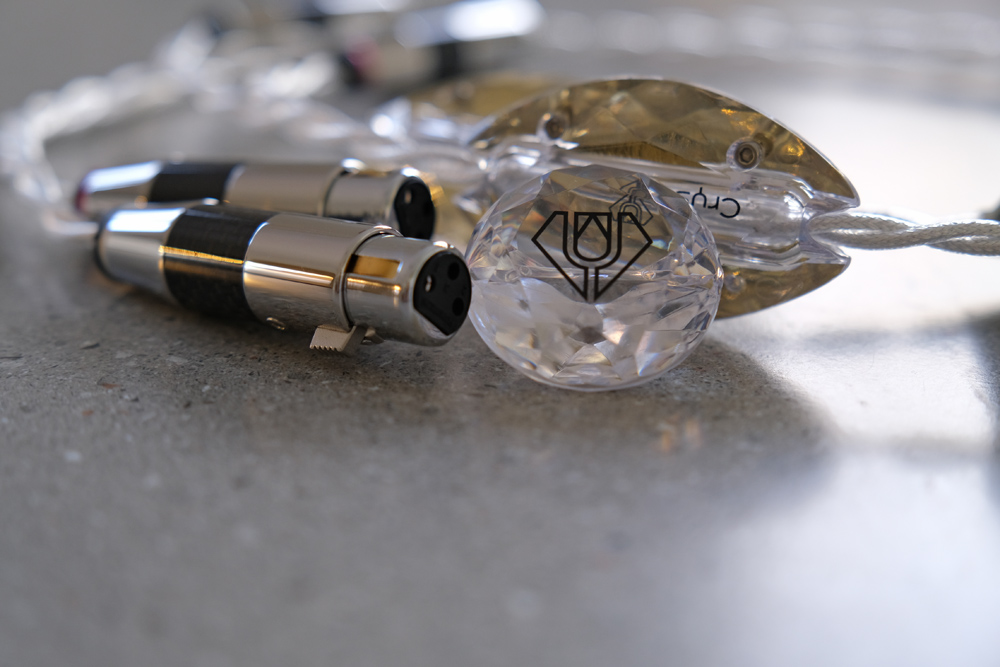 Among the many, one of my staple tracks for tremendous dynamics, bass power and depth is Hans Zimmer's Blade Runner 2049 soundtrack. The track "2049" explodes with sharp sound effects and massive low frequencies (large speakers and/or high quality subwoofers can provide an almost devastating experience) and FD22 did not in any way stunt the pyrotechnics Zimmer presents. The sabre-cut synth early through the track (you'll know what I mean when you hear it) was startling in its incisiveness and detail. The same applied for the subsonic booms, with the FD22 showing-off its deft hand at punch and dynamic contrast. The FD22 is neither stumbling block nor suppressing hurdle to the music's expressiveness.
My usual suspects for soundstaging and imaging reproduction were rendered with the familiar soundfield spaciousness and precise instrumental and vocal positioning. Take Ryan Adams' superb Ten Songs from Live at Carnegie Hall, where the singer song writer is locked-in precisely centre stage when handling the guitar and just left of centre when at the piano. Adams is close-miked and FD22 relates this with exactness while avoiding the aggressive sibilance sometimes displayed by this microphone technique via less controlled cables and/or components. Adams sounds real and almost in the room and when his strums are ferocious there's an appropriate sense of power and attack. Equally impressive are the more subtle moments, like the softly-gestured piano on "Sylvia Plath" where FD22 communicates to the listener the track's calmness and the coupled relationship to emotive connection.
My Qobuz stream of my dear Uncle Sergiu Commissiona conducting the Boston Symphony Orchestra handling Dvorak's Symphony N° 8 sounded so spacious and with such grand scale. I was lucky enough to see him conduct the very same composition with the Sydney Symphony Orchestra and, for me, it was a world-spinning experience. Some of those feelings returned that day mid-FD22-audition. For a system to be so elevated, with the right mix of equipment and its complementing cable loom, to re-awaken those original feelings is transcendental. I could surmise that it may have been my mood on the day, a nostalgic reminiscence... but I have a feeling the FD22 had some influence on that evening's metaphysical escapes.
Conclusion
Having a full loom of Crystal Cables' Future Dream 22 provided undeniable evidence of the cable line's music-making powers. The company's deep knowledge of metallurgy and the resultant proprietary conductor composites puts it ahead of many competitors on that basis alone. Further, engineering savvy has led to bespoke cable topologies and construction.
The entire suite of technologies and manufacturing techniques has been applied in order to maximise sonic performance, longevity, ease of use (flexibility) and overall product quality. Plus the cables do look good and are all immaculately constructed in-house in Elst, The Netherlands.
So, set aside preconceived psycho-misconceptions. Crystal Cable's elegant and svelte cable line is a powerhouse in disguise. And you'll be smiling while hooking-up the rig… yes, python-thick cables beware.
Do not make a purchasing decison on cables at this price point without hearing Future Dream 22. If you value refined clarity and detail without brashness, good dynamics, precise tonal balance and a solid low-end, these are the cables for your dreams of the future.
… Edgar Kramer
This email address is being protected from spambots. You need JavaScript enabled to view it.
Associated Equipment
Speakers — Wilson Audio Alexia Series 2, Axis Loudspeakers VoiceBox S (nearfield monitor), Vermouth Audio Little Luccas Mk.II
Amplifier — Gryphon Audio Antileon EVO
Preamplifier — Supratek Cortese, Totaldac d1-direct DAC
Sources — Digital: 432EVO High-End Music Server Roon Core, Yamaha CD-S2100 transport, Totaldac d1-direct DAC. Analogue: Transrotor Crescendo with Konstant Studio controller, Reed 1X Tonearm with upgraded internal wiring, Shelter Harmony cartridge, The Funk Firm Houdini cartridge decoupler, Supratek Cortese & REDGUM Audio RGPH2 phono stages
Processor — DEQX PreMate (part of arsenal/casual use)
Cables — PSC Audio custom design XLR, Vermouth Audio Reference loom,ZenSati Zorro loom, Cables for Music Songbird speaker cables
Audio Rack — SGR Audio Statement Model V
Acoustic Treatment — Vicoustic Multifuser Wood, Wavewood Ultra, Cinema Round Premium and Super Bass Extreme
Miscellaneous — GigaWatt PF-1 EVO, Les Davis Audio Viscoelastic CLD discs, VRC Vinyl Record Cleaning systemplus miscellaneous accessories
Crystal Cable Future Dream 22 Cables
Price: Interconnect 1m Balanced AU$7500, Loudspeaker Cables 2m AU$14,300, AC Power 1m AU$4450
Australian Distributor: Absolute Hi End
+61 488 777 999
www.absolutehiend.com
Crystal Cable
Edisonweg 8
6662 NW Elst
The Netherlands
+31 481 374 783
www.crystalcable.com