Yes, I know, beauty is in the eye of the beholder… but man, McIntosh Laboratory's MA12000 is a thing of pure splendour. Its style perfectly balances retro-modern industrial design with technical innovation, as dichotomous as that may seem. Plus, the company's highly-engineered proprietary amplification technologies signal (pun intended) high performance potential. So it's not just a pretty faceplate. And with ample power on tap, this beast-of-an-integrated forcefully declares, "Hey, I may look hipster-cool but I sure as Hell can pummel with a wall of sound". Hail The Grateful Dead…
American Beauty
As McIntosh Laboratory's most powerful integrated amplifier to date, the MA12000's flagship status demands a potent statement. This is a large component encapsulating a swag of McIntosh-exclusive technologies. It also struts a rather seductive presence via a striking aesthetic language which is consistent with McIntosh Laboratory upper-echelon products. All the company's latest trademark industrial design elements are present. Some may give a firm nod to cosmetic adornment while being aesthetically balanced but, for the most part, they're design features associated with functionality.
As stated, the MA12000 is the company's most powerful integrated, offering a highly-tuned valve preamplifier stage coupled to a power amplifier section capable of outputting consistent 350 watts per channel into impedances down to 2 ohms. Of course, the amplifier adopts McIntosh's Autoformer technology which provides full power at impedances down to the quoted 2 ohms. The preamplification stage comprises a duo of 12AX7A valves per channel.
Other proprietary technologies, such as Power Guard which monitors the signal and adjusts it to prevent DC/clipping (avoids fried tweeters) and Sentry Monitor which cuts-off signal in order to prevent catastrophic damage are also featured in this brute-force amplifier. The MA12000 is said to be endowed with up to double the filter capacity compared to the company's other integrated amplifier offerings, translating to powerful loudspeaker control.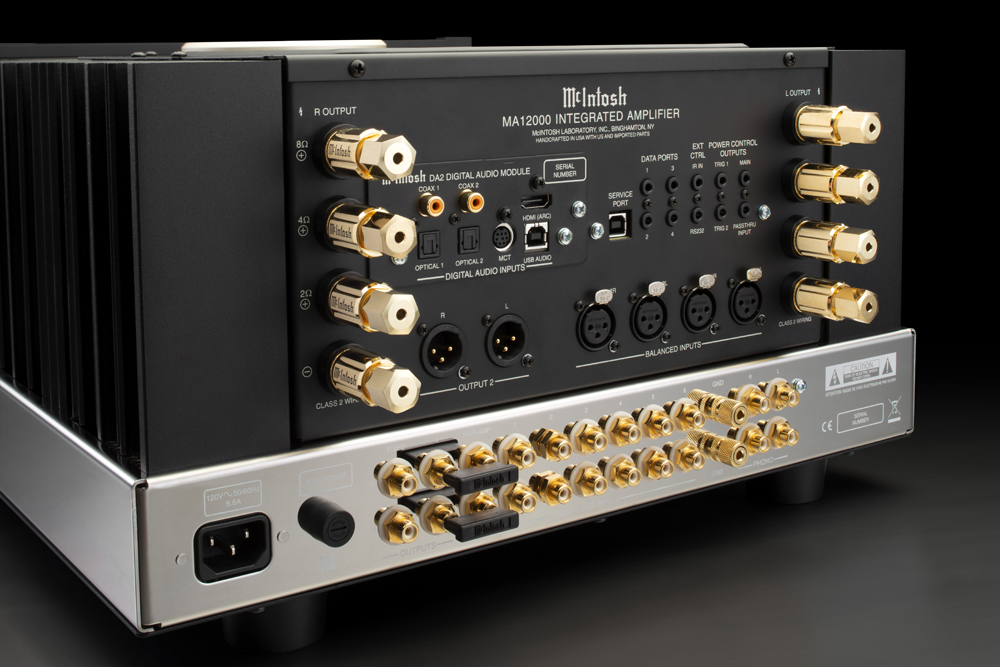 The MA12000's connectivity options are extensive, to say the least. There are a total of 10 analogue input options which include two balanced XLR, six unbalanced RCA, Moving Magnet (MM) and a Moving Coil (MC). Outputs consist of a balanced XLR and an unbalanced RCA providing the option to connect to one of McIntosh Laboratory's power amplifiers or an additional amplifier in a separate zone within the house. All inputs can be customised via the MA12000's on-board 8-band equaliser. Loudspeaker outputs are catered to by McIntosh's bespoke and easy to operate Solid Cinch gold plated binding posts.
Further, the MA12000 features McIntosh's renowned DA2 digital module which offers comprehensive input options, wide file format compatibility and extended resolution capabilities. There are seven digital options comprising of two S/PDIF coaxial inputs, two Toslink optical, a USB, a proprietary MCT input (for hook-up to McIntosh's own SACD/CD digital transports) and a HDMI ARC input. The DA2 module features McIntosh Laboratory's next-gen DAC technology (while not disclosed, I hazard to guess an ESS Technology Sabre-based chip) Quad Balanced, 8-channel, 32-bit DAC with supported resolutions up to 384 kHz PCM/DXD and DSD512 via USB while the S/PDIF coaxial inputs accept up to 24-bit/192 kHz as per the optical input. The proprietary MCT input supports 16-bit/44.1 kHz and DSD64.
The MA12000 offers an in-built high quality 'High Drive' headphone amplifier with Headphone Crossfeed Director (HXD) technology which is said to offer "an added dimension to headphone listening."
So, aside from its extraordinary virtues in terms of its industrial design, the MA12000 is a thoroughly engineered hybrid amplifier offering enough power and current to drive any speaker along with a very comprehensive list of important features.
And back to the looks department. Wow. One of the most attractive elements of the fascia's design is the display window exhibiting the team of circuit valves. As you fire-up the MA12000, the valves are lit with a red glow which, as the start-up process reaches its self-checking steps, then turns to the green-lit operational mode. Should the amplifier not sense any signal it will power-down after a preset time – good environmental practice, that.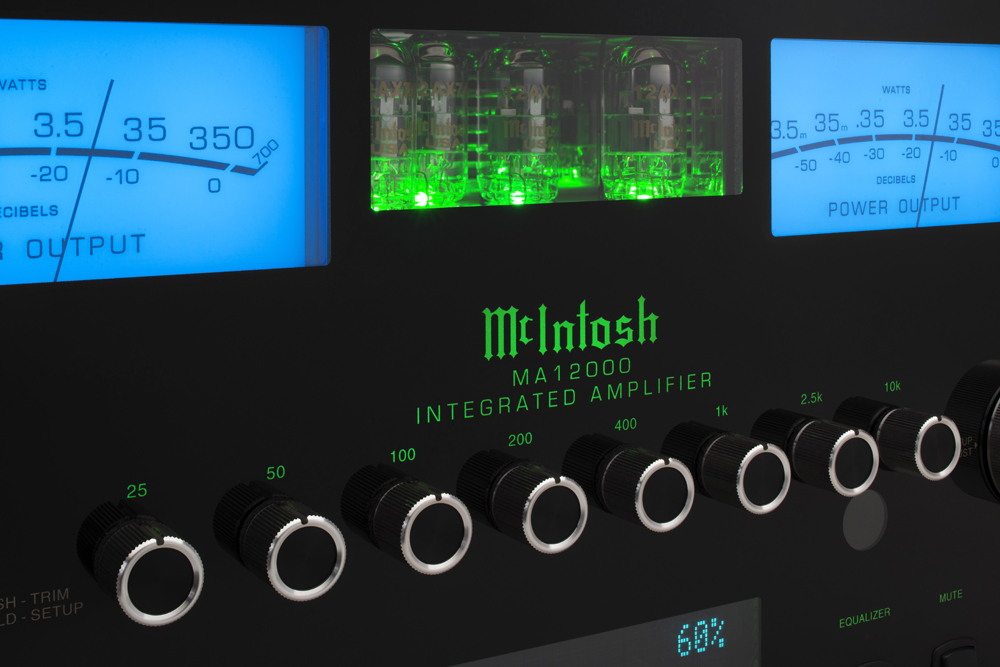 Of course, the iconic blue McIntosh meters are there on the right and left-hand-side of the central valve display window providing a dynamic view of the combined power output/decibels being outputted. Below that, a row of retro-styled buttons perform a host of functions. From the left, you have the input selector while on the opposing right-hand-side an identical rotary knob serves as the volume control. Both these controls serve additional functions when pushed in (shown on a small LED display towards the lower third of the fascia), serving to access and set a variety of options from balance Left/Right, to input trim fine-tuning and input level-matching (+/-12dB in 1dB increments), to adjustment of the gain, capacitance and resistance settings for the phono stage, to activating/deactivating the HXD circuit for the headphone amplifier and a whole lot more. Needless to say, the MA12000 sports a comprehensive logic processor. Most of these settings and functions can be accessed and adjusted via the classy-looking remote control which can also operate other McIntosh kit.
In-between the two is a smaller row of eight rotary knobs which control the 8-band equaliser. Starting from the left is the control for 20 Hz followed by 50 Hz, 100 Hz, 200 Hz, 400 Hz, 1 kHz, 2.5 kHz and 10 kHz band adjustments. Below the EQ row is the 6.5mm jack headphone socket and additional buttons to switch speaker outputs, EQ activation, mute and global stand-by on/off.
I auditioned the MA12000 via the built-in DAC fed from my digital source and subsequently did some comparisons against my in-house DAC reference, the distinguished Totaldac d1-direct. Due to the arrangement and practicalities of my system configuration, I was unable to audition the MA12000's phono stage.
Time spent with the headphone feature via at least three different high quality headphone models showed the in-built amplifier to be very competent indeed.
Punch Drunk
After the visual pleasure of the turn-on valve lighting procedure and you've pressed the 'play' button, lowered the tonearm stylus, or indexed down a tablet's screen, what will strike you first is the MA12000's low-end. Boy, this thing can kick arse.
But it's not the sort of bass that's fat for the sake of artificial-sounding fireworks and short-term excitement which often turns to long-term annoyance (for real fireworks with integrity just spin Blade Runner 2049's soundtrack… go on, I dare you). This is a bottom register fullness that maintains the accuracy of the notes. So yes, it'll thump you like a bare-fisted pugilist but it's not a sucker punch that knocks-out your discernment. So what happens is that the rhythmic qualities of all manner of music are upheld as is your toe-tapping ability given the correct music content.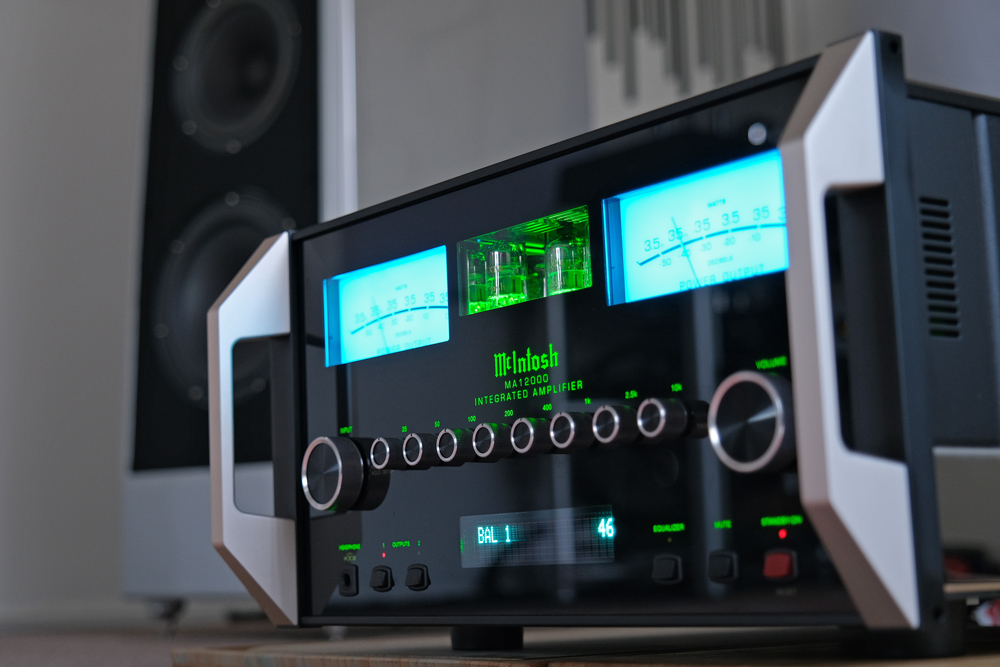 Take any track from the Red Hot Chili Peppers' new album Unlimited Love. In particular, on the intro to the track "Aquatic Mouth Dance", Flea's dexterity sets the stage for the ongoing boogielicious rhythms through the entire track. And while Flea again shines at the half-way mark, the brief stint pre-empts the sax solo which cuts through the mix without diminishing the incisiveness of accompanying instruments and Anthony Kiedis' vocals.
The MA12000 is also a sweet-sounding amplifier with delicate highs and a midrange exhibiting considerable weight/body. Cymbals sound natural if a tad laid back – you'll never experience etch or hardness with this amplifier, the rest of your system being balanced, of course. The mids have a delightful verisimilitude which is especially enjoyable via vocals. The countrified genre mash-up of "Silver Lining" on Alison Vard Miller's album of the same name put her vocals centre stage with fantastic clarity. You can understand every word even when the band joins in earnest. There's a great sense of snap and tightness to the driving snare too which accentuates with realness the flow of the track.
The delicate, wistful joys of Joel Grare's "Nihavent" on his album Paris. Istanbul. Shanghai saw the MA12000 gloriously handling the intro's percussion with a truthful metallic ring, accurate timbre and airy decay. Later in the track, the often-jarring – when closely miked as it is here – Chinese violin ('er hu') played without a hint of stridency and with superb purity. This is an open, spacious recording of great gentle beauty and the MA12000 honoured it. As Grare himself put it in the CD's booklet notes, "Taking up the bell. Feeling its weight, its substance. Producing the most amazing sounds. Gladness that such instruments have a soul, a history." Oui, c'est vraie.
I enjoyed the way the big Mac provided heft and gravitas to large orchestras. The superb Reference Recordings' Serebrier Conducts Serebrier sounded big, spacious and dynamic, with the London Philharmonic letting it fly with stunning power on "Funeral March (Poema Elegacio)". The percussion hits slammed with power and weight only then to ebb with natural-sounding decay. The orchestra spread in a massive soundstage with terrific depth while the various instrument sections' placement within the soundfield was accurately focused.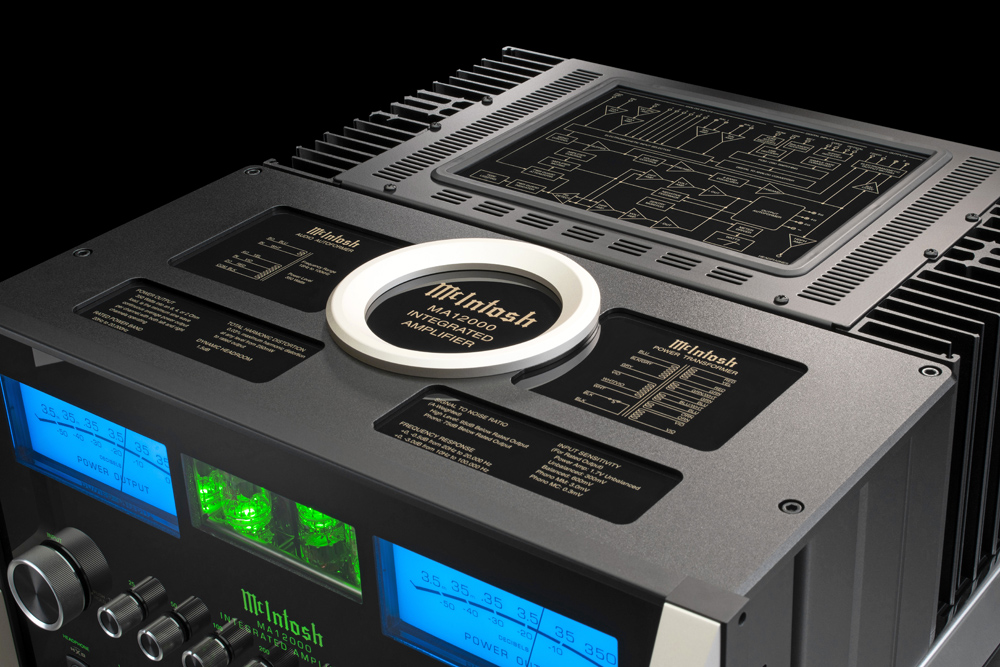 Whether a property of the valve preamplification stage, or the Autoformer's contribution or both of those elements, the tonal quality of acoustic instruments was excellent. The MA12000's rendering of acoustic guitar, for example, showed an expertly-balanced level of string detail, transient sharpness and realistic timbre. The resonance and vibrational buzz of steel strings accentuated the sonic mirage, making inroads into the gap between replay and reality.
Playing the same tracks – and many others – after switching from MA12000's DAC to my Totaldac d1-direct provided an interesting juxtaposition. My in-situ reference is unfairly much more expensive and at EU20K (manufacturer direct without importer/retailer margin) almost matches the MA12000's Australian RRP. So hardly a fair comparison. Yet the Mac's DAC performed admirably given the Totaldac's higher component specification, relatively massive power supply and R2R technologies. On a more apples with apples comparison, based on my experience with other integrated amplifiers with in-chassis Delta-Sigma DACs, the MA12000's converter performed on-par if not better. The Mac DAC preserved the amplifier's qualities of fullness, sweetness and superb bass. Kudos there too.
Conclusion
As obvious as it may seem, the MA12000 does in fact coalesce the positives of both valve and solid state technologies. Truly adhering to the thermionic trope, the highs are always balanced, sweet and don't draw attention to themselves while also presenting good levels of detail retrieval. Further, the midrange has a solidity and warmth which envelops and provides verisimilitude to male and female vocals without ever sounding sickly-syrupy.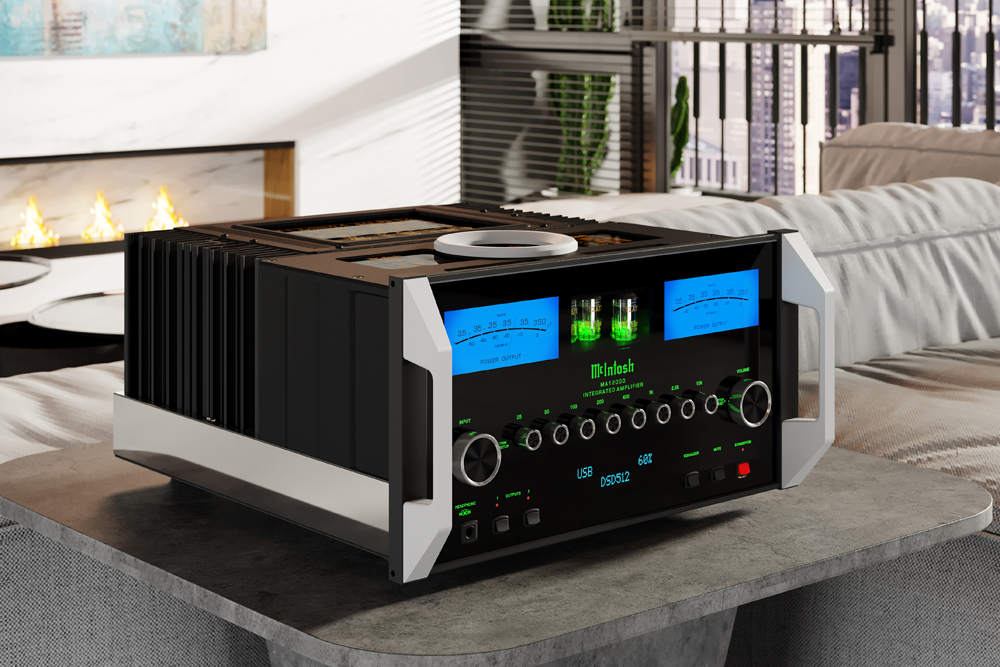 And then there's that bass… a bouncy, nuanced and voluminously powerful statement to match the visual declaration the MA12000 so boldly makes. Yes, the McIntosh Laboratory MA12000 will make a lasting impression on any audio enthusiast who treasures the integrity of the music. As it did me.
It's an integrated amplifier with charismatic physical presence. A talking piece with killer looks and substance via solid and proven engineering. McIntosh Laboratory's extraordinary MA12000 is a music-making authority with powerful incentives to reach into your pocket and get credit-card-a-tappin'… own it and you'll be blissfully, Gratefully Living.
… Edgar Kramer
This email address is being protected from spambots. You need JavaScript enabled to view it.
Associated Equipment
Speakers — Wilson Audio Alexia Series 2, Axis Loudspeakers VoiceBox S (nearfield monitor), Vermouth Audio Little Luccas Mk.II
Amplifier — Gryphon Audio Antileon EVO
Preamplifier — Supratek Cortese, Totaldac d1-direct DAC
Sources — Digital: 432EVO High-End Music Server Roon Core, Yamaha CD-S2100 transport, Totaldac d1-direct DAC. Analogue: Transrotor Crescendo with Konstant Studio controller, Reed 1X Tonearm with upgraded internal wiring, Shelter Harmony cartridge, The Funk Firm Houdini cartridge decoupler, Supratek Cortese & REDGUM Audio RGPH2 phono stages
Processor — DEQX PreMate (part of arsenal/casual use)
Cables — PSC Audio custom design XLR, Vermouth Audio Reference loom, ZenSati Zorro loom, Cables for Music Songbird speaker cables
Audio Rack — SGR Audio Statement Model V
Acoustic Treatment — Vicoustic Multifuser Wood, Wavewood Ultra, Cinema Round Premium and Super Bass Extreme
Miscellaneous — GigaWatt PF-1 EVO, Les Davis Audio Viscoelastic CLD discs, VRC Vinyl Record Cleaning system plus miscellaneous accessories
McIntosh Laboratory Inc. MA12000 Hybrid Integrated Amplifier
Price: AU$29,995
Warranty: Three Years
Australian Distributor: Synergy Audio
+61 3 9459 7474
www.synergyaudio.com
McIntosh Laboratory Inc.
2 Chambers Street
Binghamton, NY 13903-2699
United States of America
+1 607 723 3512
www.mcintoshlabs.com