The new SabrinaX may look just about identical to its predecessor – there are visually-subtle yet substantial performance-based upgrades – but in updating the Sabrina platform the Wilson Audio engineering team, led by dynamic duo Daryl Wilson and Vern Credille, have carpe diem'ed. The significantly revised SabrinaX is the recipient of Wilson Audio's latest technologies and design credo. As crowned most recently by the flagship Chronosonic XVX, the stream of philosophical and engineering concepts that permeate Wilson Audio's latest offerings are, ultimately, stimuli inspired by the no compromise limited-run WAMM Chronosonic. That the company has adopted many of these doctrines and practical elements to SabrinaX, the floorstanding entry point, shows engineering generosity besting mere trickle-down interpretations and potential oversimplifications. What super-incentive for exploration…
Converging Technology
There are numerous key upgrades and improvements to the original Sabrina concept. For starters, SabrinaX now sports the new Convergent Synergy Mk. 5 25mm doped silk dome tweeter as also used in Chronosonic XVX, Wilson Audio's current full-production flagship loudspeakers. Over the multiple tweeter versions, generational improvements have seen refinements in construction and overall engineering aimed at lowering distortion with claimed resultant improvements in resolution, dynamic contrast and "musicality". The inclusion of the XVX's tweeter is a significant point. Wilson Audio has adopted the tweeter used in a US$330K loudspeaker to a near-US$20K design. Again, no mere trickle-down simplification but rather actual implementation.
Wilson Audio has retained Sabrina's highly acclaimed 150mm doped/coated paper pulp midrange driver from Scan-Speak. Again, it's a low distortion design with the recognisable radial 'slice' marks across its diaphragm. I've auditioned a variety of designs employing this marvellous transducer and, in my experience, every implementation has performed superbly, with common traits being excellent detail retrieval, exceptional low-end and surprising dynamic expression. Wilson Audio claims a very smooth frequency response for the driver which is said to roll-off at 2kHz, therefore allowing both it and the tweeter to perform in their respective optimum band.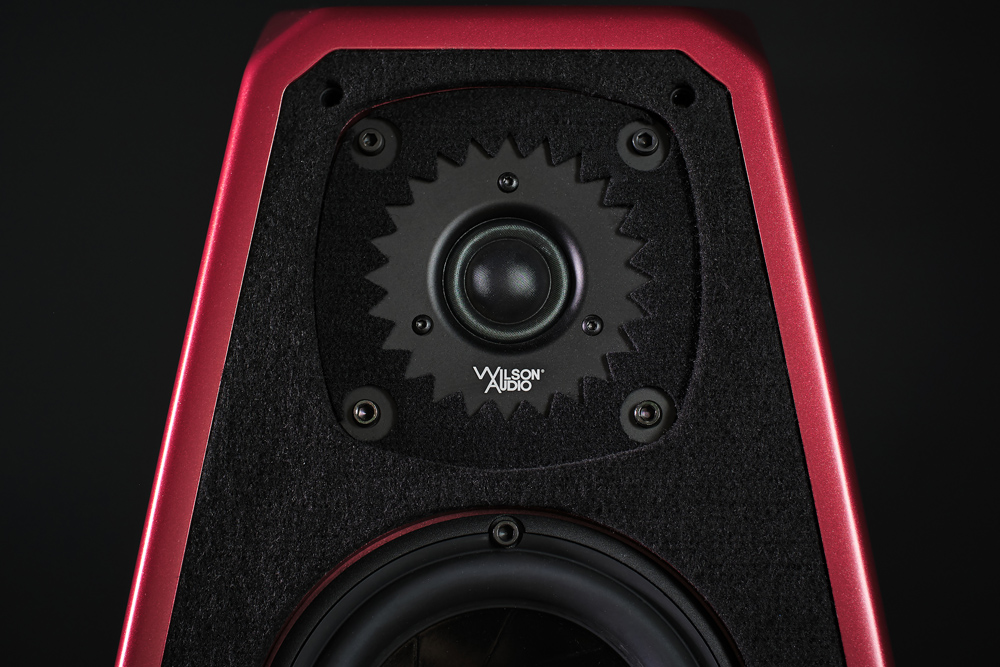 The low-end is catered to by a relatively new 200mm bass driver which was first introduced on the revered Sasha DAW. It's a high power paper pulp cone transducer of similar design to the one used in our in-house Alexia Series 2 reference loudspeakers with subsequent adaptations and modifications for incorporation into Sasha DAW and now in SabrinaX.
The drivers are optimised via a crossover network featuring Wilson Audio's proprietary in-house manufactured AudioCapX-WA high-end capacitors which were first used in the XVX. Produced in-house since 2018 on custom machines, manufacturing its own capacitors provides the company with benefits in terms of end-product reliability, fabrication control and by circumventing dependence on the supply status and capabilities of external providers. In bespoke versions for SabrinaX, the new capacitors are said to improve performance, especially by lowering the noise floor.
The driver array populates an all-new enclosure construction. The original Sabrina featured X-Material on its baffle and bottom plate (the best support for the simple spikes) and high quality MDF on all other cabinet panels. Now, as also used in the company's upper echelon designs, SabrinaX adopts the super-inert X-Material across the entire cabinet structure. Further enclosure rigidity is achieved via an improved bracing scheme arrived at after extensive testing and Laser Vibrometry measurements, with the aim to eliminate all resonance and vibrational distortions across SabrinaX's enclosure.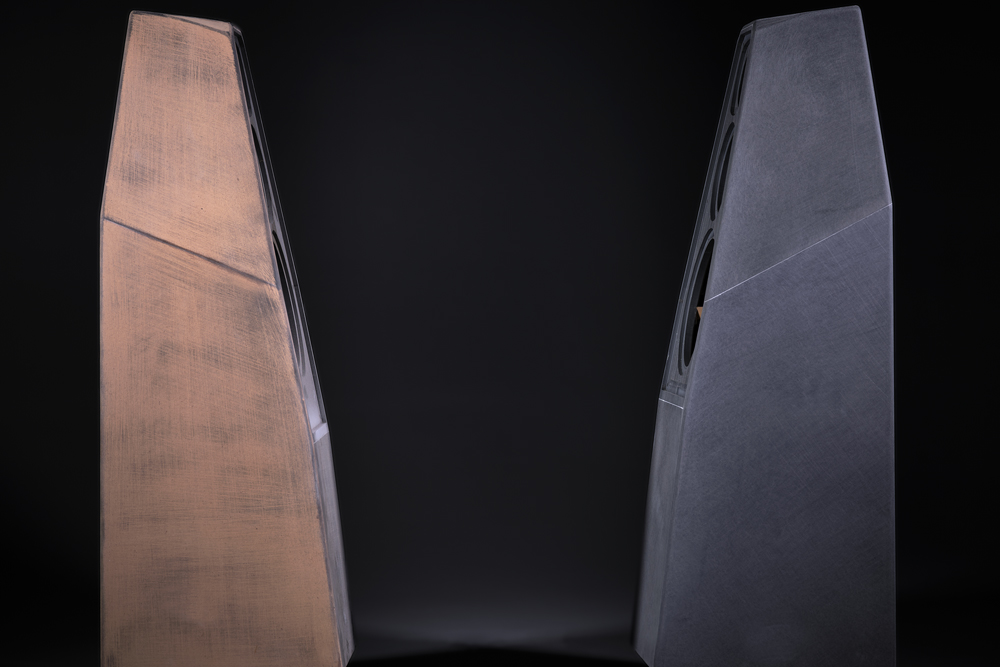 The use of X-Material has allowed a more efficient, technically improved and aesthetically neater midrange slot port, or "vent", configuration which is directly machined from the rear panel. Speaking of ports, the SabrinaX now features a new machined 6061-T6 aluminium bass reflex port design which is said to be more efficient in terms of reducing 'chuffing' or air flow port noise. The previous model's simple spikes have been upgraded to Wilson Audio's diode/spike system which improves vibrational 'draining' while increasing the mechanical impedance path (they also look cool). Also new for the SabrinaX are in-house-manufactured speaker binding posts which now accept banana plugs and are also easier to hand-tighten. Both these new items come directly from Sasha DAW and XVX.
SabrinaX's frequency response is particularly impressive for a speaker of its size and has been quoted to span from 31Hz to 23kHz at +/- 3 dB RAR (Room Average Response). Sensitivity is an average 87dB at 1 watt/1m measured at 1kHz while the system impedance is a nominal 4 ohms with a minimum of 2.60 ohms at 135Hz. The recommendation is for the use of an amplifier capable of outputting 50 watts per channel minimum. Wilson Audio speakers thrive, and can comfortably cope, with shedloads of power. Feed it with good amplifiers (either solid state or valve designs) capable of providing high wattage and ample current and you'll have a clear path to unleashing SabrinaX's potential music-making powers.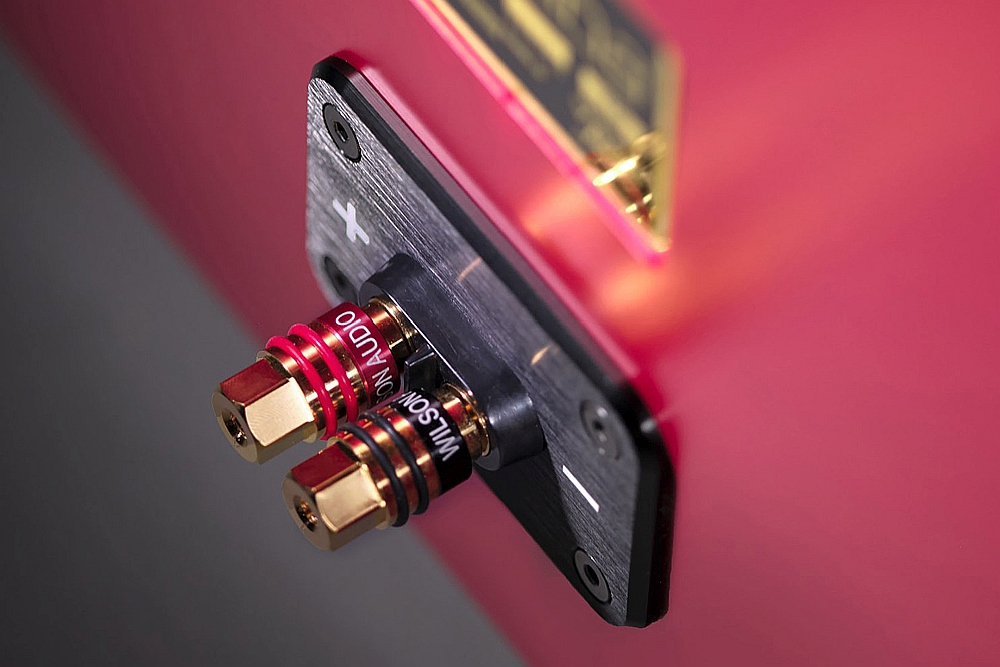 Recently, I spoke to Wilson Audio CEO and designer Daryl Wilson (watch the SoundStage! Talks video interview here) and asked him to describe the most important aspects considered for improvement going from Sabrina to SabrinaX:
On any product cycle we look at what's been developed over the last four or five years. At Wilson Audio we have a culture of excellence. A lot has happened here in the last few years since the Sabrina was introduced. We looked at how we could refine the vibration control of the enclosure, how to get better performance from the spike system, we looked at the signal path and how to clean the signal path via the crossover topology and the binding posts and we incorporated the new AudioCapX capacitors in the crossover which we hand wind and produce in-house at the factory.
We're using the Convergent Synergy tweeter found in the XVX and WAMM. It's a beautiful-sounding tweeter with great dynamic extension, airiness and is smooth. We knew that the Sabrina platform would benefit from that. The same with the woofer which was developed for the Sasha DAW. So taking all those elements from the top of the enclosure to the bottom and everything inside, it's really an exercise in refinement. It's executing and implementing all the things we've learned in the last five years.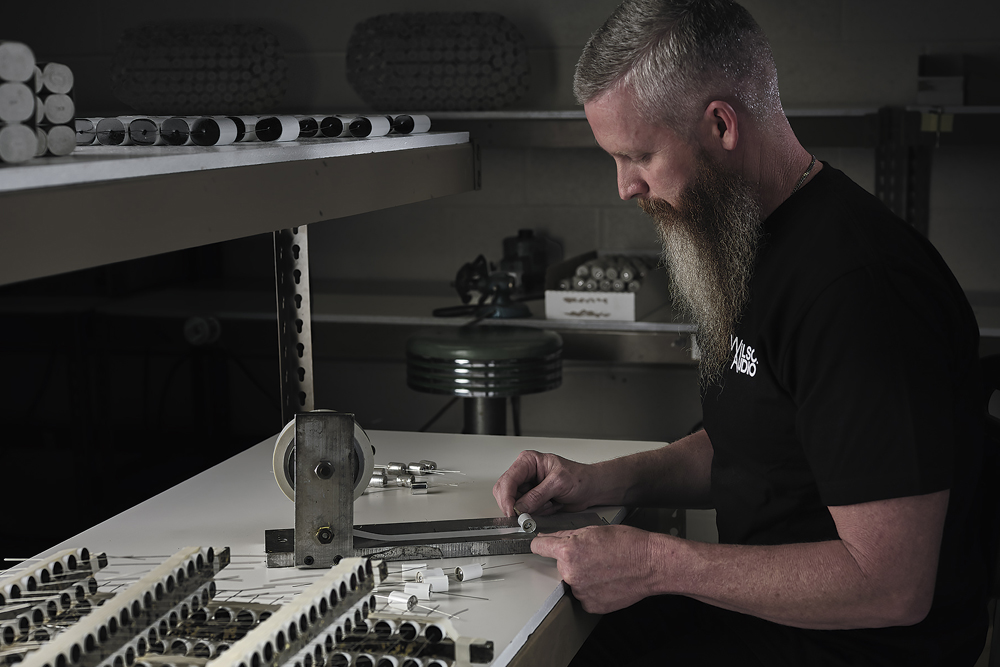 SabrinaX is currently available in three standard Wilson Gloss paint colours described as Carbon, Galaxy Grey and Quartz (check the company website for their tone). Added cost upgrade colours include Diamond Black, Crimson Satin and Ivory while the full palette of custom and pearlescent colours are available on special order and incur a further up-charge (see below for pricing).
Xcellence
Positioning SabrinaX was a simple exercise in 'walking' the speakers into a position where I know from experience the acoustic coupling between transducer and listening studio/office is copacetic. Music-playing test time to fine-tune placement in fraction-of-an-inch increments served as a final set-up exercise. In other words, while SabrinaX is relatively easy to place, some attention to placement prior to installing the spiking/diode system will reap worthwhile rewards.
Playing "Improvisation" from Emiel Scholsberg's Reference Recordings I brought forth one of SabrinaX's most remarkable qualities. This relatively small speaker can kick posterior when it comes to the low-end – both in terms of outright depth and sheer punch. Scholsberg is a guitarist (electric and acoustic) and he's joined by a brilliant band, with either Sander Kalmeijer or Paul Verberne on bass (Tidal does not make it clear as to which player handles "Improvisation").
While Scholsberg's guitar is exquisitely delivered with true timbre and superb detail, it was the accompanying bass player's tight, detailed and seismically powerful bass which incited impulsive toe-tapping while listening. The bass was textured, with quickness and articulation easily defining the tonal, rhythmic and dynamic qualities associated with the instrument and the various playing styles. Electric bass picked or slapped, acoustic bass arco-bowed or pizzicato-plucked – all easily differentiated and reproduced with authenticity. Andreas Khüne's superb drum-playing comes through strongly, quite obviously in the kick drum spectrum, based on the comments above, but also impressive was the snare's remarkable transient attack which powerfully cut through the mix without impinging on the various guest vocalists' tracks.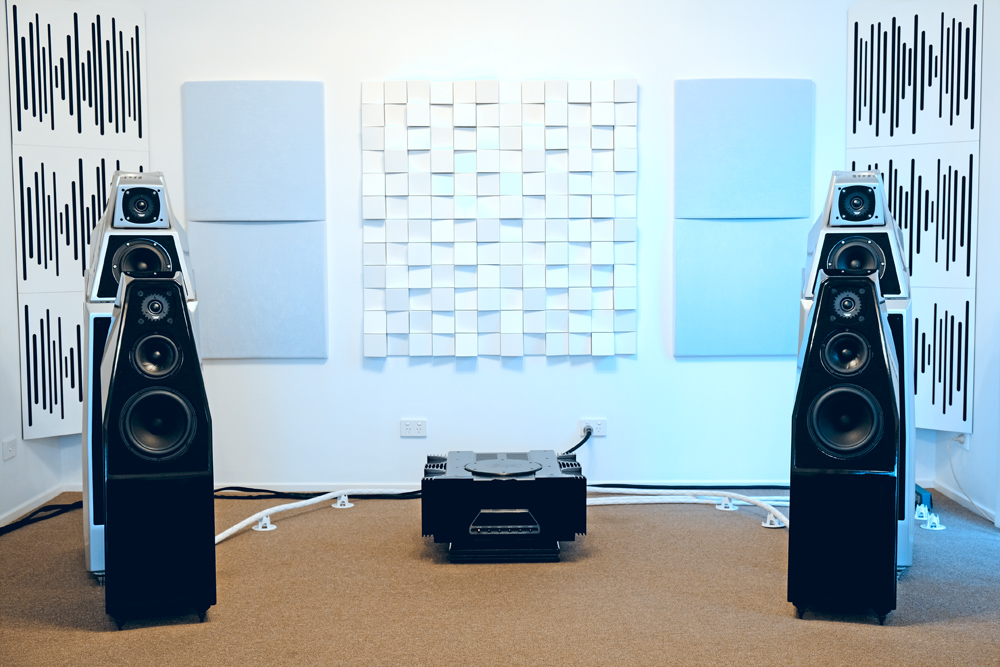 One of the best examples of outright distinction in recording of the bass instrument would have to be Nenad Vasilić's underrated The Art of Balkan Bass. The track "Lupafte" was revelatory. The track's intro builds with a slow percussion beat which SabrinaX thumps through while maintaining exceptional tonality – you easily discern the timbrel quality of the drum as it's so faithfully recreated. Then, the acoustic bass enters the soundscape with dramatic depth, excellent transient attack and precise definition. It's an overall natural and stunningly realistic take on this astounding recording. The profound beauty of Vasilić's bass playing is communicated via SabrinaX, where on "Zapevala Sojka Ptica" the musician's love for the instrument is demonstrated via his virtuosity and the 'feel' in his playing. Given its single 200mm driver, within its line of duty from upper bass and down to the mid-30Hz mark, SabrinaX did low-end impact and definition to the highest level of excellence I've heard from a small floorstander.
On the filmic soundscapes of Mogwai's "Yes! I Am a Long Way From Home" from the band's stunning Young Team (Deluxe Edition) Tidal stream, the SabrinaX bathes you in a wall-of-sound, creating a massive soundscape which stretches across the room. On the album's near-12 minute track "Like Herod", the same sonic-wave washes over you, an undulating sea of ambient swell, intensely rising then exploding with drama. Yet, the extreme complexities are never congested nor stunted by SabrinaX – she generously offers the dynamic Wilson Audio sound we know and love, the type of performance that makes for an extremely exciting listen. This is small speaker, big sound spectacle. The guitars wail, screech and dig, the drums pound and slap. Ooh, yeah.
As excitingly as it handles powerful music, SabrinaX is also an extremely refined loudspeaker. On Bach's Cello Concertos – Orquestra Barroca de Sevilla – the subtleties and tonal beauty of Christophe Coin's cello are exquisite. This is outstanding timbre, rich in textures and gradations. The orchestra is widely spread in a deep soundstage where images are sharply focused and exhibit corporeal presence. Pertinent to this recording, SabrinaX's capabilities to reproduce ambience will carry you to the Iglesia de Santuario de Nuestra Senora de Loreto in Seville. You almost feel the great church's acoustic 'voice', its 'air' as it hosts the orchestra and imparts its beautiful affectation on the recording.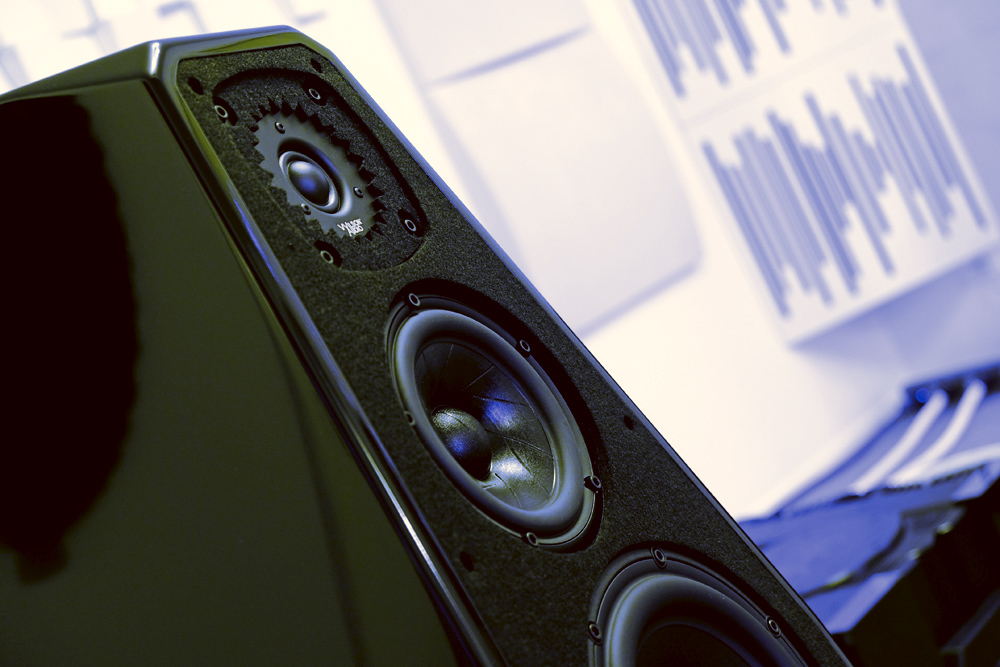 Detail retrieval is precise on bow and string while SabrinaX's handling of low level information is exceptional. The two are different facets of the overall reproduction of detail. The former presents a more holistic aspect of detail – the big picture – where the brain correlates what it's processing as being the overall fundamental nature of the music being played (this includes machinations of instrument playing, the recording venue's ambience, etc.). The latter presents the minutiae, the subtlest and even accidental secondary elements of the instrument being played – the grain in the film, the tonal depth of colour and shade.
The thorough level of recorded information SabrinaX presents is always done in a balanced way. Nothing stands out as being exaggerated or overtly presented, making for a totally involving listening experience – you actively think less about the 'sound' and become more engaged with the music. Yes, the new tweeter and proven midrange driver make a very special pairing and have been seamlessly mated to each other and to the new bass driver. It's an overall coherent sound that takes the focus away from individual drivers and creates music of-a-piece – a uniform weave of the overall musical mosaic.
Conclusion
In the last conversation I had with my recently departed good friend, Wilson Audio Australian distributor Josef Riediger, we discussed the just-landed SabrinaX. As always, 'Joe' presented intelligent and salient opinions. He had received the first pair in Sydney (a limited number of SabrinaX were shipped around the country in order to sync-up with the global launch requiring actual units at select bricks and mortar dealers). Even in his fragile state Joe's heart still pumped strong with passion for great audio. He was… joyful. He delighted in the anticipation of my review. "I'm running them in for you Edgar. Great little speaker."
That SabrinaX stands on its own hefty spikes when compared to its remarkable siblings is a statement strong in inference to the way Wilson Audio designs loudspeakers. It's an interpretation of principles of excellence, as Daryl Wilson stated, as applied to an ingress-point product. SabrinaX is also an illustration of technology decreed to incorporate the best that Wilson Audio can offer while sidestepping discriminatory price point conventions.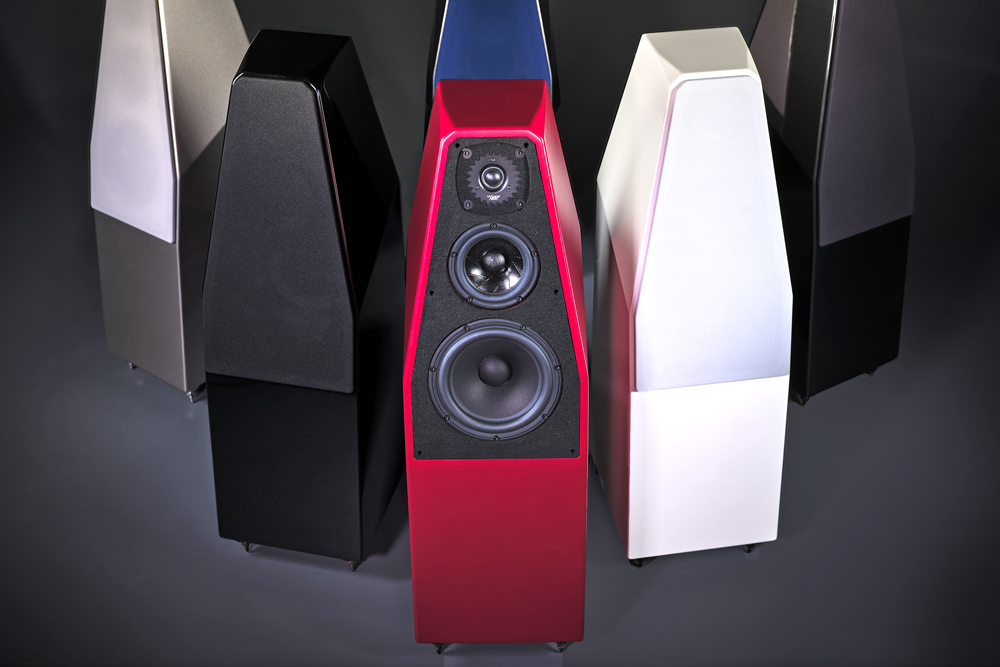 SabrinaX expresses an inclusive ideology to endow the smaller scale loudspeaker with the very ingredients and technologies originally developed for its much more costly siblings. The ludicrously-expensive-to-machine and super inert X-Material as used across the entire product portfolio, the Convergent Synergy Mk. 5 tweeter, the crossover component and hardware upgrades also derived from XVX, the Sasha DAW bass driver and so on.
Couple the above with the attached brand cache and desirability, the pleasing and manageable form factor, the exceptional build quality and the undeniable distinction on every aspect of audio performance and you have, even at AU$30K, a rare high-end bargain. Highly recommended states it mildly…
… Edgar Kramer
This email address is being protected from spambots. You need JavaScript enabled to view it.
This SabrinaX review is dedicated to Josef Riediger.
Associated Equipment
Speakers — Wilson Audio Alexia Series 2, Axis Loudspeakers VoiceBox S(nearfield monitor), Vermouth Audio Little Luccas Mk.II
Amplifier — Gryphon Audio Antileon EVO
Preamplifier — Supratek Cortese, Lightspeed Attenuator LDR passive
Sources — Digital: 432EVO High-End Music Server Roon Core, Yamaha CD-S2100 transport, Totaldac d1-core DAC. Analogue: Transrotor Crescendo with Konstant Studio controller, Reed 1x Tonearm with upgraded internal wiring, Shelter Harmony cartridge, Supratek Cortese & REDGUM Audio RGPH2 phono stages
Processor — DEQX PreMate
Audio Rack — SGR Audio Statement Model V
Acoustic Treatment — Vicoustic Multifuser Wood, Wavewood Ultra, Cinema Round Premium and Super Bass Extreme
Miscellaneous — GigaWatt PF-1 EVO, Les Davis Audio Viscoelastic CLD discs, VRC Vinyl Record Cleaning system plus miscellaneous accessories
Wilson Audio SabrinaX Loudspeakers
Price: AU$29,995 (Standard Colours), AU$31,995 (Upgrade Colours), AU$34,995 (Custom/Pearlescent Colours)
Warranty: Five Years
Australian Distributor: Advance Audio Australia
+61 2 9561 0799
www.advanceaudio.com.au
Available for audition in Australia & New Zealand exclusively via Audio Connection (Sydney), The Sound Gallery (Melbourne), Trimira Audio (Brisbane), Frank Prowse Hi-Fi and Revolution Turntable (Perth), The Listening Post (Hamilton, New Zealand)
Wilson Audio Specialties
2233 Mountain Vista Lane
Provo, Utah 84606
United States of America
1 801 377-2233
www.wilsonaudio.com