When Sydney Harman's Revel hit the high-end loudspeaker market in the late 1990s, the company created quite the stir with its distinctive Gem, a beautifully-styled and high-performing standmount which garnered rave reviews globally. To round-out the flagship Ultima line, the remarkable Studio and Salon floorstanders followed and, again, were deservedly considered among the very best loudspeakers available. This writer loved the unusual styling which featured heroically-fabricated main cabinets with strikingly-fashioned interchangeable side panels available in a selection of beautiful finishes. The design presented users with a variety of mix-and-match options to suit any décor. Then there were the custom drivers and the overall engineering prowess. And the sound was… revelicious.
A couple of years post the Ultima range's indisputable success, Revel introduced the gen-one Performa line. Again, the new speakers rustled high-end feathers. With revised bespoke drivers and distinctive bulging front baffles, they also performed to extremely high levels and offered more affordable options to the top-tier series. The budding company was on a roll.
However, respected Revel Principal Designer Mark Glazer is not one to rest on his laurels. Glazer was brought in several years ago by renowned engineer Kevin Voecks to handle loudspeaker design at Revel. Glazer has been responsible for Revel loudspeaker releases for several generations across all lines, including the subject of this review.
With Harman International Luxury Audio Group's world-leading Research & Development facilities' substantial resources at his disposal (with stablemates including Arcam, JBL, Lexicon and Mark Levinson) Glazer was well-set-up to develop loudspeakers of supreme technical distinction. The company's Californian Northridge Acoustic Centre of Excellence is populated with a team of scientists and engineers armed with the latest design and development technologies who are led by renowned scientist and Director of Acoustic Research Dr Sean Olive. In addition to the wealth of testing resources, the facility also houses its own anechoic chamber and a unique screened pneumatic 'speaker mover', a mechanical rig which allows fast loudspeaker changeovers for efficient blind evaluations.
But there's more. Wait, what? Yes, despite having available to him a level of resources most loudspeaker engineers would sacrifice an arm for, Glazer had yet another advantage to capitalise on. He had free rein to manufacture drivers in-house. The science, expertise, testing and fabrication facilities, etc. were all available in-house for the development of proprietary drivers for intimate matching to Revel loudspeaker designs. No off-the-shelf potential compromises here.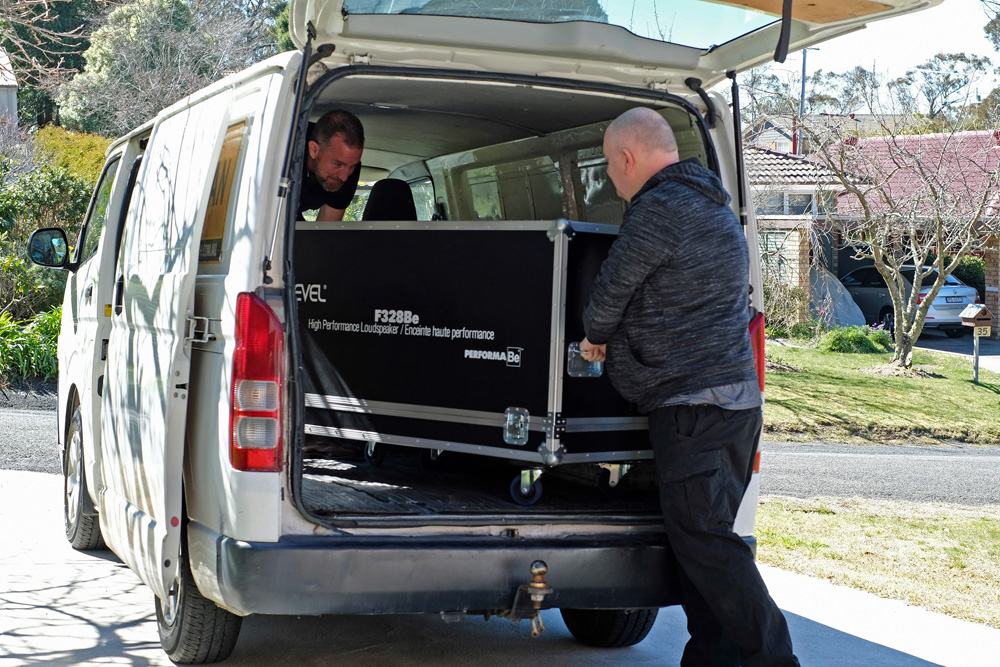 So we come to the latest-gen beryllium-tweeter endowed PerformaBe line (a notch above the non-beryllium Performa3 range), where the flagship F328Be is its most recent addition. The F328Be enjoys the fruits of Revel's latest driver technologies and crossover design refinements. For starters, the new 25mm tweeter is a tour-de-force featuring a beryllium dome and a massive motor system incorporating 85mm dual ceramic magnets. The super light and ultra-stiff high power tweeter is housed within Revel's trademark waveguide which is in its 6th generation of refinement. The 'Acoustic Lens' waveguide is now constructed from ceramic coated aluminium and is machined to shape in order to provide targeted on/off-axis dispersion characteristics.
The F328Be's midrange transducer is a 130mm 'Deep Ceramic Composite' (DCC) cone driver with a cast frame. The DCC technology incorporates an advanced fabrication method which involves a "plasma electrolytic oxidation process that uses a plasma discharge to create a coarse ceramic coating on both sides of the aluminium core." The midrange driver features powerful magnets and a large voice coil within the motor system.
The same DCC technology is applied on the trio of 200mm bass drivers which also feature massive motor systems. As is the case with the midrange driver, the three woofers' DCC diaphragm ceramic layers perform as dampener surfaces acting upon the sandwiched aluminium layer. The construction aims at controlling unwanted cone breakup resonance and the associated non-linear frequency peaks. The drivers are said to be purely pistonic across their bandwidth. Bass augmentation is provided via twin reflex ports located on the cabinet's rear tapering curved panel.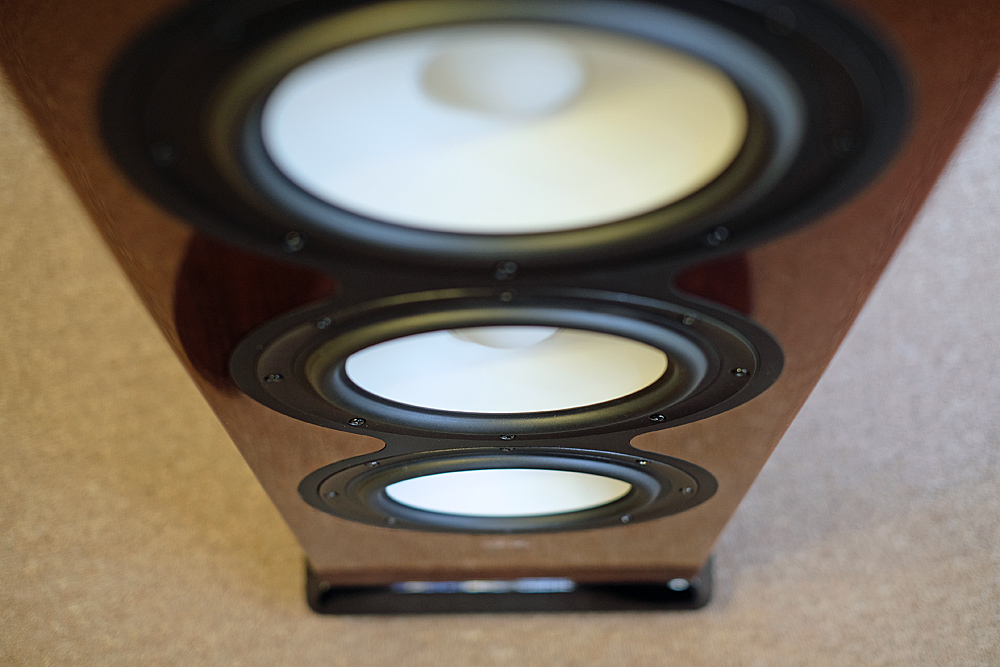 Revel has designed a bespoke high-order crossover (240Hz and 2.1kHz points) peppered with high quality parts such as film capacitors and air core inductors. As per company philosophy, the strict mandate was to optimise directivity, a task requiring exhaustive anechoic chamber measurements. Revel claims the combination of specifically contoured Acoustic Lens geometry and the overall dispersion properties results in exceptional driver blending and tonal coherence. Another user-important factor manifests itself via Revel's controlled directivity philosophy in conjunction with tight driver measurement and fabrication tolerances. That is, the F328Be, and indeed all Revel speakers, will potentially perform as designers intended in a wide variety of acoustic settings while also providing plentiful placement options within listening rooms.
As you'd expect for a design with the levels of engineering such as found on F328Be, the specifications are detailed and comprehensive. Revel quotes a frequency response spanning from 26Hz to 40kHz -6dB with a specific set of low frequency extension specs listed as 24Hz (-10dB), the above-quoted 26Hz (-6dB) and 35Hz (-3dB). Nominal impedance is 8 ohms while sensitivity is said to be 91dB (2.83V/1m). Based on the impedance and sensitivity specifications, the F328Bes should be easy to drive and compatible with a wide range of quality amplifiers, even mid- to low-power valve designs.
The F328Bes' cabinets are well built, attractively styled with curved sides tapering towards the rear of the enclosure. The narrow rear taper houses the twin reflex ports and the terminals which house dual twin binding posts suitable for bi-wiring or bi-amping (a gold plated linking strap is supplied for single-wire operation). Our review samples were supplied in an immaculately-gloss-lacquered walnut veneer. A painted gun metal speckle-gloss curved panel atop the enclosure acts as a design accent and is emblazoned with a 'Performa' logo. The F328Be is also available in gloss black, white and silver paint finishes and good quality coupling spikes are provided.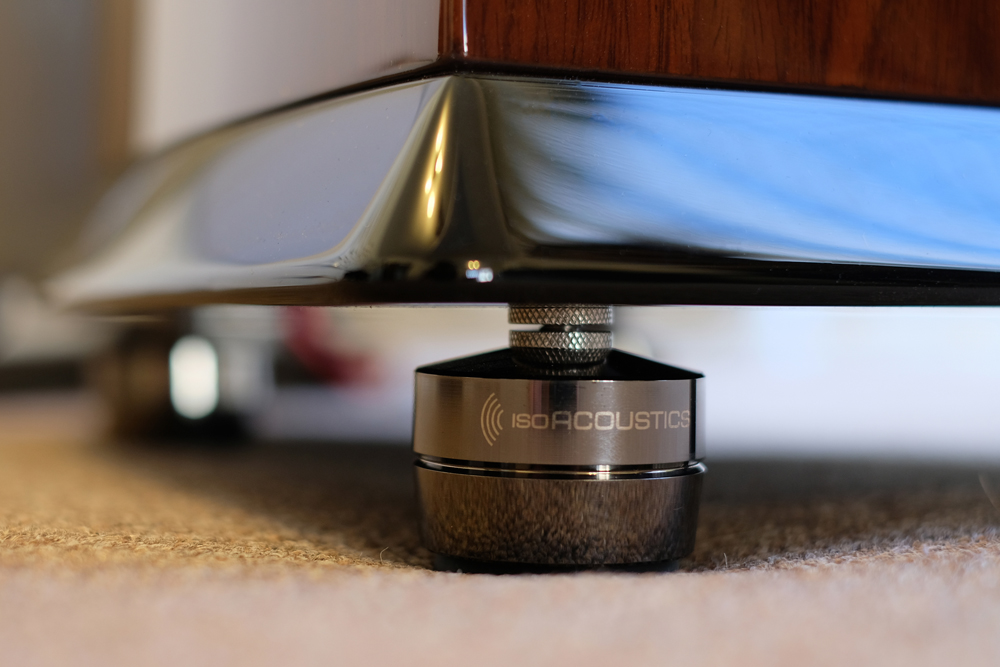 On the last spike point (pardon the pun). Revel's Australian distributor Convoy International also supplied me with a set of IsoAcoustics' Gaia II isolation footers to try on the F328Be. Some extremely interesting findings there, so read on.
Plonk and Enjoy
Revel's claims of engineered-in directivity modelling was on the money as far as setting these rather large speakers in our dedicated listening studio. Sure, most speakers in for review over the last few months have ended up in a very similar position – a placement of general suitability for room interactions – but the F328Bes inspired confidence in terms of the obvious acoustic synergies with our room. No shuffling large spiked speakers around the room and creating 'connect-the-dots' potholes on the carpet. Happy days.
What the F328Bes do extremely well from the outset is scale. This attribute is obviously a product of the waveguides' coherent blending with the rest of the drivers, the three powerful bass drivers also working in unison and the physicality of the enclosure along with its internal volume. So yes, the F328Bes do big music in a big way in terms of dynamics, bass power and overall soundfield scale.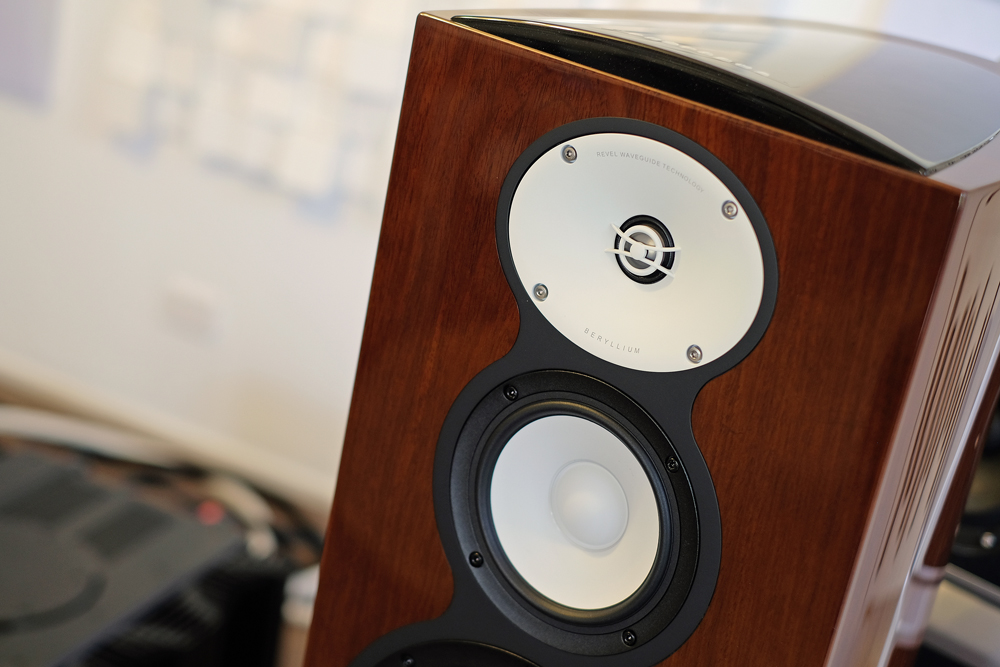 They are also extremely accurate speakers. If you're looking for romanticism and 'warm' colourations or, conversely, if you're looking for upfront speakers as a counterpoint to reticent overly syrupy amplification, look elsewhere. The F328Bes are neutral and… honest.
The same goes for the quality of recordings. Crap-in-crap-out without editorialising. But play well produced music from adept studio and mastering engineers (or those who have not suffered amping-up compression pressures from clueless record company execs) and you'll get as close a reproduction of the music as the creators would hope for.
Sonic friends like accuracy and neutrality come with benefits. The F328Bes are extremely well sorted when it comes to resolving large scale music's complexities. Dense mixes like The Gladiator Soundtrack and its inspiration in Gustav Holst's The Planets are great examples of mayhem presented in a very listenable way without affecting the spectacle and majesty of the pieces. The F328Bes will never sound confused or musically homogenised. In "Mars the Bringer of War" the power and frightening scale of the music is never diminished nor its slam compromised via the F328Bes. The pulsating rhythm, the drama of the horns, the trumpet fanfares, it's all there with tremendous control and complete dynamic authority. And the F328Be's do excellent image focus and immense stage depth, a further confirmation of superb driver matching and engineered dispersion management.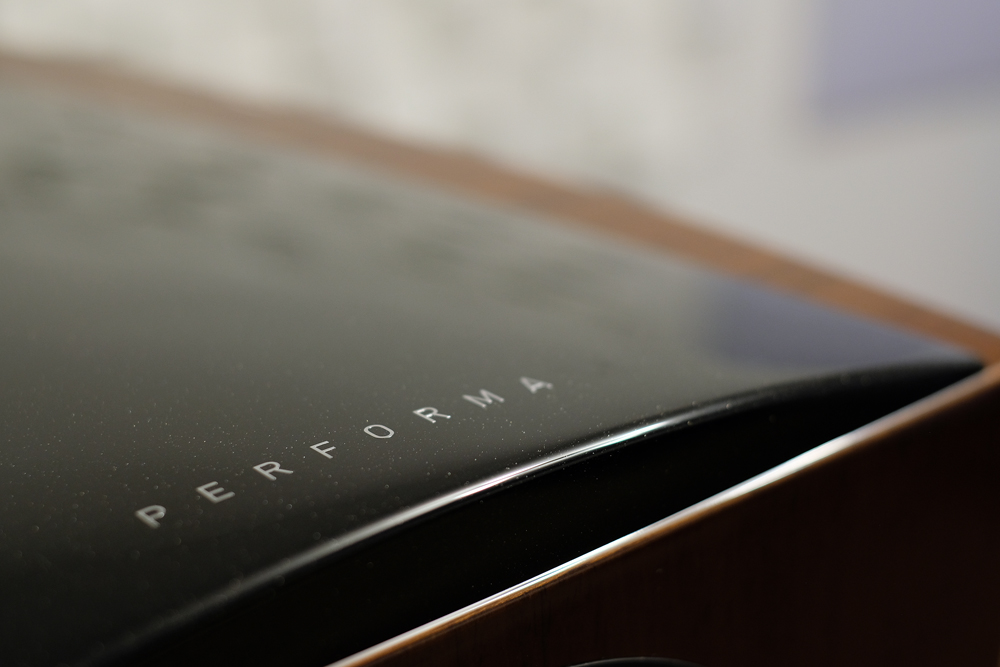 It's not all pomp and circumstance though (now, pun is intended). Delicate fare is equally well portrayed. The spaciousness and relative simplicity of Dave Brubeck's "Take Five" from Time Out presents each of the instruments in its own space within a large soundscape. The acoustic bass and Brubeck's piano drive the rhythm through the subtler early sections of the track while the drums remain understated. When they solo builds you're in for some fun. Even more so if you have Joe Morello's reimagining of the track in his Morello Standard Time album. Here the more recent production on DMP Records present the drums with even more punch and dynamic expression.
The ambient/prog rock sounds of OSI's (Office of Strategic Influence) title track from Blood provided superb amounts of detail to the semi-distorted recurring electronic theme while the well-recorded snare and kick drums penetrated through the mix. Vocals were super intelligible through the dense musical stream, even over and above the track's dark bass underpinning.
Speaking of bass. Halfway through my auditioning time with the F328Bes, I installed the IsoAcoustics' Gaia II isolation devices. These semi-compliant footers have impressed me at a number of with/without presentations at audio shows. Convoy International's General Manager Steve Burton usually conducts the demonstrations, the most recent ones being staged via a switching device in order to illustrate the with/without differences. And the results have always been unequivocally… fascinating.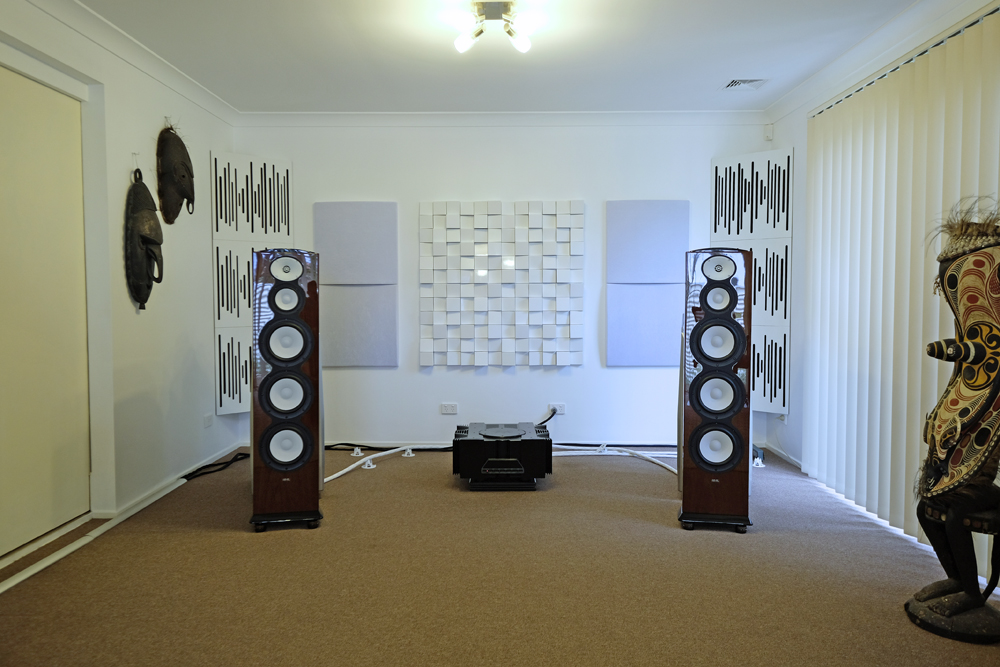 The IsoAcoustics Gaia II as used on the F328Be continues the tradition. While usually conducted through mid-level speakers, I've found the demonstrations showed immediately obvious improvements in bass tightness and detail plus extension of dynamic contrasts in the bass and added clarity through the midrange. While these aspects were most definitely confirmed again in-situ via the F328Bes, they were slightly less… chalk and cheese as the show demos have been. I attribute this to the F328Bes far superior overall engineering plus my room's superior acoustic design (show demos were at hotel rooms – hardly environments for great audio performance but ideal for demonstrating the powers of these wonderful IsoAcoustics devices).
In the context of my room, system and the F328Bes, the Gaia IIs brought about a worthy step up in tonal nuance and dynamic contrast through the bass while also providing a more defined transient attack on the notes' leading edge. A subtle clarity jump through the midrange was also offered – and welcomed. Not that the F328Bes without Gaia IIs are slouches when it comes to any of the aspects of reproduction I've just mentioned. In fact, they excel at all of them. It's just that Gaia IIs springs those qualities into somewhat fuller blossoms.
Conclusion
Prior to the arrival of the PerformaBe F328Bes at SoundStage! Australia HQ, my anticipation was heavy with undertones of curiosity. What sonic wonders could be unleashed via a loudspeaker design bearing the fruits of what may possibly be the industry's most advanced testing and development facilities? What would be the product of a gun designer with almost unlimited scientific and engineering resources?
Well, while not the definitive illustration of Revel's capabilities – that glorious station is occupied by the Ultima line offerings and its range-topping Salon2 – the PerformaBe F328Be loudspeakers are, nevertheless, a quintessential example of cutting edge engineering and design. It may be the recipient of extraordinary resources but it's not a cold, analytical, blunt scientific instrument. Sure, the F328Bes play music with accuracy and unwavering correctness. However, they manage to pull-off a rare trick – their uncompromising precision also communicates the musicians' intent with integrity and listener engagement. The F328Bes' pure truthfulness, ultimately, incites ardent and intense listening. It's an ultra-neutral sound that in some systems may be somewhat of a... umm... Revelation. Ha! See what I did? But I mean it, the F328Be is highly recommended.
… Edgar Kramer
This email address is being protected from spambots. You need JavaScript enabled to view it.
Associated Equipment
Speakers — Wilson Audio Alexia Series 2, Monitors: Axis Loudspeakers VoiceBox S, Vermouth Audio Little Luccas Mk.II
Amplifier — Gryphon Audio Antileon EVO
Preamplifier — Supratek Cortese, Lightspeed Attenuator LDR passive
Sources — Digital: 432EVO High-End Music Server Roon Core, Yamaha CD-S2100 transport, Totaldac d1-core DAC. Analogue: Transrotor Crescendo with Konstant Studio controller, Reed 1x Tonearm with upgraded internal wiring, Shelter Harmony cartridge, Supratek Cortese & REDGUM Audio RGPH2 phono stages
Processor — DEQX PreMate
Audio Rack — SGR Audio Statement Model V
Acoustic Treatment — Vicoustic Multifuser Wood, Wavewood Ultra, Cinema Round Premium and Super Bass Extreme
Miscellaneous — GigaWatt PF-1 EVO, Les Davis Audio Viscoelastic CLD discs, VRC Vinyl Record Cleaning system plus miscellaneous accessories
Revel PerformaBe F328Be Loudspeakers
Price: AU$31,995
Warranty: Five Years
Australian Distributor: Convoy International
+61 2 9774 9900
www.convoy.com.au
Harman International
400 Atlantic Street
Stamford, CT 06901
United States of America
+1 888 691 4171
www.revelspeakers.com