There's always a sense of both eager anticipation and excitement for the arrival of any McIntosh Laboratory product slated for review. The company's products are uniquely and gorgeously styled, immaculately built and, as far as our experience goes, they have always performed. When we heard the new MA352 integrated amplifier had been sent to SoundStage! Australia HQ after only just landing by local distributor Synergy Audio, we feverishly went about making preparations for embedding it into our reference system. Cables were carefully run from source and dedicated circuit's power outlets, supporting platforms were anchored down and a comprehensive list of auditioning software was enthusiastically curated. When the MA352 finally arrived and was fervently unpacked, its sheer beauty had us immediately smitten. In Yoda voice: In love, was I. But is this striking amplifier's magnificence more than skin deep? Read on…
Mirror, Mirror
It's evident from the intro that the McIntosh Laboratory's MA352 is a head-turner-of-an-amplifier. Once again, as per the company's most recent releases, we have here a further refinement of the McIntosh Laboratory industrial design lexicon encompassing recurring motifs in mirror-finished stainless steel, the renowned VU meters, traditional smoked glass and retro styled knobs. Well done McIntosh Group Chief Industrial Designer whiz Livio Cucuzza.
But there's beauty and brawn here. As attractively as the MA352 is styled – its hybrid design shows-off the input stage's valves adding to the visual pyrotechnics – there's a robustly grunty amplifier beneath the glam. The direct-coupled MA352 is a powerhouse of an amplifier offering 200 watts into 8 ohms and 320 watts into 4 ohms via ultra-reliable high current ThermalTrak transistors and a stout regulated power supply totalling "60 Joules of energy storage". The preamplifier stage circuit employs two 12AT7 and a pair of 12AX7A valves. The MA352 applies McIntosh proprietary technologies such as 'Power Guard' and 'Sentry Monitor' protection schemes.
While touching on specifications, McIntosh Laboratory specifies the frequency response as 10Hz to 100kHz at +0dB and -3dB with 'Dynamic Headroom' of 1.5dB and a Total Harmonic Distortion (THD) of 0.03%. Input impedance across both unbalanced RCA and balanced XLR connections is quoted as 20 kohms while the load-adjustable Moving Magnet (MM) input is a standard 47 kohms.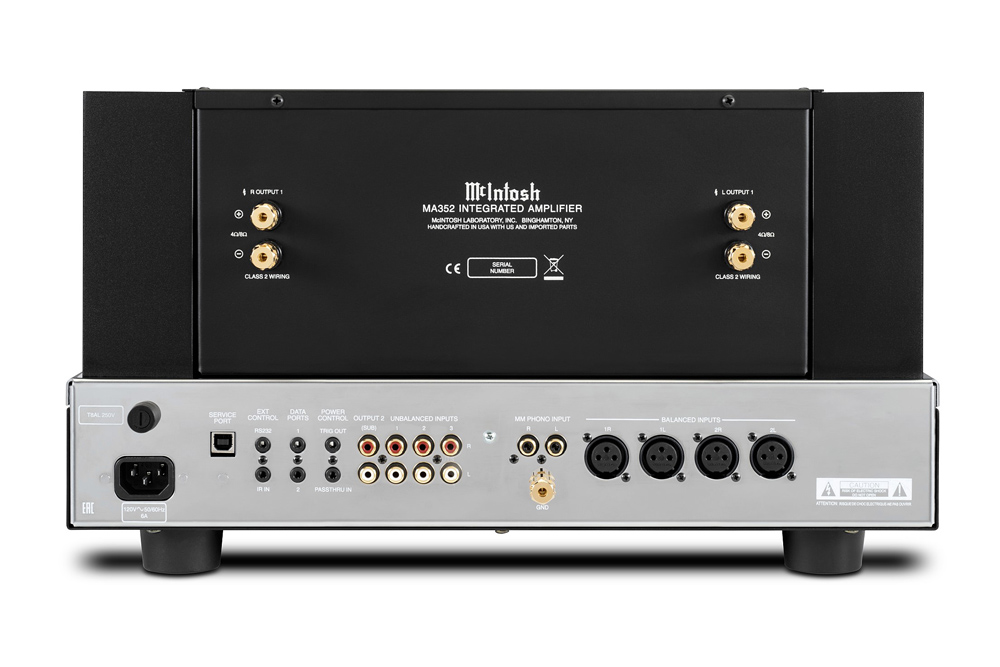 The MA352 features two balanced XLR, four unbalanced RCA and an RCA phono input (Moving Magnet only), the latter with a dedicated gold plated ground post. Output for subwoofer connectivity is via RCA (this also serves as a line-level output for connection to a power amplifier). The usual 3.5mm mini-jack connectivity allows for remote 12V switch-on triggers, RS232 external control and data ports (for MA352 remote control of compatible components) while a USB socket is provided as a 'Service Port'. Gold plated custom speaker binding posts, an IEC socket and a fuse receptacle round out the rear panel connector and hardware options.
In-keeping with the old-school/retro theme, the MA352 offers analogue tone controls with +/-12dB adjustment. It's a basic 5-band EQ with preset frequencies at 30Hz, 125Hz, 500Hz, 2kHz and 10kHz (two-octave intervals). The five EQ knobs are centred on the angled polished fascia and are flanked by the On/Off/Volume and the Input/Trim rotary knobs at the extremes and then the 6.5mm jack headphone output and power LED. The 'Trim' control allows access to the various menu and setup options such as gain structure adjustment, firmware information, signal-sensing On/Off, input activation/deactivation, input naming, output configuration (stereo/mono), balance adjustment, Home Theatre pass-through setup and more. The lighting scheme can also be adjusted in terms of brightness or status. Regarding this, the warm-up period highlights the valves with an orange glow which then silently switches to green when all is ready to operate. McIntosh provides small polished metal cages to protect the valves. The nicely-made cages feature an 'Mc' logo on the top surface – nice touch. Of course, the famous McIntosh VU meters are blue-backlit and defeatable. All the status and configuration information is displayed on a window between said meters.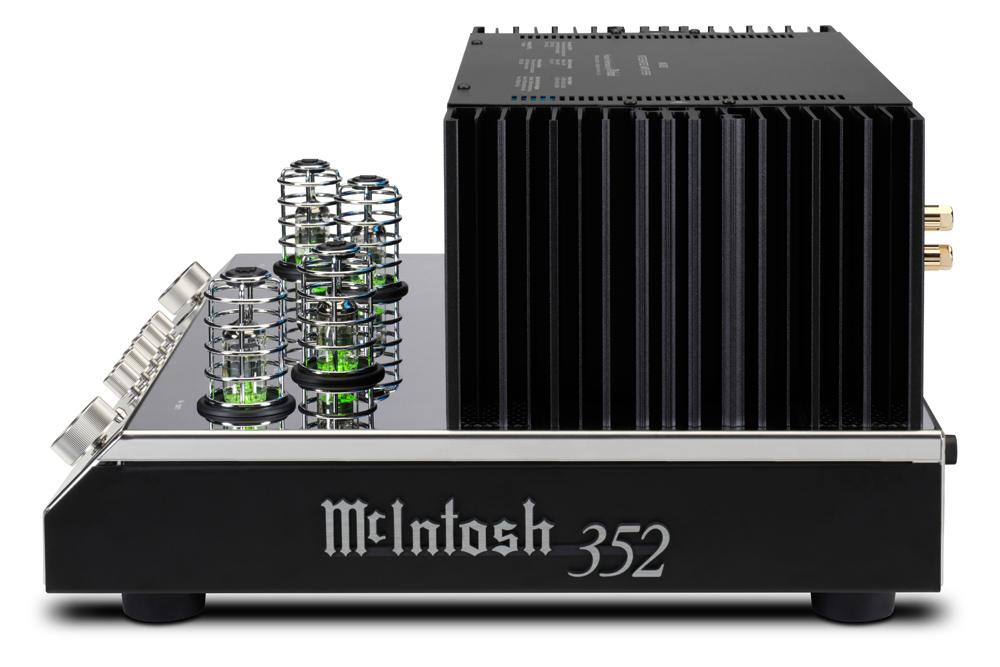 Further aesthetic touches are by way of McIntosh's 'Monogrammed Heatsinks' – the ThermalTrak transistors couple directly to the heatsinks for additional thermal management – diecast aluminium 'McIntosh 352' badges on the amplifier's side panels, backlit model number and company logo and, of course, those glorious blue VU meters I've mentioned above. The MA352 is supplied with a classy full-function remote control which operates faultlessly from any reasonable angle. Build quality is typically McIntosh, which means solid and beautiful. If I had to nit-pick to an OCD level, I would point at some form of side trim on the stainless steel panels, around the folded edges, in order to conceal the juncture seams which, nevertheless, are neatly joined. All else is, as expected, spot-on.
Incorruptible Power
Placing the MA352 on an isolation platform was only just doable on my own although, at 30kg, having another set of bicep-heavy arms would have come in handy. That done, I ran a set of balanced XLR cables from my Totaldac core-1 DAC (with dual power supply upgrade) to one of the MA352's balanced inputs. The gain structure was good to go as is, so no change needed there (however, it's cool to have the gain trim option should that be needed). Conveniently, McIntosh provides a sturdy plastic tool to tighten the binding posts, so dead easy hook-up to both my own Wilson Audio Alexia Series 2 and Magico A5s, the latter coincidentally also in for review at the time (review here).
Fire-up the MA352 and there's little doubt that this is a powerful amplifier you're listening to. There's an immediate effortlessness to the sound that inspires a sense of confidence in the unit's handling of dynamic swings. Given one of the speakers at hand was the average sensitivity (88dB) Magico A5, winding the wick resulted in a clean presentation with plenty of slam and dollops of sweetness across the midrange and highs. Sure, there's somewhat less fulsomeness in terms of midrange body and sheer openness when compared to good valve or Class-A solid state designs but the MA352 plays at the top-end of town against excellent Class-A/B solid staters.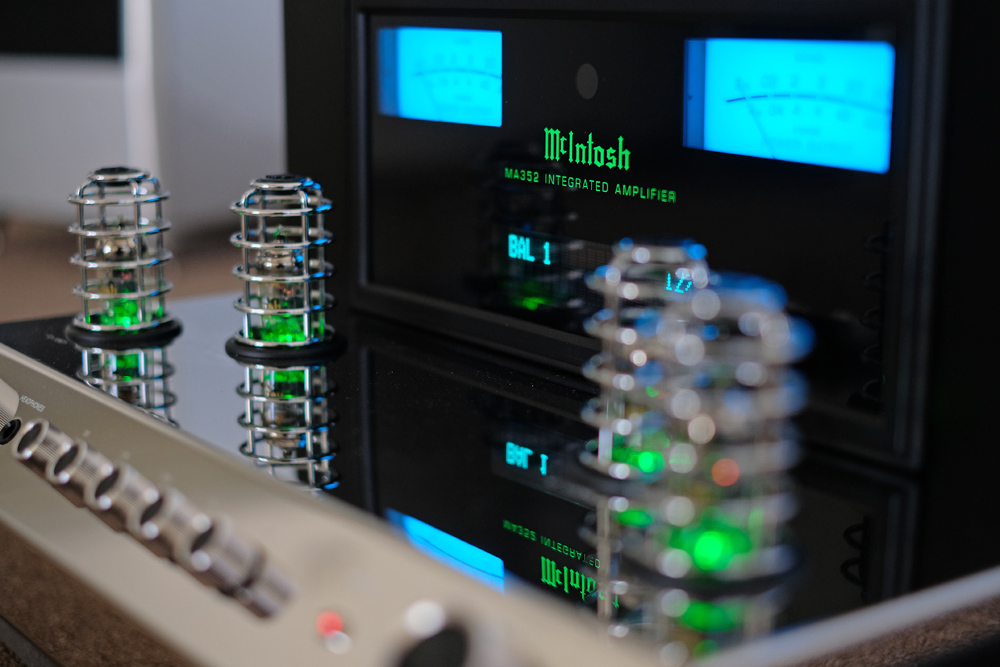 Also impressive was the MA352's ability to throw massive soundscapes, in particularly in the lateral dimension. The title track on The Cruel Sea's Three Legged Dog spread across way outside the speakers' position. It's a cool, funky track and the amplifier offered plenty of rhythmic pace and attack. Forceful rim shots and cutting snare on the album's "Save Me" and "Just a man" were the order of the day which made for impulsive toe-tapping reflex actions.
Going back through my notes I noticed the deliberately-elongated word "smoooooooth" underlined. Indeed, the MA352 is as gentle on bad recordings as any amp you'll hear. All being equal across the system from source to cables and speakers, you'll be rewarded with a sweet sound that does not lack detail or resolution. It's the sort of performance that opens the door to a whole heap of ancillary component options which are bound to synergise. In other words, you should be playing less of the "will this cable work well with the amp?" verification game and more of… well, just playing music.
The MA352's warmth comes via an ever-so-slight upper-bass emphasis – but with zero bloat or boom – that is very enjoyable, especially when playing bass-rich music or deep-voiced male vocals or when the recording quality is somewhat average. In the latter case, poor production becomes more listenable, therefore more enjoyable, and in the case of the former two, you're in for a joyful ride into bass country. The excellent Nick Launay production atmospherics, deepened with heavy-laden bass notes on the title track of Nick Cave's masterpiece Push The Sky Away, will wash over you and, as far as this listener, totally entrance. Ditto for the electric bass intro on "Water's Edge" where the notes are sharply delineated but with a subtle dollop of added weight. When Cave's vocal kicks in, it's expertly separated from Warren Ellis' gorgeous instrumentations. Intelligibility of Cave's lyrics is spot-on and never jarring while the songs' message is fluently communicated (big bonus there – Cave's words are always interesting, thought-provoking and often beautifully poetic).
Similar great separation and vocal abilities are shown on Sarah Jarosz's bluesy/country "House of Mercy" from her superb Undercurrent album. She's reminiscent of Gillian Welch in many ways (not just in the music's genre but tonally) and there's a stunning purity and richness to her vocals with great presence. Your system needs to be well-sorted for the emotive powers and connection from the often-moving tracks to be delivered with full purpose and intent. No issues here. The MA352 also delivers great levels of detail, evident here on Jarosz's vocal intonations, etc.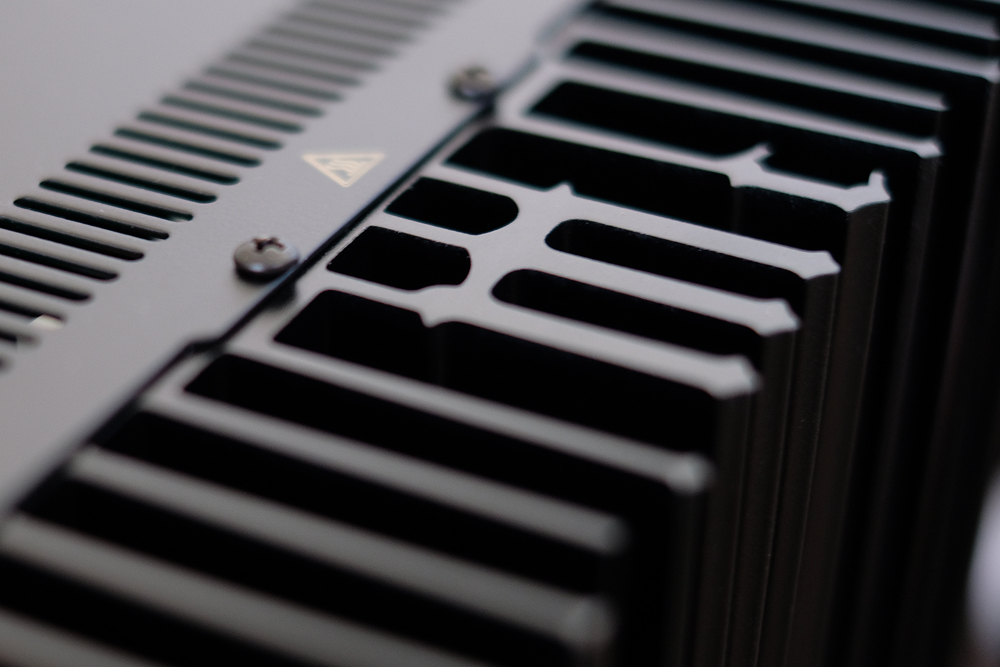 Serebrier Conducts Serebrier, a stunning Reference Recordings production, came through with all the grandeur you'd expect from such a powerful orchestral work. It's a massively-scaled recording and the MA352 presents the music with genuine majesty and stunning crescendos – watch your volume control lest your speakers be blown across the room, such is the fidelity of dynamism available both via the recording and the amplification. It's also a tonally precise rendition of piano and violins, losing nothing to the well-known timbrel accuracy of valves and great solid state amplifiers.
Harry Belafonte's Live at Carnegie Hall is a staple for audio enthusiasts seeking the reproduction and a sense of massive space in the room. The MA352 did not diminish the enormity of the soundfield captured in this recording from 1959. Belafonte gets up to his stage-wandering antics across a wide soundfield with tremendous depth. When Belafonte moves towards the rear of the stage, your aural perception follows along within the massive acoustic space. In fact, the MA352's depth perspective reproduction across all relevant recordings was among the top-of-the-tree in integrated amplification.
Conclusion
After spending a considerable amount of cash on an integrated amplifier – but by no means outrageously so in the case of the MA352 – you'd expect performance, great build and design, operational reliability and overall product longevity. On a more subjective level, a buyer would appreciate brand cache (and associated good resale value) while enjoying pride-of-ownership.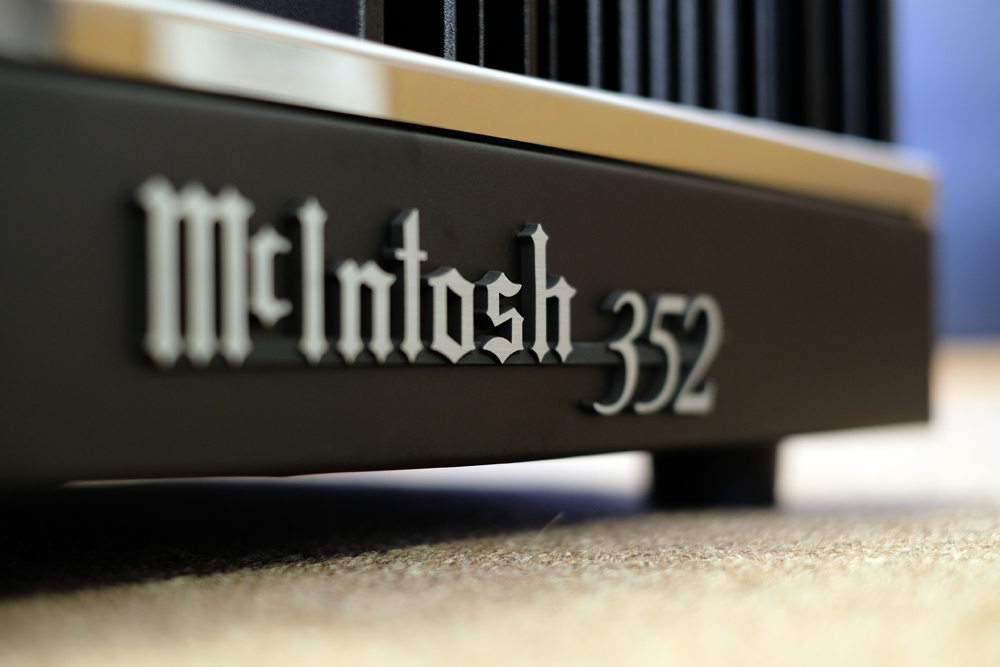 The McIntosh Labs MA352 ticks those important boxes assertively. There's a sense of confidence in the amplifier's effortlessness in terms of its power capabilities and its handling of music, how it functions and its overall execution. It offers a rounded set of features. It's solidly built and assembled. It looks gloriously attractive. Finally, and most importantly, it plays music to very high standards of dynamic realism, tonal accuracy and sheer listenability.
… Edgar Kramer
This email address is being protected from spambots. You need JavaScript enabled to view it.
Associated Equipment
Speakers — Wilson Audio Alexia Series 2, Monitors: Axis Loudspeakers VoiceBox S, Vermouth Audio Little Luccas Mk.II
Amplifier — Gryphon Audio Antileon EVO
Preamplifier — Supratek Cortese, Lightspeed Attenuator LDR passive
Sources — Digital:432EVO High-End Music Server Roon Core, Yamaha CD-S2100 transport, Totaldac d1-core DAC. Analogue:Transrotor Crescendo with Konstant Studio controller, Reed 1x Tonearm with upgraded internal wiring, Shelter Harmony cartridge, Supratek Cortese & REDGUM Audio RGPH2 phono stages
Processor — DEQX PreMate
Audio Rack — SGR Audio Statement Model V
Acoustic Treatment — Vicoustic Multifuser Wood, Wavewood Ultra, Cinema Round Premium and Super Bass Extreme
Miscellaneous — GigaWatt PF-1 EVO, Les Davis Audio Viscoelastic CLD discs, VRC Vinyl Record Cleaning system plus miscellaneous accessories
McIntosh Laboratory Inc. MA352 Integrated Amplifier
Price: AU$13,995
Warranty: Three Years (90 Days on Tubes)
Australian Distributor: Synergy Audio
+61 3 9459 7474
www.synergyaudio.com
McIntosh Laboratory Inc.
2 Chambers Street
Binghamton, NY 13903-2699
United States of America
+1 607 723 3512
www.mcintoshlabs.com