It takes highly refined skills to adapt state-of-the-art technologies and design philosophies incorporated in a company's upmarket models to far more affordable products. Doing so while keeping the integrity of not just the upper-tier products, but of the company ideology itself, is a juggling act that requires intelligent engineering and strategic wisdom. With the A series, Magico has managed to balance streamlined construction and revised design elements on to products which maximise performance and heighten affordability. As the culmination of Magico's entry level 'A' line, the A5 is the archetypal embodiment of trickle down and re-engineered concepts.
Heavy Metal
Magico has been a proponent of aluminium enclosures since the company's inception, where its inaugural product in the early 2000s, the outstanding Mini standmount loudspeaker, combined the material with multiple stacked sandwiched layers of Baltic Birch. The precisely machined multi-layer construction provided an exceptionally inert cabinet and was the exemplar for Magico's enclosure architecture philosophy. However, the brand's evolving designs saw the adoption of aluminium exclusively (post a couple of interim Birch/aluminium models), with the Q series using it in the main enclosure panels which were then further reinforced with aluminium via a complex framework of skeleton bracing and cabinet damping schemes. The external aluminium panels' finish quality was then taken to elevated levels of refinement. Magico also uses aluminium on its mid-level S series and the flagship M series where, in the latter, it's used in combination with carbon fibre.
The new A5 is the range-topper in Magico's relatively recent 'A' series which is the entry point into the company's loudspeaker universe. The A series continues Magico's use of aluminium in enclosure construction but here it presents an alternate style of finishing to that of the Q or M products. The A series shares its upper siblings' 6061-T6 aircraft grade aluminium cabinetry but in an anodised brushed aluminium of exceptional quality, rather than M series' super-polished non-textural surface smoothness (the S series' finish is different again). Pictures do it no justice. Inspection, touching and feeling do. Only one finish is available thus far – Henry Ford colour.
Magico's VP of Global Sales & Marketing Peter Mackay had this to say regarding the A series' finish:
Actually the A series finish is as good, or better, than the Q series finish. We are using now a much more sophisticated, and expensive, machine to finish the aluminium. It's a German-made automated grinder that we just did not have back in the Q days.
The A5 is quite tall at 1136mm, relatively slim at 266mm wide and somewhat deep at 378mm. You'd associate the A5's overall quality as commensurate with a flagship product despite being entry-level for Magico and, in addition, its driver quality and standards of construction and finish exceed that of many a statement product. In common with the A1 standmount and A3 smaller floorstander, the A5 is built to heroic levels of cabinet rigidity. A bespoke bracing scheme is applied here, rendering the A5 uniformly inert and seemingly devoid of vibrational distortions. Even in some well-built high-end loudspeakers, my usual knock test sometimes reveals areas which are solid, while in other less critical sections, where perhaps engineers saw little in the way of detrimental penalty, the cabinet may be a little more resonant or… thuddy-to-the-knock. Not with the A5. It's as inert as a mountain-side across its entire assembly. And at 82kg, this is one solid mofo of a speaker.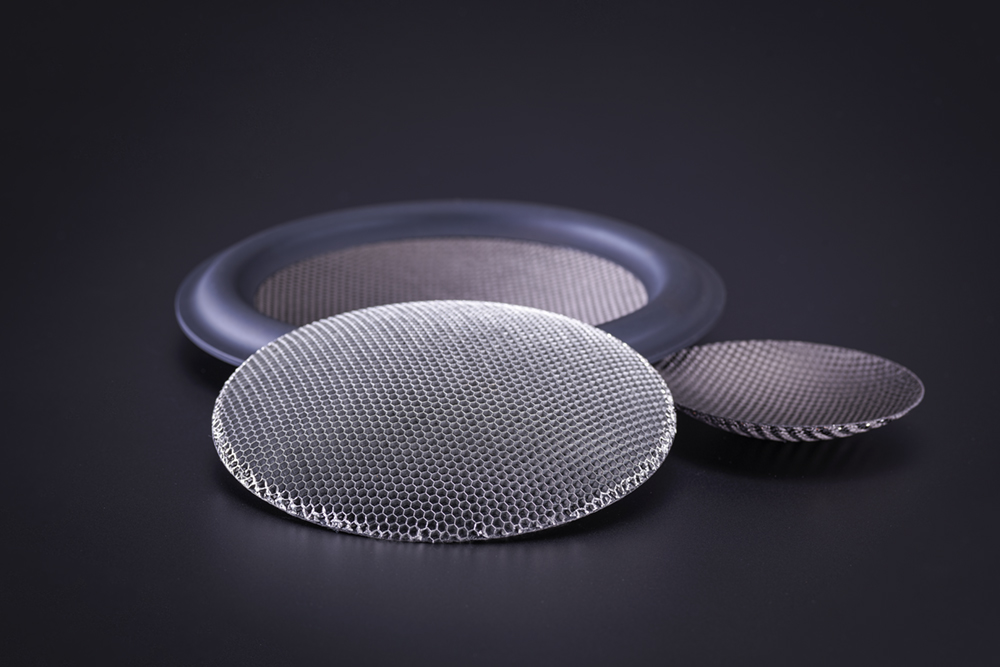 As good as the cabinet is, Magico is also renowned for the use of high-tech drivers which have been evolving over several generations. From aluminium sandwiches, to beryllium, to diamond/beryllium, Nano-Tech carbon, graphene, etc. Magico has had a tradition of employing new and cutting-edge materials, as far as the audio industry is concerned. Ergo, the A5 introduces a number of driver innovations.
The A5's tweeter is derived from Magico's flagship M series. It's a 28mm pure beryllium ultra-low distortion dome capable of high power handling. The driver employs a super linear voice coil within a bespoke neodymium high power magnet motor system. A back plate has been designed with proprietary damping materials in order to mitigate back wave distortions. Magico's engineers aimed at creating an extremely linear, low distortion, high power tweeter. Mission accomplished.
The tweeter is supported by a new Nano-Tec 125mm midrange driver featuring a graphene and carbon fibre sandwich cone terminated via a new treated foam surround said to provide faster settling time and low distortion characteristics. The cone is attached to a large titanium voice coil operating within a custom high power magnet system. The structure is terminated by a pure copper pole cap said to minimise eddy currents and improve efficiency. The new midrange driver is self-contained within a dedicated sub-enclosure, again, protecting the driver from returned back wave energy.
The trio of all-new 225mm Nano-Tec bass drivers are loaded in Magico's traditional sealed box system. The three drivers employ a new "enhanced" version of Magico's graphene cones. Graphene is a hexagonal lattice of carbon quoted as being about 100 times stronger than the strongest high-carbon steel in relation to its thickness. Undisclosed core materials are said to optimise the weight-to-stiffness ratio while similar ratio objectives were aimed at the driver chassis frame. The bass drivers use a 125mm pure titanium voice coil and massive magnet system. The large rubber surround has been optimised to provide driver excursion of up to 12mm. The combination of massive motor and extended surround excursion are quoted as producing output of 115dB SPL (at 50Hz/ 1m) with very low distortion and an "inductance below 0.18 mH". Finite Element Analysis (FEA) was used to arrive at the precise mechanical, electromagnetic and thermal properties.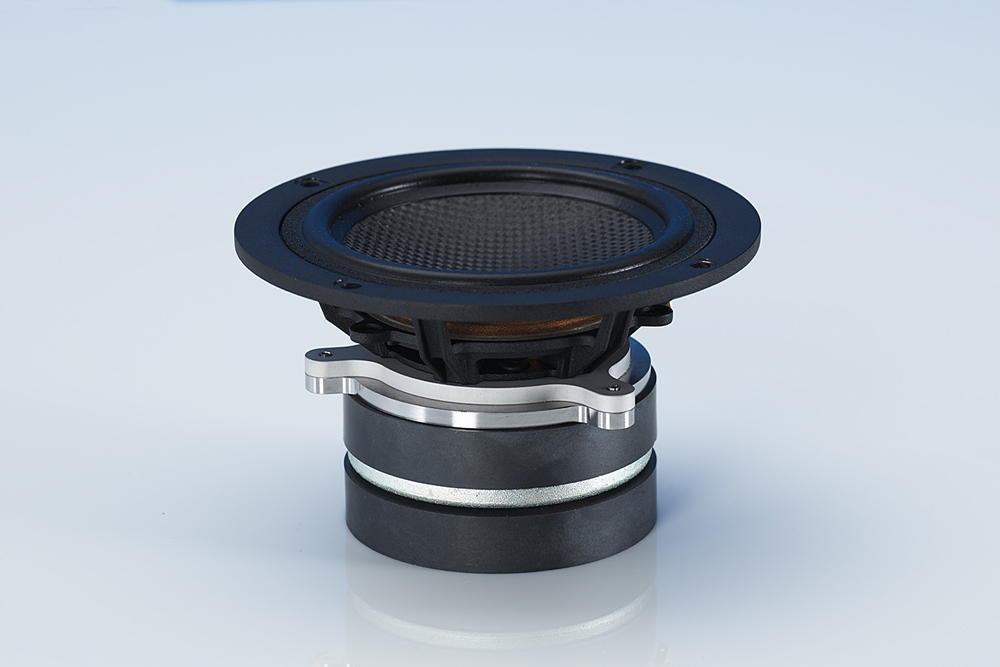 Regarding the drivers, Mackay had this to say:
The Nano-Tec cones are eighth generation with aluminium honeycomb core. Our insistence on diaphragm rigidity and pistonic motion also drove us to offer the world's first loudspeaker cones with incredibly strong Graphene nanotubes. Every cone in the A5 incorporates our eighth generation Nano-Tec design. With this design, Magico became the world's first to feature an aluminium honeycomb core sandwiched between Graphene/carbon fibre skins. In previous Nano-Tec cones, the skins provided all the stiffness and the core provided damping. The aluminium honeycomb changes everything, providing a core material so stiff that we need to apply 26,500 pounds (12,000 kg) of pressure to shape our 15-inch cones. This added stiffness pushes resonant frequencies far beyond audibility, requiring hardly any damping at all.
Graphene, the hallmark of the Nano-Tec cones, is a hexagonal lattice of carbon just one atom thick. Graphene combines incredible stiffness with the highest tensile strength of any material known to science – some 40 times that of carbon steel. The resulting cone is so rigid that, inverted on the ground, it will not deform after being run over by a sedan. With our eighth generation refinements, this unprecedented strength results in the closest ever approach to pure pistonic motion.
The new 5-inch midrange and three 9-inch bass drivers in the A5 feature Magico's latest development in transducer cone technology design which uses an aluminium honey comb core sandwiched between an inner and outer layer of graphene.
This new transducer cone technology will also be featured in our flagship M9 loudspeaker which is scheduled for release in December 2020.
Magico has also been developing ever-improved versions of its Elliptical Symmetry Crossover topologies. In the case of the new A5, the company claims to be the first loudspeaker manufacturer to use the new M-Resist Ultra foil resistors from Germany's Mundorf. The new resistors are said to handle higher power levels while also providing "greater… transparency and liquidity." A number of additional high-end Mundorf components have been employed in the crossover circuit – evidently, Magico maintains its highly refined crossover design philosophy across the A series too. The 3-way crossover network features a 24 dB per octave Linkwitz-Riley filter that is said to maximise frequency bandwidth while preserving phase linearity and minimising intermodulation distortion.
The team of high-tech tweeter, midrange, three bass drivers and advanced Elliptical Symmetry Crossover has allowed impressive frequency response specifications quoted as being from 24Hz to 50kHz (no parameters provided) while sensitivity is said to be 88dB and nominal impedance 4 ohms. Magico recommends amplifiers capable of a minimum of 50 watts with an upper limit at a substantial 1000 watts for the A5.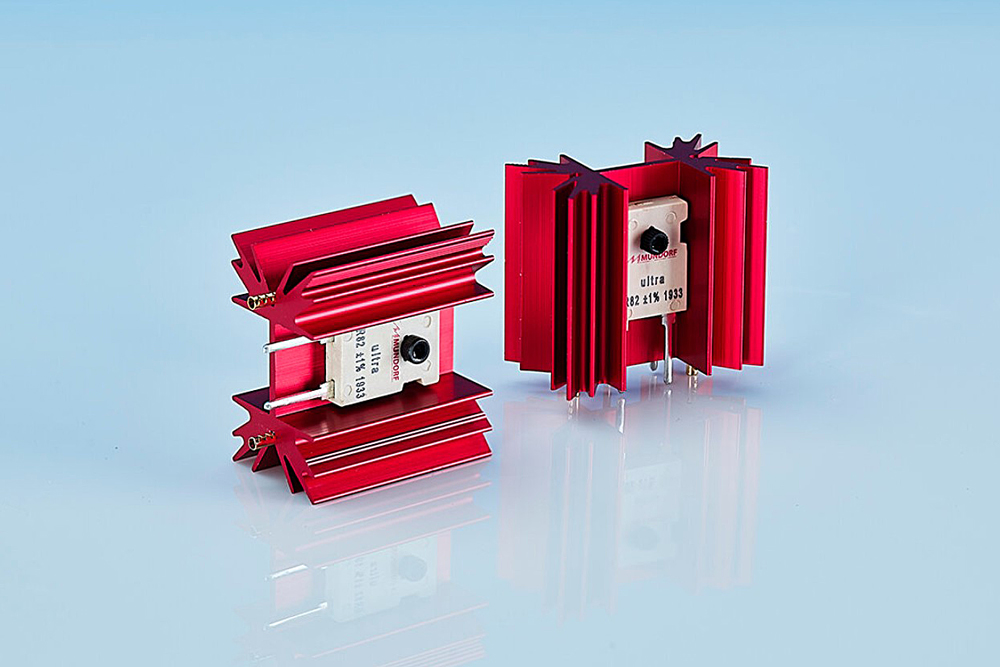 The speakers ship in two cardboard double boxes. Heavy foam protects the speaker which arrives covered in a soft white cloth bag. The delicate tweeter is protected by a circular foam cover taped across the driver. In one of the boxes, a Velcro pad supports an attached plastic bag with the manual and accessories including a set of heavy-duty spikes.
Rated A
In theory, and then in practice, the A5s are easy to place. The sealed box design allows a variety of positions within the room, with most resulting in excellent performance while, of course, some locations offering marginally better and more accurate low-end output. The take from that is that as far as soundstage, imaging and dynamics the A5s will not have you infinitely adjusting their position in microscopic steps… thank goodness. So we were off to a great start in a position where other review speakers have also performed optimally in all of the parameters mentioned above.
I was struck from the get-go by a number of aspects of the A5s' performance. Immediately, you'll notice that tweeter is something rather special. The resolution, detail and dynamic expression of this beryllium driver is outstanding. With that comes an uncanny ability for the A5s to disappear while projecting an expansive soundfield populated with sharply-focused images which are spread wide across the room's width, depth and height.
The A5s' efforts at providing the listener with profound levels of detail and separation (resolution) make it anything but the shrinking violet while never being objectionably forward sounding. You'll hear everything that is in the grooves, pits, ones and zeros, whatever. However, never do the A5s become brash or etched – and worse, certainly never harsh – they just excel at communicating what is in the recording in an entirely listenable way. If the production is lack-lustre, you'll hear that too but, hey, don't shoot the messenger. If the recording is great, or even merely good, boy you're in for a treat.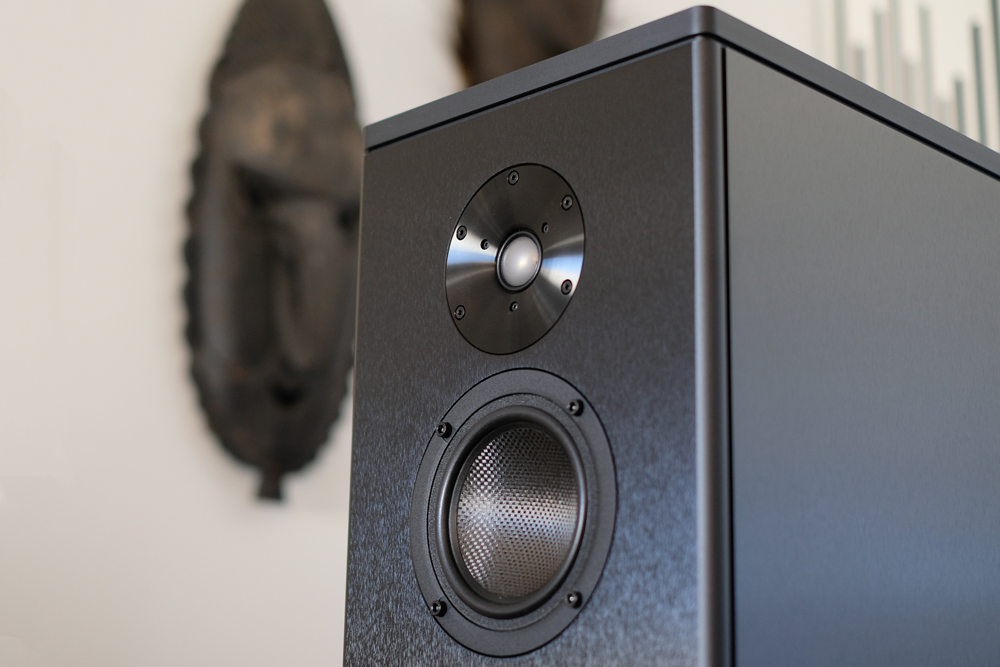 Hadouk Trio's superb live Baldamore is presented in its full glory in terms of tonality and spatial rendering. There's a pure sense of the instruments sounding… like they do. True and pure, with crystal clarity and stunning transparency. Overall and across the bandwidth, I wallowed in the sheer presence and tonal purity on offer. This combo of drivers can do timbrel quality with the very best. Then into the track, the trio of those remarkable bass drivers kicks in with stunning power, tightness and overall nuance. There's certainly something about sealed-box bass that is hard to beat and, as far as dome/cone transducers, is matched only by the most competently-engineered reflex-loaded designs. Your run-of-the-mill reflex-loader won't cut it.
Although overall quite slender, the A5s' cabinet portion where the tweeter lives could be said to be rather wide. Plus it's untreated bare aluminium. In this writer's experience, this has often translated to potential issues in terms of diffraction effects impinging on ultimate imaging accuracy. Forget that. Put that out of your head. The A5s image like all get-out. It's a vanishing act creating, as I eluded to above, a massive soundstage in all dimensions and populating it with highly-focused and fleshed-out images with tangible dimensionality. I often refer to Ani DiFranco's "Amazing Grace" from Living in Clip as an example of spatial enormity (for some reason the other tracks from the same album don't possess quite the same sense of space). DiFranco is centrally-locked-in within a massive stage with the listening perception seemingly being mid-venue in a fairly large auditorium. A good system and room relationship will allow the recreation of the recording in a way which places the listener within the audience surrounded by crowd noises, yells, coughs and claps in a near-multi-channel perspective. The A5s do this at the level of the very best speakers I've tested, with many of them costing considerably more.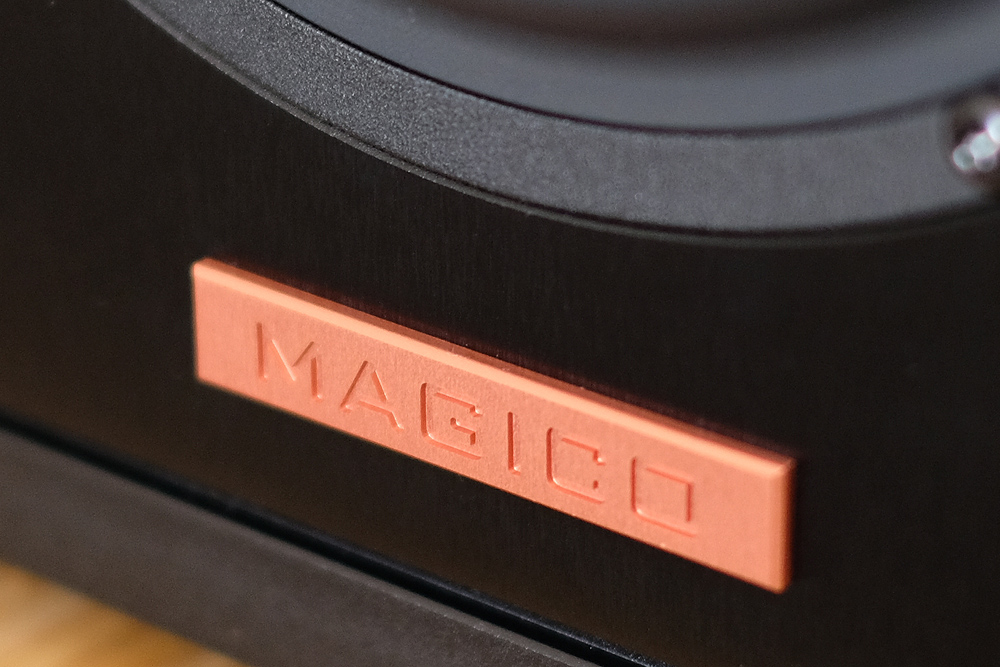 I really enjoyed the A5s' presence band where vocals stood out as sounding supremely realistic. On "My Favourite Things" from the album Same Girl, Youn Sun Nah voice sounded spookily present and clear while the track's intro bells were sharply reproduced with stunning leading edge attack and natural harmonic decay. The purity of tonal reproduction of these delicate bells was remarkable via the A5s – this is timbrel precision of the highest order. From the sublime to the heart-stopping: when Youn Sun Nah lets it rip with soaring shrieks on the cover of Metallica's "Enter Sandman" the A5s keep up with the dynamic swing effortlessly while, again, maintaining superb tonal fidelity – there's zero compression, resultant hardness or congestion. Nada. It bears repeating – this tweeter, while not at the same level as Magico's M series version, is very special indeed (I melt into my listening chair just thinking of what that M tweeter is potentially capable of).
The same beauty in terms of vocal reproduction, presence and sheer in-the-room placement is offered on "Strange Fruit" from Cassandra Wilson's New Moon Daughter release. Abel Meeropol's (AKA Lewis Allan) heart-rending protest against racial lynching is such a tragic and powerful track to start with, yet Wilson's heavy low vocal interpretation, and its faithful reproduction, entrances and captivates the dread and tragedy of the subject matter. Similarly with Rhiannon Giddens' "Waterboy" from her Tomorrow is My Turn album where her delicious voice stands over the super-powerful drum hits that accentuate the entire track. It's a big recording and the A5s are exceptionally well controlled and slamming when the music calls for it.
The excellent transit attack and dynamic expression the A5s are easily capable of make tracks like Ben Harper's "Whipping Boy" from Welcome to the Cruel World a visceral experience. It's a bluesy gut-thumping track, with the snare and kick drums superbly captured to provide extension and jarring power. Then the electric bass kicks-in riding along Harper's vocals, and the A5s separate the mix expertly without deconstructing the musical flow. It's the solid delivery of bass and drum driving the track, the power and punch the A5 delivers which is supremely enjoyable. If the speakers were to lack resolution and dynamic power, they would deconstruct and diminish the experience. The A5s are again truly – and literally – stunning.
Beethoven's Symphony No.3 Eroica digitally remastered by Deutsche Grammophon with Karajan conducting the Berliner Philharmoniker is an example of generosity in spatial envelopment. The orchestra spreads across massively while there's a sense of a very deep soundstage and realistic height cues. This is excellent loudspeakers and room coupling, illustrating the soundfield exactness on offer despite the modest time demands in terms of placement. Again, crescendos are naturally recreated in their full glory – your amplifier's headroom will be well-utilised via the A5s' superb handling of dynamics.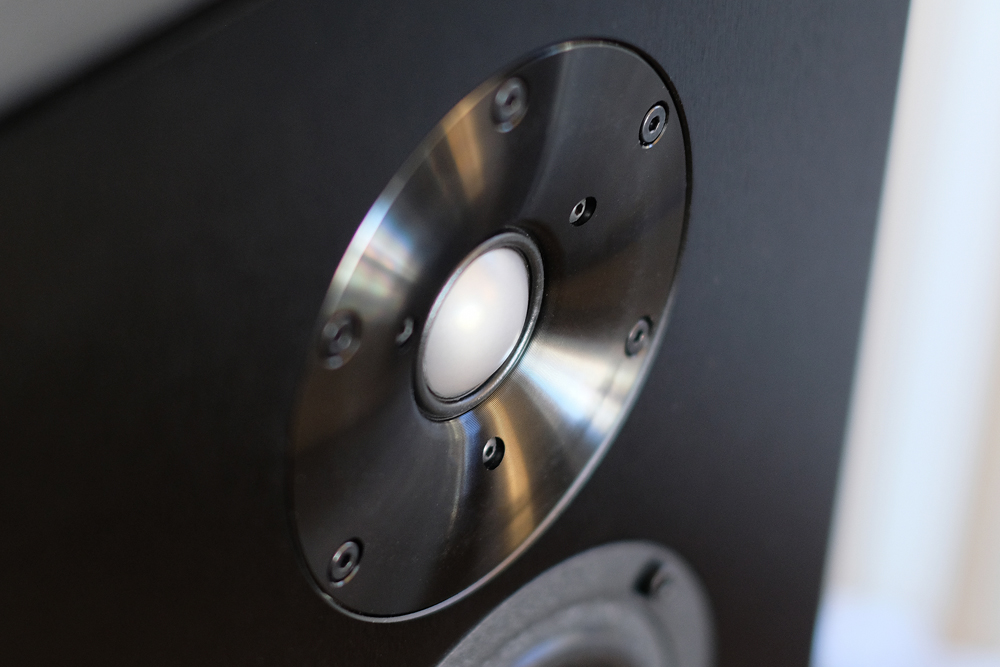 It's an open sound where there's a sense of individuality to all instruments, as opposed to the congested, homogenised presentation some speakers produce. This openness is irrespective of genre but even more appreciated with modern rock and contemporary music. To a certain extent, this alleviates those genres' often (but not always) poor production quality without deviating into colouration. In fact, the word "colouration" in relation to the A5s is like attributing the word "lacklustre" or "uninspiring" to the beautiful spectrum of stars and galaxies varnishing a clear night sky.
Conclusion
The new A5 may be the range-topper from Magico's entry point 'A' series but there's nothing entry-level about this extraordinary loudspeaker (or its series' siblings for that matter). Its tweeter is derived from the company's über loudspeakers while the midrange and bass drivers are brand new designs employing advanced materials and refined technologies worthy of statement products. The cabinet construction, along with the fit-and-finish, is exemplary and, again, would befit the very best in high-end audio. But the A5 is not just a systematic assembly of outstanding elements – it intelligently sums its parts in order to realise a greater whole (the fine-tuned crossover playing a big part here). It's the expression of highly skilled engineers and designers with a team focus and a clarity of purpose fulfilled by the A5's capability to offer tonally accurate, powerfully dynamic, realistically immediate, precisely resolute and thoroughly enjoyable music.
The A5 is a proclamation, a statement, with as potent a message as Magico's own flagship M6, or the soon-to-be-launched M9. It's a narrative conveying a powerful company ethos: Magico's products are no compromise – at any price.
… Edgar Kramer
This email address is being protected from spambots. You need JavaScript enabled to view it.
Associated Equipment
Speakers — Wilson Audio Alexia Series 2, Monitors: Axis Loudspeakers VoiceBox S, Vermouth Audio Little Luccas Mk.II
Amplifier — Gryphon Audio Antileon EVO
Preamplifier — Supratek Cortese, Lightspeed Attenuator LDR passive
Sources — Digital: 432EVO High-End Music Server Roon Core, Yamaha CD-S2100 transport, Totaldac d1-core DAC. Analogue: Transrotor Crescendo with Konstant Studio controller, Reed 1x Tonearm with upgraded internal wiring, Shelter Harmony cartridge, Supratek Cortese & REDGUM Audio RGPH2 phono stages
Processor — DEQX PreMate
Audio Rack — SGR Audio Statement Model V
Acoustic Treatment — Vicoustic Multifuser Wood, Wavewood Ultra, Cinema Round Premium and Super Bass Extreme
Miscellaneous — GigaWatt PF-1 EVO, Les Davis Audio Viscoelastic CLD discs, VRC Vinyl Record Cleaning system plus miscellaneous accessories
Magico A5 Loudspeakers
Price: AU$35,000
Warranty: Three Years
Australian Distribution: Absolute Hi End
+61 488 777 999
www.absolutehiend.com
Magico LLC
3170 Corporate Place
Hayward CA 94545
+1 510 649 9700
www.magico.net