Throughout audio history there have been high profile companies who, after success in the affordable 'mainstream' space, have amassed their R&D, engineering and manufacturing might to produce products catering to the high-end market. Some have given the new luxury products distinctive appellations, as a form of distinct separation from its mainstream fare, while others went about launching disassociated alternative brands with a less obvious resonance to the parent company. Back in the early 1990s, armed with an enviable reputation in affordable quality Hi-Fi and wanting to embark on a new path, Rotel fired an authoritative round squarely at the high-end by way of the Michi statement brand (A.K.A. 'Michi by Rotel'). As successful as Michi was, Rotel in its wisdom phased the brand out of the market. Subsequently, the select Michi products became highly sought-after classics. Now, after a hiatus lasting near on 30 years, the term 'Michi' is once again part of the luxury audio lexicon.
The High Road
While the new Michi products bear no resemblance to the originals – at this stage the line features a full-function digital/analogue preamplifier, a stereo and monoblock amplifiers – the current components are just as distinguished in terms of aesthetic design. Back then, some Michi design elements stood out for their distinctiveness. The red-stained timbre side cheeks, the starkly-silvered chassis and overall design finesse. New Michi also uses subtle design themes which stand the products out from the crowd. In fact, build quality is second to none – all three components exude class.
There's a lot to talk about regarding the P5 preamplifier. This is as full-functioned a preamp as you're likely to encounter. For starters, you have a comprehensively socketed input/output bay for analogue component connectivity. Across the back panel you'll see two XLR balanced inputs and four RCA single-ended inputs with a further RCA input for the in-built phono stage. Outputs are via twin XLR balanced, twin RCA single-ended, a further RCA single-ended line-out (record or processor) and twin subwoofer outputs. That's the analogue socketry alone. There's much more to come…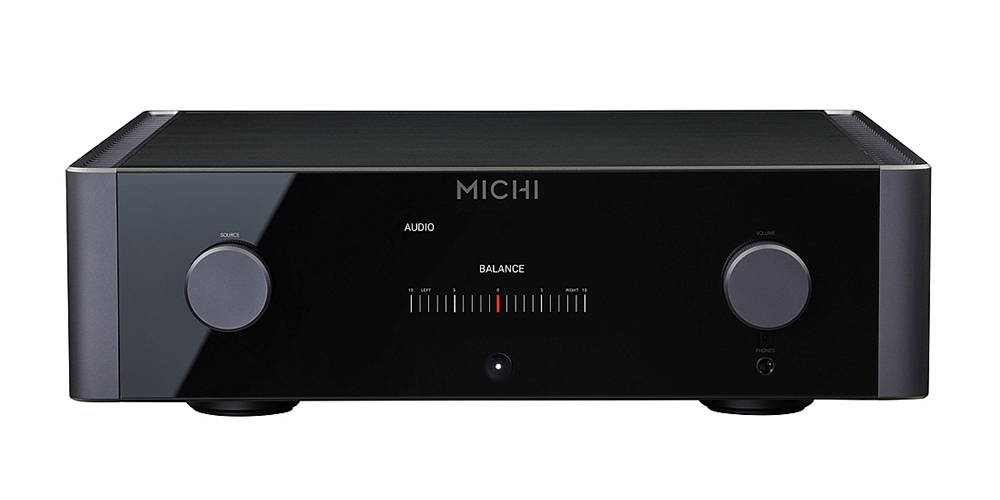 Below the analogue bay there are broad digital connectivity choices available. No less than three Toslink optical inputs and three RCA coaxial S/PDIF inputs (24-bit 192kHz). Digital outputs are a single Toslink and S/PDIF. Alongside the digital ins/outs are an Ethernet network RJ45 (static and DHCP IP address), a USB input for PC/USB audio (24-bit 384kHz and DSD256), 3.5mm mini-jack external remote, 3.5mm mini-jack 12V trigger in/out for compatible component power on/off a further USB input for storage device connectivity, RS-232 D-socket control input, Bluetooth antenna for the streaming music option and finally, an IEC socket with dedicated on/off switch. The P5's digital engine is MQA compatible for files and streaming playback.
But wait, there's more! The beautiful smoked glass front panel sports a central high resolution two-colour display with full system information, menu navigation, a large numerical volume level display, etc. Flanking the display are large ultra-smooth rotary knobs for input selection and volume. A standby button rounds out the super-complete list of buttonry and features. Oh, and there's a further output (6.5mm jack) for the in-built headphone amplifier on the front fascia too. Phew!
The menu options allow for a whole stream of adjustability and setup options. There's input naming, volume level setting for power-up, maximum volume setting (a great speaker-saver), display dimmer, tone control settings (+/-10dB at 100Hz and 10kHz), balance, network and Bluetooth options and more. The Ethernet connectivity allows easy upgrading via firmware updates.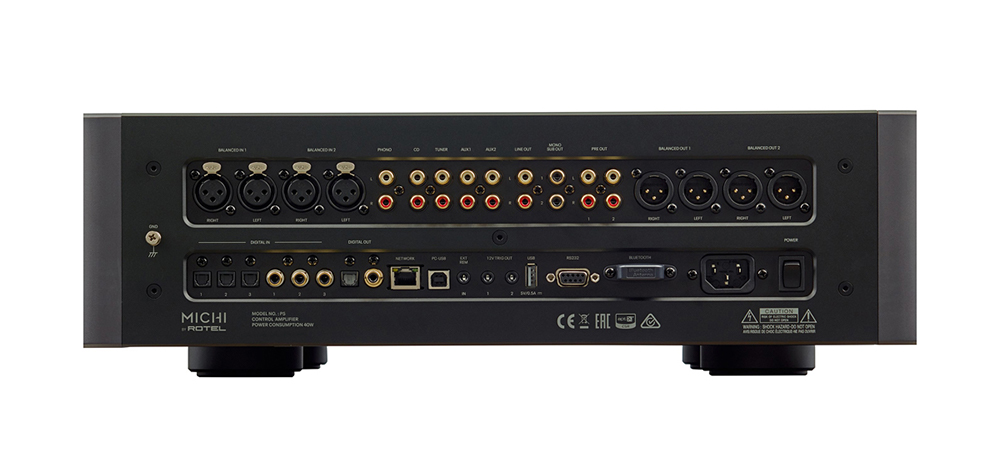 There is absolutely no doubt that the Michi P5 preamplifier comfortably caters to just about any possible analogue and digital need. It's a complete switching and control hub. In fact, it's a tour de force in preamplification design. Period.
Going back to the digital inputs, the inbuilt DAC sports high quality dual AKM 32-bit chips. The S/PDIF and USB inputs accepted signal from my Yamaha CD transport and 432EVO music streamer/server without a hitch. True plug 'n play here. The P5 is a Class-A design with no less than 17 independent voltage regulators. Rotel has always been a champion in designing its own high quality transformers and the P5 sports two powerful bespoke toroidal units supported by "low ESR smoothing capacitors to deliver ripple free current to all critical circuits."
Frequency response has been quoted as 20Hz to 20kHz (+/-0.3 dB Max), Signal-to-Noise Ratio (IHF A-weighting) of the phono stage is 80dB while the line level inputs are 116dB and Channel Separation is approximately 55dB and 85dB for phono and line level inputs respectively. The P5 weighs in at a substantial 23kg. The included remote control is a rather solid metal item with functionality for full menu navigation, source selection in addition to the usual volume and mute functions. Interestingly, Michi provides two identical remote controls for the monoblocks (and I'd guess the S5 stereo amplifier would feature its own remote control too).
Equal engineering and design effort has been bestowed upon the Class-A/B M8 monoblock amplifiers. These amps are heavy. Near 60kg heavy. Try handling two of those on your own. Trust me, it ain't a walk in the park. The M8s mirror the beauty of the P5's smoked glass fascia with the high resolution central display and the same style of standby switch. Said dimmable display can be configured to provide a dB Peak Power Meter or a Frequency Spectrum Analyser or to simply be off. I used the Analyser as I kind of enjoyed watching the various frequency columns bob up and down. That's me. Just saying.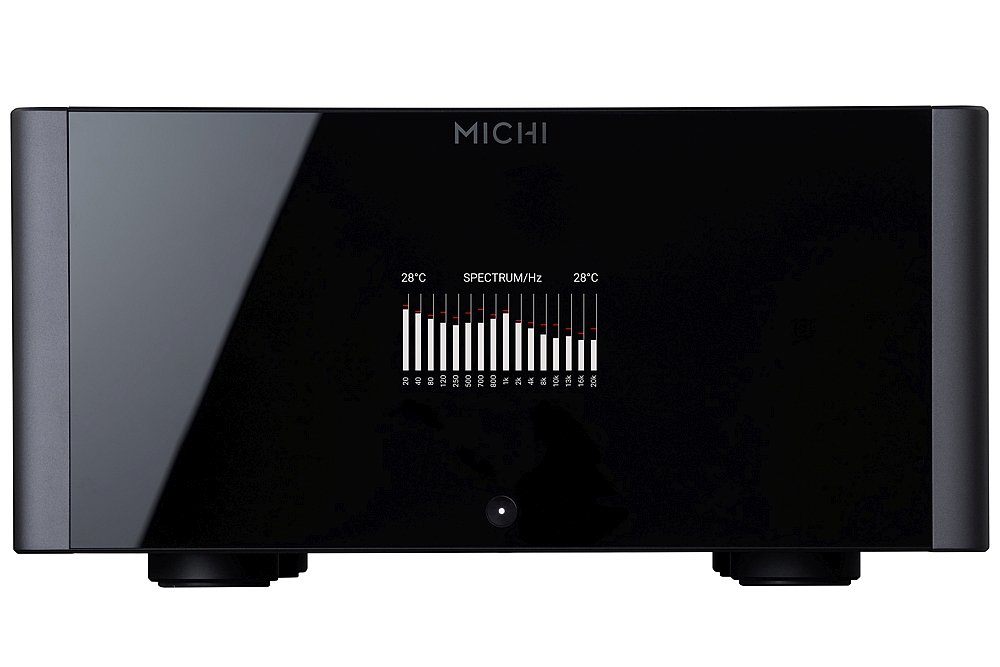 Inputs are via a switchable set of XLR balanced and RCA single-ended sockets (I used the former). Ethernet RJ45 is once again on-board for software updates and further configuration. Multi-pin RS232 connectivity is also available on the M8s, as are in/out 12V triggers. Double sets of custom high quality loudspeaker binding posts are provided and on/off button and fused IEC socket round out the rear panel features. Actually, a further two things. Also around the back are large twin outlets for the in-built variable speed fans. The M8s never got hot while in operation – even while driving demanding speakers at high volume levels – and I never heard the fans when listening from a couple of feet away from the back panel. Don't even dream of hearing them from the listening position. They are either ultra-quiet or activated at super-slow speed – both good things, whichever one applies. Temperature monitoring is provided via a Celsius/Fahrenheit reading on the display which is very, umm... cool.
The M8 monos are rated at 1050 watts continuous per channel into an 8 ohms load, from 20Hz to 20kHz, making them genuine powerhouses. The 4 ohms rating is measured at 1kHz and is said to be 1750 watts per channel. Massive. Total Harmonic Distortion (THD) is quoted as being under 0.03% from 20Hz to 20kHz at 8 ohms. Input Sensitivity and impedance is 1.85V and 12.5 kohms unbalanced and 3V and 100 kohms balanced. The M8s are fairly high gain amplifiers, especially in unbalanced mode at 34dB while balanced mode tames it down to a specified 30dB.
Circuit design highlights in the Class-A/B M8s are the massive custom-designed 2.2KVA toroidal transformers in each mono coupled to the large custom capacitor bank amounting to 188,000 micro-farads and the total of 32 bipolar output devices per monoblock amplifier.
Stylistically, the P5 preamplifier and M8 monoblocks are attractive, modern industrial designs built to extremely high standards. In the flesh, they exceed, by far, the beauty of the images shown here. The P5 and M8 are manufactured at the Rotel factory within a facility which is purely dedicated to producing Michi.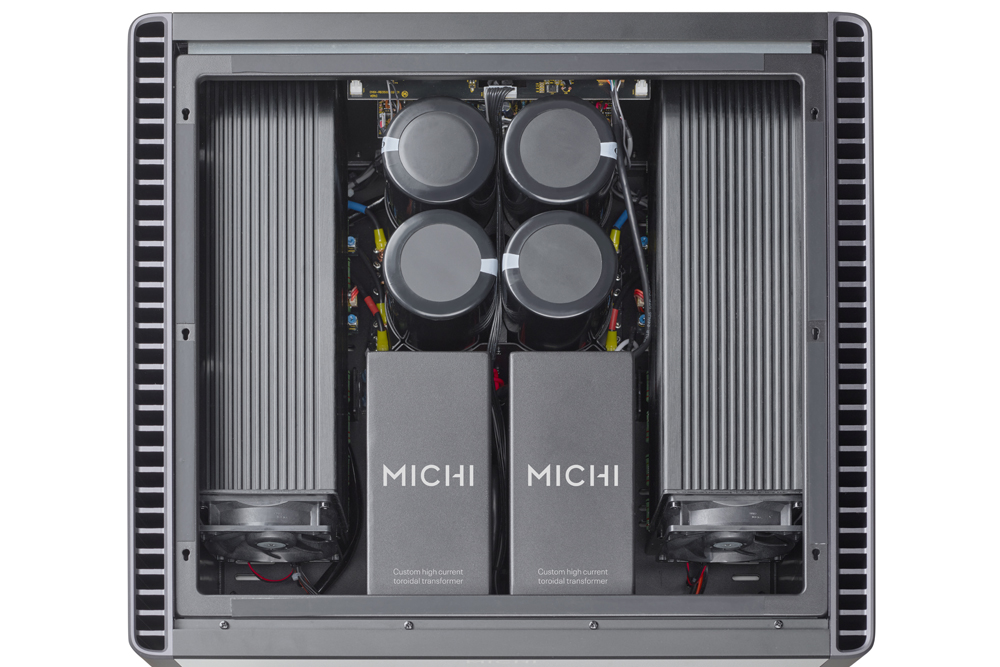 As illustrated in the preceding paragraphs, there has been a sizable design effort bestowed on these products. I wanted to get further insights into some of the thinking behind Michi so I reached out to Rotel's Managing Director Peter Kao. I started by asking Kao whether the new Michi electronics were blank slate developments or higher expressions of upper-echelon Rotel electronics.
Michi was designed leveraging the core strengths of Rotel such as custom designed and in-house built toroidal transformers, custom engineered slit foil capacitors and exceptional audiophile grade components exclusive to Michi. The core DNA of Rotel's almost 60 years of history and know-how has been retained but the technology and engineering is completely new allowing these products to achieve the high level of performance standards required for the Michi brand.
I was curious regarding the elements which were considered the most important in terms of engineering and design, the ones which received the most development resources.
Product performance is always the top priority for our products and even more so in the Michi products as it now competes in a higher price category. The audio engineering development for the new Michi products required three years of dedicated design effort. We also had more budget allocated to the components used inside and outside the unit. We wanted to make sure that these Michi products not only performed well but were also stunning to look at as well.
In comparison to Rotel products, did the new Michi components go through a more stringent, or prolonged tuning process to arrive at the final sound performance?
The performance standard for the Michi products were set higher, therefore it did take us longer to finish the products to those standards. Performance is engineered from product concept to production. The Michi products are the result of three years of critical engineering reviews, component evaluation and sonic tuning.
All this led to an obvious question when you look at the current Michi line. There's a gap for a classy integrated amplifier with perhaps some of the digital technology in-built into the P5. Or even a stand-alone DAC…
The Michi products were launched in Q4 2019 and we have received positive feedback from all markets globally. We will build on that momentum and expand the Michi product line in the near future.
True Path
As evident as it is that Rotel has invested considerable R&D and general engineering on the resurrected Michi products, the proof is in the pudding. Performance has to match the design excellence. Well P5 and M8s are far, far more than just pretty faces… there's substance, finesse and intelligence behind the way these products have been voiced.
Firstly, the combo of preamplifier and monos is resoundingly neutral. There are no prettifying of bad recordings nor is there a diminishing of good ones. I should mention here that the M8 monoblocks arrived a couple of weeks or so prior to the P5 preamplifier. With the M8s playing in my rig with the Supratek Cortese on preamp duty the sound reflected the strengths of the valve preamplifier as great, accurate and faithful amplifiers should. Once the P5 entered the scene, its utter neutrality and sheer exactness was also reflected by the M8s. This is precisely what high-end audio should be.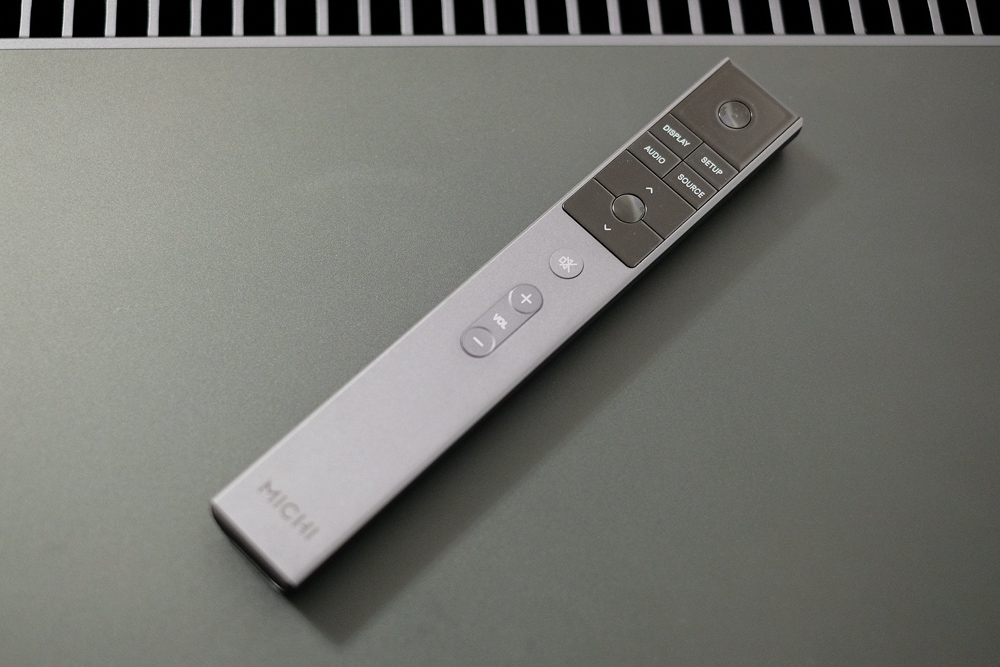 The Michi electronics are super clean too. There's an extremely low noise floor, something that makes the smallest micro-detail – things such as steel string and nail/plectrum interactions, closely mic'ed vocal nuance and other minutiae – discernible and blatantly listenable. The softly-played guitar atmospherics of Fink's "Warm Shadow", from The Walking Dead Soundtrack, are superbly reproduced and, as the track builds, the rim shots snap clearly while the kick drum makes its introduction both heard and felt. Fink's sweet vocals ride along atop the instrumentation effortlessly.
In fact, referring to the kick drum observation, the Michi combo was a bass champ. I'm fortunate that subsequent to my room treatment design – which includes Vicoustic's bass traps in addition to diffusion and absorption panels – the system's bass quality has been the best I've had. The P5 with M8s provided stunningly good bass throughout the entire low-end spectrum. Kick drum, any percussion instrument, electric and acoustic bass were all gut-thumpingly good. The Michi combo never exhibited bass looseness, never a trace of overhang. Just play Manu Katché's "Keep Connection" from his The Scope album and you'll know what I mean. Drums and bass notes were sharply produced with stunning attack, followed by the truest tone of the note which then trailed off with extended decaying harmonics. Superb.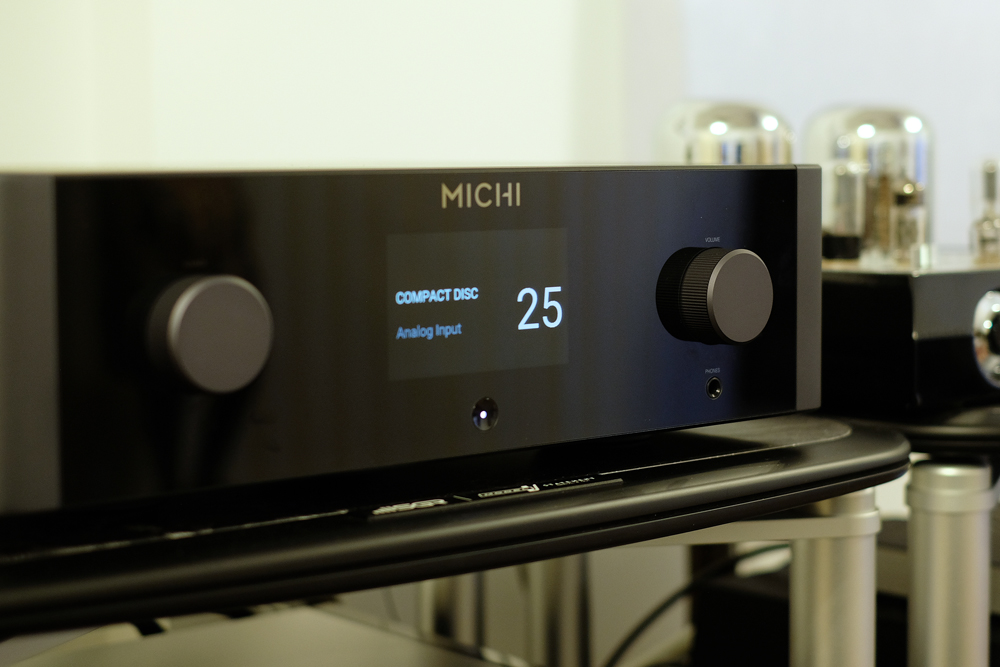 Densely-packed mixes such as Lamb's undulating "Till the Clouds Clear" from Best Kept Secrets are expertly separated without loss of the musical intent. Lou Rhodes' vocals are placed front and centre without confusion from the sometimes hectic instrumentations which span across practically the entire album. The dynamic range between Rhodes' softest vocals and the rowdiest musical crescendos is astoundingly powerful. And again, the deep bass tones peppered across Best Kept Secrets was always tight, tuneful and controlled.
The above observations carried through to the in-built DAC, which I fed both USB and S/PDIF signals from my streamer and CD transport respectively. It's as if the preamplifier's analogue stages were designed in concert with the digital section and vice versa. It's an equally neutral and detailed presentation. Oh, and importantly, the P5's USB input recognised my 432 EVO High-End's signal without a hiccup and without fuss. Plug 'n Play indeed in my scenario.
The slow and intense build-up on "My Body is a Cage" from Peter Gabriel's Scratch My Back collaboration with the London Symphony Orchestra is brooding with atmospherics. The Michi's faithful recreation of the mood – by way of combo's impeccable timing, control and extension – is almost nerve racking. Then, the tense build-up explodes with unlimited clout. It's a commanding performance by the Michi combo.
Ditto for other orchestral works such as Bruckner's Symphony N° 9 with Zubin Metha conducting the Vienna Philharmonic where the complexities and scale of the work, and the orchestra, are superbly interpreted. The orchestra itself is spread across a large soundstage with clear instruments/grouping definition. While the soundfield was very large, it was perhaps less so than my valve and Gryphon rig (valves and pure Class-A do their thing), however the Michi combo presented a slightly sharper focus on image placement. And its rendering was indeed on par with other classy purely solid state rigs I've tested. It's your choice of strawberry or chocolate.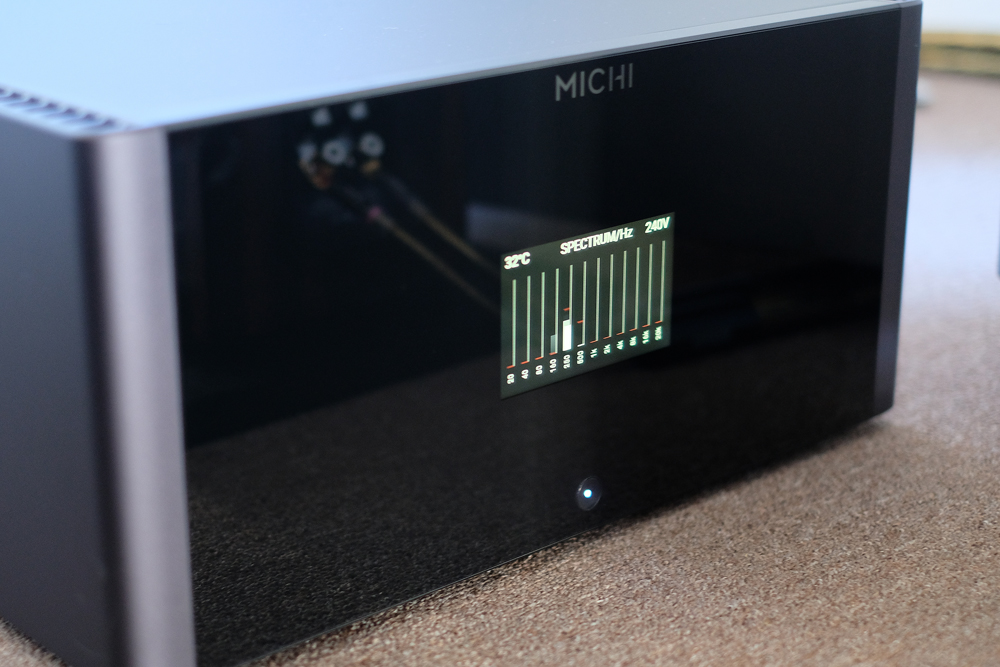 For my tastes, the best genre for instrument tonality World music (closely followed by ensemble Jazz). Most releases of the genre happen to sound terrific, perhaps due to producers, mastering engineers and the record companies being free from the pressures of appealing to a wide mainstream audience. The sheer beauty of Masaa's Irade (yes, the entire album), was tear-inducing. Take the track "Hala" where the P5 and M8s' clarity and neutrality communicate the timbre, the unequivocal purity, of the various instruments. Beautiful.
Conclusion
Based on these offerings, the return of the Michi brand will undoubtedly enrich the high-end space once again. These are thoroughly well designed and engineered electronics. Over and above their excellent performance, solid build quality and beautiful modern aesthetics the P5 and M8 monos will provide pride of ownership. Of note, the P5's extraordinary set of built-in standard features – DAC, headphone amp, phono stage, streamer, Bluetooth connectivity, etc. – makes it an astounding value proposition for astute audiophiles seeking both system simplification and excellent performance (I had to double-take price check).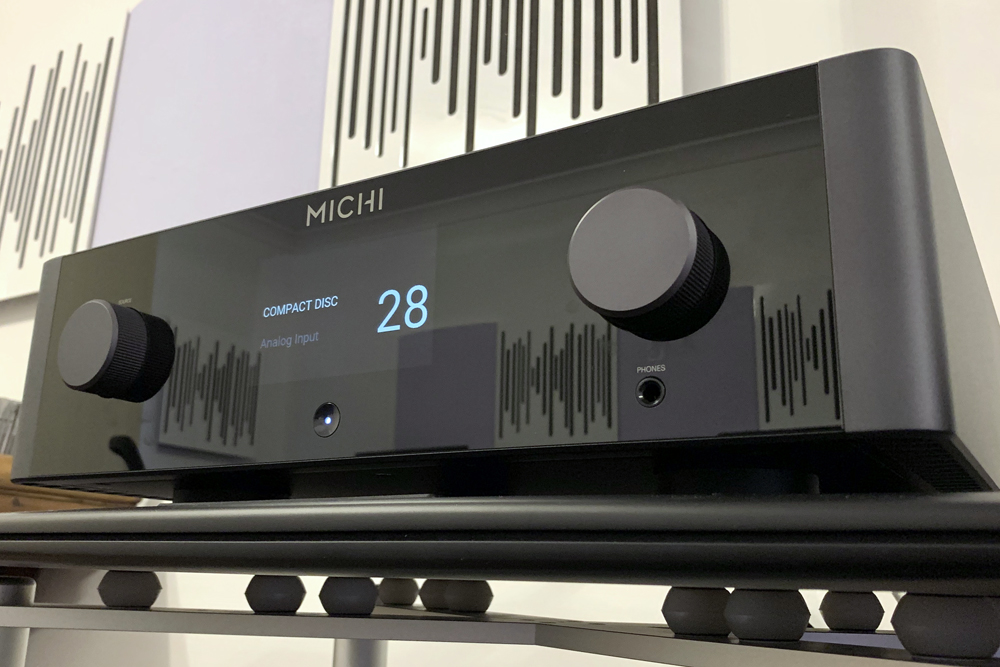 In concert, pun unashamedly intended, the M8 monoblock amplifiers are neutral, dynamic and will exert ultimate low-end control over any loudspeaker. They are thoroughly engineered, beautifully built and, while they will play superbly with any high-end preamplifier, they make for an exceptional simpatico match with the P5. And then there's that bewitchingly attractive dancing display…
Yes, Rotel, via the newly reinvented Michi sub-brand is indeed on a distinct new path to high-end audio grandeur.
… Edgar Kramer
This email address is being protected from spambots. You need JavaScript enabled to view it.
Associated Equipment
Speakers — Wilson Audio Alexia Series 2, Axis Loudspeakers VoiceBox S (nearfield monitor), Vermouth Audio Little Luccas Mk.II
Amplifier — Gryphon Audio Antileon EVO
Preamplifier — Supratek Cortese, Lightspeed Attenuator LDR passive
Sources — Digital: 432EVO High-End Music Server Roon Core, Yamaha CD-S2100 transport, Totaldac d1-core DAC. Analogue: Transrotor Crescendo with Konstant Studio controller, Reed 1x Tonearm with upgraded internal wiring, Shelter Harmony cartridge, Supratek Cortese & REDGUM Audio RGPH2 phono stages
Processor — DEQX PreMate
Audio Rack — SGR Audio Statement Model V
Acoustic Treatment — Vicoustic Multifuser Wood, Wavewood Ultra, Cinema Round Premium and Super Bass Extreme
Miscellaneous — GigaWatt PF-1 EVO, Les Davis Audio Viscoelastic CLD discs, VRC Vinyl Record Cleaning system plus miscellaneous accessories
Michi P5 Preamplifier & M8 Monoblock Power Amplifiers
Price: P5 AU$5999, M8 AU$10,399 each
Australian Warranty: Five Years
Australian Distributor: Interdyn
+61 3 9426 3600
www.interdyn.com.au
The Rotel Co. Ltd.
Tachikawa Building 1F
2-11-4, Nakane, Meguro-ku
Tokyo, Japan 152-0031