We're counting down the hours and heralding the New Year with SoundStage! Australia's Products of the Year 2019. This time, we've pushed the Awards virtual ceremony a little forward. Throughout 2019, our skilled Aussie writers carefully auditioned a wide variety of high-end audio. The gear reviewed reflects a microcosm of the ample gamut of product categories available in, what is effectively, a relatively small to medium-sized consumer market. Albeit a buoyant one, to be sure.
In the process of finalising 2019's awards for audio excellence, we've exhaustively examined each and every product reviewed throughout the year. Decisions were laboured over… tough conclusions were locked-in. In fact, in pure synchronicity with us here "Down Under", our Northern Hemisphere comrades at SoundStage! concurred on the merits of one superb product – and she's a beauty!
While reviewing high-end audio requires critical listening, multiple auditioning over many weeks and the sometimes arduous task of physically dealing with and shuffling around 100kg speakers and 80kg monoblocks, it is rare that a product is irrevocably and absolutely… ordinary. Sure, products are superior to others in some areas, be it in terms of performance, construction, reliability/longevity or even styling, but overall it must be stated that the passionate designers behind these objets d'art seldom drop the ball to create total mediocrity. That market place competition thing again… A misfire can be costly, even lethal, for these relatively small companies, so all aspects are double and triple checked prior to market launch. That makes a reviewer's job both easier and harder.
It's easier in the sense that we can derive pleasure from products which perform as advertised, and harder in terms of dissecting for analysis and assessment vis à vis market differentiation. But at the end of the day, whether you prefer chocolate to strawberry or 'popping pearls' is purely your subjective call, your magnetic-striped plastic.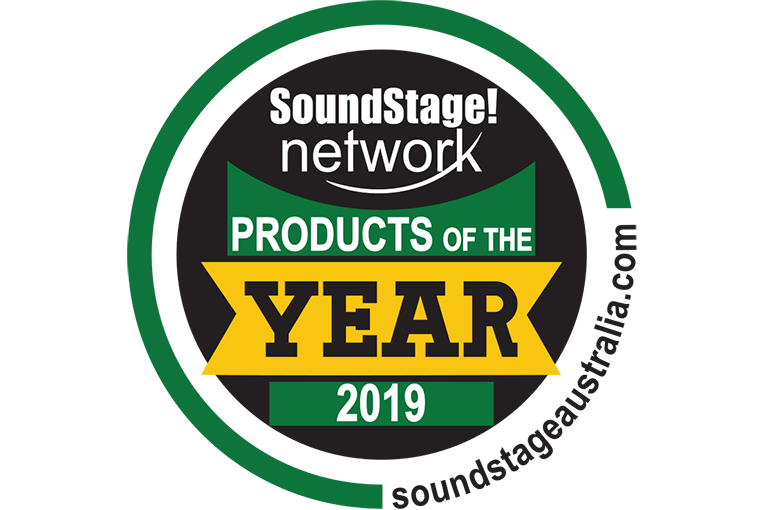 What SoundStage! can offer, however, is educated guidance based around our writers' evaluation of hordes of audio kit over a collective experience spanning over, at least, a couple of centuries.
Below is a brief explanation of each of the categories which mirror the SoundStage! Network's own established formula.
Hall of Fame Award recognises an outstanding product that is current but has been inspired, or pays contemporary homage, to an earlier generation with a rich history or that may have achieved classic status. This Award may not be presented every year, of course.
Innovation in Design places importance on a product that offers a point of difference in terms of unique features, advanced engineering or innovative design.
Pioneering Design Achievement gives a shout-out to a product that is ground-breaking in terms of performance and/or functionality.
Aesthetics & Sound Quality is self-explanatory but with an emphasis on high-performing audio that is also aesthetically beautiful.
Outstanding Performance is awarded to a fine-tuned product presenting exceptional sound quality and is among 'the best of the best'.
Exceptional Value combines dollar mileage with superb performance aspects.
Extraordinary Auxiliaries honours the excellence of essentials which are ancillary to the main audio componentry space.
A big congratulations to all of the awardees and many thanks to you, dear readers, for your overwhelming support here and on our Social Media platforms. May you all enjoy a happy and prosperous 2020!
Let's do this. Here are the Products of the Year 2019.
… Edgar Kramer
Editor-in-Chief
This email address is being protected from spambots. You need JavaScript enabled to view it.
Please note: We include a short reviewer's 'grab' as a general prompt, however, we suggest reading the originally-published review (click on the product title) for the complete evaluation.
Hall of Fame
Wilson Audio Specialties Sasha DAW loudspeakers, reviewed by Edgar Kramer
(February 2019)
"Sasha DAW honours and celebrates David Andrew Wilson's contributions to the high-end audio world. The transformation of Sasha 2 to Sasha DAW reflects the steadfast desire of the Wilson Audio engineering team to produce a new speaker, a reinvention, worthy of a commemorative appellation."
Innovation in Design
Döhmann Audio Helix Two Turntable, reviewed by Edgar Kramer
(August 2019)
"… The Döhmann Audio Helix Two will please for many years – it's built to heirloom-lasting standards – without provoking a desire to explore further afield. [It] will keep you listening to music and re-experiencing its elevating pleasures. Mr Döhmann and his team have created yet another Aussie engineering and artistic marvel, further compounding Australia's rep for awe-inspiring natural and man-made wonders…
Chord Electronics Ultima 2 Monoblock Amplifiers, reviewed by Edgar Kramer
(October 2019)
The Ultima 2 monoblocks are beautifully styled (even with, or because of, the visual pyrotechnics that emanate from within) and superbly built. Most importantly, they are highly advanced in terms of the circuitry, engineering and execution… The Ultima 2 monoblock amplifiers are at the technical bleeding edge and, in the realms of audio quality, they're orbiting at the exciting outer frontiers.
Pioneering Design Achievement
Weiss Engineering DAC502 Digital-to-Analogue Converter, reviewed by Tom Waters
(November 2019)
"Weiss Engineering is a venerable technology company with leading experience and engineering in the digital domain… [and] is recognized as the leading company when it comes to signal processing for Mastering… a state of the art product that embodies the essence of over 30 years of digital experience and knowledge."
Aesthetics & Sound Quality
Sonus faber Electa Amator III Loudspeakers, reviewed by Edgar Kramer
(May 2019)
"Given its most extraordinary handling of the mid-band, its more than capable low frequency performance… and the superb tweeters' delicate yet resolving high frequency performance, I'd wager that the Electa Amator III will reach the station of highly-prized classic in years to come. Seek it and bathe in its beauty of both form and function."
Yamaha C-5000 Preamplifier & M-5000 Stereo Power Amplifier, reviewed by Edgar Kramer
(June 2019)
"Make no mistake, the Yamaha C-5000 and M-5000 preamplifier and power amplifier duo, alongside its 'perfect match' GT-5000 turntable and NS-5000 loudspeakers, will provide the engineering excellence, the aesthetic splendour and the arresting communication of the musician's intent, in its purest form, on a par with the best of the high-end. These excellent components are worthy of my unreserved highest recommendation. Pure pleasure."
Outstanding Performance
Aqua Acoustic Quality Formula xHD DAC, reviewed by Peter Katsoolis
(January 2019)
"I've heard it over the long haul with a wide variety of equipment and it never ceases to amaze – or to inspire the supporting cast. Its inherent neutrality, its refined and revealing nature makes the job easy – and very, very enjoyable. Staging and imaging are pinpoint (and natural), resolution is pinpoint, timing is to die for. Focus, insight and analysis are simply mesmerising."
Bowers & Wilkins 805 D3 Prestige Edition Loudspeakers, reviewed by Edgar Kramer
(September 2019)
"They also perform at the highest levels when it comes to pure detail resolution and imaging precision. I'd be willing to wager that, in a few years, this current iteration of the venerable 805 platform will be regarded as definitive of a new paradigm for Bowers & Wilkins, an exemplar in the company's 2-way lineage. And in its glorious Prestige Edition garb, it will no doubt become a much-desired and sought-after classic. Simply… Best of British."
Focal Sopra N° 2 Loudspeakers, reviewed by Barry Jones
(December 2019)
"By high-end standards, the Sopra is not at all expensive. Considering the level of performance, not to mention the stunning design, build quality, finish and the real-world technological innovations applied, the Sopra is a force to be reckoned with. I could live with these…"
Exceptional Value
Hulgich Audio Duke Loudspeakers, reviewed by Tom Waters, follow-up by Edgar Kramer
(July 2019, October 2019)
"The words "balanced" and "believable" appeared in my listening notes a number of times. Their detail retrieval, tonality, imaging and soundstaging are all superb. They are terrifically open sounding yet never turned harsh… the Dukes are all about balance and beauty… When you consider what the Dukes cost they must be seen as a real bargain."
Krell K-300i Integrated Amplifier, reviewed by Vedran Simunovic
(September 2019)
"I had to perform a desensitisation exercise reminiscent of a scene from Some Like It Hot by repeating to myself: "I'm on a budget. I'm on a budget…" before I parted with this marvellous amplifier. K-300i is a work of art, and moreover, a work of art that makes you enjoy other works of art in a truly breathtaking way."
Extraordinary Auxiliaries
Chord Electronics Hugo M Scaler Digital Upscaler, reviewed by Edgar Kramer
(February 2019)
"… Regardless of its DAC pairing, the M Scaler brought forth an analogueness (did I just invent a new word?), a delicacy of detail, micro-dynamic enrichment and a bass nimbleness that was unquestionable and easily discernible… For its undeniable sonic enhancement of tonal and low-end foundations of your digital signal chain, I have to give the Chord Electronics Hugo M Scaler a very hardy and enthusiastic recommendation."
Crystal Cable Future Dream Interconnect and Speaker Cables, reviewed by Edgar Kramer
(May 2019)
"The Future Dream cables are all about communication. They are conduits to the system's reproduction potential and, therefore, convey the music's message to its most accurate verisimilitude. You'll get a clearer picture in to your system's true nature more intimately and more precisely than ever before…"