Given its heritage and historical importance to Wilson Audio, the most appropriate subject for a homage to David Wilson is Sasha (the momentous WAMM Master Chronosonic also has a powerful past significance and, therefore, culminated as Wilson's magnum opus). David Wilson's commercial launch into high-end audio came via the Sasha DAW's blood line descendant, the audio universe singularity that was 1985's now iconic WATT (Wilson Audio Tiny Tot) and its subsequent augmentation via the twin driver 'Puppy' bass module.
Pure Imagination
This writer's speaker ownership history is a phantasmagoric kaleidoscope the likes of which you'd sample at Charlie's Chocolate Factory – I've been lucky to have owned a long list of delightful speakers highlighted by models from Tannoy, Infinity, Duntech and Thiel among many others. But an audio experience on a fateful day razed-flat my well-ordered loudspeaker landscape like a bulldozer trouncing through a precious flower bed. I was visiting a friend who owned an ultra-tuned high-end system crowned by a pair of WATT/Puppy 3. The devastating detail, transparency, dynamics and soundfield precision I experienced on that day had me on a constant visualisation regime with an unceasing mantra of "I must have, I must have…" Not too long after, visualisation finally realised, my Wilson Audio journey then commenced with WATT/Puppy 5.1, going on to a couple of its iterations, then on to Sasha and culminated with my current Alexia Series 2.
The new speaker is not just a mere partial update of the last-gen Sasha Series 2. Sasha DAW is a total reinvention, with the company stating the new speaker has been re-designed from head to toe. For starters, the 'head', or upper module, has been graced with a significant re-engineering. It's now an overall larger enclosure with substantial reinforcement, thicker panels and the adoption of internal machined patterns aimed at moderating internal reflections. The rear slot-vented enclosure's larger internal volume (10.2 percent quoted) is said to offer increased dynamic range and efficiency. Wilson Audio has always allotted substantial R&D to developing improved materials and continues to refine the strategic use of X- and S-Material in the fabrication of its loudspeakers' cabinets. Further refinements in terms of maximising resonance control/dissipation and overall enclosure inertness are achieved via the company's Laser Vibrometry testing rig.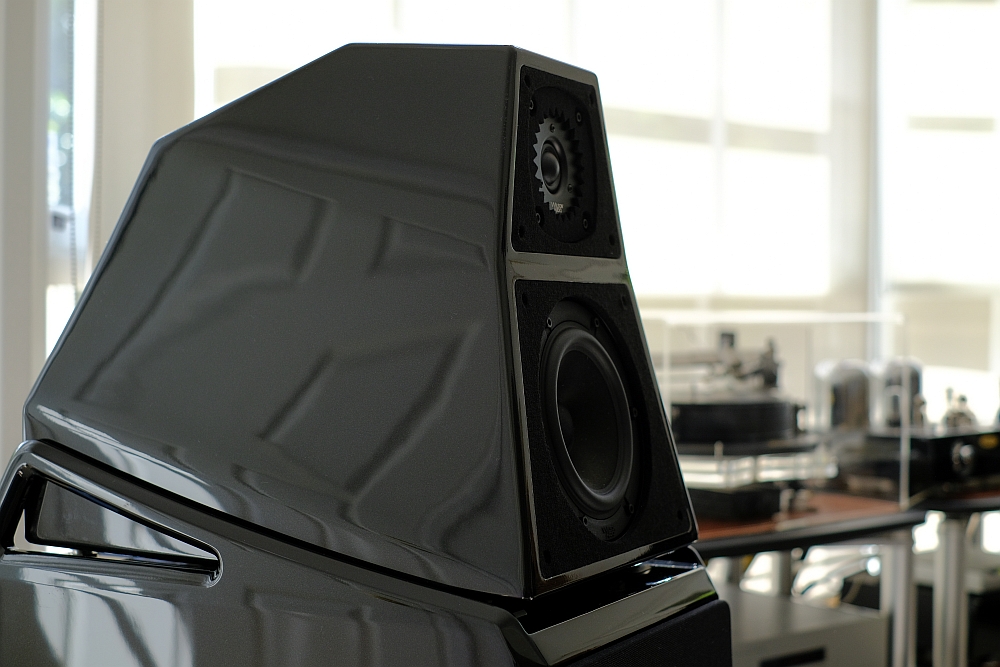 A new 25mm doped silk fabric dome tweeter (now fifth-gen) is supported via a 180mm paper pulp midrange driver; both courtesy of WAMM Master Chronosonic. Bass is handled by a pair of newly-designed 200mm drivers which are based on the unit used in Alexia Series 2 but customised to work within the context of Sasha DAW. Further contextual modification was necessary to mate the twin bass drivers to the newly-designed bass module which now features thicker X-Material panels and larger internal volume (13.3 percent quoted). A new 'ultra-low distortion' reflex port design features enhanced curvature at the mouth of the machined aluminium port exit.
Of course, all of the driver and enclosure changes presented the Wilson Audio team with an opportunity to refine and adapt the crossover circuitry to best suit the new design framework. Daryl Wilson and long-time Wilson Audio engineer Vern Credille re-engineered the crossovers to offer better frequency linearity and lower distortion. As per its larger sister Alexia Series 2, the rear of the bass module now features easy access to the crossover resistors panel via a removable tempered glass, aluminium-framed window.
"Time is a Precious Thing"
One of the most important aspects of loudspeaker design at Wilson Audio has been the alignment and physical position of the drivers and their relationships in the time domain. Wilson Audio has employed a variety of strategies by which to deal with the complex interactions between the various transducers, their bandwidths and their implementation in a given model.
Here, the Sasha DAW allows for driver propagation alignment via an improved system which angles and positions the upper tweeter/midrange driver module along the vertical and horizontal planes. The calibrated 'step' Group Delay system, as also seen on Sasha Series 2, is now adjustable on the horizontal plane without the need of a tool by turning a machined aluminium handhold. To provide further alignment accuracy and inter-driver integration, the bass module has been angled backwards towards the top of the enclosure. Also new on the bass module are open-slot wings which Wilson Audio states act as pressure reduction outlets for the cavity space between the enclosures.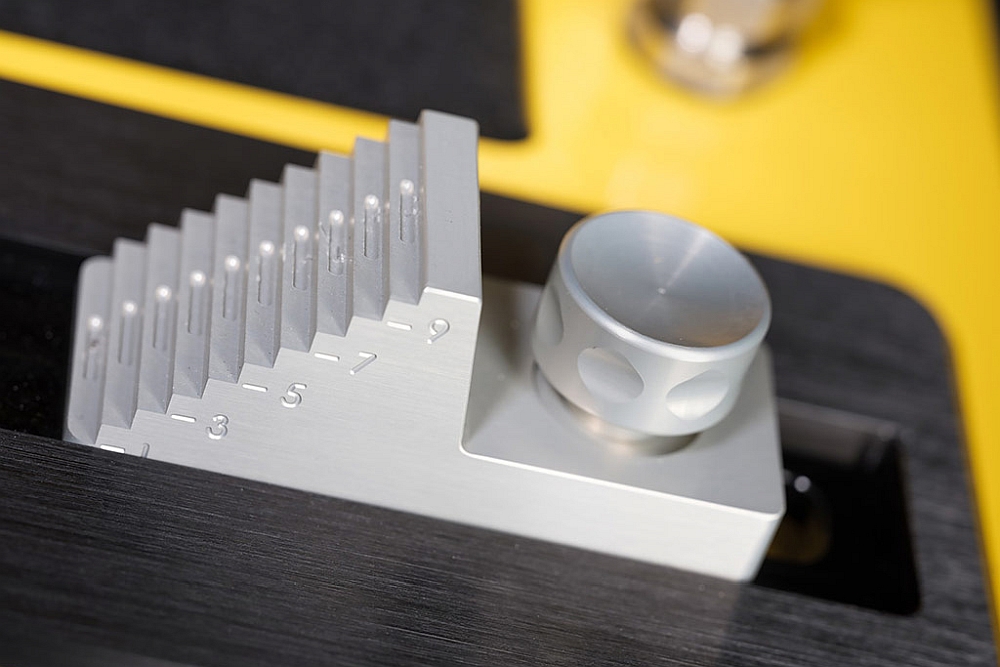 The engineering team has cunningly wrung impressive specifications from the design. The RAR (Room Average Response) frequency response is quoted as being 20 Hz to 30 kHz +/-3dB. The Wilson Audio trait of relative high efficiency is continued here with a 91dB figure given at 1 watt/1 m/1 kHz while the nominal impedance of 4 ohms has a low point of 2.48 ohms at 85 Hz. Solid tube designs (transformer quality being important here) and high current solid state amplifiers will work well.
Sasha DAW is a solidly-built loudspeaker weighing in at nearly 108 kg (236 lbs) and one that rewards the 'knock test' with a dull thud and sore knuckles. As you'd expect from a Wilson Audio product, the fit and finish, paintwork and overall presentation is first class. As are the spiking system, the Group Delay arrangement, the accessories and the 'Made in USA' tool kit. Of note, Sasha DAW features newly-designed high quality custom binding posts which now also accept banana plugs. This reviewer can vouch for this as a super-convenience when reviewing cables. Hurrah!
Desired Accuracy
Like all the multi-enclosure Wilson Audio loudspeakers, the bass module is fitted with castors at the factory so you're able to simply wheel them out of the wooden crates. This also allows experimentation with positioning by leaving the castors on until the speakers are fully run-in and their best location within the room is established. For the purposes of this review, the speakers were left on continuous play for a number of weeks at Audio Connection (Sydney's Wilson Audio retailer) prior to delivery.
Positioning of Sasha DAW was relatively easy based on my experience with several other Wilson Audio speakers I've owned and reviewed in this room (Sasha, Sasha 2, Alexia, Alexia 2 and TuneTot). However, I took time to further micro-fine-tune their position, ending-up with them just a couple of inches closer to the listening spot. I owned the original Sasha and had it in this current room some years ago. My recollection of its considerable bass powers differed remarkably from Sasha DAW's own low frequency presentation. Sasha DAW has bass which is just as deep – maybe even a tad deeper – but, in addition, it's significantly tighter and is far more nuanced, dynamically expressive and tonally rich.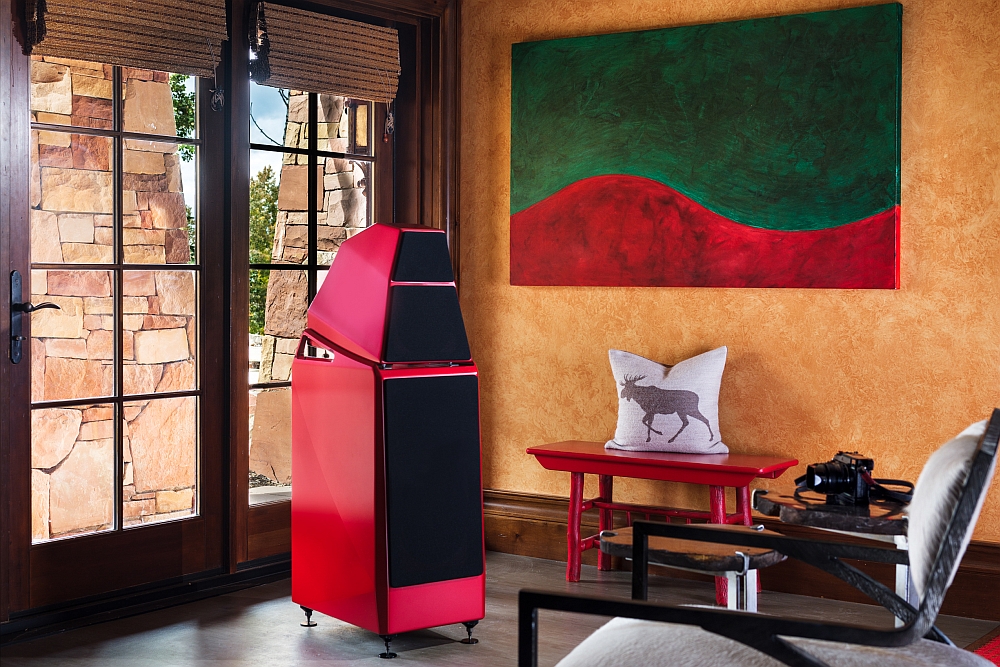 That's just for starters, but let's continue the investigation into the most overt of the many qualities Sasha DAW exhibited. There have been several speakers that displayed superb bass in this room – this being a fortuitous aspect of the space and, because of that, has often been a starting point for many of my speaker reviews. A few of those speakers were, obviously, intelligently-designed passives while Kyron Audio's DSP'ed Kronos actives took the line honours. Now, a new prize is to be handed out – Sasha DAW takes the passive crown. The twin 200mm drivers slam it with tremendous thump – equalling many larger competitors – while demonstrating a truly stunning realness.
The superbly-recorded kick drum whacks and electric bass lines in Red Hot Chili Peppers' title track from their Blood Sugar Sex Magik CD (if only the band's subsequent releases even approached the quality of this one) had phenomenal slam, with the twin 200mm drivers conveying the sonic cues of the beater as it hit the drum's 'skin', the higher pitch of the transient and then the more diffuse main fundamental body of the notes. When Flea plucks and strums, the electric bass bounces along driving the music, each note discernibly individual in tone and independent in the mix. Truly superb and physically stunning. In fact, in terms of the attack of the upper bass (but not in ultimate depth) the Sasha DAW may have snuck in by… umm, a flea's hair ahead of Alexia Series 2 (and automatically, therefore, substantially punchier than Alexia Series 1).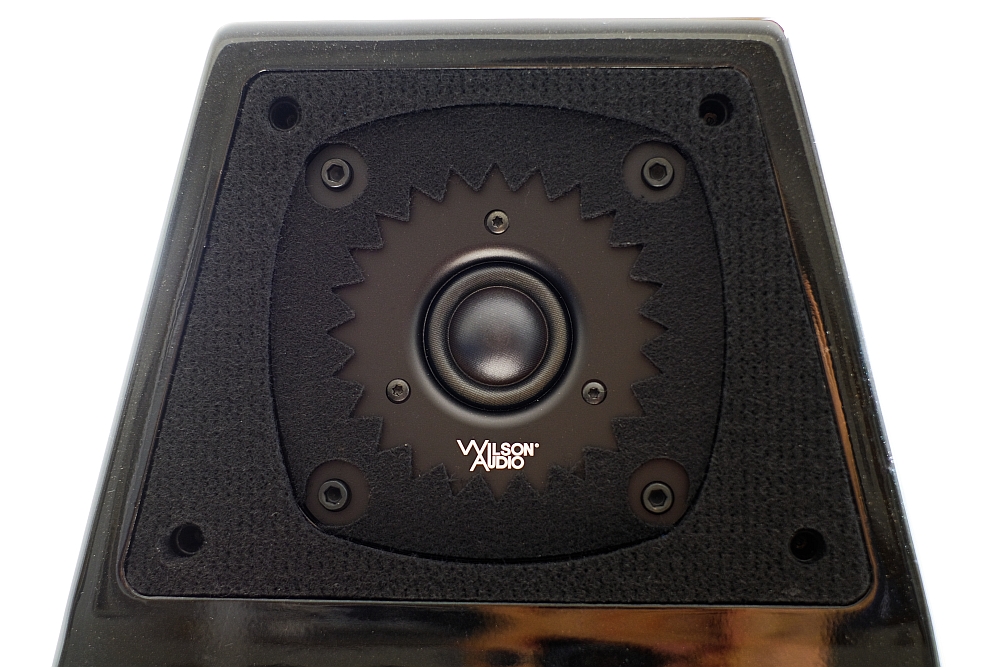 The same applied on every track on Ray Brown's classic Soular Energy (FLAC 24/192) where Brown's oft aggressive plucks sounded explosive due to both the exceptional dynamic swing and vicious transient attack. Going through my notes as I write, I notice a couple of sentences with heavy emphasis. Underlined: "That bass punch!" and then "Transients are incredible!" Along with that, the wooden cavity of the instrument came across full-bodied and with excellent presence – all reinforcements and strong indicators of that sense of "an instrument in the room".
But most of the music, as we know, lives in the midrange. Here's where Sasha DAW yet again excels while introducing a new sonic signature. In fact, I should add it's the combination of new midrange and tweeter drivers, their unison, that diverges and improves upon the previous Sasha platform. The new drivers are more coherent, incisive and dynamically expressive than those on Sasha 2, making the sound seem… faster, snappier. There's better separation and microdynamic detail mined out of recordings. Overall, there's a sense of excitement to the music… this is no passive-listening speaker, it's one that involves you, engages you and has you on your toes, a-tappin'. Even slower, morose tracks, such as Ryan Adams' beautiful and 'blue' "Sylvia Plath" from his Live at Carnegie Hall CD, has you attentively focusing on the lyrics, such attention paying off with heartstring-tugging connection. Adams' voice has the purity, presence and pitch that distinguishes him, that stamps him, as unique and unmistakably… Ryan Adams.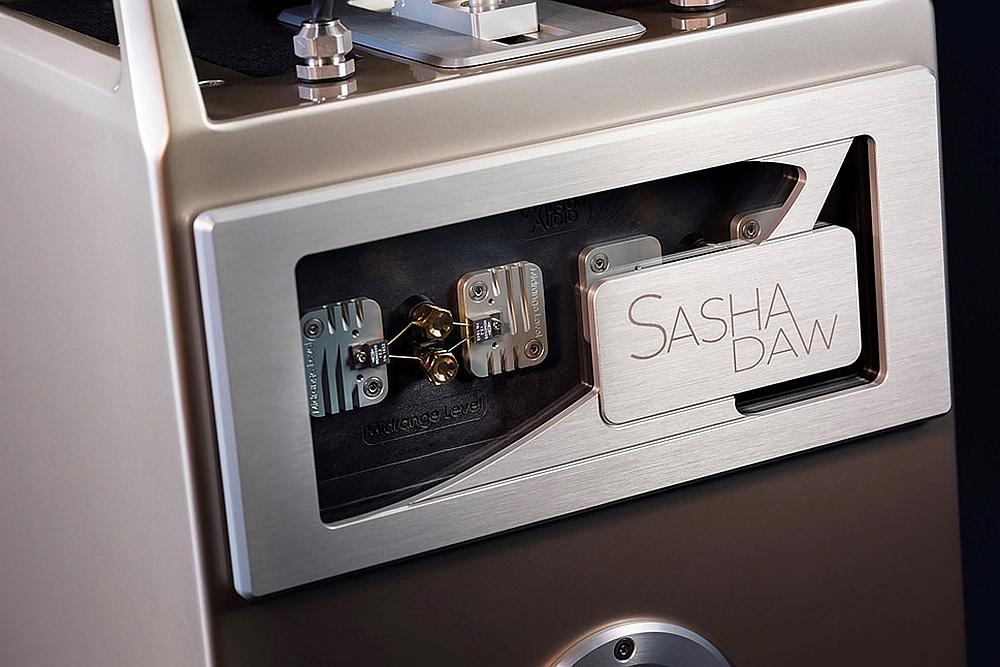 It's a remarkable feat that which has been pulled in terms of the added resolution and fine low level detail retrieval now offered by Sasha DAW (akin to the marvels pulled-off from Alexia to Alexia Series 2). It's an astonishingly adept and insightful design that reveals, separates and resolves intense information from the music. The music's clarity is, quite frankly, state-of-the-art. My emphasis on the paragraph above – just listen to any vocal artist you treasure. From the usual suspects that are show demo material (you know the ones) which serve to illustrate the point as now universal – albeit tired and often tedious – reference guides, to less common, more… meaty, meaningful fare. Male or female. No thinning shrillness, no heavy chestiness. Vocals project forward of the speaker plane and sound spectacularly real.
As do acoustic instruments. Joël Grare's Paris, Istanbul, Shanghai opener "Nihavent" features delicate percussive and fine string instruments that only the most resolute of speakers – both in terms of sheer detail-pull and tonal accuracy – will adequately, and realistically, reproduce. The intro's beautifully-recorded metallic drum and the subsequent variety of percussive sounds easily separated from the backing of the contrabass while the two-string Chinese violin was presented within a large soundfield. Sasha DAW does excellent soundstage depth, and places images in positions which are openly and widely spread, yet focused and life-sized. The sense of the recording venue, its reverberant signature and air around it, its dimensionality and instrument placement all correlate with the sense of a group of skilled musicians playing together to create art. This is accuracy at its sharpest.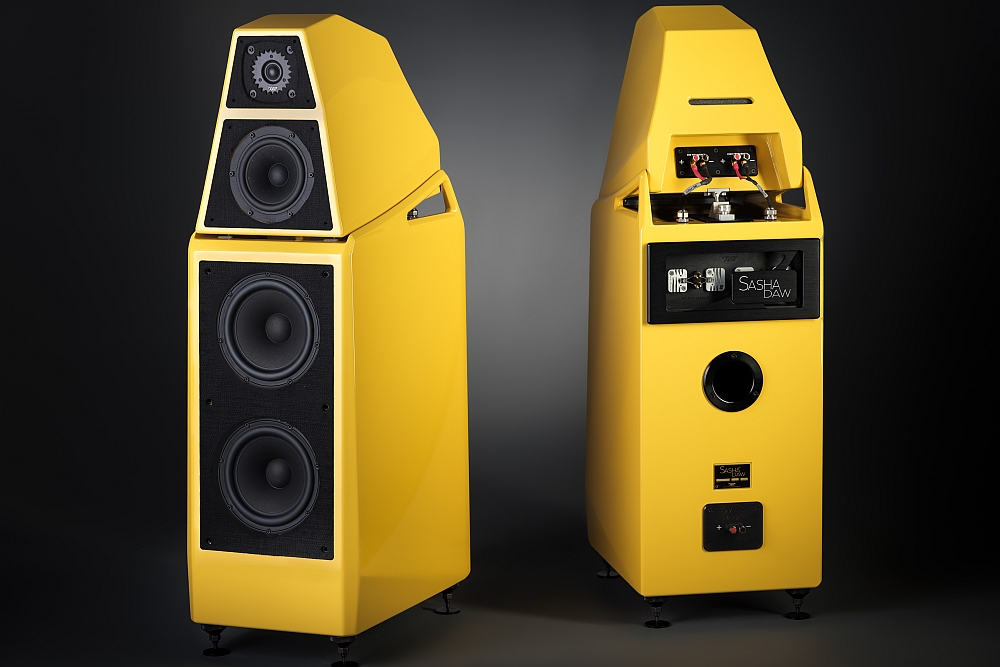 The dynamic expression Sasha DAW offers across the bandwidth is remarkable and of the jump-out-of-the-skin type. When a guitarist unexpectedly strums aggressively, or a drummer interjects the snare beat with a spontaneous tom, or a sudden improvised lick bridges across two bass lines, you'll hear each and every one of those accentuations in stark relief over and above the previous music flow.
For a medium-sized floorstanding speaker, Sasha DAW can scale beyond its dimensions. Way beyond the previous generations, as illustrated by the reproduction of some of my favourite orchestral works from Beethoven, Debussy, Tchaikovsky and others. Symphonies are truly magnificent in their grandeur. Not only was the verisimilitude of the performance enhanced by Sasha DAW's precise tonal and generous spatial qualities, but also by its uncanny ability to 'disappear' and step out of the presentation so you're left with pure, multi-dimensional music. This has been a regular quality of Wilson Audio designs going back several generations and, no doubt, is a result of excellent driver matching, critical crossover implementation and the ongoing refinements in the acoustic alignment strategies.
Conclusion – "We are the Music Makers… and we are the Dreamers of Dreams."
Many decades after the WATT singularity which expanded into a leading industry powerhouse, and now with the talented Daryl Wilson as CEO presiding over a skilful team of craftsmen and engineers, Sasha DAW honours and celebrates David Andrew Wilson's contributions to the high-end audio world.
David Wilson was not just, unarguably, one of the great leaders but also a profound influencer of the high-end audio industry. His meticulous designs were deeply personal manifestations of his passion for music. Fortuitously, the resultant products aligned with the preferences and biases of countless music lovers around the world who valued the designs' signatures of powerful bass, excellent detail resolution, agile dynamic expression and the spatial 'openness' associated with Wilson Audio designs.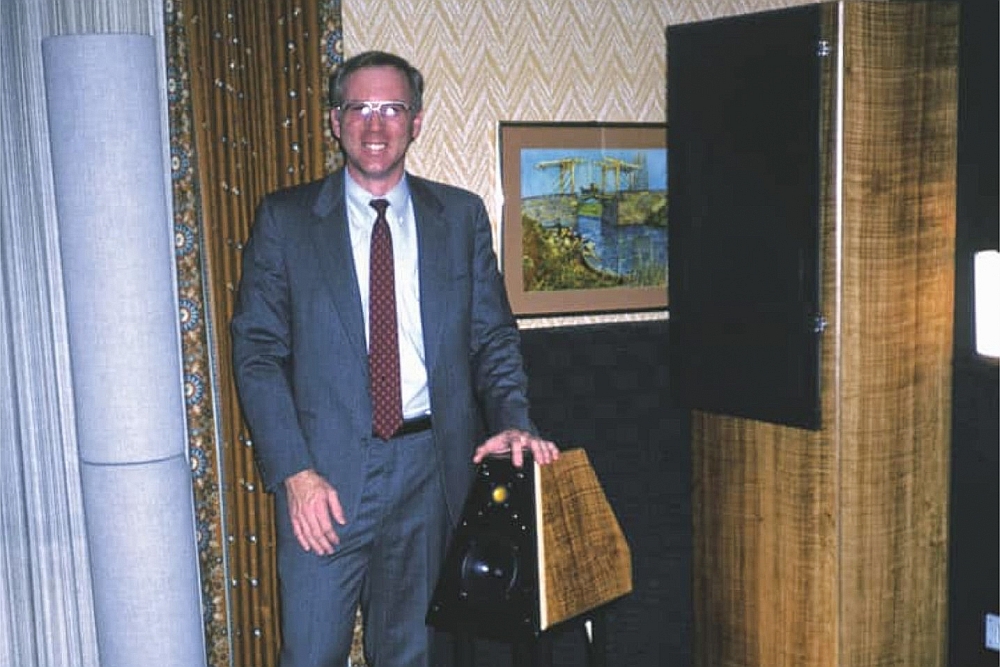 In yet another evolution of the archetypal two-box WATT/Puppy, Sasha DAW takes the concept to its most advanced refinement, its most sophisticated execution. Sasha DAW features the best, most inert enclosure, optimised for the lowest possible distortion allowing the full scope of the superb flagship WAMM drivers; from the tweeters' most airy and delicate highs, to the superb resolution through the mids and down to the power and staggering punch of the lows. Further modifications have taken the mechanism of the temporal adjustments to a higher level of precision with the resultant soundfield magnification and image focus intensification. The transformation of Sasha 2 to Sasha DAW reflects the steadfast desire of the Wilson Audio engineering team to produce a new speaker, a reinvention, worthy of a commemorative appellation.
The late great Gene Wilder once sang, "If you want to view Paradise, simply look around and view it." Yes, Gene… I viewed it and I heard it. David Andrew Wilson could not be prouder…
… Edgar Kramer
This email address is being protected from spambots. You need JavaScript enabled to view it.
Associated Equipment
Wilson Audio Specialties Sasha DAW Loudspeakers
Price: AU$64,995
Warranty: Five Years
Australian Distributor: Advance Audio Australia
+61 2 9561 0799
www.advanceaudio.com.au
Wilson Audio Specialties
2233 Mountain Vista Lane
Provo, Utah 84606
United States of America
1 801 377-2233
www.wilsonaudio.com