You just know, in your brain and heart, when you are in the presence of pure beauty. Yes, some things are beautiful to varying degrees, provoking a spectrum of subjective quantifications. But true, pure beauty, as indescribable by mere language as it is, is universally known. On a basic instinctive level. And for me, after hastily unboxing the new Electa Amator III speakers from Italian audio artisan Sonus faber… well, my senses knew instinctively that I was looking at the purest of designs. Then, beyond emotions, solely intellectually, I wondered… Will this ethereal beauty merge with practical function to produce musical substance?
Super Model III
Seldom has the cliché "pictures don't do justice" been more appropriate than in the case of Electa Amator III. The diminutive speaker combines elements of natural materials – solid walnut, leather, Carrara marble and brass – with technology in a mindful way, paying obvious respect to its now-classic predecessors. The sum of these elements makes for a design aesthetic and master artisan-level construction that sets a new standard. This is, in my humble opinion, an icon in the making.
Electa Amator III, which when released in 2018 celebrated the company's 35th Anniversary, is the third-gen version of its 1987 great-grandparent. Electa Amator II then followed in 1997 and, like its forbearer, it has become a celebrated classic. The legacy continues with the two-way Electa Amator III which carries design aspects that honour previous generations such as bespoke driver technology, solid walnut luxury cabinetry and the flair of Italian industrial styling.
Electa Amator III is the fruit of Sonus faber's (and McIntosh Group's in general) now well established and respected 'Design Lab' team led by Chief Design Officer Livio Cucuzza for industrial design and Chief of Acoustic R&D Paolo Tezzon for electrical and acoustic engineering. Other than the standmount form factor, with mostly a blank canvas tech-wise, the team set about engineering a new low distortion 180mm mid/bass driver which could produce both extension and power in the low registers while maintaining clarity, resolution and dynamic expression throughout the midrange. The driver features a cast aluminium basket, massive magnet system and a cellulose paper cone which has been reinforced around the dust cap in order to extend its low-end reach. The EA III is a reflex-ported design with a wide diameter flared port located on its rear panel.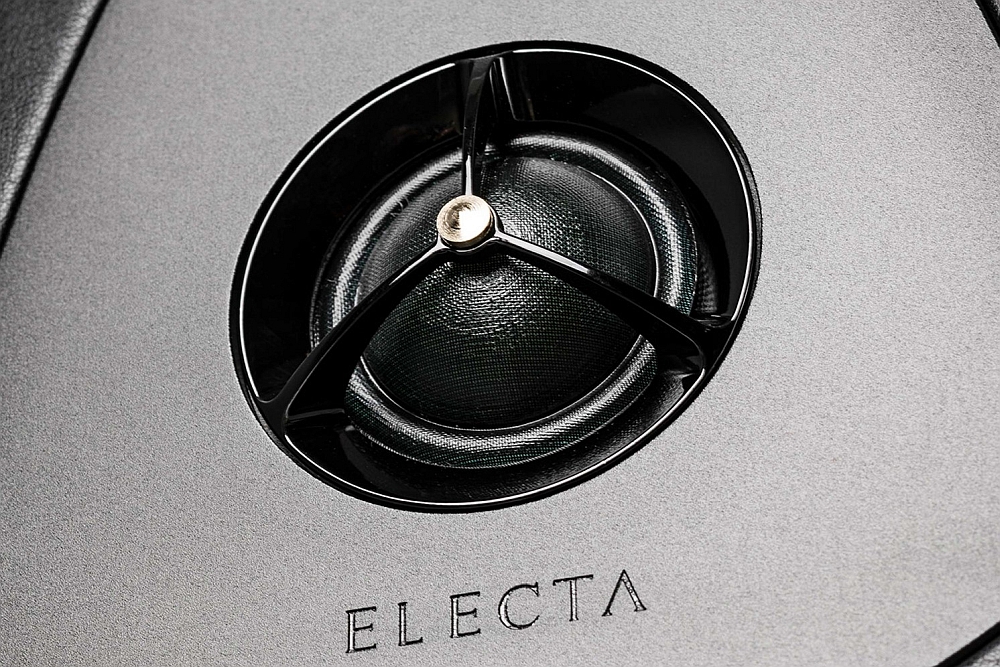 The 28mm tweeter uses Sonus faber's Damped Apex Dome (DAD) technology which aims to maintain linear phase characteristics at the dome's apex. This may be further aided via the over-hanging 'tripod' contraption – a thin three-pronged bracket with a small conical central protrusion – which sits just fore of the dome diaphragm and may also have a designed influence on high frequency dispersion. The combined result of these applied techniques is also said to extend high frequency reach in general.
During my auditioning period I communicated via email with both Cucuzza and Tezzon in order to gain a deeper understanding behind the design processes and philosophies. While breaching the subject of acoustics and tuning by ear through several iterations, I asked Paolo Tezzon if at the time of engineering the new EA III whether he was aiming for a specific sound in order to set it apart from other standmount speakers in the Sonus faber portfolio.
Paolo Tezzon: Yes definitely. With Electa Amator III I was exactly aiming to the typical sound of the 80s Sonus faber, with a laid back mid-band and both bass and trebles quite pronounced. Today's other Sonus faber standmounts (Guarneri Tradition is the perfect example) provide a different tonal balance: more natural and neutral, detailed but never aggressive, in other words more faithful to the real thing. Electa Amator III sound is a different story: designed to be pleasant, warm, inviting and seductive.
Edgar Kramer: Have the drivers been created specifically for EA III?
PT: One of the drivers was already available. I am talking about the tweeter which is shared with our Homage Tradition and Reference line and so it is the best tweeter in our speaker portfolio. The mid-woofer, on the other hand, has been specifically designed for this project starting from the Lilium/Il Cremonese midrange with whom is sharing the diaphragm, the rubber surround and the basket. Of course a completely new magnet system has been specifically designed allowing for higher excursion and the cone has been provided with a fabric coated dustcover designed to maximize the emitting surface, and as a consequence the bass performance, while enhancing the upper mids tone presentation.
EK: When working on the EA III did you have inspiration from any other iconic standmount speaker, within or even outside of the Sonus faber brand?
PT: While designing Electa Amator III the mind was strongly set on the iconic predecessors: Electa Amator first generation and, for several reasons, even Electa… but outside of the Sonus faber world there's a speaker with a similar form factor, with a 6.5-inch mid-woofer and a 1.1-inch tweeter, that I'd like to recall as a source of inspiration: The ProAc Studio 100.
While the EA III shares many visual design cues harking back to its predecessors, it also stands alone as a distinct design with its own grandeur. I asked Livio Cucuzza about the industrial design, and whether he was heavily influenced, or inspired, by aesthetic cues from previous Electa Amator generations.
Livio Cuccuzza: The original Electa is the perfect representation of the early Sonus faber products. It is a condensed blend of elements that made the Sonus' concept different from all the other competitors at that time. Leather, solid wood, squared box design, perfectly in trend for these days when different companies are feeling the need to celebrate their history. The main citations from the previous Electa Amator, as well as the main structure of the box, are the shape of the front baffle with the two jowls around the woofer and the 'tree legs' original tweeter protection that offer us a perfect design element to implement our latest DAD technology.
Edgar Kramer: Have current manufacturing techniques and the more modernised Sonus faber factory provided any advantages in specific areas of design and adoption of materials?
LC: What differentiates Electa from a nostalgic re-edition is the way we approached the project. We named it Electa Amator III because this is not a re-issue, it's the third generation of the original project. Everything is changed from the original model but the spirit. Nowadays the technologies in materials manufacturing, as well as the drivers technologies, are offering to us new possibilities, as for example the possibility to shape the stone with an incredible precision, making it suitable for an acoustic enclosure.
EK: Did you go through many prototypes? If so, were the changes related to aspects of the speaker to do with Paolo's acoustic requirements or were they based on aesthetic/styling refinements?
LC: You know, dealing with acoustic guys is always a challenge for designers (and vice versa). There are a lot of things that you can simulate nowadays but the value of a company as Sonus faber is the little details and the fact that our development can still afford the time to do a real by-the-ear tuning. So, yes, we did around four rounds of prototypes testing proportions versus volume and materials that are relevant part of the sound signature of the new Electa.
The EA III illustrates its intelligent design via an impressive set of specifications. Sonus faber has specified the EA III's frequency response as spanning between 40 Hz and 35 kHz and while no parameters are provided, the low-end extension down to 40 Hz is impressive for a small monitor. In my experience, most small monitors on average range between 84dB and 86dB of sensitivity but Paolo Tezzon has wrung a couple of extra dBs via a quoted spec of 88dB (2.83V/1m), this being testament of a combination of cunning design in the crossover, the drivers and their inter-relationships. Said crossover point is stated at 2500 Hz. The EA III features a nominal impedance of 4 ohms. Power rating is up to a healthy 200 watts while 35 watts is the minimum amplifier power rating.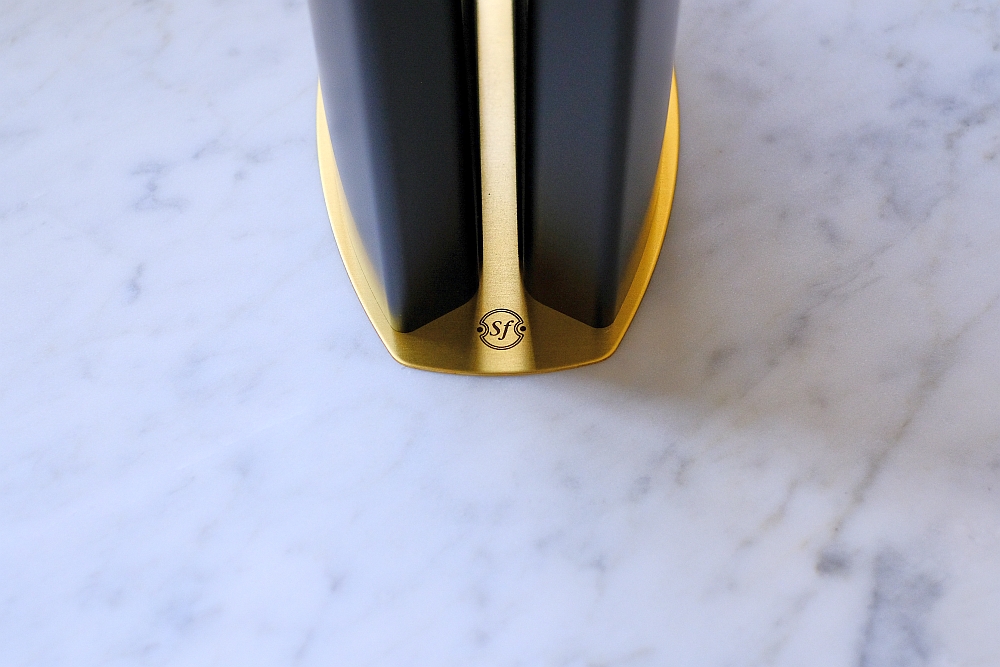 The EA III package is inclusive of a gorgeous pair of dedicated speaker stands in marble and steel (with gold brand badging to match the speakers). The 720mm height of the stands places the EA III's tweeters at an appropriate height for most listening situations while further height tweaking can be performed via the included high quality adjustable spikes.
While being a small monitor measuring 375mm by 235mm by 360 mm (HxWxD) the Electa Amator III weighs a substantial 15kg. The structural strength of the cabinet is partly due to the solid walnut panelling and the application of a three-layer constrained sandwich construction. The high rigidity end product is referred to as a 'spread resonance spectrum system' which is Sonus faber-speak for a scheme aimed at controlling resonance and vibrational distortion modes across a wide bandwidth. The cabinet walls are 25mm sandwiches while the merging of 30mm Carrara marble and brass sheet forming the bottom panel provides further resonance stability.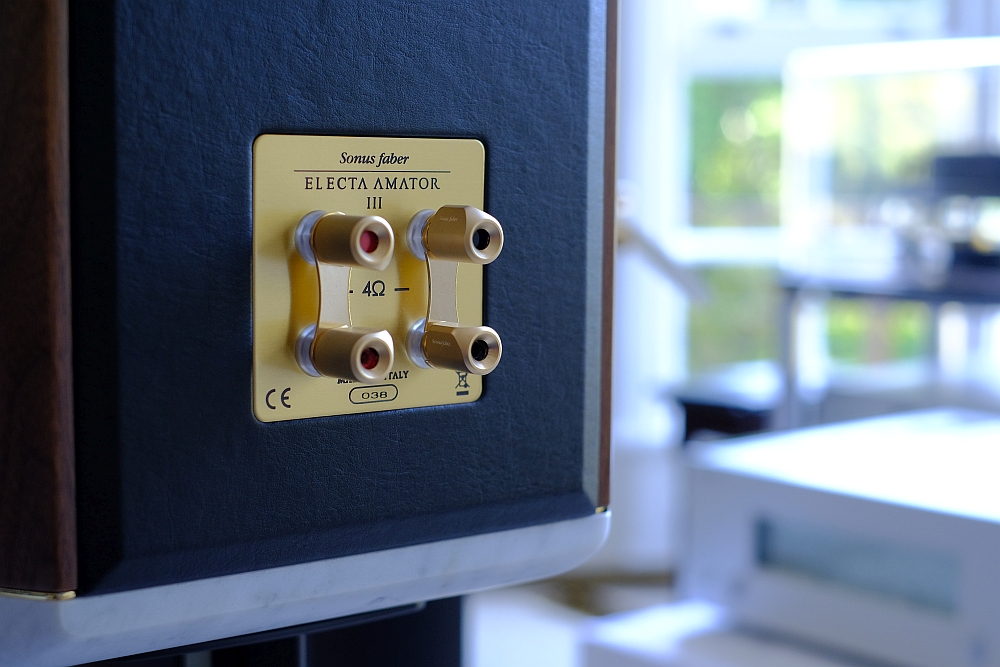 This last note bears repeating: this is the most stunningly beautiful speaker I've had in-house. The mix of luxurious solid walnut cabinet, the immaculately-applied fine leather front and rear panel lining, the Carrara marble base with its classy brass accent, all these elements make for a stunning in-room presence. But the EA IIIs are not just a collection of high-grade materials. The exquisite craftsmanship applied to every aspect of the speakers' construction in conjunction with Cucuzza's masterful aesthetic is nothing short of industrial… art.
Amator Amore
The Electa Amator IIIs were delivered, of course, with the dedicated stands. The stands are solid and have a low centre of gravity (heavy marble bottom plate) while placing the tweeters at a suitable height for my sitting position on the main listening room's three-seater. The EA III's twin pairs of binding posts – which allow bi-wiring and bi-amping – are of superb quality and easily hand-tightened. I placed the speakers approximately 2.1m apart and well-out into the room to allow the rear reflex ports some breathing space. In order to establish the best possible position for the speakers and their coupling to my room, I moved them around, changing the distance from the wall behind them and their relative spread from each other. Post that exercise, I ended up with them very close to the original location as described above.
Within the context of my system (using a mix of valve and solid state gear including my own reference Gryphon Antileon EVO), the EA IIIs were anything but slightly laid back in the mids or exaggerated at the top. I concur with Tezzo regarding the low-end these small monitors are capable of, which was surprisingly deep as well as tight and detailed. What's more, I found the rendition of voices and other midrange content spot-on, in fact. Take the purity and beauty of Emma Pask's superb interpretations on her Some Other Spring CD, or Katie Noonan's own Beatles renditions on her album Blackbird. The EA III's floated their voices on the drivers' plane with tonal texture and verisimilitude of the highest order. It was vocal truth the likes of which is rare, whether monitor or full-range standmounter and regardless of technology be it dynamic driver, single full-range driver, panel or ribbon. Link that with smoothness and an ease of flow. These are the most remarkable features of this design, one that is oh-so-capable in so many other areas too.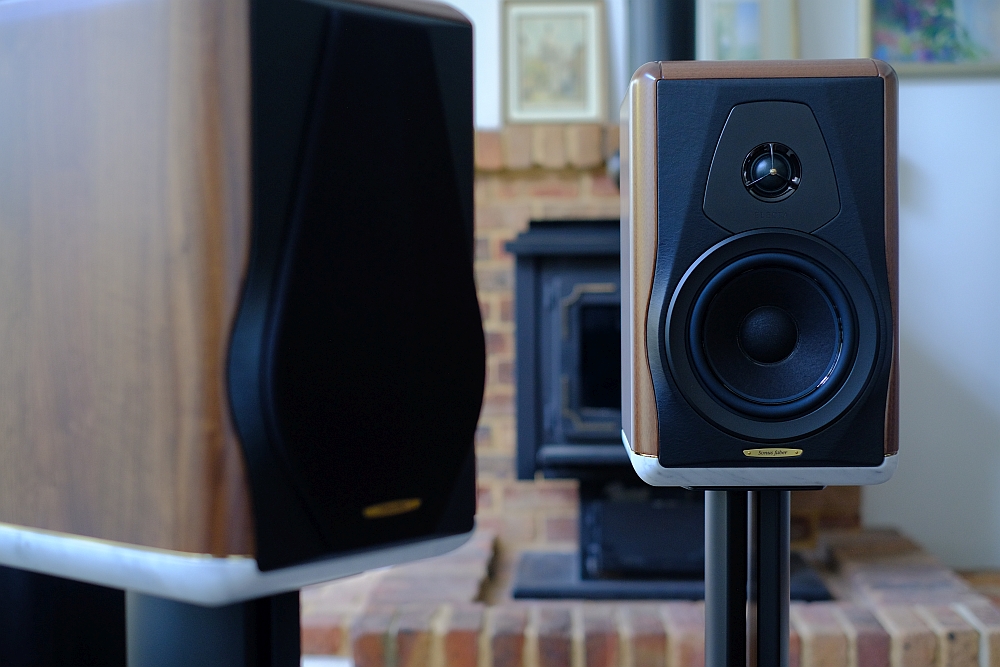 This stunning authenticity throughout the midrange not only provides a strong sense of presence which serves to also deliver clarity but, in addition, offers a profound understanding of the music. Acoustic instruments fared beautifully, with the tones and complexities of guitars, pianos, cellos and violins providing extremely pleasurable music sessions. The DAD tweeter is something quite special. It's delicate and nuanced. It's been expertly blended with the mid-woofer to present coherence and tonal uniformity.
Ani Di Franco's Not a Pretty Girl album was a model of musical communication. Di Franco's intensity was faultlessly presented with all of her passion and gusto while her oft aggressive guitar strums punched through the mix. In fact, across the mid-band, the EA IIIs were surprisingly dynamic. I say "surprisingly" because that's a term that was never an immediate association with the traditional Sonus faber sound – but not across the board, as I recall several models being dynamically agile – which, as Paolo Tezzon described, was one of his inspirations when 'voicing' the new design. I would put it to Paolo that not only was he able to capture the musicality 'magic' of archetypal Sonus faber, but he has infused it with a modern day take. Yes, that's detail, resolution and dynamic expression. In fact, going back through my listening notes, I detected the words "presence" and "detail" heavily underlined.
Stevens, Bozzio, Levine's "Duende" from the Gypsy Soul, New Flamenco CD was a surprisingly potent serve of dynamic music. Are these really a small monitor? I found myself thinking. Yes, their bass is not super deep – and that's where the monitor reveal is spotted, where the two lowest octaves fall in compliance with the laws of physics) – but from approximately 50 Hz on upwards the EA IIIs sounded as full and powerful as a capable small floorstander. Plus, on the track's last few bars, the little EA IIIs nailed the definition and punch of Bozzio's drum roll cadenza. It's a demanding piece of music and, once again, the dynamic contrast at hand was unanticipated.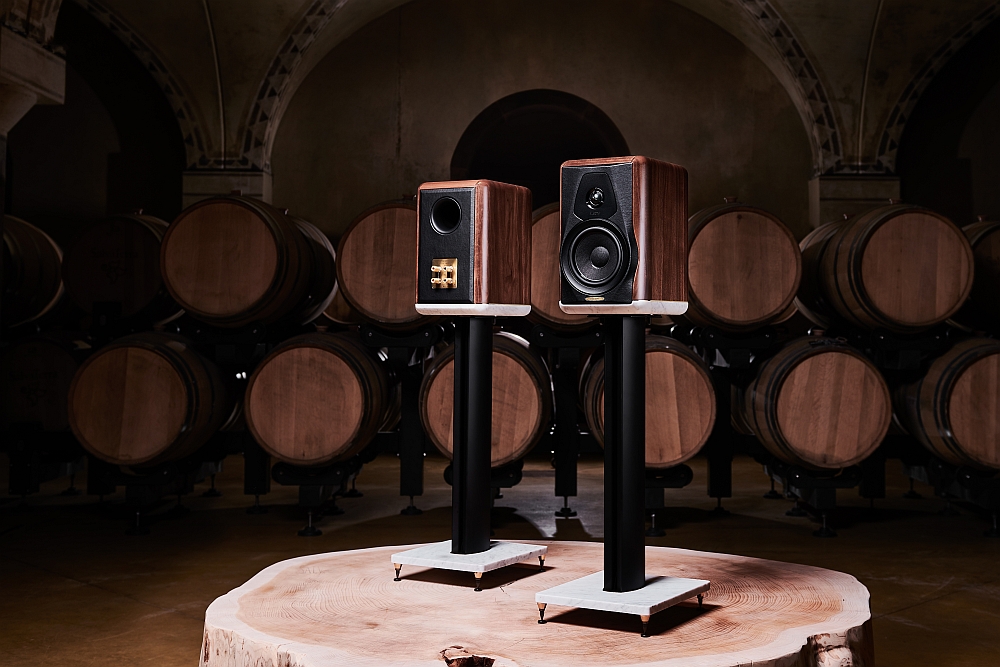 I've found most competently-designed 2-way standmount speakers, especially those with tightly-matched driver tolerances and parameters, are able to perform the old 'disappearing act'. The EA IIIs have this down-pat but they add another dimension (pun intended) to the layers of the soundstage. Images are full-bodied, spread wide and deep and are placed in space as independent illustrations of position, size and manifestation. No 'cardboard cut-out' stuff here but a solid impression of musicians' placement with life-like dimensionality. The Los Angeles Guitar Quartet (on their L.A.G.Q. release) were spread in a widely curved array across the soundstage. The tonal signatures of the different guitars, along with the masters' playing techniques, were clearly differentiated. This again illustrated the superb inter-driver coherence and the resolving capabilities of the overall design.
While rock fared very well, hard-core fans of the genre would demand further bass extension. However, mate the EA IIIs to a fast and punchy subwoofer or two (Sonus faber offers many, including the new Gravis range) and you'll have yourself a most satisfying head-bangin' setup to match much larger single cabinet systems. During the review period, SoundStage! Founder Doug Schneider and a small team of writers (myself included) compared a number of versions of AC/DC's Back in Black (see story here). The EA IIIs were not only revealing enough to demonstrate the differences between the versions and formats (FLAC, WAV, AIFF at varying resolutions) but they also provided a satisfying dynamic experience, totally mocking any size-related limitations. The more compressed and dynamically congealed versions were clearly revealed as such while the more open and fuller-sounding ones showed their merits.
Conclusion
In the intro, I pondered whether such beauty would also deliver performance at a commensurate level. If you've read between the intro and this conclusion then you'd know that the answer is a resounding "affirmative!"
A 35th anniversary is an important juncture, for any company, and commemorating such a milestone with a special product is almost… mandatory. For Sonus faber, who has been creating beautiful high-performance world-class products since its inception, there's the added element of consumer expectation from leagues of admirers in addition to past and present owners. Having chosen the Electa Amator III as the subject of its celebrations, Sonus faber found itself also having to live up to, or even exceed, the now-iconic previous generations.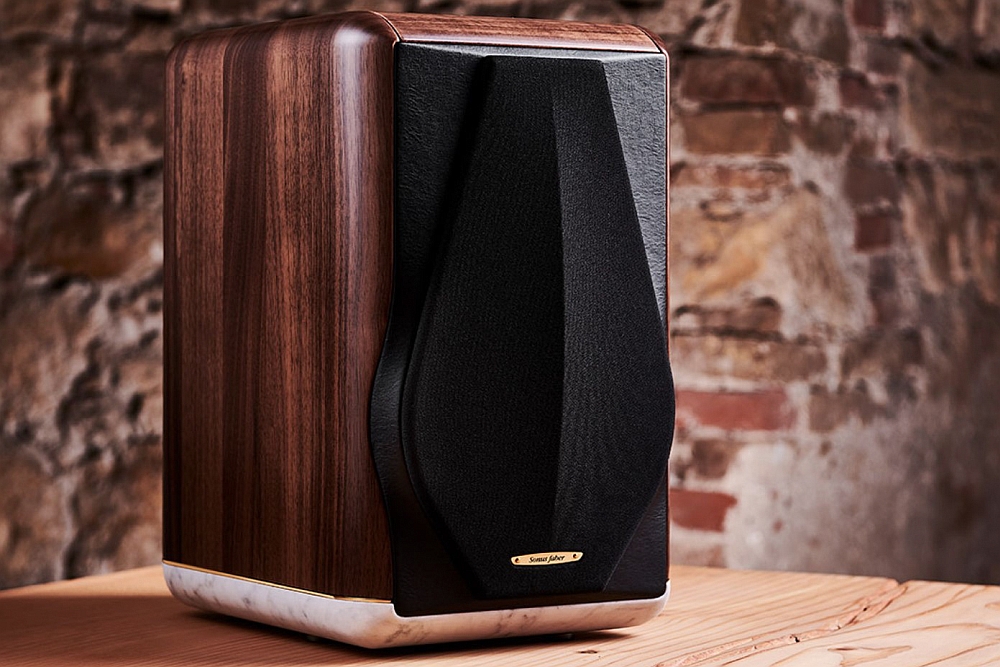 The Electa Amator III has actually surpassed my own expectations. Sure, once the visual pleasure of the design's beauty made way for serious aural activities, the pressure was on the little monitor to perform. Given its most extraordinary handling of the mid-band, its more than capable low frequency performance vis-a-vis its stature and the superb tweeters' delicate yet resolving high frequency performance, I'd wager that the Electa Amator III will reach the station of highly-prized classic in years to come. Seek it and bathe in its beauty of both form and function.
Electa Amator III, mia bellezza, you are truly the Chosen One.
… Edgar Kramer
This email address is being protected from spambots. You need JavaScript enabled to view it.
Associated Equipment
Sonus faber Electa Amator III Loudspeakers
Price: AU$16,995 including Stands
Warranty: Three Years
Australian Distributor: Synergy Audio
+61 3 9459 7474
www.synergyaudio.com
Sonus faber S.p.A.
Via A. Meucci, 10
36057 Arcugnano (VI), Italy
+39 0444 288 788
www.sonusfaber.com