Weiss Engineering is a venerable technology company with leading experience and engineering in the digital domain. Daniel Weiss joined Willi Studer of Studer fame in Switzerland as an electronics engineer in 1979. His work included the design of a sampling frequency converter and the digital signal processing electronics for digital audio recorders. In 1985 Weiss founded the company "Weiss Engineering Ltd". From the outset the company concentrated on the design and manufacture of digital audio equipment for Mastering Studios. How will Weiss Engineering's professional expertise fare with the DAC502, a consumer level Digital-to-Analogue Converter?
DAC50x where x stands for 'xcellent'
Weiss Engineering is recognized as the leading company when it comes to signal processing for Mastering. In 2000 Weiss entered the high-end Hi-Fi market with the ground breaking JASON CD transport and the MEDEA D/A converter. Other products followed including DACs that scaled less lofty heights than the MEDEA. In 2014 the MEDEA was replaced with the current flagship DAC, the MEDUS. Although the recently launched DAC50x is not the flagship, it is nonetheless a state of the art product that embodies the essence of over 30 years of digital experience and knowledge.

Weiss (for short) uses the denotation DAC50x to denote two DACs actually, the DAC501 and the DAC502. The DAC501 is the half-width version of the DAC502. Weiss states that the two are sonically identical. Both are available in black or silver, my review unit was the DAC502 in black.
The DAC50x is an over-sampling multi-bit Sigma-Delta converter using two 32-bit converters per audio channel to improve performance. An internal high precision and low jitter clock generator is responsible for clocking the D/A converter section. The sampling frequency of the generator is fixed at about 195 kHz. Input signals are converted to the 195 kHz sampling frequency for optimal signal quality and significantly lower jitter.
The DAC502 face plate is 1 cm thick solid aluminium. Its top and sides are folded stainless steel done in an aesthetically pleasing way. The bottom plate is quite thick stainless steel to ensure rigidity and eliminate vibrations. It is a simple chassis for a high-end Swiss product, but it's very well done and looks like a classy piece of kit. The "bling" factor is low; it's clear that Weiss has poured its money into the circuitry inside of the chassis, not just on the chassis itself.
The DAC502 can be controlled via its LCD touch screen, the included remote and a web interface. The LCD display is 80 mm wide by 30 mm high. It's a very clear display, however the font is rather small for perfect visibility unless you're within close proximity. The DAC502 has a depth of 30 cm, width of 45 cm and a height of 6.6 cm. Height with feet is 7.4 cm. Weight is not specified.
There are a total of five inputs: AES/EBU via XLR, S/PDIF via RCA, Toslink, USB via Type B and UPnP/DLNA via Ethernet. The DAC502 AES/EBU and S/PDIF inputs handle 44.1 kHz through to 192 kHz sample rates. The USB and Ethernet inputs handle those sample rates plus 352.8 kHz, 384 kHz, DSD64 and DSD128. DSD is supported only via USB and Ethernet and is converted to PCM upon entry into the DAC50x.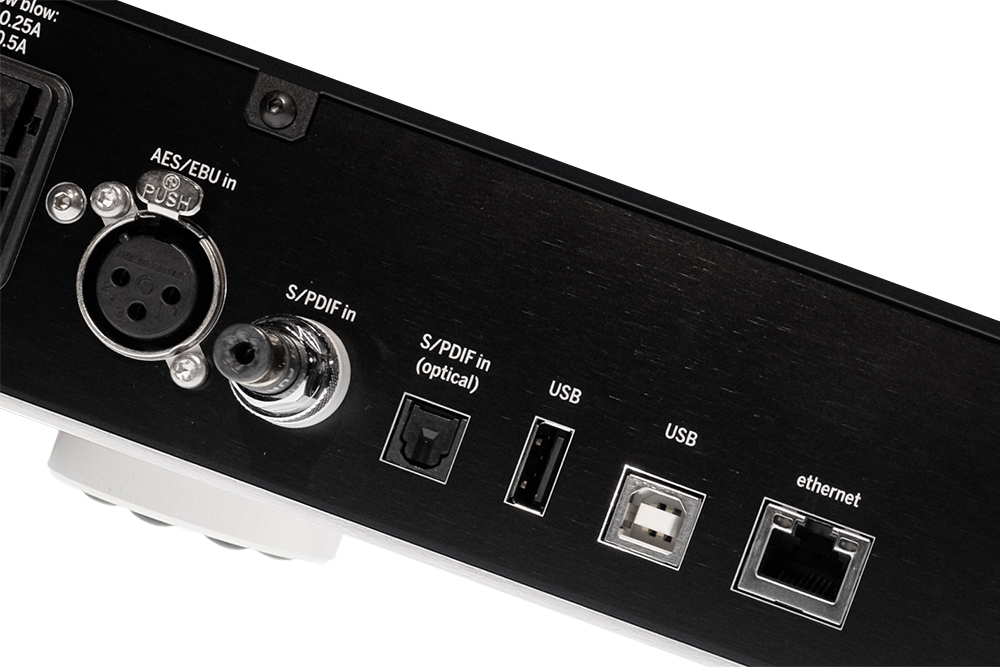 You can select one of four output levels via the LCD menu for the analogue outputs (separate settings for XLR and RCA). This allows you to match the DAC50x to any amplifier or preamplifier. In my configuration, I used the DAC502 directly driving my amplifiers. Some DACs are not happy doing this – you'll hear their protestations as clicks and pops on sample rate changes. I did notice that a few times in my many hours of listening. But in general the DAC502 was quite well behaved directly driving my amps.
The DAC50x has a headphone output on the front. The DAC502 (as opposed to the DAC501) has an additional 4 pin headphone output on the back. It also allows you to select one of 4 output levels via the LCD menu (separate from the analogue XLR/RCA outputs). The line and headphone output stages are discrete. No sound degrading servo mechanisms are used.
The mains voltage is automatically sensed by the DAC50x. It recognizes voltages between 90V and 240V – no manual mains voltage selection is necessary. Two powerful toroidal transformers are used. Regulation is separated between the channels, ensuring the analogue output is free of "digital noise" and channel crosstalk. Power consumption in operation mode is 15 VA maximum, and in standby it is 0.5 VA maximum. Note that when in standby it appears to be totally shutdown – there are no lights whatsoever. Nevertheless, in standby it does keep circuits ready so it's best to always leave it plugged in. On my review sample there was no on/off switch on the back of the unit.
Upon receipt of the DAC502, I updated the Weiss firmware to 2.0.0.r2097. That was the latest version when I did the review. Among other things, it provided the 'Roon Ready' functionality.
Weiss is very much an engineering company that takes great pride in their design and manufacturing. Their documentation and technical specifications are quite extensive. I've included only the technical specifications that might be the most important to the reader. You can discover more detail about the Weiss Engineering products in the elaborate online user manuals, specifications and white papers.
Infinitesimal detail
I quickly discovered that the DAC502 is quite sensitive to its power cord. I first tried a good Furutech power cord with Furutech connectors – it sounded acceptable but somewhat unexciting. The best match was a Synergistic Research Hologram D. With the SR cord in place the DAC502 was open, fast, transparent and detailed. It was capable of swinging huge dynamic peaks. And lastly, it was very clean sounding... all without sounding harsh or over analytical.
"Imprint" from Manu Katche's self-titled album (24/88) offered up distinct and solid drum thwacks, the piano was clean and brilliant without overloading my ears with excessive 'glassiness' that is often present with lesser digital gear.
The track "Masquerade" by Gene Harris on his album Listen Here portrayed crystalline piano without any harshness. I love to hear Harris' exceptionally fast and clean runs on the piano. The notes didn't blur or congeal; each could be heard in clear distinction from the other. The decay was excellent, the superlative sustain allowed me to hear the tone of his piano coming through more completely, making it sound more real and natural.
"Black Nights" from Doug MacLeod's album There's a Time (24/176) and "Heart of Oak" from the Mark Knopfler album Tracker (24/192) offered nuanced natural sounding inflections in the vocals and guitar work to come through in a manner that I'd never heard before.
By the time I got to "Mercy Street" on the Peter Gabriel album So (24/48), I was pretty convinced I was listening to a DAC of great repute and heritage. On this track the micro detail was amazing, the separation and layering was superb.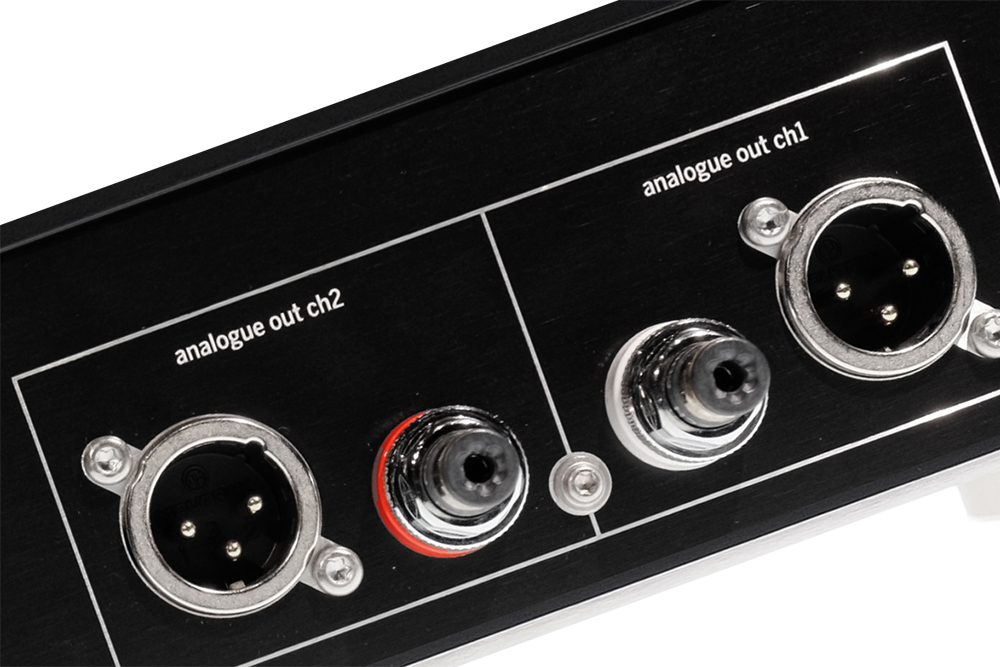 The next two tracks I've talked about before, but this time I heard them with greatly increased focus and separation accompanied by exceptional layering. The vocals were slightly recessed behind the speaker baffle. The overall sense of depth was quite amazing. There was beautiful openness and transparency and excellent tone. There was bite in the vocals and guitar work but in a way that was consistent with the musical content and the recording; it was never harsh. The mentioned tracks were "Bid You Goodnight" by Keith Greeninger on the album Producers Cut Vol. 1 and "Getaway" from the Milk Carton Kids album Monterey. On that same Producers Cut Vol. 1 album, you can clearly hear the different production values on the various tracks. This album is a compilation of tracks from other albums. The DAC502 makes that abundantly clear when you listen to the track "Loving You Always", also by Keith Greeninger. Compared to "Bid You Goodnight", the recording sounded boxy and confined.
I've always noted a slight softness in the dynamics of my reference Bricasti Design M1 – it doesn't swing the dynamic peaks quite as convincingly as some DACs. In a comparison, the dynamics of the DAC502 won the day with its excellent transient attack, decay and sustain. Take the track "Lonely Hands" on the Angus and Julia Stone album Red Berries. The kick drum is very solid, clean and convincing – not only do you hear the deep thwack but you can sense the hammer striking the drum skin. The quiet passages in the track are woken by that kick drum – the dynamic swing is huge but never sounded less than right. The detail, openness and transparency were again exemplary. Julia's voice is very closely miked – you can hear every movement of her tongue and lips. The "s" sounds were exceptionally clear without sibilance. The finger squeaks along the guitar fretboard sounded very clean, clear and real.
"Rolling Thunder" from the album Heavy Beats and Riffs by Mark Kent was unleashed with great sizzle and power. The bass was deep and growling, the punch tossed you back in your seat. There were huge, strong rolling bass waves in total control in the track "She's Already Made Up Her Mind" by Lyle Lovett on Joshua Judges Ruth. On the same album, "North Dakota" contrasted the soft vocals and guitars against the massive drum hits echoing back into the sound stage. This DAC certainly does dynamics.
I then turned to a track that I know has somewhat piercing vocals. It isn't that it's poorly recorded – but rather that the artist's voice is somewhat small and thin sounding especially in the higher frequencies. The track was "Jacob's Dream" from A Hundred Miles or More by Alison Krauss. She sings this track with great force in places and on lesser systems you instinctively feel the need to cover your ears. The DAC502 passed the test but admittedly it was perhaps no better than my M1. You can be assured that the DAC50x won't editorialise and overlay tracks with a pleasant sanitised sound – you'll hear what's in the recording.
One of my go-to tracks to see how a component handles multiple threads of music within the whole is the track "Ego flos campi" for 7 voices by Stile Antico on their album Song of Songs (24/88). With the DAC502, there was less congestion and better separation making it easier to follow the many voices in their own space in the sound field.
By now you can probably tell that I really love to hear detail in my system. That is true, but never at the expense of musicality and timbre. I'd rather hear a soft presentation with lovely tone, than an über detailed presentation that is cold and dispassionate. The DAC502 was never uninvolving and indifferent; it always sounded natural, real and musical.
It's all about the room
Weiss knows that the room itself greatly influences how good their products, and indeed a system, will sound. If you have room issues, it is usually best that you first try absorbers and/or diffusers to control them. But room treatment may not solve your sound issues altogether, and in some cases may not be acceptable to use. Consequentially, Weiss has bestowed their "Room Equalizer" (Room EQ) software in the DAC50x to help remove the deleterious effects your room may have on your system – the problem frequencies "room modes". They are exacerbated by the positioning and radiation pattern of your speakers in relation to your listening position. These problem frequencies can be peaks and troughs (also called nulls).
You can use up to five bands in the DAC50x Room EQ software to alleviate the effects. The software allows you to bring down the peaks or pull up the troughs. However Weiss recommends that you only bring down the peaks. They say that if you attempt to pull up the troughs, the Room EQ or your speakers may overload and generate clipping noises.
Using the "Room Equalizer" to treat your room can be quite involved. The full user manual for the DAC50x explains how you can measure your room and determine the problem frequencies. Such measurement processes may be a snap for some people, but a nightmare for others, depending on your level of knowledge. Weiss is working with a third party company called Illusonic to license their room measuring software which will calculate the necessary Room EQ settings. In the future, there will be a kit which will include the Illusonic software and a small microphone for measurements as well as instructions.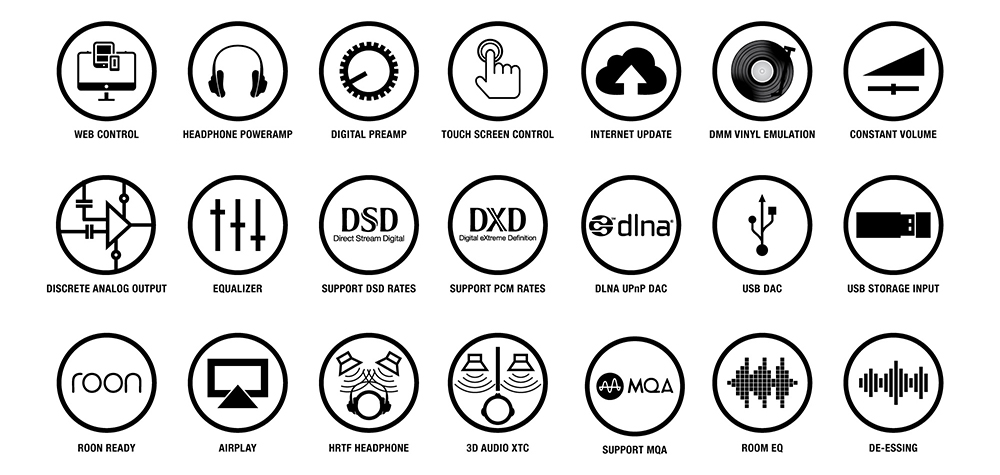 Since I use a Trinnov Amethyst in my room, I was quite aware of the problem frequencies. I only had to look at the "before" graph when I calibrated for the DAC50x and note the most affected frequencies that needed attention. As you might expect, most sound quality issues were in the bass below 200Hz. I then used the spiffy and intuitive Weiss web interface and entered the necessary settings. At present, the Weiss Room EQ allows for five separate settings – I used four. To listen, I removed the Trinnov from the signal chain altogether. As for sound quality, I was pleasantly rewarded; it did clean up some of the issues. But on some tracks like "Black Nights" on Doug MacLeod's album There's a Time (24/176), there was a repetitive boom in the bass around 125Hz that I wasn't able to eliminate. The Trinnov is a device optimised for room correction – it handles peaks and troughs and all problematic frequency groups. The EQ with the Trinnov was notably better – it offered a flatter response which was heard as better focus, separation and coherence in particular.
Overall I spent a few hours experimenting and listening with the Room EQ. I believe you could probably get even better results than I did over an extended period of time. Although the Weiss Room EQ is a relatively simple tool, it is certainly worth exploring.
Box of tools
There are a few other options available to allow you to tailor the sound. They are accessible via the web interface or the LCD panel. Starting with the Crosstalk Cancellation (XTC) option, it reduces the crosstalk between the left speaker and the right ear and between the right speaker and the left ear. In my system it produced a diffuse sound stage, similar to what you might hear at a concert. According to the instructions, my speakers may have been too far apart for XTC to be effective. In all fairness, XTC works best if the speakers are fairly close to each other compared to the listening distance. My setup has my speakers about 2.7 metres apart and 3 metres to the listening sweet spot.
Pressing the "Vinyl" option resulted in an immediate and obvious increase in background noise. When playing music, there also seemed to be less vivid detail and less focus. On some modern digital recordings, such a feature may be a god-send in that it slightly reduces the hardness of overly compressed music. I demonstrated this 'Vinyl' option for a friend one day, a fellow that loves vinyl and has a superb analogue setup. Upon hearing the immediate increase in background noise, he smiled and humorously suggested that perhaps Weiss didn't really appreciate vinyl.
The Roon Ready option worked fine, absolutely no issues whatsoever. The artist and track that was playing appeared in the web interface as well as the LCD front display panel on the DAC50x. That said the display is quite small and unreadable unless you are fairly close. Lastly, within the Roon Audio settings, Roon indicated that the DAC50x had not yet been certified. By the time you read this that will likely no longer be the case.
Conclusion
I'll "cut to the chase". I really like this DAC. I've always loved my Bricasti Design M1 DAC because of its tonality and level of fine detail. The DAC502 has equally beautiful tonality and even more detail and transparency. It does lean to the analytical side – it'll tell you everything but it does so in a natural non-hyped manner that you really cannot fault. The DAC502 also has superb punch and dynamics – it'll unfailingly swing from the softest passage to the loudest passage in a blink, with zero background noise and zero strain. Kick drums, floor toms and bass guitar have that real "you are there" factor. Vocals are vivid yet natural and full. In short, the DAC502 is unfailingly musical. And to think that the DAC50x is not even Weiss' reference level DAC! xcellent!
… Tom Waters
Associated Equipment
Speakers — PMC MB2 SE speakers with ANTICABLES Level 5 Signature jumper wires
Amplifier — Mark Levinson 33H monoblocks
Preamplifier — Trinnov Audio Amethyst
Sources — Gryphon Mikado Signature CD Player, Mac Mini (running Roon Core), Bricasti Design M1 DAC
Processor — Trinnov Audio Amethyst
Cables — ZenSati #1 and #2 interconnects and speaker cables, sILENzIO S/PDIF, Nordost Tyr 2 AES-EBU, AudioQuest Vodka Ethernet cables, Nordost Tyr 2 power cords, Synergistic Research Hologram A and D power cords, ANTICABLES Level 3 Reference power cord, Nordost Purple Flare (Figure 8) power cords (for Mac Mini and router).
Audio Rack — Schroeders and Schroeders, Symposium Ultra custom-made amplifier stands
Miscellaneous — Nordost Quantum QX4 line purifier, Nordost Quantum QV2 AC line harmonizers, Nordost Quantum QK1 AC Enhancer, Nordost Quantum QB8 power distribution, dedicated 20 amp power lines, Stillpoints Ultra 5 isolation footers, Stillpoints Ultra SS footers, Symposium Rollerblock Jr isolation footers, Symposium shelves, Vicoustics bass traps and diffusers, RealTraps bass traps.
Weiss Engineering DAC502 Digital-to-Analogue Converter
Price: DAC502 AU$13,700, DAC501 AU$12,000
Warranty: Two Years
Australian Distributor: Sound Gallery
+61 3 9578 8658
www.soundgallery.com.au
Weiss Engineering Ltd.
Florastrasse 42
8610 Uster
Switzerland
P +41 44 940 20 06
www.weiss.ch