Just over a couple of years ago, the release of the new Bowers & Wilkins 800 series was accompanied by much PR fanfare supported by subsequent press acclaim followed by fervent consumer applause. Deservedly so, considering the importance – to the industry as a whole, in fact – of the company's flagship range which announced a whole lot of new tech, highlighted by the introduction of the superb Continuum driver. Carrying through the entire range is DNA emphasising excellent engineering and exemplary fit and finish. Couple these with nigh-on universal approval in terms of sonic performance and, yes, the perception is of relative value for the investment. Then, Bowers & Wilkins announced its 'Prestige Edition' models which are identical to the standard units as far as engineering, however, these premium versions sport a lavish glossed veneer that elevate them to the industry's highest levels of luxury.
The Prestige
In an ongoing voyage of pleasurable discovery, both partly by design and coincidence, I continue my sonic encounters with quality 2-way standmount speakers (check our 'Reviews' page here where you'll see a number of delightful standmount reviews). The concept of a small-to-medium sized monitor has a multitude of potential strengths. For starters, the smaller cabinet panels will be less resonant, physically stronger, needing less bracing, resulting in a freer and larger internal volume which, potentially, can provide deceptively generous low frequencies from a relatively small enclosure. Further, a smaller profile baffle will present diffraction benefits with the potential for more precise imaging and that audiophile-treasured "disappearing act". And should you yearn after a more full-range sound, a good monitor can be mated to a quality subwoofer to provide the desired low-end and dynamic extension.
So, the 805 D3 in its 'Prestige Edition' version comes in a stunningly beautiful 'Santos Rosewood' high-gloss lacquer finish (at this stage, only the 802 D3 is also available in 'Prestige Edition' guise). Prestige Edition's flawless execution involves the application of 13 coats of lacquer which we're told extends the speakers' production time by some weeks (all that curing, buffing and re-applying of lacquers…). That's the time investment a mirror-like finish of the highest furniture grade incurs, where any semblance of orange peel or any form of lacquer swirl/waviness is totally, and I mean totally, absent. Ditto for the tweeter module atop the enclosure, an equally mirror-like black gloss perfection.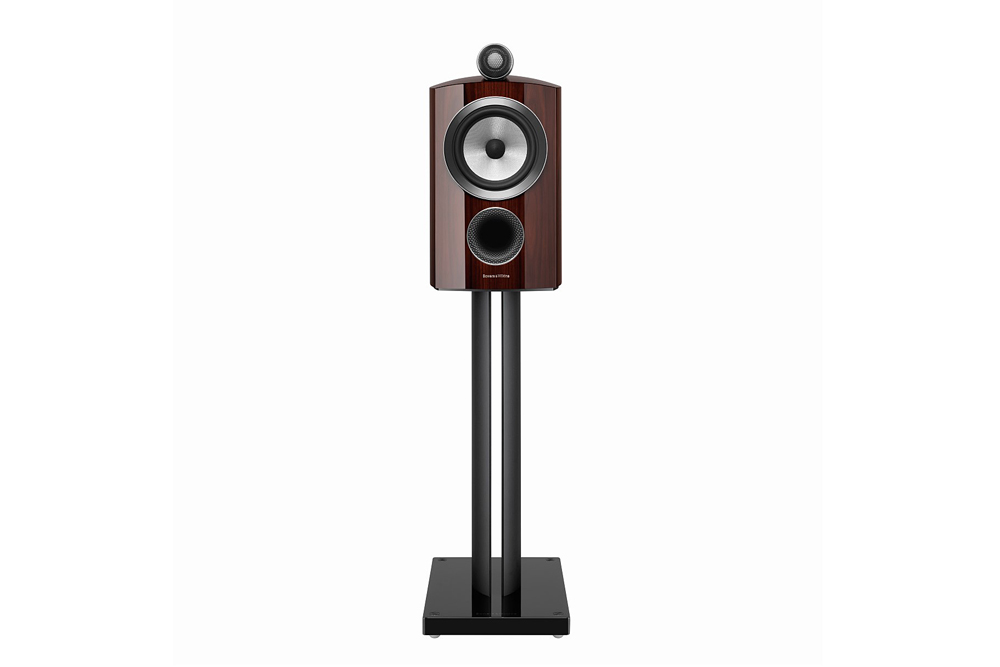 Stunning finish aside, it must also be mentioned that the overall standards of assembly are second to none. There are no join trails, not even the smallest of hints at the enclosure panel seams – it's all as though it has been built from a single piece of material. The same applies to the quality of the metal dress rings around the drivers, the binding posts, etc.; it's all immaculately done. This is world-class, exemplary fit-and-finish akin to Rolls Royce, Bentley, and Aston Martin.
Another distinction from the standard model is the metal plaque on the cabinet's rear which is engraved with the Prestige Edition nomenclature and individual serial numbers. While on the cabinet, the standard 805 D3s' 'Optimised Matrix' enclosures are also superbly built in terms of their stiffness and overall solidity – the curved side panels tapering towards the rear would provide added rigidity – with my educated supposition being that all those coats of lacquer would make further positive contributions to resonance control.
The 2-way 805 D3 Prestige Edition shares the same drivers, acoustic properties and specifications as its standard-finishes brethren. There's the gel-decoupled 25mm Diamond dome tweeter which is laser cut, with the diamond diaphragm being vapour-deposited. The tweeter is housed in the 'tweeter-on-top' tapered teardrop enclosure, itself machined from solid aluminium, with the construction being virtually devoid of resonant modes and back-wave distortions.
The mids and bass are handled via a bespoke 805-specific 165mm Continuum driver featuring a non-resonant bullet-shaped phase plug. Bowers & Wilkins developed the highly-engineered Continuum driver after finally being able to improve upon its trademark yellow Kevlar cone material which it used across a number of generations and varied product lines. Continuum features composite materials, large voice coils and powerful magnet systems. The driver is very stiff yet lightweight while its texture, construction and cone profile are designed to control excursion distortions across the diaphragm.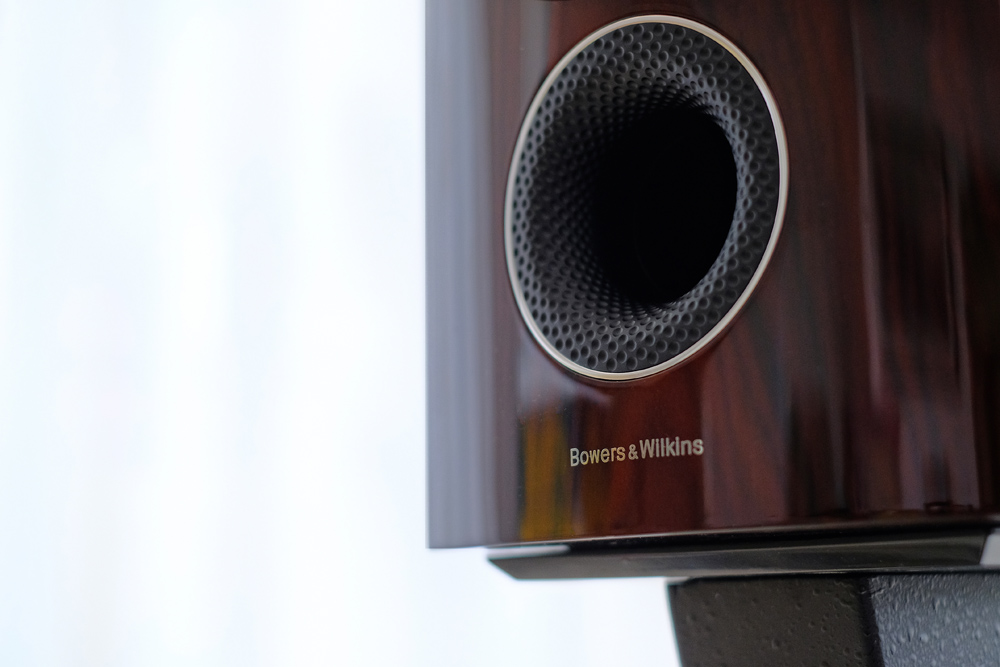 Below the Continuum driver Bowers & Wilkins places its signature 'Flowport', a widely flared and dimpled reflex port designed to prevent audible chuffing and air pressure distortions at its exit point. The crossover is said to feature high quality components, same as the standard model. Custom chrome-finish speaker binding posts provide bi-wire/bi-amping options and Bowers & Wilkins includes short coupling cables terminated with banana plugs at one end and spades at the other. A matching high quality stand is available as a further option.
The standmounter enjoys a wide frequency response spanning from 42 Hz to 28 kHz (+/- 3dB) with the range extending down to 34 Hz and up to 35 kHz. Bass extension belying speaker size is promised here. Sensitivity is quoted as 88 dB (1m on axis at 2.83Vrms) while impedance is a nominal 8 ohms with a minimum of 4.6 ohms, making for an easy drive for most quality amplifiers be it valve or solid state. Having said that, the speaker really sings when provided with good, clean power and I would recommend (as does B&W) a minimum of 50 watts. I used a high quality 140 watts receiver in System 2 and the Gryphon Antileon EVO 150 watts Class-A monster power amplifier which is in-situ on reference System 1.
The 805 D3 PEs speakers are quite room placement friendly, no doubt partly due to the front reflex port configuration. I auditioned them perched (the speakers, not me…) on firm sand-filled Atacama three-column stands and solid MDF Axis Loudspeakers arched column stands.
Mining Diamonds
It might as well be said at the outset. In the context of both in-house systems – and in conjunction with other components in for review at the time – the 805 D3 PEs performed superbly across all of the parameters that make for a truly excellent speaker. Over and above that, four particular qualities elevated the design to reference level standards for a standmount speaker. Those qualities were bass power/depth, overall detail, soundfield reproduction and dynamic expression.
Spin any track with decent bass content and you'll be tricked into thinking… "This is a small floorstander". Yes, clichéd but oh-so-true here. Despite this aural mirage, the bass detail and rhythm are not compromised by excess, being expertly balanced within the overall sonic presentation. It's just that the solidity of the bass makes kick drums and electric bass, for example, boogaloo with punchy a-tappin' pace. It's just fun while maintaining balanced accuracy. No mean feat.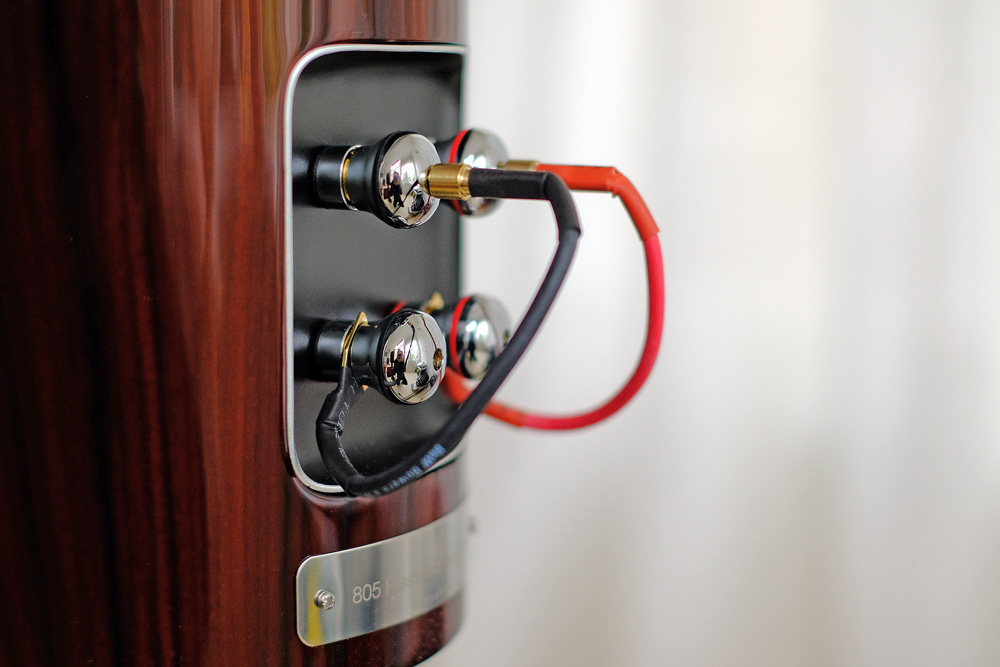 The low-end depth is also quite astonishing – the Bowers & Wilkins engineers pushed the limits of physics – as I heard when spinning one of my go-to tracks for this. "Sergio Leone" from Jackson Browne's The Naked Ride Home has a rumbling thunderous section where a low note tides over you and loads the room. You expect – no, demand – a floorstander worth its name to pass this test with varying levels of success depending on its size. The 805 D3 PE did this to an unexpected and quite surprising degree, to be perfectly honest.
Same deal with Yim Hok-Man's Master of Chinese Percussion where the massive drums pounded me the way no small standmount speaker has a right to. Some standmounts are designed with deliberate 'bumps' in the upper-mid bass to impress and sound larger. Bowers & Wilkins may have done this to some degree. But where other designs tuned this way suffer a loss of resolution, making the low-end sound 'one note', the 805 D3 PE is so expertly balanced, so well-adjusted, that there is no deficiency in nuance or textural colour across the entire low-end bandwidth. This last point is also a compliment to the Flowport design, which contributes naught to any colouration – the qualifier is that a good high current solid state amplifier or a high power valve design will reap the full benefits here.
There's no disputing the resolution capabilities of Bowers & Wilkins' D3 tweeter (as I also found in on the superb 803 D3, full review here). Teamed with the Continuum driver, the combo facilitates the appreciation of the tiniest of details buried deep within complex mixes. Yes, there's an ever-so-subtle hint of brilliance. Perhaps a small bump, or lift, in the lower treble/upper midrange frequency trace. It's very slight and it's, again, expertly balanced to offer profound levels of detail without straying into brightness or harshness territory. Never… provided your electronics and cables are neutral and competent. Actually, competent is a very salient word here. While the 805 D3 PEs shine with high-end electronics, they are also able to provide thorough satisfaction with more modest but well-designed, competent, amplification (my Integra receiver being a case in point). However, like any quality speaker, feed it as best you can to reap maximum benefits.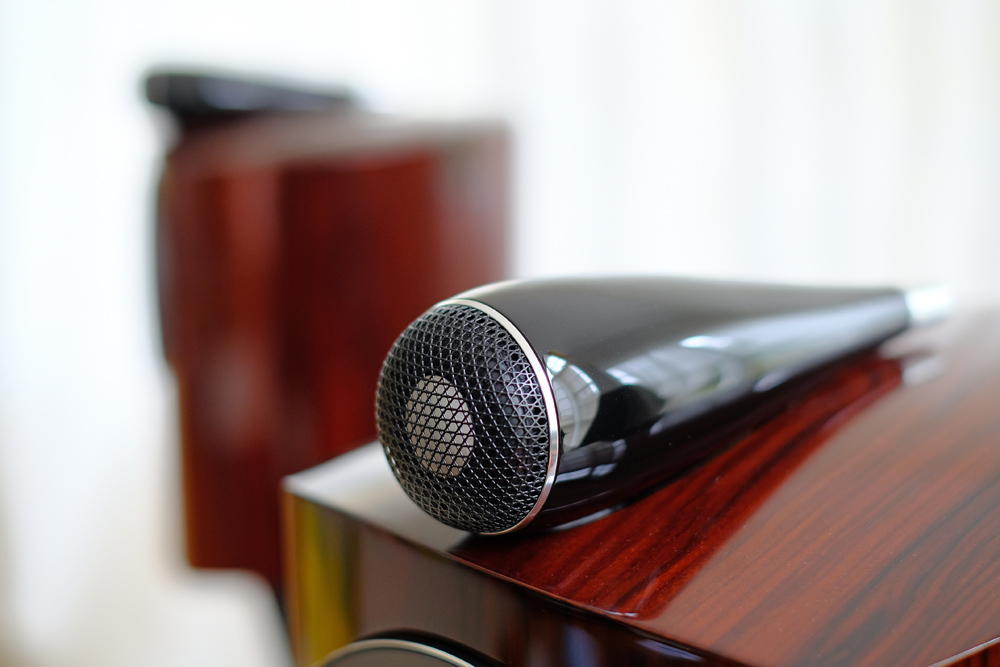 A by-product of this thorough resolution is the presence it imbues on female vocals especially. The breathy lyrics of Ani Di Franco and the live ambience of the concert venue on Living in Clip are superbly demonstrated via these speakers. "Amazing Grace" places you in the venue, among the audience… I nearly whistled in unison with the crowd, waving my mobile phone on flashlight mode…
Across her various releases, the poetic meanderings of Patricia Barber from any one of her spectacular recordings, whether sung or spoken, are beautifully immediate. Her sometimes deep and resonant, other times delicately fine vocals are depicted realistically, with the 805 D3 PEs providing a truthful tonal and artistic rendition of this talented artist's tome (much of which has been overused at audio shows around the world).
As you'd expect, the baffle-less tweeter-on-top arrangement is capable of reproducing an enormous soundstage populated with images that fool you into thinking the speakers have disappeared altogether. Acoustic recordings place the musicians widely-spaced and sharply-focused. The 805 D3 PEs are real champions at this aspect of soundfield recreation. In fact, to reference level. This is without doubt due to the tweeter configuration but also to what must be extremely tight driver matching tolerances. Where loudspeaker designers using drivers manufactured via third parties are at the mercy of their provider (or have to embark on an exhaustive and exhausting batch-matching exercise), companies like Bowers & Wilkins manufacture their own proprietary components, therefore having efficient control over driver parameters throughout the engineering and production stages.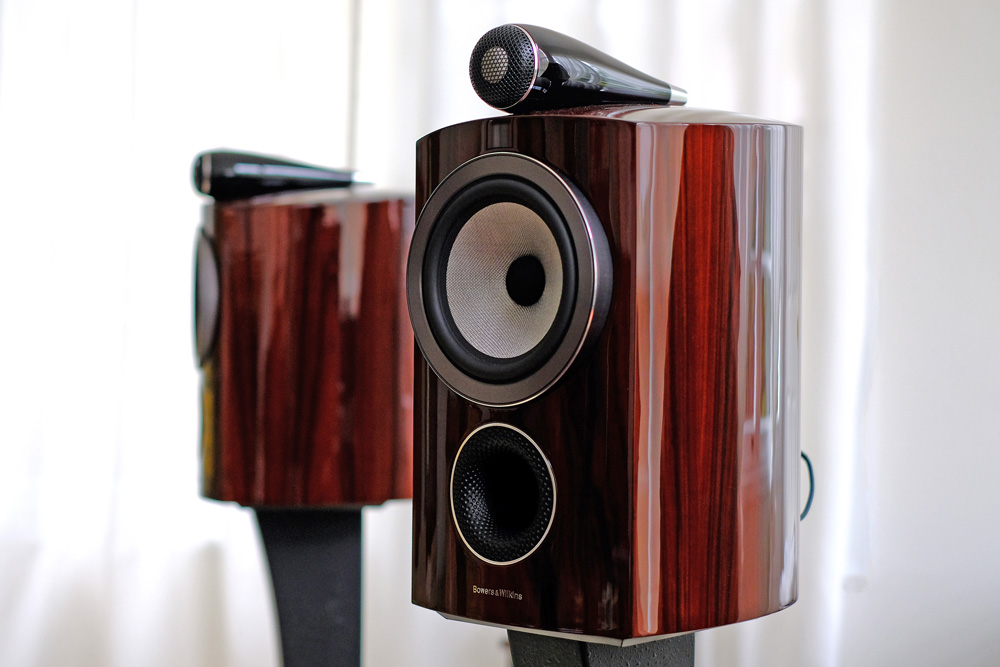 One of the most dynamically vibrant recordings I own is the almost entirely unprocessed and uncompressed recording of Tony Dragadi Trio's Live At The Columns. On "Limbo Jazz", during both the acoustic bass and drum solos, there are sections where the players deliberately oscillate, dramatically I might add, between ppp and fff. The 805 D3 PEs did not waver – not even a hint – when the fortissimo sections hammered. Man, there's some kick to these standmounters… Especially when you consider the dual roles the 165mm driver has to handle. Ditto, during the more subtle passages, there was exceptional detail and shade all there to be heard and enjoyed just as the musos intended. Given the appropriate amplifier power, the dynamic contrasts offered are unprecedented from a 2-way standmount. And, as I underlined on my listening pad, this was some of the best drum sound I've heard. Absolutely.
Tash Sultana's Notion EP is partly studio creation and partly live recording. Although somewhat compressed, the live section's two-part "Big Smoke" tracks show off Sultana's aggressive guitar style and her dexterity with both that instrument and her effects pedal setup. Again, it's a big sound both dynamically and in terms of its all-encompassing spatial qualities, with the speakers managing stunning ambience reproduction during Sultana's interactions with her audience. She pedals along (pardon the pun) oscillating between slow, medium and fast pacing, with the 805 D3 PEs rhythmic strengths keeping up with Sultana throughout her glorious extravagance.
Conclusion
The 805 D3 Prestige Edition is an honest speaker. But it's also a whole lot more than that. It communicates what it's offered, be it audiophile-pleasing recording excellence or the more pedestrian compressed-for-the-masses pop studio efforts. In its delivery of the latter it is never brash or harsh while offering extraordinary pleasures in the case of the former.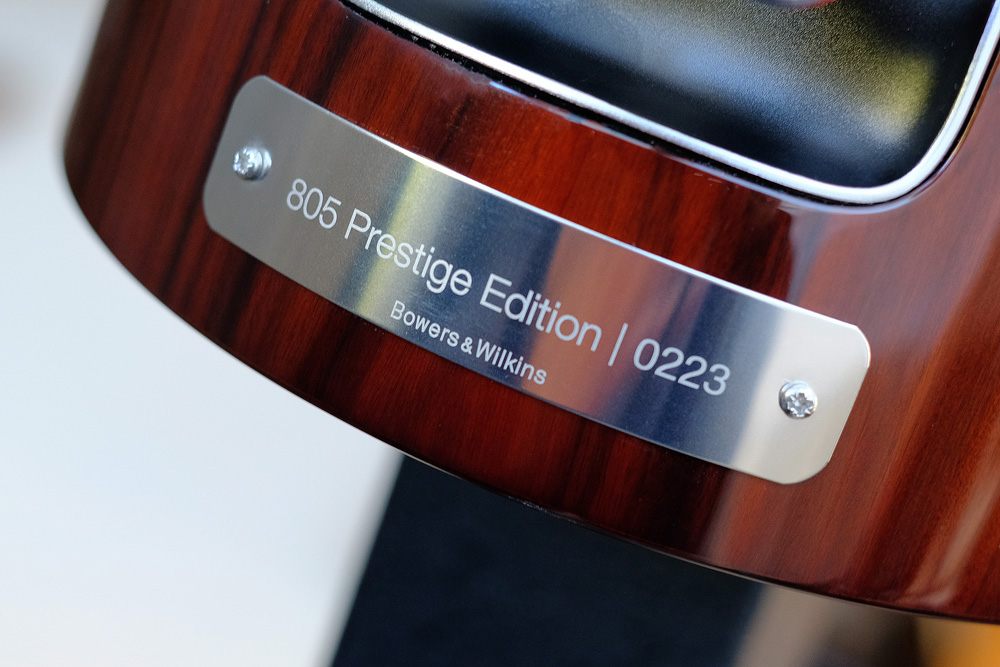 From orchestral, to jazz, to rock, to intimate ensembles, the 805 D3 Prestige Edition excel beyond the expectations you'd associate with speakers of their size in the areas of bass extension and overall dynamic expression. They also perform at the highest levels when it comes to pure detail resolution and imaging precision.
I'd be willing to wager that, in a few years, this current iteration of the venerable 805 platform – the flagship series' standmount 2-way configuration – will be regarded as definitive of a new paradigm for Bowers & Wilkins, an exemplar in the company's 2-way lineage. And in its glorious Prestige Edition garb, it will no doubt become a much-desired and sought-after classic. Simply… Best of British.
… Edgar Kramer
This email address is being protected from spambots. You need JavaScript enabled to view it.
Associated Equipment
Speakers — Wilson Audio Alexia Series 2, Axis Loudspeakers VoiceBox S (nearfield monitor), Vermouth Audio Little Luccas Mk.II
Amplifier — Gryphon Audio Antileon EVO
Preamplifier — Supratek Cortese, Lightspeed Attenuator LDR passive
Sources — Digital: Yamaha CD-S2100 transport, Chord Electronics Hugo M Scaler, Totaldac d1-core DAC, Asus PC as Roon Core. Analogue: Michell Engineering Orbe with Gert Pedersen Level 3 modifications and Origin Live Ultra upgraded motor, Trans-Fi Terminator air bearing linear-tracking arm, Shelter Harmony cartridge, Supratek Cortese & REDGUM Audio RGPH2 phono stages
Processor — DEQX PreMate
Audio Rack — SGR Audio Statement Model V
Miscellaneous — Les Davis Audio Viscoelastic CLD discs, VRC Vinyl Record Cleaning system
Bowers & Wilkins 805 D3 Prestige Edition Loudspeakers
Price: AU$9500 (stands AU$1499)
Warranty: Five Years
Australian Distributor: Bowers & Wilkins Australia
+61 (2) 9196 8990
www.bowers-wilkins.net
Bowers & Wilkins
Dale Road
Worthing BN11 2BH
United Kingdom
+44 (0) 1903 221500
www.bowers-wilkins.net