While a number of American audio brands reached iconic status in what some have described as high-end audio's 'Golden Age' from the late 1970s through to the early 1990s, many others have either disappeared altogether or have lost much of their former gravitas. The world moves on… potent and innovative new players have joined the fray. Having said that, Audio Research (like its sibling McIntosh Laboratory) remains a powerhouse in high-end audio. In fact, 2020 marks Audio Research's 50th Anniversary. Yes, it's half a century since founder William Z. Johnson formed the Audio Research Corporation. Today, a skilled team of engineers and designers continues to boldly propel the company onwards, producing superb electronics while mindfully respecting the iconic American brand's heritage and stature. In the Reference series, Audio Research presents its most powerful design statements. Here, we look at the just-released Reference 160S stereo power amplifier.
Ghosts of the Past
The new Reference 160S is Audio Research's top stereo offering and is based around the 160M monoblock amplifiers released before it. It wouldn't stretch the imagination too much to say the 160S is a descendant of the 1970s iconic D-150 amplifier while perhaps further direct DNA is shared with the classic VT-150 amplifier, an early 1990s Audio Research jewel-of-an amplifier and both recipients of fervent adulation across the audiophile world.
The new amplifier bears the same reimagined aesthetic as the Reference 160M monos, crowned by the unique see-through dual meter display/window (GhostMeters in Audio Research-speak), a genius design touch by Industrial Designer Livio Cucuzza which brings the distinct signature meters of ye olde products (most pertinently the VT-150SE) into the 21st century. Being a stereo amplifier, the meters 'window' now houses 'Left' and 'Right' meters while allowing a view into the valve bank behind it, providing an arresting overall visual statement, especially at night in dim-lit listening environments. The 160S is packaged with a 'cage' which can be placed over the thermionic devices, should you require it in order to protect curious little fingers, however using it makes for a less visually-striking panorama beyond the GhostMeters.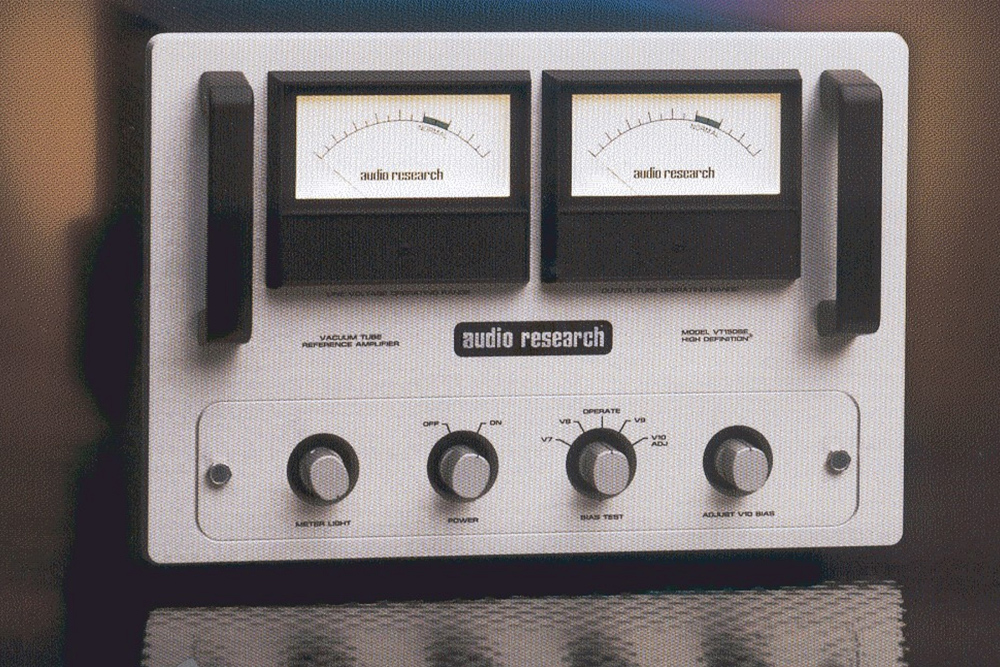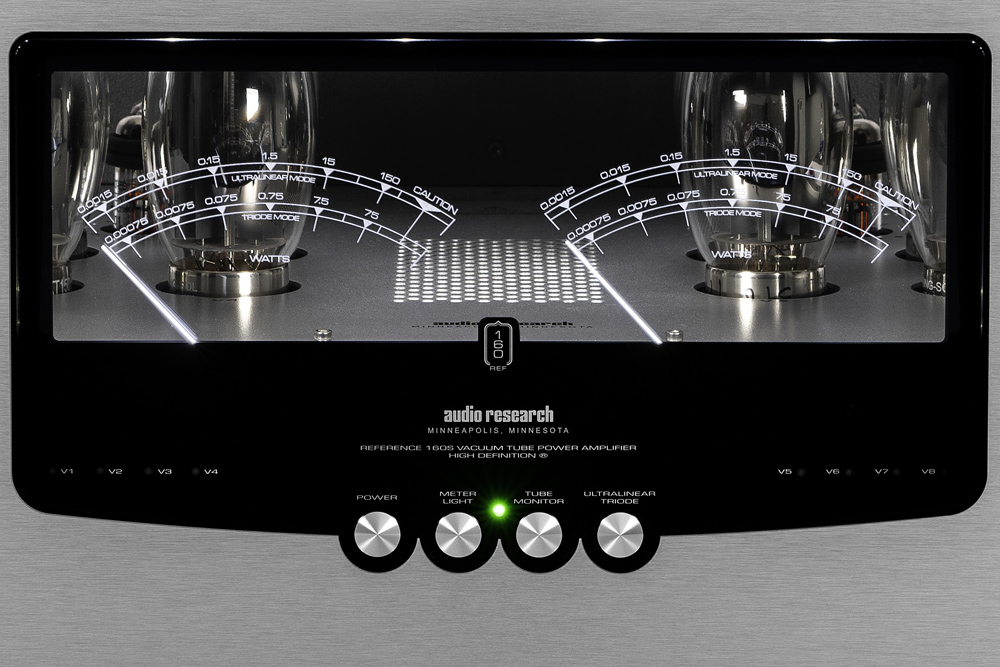 The Reference 160S is driven via four matched pairs of KT150 output valves rating it to 140 watts continuous from 20 Hz to 20 kHz with -3dB/1 watt frequency response between 0.5 Hz and 110 kHz. That's wide bandwidth for a valve amplifier. The overall negative feedback is specified as 14dB and the damping factor as 14. Input impedance is quoted as 100 kohms single-ended (RCA) and 300 kohms balanced (XLR) making for wide compatibility with a range of preamplifiers. Of note is the fact that the RCA input option is a first for Reference Series amplifiers.
The gain stage of the Reference 160S uses four 6H30 valves. Its circuit features Audio Research's valve monitoring system (hour usage counter) in addition to a proprietary auto-bias arrangement, this last one being handy in terms of set-and-forget usability. In another first for Reference series products, the 160S offers user-selectable switching between Ultra-Linear or Triode operation. Ultra-Linear of course means more power, so the rating in that mode would equate to the specified 140 watts while operating the 160S in Triode mode would approximately half the output wattage. Generally, the power output gain of Ultra-Linear is tied in with that mode's more accurate, extended and, um… linear performance. In contrast, it may be said that the Triode mode would offer a mellower and sweeter presentation with perhaps a rounder and fuller, ultimately less precise, low-end register. Of course, subjectivity and equipment synergies will determine your preferred mode flavour… always.
I was keen to learn a few more insights from a man who most likely would know more about Audio Research than anyone in existence. Brand Ambassador David Gordon has been the face of Audio Research at countless shows around the world for decades and what he has forgotten about the company is multiples of most folks' entire knowledge.
I started by asking Gordon about what I estimate to be an Audio Research Reference Series first in the use of both the RCA input and Ultra-Linear/Triode mode options…
You are correct, we included RCA input and Ultra-linear/Triode options in Reference amplifiers for the first time in the 160M, and now the 160S. All of our Reference amplifiers are fully balanced designs, input to output, so it was not possible to drive them with single-ended sources. Over the years this disappointed a number of people with SE-only preamps because using an RCA-XLR adapter did not really work; distortion would be high and output power would be quite low, defeating the purpose of owning a Reference-series amp. We finally gave in – after 23 years of offering Reference amplifiers – and added high quality phase inverters with RCA inputs to provide customers the ability to use single-ended sources to drive our latest Reference-series amps. Finally!
Many people do not realize that we offered Triode operation in our tube amps in the late 1980s through the mid-1990s. Our Classic-series amps were triode operation only, from the Classic 30 stereo through the Classic 150 mono. Audio Research was sued by a guitar company for using the Classic name, so the Classic models were updated to the V-series: the V35 stereo through the V140 mono. The VT130 stereo and VT150 mono amps moved our tube amps back to Ultra-linear or Pentode operation in 1994.
Are the crucial components, such as the transformers and power supply capacitors, built in-house or are they sourced out to specialist providers? Are there proprietary features/aspects to these parts and related circuits?
We have not been satisfied with many off-the-shelf parts so we design many of them internally and have them manufactured to our specifications by a number of North American suppliers. This first began in the 1970s, allowing us to improve and fine-tune the performance of all of our products. We use stock Nichicon and Muse filter caps in our power supplies but we design coupling and bypass capacitors with help from our American suppliers. We also use custom internal wiring, in multiple gauges, that are made for us by several American manufacturers.
As I said, these parts allow us to fine-tune performance, particularly the capacitors. There are many fine capacitors readily available that would work for us, and we get them in to try. Some people believe that metalized polypropylene is the best material, or Teflon, or other materials, but you never know. When we are working on a new product we will start with what we have used before and begin experimenting with different wind materials, lead wires, different ways to attach those lead wires, etc. The sound of a capacitor, and therefore the circuit, can be fine-tuned. It is a long and interesting process.
What were the aims in terms of sonic performance in relation not only to 160M but also to classic AR amps like D-150 and VT-150/VT-150SE?
The first thing that comes to mind for many people is advancing the state-of-the-art but what we strive for goes beyond that. Our goals have never changed from the time Bill Johnson founded Audio Research: to strive for greater realism in reproduced sound. When you or I hear a live instrument like a piano, or a trumpet, or a violin, even without seeing it, even in an unfamiliar environment, each of us knows it is a live instrument. When it comes to reproduced sound, we want to break through that barrier and sound real. Alive. No artifacts, no exaggeration, no coloration, with lifelike micro- and macro-dynamics.
In 1976, Gordon Holt of Stereophile said the D-150 had no sound of its own with the best loudspeakers of the day. Harry Pearson of The Absolute Sound agreed. There was no higher compliment. The VT150-series continued that design goal and now the 160M and 160S continue the goal of neutrality and realism. We have made great advancements over the years without changing the mission.
On to the Reference
The negotiations to obtain the Reference 160S for review had commenced soon after its announcement as the stereo version of the 160M monos. Once the first shipment arrived in Australia I was contacted by Phil Sawyer, principal of Australian distributor Synergy Audio, to inform me of freight preparations and timing. My concern was running-in time – and my lack thereof – so Sawyer kindly offered to clock as many hours as possible prior to shipping to SoundStage! Australia's HQ.
Ergo, upon Synergy Audio departure, I was informed the 160S had been run-in for a few days prior to shipping. I ran it for yet another 25 hours prior to serious evaluative listening. The amp comes snug in a massive double box setup. Within, the valves are housed in two separate boxes, with one of the boxes also containing a hex screw driver (for removal of valve cage screws), a series of spare fuses and the comprehensive user manual.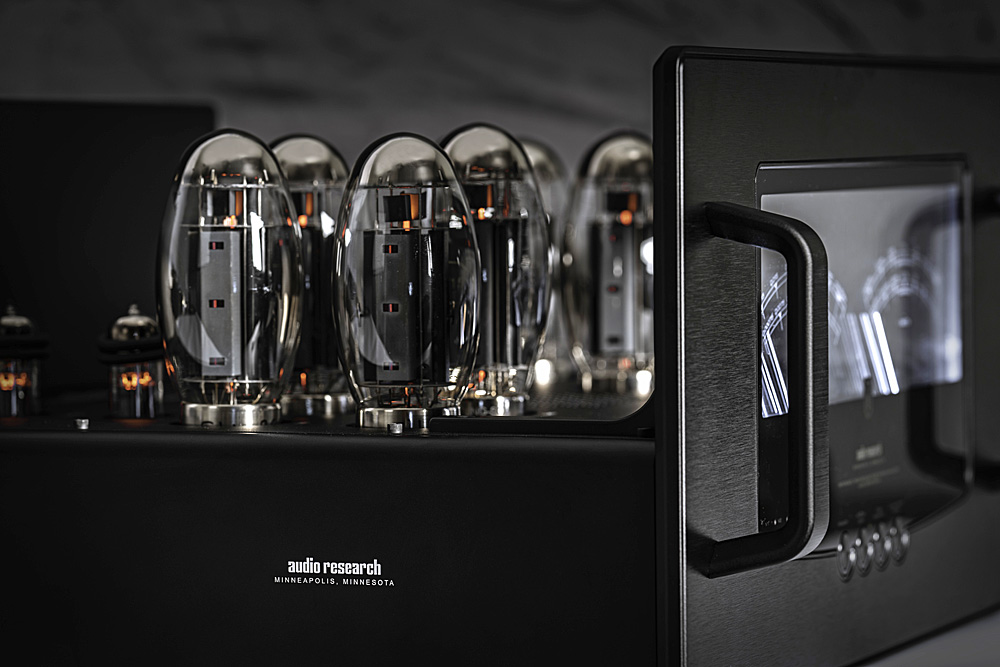 As expected, the build quality of the Reference 160S is excellent. Ditto for the unit's styling, highlighted by the subtly back-lit see-through meter display. I ran the 160S via its balanced XLR inputs and the 4 ohms tap. Said taps are also available in 8 ohms and 16 ohms options via sets of good quality binding posts. The rear panel also houses a trio of small toggle switches for 'Auto Shut Off' with defeat position, fan speed selection (more on this later) with high and slow options and RCA/XLR selection. Further connectivity is provided for comms via 12V triggers and an RS232 D-type socket. A small window shows an LCD hour counter which, of course, is an excellent tool for monitoring valve usage and remaining life expectancy. Note Audio Research's preferred 15 amp C-19 IEC socket (suitable cable provided), this being an important factor if you like to sample/experiment with aftermarket AC cables.
The front panel's simple lines are both modern and a tribute to Audio Research of yore, an aesthetic balance that designer Cucuzza has expertly handled through several of the company's products. A power button (the amp cycles through a 60-or-so second start-up process), a meter light switch (off plus three brightness levels), a valve status 'Tube Monitor' check and the Ultra-Linear/Triode mode selector (the LED above the power button will light green for Ultra-Linear and blue for Triode modes).
It's a well-documented fact that my reference speakers, the superb Wilson Audio Alexia Series 2, are somewhat demanding on amplifiers – not brutal but challenging. Having said that, quality amplifiers irrespective of their technology, be it valve, solid state or digital, should be quite capable of drawing-out the loudspeakers' considerable powers. Such was the situation apropos the Reference 160S but with a small caveat which I'll deal with in a few paras below.
It's been my conviction for a few years now, that valve and solid state amplification is on a continuous trajectory where the strengths of each technology begin to merge at a conjoint mid-point. Valve amplification has become more neutral, moving towards accuracy and away from overdone tonal discrepancies while solid state amplifiers – Class-A designs even more so – have refined their often congested presentations, in the process developing truer tonality and more fluidity in aid of the music.
The Reference 160S is a clear example of this speculation. Play any acoustic instrument or vocal and there's a distinct rightness about the tone and harmonic content via the 160S. It's a level of accuracy that defines the inherent tonal signatures. This is combined with a realistic image with a sense of 'body' and presence, without the bloat and sometimes overdone 'warmth' valves of yore often demonstrated. It's an image density that is clear and almost palpable, as far as audio goes.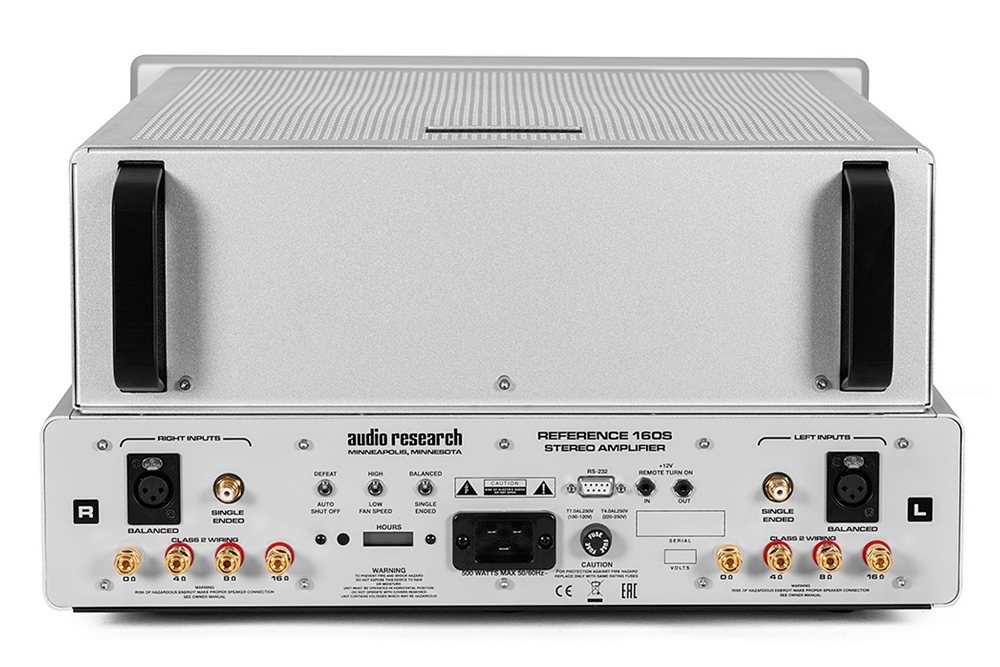 Play a modern and somewhat compressed recording and the Reference 160S does not overtly editorialise, however, its smooth and liquid midrange helps to alleviate the pain of mediocre production and/or mastering. Ben Folds' Rocking the Suburbs is not a reference-level recording by any standard. On the title track, the Reference 160S manages to place Folds on centre-stage and just forward of the loudspeaker plane. The amplifier's resolving power cuts through the compression and manages to expertly separate vocals from Folds' piano and the band's guitars and drums. This is no mean trick… lesser amplification serves you with a loud and cluttered presentation that robs you of total enjoyment, in spite of your appreciation for the music and the song writing. The album fares better on "Fred Jones Part 2" where the 160S precisely places Folds within a spacious soundstage (with exceptional depth) while the delicacy and dynamic oscillations of the piano are rendered beautifully.
Track 8 on the Audio Physic sampler, an excerpt from Mahler's 1st Symphony "Titan", was an open window with a deep view into the concert hall. The Netherlands Symphony Orchestra under Jan Willem de Vriend's baton spread across the room in a massive U-shaped stage behind the speakers. The black silence as the orchestra's playing ebbs away at around the 2-minute mark only serves to enhance the jolt you'll receive when the percussion kicks-in. In Triode mode, this was quite breathtaking.
And right there is what I was inferring to in the paragraph above. While the Ultra-Linear mode offered a precise – and also tonally beautiful – midrange and upper frequency spectrum, when huge dynamic contrasts in the low-end were called for (as in the massive closing crescendo of the Mahler excerpt) the percussion's whack, while strong and tight, lacked a bit of ultimate oomph… of dynamic swing. Keen to investigate this, I flicked across to Triode mode and played the same track (this can be done without having to switch the amp off for an immediate comparison).
Despite the halving of power and against some popular perception (the verdict is split on this among audio enthusiasts), I got superior dynamics and low-end wallop. Yet the accuracy and tonal precision of Ultra-Linear operation was, for the most part, maintained. With my speakers, in the context of my room, Triode provided a more convincing rendition of power, depth and dynamic expression – approaching what I'm accustomed to with my reference Class-A Gryphon Antileon EVO solid state power amplifier. I attribute this to Triode's more holographic rendering of the soundstage with a slightly more present midrange perspective. This is certainly tied-in with the impression of improved dynamic expression as a result of the sound plane being a tad more forward.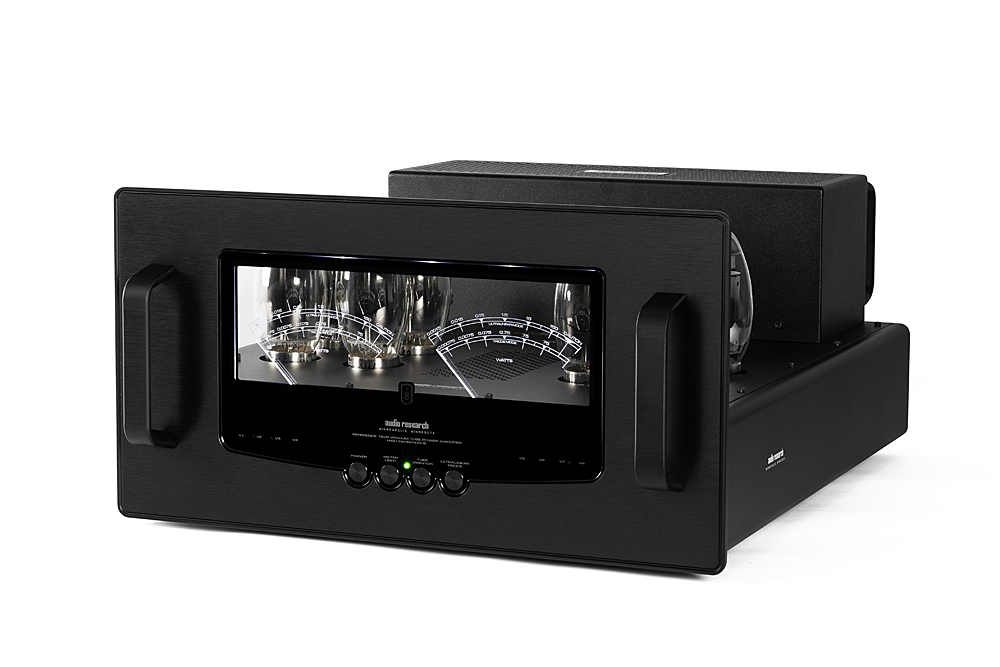 Staying in Triode mode from now on and going back to the same sampler, Charlotte Margiono's soprano on Schuman's "Frauenliebe und Leben" track is pure of tone and, again, placed right back in the soundstage. The 160S recreates a realistic ambience, capturing the 'liveness' of the performance. This is a world-class association of vocal tone, soundfield spread, image positioning, venue ambience and top frequency 'air'.
One of my go-to albums is Ryan Adams' Ten Songs from Live from Carnegie Hall. I love the song writing and Adams' emotive, expressive singing. It's a great recording too, sounding natural and super spacious. The 160S reproduced a cavernously large space in all dimensions including height (this last sometimes a tricky one to get right). When Adams swings his vocals, the 160S is agile from soft to powerful, tracking the fluctuations effortlessly and convincingly. And boy, oh boy, was there depth to that soundstage. Also impressive was the separation between the high level vocals and the often energetic piano where the distinction was easily heard. The 160S is a very strong at resolving complexities and presenting finer subtle detail.
String tone is among the best I've experienced. Whether acoustic guitar, violin or cello, the 160S presents a super-precise impression of the inherent timbre of picked gut or metal strings and the friction of rosin on bow. Finger picks and strums are sharply delineated and the entire demonstration of micro-detail and nuance is rich and true-sounding. Di Meola, Segovia, Browne, Rodrigo y Gabriela and many other great guitarists were pure realistic listening pleasure.
Conclusion
How do you gauge a great valve amplifier? Well, for starters, it should present the signal it's fed cleanly, without distortion or tonal aberrations, just as any amplifier should regardless of the applied technology. What the Reference 160S brings in addition is a purity of tone and a soundfield presentation which is quite something – especially in Triode mode. Rounding out the strengths at hand, the 160S comes from a company with a long, rich history and an envied reputation for exemplary customer support. Pride of ownership is reinforced by million-bucks-looks and last-a-lifetime build quality – nice cherries on top.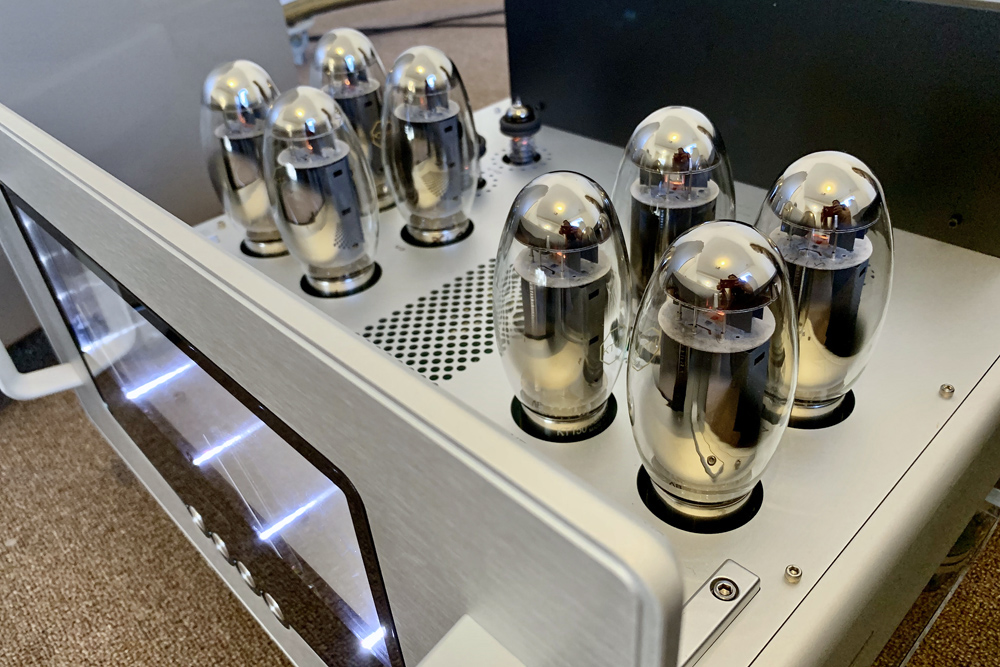 For music lovers who are chasing the purity, engagement and pleasure of music without artefact the 160S presents a solid proposition. Plus, the choice of Ultra-Linear and Triode modes offers an almost-two-amps-in-one option… either one may be your chosen cocktail within the context of your system and palate. For this writer, tipsy on Ultra-Linear then intoxicated with the delights of Triode mode, the Audio Research Reference 160S has proven a most alluring brew. Cin, cin…
… Edgar Kramer
This email address is being protected from spambots. You need JavaScript enabled to view it.
Associated Equipment
Speakers — Wilson Audio Alexia Series 2, Axis Loudspeakers VoiceBox S (nearfield monitor), Vermouth Audio Little Luccas Mk.II
Amplifier — Gryphon Audio Antileon EVO
Preamplifier — Supratek Cortese, Lightspeed Attenuator LDR passive
Sources — Digital: Yamaha CD-S2100 transport, Chord Electronics Hugo M Scaler, Totaldac d1-core DAC, Asus PC as Roon Core. Analogue: Michell Engineering Orbe with Gert Pedersen Level 3 modifications and Origin Live Ultra upgraded motor, Trans-Fi Terminator air bearing linear-tracking arm, Shelter Harmony cartridge, Supratek Cortese & REDGUM Audio RGPH2 phono stages
Processor — DEQX PreMate
Cables — sILENzIO loom, Vermouth Audio Black Pearl Mk.II loom, Vermouth Audio Reference loom
Audio Rack — SGR Audio Statement Model V
Miscellaneous — Les Davis Audio Viscoelastic CLD discs, VRC Vinyl Record Cleaning system
Audio Research Reference 160S Stereo Power Amplifier
Price: AU$34,995
Warranty: Three years, 90 days on tubes
Australian Distributor: Synergy Audio
+61 3 9459 7474
www.synergyaudio.com
Audio Research
3900 Annapolis Lane North
Plymouth, Minnesota USA 55447-5447
+1 763-577-9700
www.audioresearch.com