Meridian Audio is a name known to most if not all audiophiles. It's an established audio company that dates back to 1977 – only a handful of high-profile, high-end audio companies can tout a longer history. But longevity in the audio business doesn't, on its own, keep the doors open. Meridian Audio has continually succeeded by being one of the best audio and acoustic engineering companies in a market known for intense competition.
Meridian released the first known active loudspeaker into the consumer market – the M1. When the Compact Disc was introduced in 1984, Meridian was the first to release the world's first audiophile grade CD player, the MCD. Later they released the world's first digital sound processor. And of course, they created the Sooloos music server, and more recently, MQA (Master Quality Authenticated) which has since been spun off into a separate company.
People familiar with the Meridian brand will likely know the Meridian DSP8000 Digital Active loudspeakers, the Meridian 808 Signature Reference CD Player and Ultra DAC. But as well as those reference quality products we also have the subject of this review – the Meridian Reference Two-Channel 857 Power Amplifier.
So long as it's black
Henry Ford famously said that you could have his Model T in any colour you liked so long as it's black. Invariably, you'll see Meridian gear in black glass and black brushed aluminium. However, the Meridian Reference 857 is available in pretty much any colour you wish – of course such requests are custom built and do incur a waiting time and premium charge. I suspect that most audiophiles will opt for the black.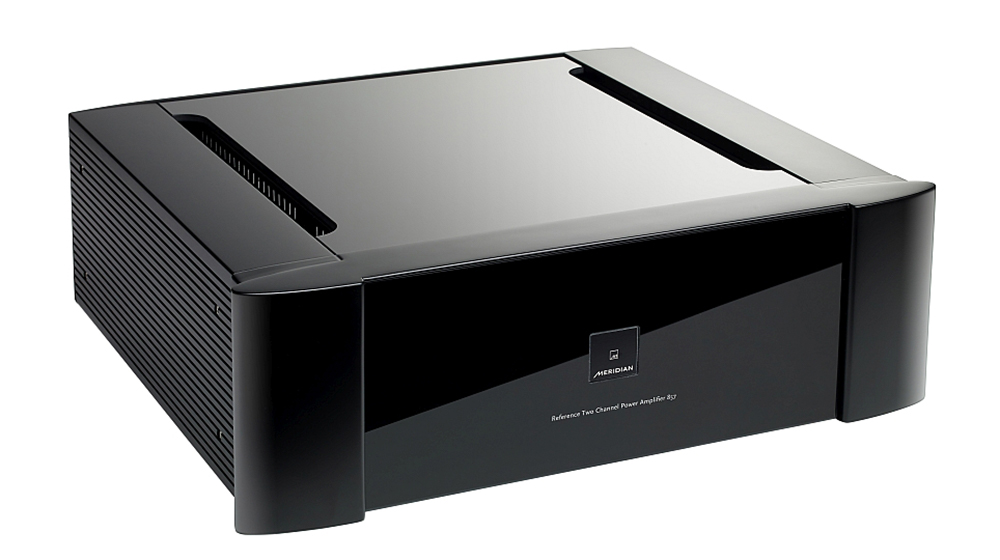 The front panel is extremely clean looking with only a large square soft-touch button within an illuminated perimeter light situated in the exact centre of the gloss panel. In standby, the perimeter light is blue. A very soft touch quickly switches the 857 into operation mode and the perimeter light then illuminates in green. If the fans get activated then the perimeter light turns to an amber colour – this is normal operation, the sound quality is not affected. If the perimeter light turns red then it means the amplifier has overheated – immediately turn it off and let it cool. If the perimeter light goes blank (unlit) then it means the amplifier has been 'tripped', likely due to an input with a DC offset or a shorted output. Immediately power it down via the rear switch and check all connections before powering back up. In all my time listening I only ever saw a blue and green perimeter light; the amplifier behaved impeccably. Unlike some amplifiers, it didn't matter if you accidentally broke the cardinal rule of always turning it on last and off first (which avoids any power surges through to the speakers). Its soft start and shutdown ensured no issues, but it's best to be safe and do the right thing.
My review unit was in black, of course! The fit and finish was exemplary. The black glass was uniform – no flaws to be seen on the top or front panels. The aluminium was clean cut with no sharp edges anywhere. The 857 does indeed look like an expensive reference quality amplifier.
Reference Quality
The flagship Reference 857 is the most powerful stereo amplifier from Meridian. It provides 250 watts per channel into 8 ohms and 500 watts into 4 ohms. It is biased to run in Class-AB, the documentation does not indicate how many watts are in Class-A. If you use two 857 amplifiers and bridge them, you can achieve 1.5 KW into 4 ohms in a mono block configuration. Its 1 Hz to 100 kHz bandwidth offers excellent capability for today's high-res audio. Its low open-loop output impedance allows the 857 to achieve excellent measured performance with very low distortion and a high damping factor while only applying modest amounts of negative feedback. Its output impedance is very low – the 857 can drive virtually any quality passive loudspeaker system.
Meridian's proprietary 'Superbal' circuitry uses shunt feedback to eliminate common mode distortion. It is a symmetrical design with fully electronically-balanced inputs. Signals on the unbalanced input are immediately converted to balanced, so the benefits of 'Superbal' are available to both balanced and unbalanced inputs.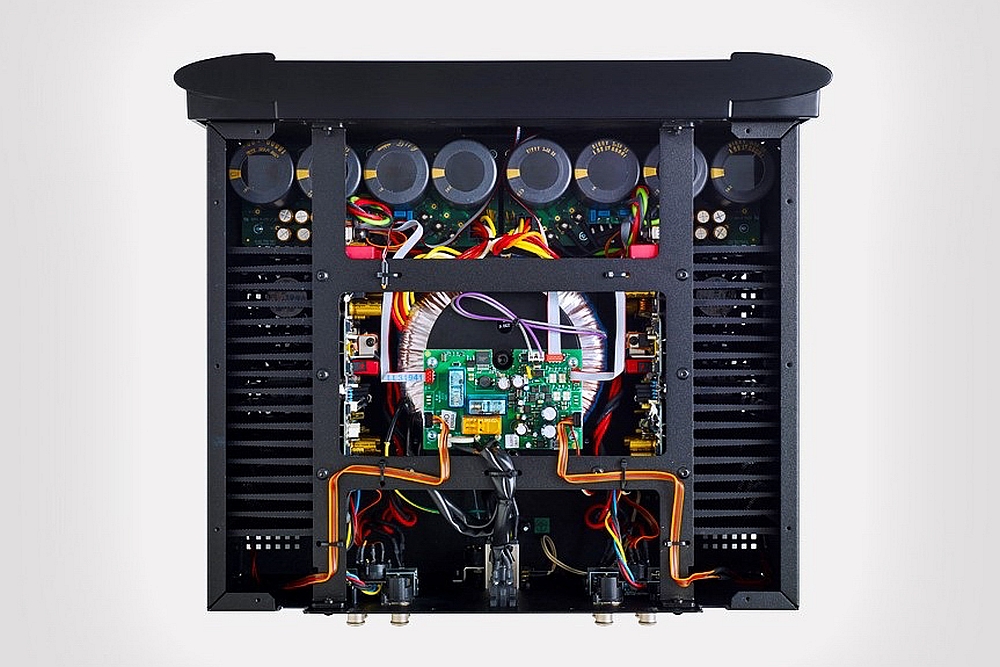 It also features active bias control throughout that manages the temperature and current flow at different volume levels. The 857 is fully DC-coupled. The signal path has no unnecessary capacitors, and those used in the power supply are audiophile grade. The massive low-noise toroidal power transformer provides power to five pairs of carefully selected output devices per channel. The power supply capacitors and output terminals are connected in the amplifier using 12 gauge 147 strand OFC silver-coated cable to maximise power transfer.
The 857 amplifier is 195mm (7.7 inches) high with standard feet. If you wish to install after-market feet, note its height without feet is 175mm (6.9 inches). Its width is 480mm (18.9 inches). Its depth is 445mm (17.6 inches). The 857 weighs a hefty 32kg (70.5 lbs). If it is rack mounted in a cabinet then you'll want to give it some breathing space. Meridian recommends at least 10 cm around it to assist with cooling.
The connectors and switches on the back panel are all high quality. Four WBT terminals per side allow bi-wiring. The binding posts are of high quality and tightened and loosened easily by hand. They provide for connection via bare wire, spades or bananas. Even the switches to select bridged mode and balanced mode appeared to be made of aluminium, not plastic.
It has a highly effective passive cooling system with fins that are shielded on the sides to prevent cuts to hands and legs. It also has three temperature-controlled silent-running fans on each side for additional cooling – the fans are activated only when required. They run at two speed settings to minimise any acoustic noise. In my system the 857 was exposed on all sides so it breathed easily and the fans were never activated. It only ever ran warm to the touch, even at high volume levels.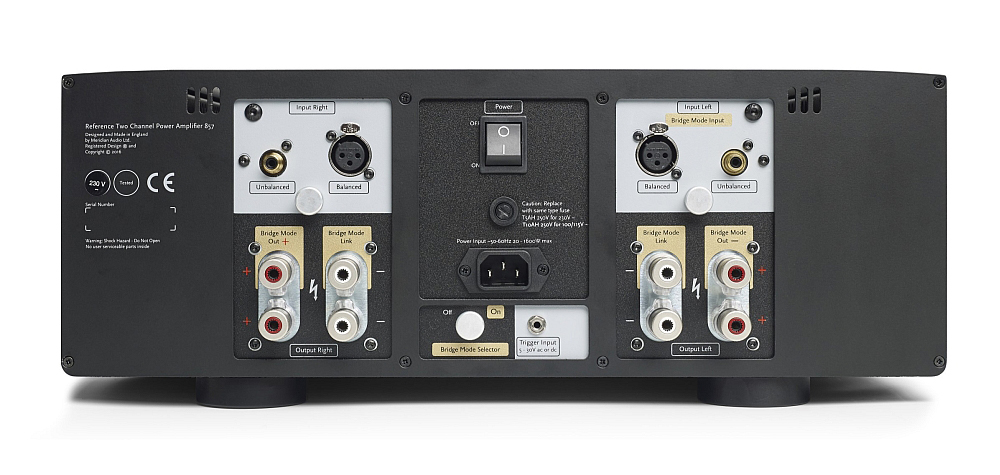 Meridian offers a generous five year warranty. The Reference 857 comes with a hard-cover User Guide that contains a lot of useful information, including detailed diagrams and text on how to bridge the amplifier. The required cable to bridge the amp is provided, should you wish to run the amplifier in bridged mode.
Listening
The Meridian Reference 857 did indeed offer reference quality sound. It proved to be extremely quiet, very refined, resolving yet smooth in the midrange and treble. It was very open and transparent with a very clean and musical sound.
When first installed, it was stone cold and did take quite a few hours before it came "on song", but when it did, it was ready to shine. I left it on stand-by between listening sessions, and when doing comparative listening via my reference amplifiers. When I switched back to listen to the 857 it needed 20-30 minutes to start sounding excellent once more. It is an amplifier that benefits from being left on stand-by when not in use.
At this point I should say that I couldn't easily do ABX comparisons against my reference monoblocks. I did switch back and forth quite a few times, but it took 10 to 15 minutes to make the switch. So of course, I was relying on "sonic memory" for my comparisons. I did an initial check of the SPLs of the two amplification systems and in listening I ensured that the difference was accounted for – the SPLs were likely not matched exactly but it was close.
Simone Kermes' incredible soprano voice can be a bit piercing at high volume, so I figured it was a good test of smoothness and refinement. I listened to "Lascia ch'io pianga" from her album Dramma at my usual volume. Her voice came through the mix with sweetness and clarity. The harpsichord could be heard softly but clearly in the background. Her voice on the peaks was a little bit less piercing than my reference monoblocks. This is an amplifier that exhibits very low distortion. A good start I thought. I listened to the track again at a much lower volume, yet instrumentation and her voice seemed in balance, everything was still clear relative to the volume.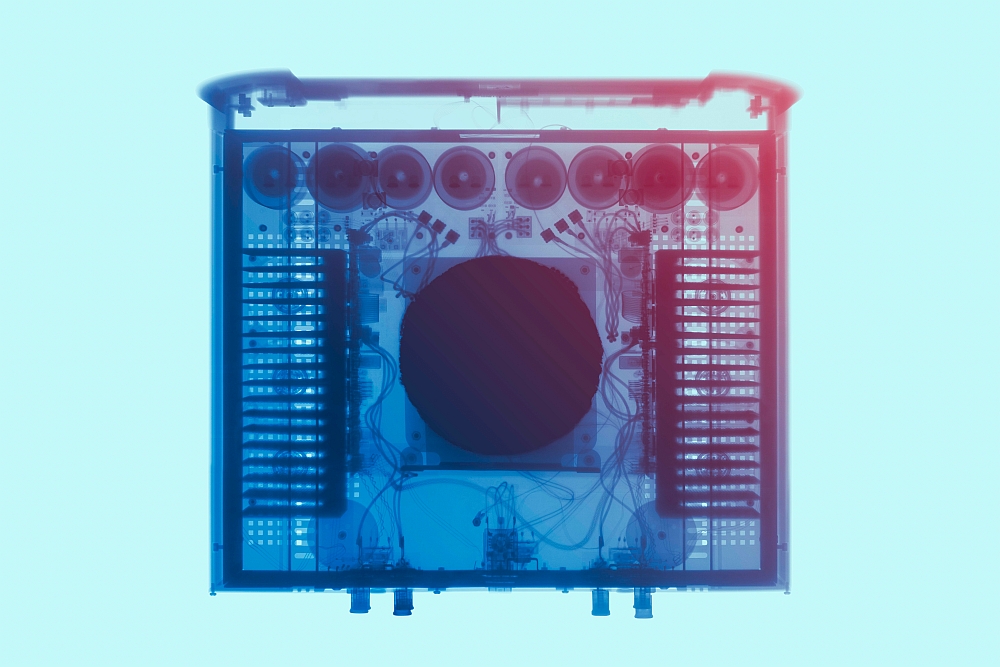 To further test transparency, openness and tonality I listened to "Kernow" from the Anouar Brahem album Thimar. This is a quiet recording with exceptional timbre of the oud, bass and hand-drum. The tonality of the instruments and their separation and the empty space between them was exceptional through the 857.
I then listened to a less than stellar recording to see whether the 857 would reveal all the good and the bad. Eva Cassidy singing "Songbird" from her album Songbird was very clean and transparent with good air and articulation. There was the requisite breathiness in her voice, the slight sibilance. The harmonics in the acoustic guitar were well portrayed.
Next up was "Walking on the Moon" by the Yuri Honing Trio on their album The Star Tracks. I played this very loud to hear the bass performance – it was tight, punchy and solid, not as prominent as my reference amplifiers but nicely balanced and well-controlled. The overall sound was clean with good dynamic contrasts and a delicate feel in the quiet parts (and the quiet parts were very quiet). The saxophone was sharp but not hard or shrill, just the way it should be. The drum work was intricate and articulate, the cymbal work clean and natural. The track offered up excellent detail retrieval and resolution.
I tend to listen at sane volume levels as I value my hearing. But that said I did push the 857 to high levels for short periods. It never lost control, never sounded strained or amusical.
There was good solid punch in the kick-drum of "Orange Crush" on R.E.M.'s album Green (24/192) when played at high volume. Also at high volume, I played "Back in Black" from the AC/DC album Back in Black. Again, there was excellent detail retrieval and resolution but it felt like the band was holding back a little compared to my reference amplifiers at matched volumes. The 857 lacked that last ultimate bit of "slam" and drive required for a massive powerful jarring pressurised sound field. That said, the 857 didn't congeal the sound or run out of puff – I sensed I could turn it even louder and it would happily power along. My ears advised against it though.
"In My Secret Life" on Leonard Cohen's Ten New Songs can sound a bit "slow" and ponderous due to the overly heavy bass inherent in the recording. The 857 managed to pick up the pace a bit – it sounded punchy, clean and perhaps less ponderous. The layering and separation in the vocals of Cohen and the background vocalist (the excellent Sharon Robinson) was very good.
It may sound odd, but sometimes I check that the clapping of an audience sounds like an audience clapping and not something a bit like white noise. There's something about clapping that some systems have difficulty with – of course you can hear clapping but sometimes there's other artefacts coming along for the ride that just don't sound natural. To test that, I played "These Days" (and the immediately preceding "Intro" track) from the Jackson Browne album Solo Acoustic Volume 1. There was good clarity and tone in Browne's voice, and his acoustic guitar sounded like the guitar type it is. An aside note… a line in the song goes "And I had a lover. It's so hard to risk another these days." He wrote that when he was only 16 years old! It sounds like he's much more optimistic "These Days". And yes, the clapping sounded quite real but to my ears there was a wee bit of unnatural noise tagging along. I hear something similar through my reference amplifiers, so I'll keep working on improvements in my system.
The track "New Dawn" in the album New Dawn by Dominic Miller and Neil Stacey is a soft, dreamy, incredibly refined and layered piece that sounded quite amazing. It offered a huge soundstage and a great sense of depth. Because the 857 is so transparent and quiet (when it should be) it allowed me to really sink into the music. I found myself often returning to this piece and other tracks on the album.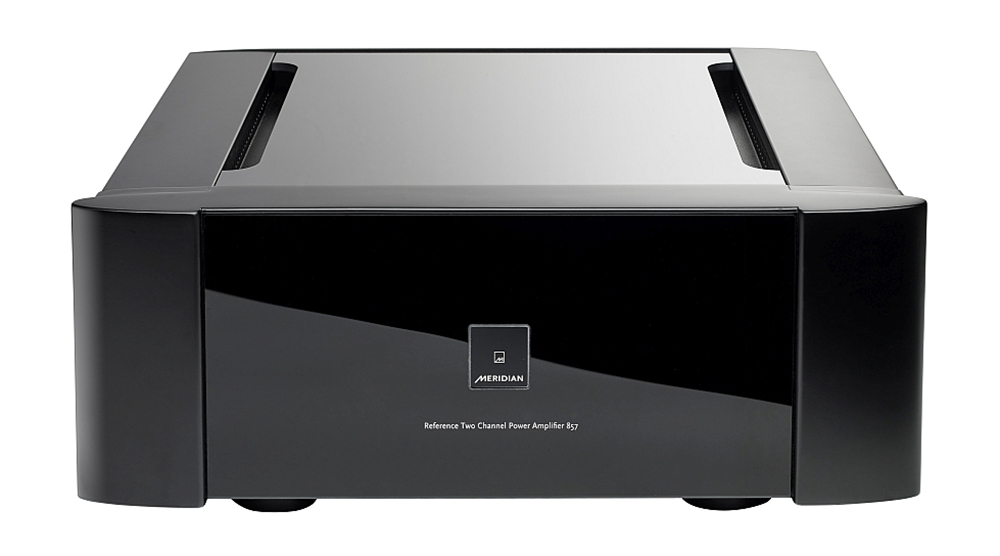 Another great album in rotation these days is In Movement by Jack Dejohnette, Ravi Coltrane and Matthew Garrison (24/96). The track "Serpentine Fire" is slow simmering with a constant grumbling repetitive bass line – in a few places it cuts loose and gets very intense and loud. The 857 offered a wonderful spatial soundstage – the drums were centre and set back, the bass menacing in the left channel with the alto sax sharp but clear and clean in the right channel. Eventually cymbals cut through the din in the centre and shift forward and to the left. All instruments sounded natural, their tonality and presence was very real. Their place within the soundstage always sounded right and coherent, and they never sounded out of control. By the way, you need to play this one loud to get the full impact.
"Romanze" by Evgeny Kissin on Mozart Piano Concerto No.20 in D minor offered natural vivid string tone with no undue or unnatural harshness. You could clearly hear that the piano was distantly miked yet offered vivid, wonderful life-like tonality. The balance of orchestra and piano was perfectly portrayed within an open and transparent soundstage.
Lastly, I played a track from the Blue Coast Producers Choice Volume 1. Most of these tracks are acoustic and very well recorded. A favourite is by Keith Greeninger and Dayan Kai, a track titled "Bid You Goodnight". It has minimal instrumentation – just two voices and two guitars. The 857 provided excellent timbre and vivid realism. The presentation was very open and transparent, you could easily follow each voice and guitar, all were in their own space but musically formed a complete beautiful sound scape.
Conclusion
The Meridian Reference Two-Channel Power Amplifier 857 is definitely worthy of the "Reference" moniker. And it's sophisticated and ultra-refined appearance and impeccable build quality lends itself to the Meridian aesthetic – you really couldn't confuse it for anything else.
My only regret in this review is that I reviewed a single Meridian 857! I felt that a pair running in bridged mode would have brought things to life even more. Although the single 857 is very good, it couldn't match my reference monoblock amplifiers for utmost control, cavernous depth and huge dynamic contrasts. If your musical staple diet is industrial metal, death metal or the like then perhaps the 857 isn't the amplifier for you (but give it a listen anyways!). Instead, the Meridian 857 is more about creating a refined, vivid, powerful yet smooth and coherent musical presentation.
I totally enjoyed my listening sessions with the Meridian 857. Its musicality allowed me to easily sink into any music genre – it never failed to sound wholly natural and inviting. The Meridian 857's purity, accuracy, life, presence and transparency were extremely satisfying. Indeed, the Meridian Reference Two-Channel Power Amplifier 857 is a true reference product.
… Tom Waters
Associated Equipment
Speakers — PMC MB2 SE speakers with ANTICABLES Level 5 Signature jumper wires
Amplifier — Mark Levinson 33H monoblocks
Preamplifier — Trinnov Audio Amethyst
Sources — Gryphon Mikado Signature CD Player, Mac Mini (running Roon Core), Bricasti M1 DAC
Processor — Trinnov Audio Amethyst
Cables — ZenSati #1 and #2 interconnects and speaker cables, sILENzIO S/PDIF, Nordost Tyr 2 AES-EBU, AudioQuest Vodka Ethernet cables, Nordost Tyr 2 power cords, Synergistic Research Hologram A and D power cords, ANTICABLES Level 3 Reference power cord, Nordost Purple Flare (Figure 8) power cords (for Mac Mini and router).
Audio Rack — Schroeders and Schroeders, Symposium Ultra custom-made amplifier stands
Miscellaneous — Nordost Quantum QX4 line purifier, Nordost Quantum QV2 AC line harmonizers, Nordost Quantum QK1 AC Enhancer, Nordost Quantum QB8 power distribution, dedicated 20 amp power lines, Stillpoints Ultra 5 isolation footers, Stillpoints Ultra SS footers, Symposium Rollerblock Jr isolation footers, Symposium shelf
Meridian 857 Reference Two Channel Power Amplifier
Price: AU$15,269
Warranty: Five Years (Three Years for units purchased prior to June 1 2016)
Australian Distributor: Cogworks
+61 7 5415 0337
www.cogworks.io
Meridian Audio
11, Latham Road (10,505.03 mi)
Huntingdon PE29 6YE
United Kingdom
+44 1480 445678
www.meridian-audio.com