High-end specialist Gryphon Audio Designs is renowned for the quality of its products in all aspects of design, be it style, engineering principles or sonic performance. Recently, the company has had considerable success with the astounding Diablo 300 integrated, a powerhouse offering which, as the name suggests, is rated at 300 watts per channel. The Diablo 300's modular design is capable of accepting a top-shelf DAC and phono stage while bearing the usual Gryphon (for short) engineering and artistic design flair. Now, that glorious integrated amplifier sees the spawning of an offspring in the Diablo 120, a smaller sibling with just about half the power albeit with its bigger brother's outstanding nuclear DNA running strongly through its circuit chromosomes.
Indeed, the gene pool at Gryphon now features a 'mini-me' version of the beastly Diablo 300 with the new Diablo 120 inheriting somewhat downscaled – but uncompromised – circuitry and a slimmer, some may say more sveltely attractive appearance via a reduced fascia profile. But make no mistake, this is a Gryphon through-and-through, which translates to high power, unyielding command of your speakers no matter their current demands and the sonic beauty and subtlety that only the very best solid state amplification can achieve.
Devil in the Details
The unit provided for review was a straight integrated amplifier sans DAC or phono stage. I hear great reports re the quality of both those optional modules – which, of course, can be purchased at any time independently – with many design aspects and performance features being trickle-downs from higher grade Gryphon fare. Adapting these to the Diablo 120 architecture and re-imagining them to accommodate the lower price point meant very little, if anything, in the way of compromise.
So the Diablo 120 is a Class-A/B, dual-mono, balanced circuit, DC-coupled, zero global negative feedback design with, as is the usual case with Gryphon products, a massive power supply, this last being always associated with extended dynamic expression and thorough bass capabilities. To support this, you'll find a large custom-designed 1.2KVA Holmgren toroidal transformer (weighing 11kg) backed by large twin capacitor banks totalling 120,000 micro-farads. No doubt, this is a high current design further evidenced by its rated 120 watts per channel into 8 ohms which then doubles down to 240 watts at 4 ohms and capable of producing 440 watts into 2 ohms. I have no qualms in stating my confidence in the amplifier being proficient with momentary lower impedances still.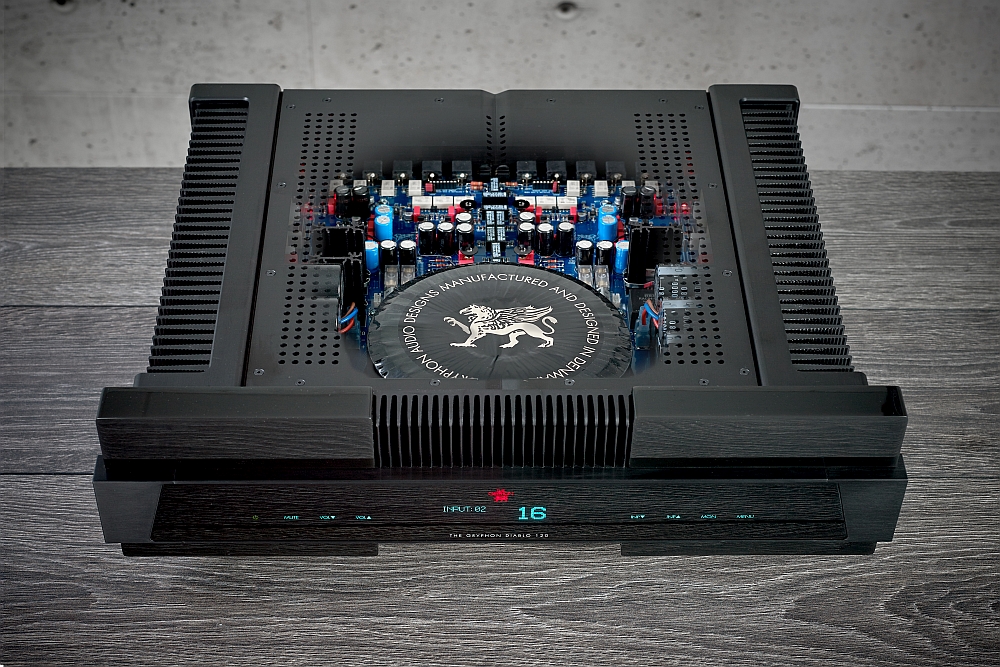 The Diablo 120's dual differential input topology uses low noise BJTs from Diodes Incorporated while the driver stage implements Motorola BJTs. The amplification output stages comprise of two pairs of high power Sanken 2SA1216/2SC2922BJTs per channel.
Tom Møller from Gryphon Audio Designs R&D told SoundStage! Australia:
The Diablo is a true Gryphon and has all the trademark features, such as high bandwidth, high speed, zero negative feedback, dual mono, all discrete signal circuits, no internal wiring, all the same as Diablo 300. We used a 46-step relay volume attenuator for best sonic performance featuring only up to six resistors in series with signal at all levels. The Diablo 300 volume attenuator is even more refined, using only up to 2 resistors in series with the signal at all levels and is a fully balanced topology.
We upgraded the Atilla while incorporating as much as we could from Diablo 300. The 120 is not a small Diablo 300, it is an amplifier standing on its own feet with its own identity.
Another Gryphon engineering trademark when it comes to amplification is the company's adherence to wide bandwidth designs. The case here is illustrated by the Diablo 120's frequency response being quoted to span from 0.1Hz to 250kHz (the company's massive Class-A amplifiers extend that further still to 350kHz and 400Khz). The specified SNR (Signal-to-Noise Ratio) is 88dB A-weighted while the THD+Noise (Total Harmonic Distortion) is given as being under 1-percent at full 120 watts of power at 8 ohms.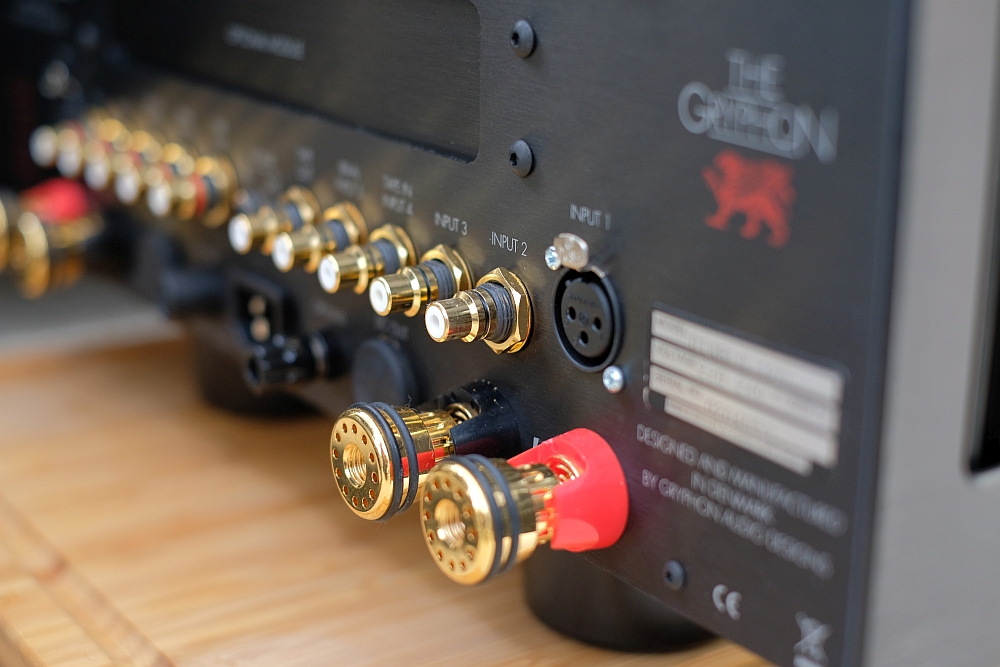 As discussed above, the Diablo 120 features the same build quality as its larger brother but in a downsized form factor. Connector quality is superb, of course, and on par with even the far more expensive Class-A power amplifiers and Gryphon's preamplifiers. So Teflon-insulated RCA and gold plated Neutrik XLR connectors are of the highest quality and number four (includes a Tape In) of the former and one of the latter. A further RCA socket is for Tape Out. In and Out 12V triggers are provided for connectivity to external Gryphon components. Gryphon's own proprietary speaker binding posts are provided and, in this writer's opinion, they are among the very best in the industry. These large gold plated terminals are easily hand-tightened and hold either banana plugs or a variety of spade sizes (or bare wire, for that matter) in a rock-solid grip.
The fascia design reflects the current Gryphon industrial design with faux heatsink motif that has applied across the Diablo 300, the new Sonett phono stage and the top-end monster Mephisto power amplifier. The Antileon EVO features some subtle aspects of this aesthetic but enjoys its own design theme (a rather attractive one at that too). The thick black acrylic fascia side accents are split by a cross-sectional panel in black anodised aluminium with an acrylic 'window' housing the centred – and rather classy – Vacuum Fluorescent Display. The display shows information provided via the in-built microprocessor (input, numerical volume level, etc.) and is powered by its own independent isolated supply. On either side of the display are rows of soft-touch backlit buttons; on the left the Mute and volume up/down (the 46-step microprocessor-controlled passive volume design) while the right hand side controls feature independent buttons for input selection up/down, the Tape Monitor button and finally the Menu selector which helps navigation through the various setup options such as input naming, display dimming, home theatre pass-through selection and more.
The optional phono stage module caters for both MM and MC cartridges with relevant gain options while the DAC module features a comprehensive array of capabilities including playback of high-resolution files of all types spanning to DSD512. It also features multiple connectivity options via USB, S/PDIF (coaxial), AES/EBU (XLR) and TOSLINK optical. In other words, the Diablo 120 can be configured to be the hub of a high quality analogue and digital stereo system.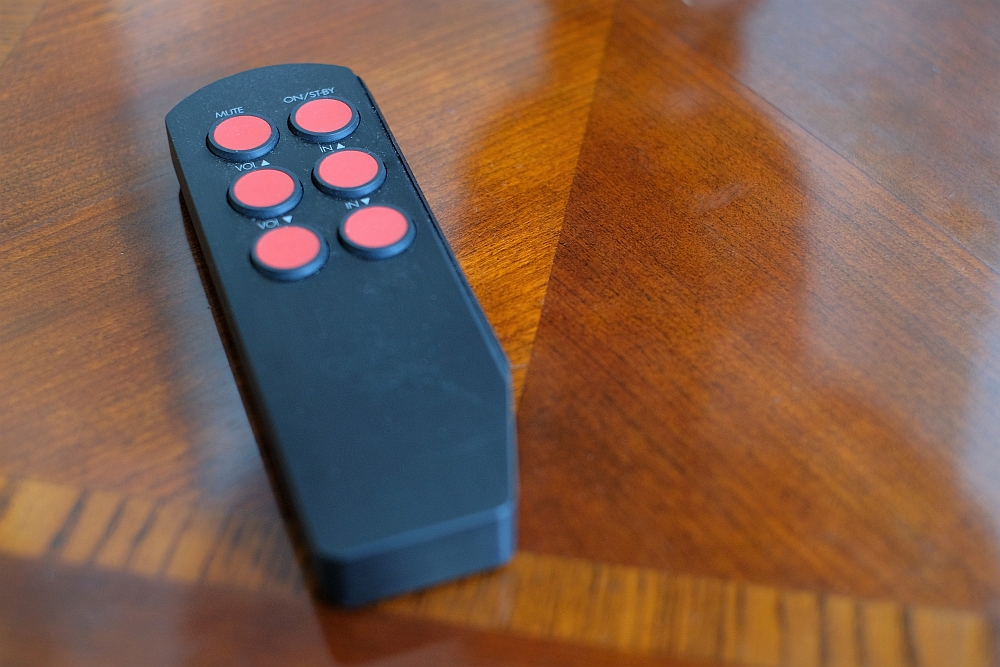 The included remote control unit is a solid aluminium number with large circular red long-travel buttons featuring a solid 'click' action. Of course, there's volume and input selection control with added buttonry controlling Mute and Standby/On functions. Again superb functional design is obvious; a thick rubber bottom panel avoids coffee table scratching while the bottom right hand corner cut-out allows easy ergonomic usage (adapts to both right and left handling) – it just fits the hand naturally and comfortably.
Fiendishly Attractive
The stubbornly unwavering grip and control I'm accustomed to via my reference Antileon EVO amplifier is almost replicated via the Diablo 120 – this is something also noted in my review of the Diablo 300 some time ago for another publication. Now, I've said "almost replicated" because neither Diablo integrated can entirely match the depth, devastating power and control of the Antileon EVO power amplifier (nor the Colosseum of Mephisto brethren) but they certainly perform on par with the very best in integrated amplifiers – bar none.
My reference speakers, the Wilson Audio Alexia Series 2, are a challenging load that, however, recompenses with stunning (literally) bass power and dynamic swing. The amplifier needs to play ball competently or you end up with undefined, uncontrolled low frequencies. No such issue here. Diablo 120 is a powerhouse of tight-fisted control. And it's not just control for the sake of it… no, here are bass notes with texture and detail and subtlety of expression. Meaning the musicians' technique and handling of the instrument, whether subtle brush or brutal pluck, will be communicated in a most accurate manner; the Diablo 120 will not miss nor misinterpret the musical message. Especially gratifying are tracks with strong drumming where toms and kick are powerfully concussive – you feel it in the pit of your gut – while still allowing the snare to cut incisively.
Spectacular power and transient attack was demonstrated via Brian Bromberg's "Come Together" from his Wood CD, where his manic plucking and virtuoso dexterity was a pure toe-tapping extravaganza. Ditto for the somewhat-overdone-yet-still-so-much-fun "Sergio Leone" from Jackson Browne's The Naked Ride Home where the bass notes and low frequency excesses mid-song were devastatingly powerful and deep. Of note was the fact that under such duress – and trust me, I rocked out with demanding low frequency gymnastics – the littlest Gryphon did not even raise a bead of sweat (somewhat of an overused analogy for the amplifier's replaying of the hardest, deepest bass notes in a dynamically uncompressed, fully musical way).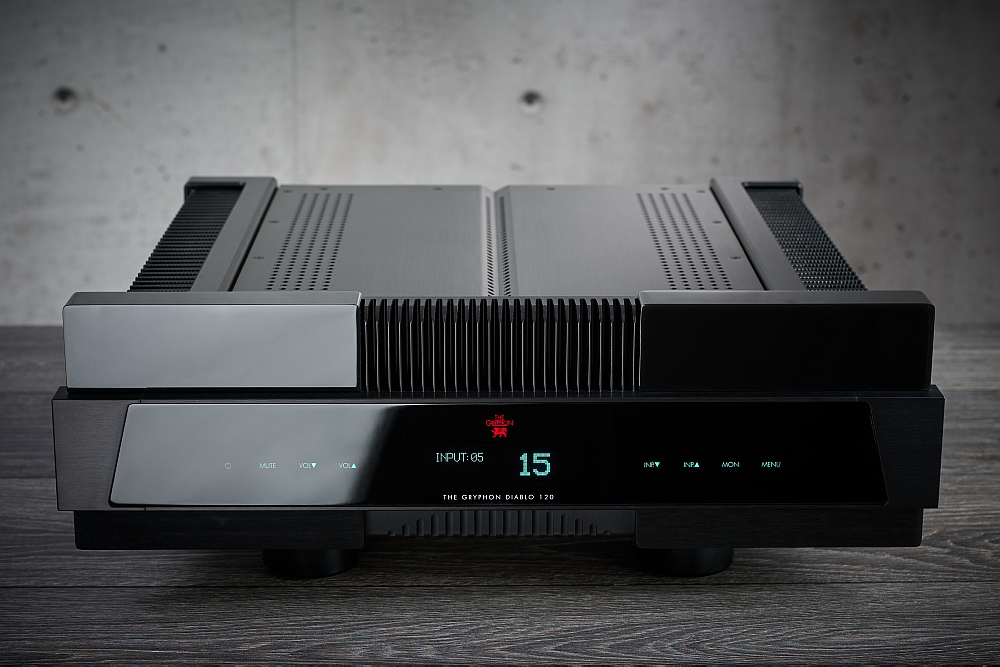 As enjoyable as great bass is, the music mostly lies in the midrange. I have a whole stream of vocal tracks, both male and female artists across all genres, which are used to audition and review components. From Karen Carpenter (via Clarity Cable's sampler) to Kim Deal and Kim Gordon and from Harry Belafonte to Black Francis and just about every style in between. The Diablo 120 was never strident or forward – nor reticent for that matter – and always presented a neutral and explicit view into a singers tone. Vocal and instrumental separation, no matter the complexity of the music and mix (yes, "mix" because some are atrociously compressed and chaotically congested), was exemplary and provided satisfying insights into the musical context. Carpenter's perfect intonation and beautiful tone, Gordon's hypnotically sexy drone, Belafonte's expressively clear accentuations and Francis' wild angst-ridden growls were all handled with accuracy and startling verisimilitude.
A massive soundfield was yet another impressive feature of the Diablo 120. Large recording or live performance spaces, such as the arena-like venue where Ani DiFranco's "Amazing Grace" from the album Living in Clip was captured, sounded enormous. The sense of echoes, placement cues and reverberations bouncing back from the venue's boundaries through sections of the crowd, seemingly tens of meters away, was superbly rendered within the confines of my listening room.
Going back into the not too distant past, it used to be that the tonal/timbrel and harmonic qualities of acoustic instruments, done right, were the exclusive domain of good valve amplification. Solid state amplifiers gave you control, punch and dynamics but, barring pure Class-A designs, were thought to congest complex music while bestowing a subtle, yet potentially obtrusive, brilliance to timbres of traditional instruments. This is no more, my friends. The Diablo 120 – and many other well-engineered and competently-designed integrated amplifiers nowadays – can reproduce the majestic beauty of a well-recorded piano or cello or guitar, with extended harmonic content, textural complexity, realistic detail, tonal accuracy and a splendour to rival the best valve amplification. Ditto for the instruments' sense of 'body' where the Diablo 120 portrays the 'weight' of the instruments – that difficult to describe 'density' and 'presence' in musical content that also carries across vocal reproduction.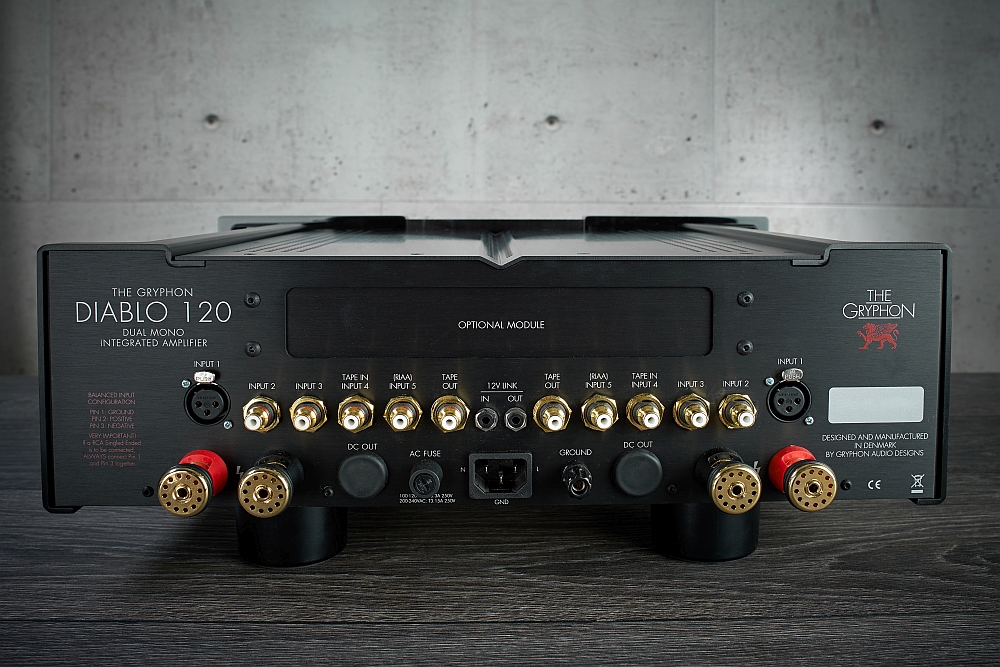 Something that happens with great amplification is that resolution and separation form a strong part of the musical experience. I've been fortunate enough of late to have had, in-house for review, a number of components (at different price points) that have captured both my imagination and my senses at the time of listening. We are at an important stage in the evolution of audio equipment where performance is offered at both extremes of the economic scale. While by no means a budget product and placed towards the summit of integrated amplifiers, the Diablo 120 is priced at the lower mid-point (roughly) of general high-end audio amplification.
Having said that, I'm extremely fortunate to have Gryphon's own Antileon EVO power amplifier which totally owns all of the best attributes of both Diablo models taking their considerable strengths, and so much more, to another level. As it should too, being a pure Class-A design at multiples of both Diablos' cost. The important thing here is that the Diablo 120 has been a thoroughly musical and powerful communicator, something that in the past was considered only the realm of the über high-end. At this level, with the Diablo 120, we are really stretching the envelope of what is possible when engineering competence is at its highest.
Conclusion
While the Diablo 300 offers more than double the power and, within some system contexts, may be a slightly more refined beast – just subtly more so I'd qualify – its little brother, the Diablo 120, plays with its own excellent set of strengths of equal distinction. If I desired minimalism while remaining within the high-end (and if I hadn't heard the Antileon EVO), this professional reviewing gig aside, I could happily live with this amplifier, a good pair of small floorstanding speakers and a simple source (turntable, CD or computer audio via phono stage and DAC optional modules), doing away with expensive interconnects, added components, etc. What simplicity and pure, assured, audio bliss that would make for…
The Diablo 120 is a categorically exceptional performer that just plays music in a way that motivates involvement and sweeps you into pure enjoyment, inhibiting dissection and analysis. Little brother to the Diablo 300 it may be but, as far as this writer is concerned, the superb Gryphon Audio Designs Diablo 120 integrated amplifier speaks with a powerful, musically immersive individual voice. To paraphrase, it proudly stands on its own rather beefy four feet. It will be missed. Devilishly good!
…Edgar Kramer
Editor-in-Chief
This email address is being protected from spambots. You need JavaScript enabled to view it.
Associated Equipment
Speakers — Wilson Audio Alexia Series 2, Axis Loudspeakers VoiceBox S (nearfield monitor)
Amplifier — Gryphon Audio Antileon EVO
Preamplifier — Supratek Cortese, Lightspeed Attenuator LDR passive
Sources — Digital: Yamaha CD-S2100 used as transport, Totaldac d1-core DAC, MacBook with BitPerfect software, AIFF files. Analogue: Michell Engineering Orbe with Gert Pedersen Level 3 modifications and Origin Live Ultra upgraded motor, Trans-Fi Terminator air bearing linear-tracking arm, Shelter Harmony cartridge, REDGUM Audio RGPH2 phono stage
Processor — DEQX PreMate
Cables — sILENzIO loom, Vermouth Audio Black Pearl Mk.II loom
Audio Rack — SGR Audio Signature
Miscellaneous — Les Davis Audio Viscoelastic CLD discs, Nordost Sort Kone BC
Gryphon Audio Designs Diablo 120 Integrated Amplifier
Price: AU$16,395
Warranty: Three years
Australian Distributor: Kedcorp
PH: +61 2 9561 0799
www.kedcorp.com.au
Gryphon Audio
Industrivej 10B
8680 Ry
Denmark
+45 86 89 12 84
www.gryphon-audio.com