Absolare, a company with facilities both within the USA and the Netherlands, is one of the brands that has made me cross a 'divide'. From the introduction of its Passion series preamplifier and power amplifier separates in 2012, Absolare immediately positioned itself as a brand that was luxurious, bespoke and innovative.
The Great Divide
Once upon a time there were audiophiles and music lovers. Audiophiles lived with their cherished machines. They loved them, coveted them, admired them and pondered them. On what seemed like an entirely different planet existed the music lover. They listened, danced, love, lived and died with music. It may seem like an exaggeration but the rift between these two beings was almost superlative. Legend furthermore has it that born from this rift was the self-hating audiophile – a strange hybrid, a music lover that strayed from the fold; learning to appreciate the wires, metals, the tubes and transistors that painstakingly and reverently rendered their beloved music from spinning disc and binary bits into something real. Those few learned to suppress their inner audiophile, to hate it, as though it were a sin to care both for your music and for the equipment that recreated it.
Sure, it all sounds a bit absurd when phrased like that, but I don't think I'm all that far off the truth. Attend an audio club meeting, a special interest group, a listening session or gather enough of our hobbyists (I refer here to a collective of both audiophiles and/or music lovers) into the one room and it doesn't take long to see that there really are two camps at work here.
I'm gonna be honest now… I find myself a member of both camps. Yes, I'm both a music lover and an audiophile, but not all the time and not for all equipment. I love this hobby because it is about the enjoyment of music. For me, most of the time, the equipment is merely a means to an end – the machinery by which my music (and therefore my memories, feelings and fantasy) is brought to life. However, there are certain components and brands that from time to time are able to span that rift. These components are special, unique and in and of themselves, artisanal and wrought from the care, mastery and craftsmanship of someone who is truly at work to make more than just a sound-making machine. These components are in a way, art; and an expression of someone's passion in no way differently to how a fine watch or a supercar are more than just timekeepers or modes of transport. Some components are sheer genius, just like music itself can be.
It is these components that I covet, admire and ponder over, and it is for them that I'll freely admit to crossing that divide. The new integrated amplifier, an integration of the Passion preamplifier and power amplifier components into the one box, is the subject of this review and the first Absolare component that I have actually seen or heard. Nevertheless, from the first time I saw photos of Absolare's products at numerous international audio shows I was captivated by the unusual and sophisticated appearance and my sentiments were in no way tempered by the reports of the sublime sound that they supposedly produced.
On that note, let me introduce you to the Absolare Signature Integrated, which I have had the pleasure to hear, see, touch and desire for several weeks, and which rightfully earns its place as one of those components that to me is more than just a sound-making machine.
The Signature Integrated
The Absolare Integrated is a striking beauty. At first glance one immediately appreciates its elegantly prodigious yet unusual proportions. Measuring 38.2 x 67 x 20cm (W x D x H), the Integrated is extraordinarily deep, meaning any consideration of purchase must be preceded by consideration of placement. Standard racks may not apply, particularly the three-legged variety. All cables interface with the Integrated at the rear of the unit, meaning that additional room with need to be factored in.
The exceptionally solid 32kg chassis is composed of a 5mm-thick aluminium baseplate, precision welded to the 3mm-thick aluminium sub-chassis separating the power supply and signal sections of the amplifier to minimise contamination of the signal stages with power supply noise.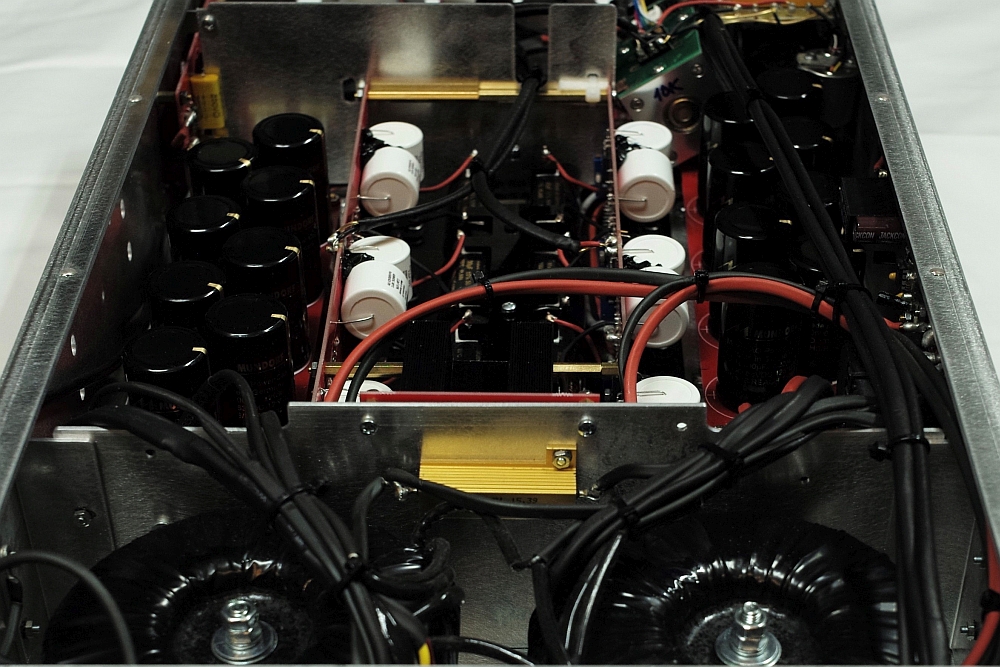 The peripheries of the unit's top and bottom high-density fibre panels are clad in leather, available in a variety of colours, delightfully accented by customisable contrasting top-stitching. The review unit featured a tastefully understated combination of black leather with white stitching. Long flat CNC-milled aluminium heatsink fins run longitudinally along the top of the amplifier from the rear to the front of the unit, flanked by a flat shield buffer separating the two top-mounted gold-plated copper/Teflon input stage tube sockets that sit anteriorly.
Keeping with the less-is-more theme, the faceplate is also decidedly minimalist, bearing two unmarked black knobs, a single blue LED and the Absolare logo. The left knob is a source control switch while the right knob commands the volume in a stepped attenuator configuration. The knobs feel firm yet operate smoothly, delivering a satisfying softly damped mechanical 'clunk' when moved either by hand or by remote control.
The rear of the unit features four source inputs, simply labelled I – IV. Single-ended, balanced or a combination of the two are available. Inputs operating in balanced mode feature transformer-coupling allowing 6dB gain switching, facilitating better matching of the chosen source to the native range of the preamplifier's attenuator. The review unit was configured with single-ended (RCA) inputs only (with 50 kohm impedance). The Integrated's quality Mundorf speaker terminals (one set per channel) will accept spade or banana connections and screw up tightly and surely. The unit's power receptacle will accept 15A IEC plugs and on/off function is controlled by a chunky rocker switch found just adjacent. There is no standby function.
Three cut-out sections underneath the unit allow a supplied triad of heavy and elaborately-machined isolation feet to mate with the main chassis baseplate. These feet, soon to be independently marketed under a different moniker, possess a four-layered structure providing both vertical and horizontal vibration suppression.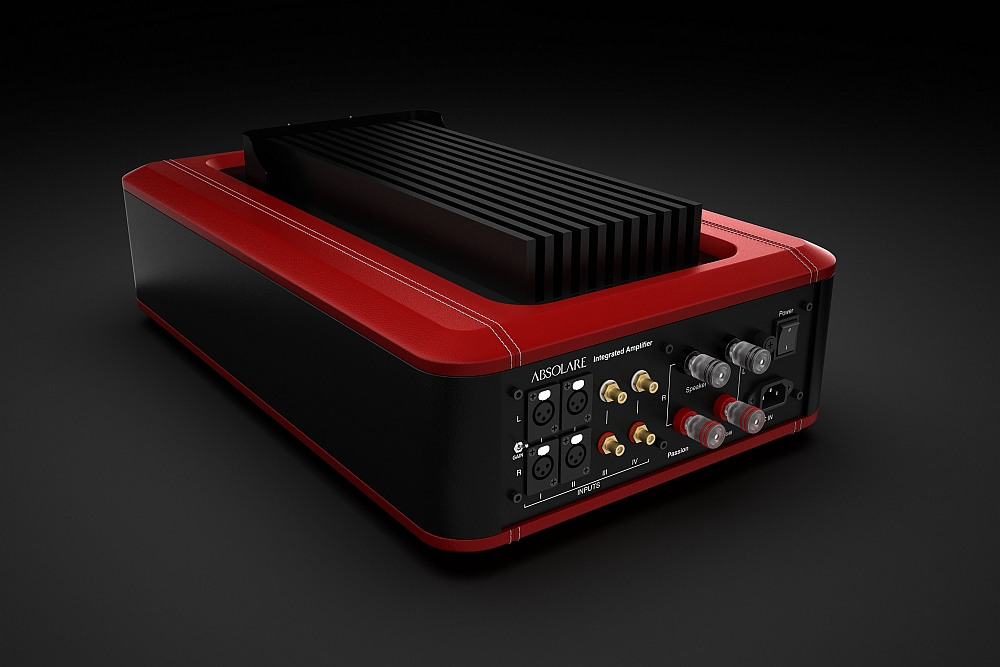 A simple wood grain-faced remote control is supplied. Two buttons allow increase or decrease of the volume in 48 steps. Powering the unit on or off, or switching the source requires the expenditure of more calories… sorry.
The Integrated is a hybrid design with a tube preamplifier section and solid-state dual mono power amplifier section. The amplifier stage utilises separate high-quality power transformers with large, very low ESR capacitor banks per channel. Twelve output devices (three pairs per channel) produce 150 watts continuous output into 8 ohms (or 200 watts into 4 ohms). The preamp section is configured in zero-feedback pure single-ended triode architecture, with two 12AU7 tubes. Like the Passion preamplifier, the Integrated is a mu-follower design, featuring a minimal number of internal components connected with Echole's proprietary internal cabling, simplifying the design and augmenting the purity and quality of the resultant sound.
The standard production Integrated utilises custom-matched Mundorf silver-gold/TubeCap capacitors in both signal and power sections with silver/gold/palladium alloy Echole wiring. The Signature version (the subject of this review) steps up the satisfaction formula, replacing the standard Mundorf capacitors with Duelund's select CAST coupling capacitors within the signal path, while switching out the Echole Obsession-grade wiring with the more elite Signature-grade cabling. Custom selected NOS tubes are also included. The only external evidence of the up-scale Signature configuration is on the unit's rear, above the input connectors. While the difference in price is around AU$8,000, the Signature edition is touted to significantly raise the performance threshold over the standard configuration, for a more resolving, fast and transparent sound.
Setup
The Signature Integrated comes packed in a very large cardboard box within which is a hefty carrying case, with retractable handles. The amplifier within is wrapped up in a protective velvety shroud. Following placement of the unit (in my case, on the floor in between my Ypsilon SET-100 monos), the carrying crate could be easily repurposed as a toy chest, a coffee table or even a small coffin (yeah, it's that big).
As my front-end sits around the side of my listening room, connected to my amps by a single set of very long interconnects, the most sensible way to set up the Signature Integrated was as follows. A 6m length of Tara Labs Zero Edge connected the full-range tape output of my Halcro dm10 to input 'I' of the Absolare. This way, the dm10 maintained the role of source selector and phono stage, while gain adjustments took place in the preamp section of the Signature Integrated, meaning I didn't have to swap out cables every time I switched sources (as I unfortunately don't have multiple lengths of super high quality 6m interconnects lying around).
Power for the Absolare was run from one of my DBA LB-1500 line balancers (connected with either a Shunyata Zi-Tron Alpha HC or Faber's Power La Potenza power cable), receiving power from a dedicated shielded 10mm2 line.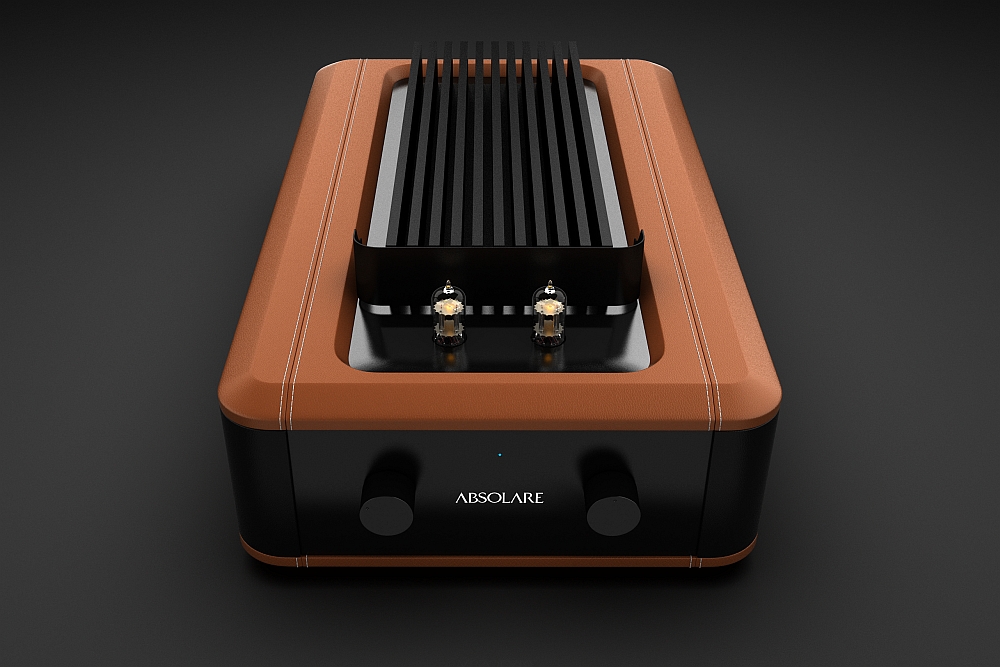 On power-up, the lone blue LED of the Absolare blinks for approximately 30 seconds while a few relays click, preventing any noise during start-up from making it through to your speaker drivers. When the LED stops blinking, you're ready to go. No mute function exists, so I would always lower the attenuator to its lowest setting prior to switching the unit off. Over the review period, the Signature Integrated performed flawlessly, without any noise, hum or other aberrancy. It's performance predictably improved significantly over the initial 200hr break-in and soon after begun to stabilise. The remote control range was very reasonable but one still need point it in roughly the right direction to get something to happen. The unit runs warm but not stove-hot, however I'd recommend placing it somewhere with adequate ventilation.
The sound
My introduction has already spilled the beans that this was no mere sound machine. The Absolare Signature Integrated was a music-making maestro in every sense.
If only one adjective could be used to describe the Absolare, it would be 'musical'. If more were permitted, they would follow something like this… Emotive. Smooth. Rich. Timely. Sophisticated. Detailed. Dynamic.
The Absolare produced an immersive, if slightly forward listening experience, with soundstaging and separation that was consistently commendable. It was able to facilitate this experience at both low listening levels and when playing loud (though I wouldn't necessarily recommend it for those who crave concert-like listening levels). It simply never sounded strained, edgy, fatigued or bloated.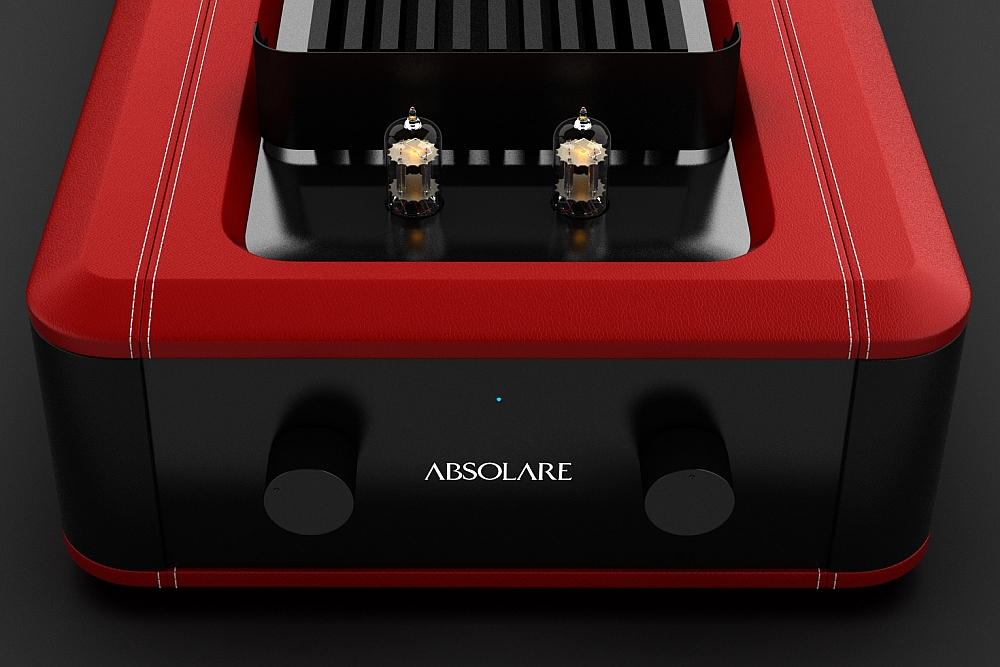 The Absolare's top end was sublimely smooth and delicate, with a speed that rivals the very best amplifiers out there. The honky squealing of the brass instruments in Paquito D'Rivera's Tropicana Nights album were so utterly vivid and mildly abrasive (just as real brass sounds). The speed and detail required for such a rendering simply escape most mortal amplifiers, instead blurting them out in an aggressive squawk. The Absolare took it in strides, showcasing the harmonic complexity of natural musical stridency with aplomb. The exceptional speed and detail of the Absolare also allowed the spaciousness of this recording to shine. The instrumental separation, sense of air and the physical dimensions of the soundstage were invariably and so consistently clear.
The startling leading edges and the intricate finesse in the decay of the cloches in Hadouk Trio's Utopies were simply gorgeous. The eerie and oft morose and mournful tones of the waterphone were equally as beguiling. While not quite as airy, physically dense or as brilliantly three-dimensional as heard through my reference SET-100s, the Absolare came admirably close, producing the second-most thrilling rendition of this magnificent album that I've yet heard.
The midrange fluidity and harmonic fidelity of the Signature were perhaps its most marvellous feats. Smooth jazz such as "It's all good" from Boney James' Sweet Thing album seemingly oozed from the speakers like warm honey. Essentially perfect amounts of tonal warmth and layering were imbued into the music without the overt 'tubey' glow that can often contaminate the transparency and fluency of many designs. The saxophone simply flowed with such ease, creating such a satisfying musical experience, both involving and simultaneously relaxing.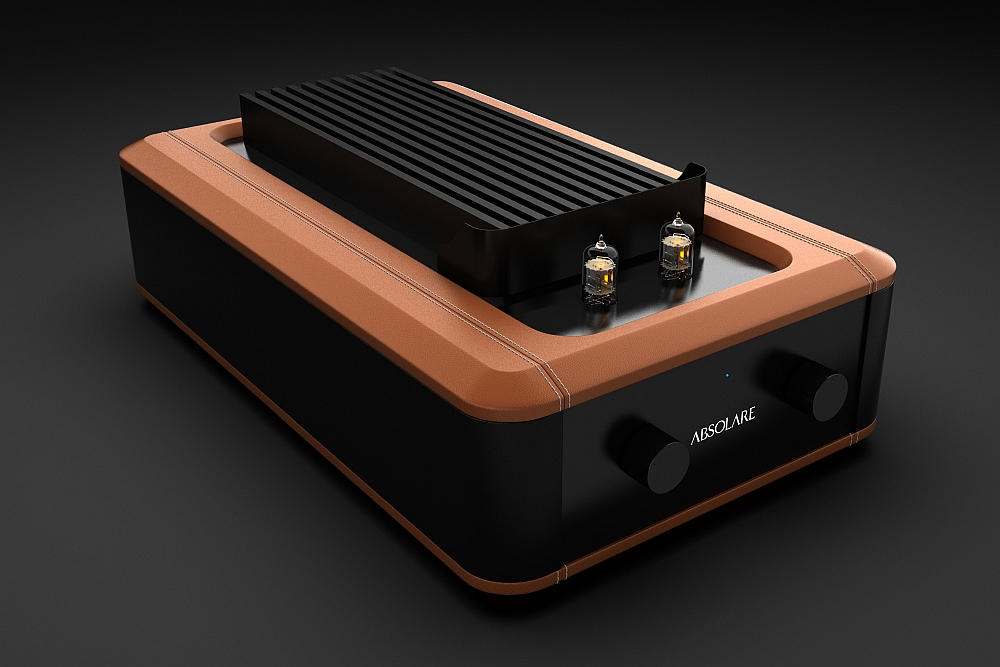 The closely miked guitar in Janet Seidel's "Johnny Guitar" from her Don't Smoke in Bed release was just as mesmerising, creating a dense, resolved and palpable image towards soundstage left, as a juxtaposition to the supple longing in the late Seidel's voice.
Speaking of vocals, Kate Miller Heidke's "O Vertigo" from her Live at The Sydney Opera House disc, perhaps showcases the singer's effortless blending of operatic skills and contemporary pop best of all. The Absolare cruised over this piece where other amps seem to run out of puff, realistically recreating the technique in her singing and the grandiosity of the dimensions in the concert hall.
The Signature's bass was tactile, tight and resolutely powerful. Though not possessing quite the same bottom octave weight and detail of my reference amplifiers, at a fraction of the price, the Absolare's bass performance was indeed remarkable. Synthetic and pop recordings such as Lady Gaga's fantastically decadent Artpop album were reproduced with speed, zest and superb rhythmic engagement, exceeding the expectations one would normally have for an integrated amplifier.
Conclusion
The Absolare Signature Integrated is an outstanding achievement, surely befitting of a place amongst the world's finest integrated amplifiers. The Signature Integrated possesses musicality, drive, timing, control and finesse in spades; matched only by its unique aesthetic, exceptional build quality and desirability factor. Its minimalist, unassuming visage belies its sophisticated and ultra-high quality design, which somehow manages to extract a near perfect balance between tube and solid-state features.
While it may be considered for some to be expensive, its performance capabilities in so many areas frankly exceed what could be achieved in preamplifier-amplifier separate combinations at far loftier price points, therefore making it an attractive proposition as a statement amplifier for those slightly short of space or for those demanding electronics capable of the very highest standards. An audition of its abilities is absol[are]tely recommended!
… Josh Givorshner
SoundStage! Australia
Associated Equipment
Digital: Ypsilon CDT-100
Turntable: TW Acustic Raven AC with Black Night motor/controller, Kuzma Airline tonearm, MySonic Labs Signature Gold MC cartridge
Preamplifier: Halcro dm10, Kondo Audio Note M7, Aesthetix IO Eclipse (dual PSU)
Amplifier: Ypsilon SET-100 Ultimate Mk. II
Speakers: Evolution Acoustics MMMiniTwo
Power: Shunyata Hydra Triton, DBA LB-1500 line balancer (x2), PS Audio P-500
Cables: PSC Monolith, Tara Labs Zero Edge, ZenSati #2, Shunyata ZiTron Alpha HC, Anaconda Vx, Python Alpha, Taipan Alpha, Vitus Andromeda
Equipment Rack: Taoc ASR-II
Accessories: Acoustic Revive RR-888, Multiple Telos Audio components (QMT, QNR, GNR), Symposium Ultra Platforms, Symposium Rollerblock and Rollerblock Jr, Stillpoints Ultra SS, Herbie's Audio Lab Gabon ebony domes
Absolare Signature Integrated Amplifier
Price: Absolare Passion Integrated (standard) AU$35,700, Absolare Signature Integrated AU$46,650 (as tested), Balanced Version AU$49,500
Warranty: Two Years
Australian Distributor: Absolute Hi End
+61 488 777 999
www.absolutehiend.com
Absolare USA LLC
40 Pemberton Road
Nashua New Hampshire 03063
United States of America
+1 603 860 06 16
www.absolare.com