Here in the land Down Under, we're in the homeland of DEQX. Due to their pricing and powerful local marketing, it's likely hard for other manufacturers of competing products to get a foot in the market. For that reason, to me companies like Trinnov Audio and Holm Acoustics have always had a sense of mystique about them – you just don't hear that much about them in this country. But once you start investigating on the web, you can find a great deal about the design and philosophy of Trinnov Audio.
Trinnov Audio was founded in 2000 by Arnaud Laborie, Sébastien Montoya and Rémy Bruno. The trio researched 3D sound and created the first working test of a fully functional 3rd-order 3D audio chain. I must confess that upon first hearing of the company I presumed there was some strong connection to Russia. It seems I was very wrong. Trinnov Audio incorporated in Paris and are very much French through and through.
Fine Gem
The subject of this brief review is the Trinnov high-end stereo flagship, the Amethyst. It includes an 11-source preamplifier with built-in Speaker/Room Optimizer, Trinnov's innovative HybriD Phono Preamp, a Network Renderer, a 24 bit/192kHz Digital-to-Analogue Converter and a 2-way intelligent active crossover engine.
The Amethyst exudes high build quality, thoughtful design and technical sophistication. The front face plate is very thick and solid. All words and logos are deeply engraved into the face plate – the words 'Trinnov Audio' would be set into the plate by at least 1 mm. The chassis is solid with little resonance. I believe the screen display must be an AMOLED display although I couldn't find anything on the Trinnov web site to indicate that. Nonetheless, it is very clear even from two to three metres away. And when you increase or decrease the volume the display enlarges momentarily such that you can see your changes more easily. The remote is a solid affair and changes the volume in half dB increments whereas the volume on the face plate changes the volume by a 10th db. This allows accurate volume setting for critical comparisons of components.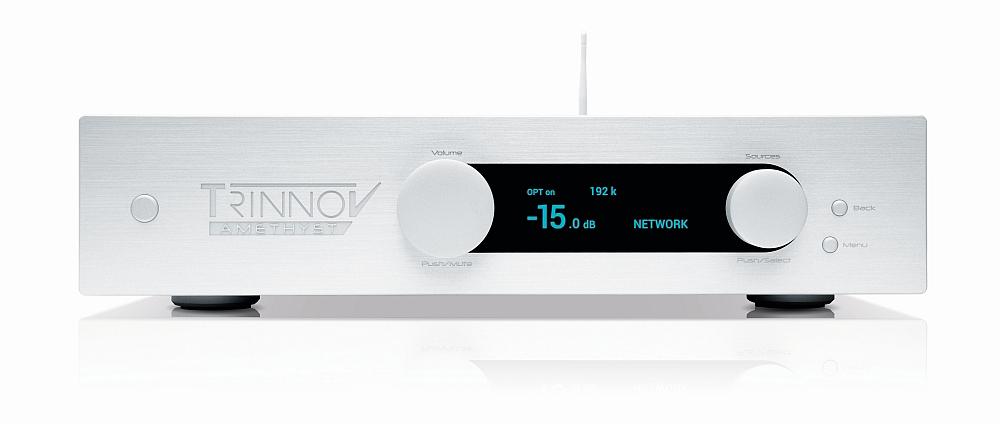 For most purposes other than changing source and volume, the Trinnov remote is probably not going to be the first device you reach for. For this, you need a VNC remote (Mac or Windows) to gain access to the extensive features of the Amethyst. I installed it on my Mac Mini and iPad Air and reliability and performance has been impeccable on both (I also tried in on my Windows notebook and it has worked fine). I must confess that at first I was slightly hesitant about using a VNC product to access the Amethyst – in fact, it made me consider whether I'd even want to purchase a device that required the use of VNC. But I'm happy to say that my concerns were entirely unfounded – the VNC to Amethyst link works flawlessly; it connects very quickly, holds the connection like a pit bull terrier and operates quickly and without hesitation.
Once connected via VNC, you have immediate access to everything. I won't elaborate on this much more. Suffice to say that you can see and adjust target curves, impulse response, amplitude response and change presets. The ability to easily change filters (or presets in Trinnov speak) allows you to tailor the sound to your taste and, just as importantly, allows you to compensate for the poor quality of some of the music produced today.
The calibration of the Amethyst is a breeze. It takes longer to set up the microphone and single cable to the Amethyst than it does to make the actual calibration. And speaking of the microphone, it is a very impressive 3D mic with 4 individual mic prongs with 3 prongs sitting slightly lower than the fourth. This microphone configuration allows the Amethyst to gain knowledge of height aspects of your speaker drivers and your room. You can see diagrams of this aspect through the VNC app. Rather than using 1-2 second 20Hz to 20KHz sweeps, the 'Trinnov Optimizer' uses pink noise at a 70dB to 80dB volume level (it needs a signal that is at least 20 dB higher than the noise floor in your room). The calibration process is simple and the included documentation is excellent, so you'll easily be able to do it yourself. When done, the calibration Optimizer will have created five different presets that are all set to flat in your room, all with phase correction.
All you then have to do is the fun part – the listening. But flat may be boring depending on your opinion. Over time, you may decide that you need a bit of additional energy around 100Hz to 200Hz, and maybe the start of a drop of the high frequencies starting around 10KHz. You can easily do this through the VNC interface. Moderation is the key here though – adjust the curves by 1 dB at a time and then listen again. You have 31 frequency points where you can adjust the target curve, so with a bit of persistence you can get the precise sound you want.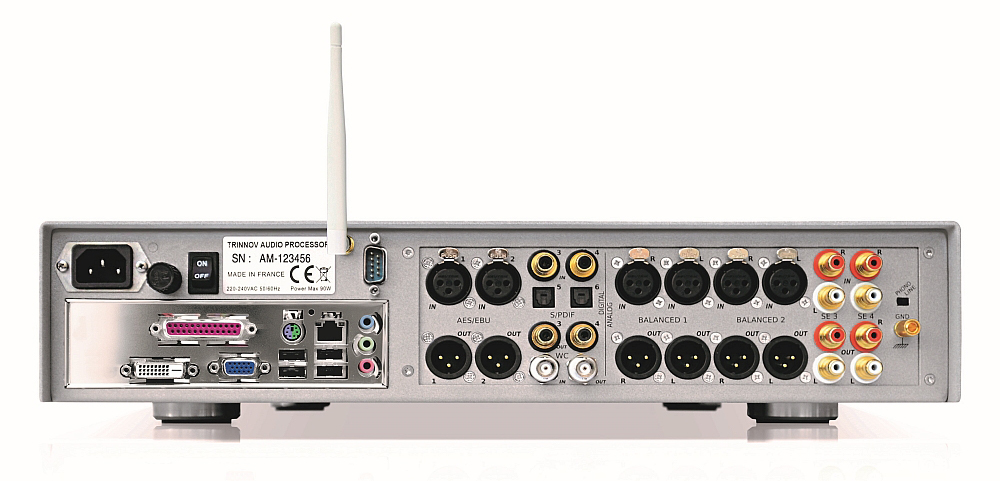 The five mentioned presets above are called 'Comfortable', 'Natural', 'Neutral', 'Precision' and 'Monitor'. I found 'Comfortable' to be a tad too dreary for me, but a friend thought it was great. 'Neutral' could be considered the mid-way point and the setting most people might use. I found that I tended to alternate between 'Neutral' and 'Precision' depending on the music and the quality of the recording. If you really want to hear into a recording, then 'Precision' or even 'Monitor' would be the preset of choice. I must admit though, that I personally found 'Monitor' to be borderline clinical on some recordings.
Unlike some competitors, the Amethyst's sound quality was very good and very listenable via its own DACs. After a couple of days I switched to my own DAC, the Bricasti Design M1. Yes, it is better, but then for a dedicated DAC that costs nearly as much as the Amethyst itself, I think that should be expected. Afterwards, I checked with Trinnov and they indicated their DACs were made by Burr-Brown. But as you know, the implementation of the analogue output section is as important as the choice of DAC chip. It was good to hear that Trinnov have not comprised on the build to reduce the overall cost. I believe many people may use the DACs in the Amethyst rather than a separate DAC – really, they are that good.
I should perhaps also mention that the Amethyst processes the music files in the sample rate that it receives them. Some devices convert the incoming file to a set sample rate, presumably to make it easier to handle the DSP duties. The Amethyst processes the data natively. So if 192kHz is coming in, that is what goes out.
When I first started to listen to music, I heard "pops" when I switched between albums and sometimes between tracks. It seemed more likely to pop when switching between albums of different sample rates. I found that after I'd switched sample rates a number of times that the popping stopped. The Amethyst documentation indicates that it has an anti-popping feature. It is basically a powerful computer – so perhaps it detected the pops and learned to suppress them? Whatever the reason, all the pops disappeared after a few hours. When switching sample rates now, there is just a faint reassuring click-click that is quiet and unobtrusive.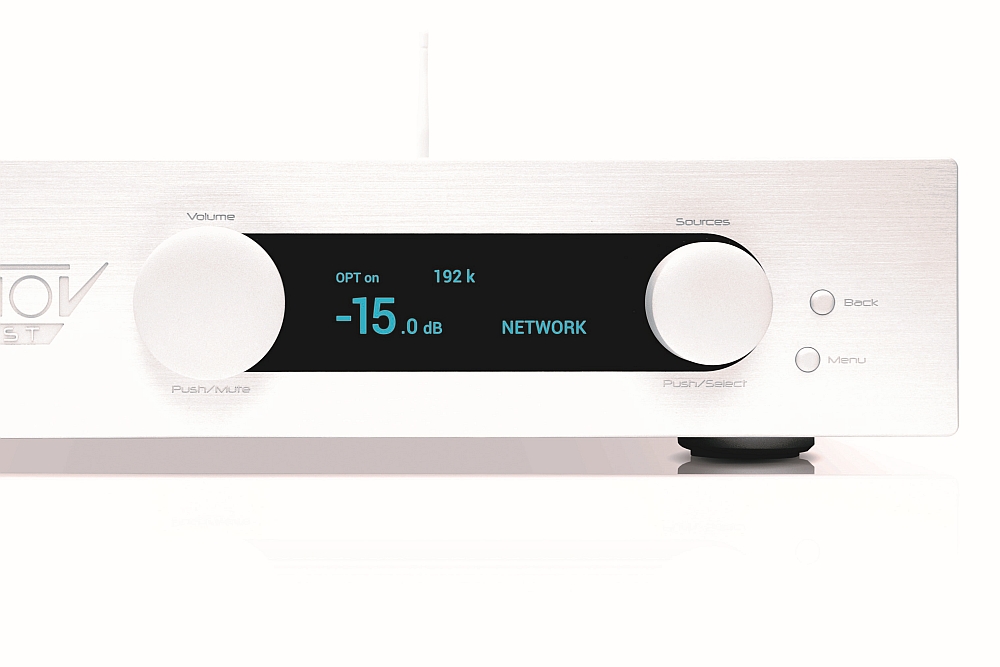 The other issue that I first encountered was that I couldn't play files higher than a 96Khz sample rate. The Amethyst is Roon Ready and had no issue whatsoever in communicating with the Roon core on my Mac Mini. I temporarily got around the sample rate issue by telling Roon to down sample any file that the Amethyst indicates it couldn't handle. I then set about getting the issue remedied with the dedicated, flexible and friendly help of Trinnov support in Paris. Once I opened a port on my firewall, the Trinnov support staff could see the Amethyst remotely. They then ran a number of tests and after around an hour they remotely applied a patch. And viola, I could then play 176 KHz and 192 KHz files. While all that is advantageous for the consumer, I must admit to being perplexed how my Amethyst could have passed QA and been shipped with such an issue. It was a very recent build (December 2017) so I had every reason to expect it to be totally compatible with all sample rates up to 192 KHz. But Trinnov's support staff took immediate ownership of the matter and worked on a solution. That is certainly more than you can say for some audio manufacturers.
My listening space is a dedicated music room furnished with acoustic treatment from Vicoustics and Real Traps. You may well be wondering why I might need to further tackle room issues with a device like the Amethyst. Good question. The truth is room treatment can do only so much, it isn't a total panacea for all room issues. When you walk into my room the noise level drops quite noticeably. So I was disappointed to discover that I could hear the fan in the Amethyst from my listening seat. It wasn't overly loud but like many (most?) music lovers, I always strive for the least amount of noise in the system and my room. As you will soon read, the Amethyst sound quality was so exceptional that there was little doubt in my mind that I'd buy it regardless of the noise.
Nevertheless, I set about working with Trinnov in Paris to find a solution for the issue. Apparently few (if any) people have complained about the noise which I found somewhat surprising. And none of the reviews I've read have mentioned this as a potential issue (equally puzzling). It was suggested to me by Trinnov support that the older Amethysts had a quieter fan. My unit was built very recently, so perhaps it had a different fan or a different implementation. After a few email exchanges, Trinnov support offered to mail me a kit that I could install myself (without voiding the warranty of course!). At the time of writing, I have received the kit but not the instructions. I expect to apply this modification in the next few days. I mention this to highlight the stellar support once again from Trinnov Audio.
Rockin' Gem
So, what does it sound like? As I alluded above, it is an exceptional performer in virtually all aspects. It is linear and smooth across the frequencies, so nothing pops out of the sound stage unexpectedly and unnaturally. The word 'balanced' describes it best.
The intent of this review is not to compare the Amethyst to other similar devices, but rather, to give an idea of my thoughts in isolation. And I will admit to not having heard all such devices. However, I have owned other DSP devices that do similar tasks as the Amethyst. But the Amethyst is the first I've heard that exhibits no glare, and no sensation of digital processing. And that is most definitely a good thing. While it may be a stretch to say it sounds analogue, it certainly sounds much less digital than its competitors. Some people may interpret that to imply that it lacks resolution and transparency. It does not. It is very resolving, very open and very transparent. And with the presets, you can easily tailor the sound to suit the music, the recording quality and your mood. All that greatly adds to your enjoyment of the music.
As well as sounding better balanced and smoother than its competitors, it portrays music with more texture and body. It sounds refined and resists the temptation to spotlight frequencies to give the false impression of detail. Its tonality and decay is exceptional. The decay of harmonics is well structured and longer in duration, giving the illusion of reality rather than a poor facsimile of the real event.
One aspect of sound quality that I appreciate is sound staging. To some people, the rhythm and pace of the music is paramount and whether it emphasises a sound stage is unimportant. I can appreciate that… to each their own. But for me, I quickly latched on to and appreciated the spatiality, imaging and sound staging that the Amethyst provides. I love the simple music of the Milk Carton Kids, even though the sound quality of their last two albums is not the best. The song "Get Away" on their album Monterey clearly illustrates the wonderful sense of imaging capable with the Amethyst. Rather than hearing two blended voices and guitars, I could clearly hear each voice and guitar distinctly separate and stable in their own left-centre and right-centre sound fields. On the album Ben Webster Meets Oscar Peterson, I did notice that Webster's saxophone doesn't reverberate back into the sound stage quite as much as I've heard before. It's very slightly foreshortened. Of course I have no idea which is more accurate, but that additional sense of reverb gives the pleasant sensation of a deeper sound stage.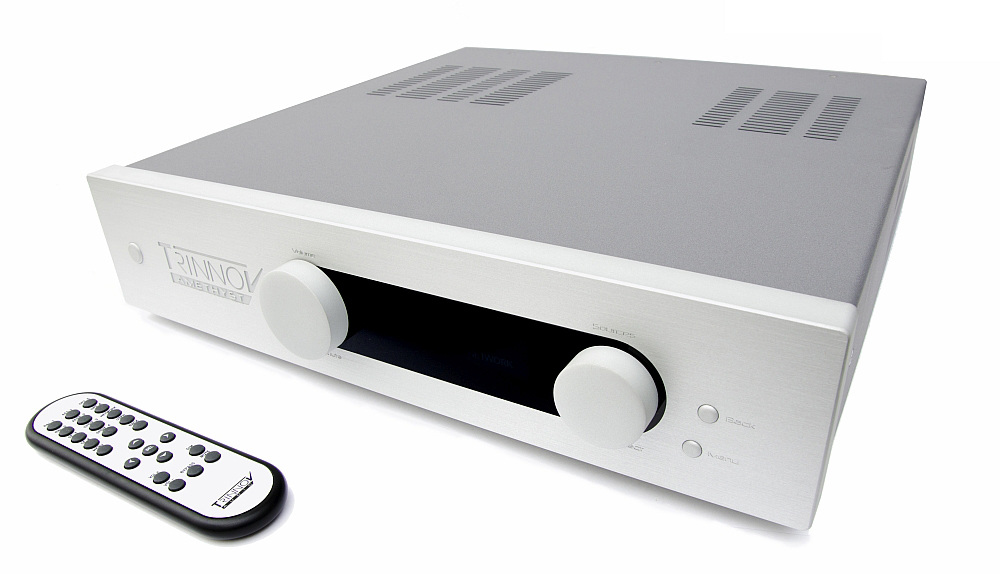 With some systems, there is little sense of height in recordings. It's almost as if you are looking directly into or down on the sound stage. The Amethyst gave a realistic impression of height. Dynamics were excellent as well. The 'Comfortable' and 'Natural' presets provided a softer presentation, and with that, the dynamics did seem less dramatic. But on the 'Precision' preset, it was pretty easy to feel the dynamic charge of the music.
It's unlikely that anyone that buys an Amethyst would use it without utilising the Optimizer and one of the presets. Nevertheless, out of curiosity I bypassed the Trinnov Optimizer on a number of different tracks. The sense of openness collapsed, transparency took a big hit, and the sound just tended to flatten and bunch together between the speakers without any real bloom. Needless to say, it wasn't enjoyable or accurate I suspect, so I didn't listen long to that. But if anything it illustrates that the Amethyst isn't really meant to be used as a preamp alone (without the Optimizer turned on).
Conclusion
In the end, I loved the Trinnov Amethyst so much that I kept it. Yes, it is fairly expensive, but to me it was well worth it. For me, it's also a huge advantage that its flexibility and power allows me to re-calibrate it myself to suit any room or system change. But all that wouldn't matter one tiny bit if it didn't sound good. But it most definitely sounds superb. Give it a listen, you may well feel the same.
…Tom Waters
Associated Equipment
Speakers — PMC MB2 SE speakers
Amplifier — Mark Levinson 33H monoblocks
Preamplifier — Trinnov Audio Amethyst
Sources — Gryphon Mikado Signature CD Player, Mac Mini (running Roon Core), Bricasti M1 DAC
Processor — Trinnov Audio Amethyst
Cables — Zensati #1 and #2 interconnects and speaker cables, sILENzIO S/PDIF, Nordost Tyr 2 AES-EBU Nordost Tyr 2 power cords Synergistic Research Hologram A and D power cords
Audio Rack — Schroeders and Schroeders
Miscellaneous — Nordost Quantum QX4 line purifier, Nordost Quantum QV2 AC line harmonizers, Nordost Quantum QB8 power distribution, dedicated 20 amp power lines, Stillpoints Ultra 5 isolation footers, Symposium Rollerblock Jr isolation footers, Symposium shelf
Trinnov Audio Preamplifier, DAC and Digital Processor
Price: AU$14,999 Silver, AU$15,999 Black
Warranty: Three Years
Australian Distributor: Cogworks
+61 410 296 286
www.cogworks.io
NOTE: Just after publication it was brought to our attention that sales and demonstrations in the consumer, audiophile and Hi-Fi spaces are now handled by ZenSati Australia.
Contact details: ZenSati Australia
+61 413 007 440
www.zensatiaustralia.com
Trinnov Audio
5 rue Edmond Michelet
93360 Neuilly-Plaisance
France
www.trinnov.com