Up-and-comer Hulgich Audio has been steadily developing a concise line of quality loudspeakers and has just announced the all-new Ella Mk.II. The design's performance and overall build quality impressed the SoundStage! Australia team at the recent Melbourne International Hi-Fi Show.
The new Mk.II version of the Ella speaker was developed after the designers at Hulgich Audio learnt important engineering lessons while developing the Maestro and flagship Astor, a two-enclosure highly-evolved speaker with impressive specifications and aesthetics. Hulgich Audio proprietor Nicolas Hulgich and design partner Göran Niréus have trickled down several design aspects from Maestro to Ella.
Ella Mk.II is a 3-way floorstanding speaker featuring a high quality 27mm ring dome tweeter (the type where the 'nipple' has been designed out), a 150mm Norex/Natural fibre midrange driver with cast aluminium chassis and a high-power Norex/Natural fibre 200mm woofer also featuring a cast aluminium chassis. Driver crossover points have been specified at 350Hz and 2.2kHz and Hulgich Audio states a soon-to-be disclosed coherent crossover technology application. The mid-sized floorstander spans a wide frequency range between 28Hz and 23kHz (no parameters provided) with the speaker having a nominal 8 ohms impedance and a sensitivity of 86dB at 1m and 2.83V. Power rating is 150 watts.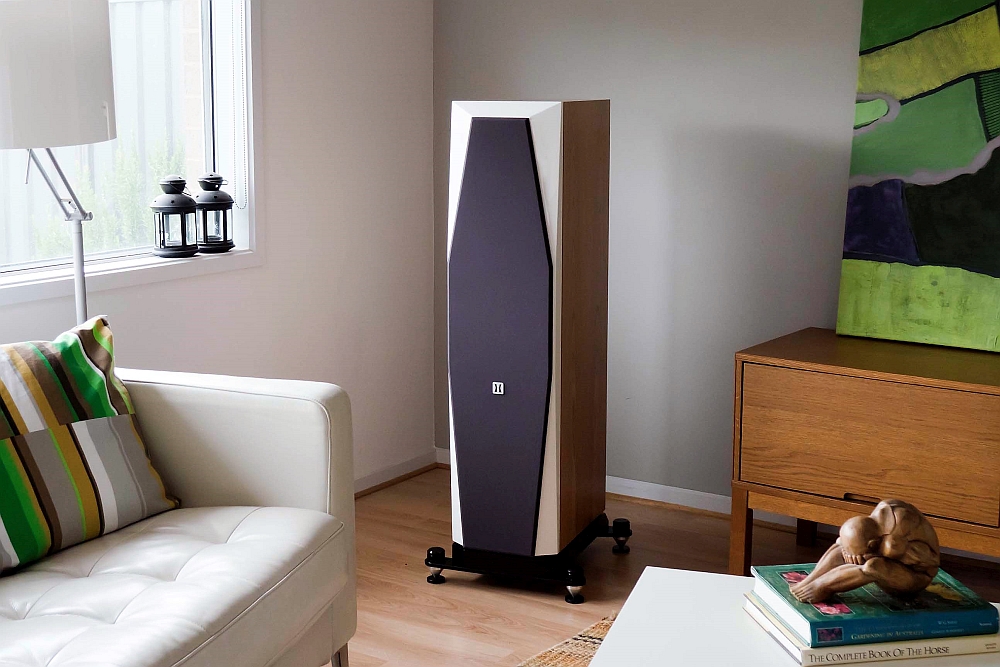 Ella's attractive chiselled baffle (BDT for Baffle Diffraction Technology in Hulgich Audio-speak) has been sculpted towards the top along the tweeter plane in order to allow a wider/flatter frequency response, better diffraction pattern and improved off-axis performance. A front reflex port is engineered to provide further bass extension and has been placed three-quarters of the way down the baffle. The rear panel houses bi-wired terminals. The new Ella Mk.II is available in a range of wood and paint finishes. Hulgich Audio has designed a high quality outrigger which accepts a custom heavy-duty spiking system in order to provide both added stability and excellent floor coupling.
Nicolas Hulgich told SoundStage! Australia, "… we decided to design a completely new 3-way loudspeaker. One of the design criteria was to produce a bigger sound, and to achieve this we decided to replace all the drivers used in our previous model with larger drivers. We knew we could improve the midrange presentation and extend the lower frequencies." Hulgich continued, "At the same time, we wanted a speaker that can fit in between the Maestro model and the flagship Astor in terms of audio reproduction, soundstage, external dimensions and aesthetic. With the Ella Mk.II we have surpassed our goal.
Hulgich Audio
+61 401 419 342
www.hulgichaudio.com.au