As one of the longest-lived audio specialist brands, iconic American company McIntosh Laboratory has specialised in manufacturing high quality electronics and speaker systems for near-on 70 years. Now, for the first time in the company's history, McIntosh has announced the new MA252 integrated amplifier combining the beauty of valves in its preamplification stages and the power and control of solid state design to drive the speakers.
The microprocessor-controlled MA252 features a preamplification stage driven via the venerable 12A family of easily-accessible vacuum tubes in the 12AT7 and 12AX7. These are tried and true valves with a reputation for high reliability and very good sonic performance. The power stage has been rated at 100 watts into 8 ohm loads and that power figure increases to 160 watts into 4 ohms. The power stage also features McIntosh's patented circuits such as Power Guard technology (the first time this technology has been used in an amplifier featuring valves) which constantly monitors the output signal in order to prevent speaker damage from overdriving. Further protection is offered via the MA252's on-the-fly adjustments to the input signal which prevents clipping distortion – clipping or amplifying DC signal can damage your speakers' tweeters. When Power Guard is activated, the valves pertaining to the problem channel will flash in an amber colour and will only return to the normal-operation green colour when the issue/clipping has stopped. This visual warning is an excellent design touch.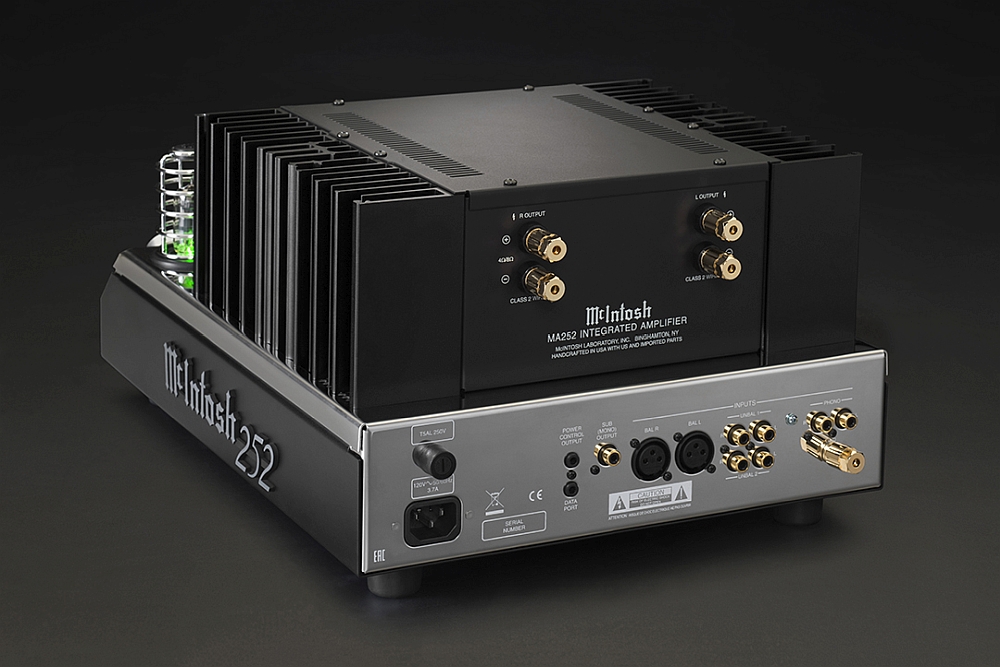 The now signature monogrammed heatsinks house the high current transistors in order to keep them cool and prevent thermal distortion. The unit also features a high current drive headphone amplifier and a Moving Magnet (MM) phono stage. Connectivity includes a balanced input via XLR and two unbalanced RCA inputs. An RCA output is provided for connectivity to a powered subwoofer. An OLED display below the McIntosh logo features a variety of amplifier status information while each input can be individually named by the user. A comprehensive remote control is included with the MA252.
In a recent interview, SoundStage!'s Al Griffin asked Charlie Randall McIntosh's CEO if he thought there was somewhat of a resurgence in the integrated amplifier space, "I think there is a resurgence. The younger generation is falling in love with music, but in this case they're becoming more music maniacs than audiophiles", stated Randall as he continued, "Picture yourself listening to music on headphones four to five hours a day at work, and that's what gets you through the day. You're probably going to want to go home and listen to even more music, and you have a small system at home with an integrated amp… an integrated is all most people need."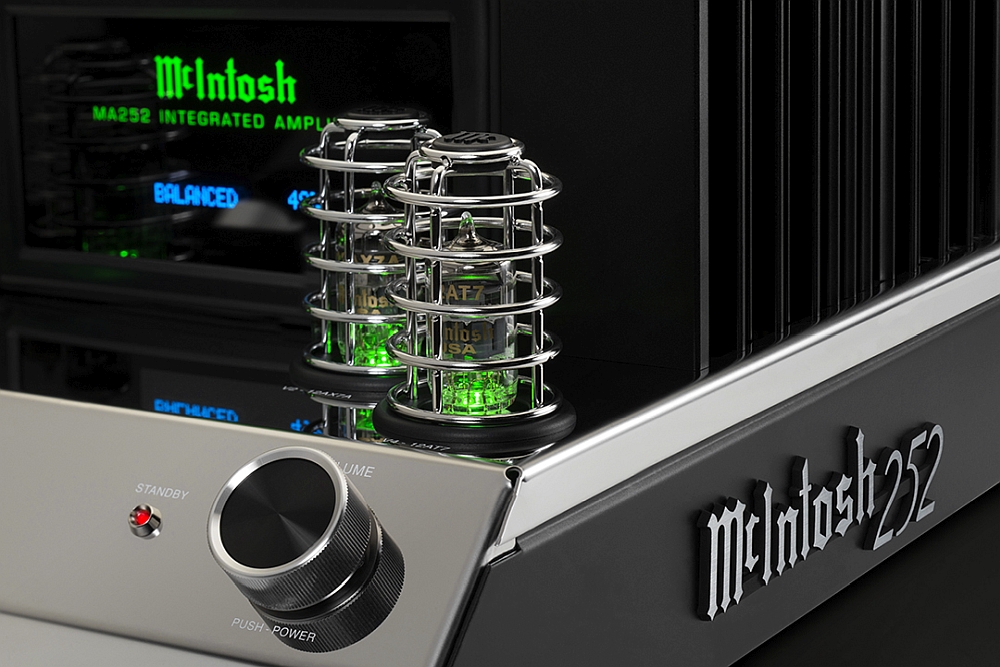 The MA252 features the usual McIntosh attention to build quality and fit-and-finish. The very attractive styling of the MA252, which is built around a polished stainless steel chassis, features accents in the traditional green colour theme while "McIntosh 252" die-cast aluminium badging adorns the amplifier's side panels.
McIntosh Laboratory products are distributed in Australia by Synergy Audio and can be auditioned throughout the country via an established dealer network.
Australian Distributor: Synergy Audio
+61 (0)3 9459 7474
www.synergyaudio.com
Price: AU$6995