KEF has announced the KC62, a new attractively-designed small stature subwoofer featuring 'Uni-Core', the company's most recent highly-engineered woofer technology.
It may be diminutive but KEF is claiming bigger-than-its-size-suggests performance from the new KC62 subwoofer. The KC62 presents an attractive aesthetic form, with its rounded edges being reminiscent of the gentle curvatures associated with KEF's highly successful LS50 and LS50 Wireless designs. Of course, the KC62 is a perfect mate for those acclaimed loudspeakers while also providing high output low frequencies to support any partnering loudspeaker system.
The KC62 is designed around twin high power 165mm drivers working in unison via KEF's Uni-Core Force Cancelling arrangement which in addition to being capable of tremendous bass output, reduces vibrational distortion across the cabinet walls of the entire subwoofer enclosure. The "concentrically arranged" voice coil within a voice coil construction of Uni-Core allows for a single yet massively powerful magnet motor system – ergo the significant reduction in cabinet size.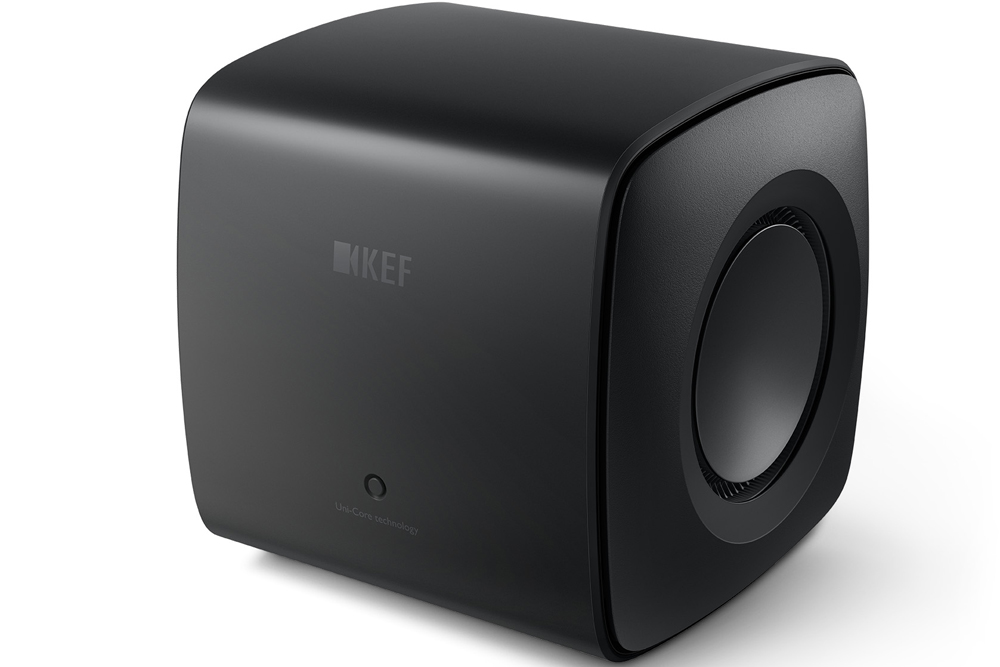 KEF has applied for a patent for its new cone surround technology it terms P-Flex or, more affectionately known as Origami Surround. The Origami reference refers to the way the unique surround is pleated, or folded, in such a manner that it's not affected by the cabinet's internal acoustic pressure/energy which in conventional surrounds can result in higher distortion, driver travel inconsistencies and lower system efficiency. KEF claims P-Flex and the other technologies applied to the KC62 have resulted in a more powerful and deeper bass output from a smaller driver array.
Also pending patent approval is 'Smart Distortion Control Technology' which is KEF's new 'motional feedback system'. The technique measures and monitors voice coil current while reducing aberrations or non-linear interactions between the input signal, the amplifier's output and the KC62's drivers.
KEF has adopted extensive Digital Signal Processing (DSP) to maximise the KC62's low frequency output. To that end, the company has introduced what it calls 'Music Integrity Engine'. The technology applies bespoke algorithms which KEF calls iBX (Intelligent Bass Extension) which pretty much does what the name describes. SmartLimiter allows close monitoring of the signal's integrity and protects against driver-destroying signal clipping. Said signal is provided via two 500 watt Class-D amplifiers (1000 watts total) which are capable of significant instantaneous output while providing thorough driver control. Five preset Room Placement Equalisation settings allow for comprehensive room placement options. In other words, the KC62 will integrate easily within the context of most in-home environments and its loudspeaker counterpart combinations.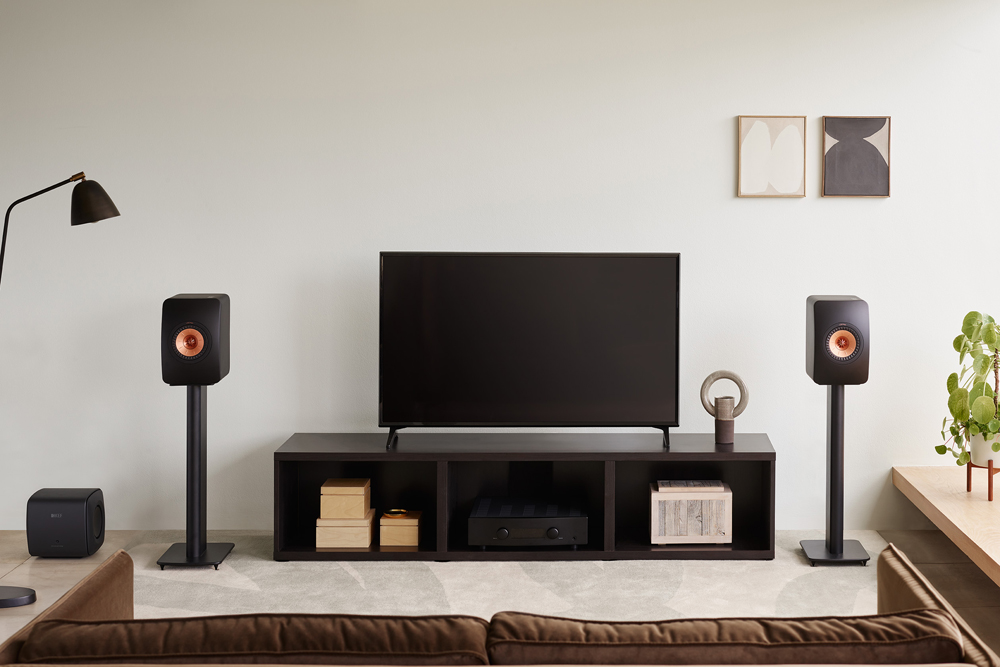 KEF specifies the KC62 as having a frequency response from an astonishing-for-its-size low of 11Hz to 200Hz (no parameters provided) with a variable LFE low-pass filter from 40Hz to 140Hz while the subwoofer's output is said to be a solid 105dB. Inputs are catered for by RCA and speaker level options while output is via RCA connectivity.
The KC62 is attractively designed with an enclosure fashioned from extruded aluminium. The curved angles and overall construction has been optimised to provide a solid and non-resonant platform for the drivers' operation. The KC62 is offered in two immaculate finishes KEF calls Carbon Black and Mineral White.
The new KEF KC62 Uni-Core subwoofer will be available from 1 February 2021 via distributor Advance Audio Australia's network of specialist audio dealers around the country. A dedicated website has been launched to support the KC62, link here: www.kefhome.com.au/kc62
KEF KC62 Subwoofer
Price: AU$2495
Australian Distributor: Advance Audio Australia
+61 2 9561 0799
www.advanceaudio.com.au