McIntosh Laboratory has expanded its hybrid integrated amplifier line with the addition of the new MA352 featuring a configuration comprising a valve preamplifier section followed by a solid state amplification stage.
There's much to say about hybrid designs when executed intelligently. The valve stage (or vacuum tube stage) provides all of the midrange body and warmth while the output is driven by solid state devices with their inherent strengths in terms of bass control, depth and dynamics.
The MA352 features two 12AX7A and a pair of 12AT7 valves which making up the circuit which is configured to include two balanced XLR and three unbalanced RCA inputs. An additional input is by way of a Moving Magnet (MM) phono with adjustable loading in order to cater to a variety of cartridge gain and impedance specifications.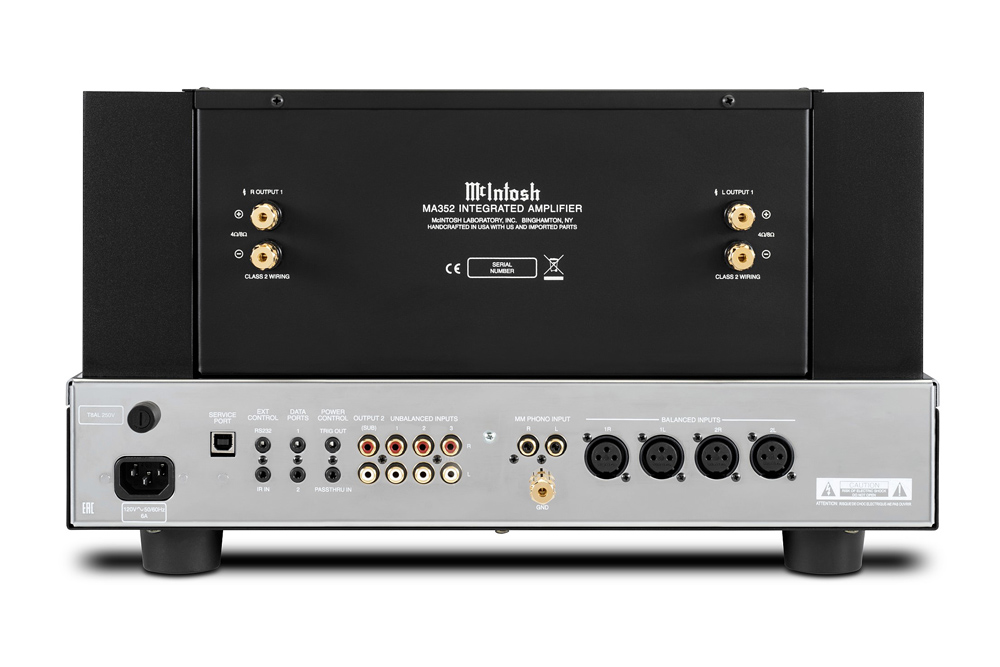 Although the MA352 is a powerhouse capable of delivering 200 watts per channel into 8 ohms and 320 watts per channel into 4 ohms, the preamplifier section features an output allowing connectivity to an even more powerful amplifier should it be required. Of course, this opens possibilities for connecting to existing other-brand power amplifiers or, ideally, one of the many highly powerful McIntosh offerings. Alternatively, the preamplifier output can be used to connect one or multiple subwoofers.
McIntosh has included an on-board 'High Drive' headphone amplifier with the company's 'Headphone Crossfeed Director' (HXD) circuitry. Also present are a 5-band analog tone control/EQ with ± 12dB per band of adjustability and a Home Theatre 'Pass Through' for integration into cinema-based systems.
In common with McIntosh's latest amplifiers, the MA352 features the company's many proprietary technologies such as Power Guard, Sentry Monitor and the relatively recent McIntosh monogrammed heatsinks.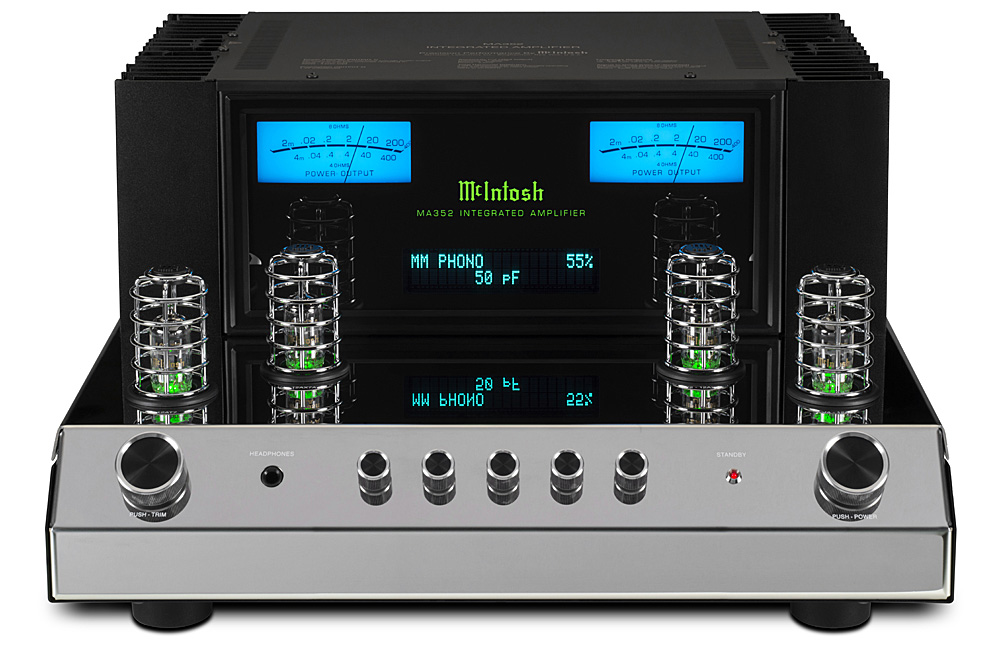 There are stylistic similarities to its hybrid amplifier sibling in the MA252 but the MA352 is a physically larger unit. The MA352 features a highly polished chrome fascia adorned with the trademark retro rotary knobs while the equally mirror-like top panel is decked-out with the valves grouping, the 'toobs' being protected via small individual chrome metal cages. A large rear section houses not only the large transformers but also McIntosh's traditional blue meters, a small status display and a backlit company logo in the customary green.
The rear panel includes the high quality RCA and XLR input/output connectors while also sporting McIntosh's proprietary copper speaker binding posts. Mini-jack 3.5mm comms in/out sockets, a fuse compartment, IEC socket and a USB 'Service Port' round out the socketry.
The new McIntosh MA352 hybrid integrated amplifier will be hitting our shores later in the year and will be available via established audio specialist stores around the country.
McIntosh MA352 Hybrid Integrated Amplifier
Price: AU$12,995
Australian Distributor: Synergy Audio
+61 3 9459 7474
www.synergyaudio.com