With extensive DNA derived from the WAMM Master Chronosonic, David Wilson's magnum opus, Wilson Audio's new flag bearer promises substantial engineering prowess, creativity and craftsmanship.
Visually, the announced Chronosonic XVX is a scaled down version of the WAMM yet features a distinct approach to suit its reduced platform. Daryl Wilson and Wilson Audio's engineering team have crafted a grand design with features inspired by its limited-production-run larger sibling, most notably, the complex mechanisms surrounding the ability to time-tune each midrange and high frequency driver down to the finest incremental scale.
The MTMM arrangement now features an all-new midrange driver the company calls 'QuadraMag' which features an Alnico magnet system (aluminium, nickel, cobalt). Alnico magnet motors have been around for decades and are notorious among audiophiles for reproducing music with a lifelike presence and ease. According to Wilson Audio, past studies and testing have shown a number of small deficiencies preventing the use of this magnet type. In conjunction with Wilson Audio's driver manufacturing partner and with new R&D and testing technologies developed by Wilson Audio's Vern Credille, the Alnico driver used in Chronosonic XVX has been advanced to circumvent previous flaws while maintaining its strengths.
As the QuadraMag name hints, the new Alnico 180mm (7 inches) midrange driver features a four-magnet motor system in a proprietary geometry and configuration. The Chronosonic XVX uses dual QuadraMag 180mm lower midrange drivers (one at the top and one at the bottom of the upper array) with support via a modified version of the 100mm upper midrange driver used in WAMM MC. All the midrange drivers are housed in rear-vented dedicated enclosures. A Convergent Synergy 25mm (1 inch) soft doped silk dome tweeter, in its Mk. 5 edition rounds out the MTMM array. A further 25mm tweeter is used in a rear-firing arrangement and, for the first time in a Wilson Audio speaker, provision is made for 0dB to minus 37dB attenuation. Both tweeters' cabinets are sealed.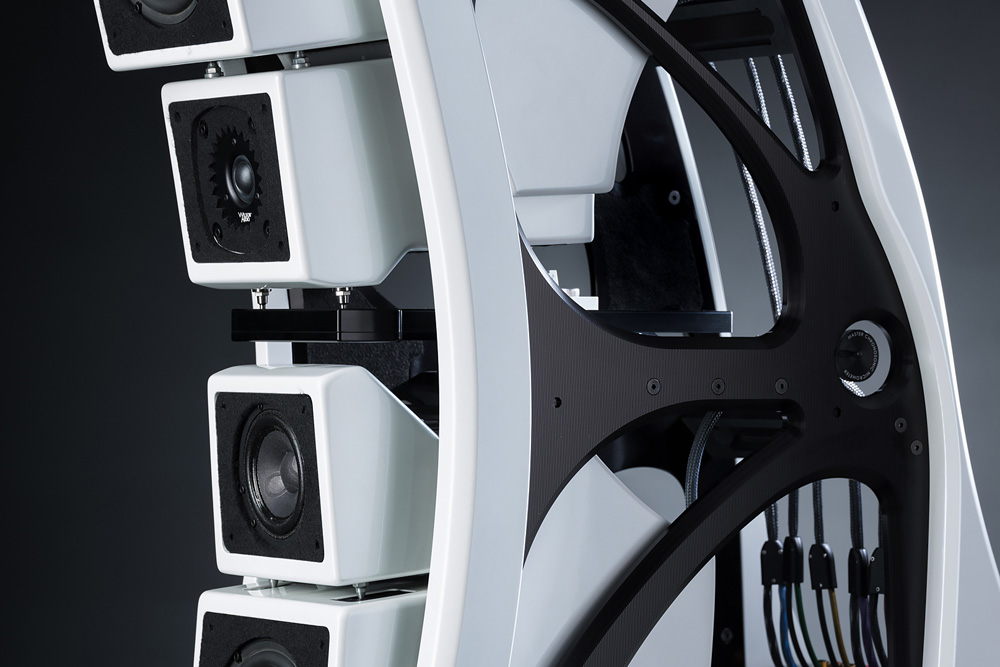 The MTMM array sits in a low resonance aluminium 'gantry' which houses the framework necessary to support the drivers and which also allows acoustic time alignment adjustments. The upper array features a mix of Wilson Audio's X and S materials while the ported lower bass module is constructed from X material exclusively. Said lower module houses custom-designed dual woofers (derived from WAMM MC) in the usual staggered-size arrangement; this time a 265mm (10.5 inches) and a 320mm (12.5 inches) paper pulp driver each. The 'cross-load' Flow Port first seen on Alexandria XLF allows the reflex port to be configured for front or rear exit providing room-loading options to match in-situ acoustics.
The 'gantry' features an all-new Solo lighting system which is used to allow very precise alignment of the various adjustable aspects pertaining to the multi-enclosure array. The Sono 1 lighting system is provided by American lighting specialist Coolfall, maker of high-end lighting systems. The 'Micrometer' system first developed by David Wilson for the WAMM MC is also adopted in the Chronosonic XVX. In the new speaker, a Micrometer is used to provide fine adjustments to the top-most QuadraMag driver and tweeter while an additional Micrometer is responsible for the 100mm and the second QuadraMag driver. The ultra-fine Micrometer adjustment mechanism allows extremely precise acoustic time alignment of the drivers for optimum spatial resolution while also said to offer superb transient attack and precise tonal and dynamic expression.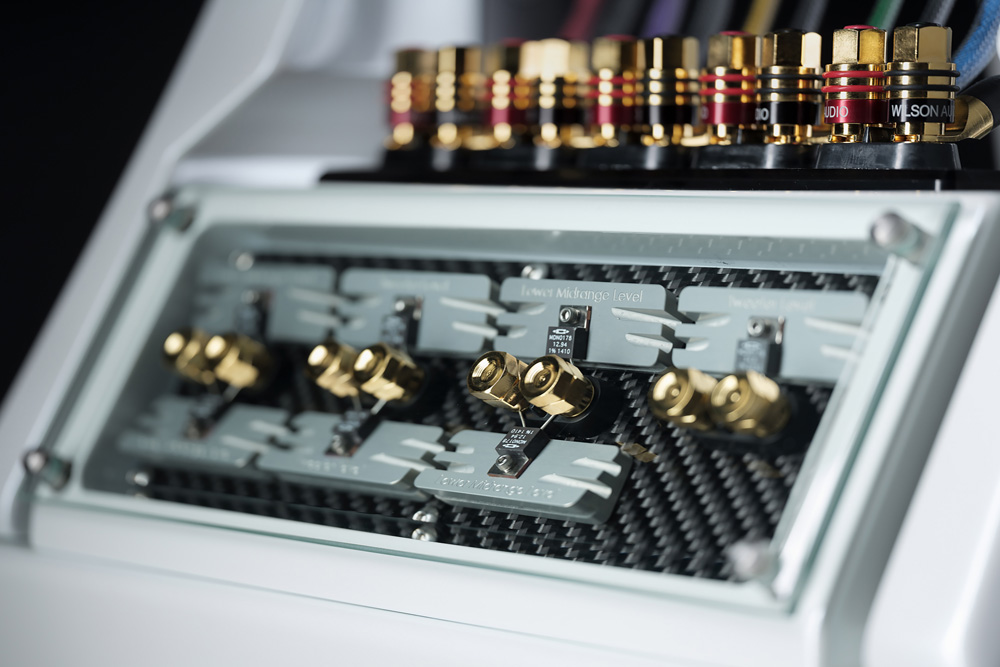 The crossover housing is now constructed from carbon fibre and is easily accessed via a removable glass panel in a similar fashion adopted in Wilson Audio models from Sasha DAW upwards. Aside from ease of service, the arrangement allows convenient interchangeability of resistors in order to customise the sonic signature to room acoustics and personal preference. Proprietary binding posts are used throughout the design. Recently, Wilson Audio engineers developed a proprietary capacitor, AudioCapX, which is now used in Chronosonic XVX and is said to offer substantial empirical and performance benefits.
Wilson Audio has developed a premium finish option for Chronosonic XVX. Aside from the vast palette of WilsonGloss colours, the new 'Premium Pearl' paint finish features additional processes which are said to provide an even deeper patina and enhanced colour brilliance.
The new Wilson Audio Chronosonic XVX loudspeaker will begin shipping in October 2019. Australian arrival and pricing is yet to be determined.
Wilson Audio Chronosonic XVX Loudspeakers
Price: TBA
Australian Distributor: Advance Audio Australia
+61 2 9561 0799
www.advanceaudio.com.au