Following the industry-wide acclaim for the superb Electa Amator III standmount, Italian luxury speaker maker Sonus faber is now offering the 'mini-me' version in the Minima Amator II loudspeakers... And it's just landed on our shores.
The new Minima Amator II is a downsized version of its sibling mentioned above and reviewed within these pages recently (click here for review). It is also reviving the nomenclature of its predecessor first seen in 1992. While the form factor of the 2-way Minima Amator II is superficially very similar to the larger Electa Amator III, there are a number of downscaled aspects which bring the former down to a lower price point.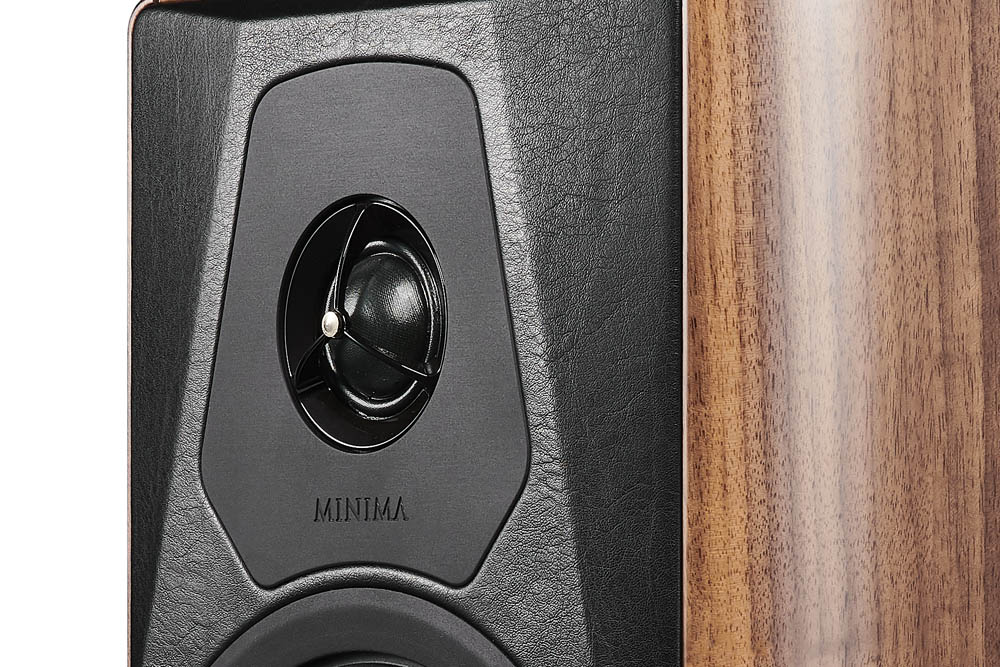 For starters, the reflex-loaded mid-bass is now catered to by a bespoke high quality 150mm cellulose pulp driver (as opposed to the 165mm driver used on Electa Amator III) which, via the company's 'Paracross Topology' crossover, hands over to Sonus faber's signature DAD (Damped Apex Dome) dome tweeter, versions of which are used throughout most of the company's products. The tweeter features the 'Tripod' arrangement which supports a phase 'bullet' mirroring the original's trademark arrangement.
Again, the cabinet is milled from a solid piece of beautiful walnut and, as per its sibling, it features Italian leather baffle and rear panel lining. A brass dress insert, also reminiscent of previous generations, is attached to the bottom panel as further visual enrichment. While the Minima Amator II shares its sibling's dedicated Carrara stand, it is coupled to it via the cabinets' bottom plate rather than the Electa Amator III's Italian marble bottom support. In addition, Sonus faber now offers a downscaled stand – eschewing the marble parts – which it calls 'Unicum'.
Sonus faber quotes the Minima Amator II's frequency response as spanning from 50 Hz to 35 kHz with an efficiency of 87dB and a nominal impedance of 4 ohms. Suggested amplifier power is given as a clean unclipped 35 to 150 watts.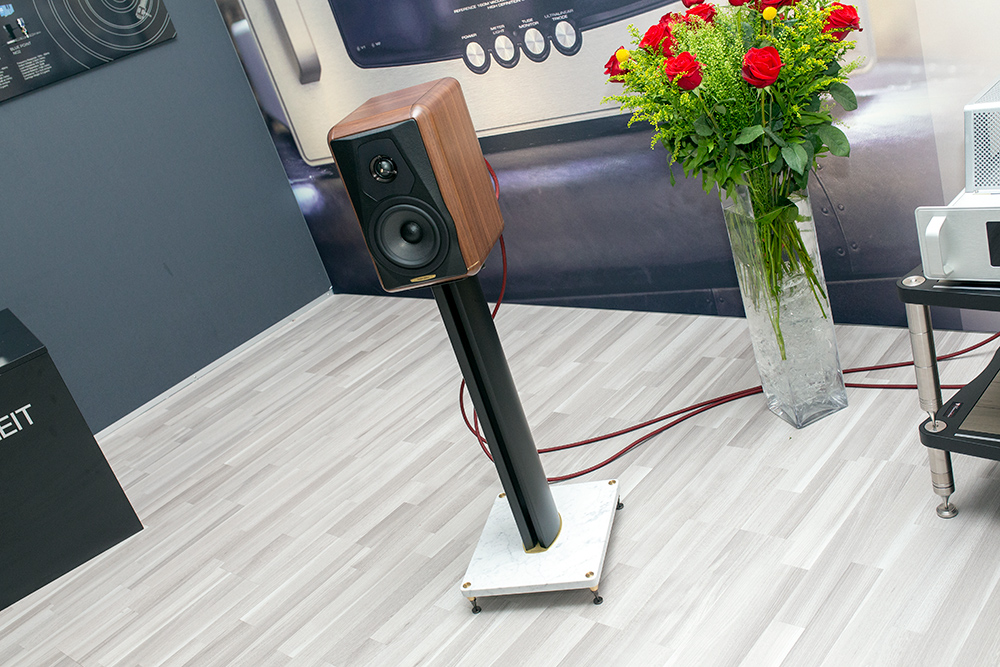 First previewed at High End Munich 2019, the Minima Amator II caught SoundStage! Founder Doug Schneider's eye – and ear – where he bestowed the speaker with a 'Best of High End 2019' prize, saying, "The Minima Amator II is gorgeous to look at, and a pair of these tiny speakers was surprising to hear – their sound successfully filled a very large room. We really want to get a pair of these in for review." We hear you Doug…
The new Sonus faber Minima Amator II loudspeakers are available in Australia via select specialist audio dealers.
Sonus faber Electa Amator II Loudspeakers
Price: AU$7495. Carrara Stands AU$2995, Unicum Stands AU$549
Australian Distributor: Synergy Audio
+61 3 9459 7474
www.synergyaudio.com